Ditch the Calgary Hotels & Stay in These Suite Digs!

Whether you're just passing through on a stopover or planning a visit to the city, Calgary has plenty to offer visitors and locals alike. From events like the Calgary Stampede to seeing the iconic sights like the Peace Bridge to hunting for some street art, the city is perfect for every kind of visitor. It can be tough to decide where to stay, but I suggest ditching the Calgary hotels for a fully-finished, gorgeous apartment in the heart of downtown with Suite Digs!
These beautiful accommodations are scattered throughout the downtown core and offer plenty of amenities. I had the pleasure of staying in their 1-Bedroom Keynote apartment, located on 12th Avenue close to plenty of amenities. Upon my arrival at the Calgary Airport, I was picked up in style as a full shuttle service is included in your stay! I felt so spoiled (and a little underdressed in my hiking attire!) as I enjoyed a glass of bubbly and some chocolate while en route to the apartment.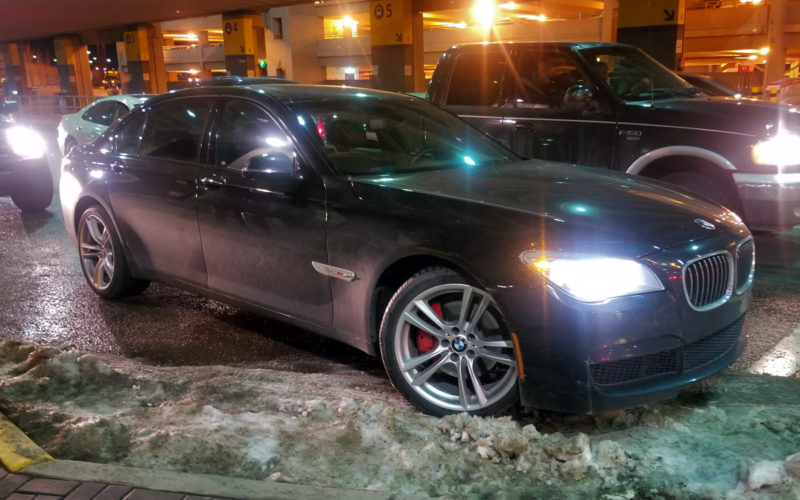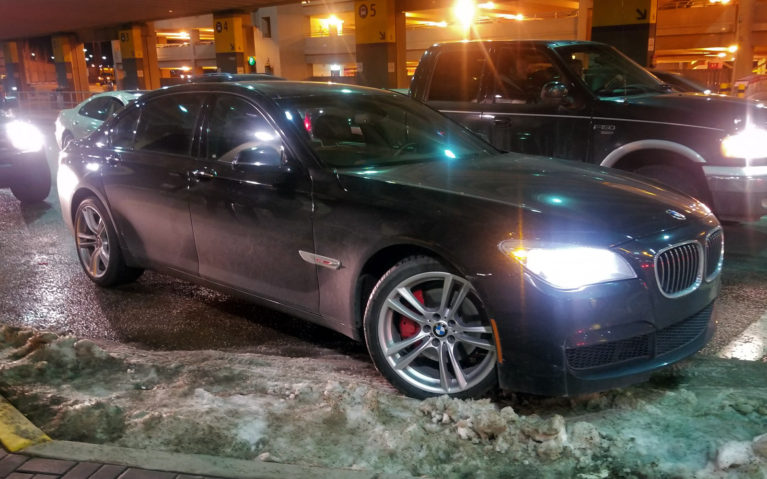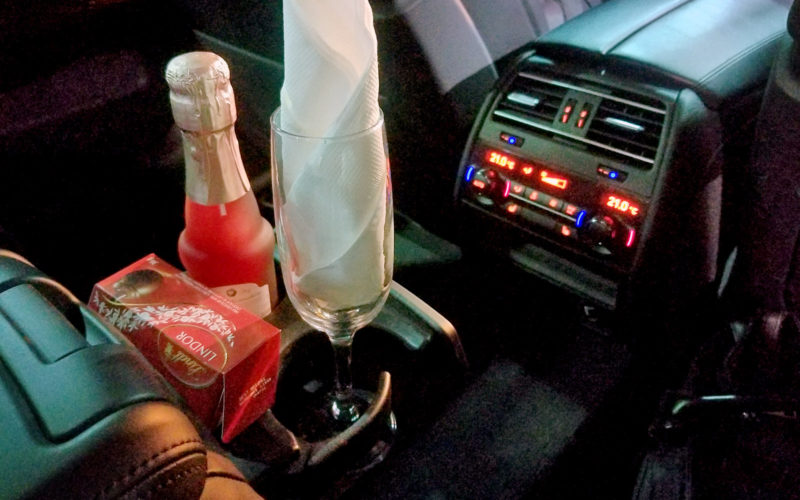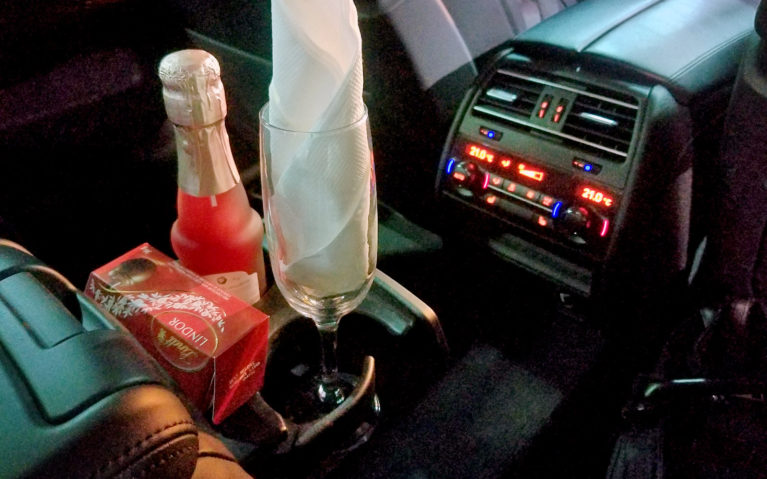 The Keynote apartment is on the ninth floor of the Keynote building (hence the name!), and my jaw dropped as soon as I opened the door. I don't think I've stayed anywhere so gorgeous! The apartment had a modern feel with some Calgary flair. It was perfect considering my amazing view of the Saddledome! The huge windows allow for plenty of natural light, along with a small balcony where you can sit and enjoy the view. Don't take my word for it though, these photos say it all!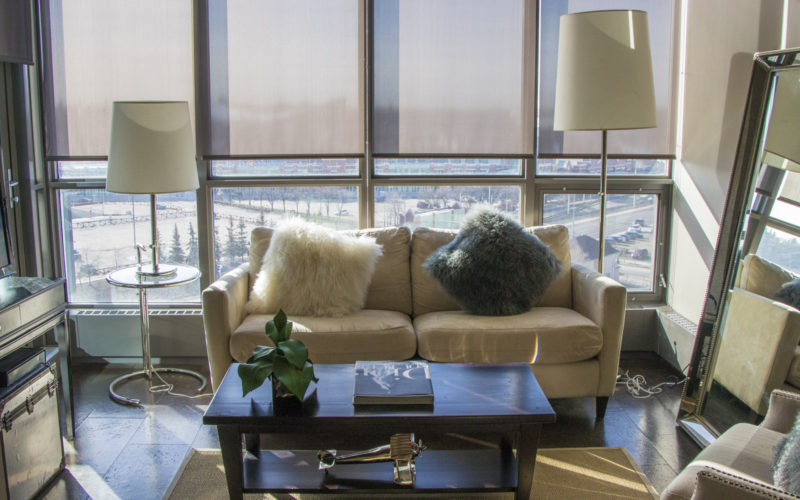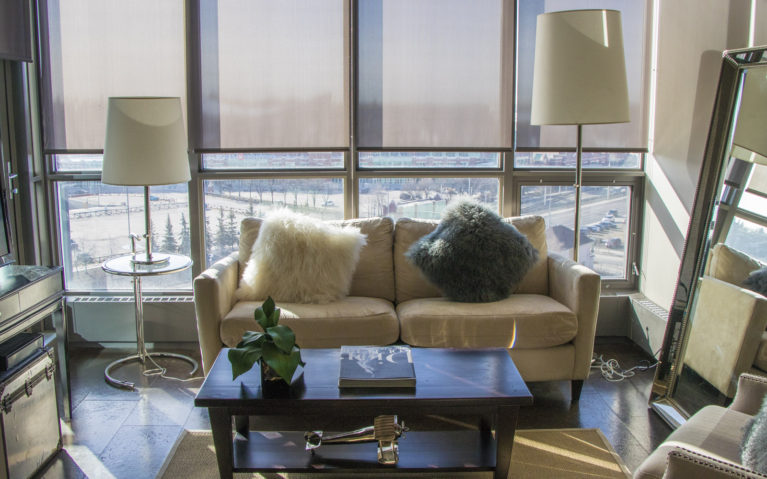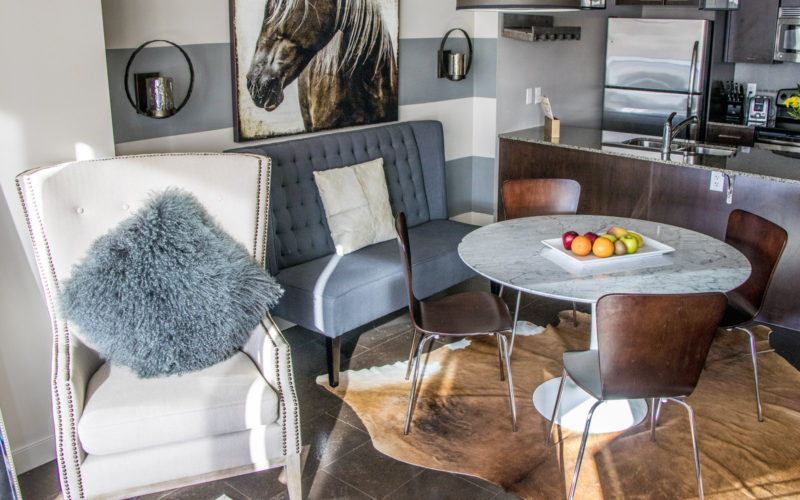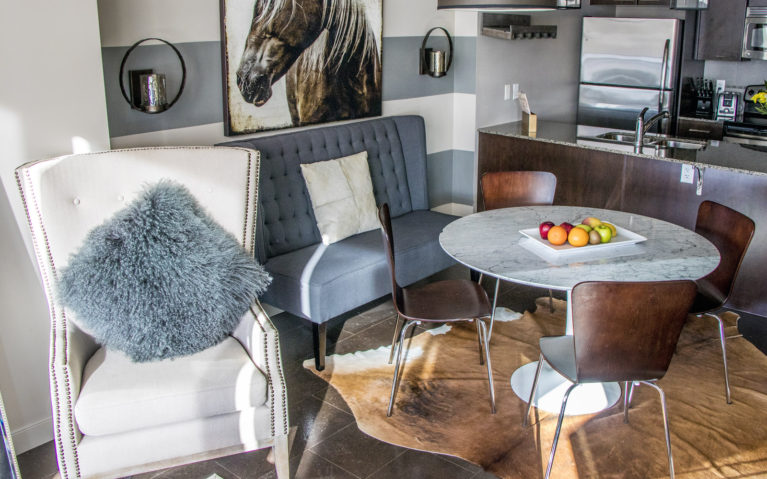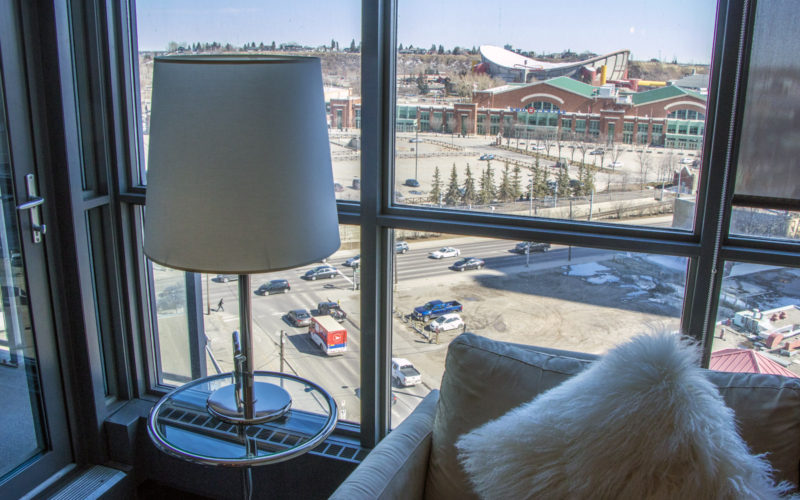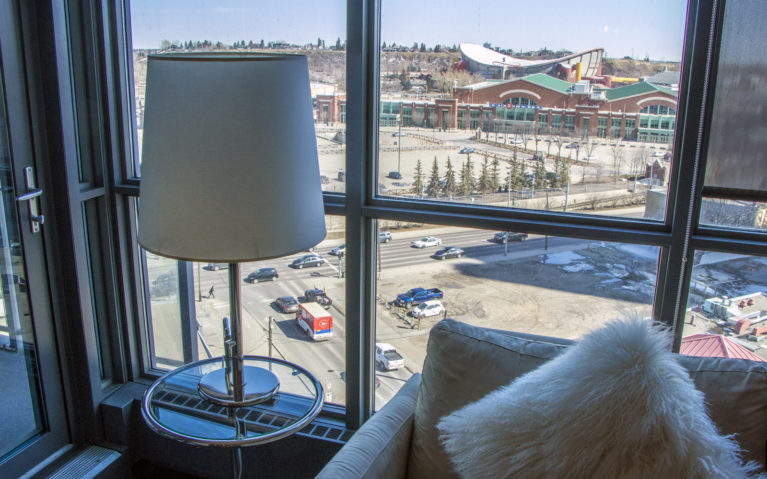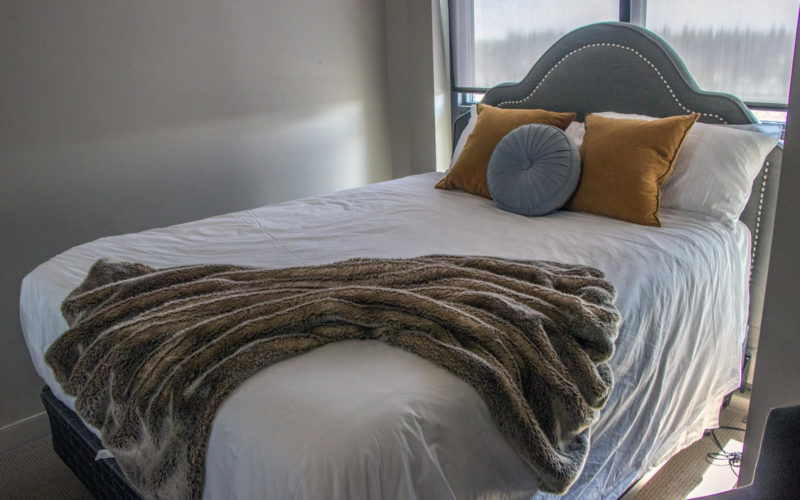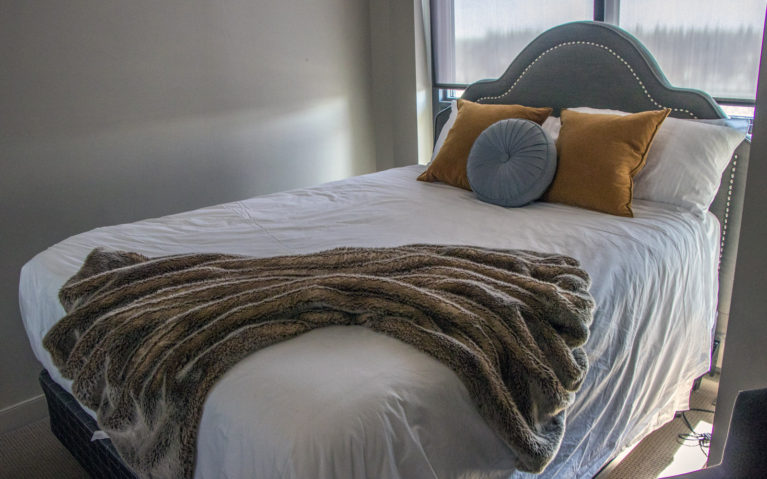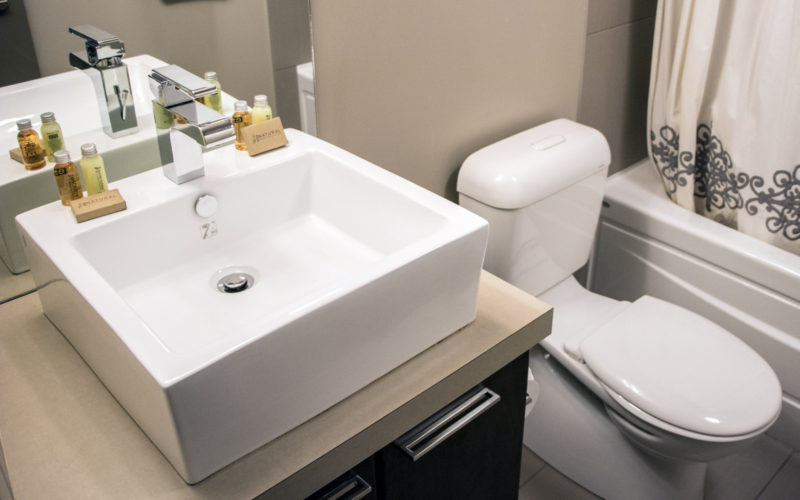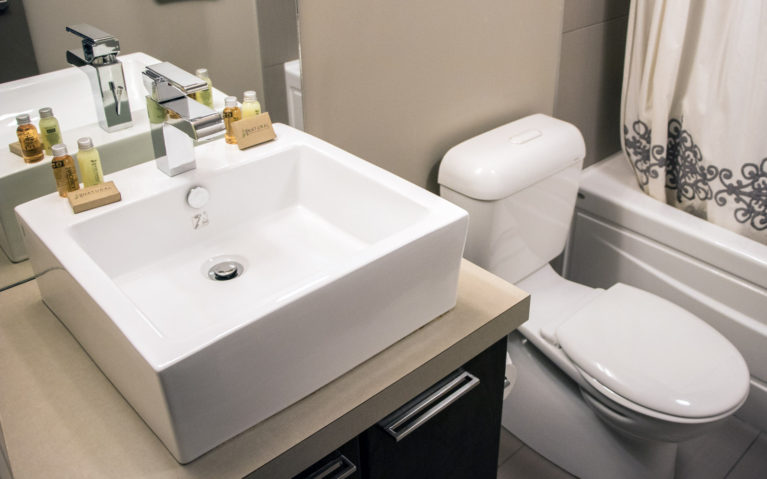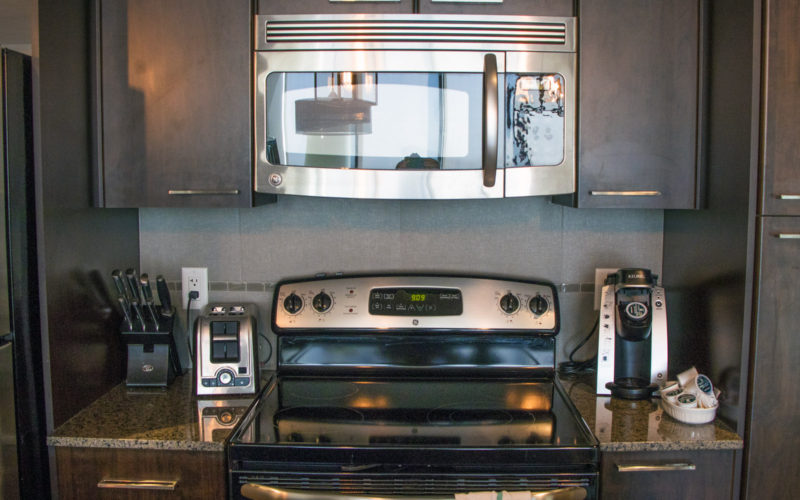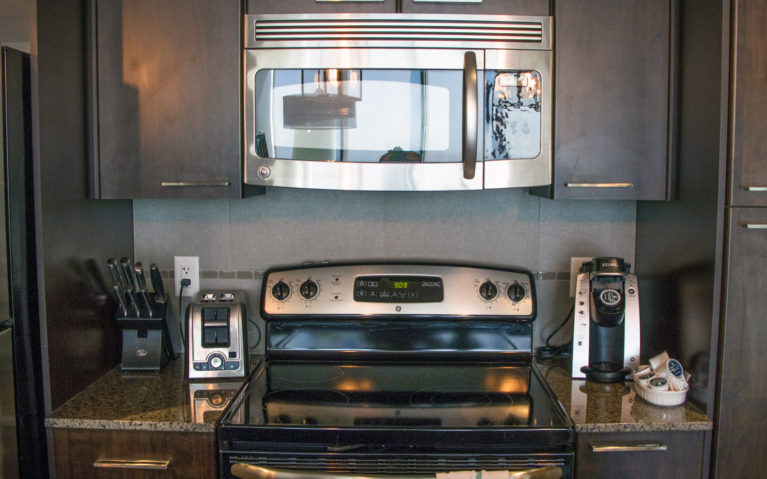 Let's be honest though, who wouldn't want to fall asleep to these beautiful nighttime views of Calgary? I loved just looking out at the lights of the city.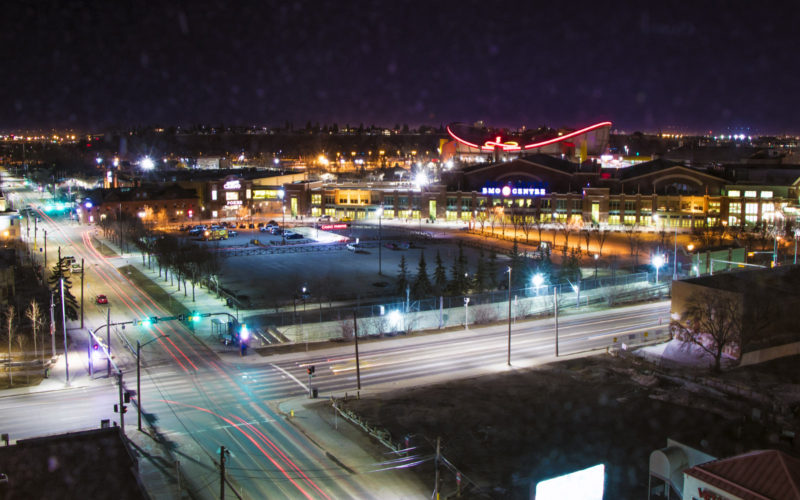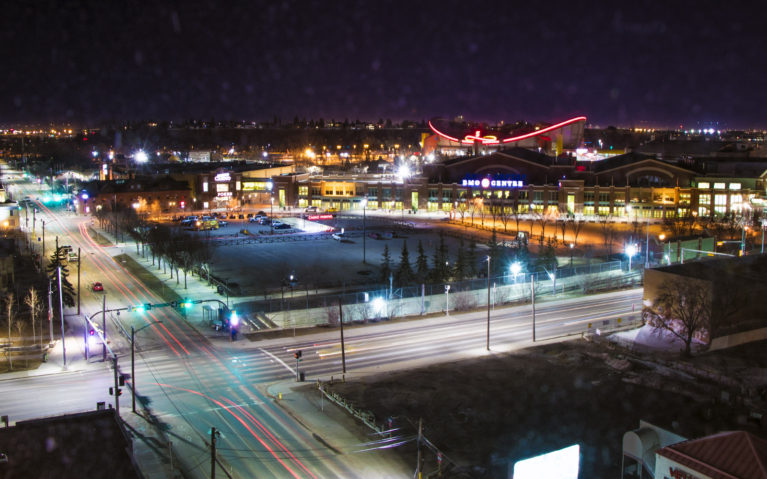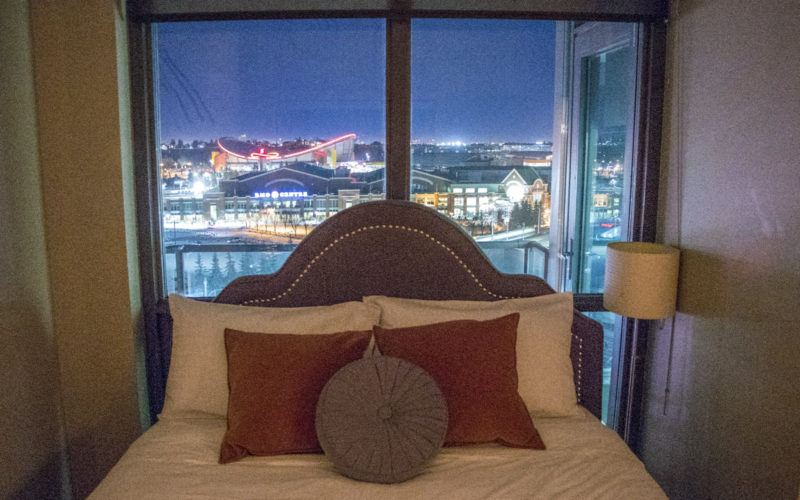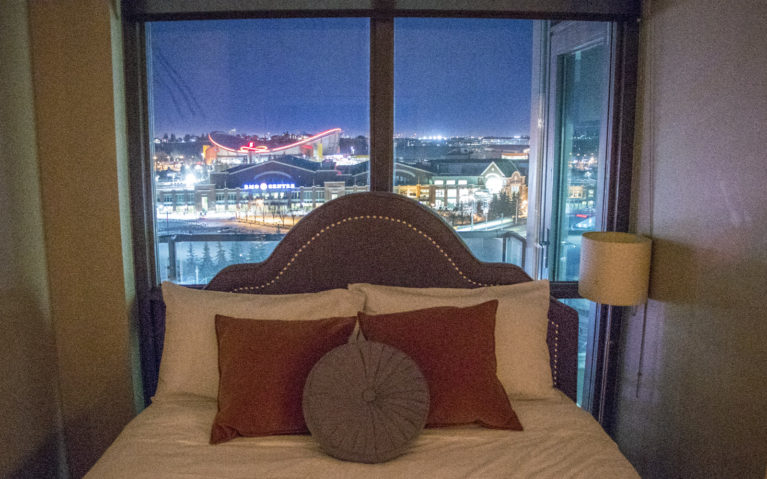 One thing I love when I travel is having the amenities like I do at home. Things like a fridge, microwave and coffee maker really make my stay complete. To have a full kitchen though? That's a dream! While it's not a necessity for me during short stays, if my stay is 3 days or longer then I try to opt for a place with a kitchen. That way I can save a little money and have the comforts of home!
These Calgary accommodation come with kitchens that are fully equipped with plates, cutlery, cups, etc for 4, and you can also enjoy a fresh cup of joe from the Keurig. I don't know about you, but I'm someone that needs a cup of tea or coffee in the morning!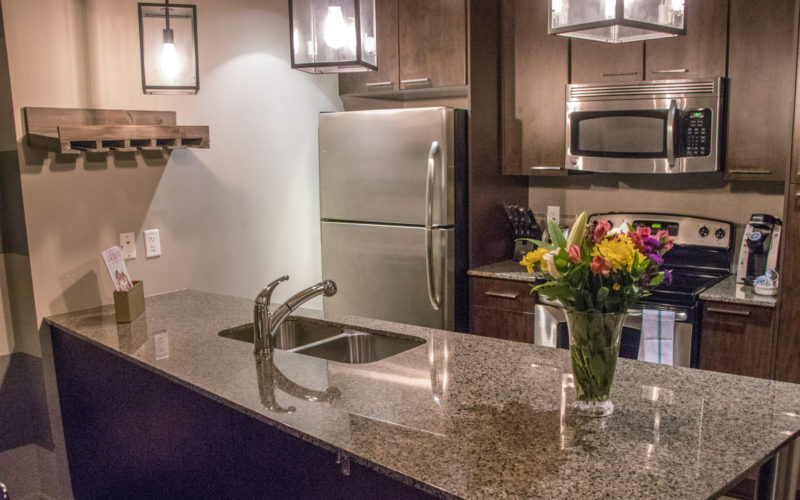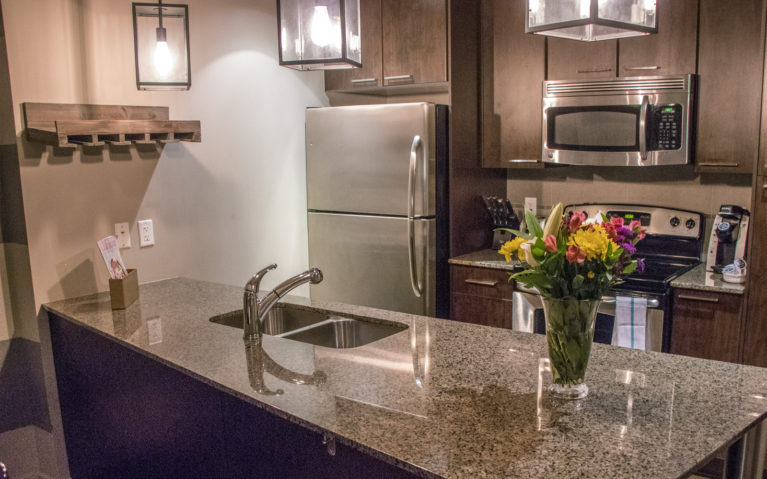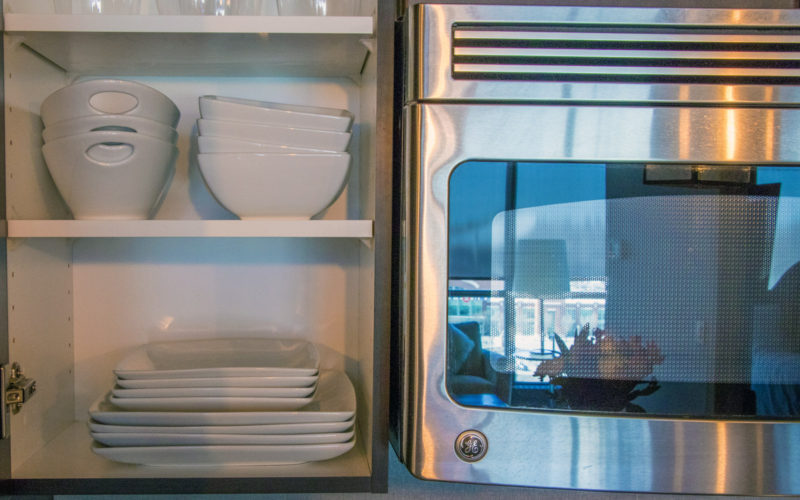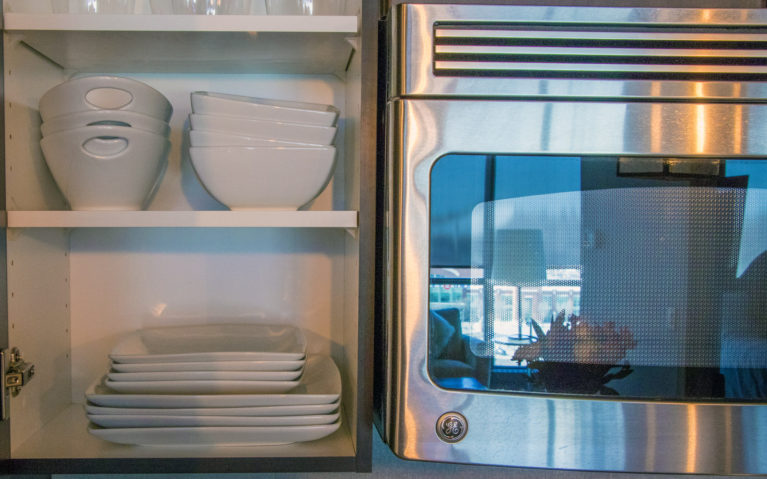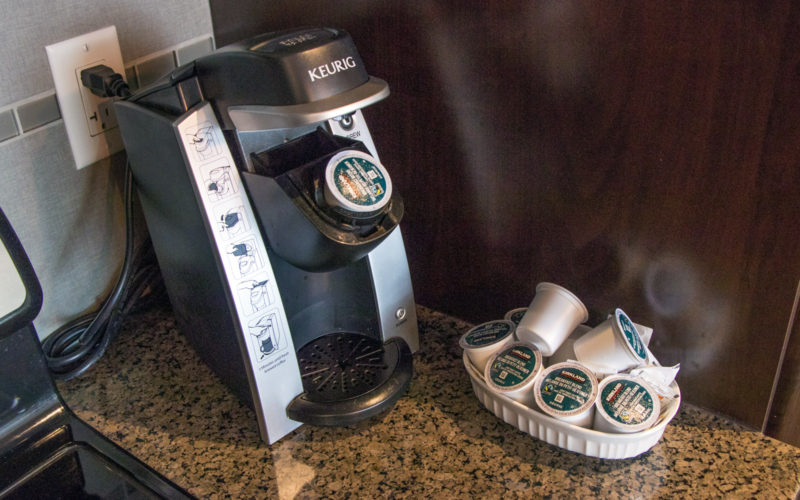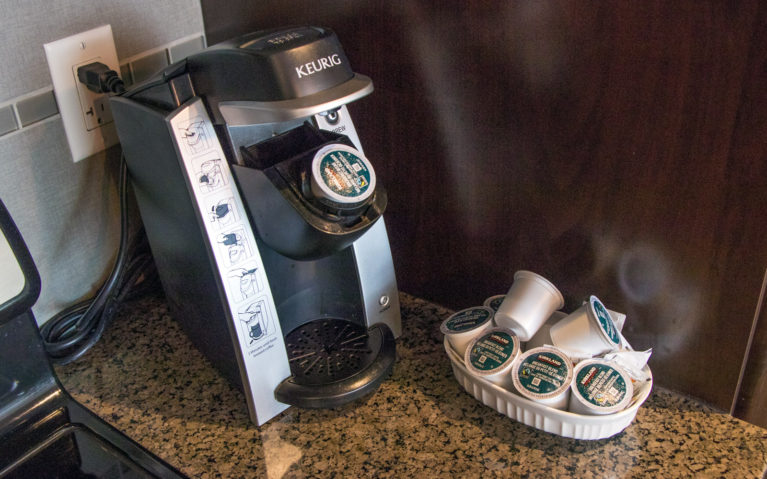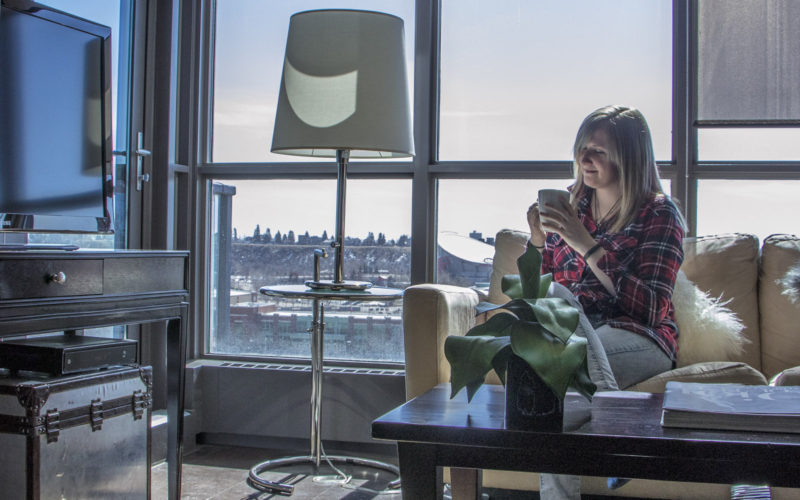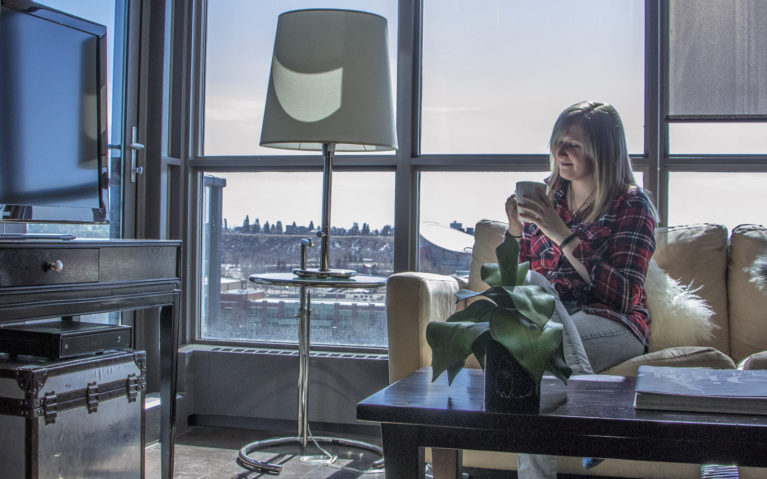 For your longer stays, there is a washer and dryer included in the apartment along with some detergent. I don't know about you, but I've rarely seen that in a short-term rental! I swear Suite Digs thought of everything!
While the amenities are amazing, it was the little touches that really made the stay so wonderful. After a long day, words can't describe how nice it is to arrive to a gorgeous bouquet, not to mention some fruit, juice and bubble water. It meant I didn't have to go hunt for food after my 10pm arrival time which I really appreciated!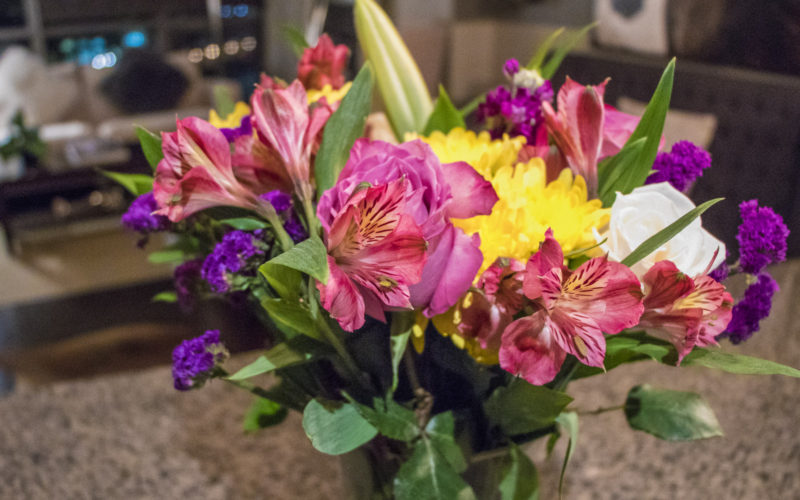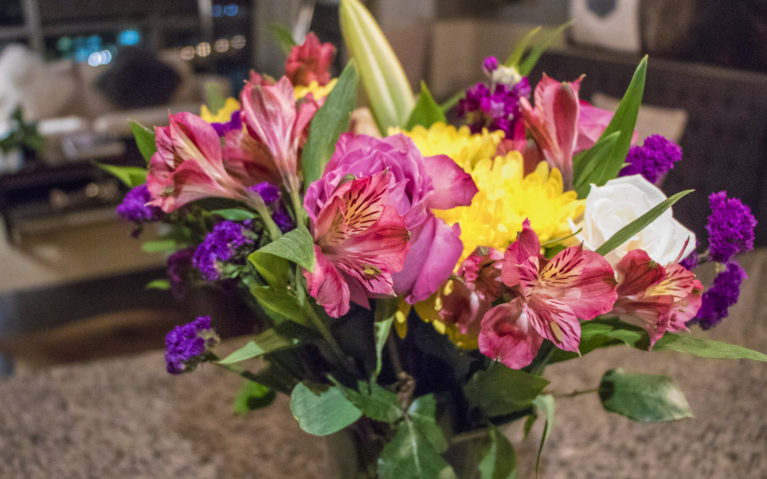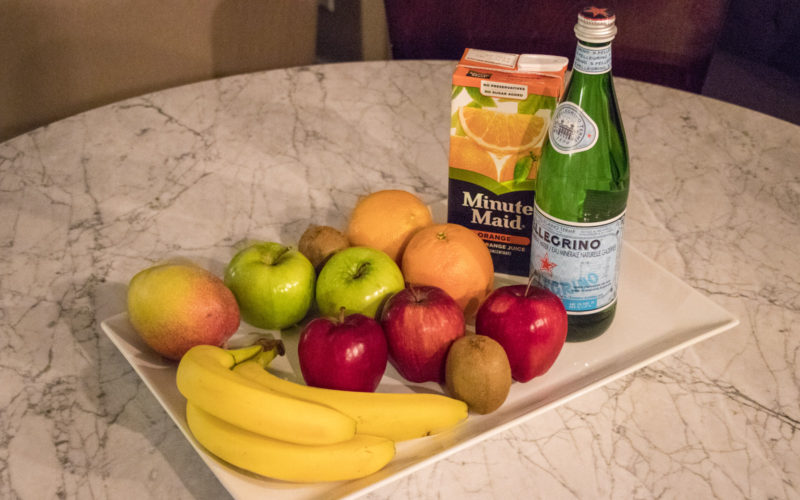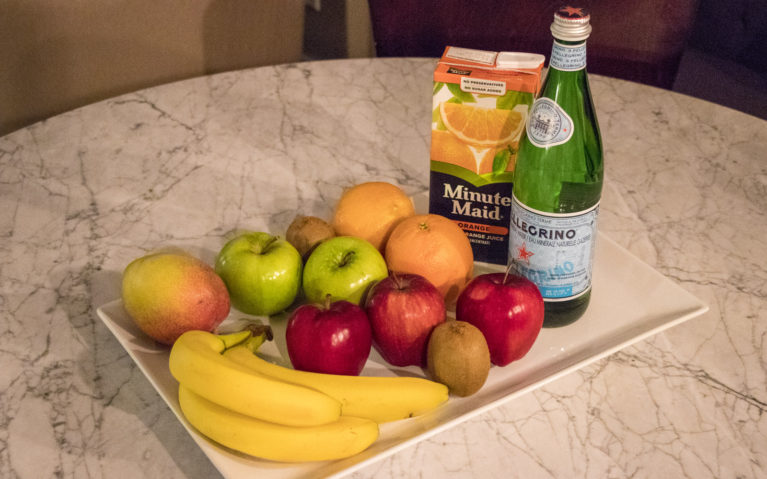 Another thing: if you're unsure of what to do in Calgary – all you have to do is ask! Their concierge service will happily give you advice on places to visit during your stay. It's like having your very own personal travel planner at your fingertips!
I didn't have a chance to enjoy them myself, but the building also has some additional amenities such as a fitness area, pool table, hot tub and large shared patio which you are welcome to enjoy during your stay.
While I only stayed for one night, I wish I could have stayed for longer. I immediately felt so at home (and slept like a rock) at the Keynote by Suite Digs. Hotels have nothing on them! So next time you're heading to cowtown, be sure to grab a Suite Digs apartment for your Calgary accommodation!
Disclaimer
Thank you to Suite Digs for hosting me during my stopover as I returned home from the Northwest Territories. This post also contains affiliate links where I can receive a kickback to support IBB at no extra cost to you. All comments and suggestions are my own as always. Read more in our disclaimer and privacy policy.
Planning a stay with Suite Digs? Pin it for later!