Treat Yourself! Girls Getaway at Hockley Valley Resort & Spa

As someone who loves the outdoors, tackling hiking trails, hunting for waterfalls and more, I'm a get-up-and-go kind of girl. Although I gotta say, sometimes my get-up-and-go has gone-up-and-went without me, and when that happens… it's time to treat yourself! Just an hour drive from both Toronto and Kitchener, Ontario, Hockley Valley Resort is the perfect place to put your feet up and relax. So when my bestie suggested a girls getaway, I was all over it.
Lucky for us, Hockley Valley has a girlfriends getaway promotion right which includes a night at their beautiful resort and a $75 spa credit per person. Top that off with a three-course dinner at their Cabin Restaurant followed by a buffet breakfast and you've got the perfect recipe to pamper yourself!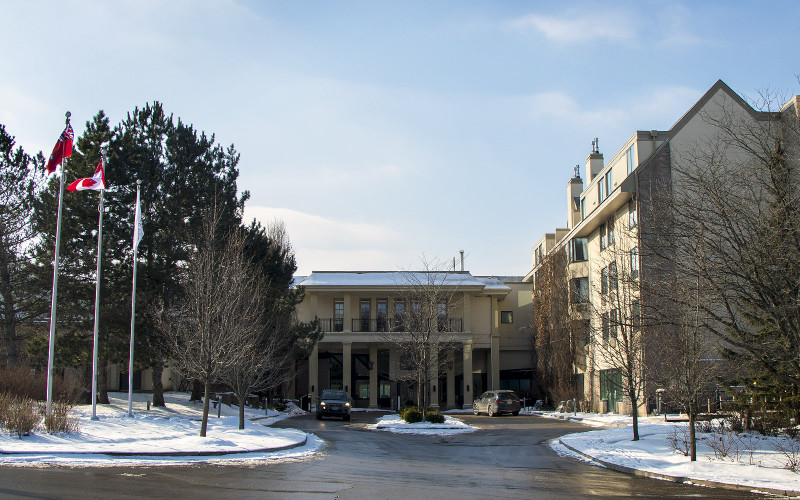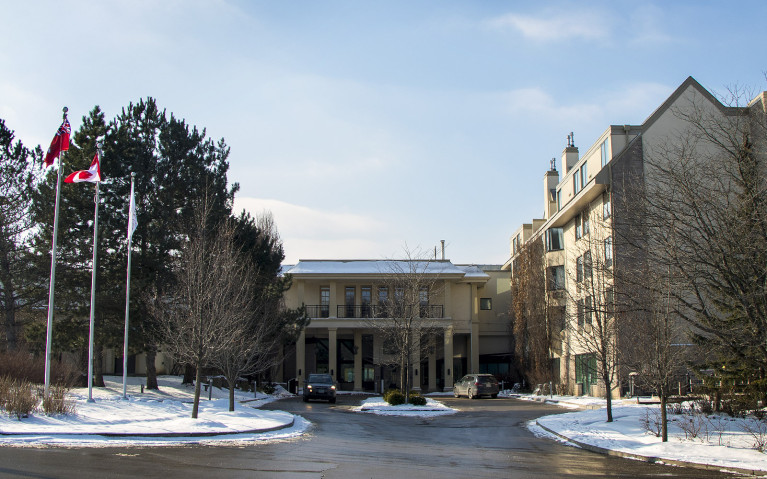 We arrived around 1:30pm to a quick check-in and our room already available for us. I love it when hotels can get you in a little bit early, especially since our spa appointment was at 2pm! We quickly grabbed our things from the car (I should mention there's free parking) and dropped them off in our Premier Resort Room. I felt like a queen as soon as we stepped inside. The elegant dark wood furnishings contrasted beautifully with the room's warm, creamy tones. Beautiful hardwood floors welcome you into the room as broadloom carpet cushions your feet from the beds onwards. Don't get me started on how comfortable the beds are. With plush pillows and duvets, it's as if you're sleeping on a cloud. I'm getting ahead of myself though – and off to the spa we go!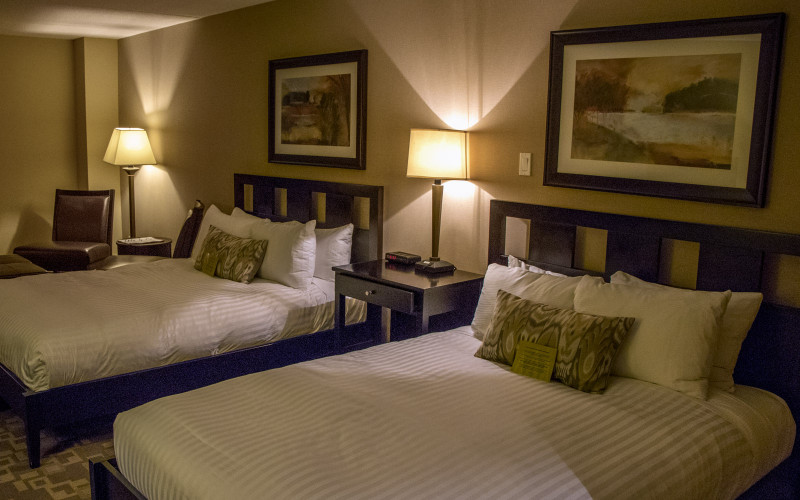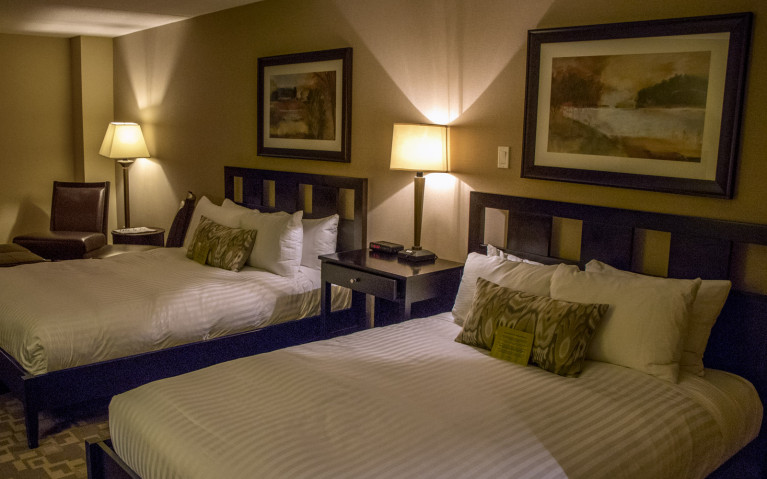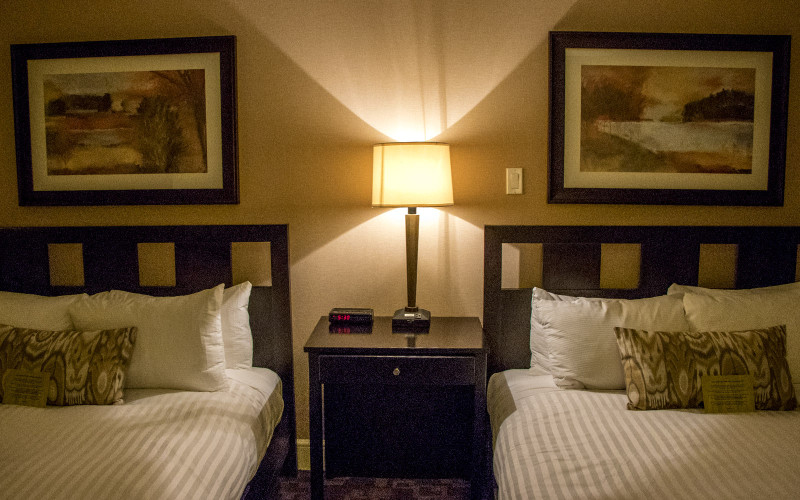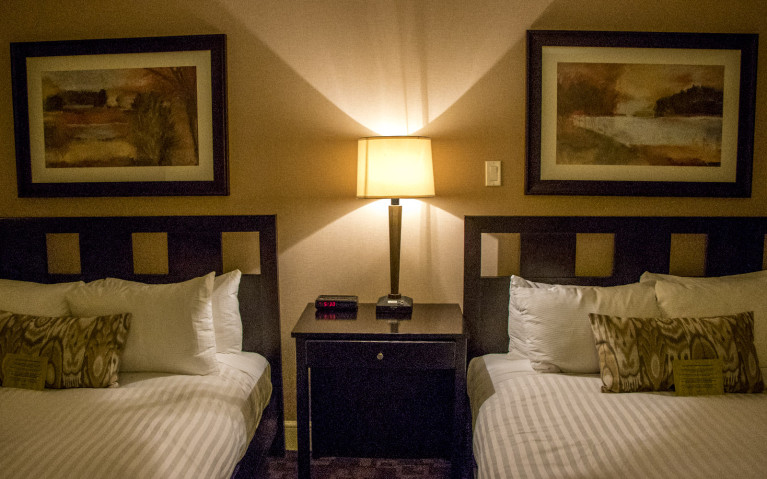 Hop on the elevator and head to the 3rd floor. You'll need to book an appointment in advance for any treatments, and lucky for us there was a cancellation! The receptionist will hand you a pair of sandals for use within the spa and lead you to the change room. Inside you'll find lockers to secure your valuables so your mind will be at ease as you enjoy your spaaahhh time. While we were only getting manicures and pedicures, we couldn't resist wearing the luxurious robes supplied by the spa.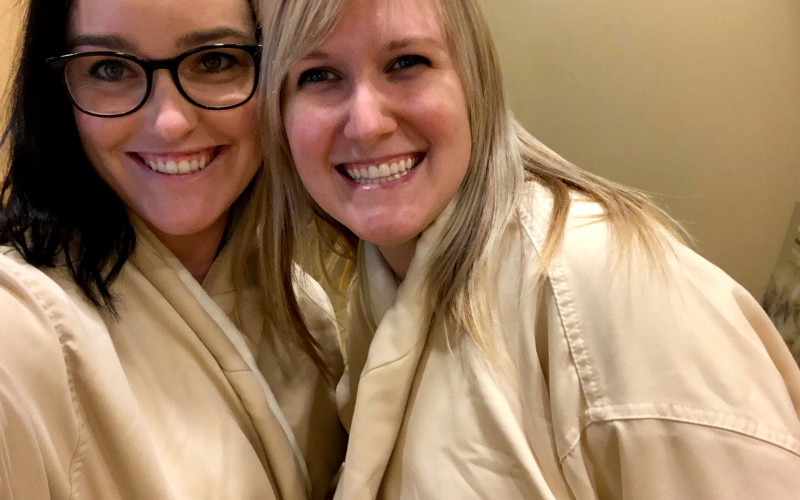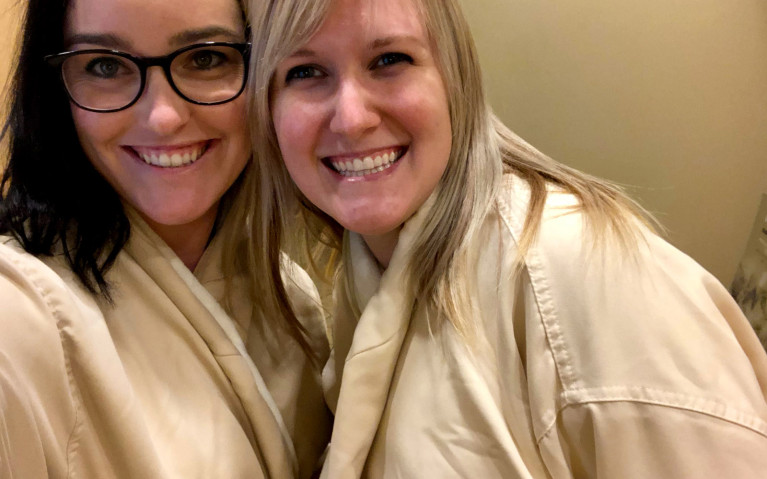 After getting cozy we made our way to one of the two lounges within this beautiful 8000 square foot facility. Sit back and relax in one of the many armchairs and couches available. Don't be afraid to help yourself to a drink – there is plenty of tea and flavoured water for you to enjoy! After a few moments, we were greeted by Sofia and Monica who would be taking care of us. They led us to where the magic was about to happen – time to get spoiled!
With plenty of natural light from their ceiling to floor windows, we cozied up in the big plush chairs for our pedicures. Oh, did I mention they were massage chairs?! In just a few moments I was in pure bliss as the chair worked on knots in my back and Sofia worked her magic on my toes. I'm not sure what was better, the amazing brown sugar foot scrub or the exfoliating clay with adorable warm booties, but I was in heaven either way. Oh, and the hot stone treatment was a lovely surprise especially since it was quite chilly out! For my very first pedicure, let's just say that Hockley Valley set the bar high!
JUST FOR FUN: If you have the pleasure of either Sofia or Monica, ask about the infamous climbing rabbit. You'll be in for a treat!
Afterwards, it was time for our hands to be spoiled. With a similar round of luxury, I let my mind wander as I retreated into a state of bliss. One thing I loved about the entire experience is that all of the products they use are natural and made especially for Hockley Valley. The scents change from month to month, meaning each time you return it'll be a slightly different experience. For us, it was a delicious cinnamon heart scent which honestly smelled more like red velvet cake. I couldn't get enough of it. Luckily you can purchase your own to take home as a souvenir – which I did!
Once you're all prettied up with polish, retreat back to the lounge to let it dry. We settled in right by the fire, and it was the perfect way to spend a chilly winter day. An added bonus was that we had the entire lounge to ourselves! I don't have all that many photos as I disconnected and fully enjoyed my experience, but I'd say the one below pretty much sums it up.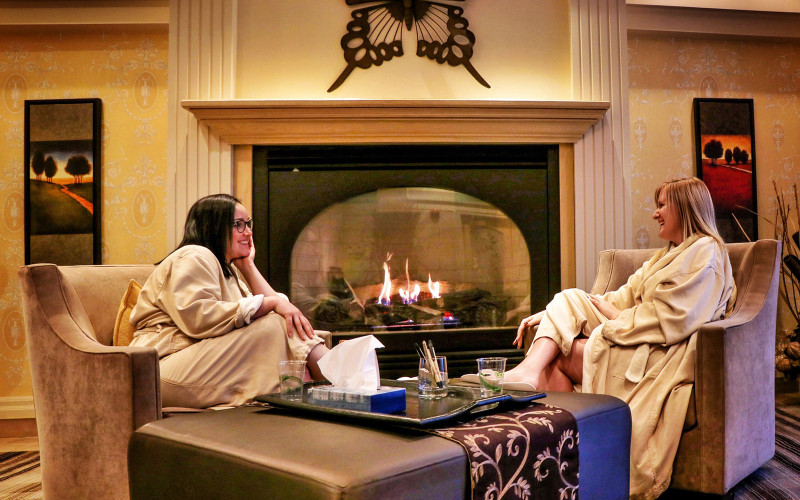 We retreated to our room (robes in tow) and relaxed for a little bit before our dinner reservation at Cabin. Since we had a bit of time, we scooted over to Adamo Estate Winery just down the street to get a few bottles for the evening. We sampled a wide variety of their reds and whites. If you opt for whites like me, I highly recommend their Gewürtztraminer if you like your wine on the sweeter side. One thing to note is that their prices are not blatantly listed so the cost can add up quickly, especially if you're being helped. I also don't know if this is just me being spoiled by Niagara-on-the-Lake wineries, but most establishments I've been to will make your tasting complimentary if you purchase some wine (especially $100+). This is not the case with Adamo, so it's something to note.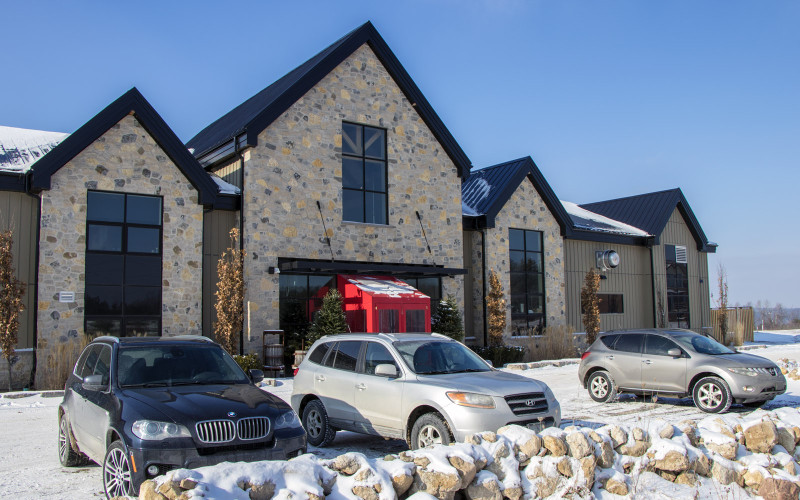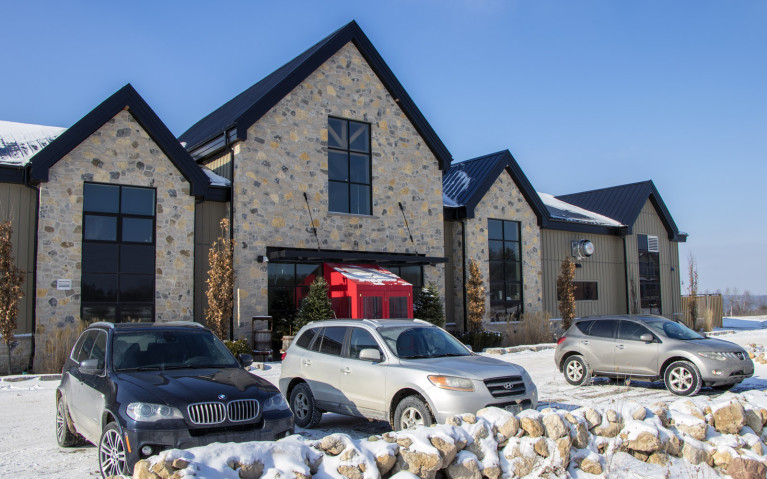 It was dinner time before I knew it as we settled in for our three-course meal at Cabin. The girls getaway package includes an appetizer, full course meal and dessert… and each round will be more delicious than the last. One thing I love is that they offer smaller versions of their pasta dishes as an appetizer. As someone who loves trying anything and everything, it's like getting a mini main course. I've never seen this anywhere else! My friend and I opted to get different appetizers and shared like a true girls date. And no, we didn't share a noodle like Lady and the Tramp (let's face it, I'd be the latter).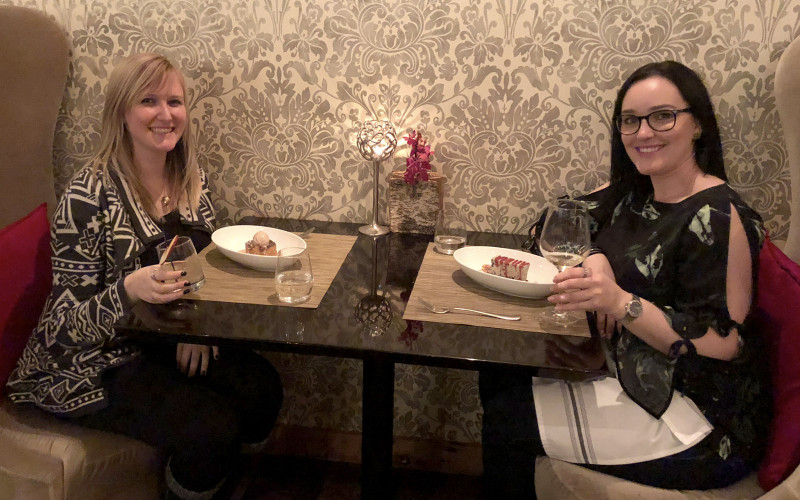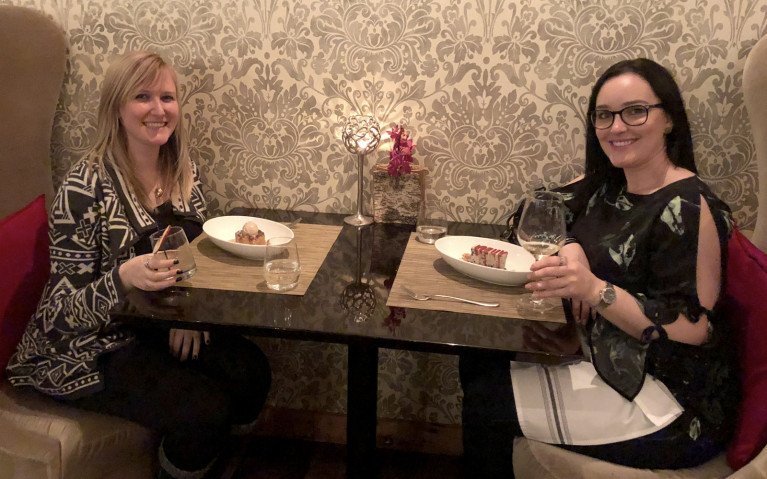 What's a girls getaway dinner without a fancy drink? I opted for their Calvados Citation – calvados apple brandy, house-infused ginger syrup, fresh lemon juice and apple cider garnished with an apple slice. It's a fantastic winter drink, and one I may have to try and mimic at home!
Shortly afterwards our appetizers came as we split one of their starts and a mini pasta dish. Served on a gorgeous slate plate, their scallops were perfectly seared and served with crispy double smoked bacon, pickled fennel and frisée, celery root cream and garnished with parsnip chips. This paired perfectly with our other appetizer, the ricotta gnocchi with braised beef short rib, mushrooms and pecorino simmered in their natural sauces. I'm not a fan of gnocchi normally, but I could have eaten this melt in your mouth dish ten times over!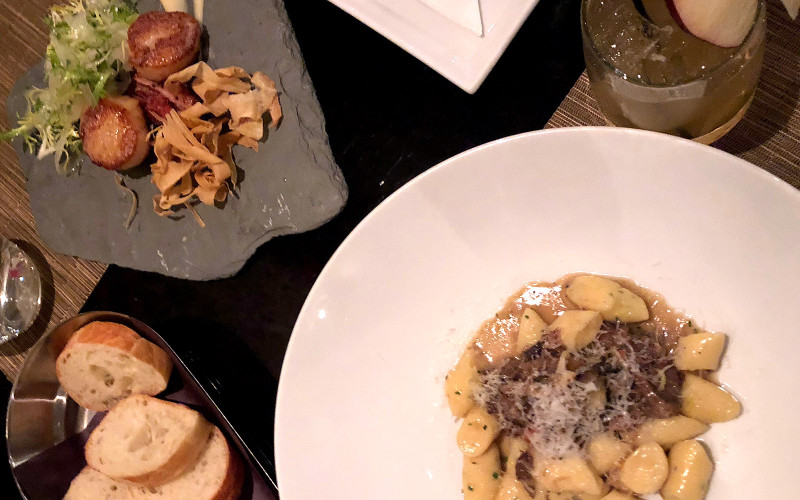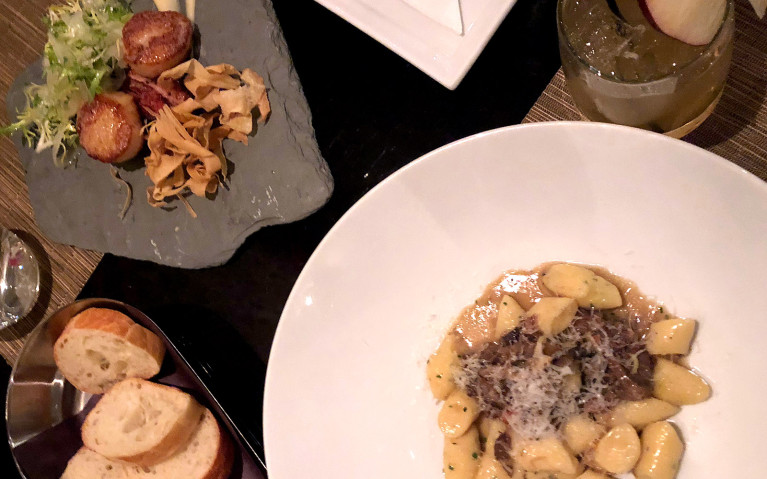 If you thought the first round was good, the main course is even better. We both indulged in the Muscovy duck leg confit with squash mash, soy roasted Brussel sprouts and pearl onions with sautéed greens all brought together with a fennel/mustard compote and juniper berry jus. The duck fell off the bone as each bite was more savoury than the last. All of the flavours complimented each other as they danced around your taste buds with each bite!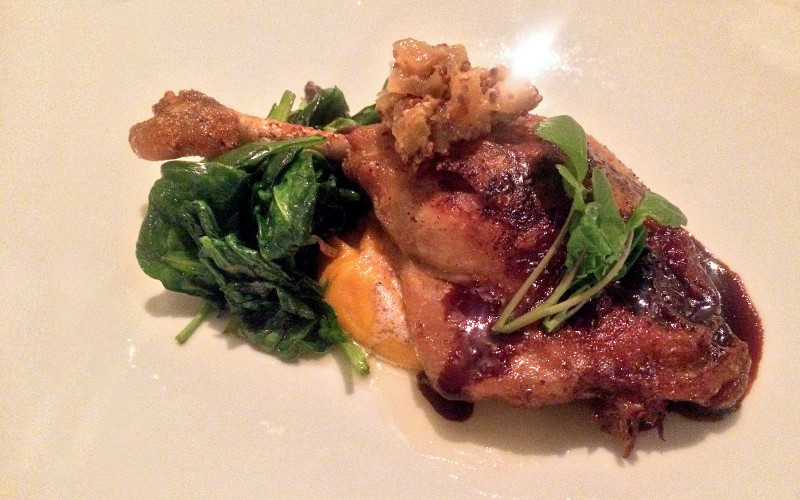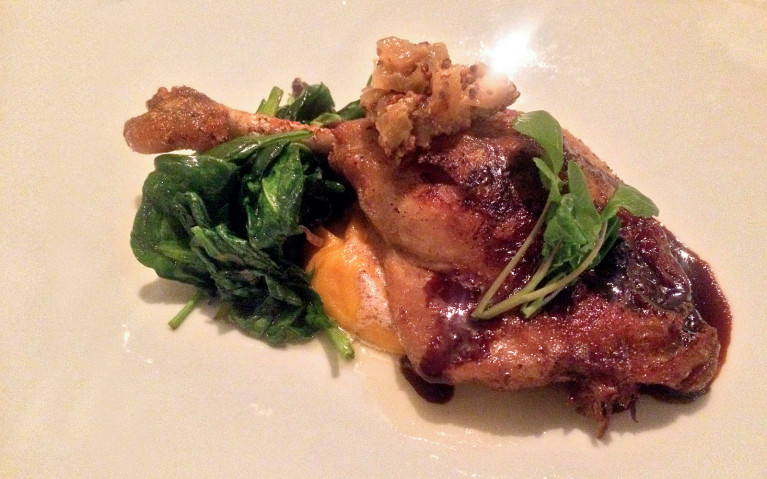 Luckily you can roll yourself to your room after this as dessert will place you in food coma status. You may have a tough time choosing but their most popular being the budino and their Oreo cheesecake (which my friend opted for). I decided however to take a walk on the wild side and order the pear upside down… and it did not disappoint. While I was surprised to not find an actual pear (I honestly was expecting this), I got a deliciously divine vanilla cake. Within it are tasty poached pear morsels drizzled with caramel sauce and topped with a heavenly scoop of port wine gelato. I don't know how this isn't their most popular dessert as it's to die for!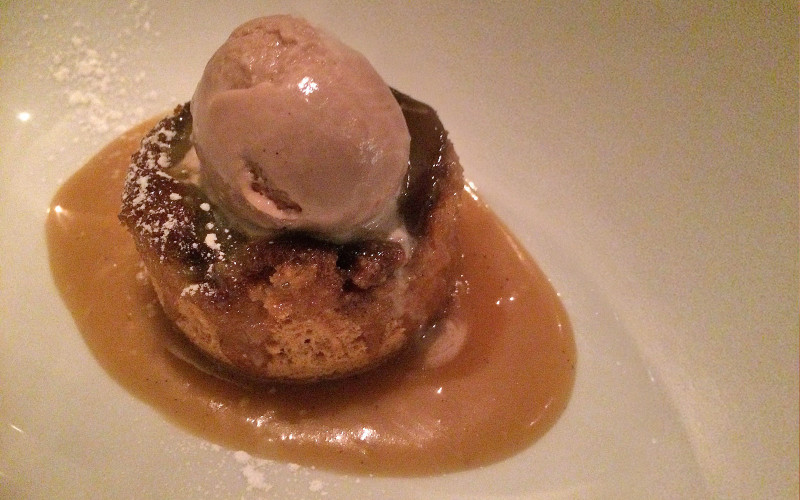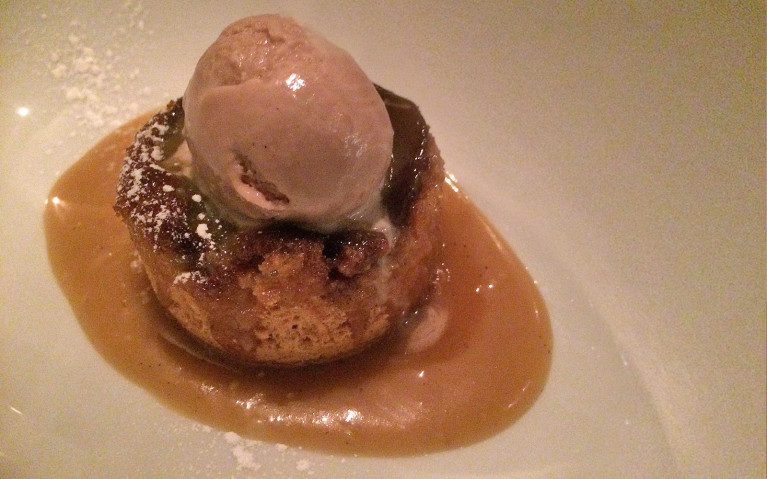 With bellies full, we slowly made our way up to the room. Before you leave though, be sure to take a moment and enjoy Cabin's decor. Whoever their interior designer was really nailed it! We finished the night off with a bottle of bubbly because, let's face it, we're fancy like that. Snuggled up in our robes, we had some serious girl time topped with Netflix and a whole lot of laughter. Then it was off to dreamland in our cloud-like mountain of pillows and sheets!
Morning came way too quickly as the beds held our morning motivation captive. Alas, a 9:30am breakfast cut-off got us out the door as we indulged in an amazing breakfast spread. From fresh fruit to pancakes to the biggest bacon mountain I've ever seen, we ate just as well as we did the night before. The best part? It's a buffet! Yes, I did get seconds and I'm damn proud of it.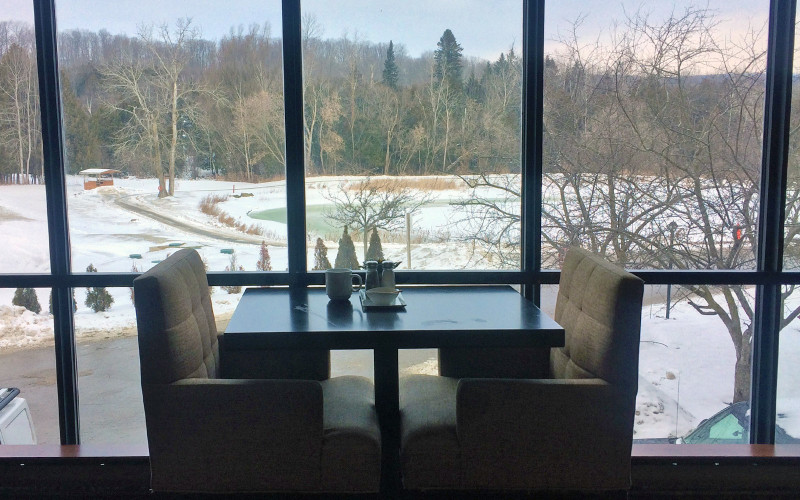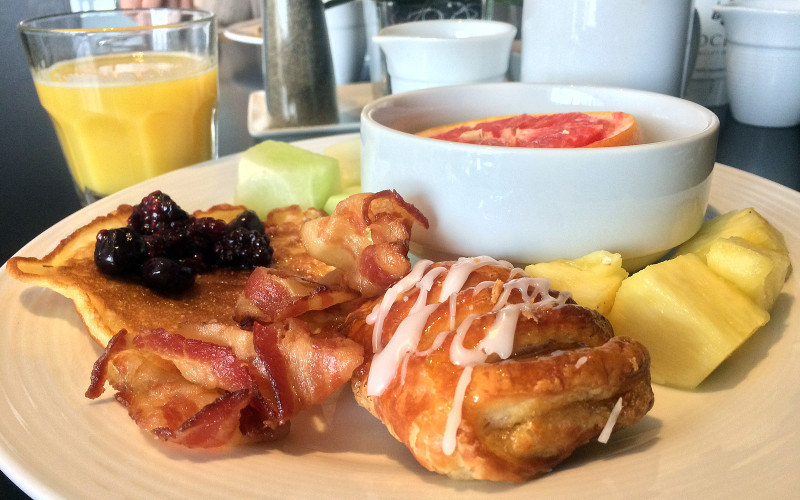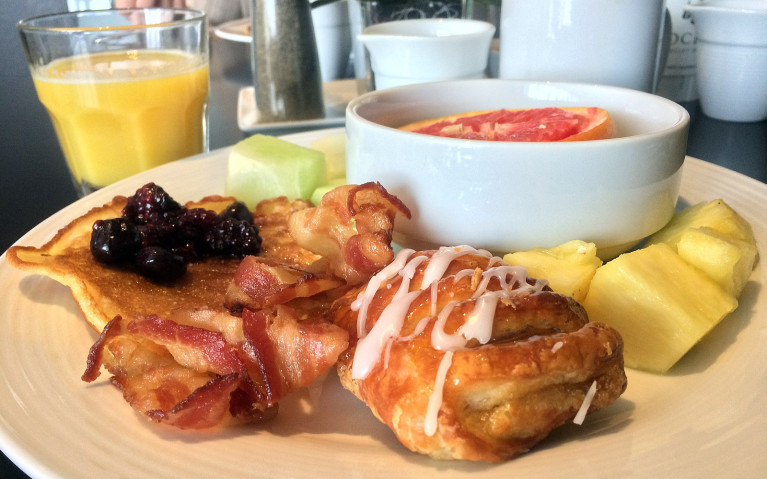 With bellies full yet again, we hopped back into bed for an extra hour as Hockley Valley was gracious enough to give us a late checkout. It was hard to leave our exquisite little chamber, but it's never goodbye – only until next time. There's no way I'd miss out on a chance to return!
Even if you're not feeling overworked or overtired, Hockley Valley Resort is never a bad idea. It's a popular place for bachelorette parties, couples getaways or just celebrating YOU. Because you deserve it obviously so book your stay today!