5 Days in Iceland Itinerary: Road Tripping the Southern Shore

Iceland is a fantastic destination in many seasons, and the best way to experience it is via road trip. While it is possible to do the whole ring road in 5 days, it means for long days and short nights. Instead, I suggest focusing on the southern shore. There's seriously so much to see and do that even 5 days isn't enough! However, it's a great way to get a taste of the area so check out this 5 days in Iceland itinerary!
Day 1 – Arrival in Iceland
We landed late Saturday night to a rainy state in Keflavik. After grabbing our luggage we picked up our rental car from Saga Car Rental (affiliated with Thrifty and Dollar). For 5 days with extra insurance (sand & ash coverage as well as the windshields, paint, etc) and an extra driver, it came to ~$550CDN. It may seem like a lot but when you compare the price of excursions per person, it doesn't seem so bad. We picked it up with no problems, played Tetris with our luggage, and we were on our way! Although I was a little nervous for this trip as we decided to rent some gear and camp for three of our four nights. As I did the hostel route last trip, I didn't know what to expect. I never noticed if there were any campsites around last time since I wasn't looking for them. Google was helpful as it gave us some options on our first night so we at least had an idea of where to go.
Our first stop was Iceland Camping Equipment in Reykjavík to grab the gear we need. These people are absolutely wonderful! Ordering what we needed online was super easy, and they're super relaxed as we forgot to order two air mattresses so we weren't sleeping just on the ground. This came in handy as it was raining the first night. They also let us put the payment through later on. Additionally, they have a wonderful service where you can pick up and drop off your gear outside of their hours at no extra charge! Our flight was delayed so we didn't make it to Reykjavík until 2 hours after they were closed, so we were thankful for this option. On top of this, they were super sweet and added extra liners for our sleeping bags to make sure we were warm and toasty for our upcoming three nights. I highly recommend them as their prices are super reasonable (~$240CDN for tent, sleeping bags, air mattresses, WiFi, & car power converter for 3 nights) and they go the extra mile to make you feel at home while in Iceland – including a handwritten note!
After grabbing a quick dinner from 10-11, a 24-hour grocery mart that has the necessities, we got on the road and made our way east. Thanks to Iceland Camping Equipment, we had wifi for our entire road trip as you can rent a 3G portable WiFi Hotspot and 4GB of data. With Google Maps at our fingertips, off we went to find our first campsite!
Unfortunately for us, it was a mainly rainy evening across Southern Iceland meaning lots of driving in the dark and fog. We managed to get to Selfoss our first night, the perfect gateway as our plan was to head north towards some of the tourist hotspots like Geysir and Gullfoss. Thanks to Google, we found a campsite there called Gesthus Selfoss. Here they have bungalows which you can rent and a campsite that features hot showers, a kitchen, and wifi in the common area. For $12CDN a person you have access to everything on the campsite, and so we set up shop! After a good night of sleep and a hot shower, we were ready to truly take on Iceland!
Day 2 – Chasing Waterfalls to Seljandsfoss
As it's on the way to Geysir and Gullfoss, there's no reason for this not to be a stop while touring Iceland. The trail to get there can be a little tough as it was slippery with mud from the rain, but worth every stumble to get to this stellar view! It took my breath away more than either Geysir or Gullfoss. If you're looking for some true Icelandic scenery – make sure to stop at this hidden gem!
Next on the docket was the typical touristy spots. I would have dodged these entirely as I visited them last time I was in the country, but it was Robin's first time in Iceland and so I thought he should see all the big sights too. There's a reason they're a hot spot after all. Robin was especially a fan of Strokkur and its clockwork eruptions. These are all accessible by bus, so if you didn't want to rent a car while in Iceland you can always hop on a tour bus and head on over. I'm not a fan personally, but I've had friends who told me they enjoyed this option too!
Another reason to stop at Geysir is that they've really built up the place! There's a wonderful little café there now that serves top-notch food. The shop that was only half finished three years ago is now fully stocked and booming as tons of visitors come in and out of it each day. I would highly suggest grabbing lunch here as they have a great menu with not just North American food but traditional Icelandic favourites. I had the Kjötsúpa, a traditional meat soup, and it was perfect for the somewhat chilly day we had been having. Robin had the lamb which was so flavourful and tender, and it seemed like other patrons were enjoying their selection of dishes also!
After a quick stop at Gullfoss, we made our way back south to get on the road again as we needed to start making some headway towards Jökulsárlón. After a few hours of driving our stomachs started rumbling and it was time to find some food. Robin did some Google searching and stumbled upon the Eldstó Art Café. A gem in practically the middle of nowhere, the food here is to die for! With a menu that varies daily, they have tons of options ranging from seafood to burgers. I had the Arctic Char and it was probably one of the best fish dishes I've ever had. The Char melted in your mouth and was smothered in a delicious white wine sauce that has me salivating just thinking about it! The staff were also super friendly and helpful as they pointed us towards our second campsite – right next to Seljalandsfoss! For the night at Hamragarðar campsite it was $14CDN a person. They also had a kitchen, bathrooms, and hot showers (an extra $3 for 5min, payable in 100 krona coins), but best of all they had a great view of either Seljalandsfoss or Gljúfrafoss. Worth every krona!
The staff were also super friendly and helpful as they pointed us towards our second campsite – right next to Seljalandsfoss! For the night at Hamragarðar campsite it was $14CDN a person. They also had a kitchen, bathrooms, and hot showers (an extra $3 for 5min, payable in 100 krona coins), but best of all they had a great view of either Seljalandsfoss or Gljúfrafoss. Worth every krona!
Day 3 – Jökulsárlón to Vik
It was a little windy that night but we slept fine and were ready to go for day three of our Icelandic adventure. Again we made our way east with the goal being to make it to Jökulsárlón. We had a few shorts stops along the way but high tailed it to the glacial lagoon – and for good reason! The more time with that beautiful area, the better! Check out my previous post for some photos that'll make you wish you were there!
Our last stop of the day was one that is another must-see on my Iceland list: the Fjaðrárgljúfur Canyon. Unfortunately, as we were racing daylight we couldn't spend as much time as I would have liked here, but what we saw was breathtaking! The gorge is approximately 2km in length with varying cliff heights that make for amazingly intricate rock faces.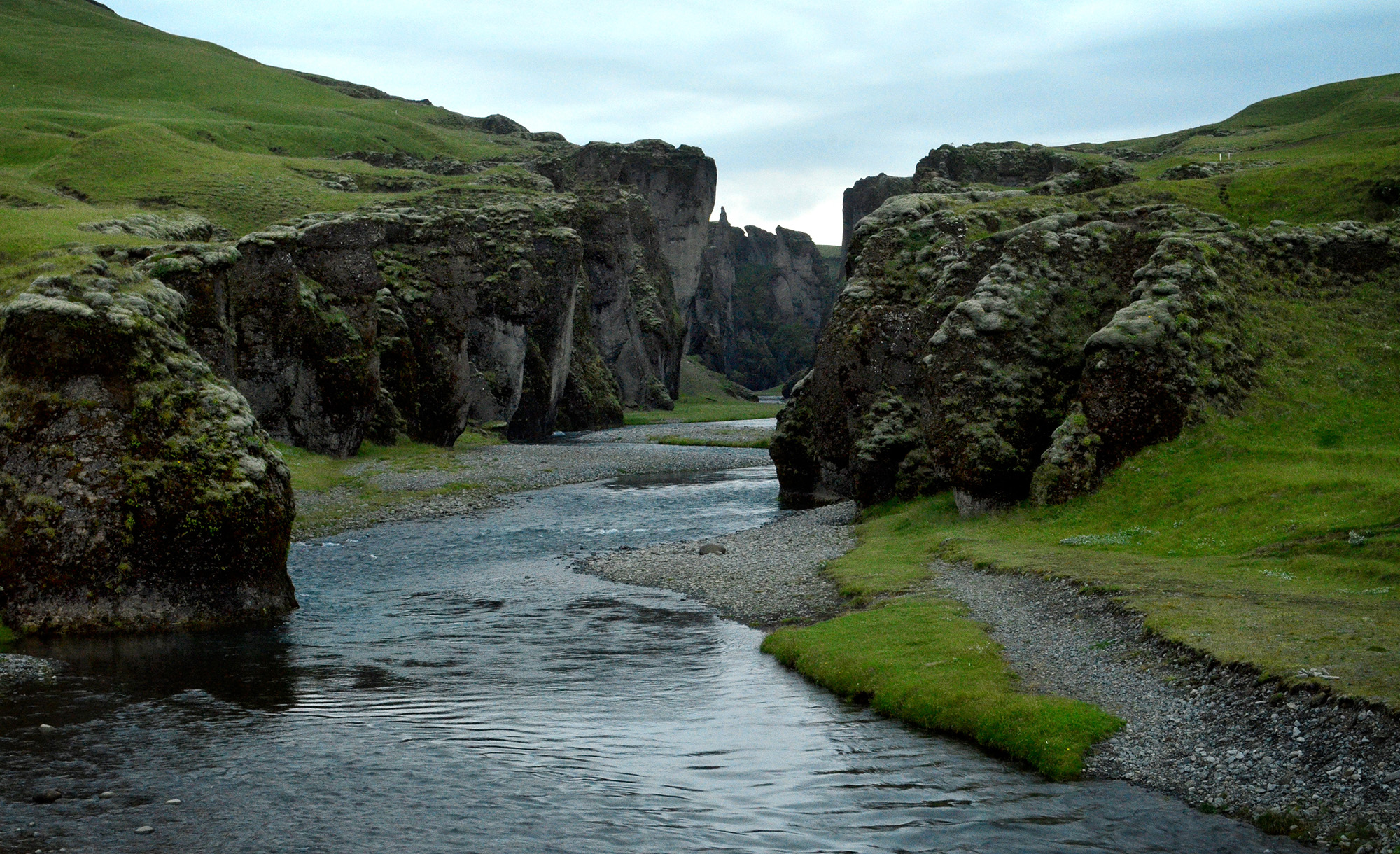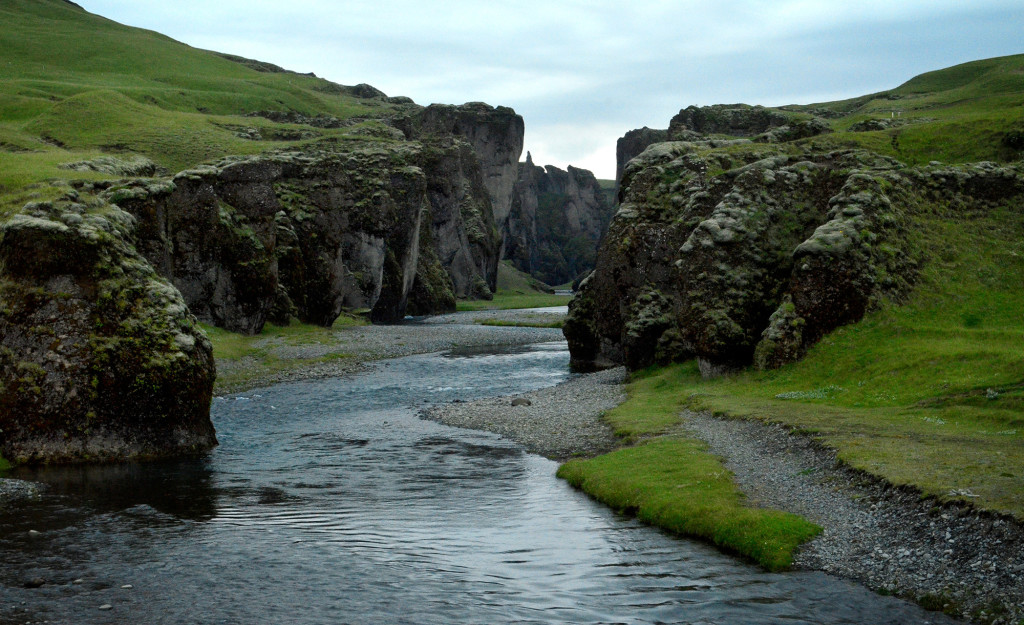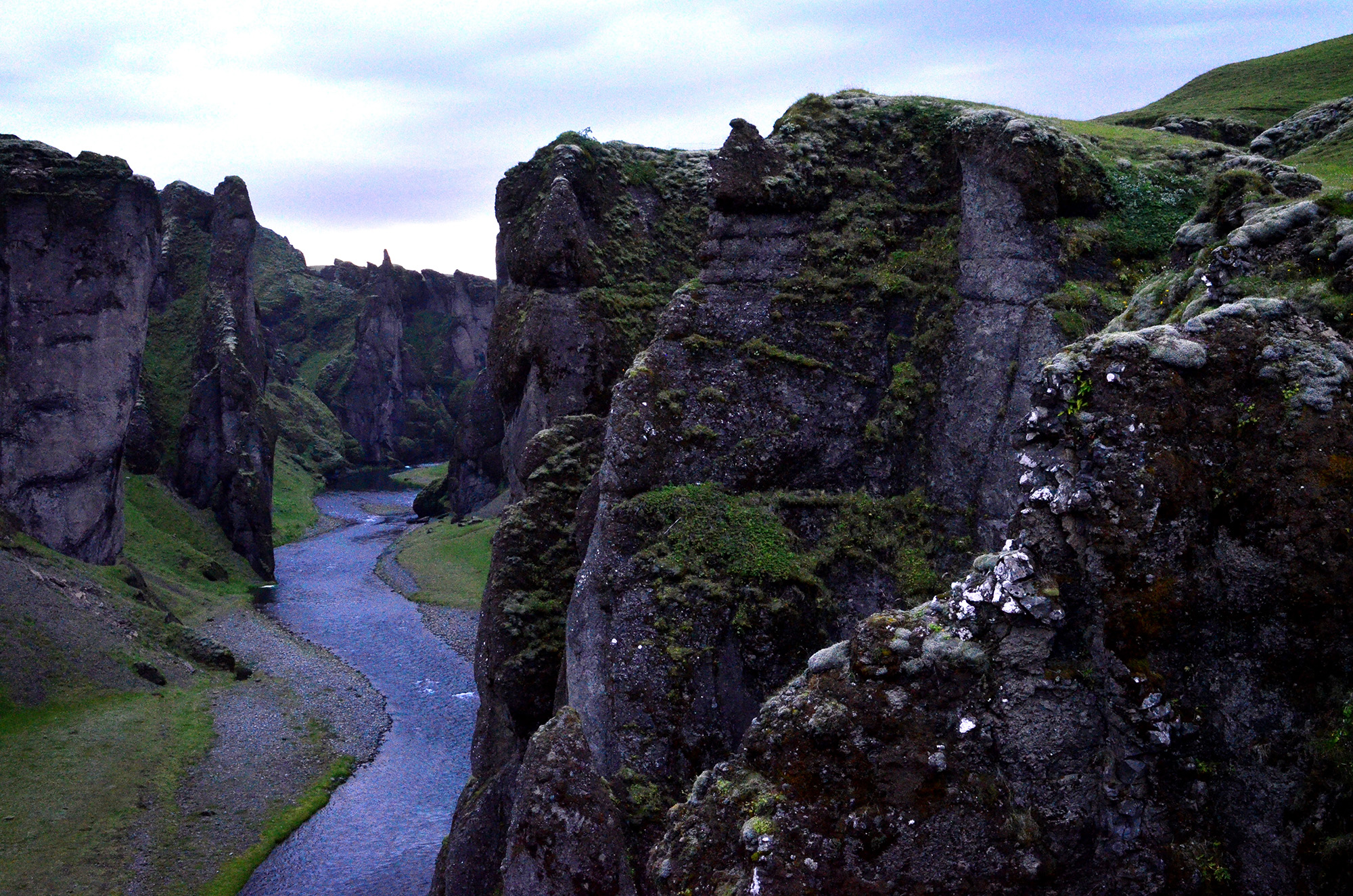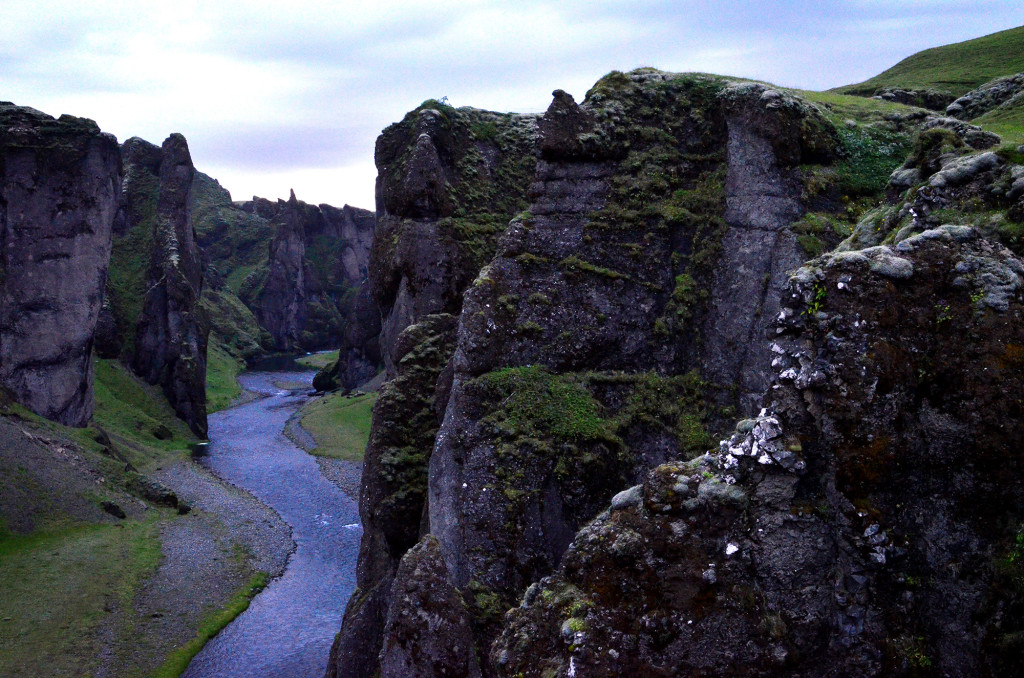 Our last campsite for the night was in the heart of Vik, a quaint little coastal town that's home to Iceland's iconic black sand beaches. Something to keep in mind is that Vik can be very windy, as we experienced during our night there. With gusts around 60km/h, it made for an interesting night in the tent! Luckily we were able to shield the tent by creatively placing the car to block some of it. The Tjaldsvæðið Vík campsite cost $14 per person and cost an extra $2 for unlimited hot showers. Perfect for us as we settled in for our final night of camping.
Day 4 – Vik to Reykjavík
Since we had quite a few destinations left on our plate, we had an early start to our day. We enjoyed breakfast by the shore admiring the Reynisdrangar rock formation as it sprinkled outside. With full bellies we continued our journey west, stopping by to get up close and personal with the Reynisfjara and Dyrhólaey. This time of year is perfect for a visit as the rocks are where the Atlantic Puffins make their home! We enjoyed not just the surreal rock formations, but also the adorable feathered friends above.
The winds were even stronger here as we hightailed it out and headed towards brighter skies. Some Iceland sunshine greeted us as we arrived at Skógafoss, another popular tourist spot. The waterfall itself is pretty magnificent, however I suggest heading up the stairs and going past to catch a glimpse of the earlier waterfall that feeds Skógafoss. I'm personally a fan of cascading waterfalls, and this one is a beauty! The trail here continues onwards all the way to one of the glaciers, however as we had some time restraints and more stops to go, we had to save that trek for another trip.
Our final – and most important – stop before our final night in Reykjavík was just north of Hveragerði. If you take the road all the way to the end, it takes you to a hiking trail that leads through the Valley of Reykjadalur. The trail, conveniently also named Reykjadalur, is about 3.5km long but is not a breeze! Trekking uphill is definitely worth it as it leads to a beautiful natural hot spring. Definitely worth a stop in my books! And with that, we raced the sun to Reykjavik to settle in for our final night in Iceland.
After 3 nights of camping, we decided to splurge and enjoy a night in a real bed at Guesthouse Galtafell.
Day 5 – Exploring Reykjavík and Homeward Bound
With our flight leaving in the afternoon, we didn't have tons of time to explore Iceland's capital city. However, we made sure to stop at the iconic Hallgrímskirkja. While it is free to enter the main floor, if you want to go up the spire for the best view of the city, you'll have to pay approximately $10 CAD. Trust me though, it's worth every krona for these views!
For our last meal, we splurged and indulged at 3Frakkar. This high-end establishment in the downtown core focuses on fish dishes as well as Icelandic food. No matter what you order, I guarantee it'll be fresh and incredibly delicious. We couldn't have asked for a better send off!
Ready to Spend 5 Days in Iceland?
As you can see, this is one busy itinerary! Despite this, there is still so much that the southern shore alone can offer. Take your time and enjoy the long days as you explore this beautiful country! Just be sure not to overdo it – it's easy to get caught up in the natural beauty surrounding you!
Want to remember these tips? Pin this 5 days in Iceland itinerary for later!