Lighthouse Hunting II [Huron Edition]

This past weekend marked the 3rd Annual Mother-Daughter Weekend Adventure, and both my Mom and I couldn't have been more excited. Three years ago, unfortunate family events took us to Owen Sound where my Mom's side of the family is from. There's always a silver lining though as we now have this beautiful weekend to look forward to despite the reason for it beginning being heartbreaking. This compounded with the fact that I've now moved out and have a full-time job, neither of us see each other as much as we would like. Just another reason for us to have this weekend dedicated to just us!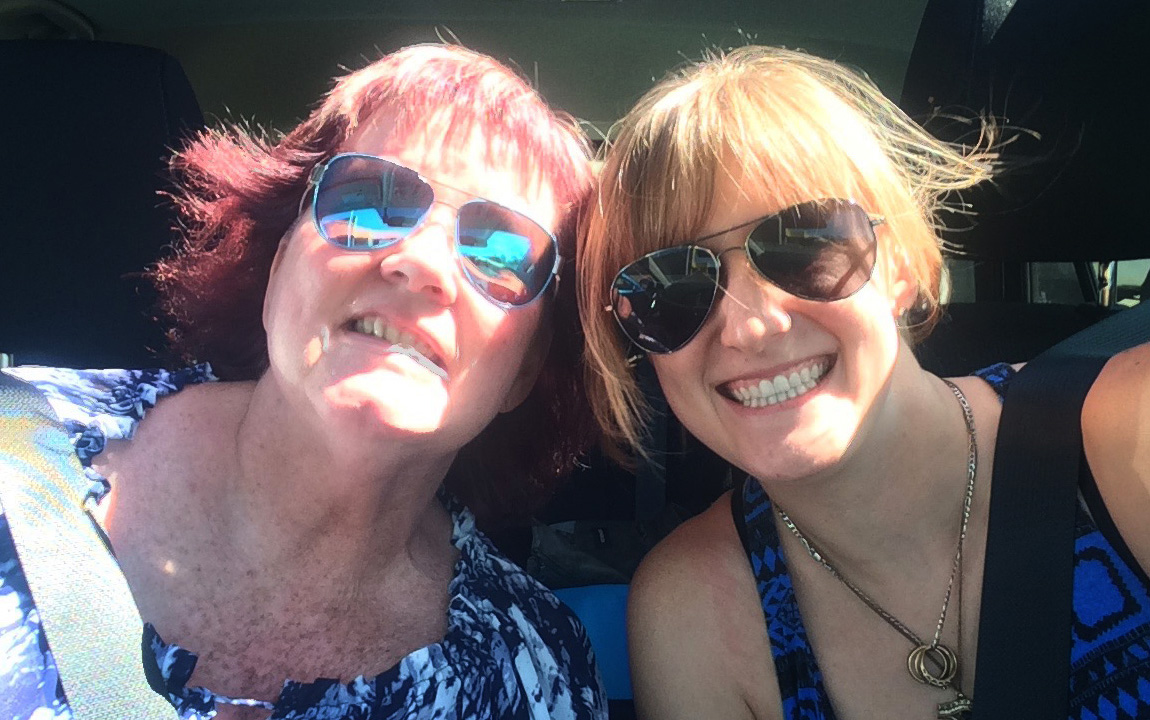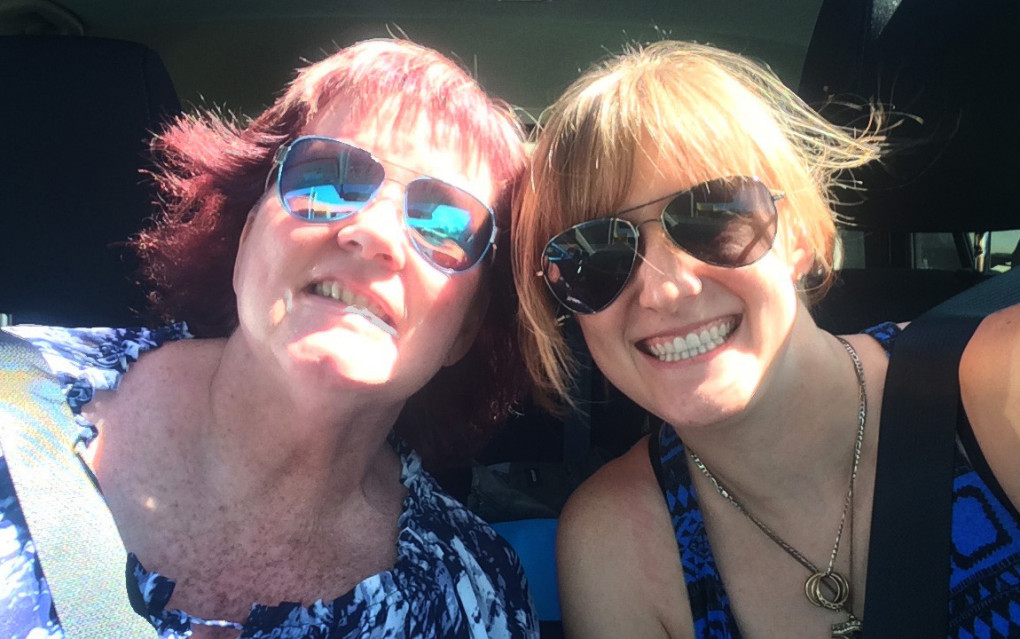 Although this year, we decided to go for a change of pace. The past two years, we've stayed at a large hotel chain in Owen Sound. However the more I travel, the more I want to support the local economy. Why give my money to some conglomerate when I can give it to a traveller like myself or to someone who's looking to make a living from it? This year we saved a few pennies on our accommodation AND supported a local Ma & Pa hotel, the adorable Sauble Marina River & Lodge, thanks to a great deal on Hotels.com! If you're looking for a fabulous place to stay in Sauble Beach, I'd highly suggest it. Our place had a separate bedroom, futon, and even a patio outside with a BBQ! It could easily sleep 6 people and with it being right on the river, it's great for those that love the outdoors!


Despite how awesome our hotel was, we spent more time exploring Southern Ontario. Last year we made our way north to Tobermory, hunting for lighthouses along Georgian Bay. This year, why mess with a good thing? With 4 lighthouses down and more to explore, we drove south along Lake Huron to hit some more. Adventure time in Bruce County!
Our first stop was 20 minutes south in Southampton, part of the Saugeen Shores Township. Located on the mouth of the Saugeen River, it boasts what I originally thought were two small lighthouses but are actually two range lights! A range light is different from a light house in that they usually come in pairs. Why? The captain of a vessel aligns the two and uses them as a guide to navigate the waters!
The first Range Light is accessible by South Rankin St at Scubby's Point. Take the path down the set of stairs there (be careful as the steps are uneven since they're built into the landscape) and walk along the pier to the Range Point! From here you can also catch a glimpse of the Chantry Island Lighthouse, which you can access via ferry from Southampton. Unfortunately the ferry service doesn't start until later in May, but that just means another trip is in order!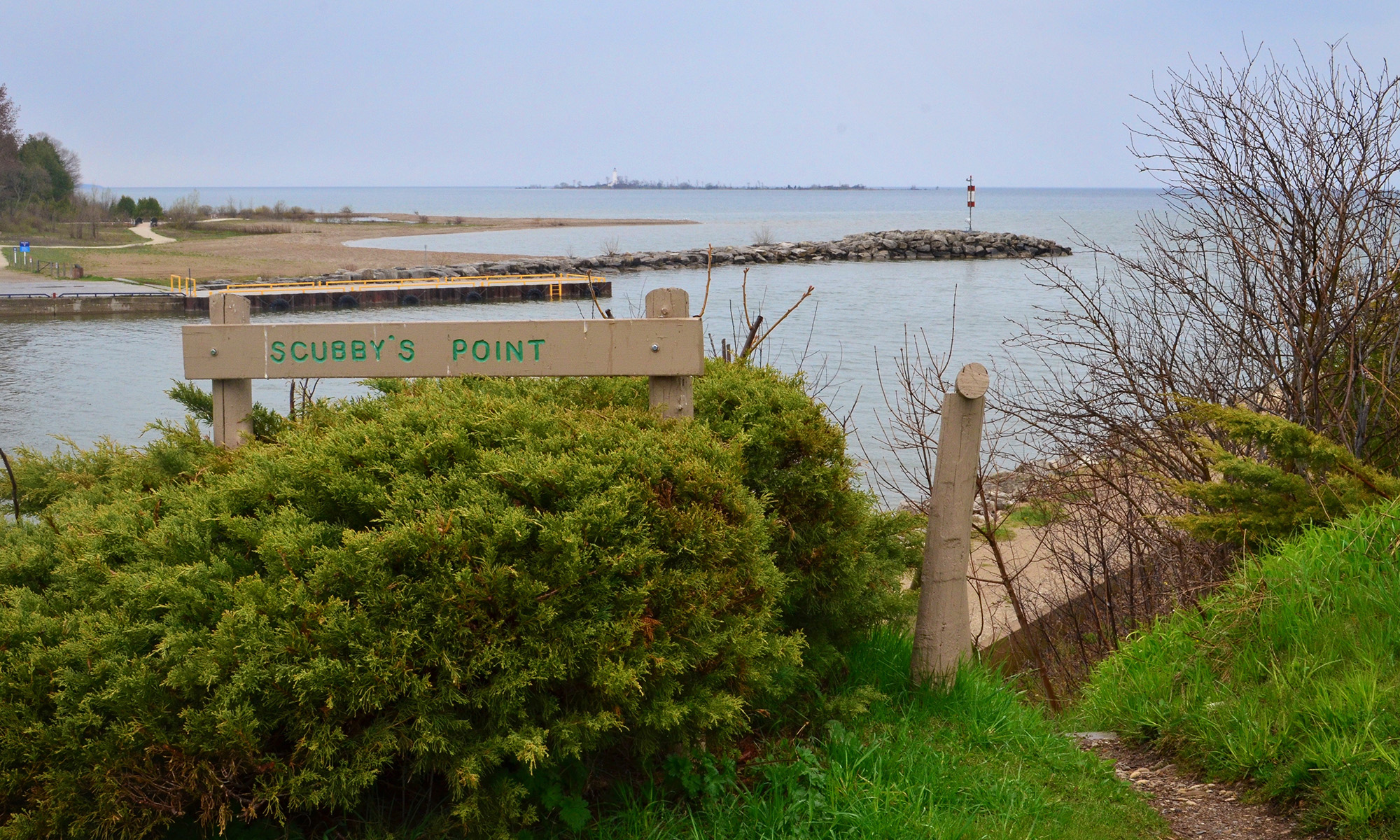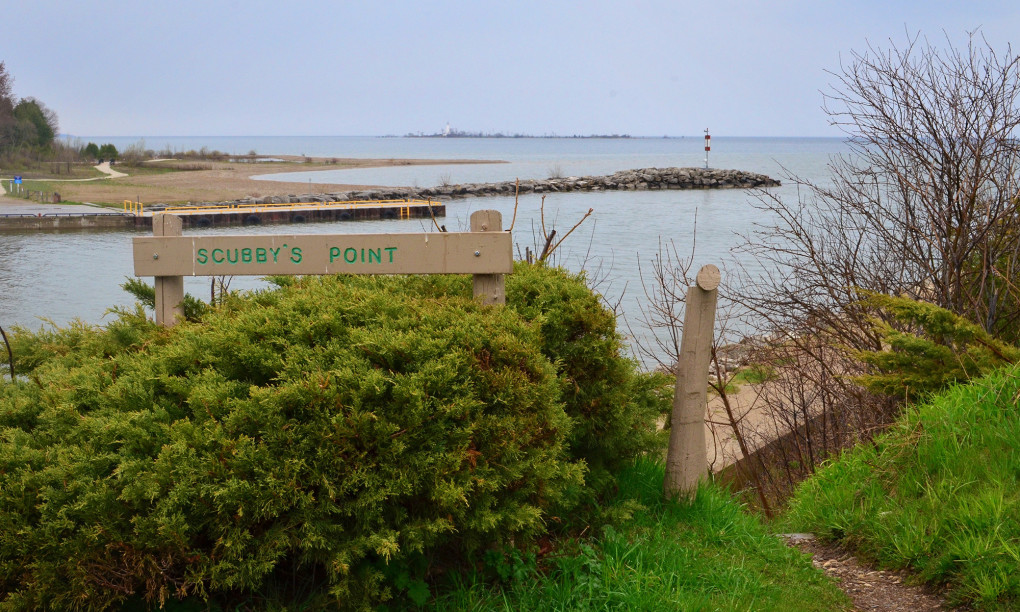 Just down the road west of the Ontario 21 highway is the quaint little town of Kincardine. The town as we know it now is fairly young as it became Kincardine in 1991, however it has a rich marine history that dates back to the 1800s. A square light tower was first built in 1874, but more was needed as shipping traffic increased drastically at the mouth of the Penetangore River. Seven years later, Kincardine's iconic lighthouse was built into the hillside. The lighthouse has an octagonal structure and is built above the keeper's house, making it 24.4 metres tall. Its 12-sided lantern can be seen up to 30km on Lake Huron! The lighthouse has been converted into a museum, however it is only open from July 1st until Labour Day.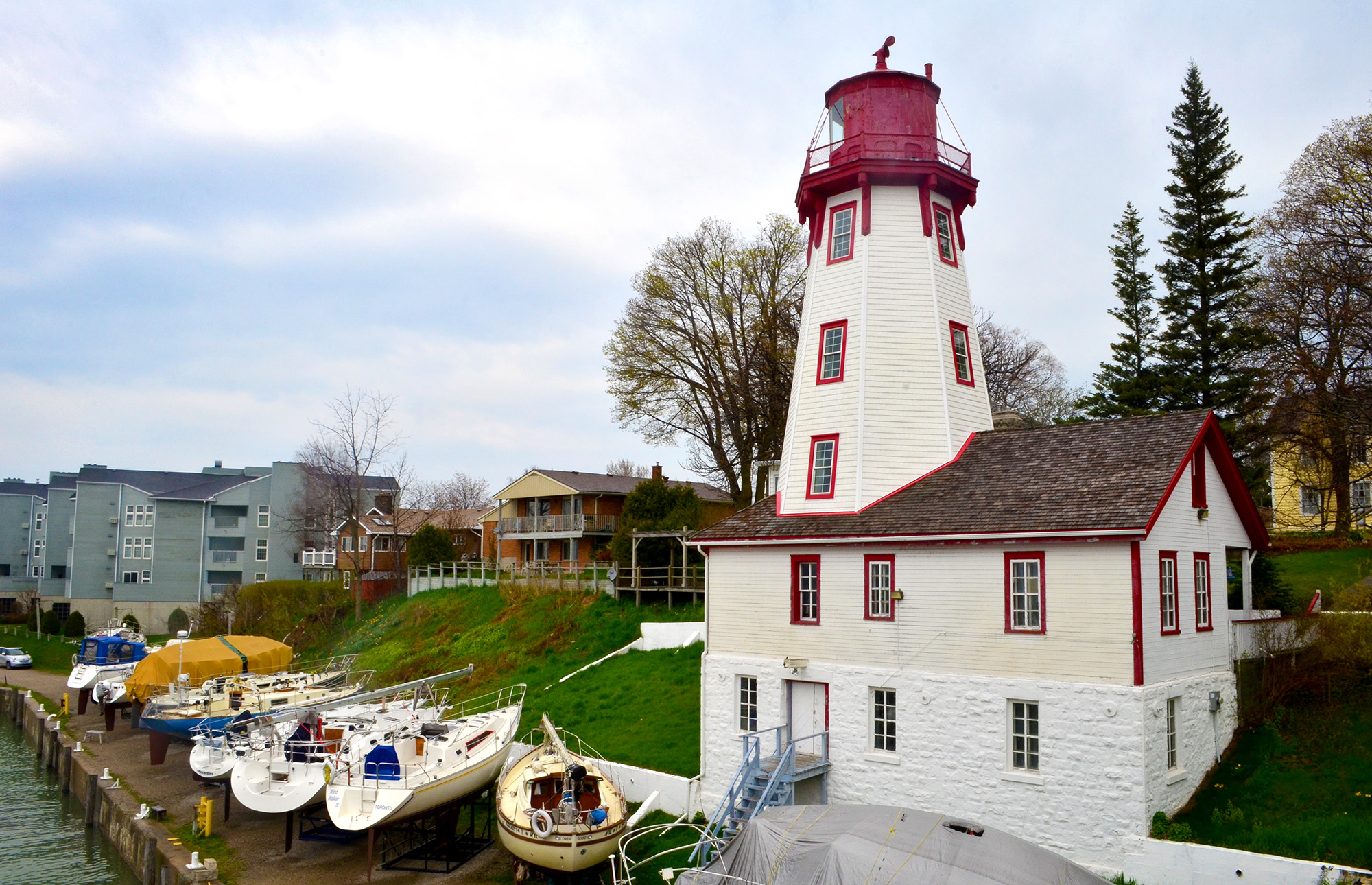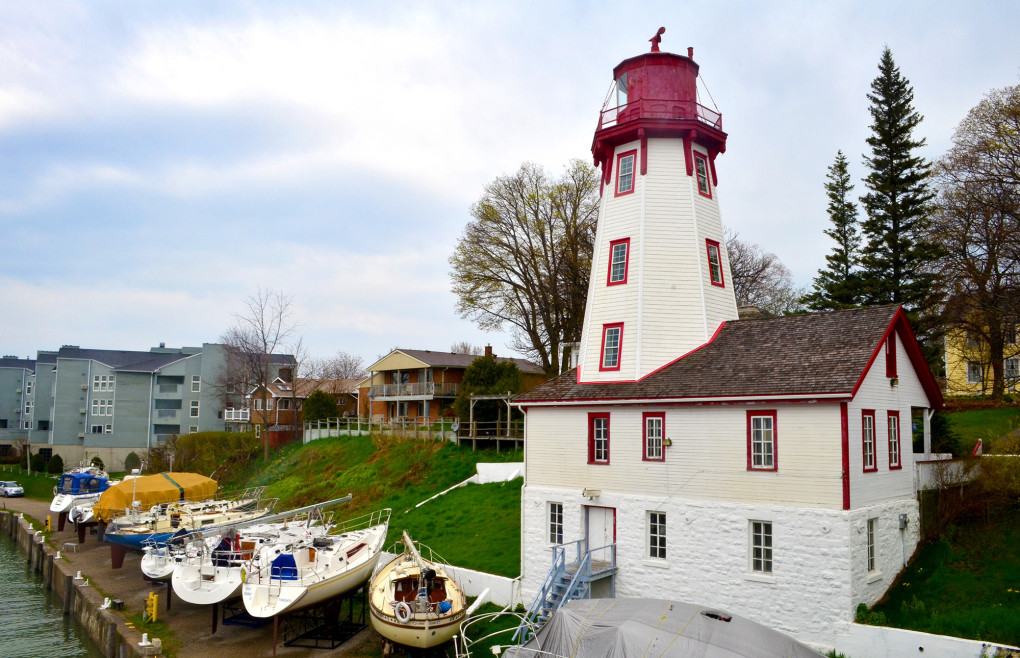 After a late lunch in Kincardine (more to come on that!), we made our way back to the Ontario 21 highway and continued south for another 20 minutes until we came upon the Point Clark Lighthouse. I'd say this one was my favourite of the day, something about it just struck me! Originally known as Pine Point, the lighthouse was one of six constructed from the same plans across Ontario – with Chantry Island lighthouse being its sister! Both began flashing their warning light on April 1st, 1859. It's built of limestone from Inverhuron and stands 16.5 metres tall! In 1967, Point Clark Lighthouse became the first lighthouse in Ontario to be declared a National Historic Site of Canada. It also contains a museum in what used to be the lightkeeper's quarters, but it is only open June 30th until Labour Day.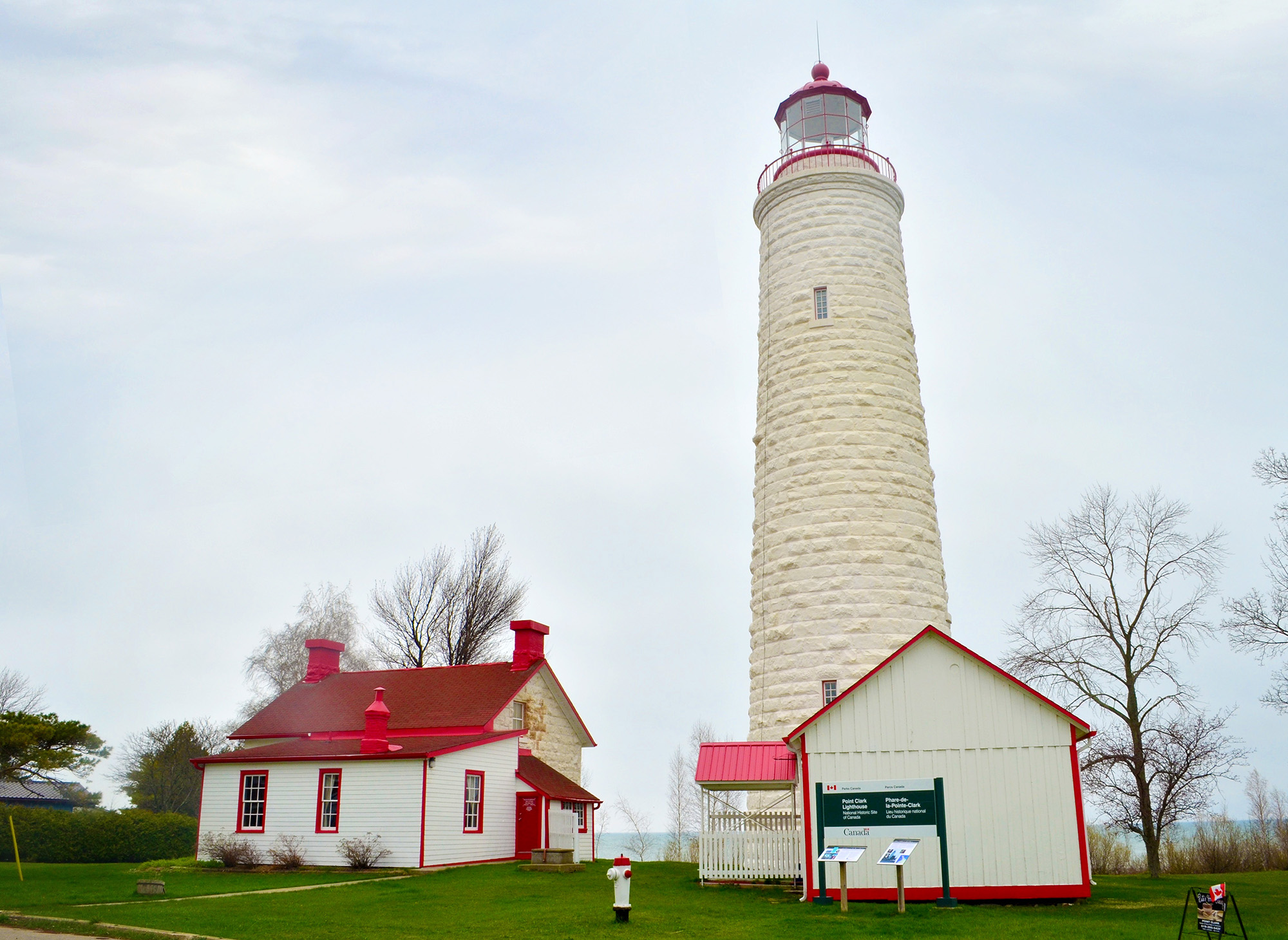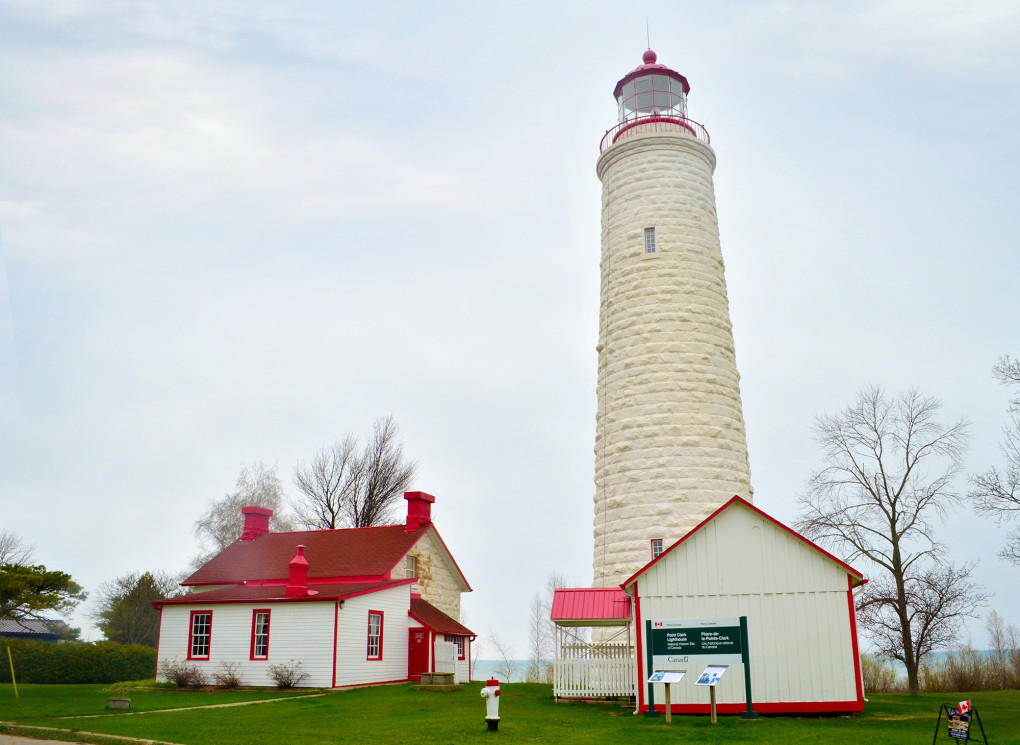 As we were so close to Goderich, my Mom and I figured we might as well stop by and see what the town is like since I had never been. As you can probably tell by the photos, the weather wasn't super cooperative as it was raining on and off all day long. However while driving through the town, we noticed signs for a lighthouse… and stumbled upon our last one of the day! Did you know it was the first lighthouse built on the Canadian side of Lake Huron?! I had no clue! Built in 1847, Goderich's lighthouse is quite unique in that most lighthouses built around this time were taller and cylindrical. Also, notice the pole to the left of the light? Most think it's a flag pole (myself included), however it was used to post wicker baskets, drums, and cones as a wind warning – the object used indicated the storm's approach as well as its expected strength! This was done at 35 Canadian ports and harbours across the Great Lakes until they were decommissioned in the 1950s.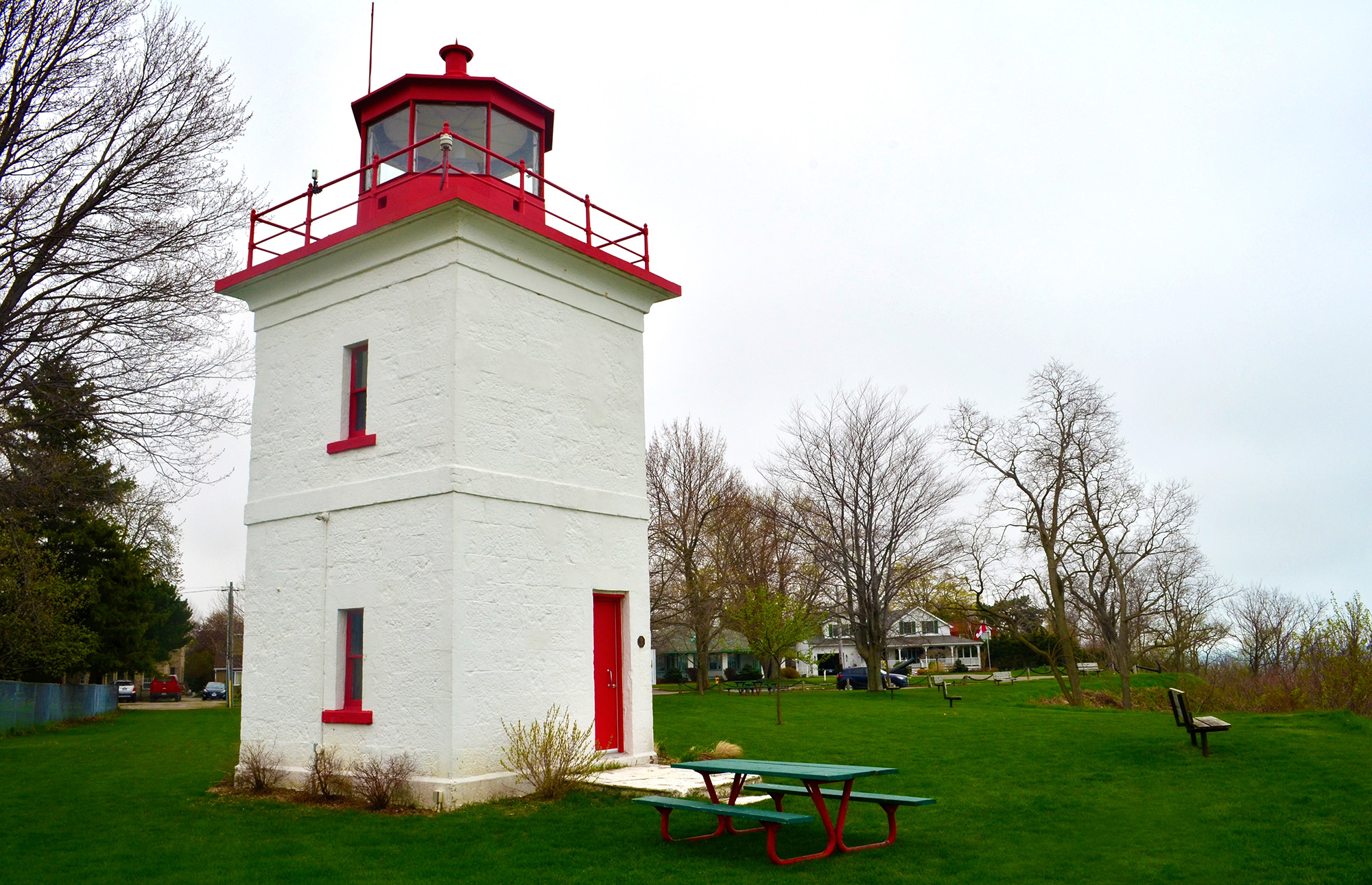 And with that, my Mom and I have now visited every lighthouse in Bruce County (and one in Huron County!) on the mainland! We have a few left on islands, but that will take some planning as ferries normally only run from the Victoria Day weekend until Labour Day. There just might be another Mother-Daughter weekend in the works… will this become a bi-annual adventure?!
What lighthouses have you explored in Bruce County? I'm curious to know how many lighthouses are around our lakes and bays here in Ontario – if you have any suggestions for me, please comment below! I'd love to plan some more lighthouse hunting adventures!