Propeller Island City Lodge: The Berlin Hotel You'll Never Forget

Looking for a hotel with a side of adventure? You'll get exactly that at the Propeller Island City Lodge. Located on the edge of Berlin's Wilmersdorf area, this truly is a lesser-known gem in Germany's capital. What makes it so unique? Let's just say that if crazy contemporary art and a hotel made a love child – it's this.
Each room at this artistic hotel is designed, constructed and themed differently. With names like The Gallery, Gruft meaning the Crypt, and Two Lions, you can only imagine what you'll be getting yourself into. First things first though… why is is called Propeller Island?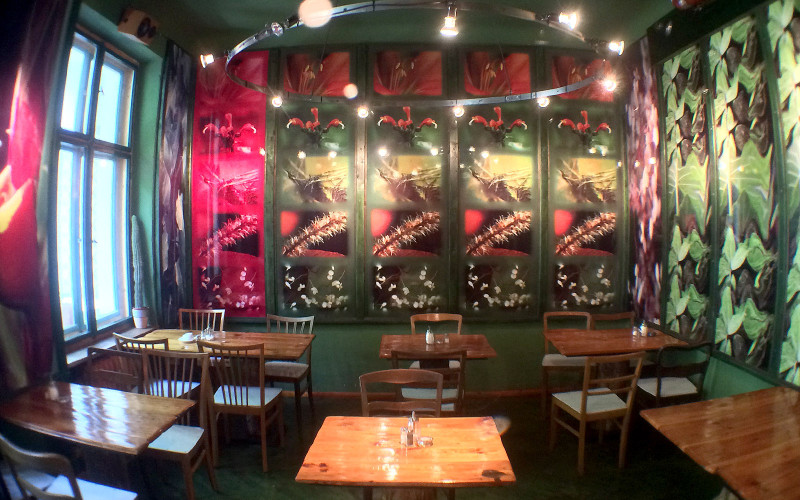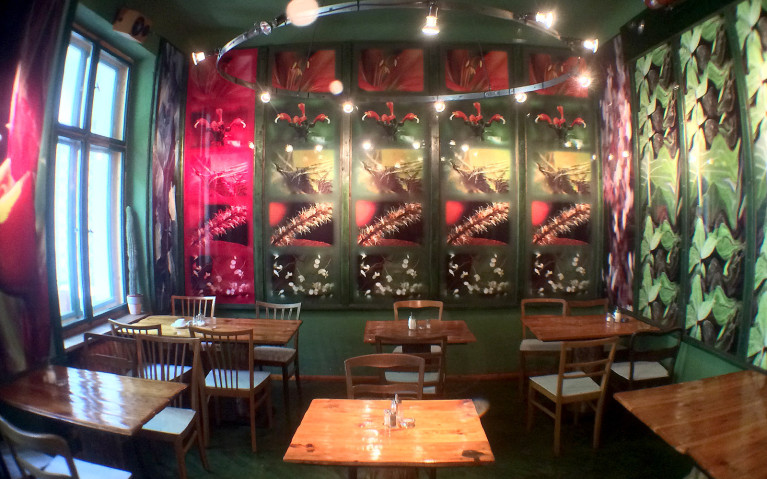 The artist Lars Stroschen operated under the pseudonym Propeller Island from 1986 onwards, and in 1997 he created four rooms within his home. A year later he began designing the expansion for the hotel, which became a reality in 2001 and 2002. The hotel rooms, spread across 3 floors within the apartment building, come equipped with an audio box for a variety of ambient soundtracks (composed also by Stroschen). These allow visitors to have a fully immersive experience.
When reserving your room, you send in a choice of three in order of preference. If any of those three are available then you're all set! Otherwise, they'll contact you and either you can select another room or make other arrangements for your visit.
Insider Tip: Prices vary from room to room depending on size, intricacy and the amenities. Not all rooms have a private bathroom so that's something to note while booking.
Robin and I had to fight it out as we had two different ideas for our top room choice. After a gruelling game of rock paper scissors (that's how all adults solve problems, right?), our selection was the Blue Room in 3rd, the Mirror Room in second… and can you guess who won?
To Robin's excitement (and my slight dismay) we got his choice – the 4 Beams room. The centrepiece being our bed for the night suspended ~5ft in the air. Now does it make sense why Robin wanted this room? If you're questioning the structural integrity, don't worry. The mattress is held by massive ropes attached to four wooden beams. with a ladder at the foot of it. Underneath there is also a small sitting area with a chair attached to each beam. Lars definitely utilized the space well! There was also a separate room with a toilet and bathtub.
One thing I really didn't take into account was getting in and out of bed. If you're someone like me who needs to use the facilities once (or eight if you've drank too much) a night, this room probably isn't for you. I was not happy at 4am trying to climb in and out to go pee!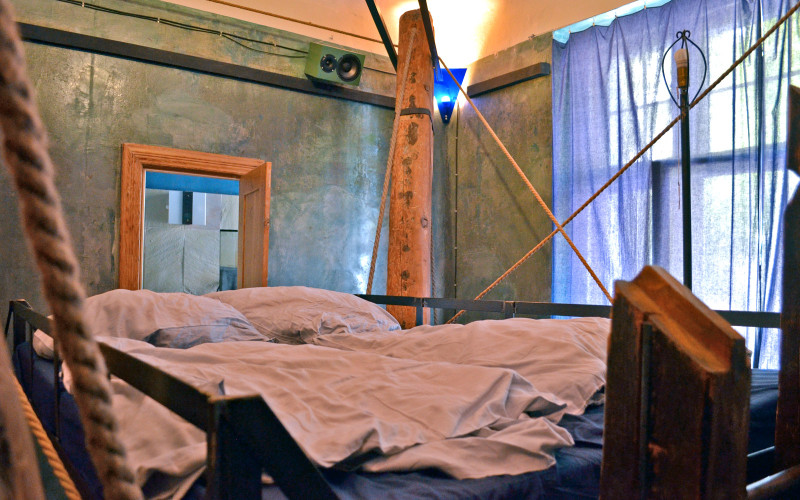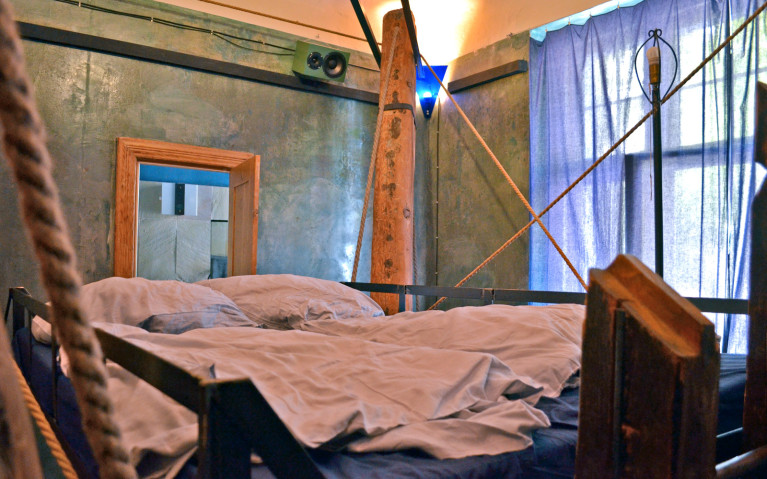 Upon checkout the next morning, we decided to test our luck as we asked to take a look at a few of the other rooms. Much to our surprise, the receptionist handed us a handful of keys and told us to enjoy the treasure hunt. One of the perks of staying midweek!
Each room emits such a unique feeling and vibe. While many I'd be curious to stay in, some I was fine with just taking a quick peek inside. Can you guess which ones I wouldn't stay in? No matter where you rest your head, it truly is as if you're immersing yourself within a work of art. You'll never have the same experience twice, that's for sure!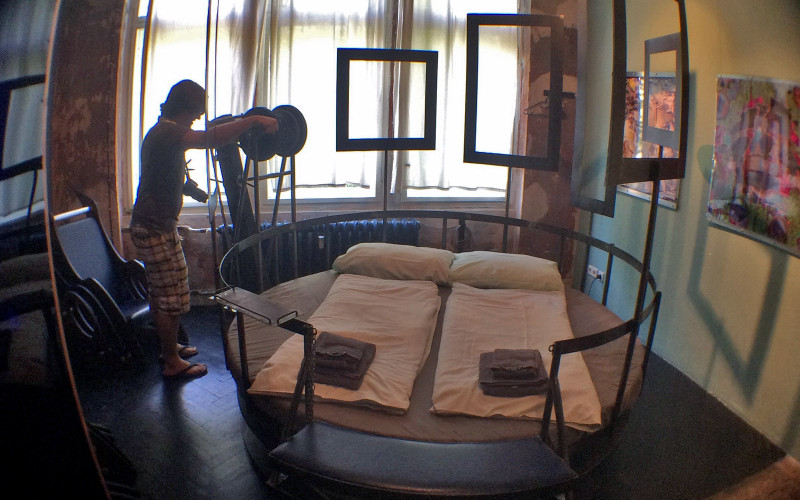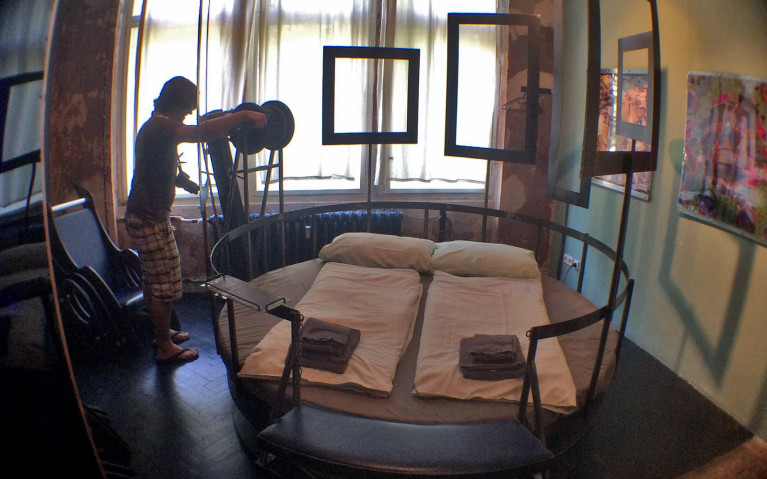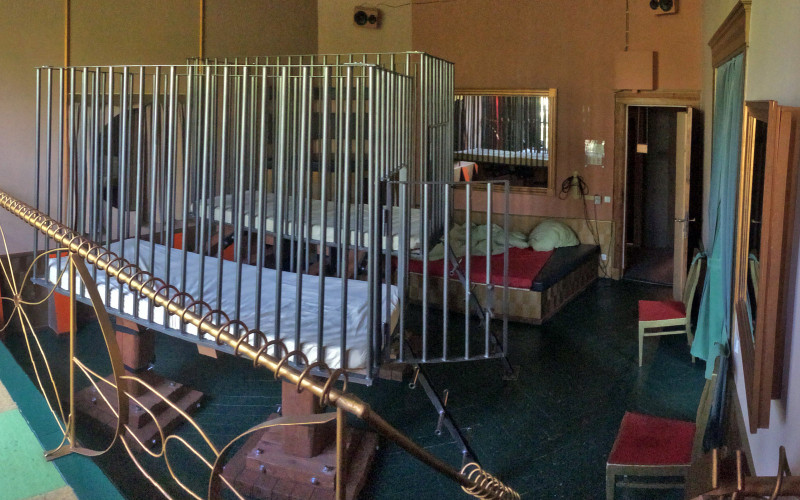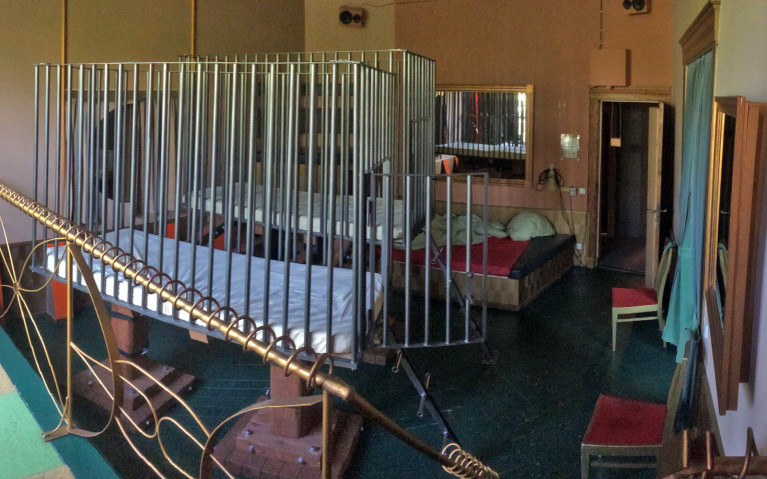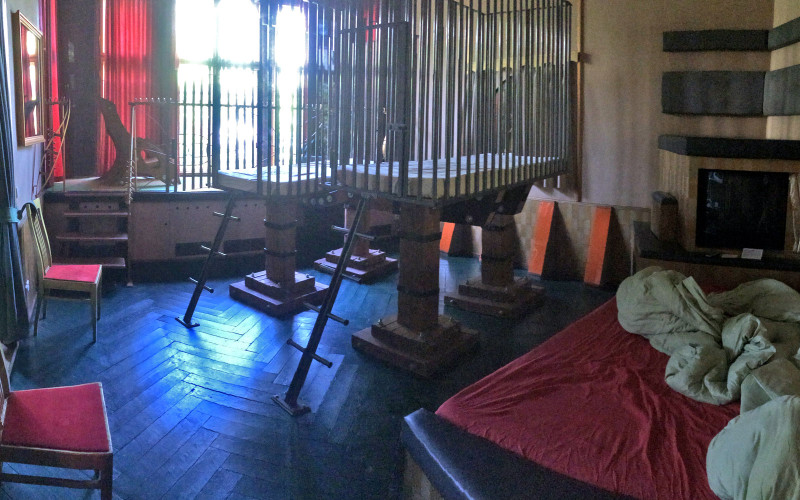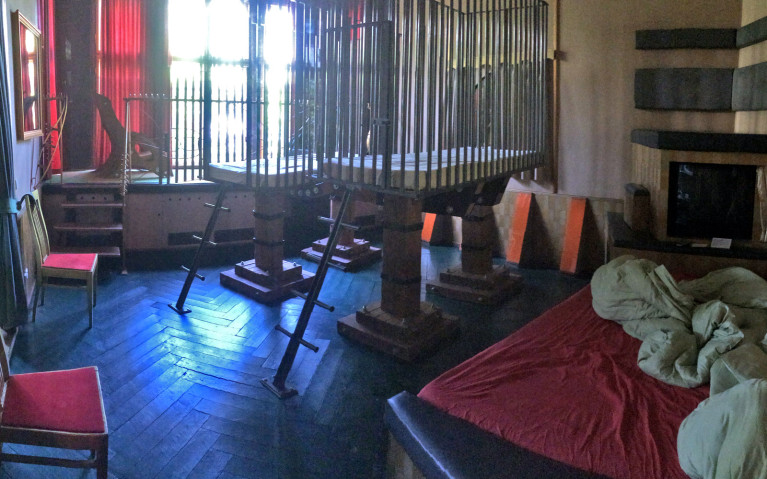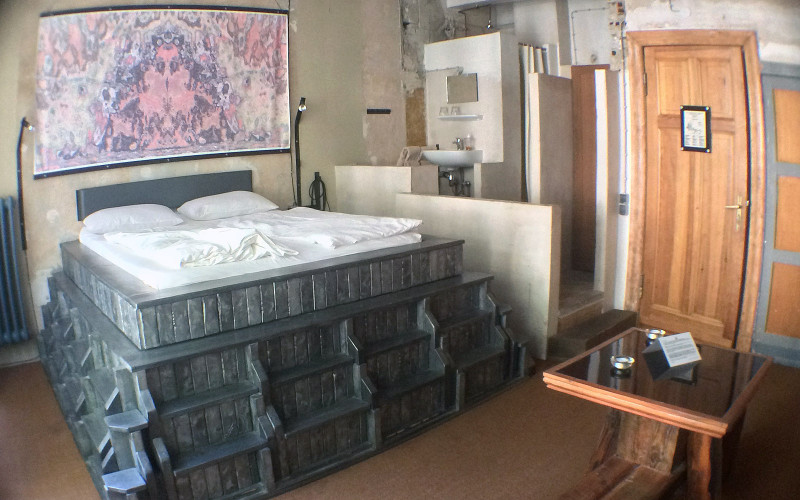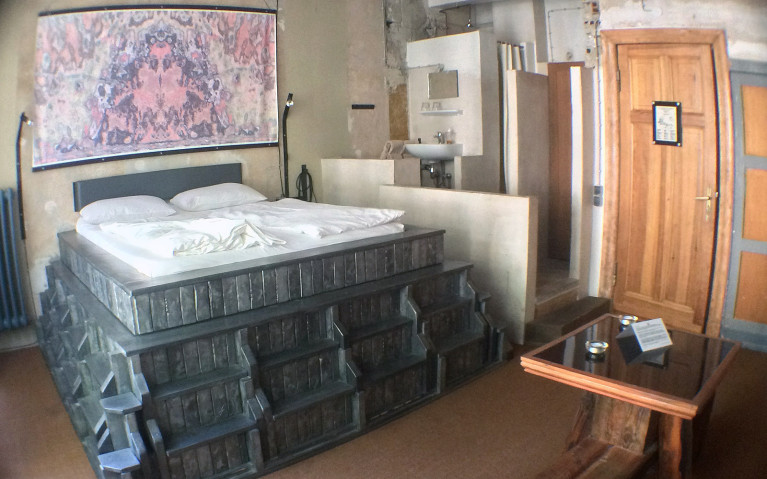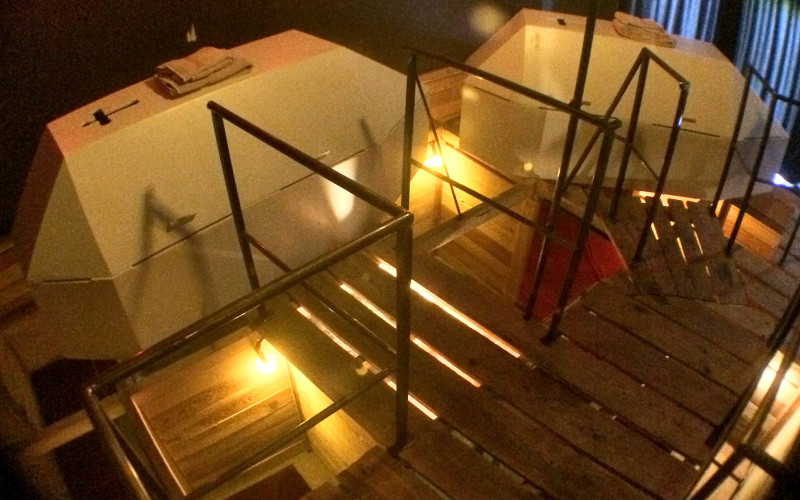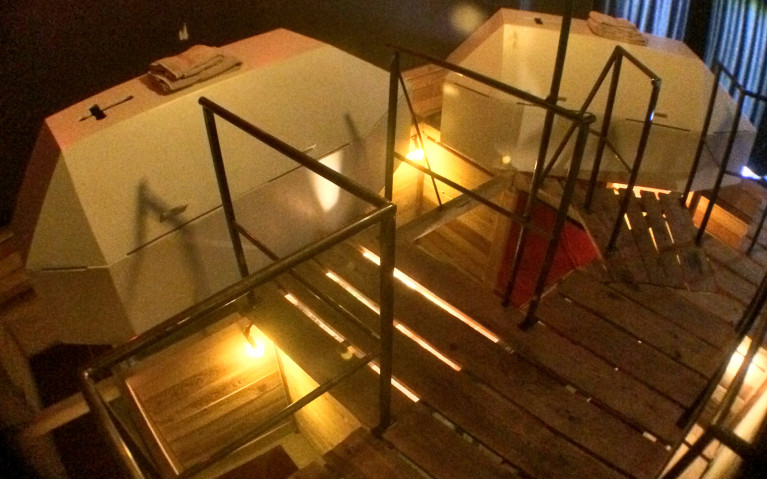 Now for the logistics. While there is no designated parking lot, there is free street parking in the area. If utilizing public transport, the closest U-bahn station is Adenauerplatz via the U7 or the closest S-bahn station is Berlin-Charlottenburg via the S3, S5, S7, S9, S41, S43, S45 or a number of Regionalbahn (RB) trains.
If you're looking for a night to remember, but not in the conventional sense, the Propeller Island City Lodge will do just that. For anyone who's a fan of the quirky side of Berlin, you need to stay here at least one night while you're in the city!
UPDATE: Unfortunately, it seems as though the hotel has been closed permanently due to issues with government regulations. There is a possibility that it could reopen in the future but time will tell! In the meantime, visit the Propeller Island City Lodge website for more photos of the rooms.