Real Canadian Craft Beer Festival

This past Saturday marked the 2nd Real Canadian Craft Beer Festival at the Scotiabank Centre in Niagara Falls. Over 25 local breweries, cideries, restaurants and food trucks were represented as attendees gathered to enjoy some craft beers, delicious food, and great conversation. The festival also aimed to raise funds for BoxRun, an organization that raises charitable funds for children with life-threatening illnesses.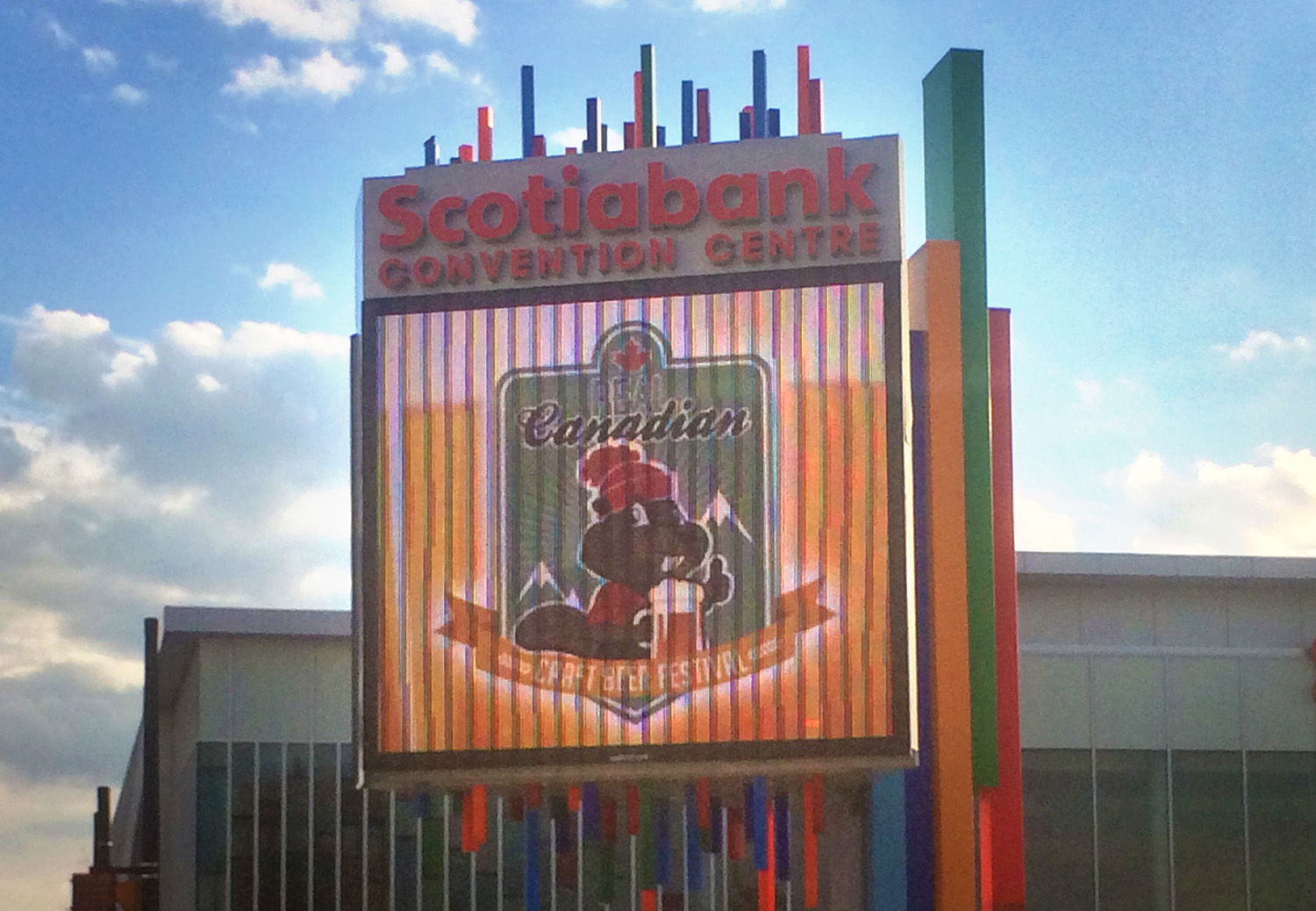 I stumbled upon the festival thanks to Groupon, where they had an early bird special of $25 which included entrance for two people, two commemorative beer mugs for use during the festival, and four tokens. Within the festival, you could purchase more tokens at $1 a token, and everything was based on this system. Beers were 2 tokens and the food ranged between 2 to 7 tokens.
There was a wide range of representation within the festival, and I proceeded to taste as many as I could. Some of the larger names like Amsterdam Brewery, Side Launch Brewing Company, and Sawdust City Brewing Co are available in the LCBO. I went straight for the smaller craft breweries and the names I didn't recognize to taste as much craft deliciousness as I could. As you'll see in the list below, I think I did a pretty good job! Due to the volume of breweries, I'm thinking point form might be best.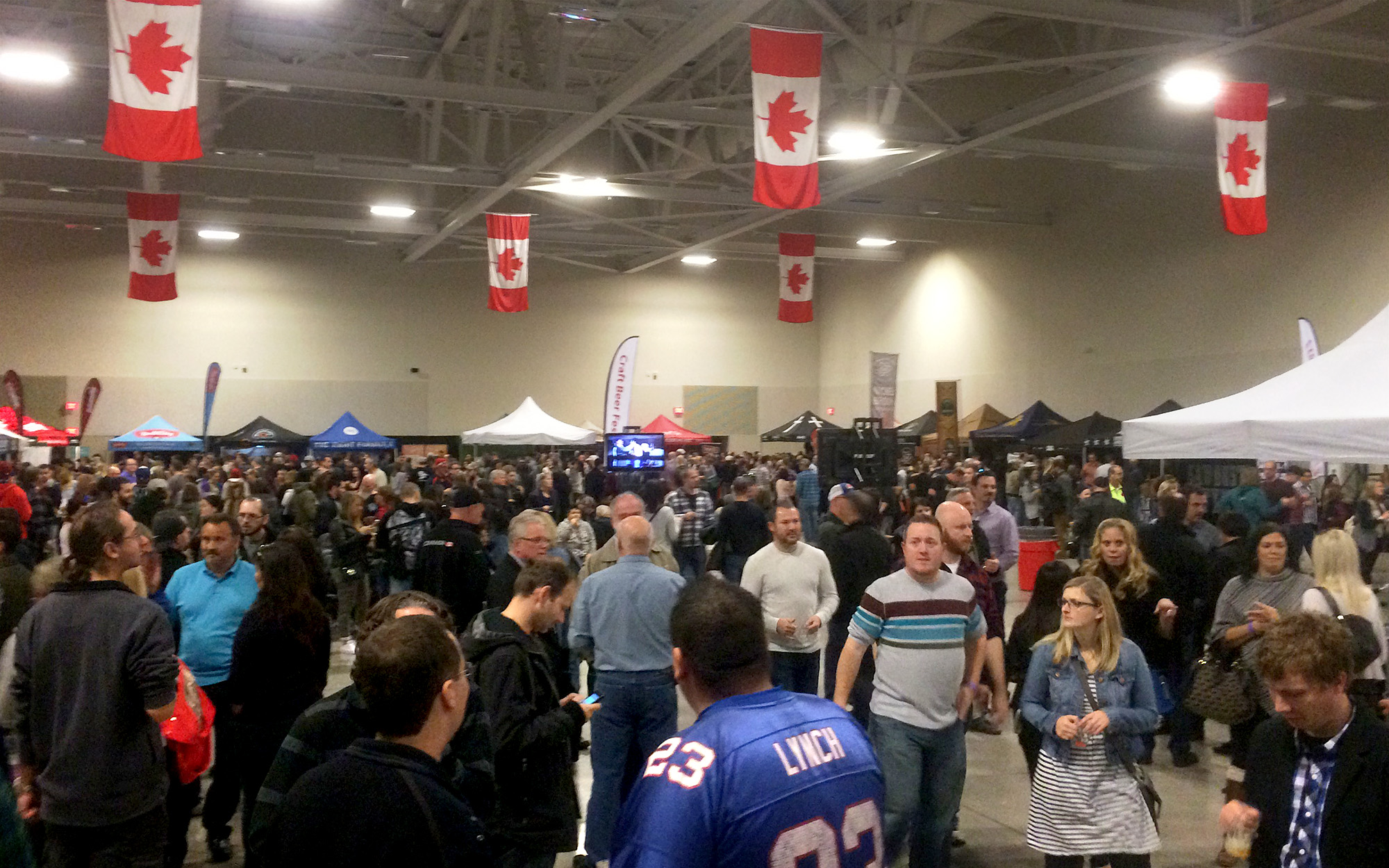 Niagara Brewing: newest craft brewery in Niagara Falls. 4 brews with them, I tasted the lightest: their peach radler. I find most radlers are lighter and sweeter than theirs, however you could still taste the peach undertones. A nice light beer for the patio or to start the night off like I did.
Highlander: located in South River, Ontario. Tasted their Lion Grass (like a lager) and Scottish Ale (amber/red). Usually more of a lager girl but I enjoyed the coffee undertones and hearty taste of the Scottish Ale. A good fall/winter beer.
Lake of Bays: located in the heart of Muskoka in Baysville, Ontario. Tried both their Crosswinds (light) and 10 Points (amber). Both were quite tasty, easy to drink.
Beau's All Natural Brewing Company: as the name suggests, they're an organic brewery just inside the Ontario border, close to Montreal. Their Patio Saison was absolutely delicious and tasted similar to a German Bananaweizen. Probably one of my favourite beers of the night!
Niagara College Brewery: members of the brewmaster program were strutting their stuff. Representing with their Butler's Bitter & IPA Brewmaster, both quite delicious but IPA was a little hoppy for me.
Double Trouble Brewing: representing Guelph, Ontario with two of their beers. Had their French Press which was super good! Hearty with espresso flavours, it definitely warms you from the inside out!
Nickel Brook Brewing: based in Burlington. Hands down the most unique of the beers with their Green Apple Ale. Tasted like a green apple jolly rancher in beer form! Delicious, but not one to drink all night.
Great Lakes Brewery: a Toronto-based brewery, I tasted their Canuck Pale Ale. I found it to be extremely hoppy so it wasn't my jam, but if you're an IPA fan I think you'll like it!
Bell City Brewing Co: hails from Branford, Ontario. Their Elijah's Real McCoy is soft on the taste buds, similar to a German ale. Easy to drink and I was a fan!
Collective Arts Brewing: calling from Hamilton, Ontario, these guys are super fun & full of energy. Tried their Rampage the Universe (LOVE this name) and it was delicious! Similar to a light amber with loads of orange undertones. Not to be confused with a light summer beer though! They have a brewery open house this Saturday from noon until midnight – you just might see me there!
Brimstone Brewing Company: representing Ridgeway, Ontario, I tried their Bavarian Wheat beer. Nice and light with fruity undertones, definitely my style of beer!
Phew, that's quite the roundup! Now, I'm sure you're getting hungry just as I was! As soon as I saw Tide & Vine was there I had to indulge in a few of their oysters. They had three types, one each from British Columbia, New Brunswick and Prince Edward Island. I indulged in all three of course, with my personal favourite being the Kusshi from BC. Made me miss my little hidden gem in Vancouver where I used to enjoy them often! They have a place out on Portage Road in Niagara Falls where you can enjoy their oysters and other delicious seafood dishes, or you can indulge while enjoying a beer at Silversmith Brewery in NOTL!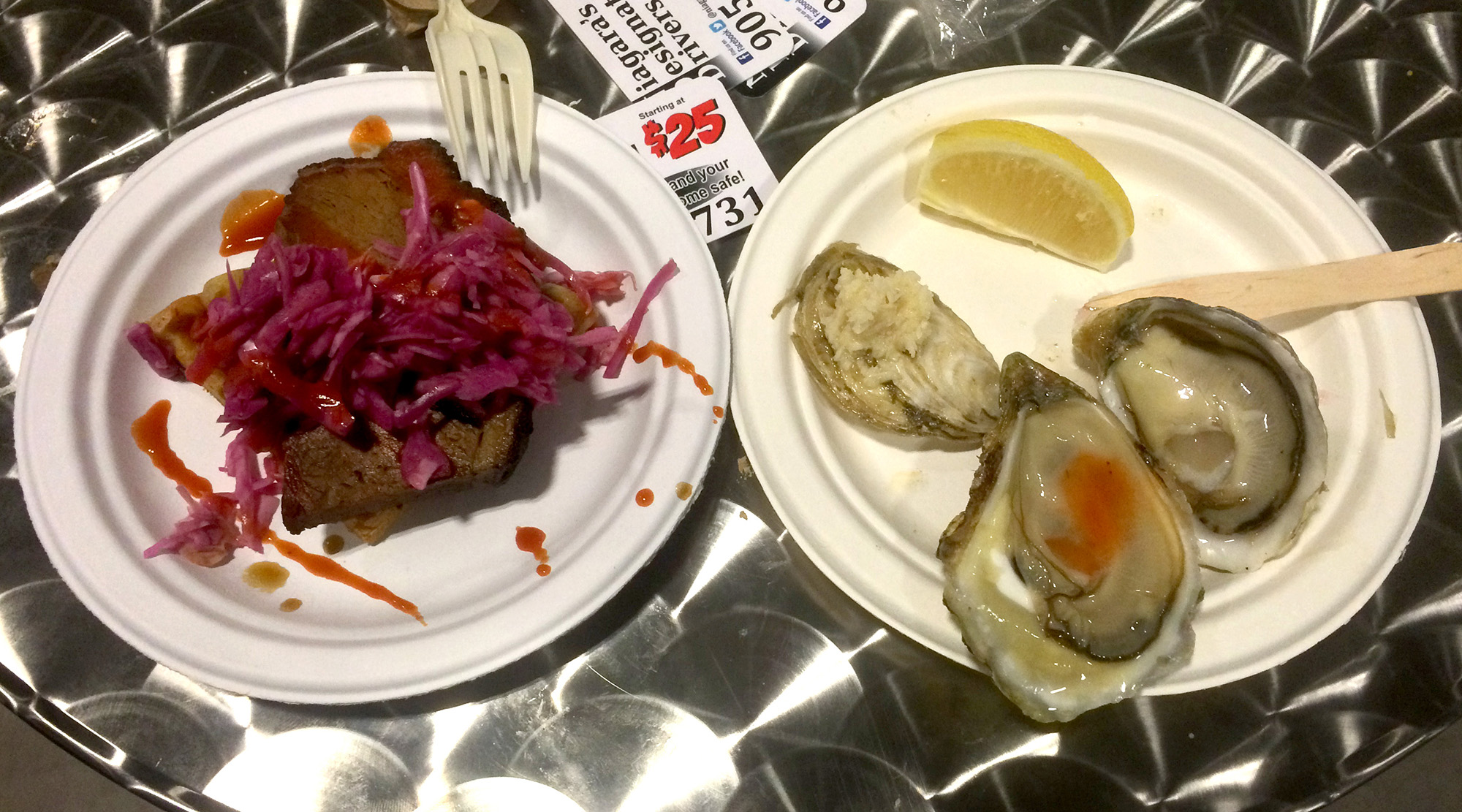 If you were thinking something a little meatier, el gastrónomo vagabundo was there for something more exciting than just a regular burger! This little food truck packs lots of flavour! They had a smoked brisket with beer waffle, cabbage slaw, and a smokey hot sauce. It was a delicious combination of sweet, savoury, sour, and heat! Their hot sauce is probably one of the best I've ever tasted. It made you sweat but was full of flavour while doing so! The perfect topping to their delicious combination as the brisket melted in your mouth.
What about some glorified street meat? Kungfu Dawg from Toronto makes the best corndogs around! Topped with so many delicious sauces and toppings, it has an amazingly complex flavour. You can pick and choose what you'd like to have on it, but I went for the all dressed approach and was not disappointed. The sweetness of pickles and onions paired with spices of jalapeños and their own spicy aoli sauce, I'm already drooling for another one!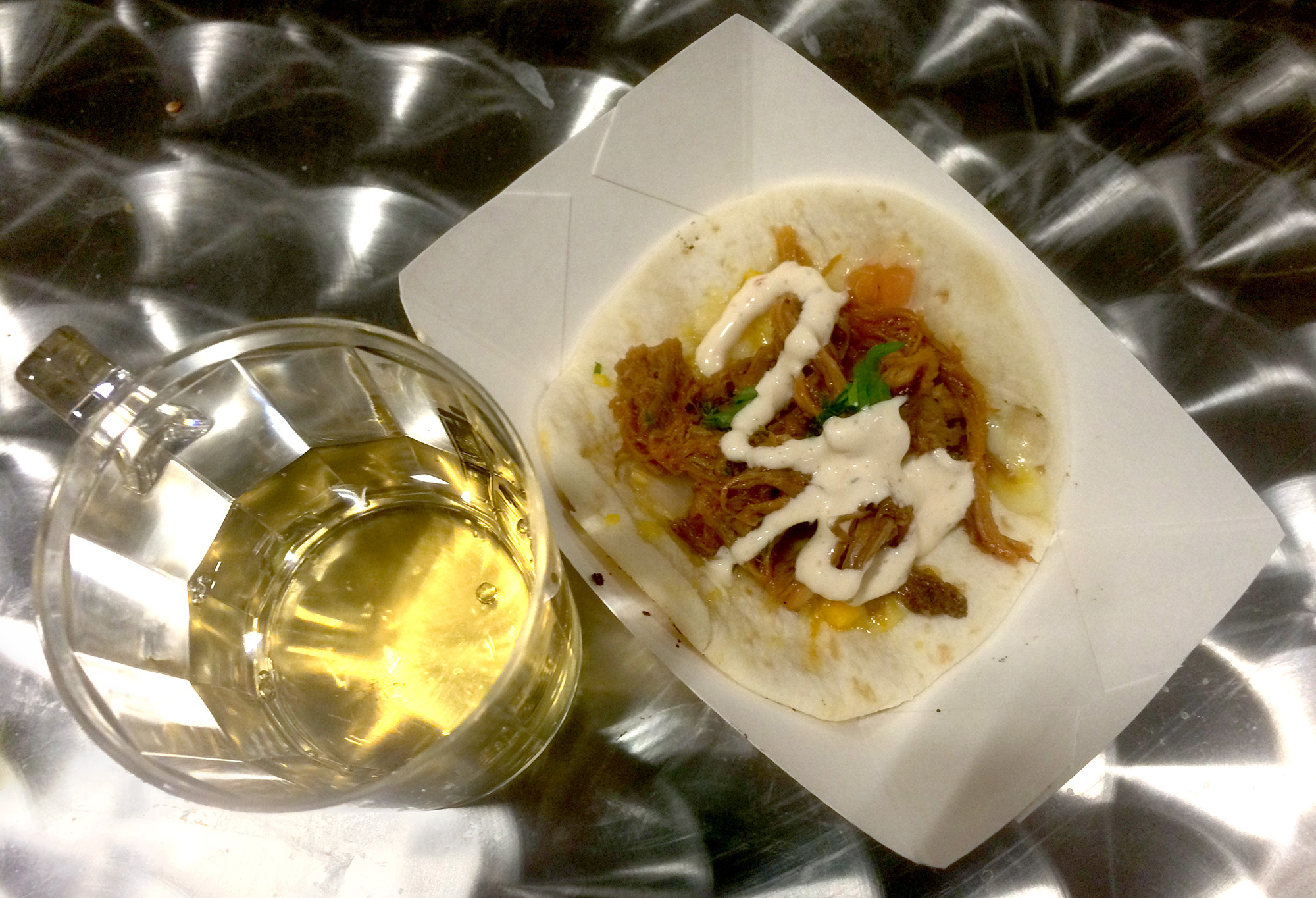 If none of these are tickling your fancy, a tasty morsel from Iggy's Pub & Grub arsenal might just be up your alley. Their pulled pork tacos were delicious as they were smothered in a tangy barbecue sauce while on top of the fluffiest tortilla I've ever had. There were also a number of other places to try, including burgers, poutine, and more! If you couldn't find something you liked, then you didn't try hard enough in my opinion!
To round out the night a nightcap or two was in order, and I was pleasantly surprised to see that my favourite drink was also represented… CIDERS! Small Talk Vineyards was there with their delicious Shiny apple cider (I'm not sure if they had their cranberry cider there but if you visit them in NOTL a growler of it is a MUST), as well as two I'd never heard of! More ciders for me to try?! It was a good day! Brickworks Cider House is based in Toronto, and I tasted their Queen Street cider. A little on the sweeter side, I found it was like Okanagan's pear cider but apple instead. The perfect level of sweetness in my opinion! The other was Ironwood Cider, from Sunnybrook Wine in Niagara-on-the-Lake. This makes me so happy as their Hops Cider is something I've never tasted before! As you can probably tell by this post & previous ones, I'm really not a fan of hoppy beers or IPAs, but their Hops Cider was out of this WORLD! Tickles the tongue and is full of flavour, I can't wait to visit and hopefully grab some for home!
Overall the event was a pleasure to attend with a great representation of local craft breweries. I knew more were appearing within southern Ontario but I didn't realize just how many! Thanks for a great event Canadian Craft Beer Festivals, and I can't wait for your next one!