Unique Souvenirs and Their Stories

Souvenirs are defined as things that are kept as a reminder of a person, place, or event. When you think of the word, what comes to mind? Those I ❤️ *insert every place possible* shot glasses perhaps? How many of you have purchased a trinket thinking you'll keep it forever only to have it out with the trash a few spring cleanings later? Don't feel bad – I'm guilty of this too.
This post is all about those outside-the-box souvenirs. I've asked some of my fellow travel bloggers to tell me about their unique souvenirs. After reading, I have a feeling you'll be inspired to stray away from those generic mugs and shot glasses and make something your own souvenir. Besides, how fun is it to have someone say "Hey, that cat shirt is rad" and you can say "Oh thank you! Funny story, when I was applying for my visa while in The Philippines, I didn't realize you had to have your shoulders covered so the guards sent me to a second-hand store just down the road. I'm a crazy cat lady at heart, and so when this was the first shirt I found, I knew I HAD to get it!" True story.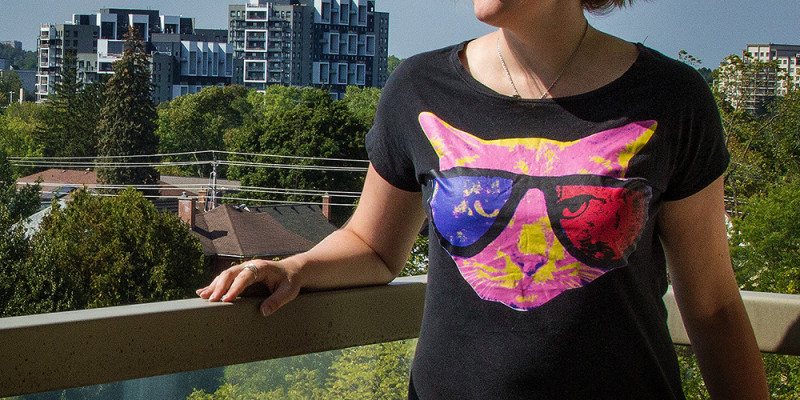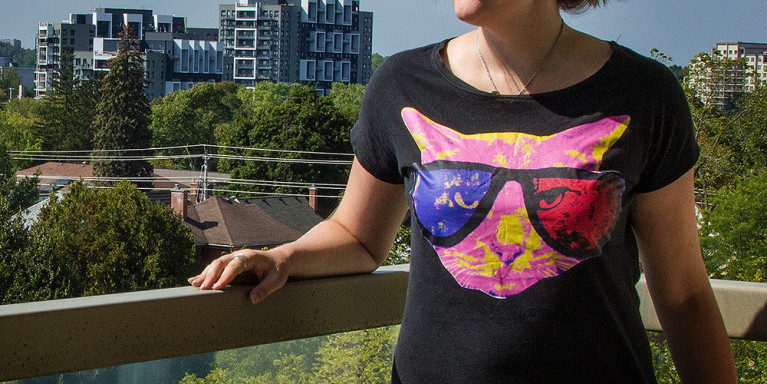 But in all honesty, souvenirs can be anything. The more I've travelled, the more I've learned that a souvenir can be whatever you want it to be. Now come along and read all about these awesome souvenirs and the tales behind them!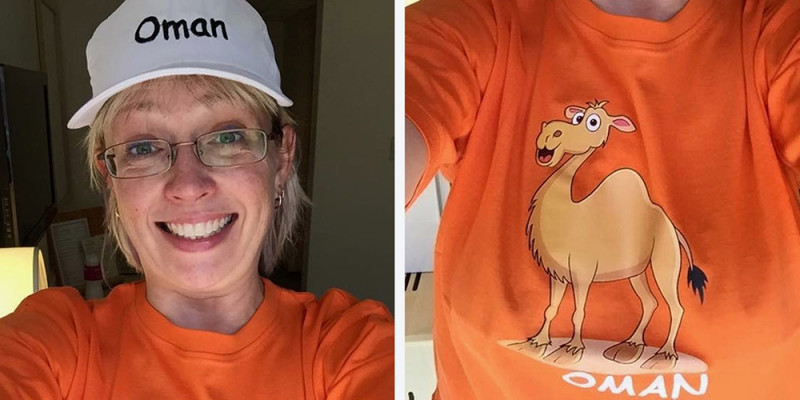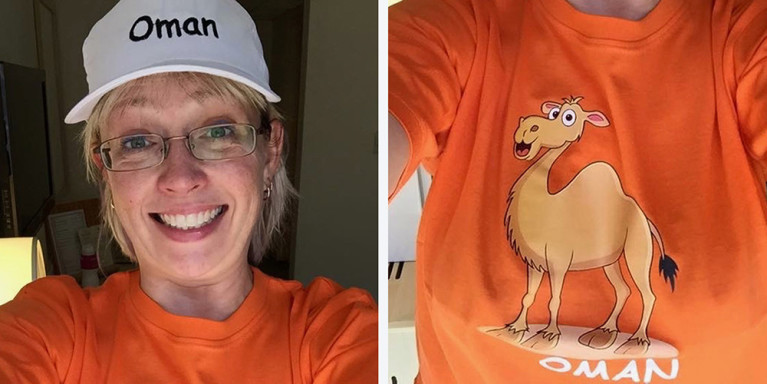 One of my most memorable souvenirs was the result of a delayed flight and a cross-airport dash in Dubai, which resulted in me arriving in Oman with only the clothes I stood up in. Considering those clothes were jeans and a sleeveless t-shirt, the former unsuitable for the temperature and the latter unsuitable for the culture, I had to do something about it. Needing a decent t-shirt and something to shade my eyes, I ended up buying a bright orange camel t-shirt and "Oman" baseball cap that seemed funny at the time but were quite embarrassing when I actually had to wear them in public. My bag eventually arrived at 10:30 at night, mere hours before heading off for 3 days in the desert. I have never been so relieved to have a change of clothes!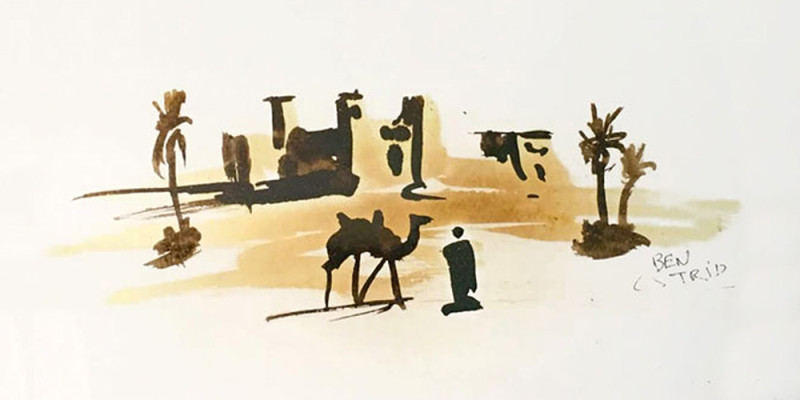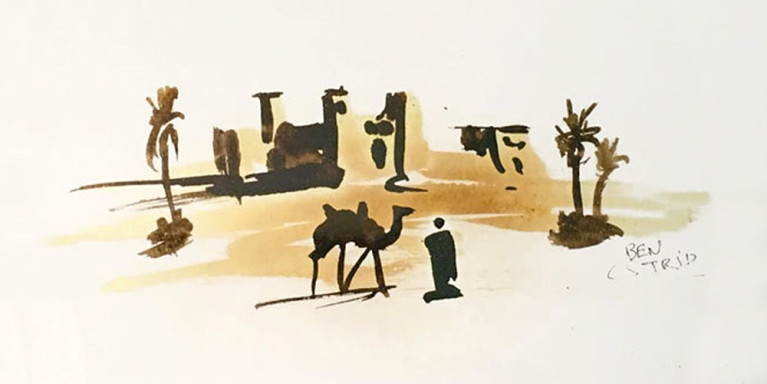 I absolutely love unique souvenirs. Part of the fun of exploring a new place is searching through markets and finding exactly the right item to bring home, something that will always remind me of a favourite spot or moment. Imagine my surprise when I found exactly what I was looking to purchase—and the shop owner didn't want to sell it to me!
When I visited Morocco I spent a few hours at Ait Benhaddou, a historic kasbah just a few hours away from Marrakech that is crowded with local merchants selling everything from carved wooden camels to clothing. I was completely captivated by an artist who used an ancient watercolour technique and an open flame to create a beautiful painting in just a couple of minutes. By using a mix of water, saffron, and indigo to produce ink, he painted several detailed layers before holding the paper over a flame; the heat from the flame quickly dried the ink and produced a beautiful, vibrant landscape.
When the demonstration was complete, the artist invited me to consider purchasing one of his finished pieces—but I was only interested in the unfinished artwork he had brought to life in front of me. When I asked to purchase it, he said no! I asked him if he could reconsider, and with a very puzzled look he slowly explained that it's better to buy a finished work of art, not a work in progress. I told him I wanted the painting he had started because it had a great memory for me; I loved watching him create it. Still confused, he shook his head. "Please?" I asked. "Is there any amount of money you would accept for the unfinished painting?" He hesitated for a long time before asking for 40 dirham—about 4 USD. I gladly gave him the money, and he sighed heavily as he wrapped the watercolour and handed it to me. While I'm sure he thought I was crazy for wanting to buy a painting that wasn't complete, it's one of the best purchases I have made. Every time I look at the artwork I smile as I remember my amazing trip to Morocco—and I laugh about how hard it was to convince its creator to sell it to me!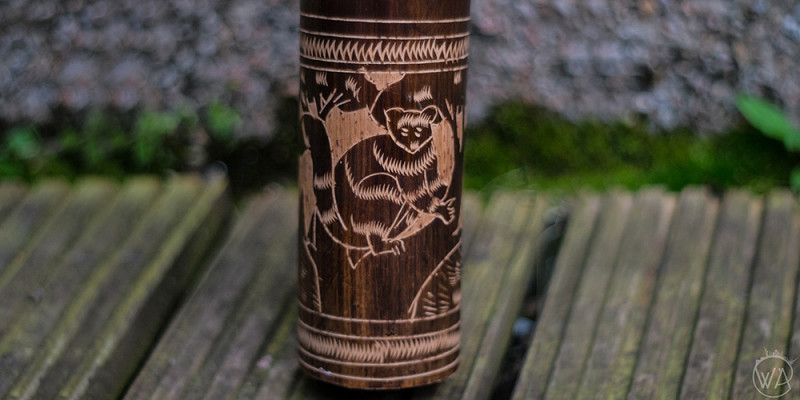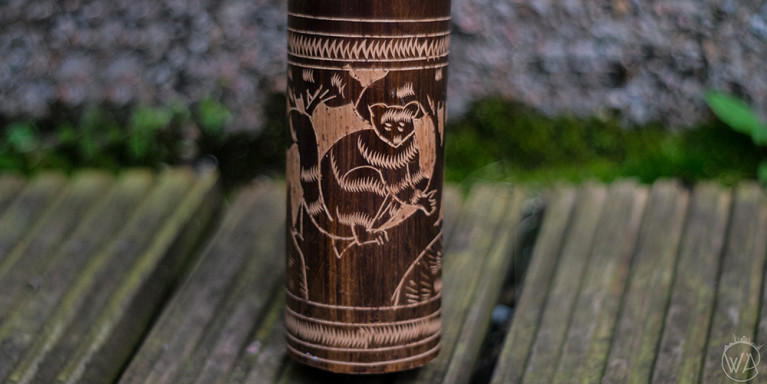 The souvenir, that I got from a tiny island in Madagascar always draws a lot of interest from my friends visiting my flat. It's a musical string instrument, hand-made in the red island. It has a tube shape and it sounds similar to the guitar, with each of the strings giving a different tone. Made from wood, it has the pictures of palm trees, baobabs and lemurs – typical Madagascan symbols – engraved on the surface. I got it while I was on a boat trip to the remote island, that is mostly covered by the thick jungle and only inhabited by a few local Malagasy people. The locals make their living off the tourists visiting the place and create some wooden masks and instruments for them to buy.
The "tube" holds special memories for me, as the trip to Madagascar was one of its kind.  I fell in love with the country and despite the first bad incident, that happened to me there, I would still come back. My camera and phone got stolen in the middle of my Madagascar travels and I didn't have any way to document my adventures. Instead, I decided to collect significant souvenirs from the places visited. Therefore, I bought this specific instrument, that now brings the memories of the sunny Madagascar every time I look at it.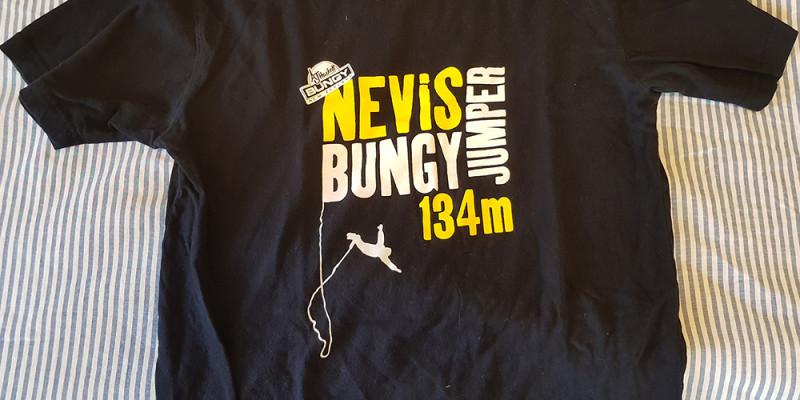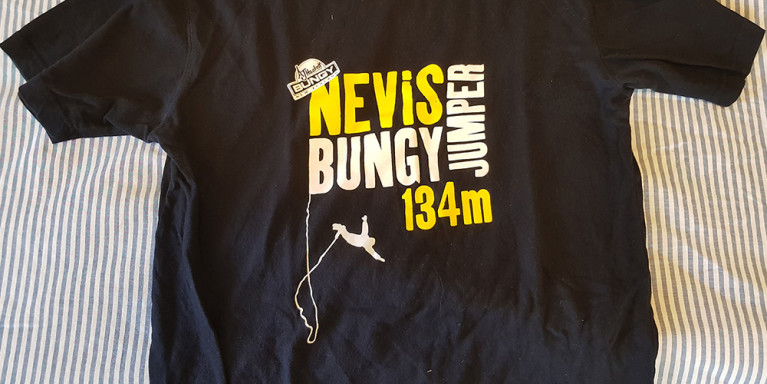 One of my favourite souvenirs that I ever got was a shirt. It's not just any shirt. You only receive this shirt if you did the 134m bungy jump known as the Nevis Bungy in New Zealand. It is so special to me because I did something I never thought I could do. I always told myself I will bungy jump in New Zealand but when the day came and I finally booked myself it for it, I was so nervous. The biggest problem was my crippling fear of heights.
As we crossed the gorge to get to the bungy pod I couldn't look down and my knuckles were white from holding on so tightly. Finally, I made it to the edge of the bungy pod where my logical brain was just like "you didn't pay all this money to stand on the edge and then go home". The countdown began and as they reached "go" I jumped, probably the least graceful jump of all time! 
The hard part was over and I enjoyed the freefall. I got pulled up with tears in my eyes because I was so proud of myself. Every time I put on that shirt it makes me smile and brings back the memories of that day. To be honest, I feel like a total badass when I wear it.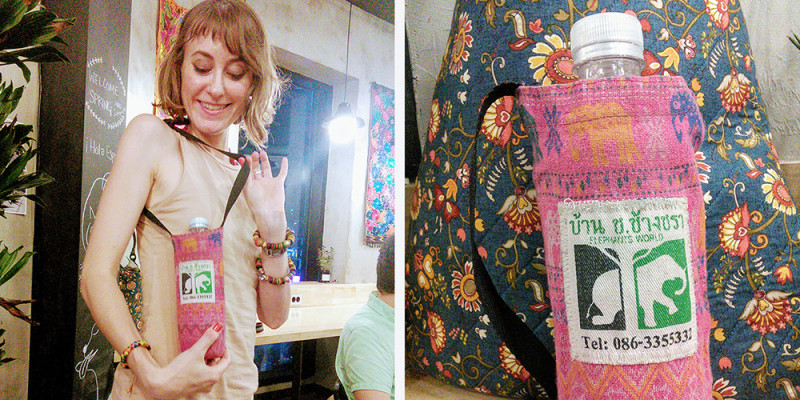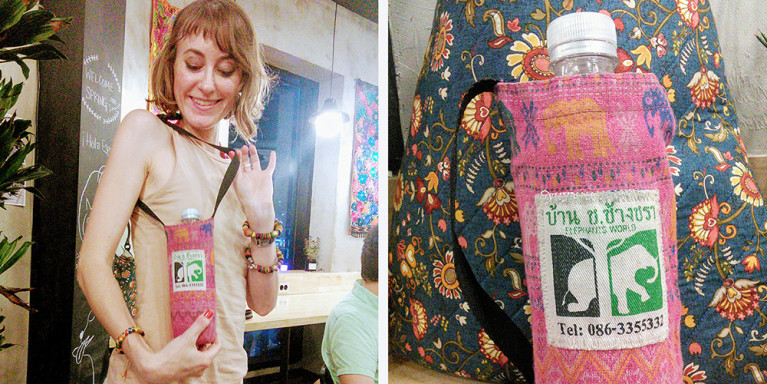 In the summer of 2015, I visited Elephant's World in Kanchanaburi Thailand with my friend Beth. We were brought by open-air truck from our guesthouse. On arrival, we learned from volunteers that Asian elephants are 'broken in' (or tortured) from an early age to later be worked for tourism or perform heavy labour until death. We were then introduced to the elephants and their attendants and were lucky enough to feed them fruit. Our fun packed day included helping volunteers by cooking rice and adding nutrients to the rice mix for the toothless, older elephants that needed softer food. I was extremely fortunate to ride a sixty-five-year-old grandma elephant, Somboon, sitting behind her neck. Volunteers explained that humans should never sit on an elephant's back since convex shaped Asian elephant spines cannot endure any weight. Beth, myself and the other guests later bathed with the elephants in a nearby river. Before being dropped off at our guesthouse, the visitors and volunteers shared delicious Thai meals, served buffet style. The entire day was an experience I'll never forget. To remember the occasion, organizers gave guests a little souvenir, a water pouch, to hold a bottle of water.
Initially, I thought the water pouch would be useful in Thailand, particularly because Thailand is hot, but my little Elephant World souvenir has been useful multiple times since. I continue to use it while tromping around my current city of residence, Seoul, and not only does it remove weight from my handbag, but it keeps liquid separate from the contents of my purse so my electronics stay dry. Best of all, looking at it reminds me of one of the most heartwarming experiences I've been fortunate enough to enjoy!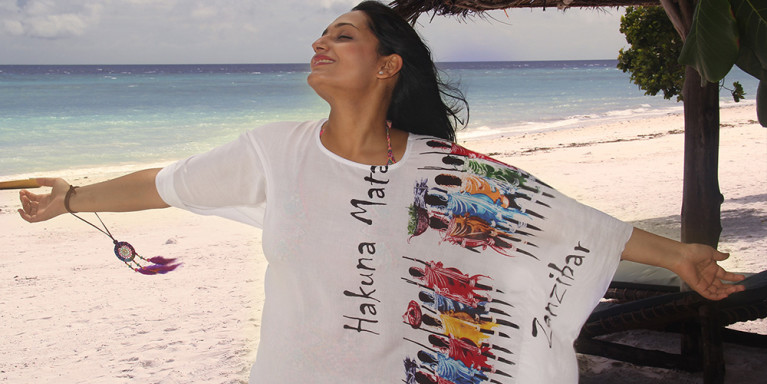 During our visit to Zanzibar, we were pleasantly surprised to learn that the entire island functions on a 'no worries' philosophy. The environment around is relaxed no matter where you go – even the airport itself! When we landed in Zanzibar, after finishing our immigration stamping, we walked without a care to the outside world. We were breathing Tanzanian air and were reveling at our arrival to yet another destination. Our blissful state was interrupted by a few porters who approached us to assist with luggage. Reality suddenly struck and we realized that we completely forgot we had checked-in bags as well! We panicked and went back in to look for the luggage belts which we conveniently overlooked. Turns out, luggage is carried by people and physically transported to the inside of the airport and put in one corner to be taken by the passengers.
As amazed as we were, we then met a Tanzanian local who explained that Zanzibar is a relaxed island where people do away with formalities and just have a stress-fee, happy time. He ended the conversation with two golden words which have stuck on to us ever since – Hakuna Matata. We instantly remembered The Lion King and could picture Timon and Pumbaa singing away to glory – "It means no worries, for the rest of your day…It's a problem free philosophy…Hakuna Matata!" From then onwards, we noted that almost every person we spoke to in Zanzibar, ended their conversation with 'Hakuna Matata'. We fell in love with this phrase and their live-and-let-live stress-free attitude. Needless to say, the moment I spotted this beach cover up, I picked it up without a second thought! We brought back not just an item or a souvenir, but a philosophy and a way of living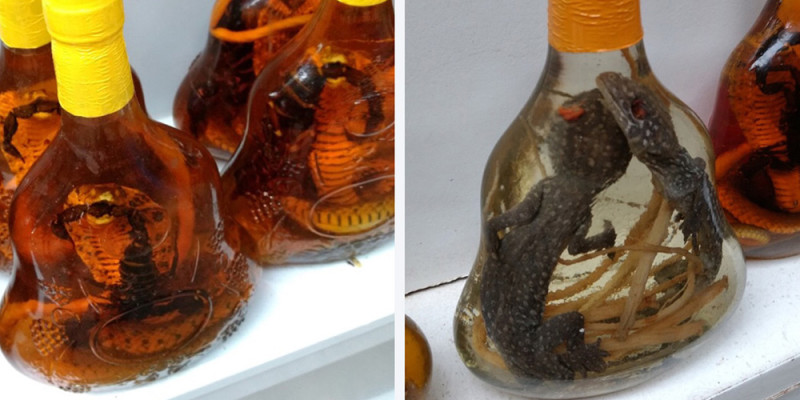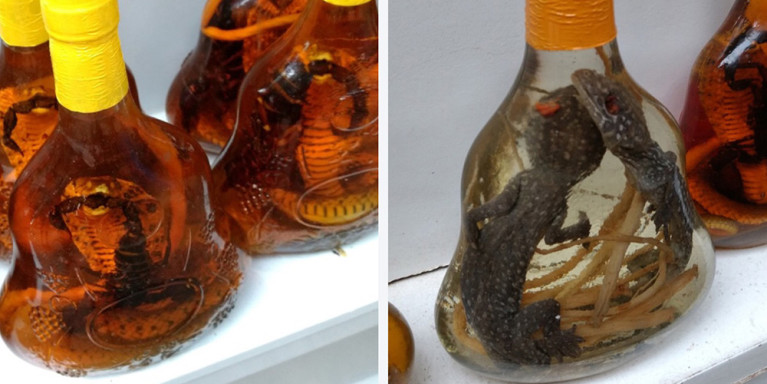 After a long tiring day in Siem Reap, Cambodia, roaming the temples and fighting the urge to buy souvenirs outside every temple meant definitely going to one of the many night markets for getting cheap deals.  While roaming in the shops and bargaining for t-shirts, wooden artefacts and lacquer wear, I came across a stall with unusual looking bottles. On closer look I noticed there were reptiles in the bottles. A quick taste revealed that it was rice whiskey and the seller informed that the reptiles like snake, scorpion, gecko are believed to enhance the taste of whiskey. I was super intrigued and had to know how do they insert them in the bottles where the seller  informed that the bottom of the bottle is closed after the reptiles are kept inside. After a million other questions i just had to buy this 200ml bottle costing $10 as an unusual souvenir for remembering the weird experience and flaunting it to friends and family. Not sure if I will ever open the bottle!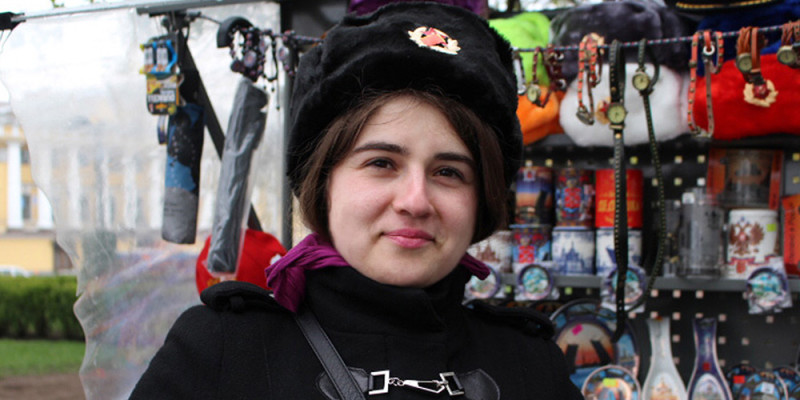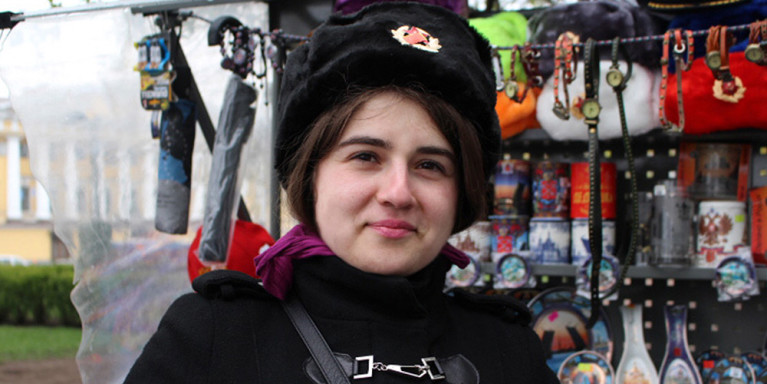 When I first started travelling, I used to buy souvenirs in every place I visited: usually, it was useless crap like key chains or miniature copies of famous sights. When the pile of the souvenirs got big enough, I decided to stop buying them, and I kept my word, well, until I went to St Petersburg. We visited it around May 9, which is Victory day in Russia, a big-big day with celebrations and military parades. In my country it was 20 degrees when we left, but we knew it would be cold in St Petersburg. Well, we did not expect it to be that cold!
It was 6 degrees, raining and with wind cutting to the bone, and we were wearing only light jackets. So, instead of walking around the city, we decided to go to the Hermitage. The line was huuuge, and they let in a limited number of people, the rest had to wait outside. After waiting under cold rain and icy wind for more than half an hour, we gave up and left. And this is when we saw this stall selling military ushanka hats with Soviet stars. You know, their specific feature is that they are rather ugly (or, maybe, it is me: look at my pic :)), but they are warm and their flaps can be unfolded to cover ears and back of the head. When I put it on, I understood what happiness is :). I just took off the star and wore it the whole day, and I did not care how I looked. I guess it was a patriotic gesture :). I still have it somewhere, and I think it will come handy one day, when I travel to the colder parts of Russia.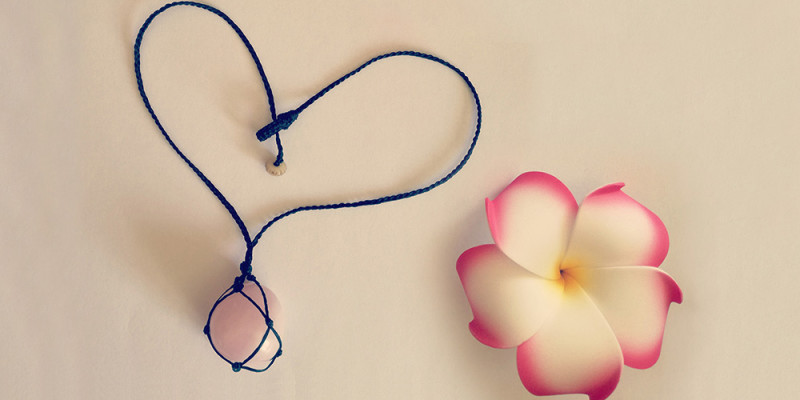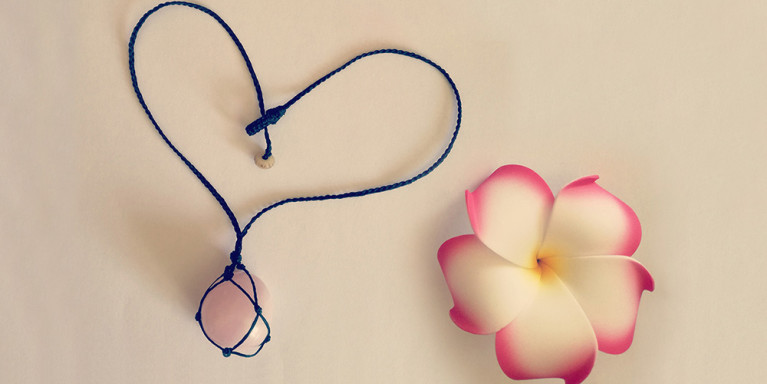 I got this little gem on the last day of my 3 months long travel around Thailand. Actually for the full story, I'll have to jump a few days before that. 
I've just arrived in Chiang Rai and was looking for a hostel, when I found a cute little spot called The Shaman. It had all sorts of cool art around it and seemed like my type of place. I checked in and it started pouring cats and dogs outside. Left with not much options, I decided to have dinner at the restaurant of the place and it turned out I was the ONLY guest at the time! Fortunately, Jems, the owner, turned out to speak very good English and we spent the evening having all sorts of interesting conversations. The day after the offered to give me a ride on his bike to the local attractions, which was a great money, hassle and nerve saver for me!
Eventually it tuned out that Jems was one of the most interesting human beings I've ever met. He'd survived the last tsunami in Thailand, he plays 5 musical instruments (that I know of), sings, he's a fire dancer (and tried to improve my poor poi skills), he handcrafts jewelry and leather bags, and he's also a carpenter! There might be so much more, but for the short 3 days I stayed there this is what got to know. He showed me the rose quartz necklace he'd made (that I now wear almost every day) and I fell in love with it right away. Unfortunately I was on a budget and thought the price for it was to steep for me, so I told him "I'll think about it".
During my stay there we actually became close friends and when I was leaving he shouted "Wait!" and ran to his shop. He came back with the necklace and gave it to me. "To protect your heart, brave woman" he said. With tears in my eyes, I gave him a tiny Bulgarian Rose oil bottle and left on my way to Lao and the Mekong River.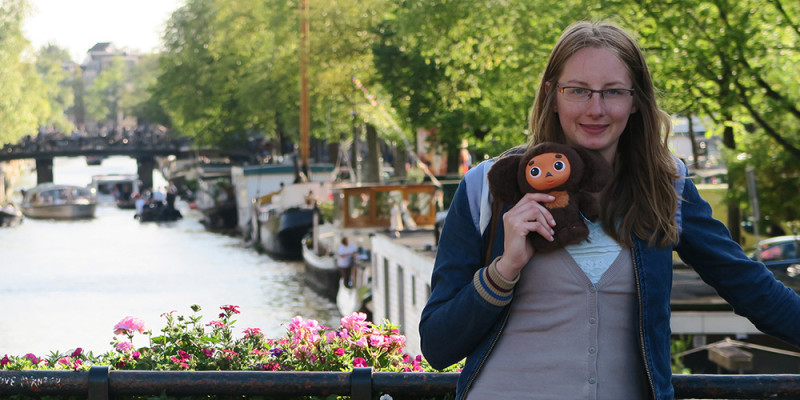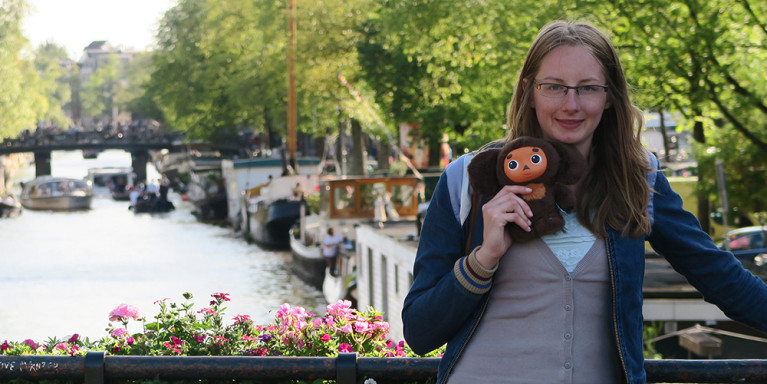 After finishing high school I decided to go to Russia to teach English to children and improve my Russian in the meantime. I was 19 and this was my first solo trip. I lived with a Russian family for 3 months in Siberia. In a bookshop, I found Cheburashka, who is a famous Russian cartoon character. I got it as a travel buddy. From that moment I wasn't travelling solo, I was travelling with Cheburashka. We would explore the mountains and towns together during my time off. 3 months passed by really quickly and it was time for me to head back home. I loved my time abroad so much that I got the travel bug, so I planned many more adventures. Australia, Malaysia, Indonesia, Ireland, Iceland… I had a really long list of places I wanted to visit. Guess who joined me on all these adventures? That's right! Cheburashka! She reminds me of my awesome time in Russia and how it was a great decision to choose to travel solo after finishing high school. 
It's been 4 years since my trip to Russia and since then Cheburashka and I visited 12 countries together. Of course, I must take a picture of her everywhere we go, making it into a great photo series. Click the link above to check them out!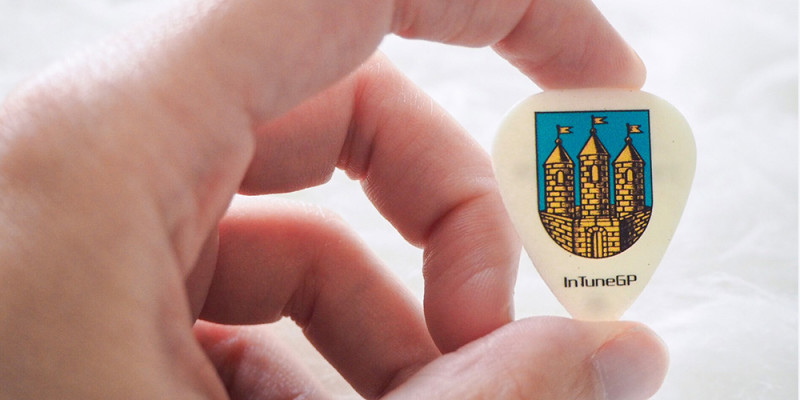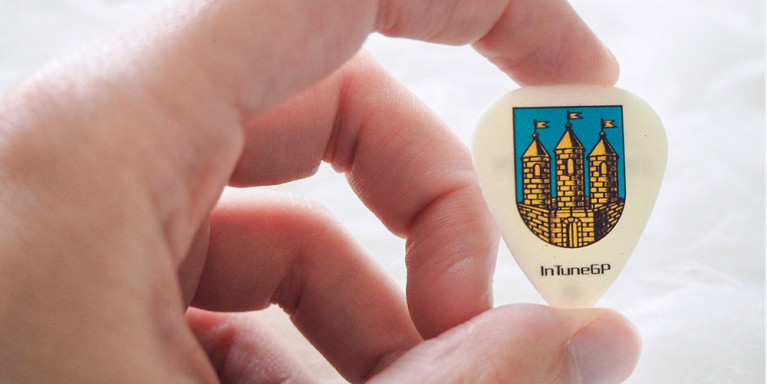 I can't play the guitar, but I'm the proud owner of one guitar pick that I hope I'll never lose. It was handed to me on a night out in Den Haag, the Netherlands. You may be wondering what kind of selfless soul goes around giving away his or her possessions? Well, in this case, it was no one other than the guitarist of the Dutch metal band, Within Temptation. Wait, what?! Anya from Snow to Seas goes to metal concerts? Yup, proudly since 2005.
10 years after going to that first metal concert and 3 years after first seeing Within Temptation play live, my friend and I made plans to travel to the Netherlands in order to catch one of the band's theatre shows. They were only taking place in Holland. While I was lucky enough to be working in Sweden at that time and had a short flight to the Dutch capital, my friend made her way over from Toronto, Canada. Once in the Netherlands, we decided to use social media to try to let the band know that there would be Canadians attending their Den Haag show. Believe it or not, our efforts were not in vain. During that incredible show, we got a shout out, we were asked to shout out, and the band even announced that they would speak English because of the night's international crowd. Towards the end of the show, when we were standing right in front of the stage, I was handed the guitar pick. To say I was ecstatic is an understatement. All in all, my obsession with this guitar pick isn't just because I consider myself a crazy WTF (Within Temptation Fan), but it is also a reminder of one incredible experience I was able to share with one of my best friends. It's a symbol for a starstruck night we'll both happily remember for the rest of our lives.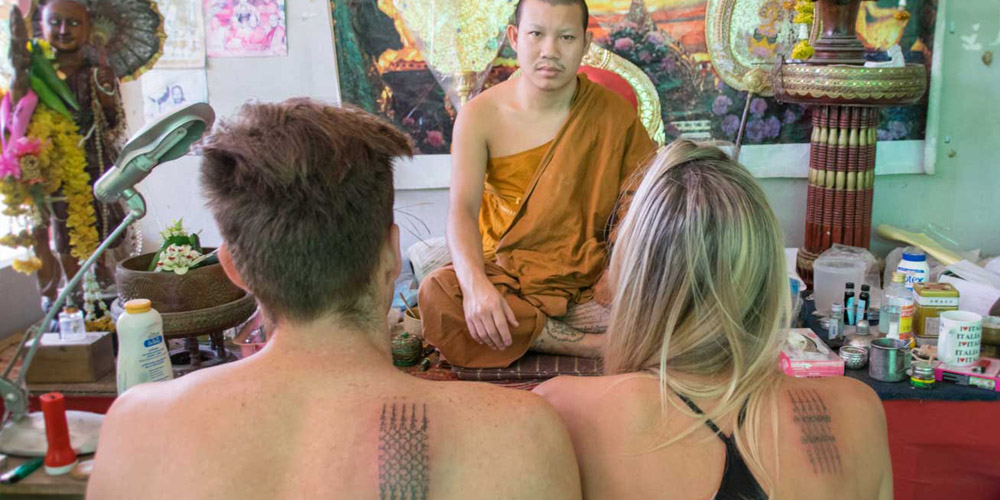 I've been traveling nonstop for 4 years and sadly that means collecting souvenirs is not on option when you live out of a bag. However, on my most recent trip to Thailand, I got a souvenir that I wouldn't have to put in my bag that wouldn't potentially break and carry around the world…I got a Sak Yant tattoo!
You're probably wondering what in the heck is that. A Sak Yant is a traditional tattoo done by a monk in a temple by hand that is said to hold magical powers. Typically the monk chooses your tattoo and where on the body it'll be. Most commonly they are on the back, mine is on my back shoulder. If you aren't 100% open to not knowing, you can tell the monk what sort of protection you are looking for family, health, money, job, etc and he will freehand your tattoo. Thailand is a country that holds a special place in my heart. It's where my husband and I took our honeymoon, we've called Thailand "home" twice both on 6 months stints, we're addicted to their beaches and of course their food. Now I will always have a piece of Thailand with me.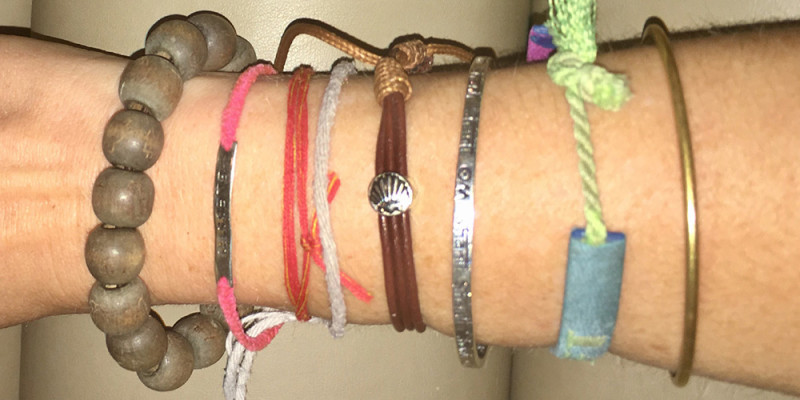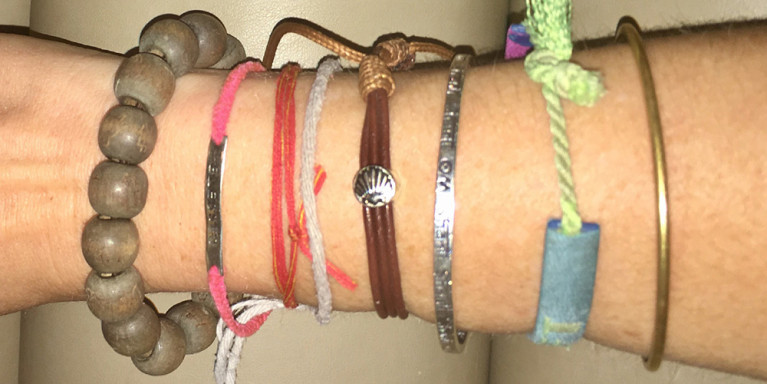 As a faith and travel writer, I'm always swept up in different prayer halls, ceremonies and cultures. I wanted to somehow capture the memories and the lessons learnt from these experiences.  When I was in Bali I was teaching English and at the end of every class, the kids would bellow Om Shanti Shanti Shanti Om. A Hindu mantra to clear and pacify the; Physical, Divine and Internal obstacles from your life.  My fellow teachers and I all got a bracelet with the mantra to remember our time together and with the kids.  From there it grew, at a Buddhist Monastery in Thailand I was discussing women's rights in the history of religion and the monk gave me a set of prayer beads to focus my mind on the here and now. I now adorn, a Sikh Khalsa bracelet, a Camino way memento, various ceremony threads, a blessed charm and as we speak my InShaAllah bangle is being made in the Old Dubai Souk.  Keepsakes to remind me of my journey, my immersion in the religions, and a reminder of the commonalities between us all. We all hold dear to us… Faith, Hope and Love.
How amazing are all of these stories?! Do you have any souvenirs that are dear to your heart? I'd love to hear all about it in a comment below!
Love these unique souvenirs? Pin it for later!