Day Trip to Fort Lauderdale from Miami: What to See and Do

While I mainly stayed in Miami when I lived there a few years back, it didn't stop me from taking a few trips to explore the state. One of those destinations was Fort Lauderdale! Just an hour north of the 'Magic City', I highly recommend a day trip to Fort Lauderdale from Miami. If you're wondering "what should I do in a 1 day visit to Fort Lauderdale?", I've got you covered. Hotels.com has asked me to share these things to do in Fort Lauderdale so that you can make the most of your time there!
Things to Do in Fort Lauderdale Florida
Think there's not much to do in Fort Lauderdale? Think again! While you won't be able to do all of these in just a day trip to Fort Lauderdale, it should give you some inspiration of how to spend your day. Be warned though, you just might be looking for hotels to extend your stay! I've tried to include a mix of free things to do in Fort Lauderdale as well as paid in case you want to keep costs down!
Admire the Public Art
Thanks to the Broward County Art Program establishing 'Art in Public' Places in 1976, 2% of the new construction budget for Broward County government facilities is taken each year to commission artists. As a result, there are a number of beautiful public artworks across Fort Lauderdale and the surrounding area! You can find a full list of artworks here but my personal favourite is at the Secret Woods Nature Center. You can't miss it as you'll come face to face with Metamorphosis by Raymond Olivero as you enter the centre's Monarch Interpretive Center exhibit hall! Admire the beautiful stained glass as the sun's rays make this colourful butterfly motif come to life.
Explore the Riverwalk
Take some time to explore the beautiful New River, one of my favourite things to do in Fort Lauderdale. Here you'll find beautiful pedestrian walkways that create an oasis in the heart of the city. The Riverwalk is run by a charitable, non-profit organization run by volunteers who have been looking to nurture this bright community along the New River since 1988. Enjoy Esplanade Park and other green spaces, visit some historical sites and more in this 22-block district. There's no shortage of things to entertain you, especially with their Riverwalk Happenings like monthly jazz brunches and burger weeks! If your legs get tired, settle in for a drink or bite to eat to rest your feet. You can also hop on one of the water taxis or the Sun Trolley to save time if you're short on it.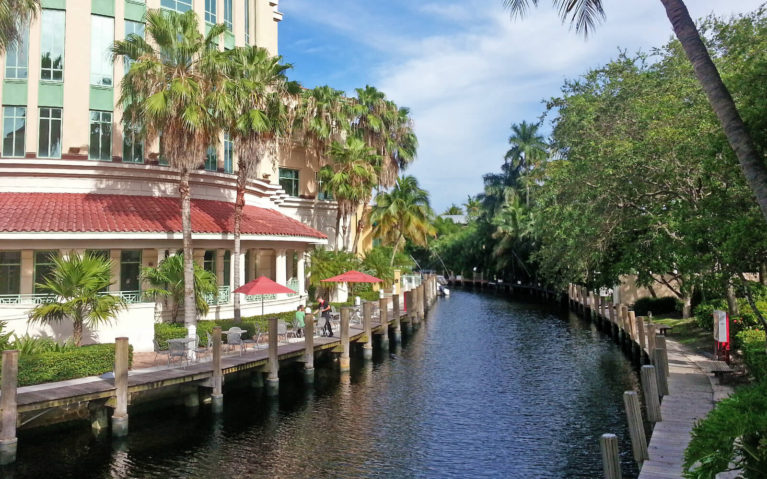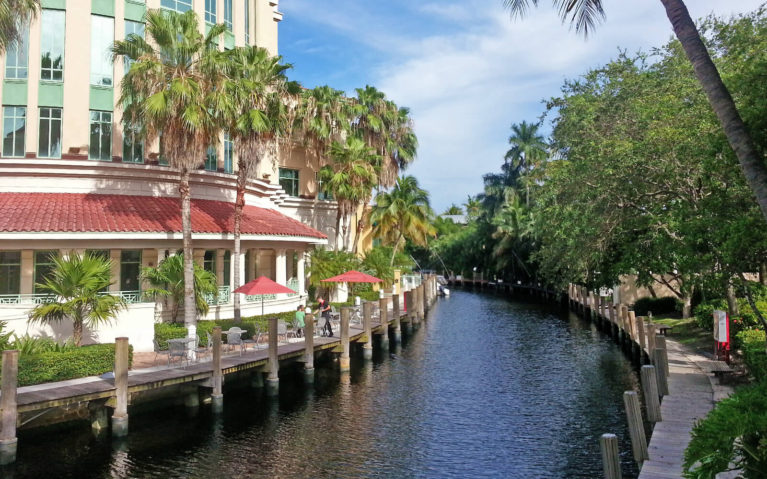 Stroll Down Las Olas Boulevard
One of the most popular streets along the Riverwalk, Las Olas Boulevard is lined with cafes and chic boutique stores. This is a great spot to check out whether you're travelling to Fort Lauderdale with kids, a romantic getaway or otherwise. From art classes to cigar bars to museums and pretty much everything in between, you can't go wrong here. Though I recommend taking advantage of one of the many happy hours along Las Olas Boulevard!
Retreat to Hugh Taylor Birch State Park
This is one of the things in Fort Lauderdale I wish I had a chance to check out, so I had to include it so you wouldn't miss it. Gifted to Fort Lauderdale by Hugh Taylor Birch (hence the name), this affluent attorney from Chicago did so to preserve the land so so it could be enjoyed for generations to come. With picnic areas overlooking the channel, cycling paths with available rentals, canoeing and plenty more, it's clear why both locals and visitors love it. I've heard it can get quite crowded so if you'd rather dodge the masses, you'll want to arrive early. Luckily the park opens at 8:00am to make that easy!
Visit the Bonnet House Museums & Gardens
Speaking of Hugh Taylor Birch, you can tour his former home whom he gifted to his daughter by visiting the Bonnet House. This beautiful mansion screams Art-Deco that's typical of South Florida. Inside you'll find exhibits about his life along with the history of the region, including how it was the site of first contact between Spanish settlers and the local Native American population known as the Tequesta. It's definitely a place of significance in Fort Lauderdale, which is why it was added to the U.S. National Register of Historic Places in 1984.
Need an Energy Boost? Hit a Coffee Shop!
Starbucks may be everywhere but I always say ditch the big names in favour of a local coffee shop. Nanou Las Olas is the perfect place to stop whether you're looking for a caffeine boost or a bite to eat. Specializing in breads and pastries, you can enjoy a taste of France by the beach in Fort Lauderdale. Family owned and operated, you'll feel right at home here whether you dine in or take it to go. Oh, and did I mention they have macarons? If you're looking for somewhere to grab a late afternoon coffee that nobody will shame you for or maybe even something a bit harder, my vote is for Stache Drinking Den + Coffee Bar. This speakeasy may only be open until 5:00pm on weekdays but they keep the party rocking all night long on the weekends.
Enjoy Some Beach Time
Let's be honest, the beach is one of the big reasons we travel to Florida – right? Whether you're a total beach bum or just want to feel the breeze of the Atlantic Ocean on your face, I recommend taking some time to enjoy the sand between your toes. Las Olas Both Las Olas Beach and Fort Lauderdale Beach are waiting for you! They're easily accessible thanks to the Sun Trolley from downtown Fort Lauderdale. It operates on weekends from Friday to Monday, 9:30am until 6:30pm and costs just $1 per person. If you want to explore the area at your leisure, you can always rent a bike from Broward B-cycle. Grab a bike from a station and return it to any open station for $5 every 30 minutes you use it.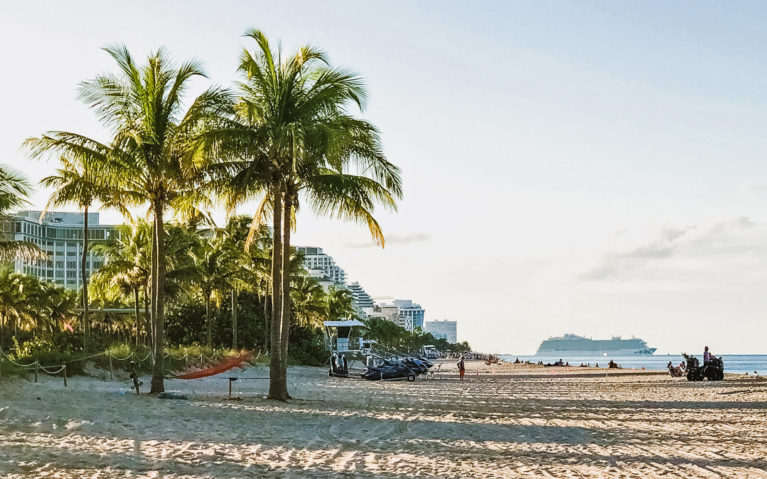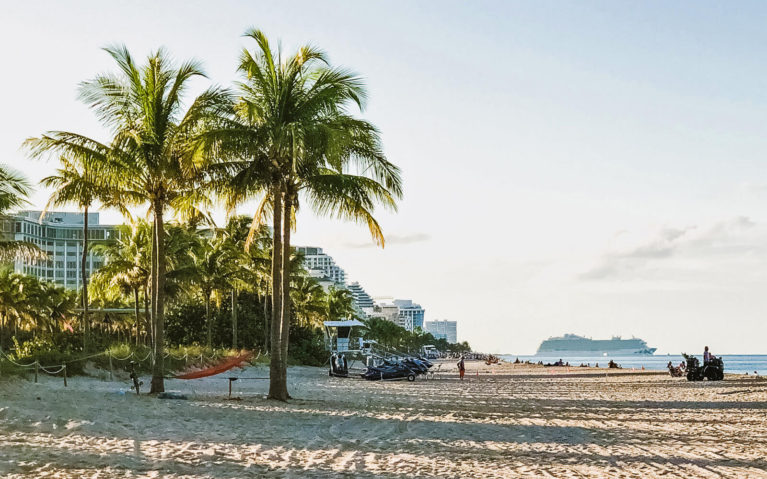 Take a Butterfly Self-Guided Walking Tour of Snyder Park
A lesser-known destination within Fort Lauderdale, you'll find plenty of outdoor fun at Snyder Park. Travelling with your dog? You can take them to the aptly named 'Bark Park'! There's disc golf, horseshoe pits and more, but what really caught my eye was the butterfly garden self-guided walking tour. All of the plants within the butterfly garden were planted with the sole purpose of helping out our world's pollinators. The numbered posts will guide you as you learn about the plants and the critters they attract. With cat's whiskers, pineapples and more, you'll be amazed at the plant diversity within the park!
Visit the Stranahan House
Originally built as a trading post in 1901 and then converted into a residence 5 years later, the Stranahan House is the oldest surviving structure in all of Broward County. It was built by Frank Stranahan who is said to be the father of the city of Fort Lauderdale. Lovingly restored by the Fort Lauderdale Historical Society, it has been open to the public since 1984. Inside you'll find exhibits detailing the history of the city, back to Frank's first contact with the Seminole Tribe, one of the area's original inhabitants. Guided tours are approximately 45 minutes long and are available daily at 1:00pm, 2:00pm and 3:00pm.
Check Out the NSU Art Museum Fort Lauderdale
As one of South Florida's leading cultural attractions, NSU Art Museum Fort Lauderdale is a great spot to visit, especially if you're a fan of the arts. Their permanent collection contains more than 7000 works from the early 19th century until the mid-20th century. It's home to the largest collection of works by American painter William J. Glackens along with an extensive collection of Latin American and Cuban contemporary works as well as African and Oceanic Tribal Arts. You can find it thanks to the iconic dripping rainbow mural on its outer walls!
Visit One of the Fort Lauderdale Museums
Fort Lauderdale is no stranger to awesome museums and they definitely have their fair share! They have everything from interactive institutions like the Museum of Discovery and Science to showing off the oldies at the Fort Lauderdale Antique Car Museum. There's also the Fort Lauderdale Fire and Safety Museum as well as more historical sites like the Old Dillard Museum and the Pioneer House Museums. Many of them are centrally located along or close to the Riverwalk.
Hunt for Street Art
While there's nothing to the extent of the art you'll find in Miami's Wynwood area, there are still some great murals in Fort Lauderdale. As I mentioned earlier, the NSU Art Museum has a gorgeous rainbow you don't want to miss. However, if you're a hockey fan, you won't want to miss the mural dedicated to the Florida Panthers. While it's not technically in Fort Lauderdale, just outside the city in Hollywood (no, not California's Hollywood) you'll find a plethora of art thanks to the Downtown Hollywood Mural Project.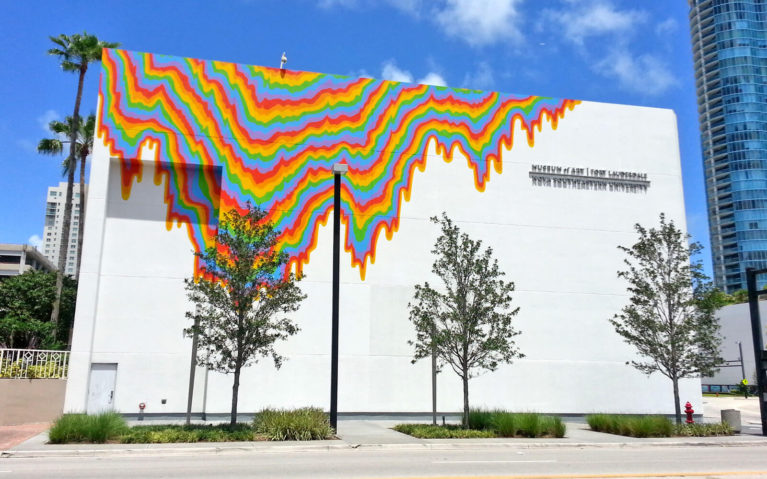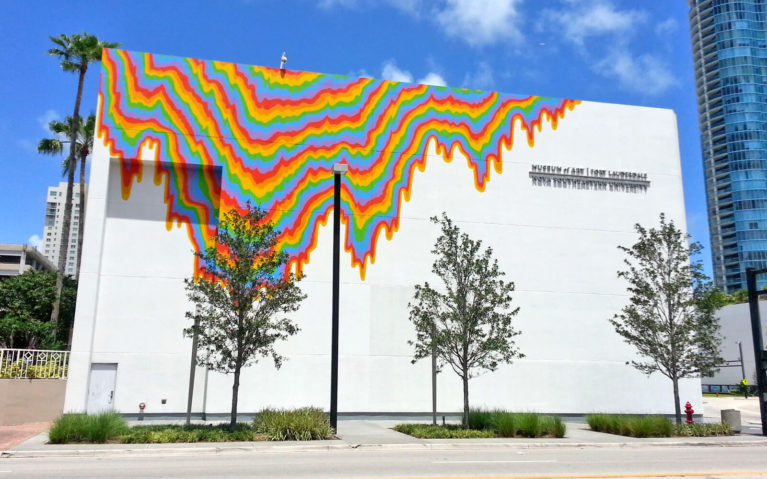 Grab a Bite to Eat Along the Beach
As with any larger city, there are more places to eat than you can shake a stick at. Unfortunately the restaurants I ate at back in the day have gone to restaurant heaven but that didn't stop me from scouring the internet for you! Whether you're looking for lunch, dinner or a mid-afternoon snack, here are a Fort Lauderdale restaurants I would put on your radar.
El Vez – You can never go wrong with Mexican food, especially in South Florida. El Vez focuses on Baja-style cooking while highlighting the deliciously fresh seafood of the area. From ceviche to Branzino grilled Baja-style, there are plenty of delicious eats on their extensive menu. Enjoy your meal in their bright, eclectic restaurant or enjoy El Vez's ocean views from their patio. If you'd rather enjoy your eats right on the beach, there's a grab and go counter!
Kousine Peruvian Kitchen – One look at this place and you'll know I chose it because of the gorgeous mural inside. However, my choice is reinforced by their tasty menu. You've got ceviche galore along with heartier plates like paella and Chaufa Aeropuerto (Peruvian pork fried rice). I'm seriously drooling looking at all of their amazing options. Just take a look at their Facebook page and you'll see what I mean.
In case you're wondering why eat along the beach? I don't know about you but I'm all about great eats with beautiful views and beachfront vibes are always fantastic. I mean, that's why you're in Florida, right?
Enjoy a Pint at a Craft Brewery
Craft breweries are popping up everywhere and Fort Lauderdale is no different! If you're a beer drinker like me, you'll want to enjoy a pint or two. Established in 2013, LauderAle was South Florida's very first nano-brewery and they dabble in a number of styles. You can't go wrong with a family and dog-friendly outdoor beer garden with 30 beers on tap and daily food trucks. Also, I had to include them because of their name. I'm a sucker for punny things. If you're looking for breweries that are more centrally located, you've got Invasive Species Brewing, Tarpon River Brewing and Orchestrated Minds Brewing just to name a few. Can you tell I can't resist a unique name?
Hop On a Tour
Tours aren't normally my jam but sometimes you just want someone to do the planning for you! Here are some of my recommendations for Fort Lauderdale tours.
Cruise the New River – Strapped for time but don't want to miss the beauty of the Riverwalk? You can do it without walking onboard a 90 minute Jungle Queen River Cruise! Learn more about the city of Fort Lauderdale on this fully-narrated trip down the New River.
Pub Crawl… on Wheels – Hit some of the bars along the Himmarshee Village neighbourhood in downtown Fort Lauderdale on the Pedibus Pub Crawl! You'll get to indulge at three spots along the trip absolutely guilt-free. Just don't be the person that doesn't pedal at all during this two hour excursion!
Sunset Dinner Cruise – Want to try a few of the restaurants in Fort Lauderdale? Hop on a sunset dinner tour! Stroll along the Intracoastal Waterway as your guide shares some culinary delights from five of the city's best restaurants. Or if you'd rather not walk, you can opt for a two-hour cruise instead. It comes with a glass of bubbly!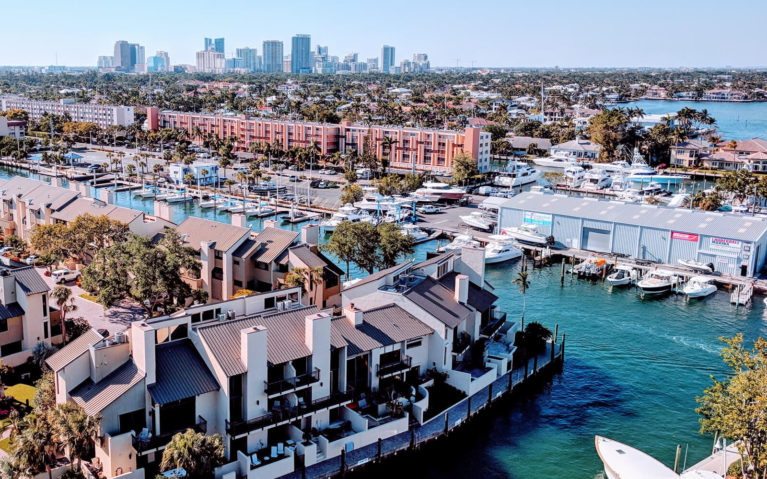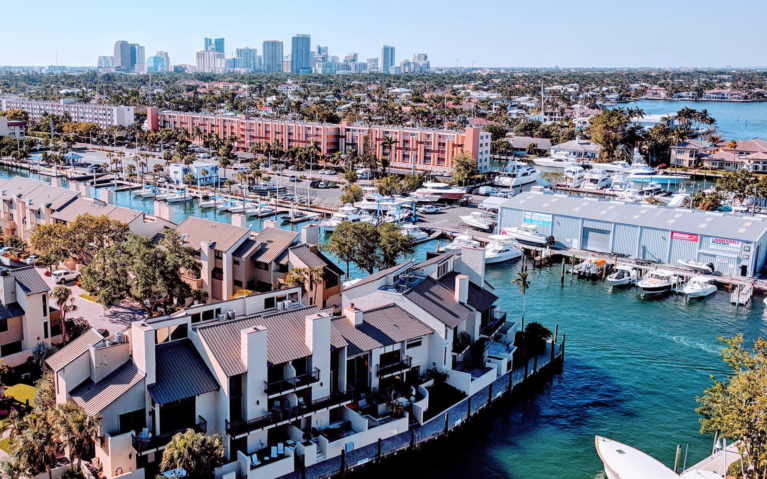 Things to Know For Your Fort Lauderdale Day Trip
Before planning your day trip to Fort Lauderdale, I highly recommend taking a look at these logistics before you set out on your adventure.
Getting to Fort Lauderdale
With Fort Lauderdale being close, there are a few ways you can get there from Miami. What's the fastest way to get to Fort Lauderdale from Miami? My vote is to rent a car and it's also the most direct. Additionally, it affords you the flexibility to stop wherever you like and travel wherever you choose. Many Florida cities aren't great for those travelling solely by foot and Fort Lauderdale is no different.
If you'd like to keep your costs down, you can take a bus from Miami to Fort Lauderdale as Flixbus offers a number of trips daily. Pick up points in Miami are at Miami International Airport as well as Bayside Marketplace. The latter is probably your best place to go if you're staying close to Downtown Miami or on Miami Beach. Plus it's one of the places I recommend to check out when visiting Miami so why not strike two things off your list? What you should be aware of is that if you do take the Flixbus, it drops you off at the Broward Boulevard Park & Ride so you may need to take an additional bus or cab to get where you want to go.
Fort Lauderdale Weather
You can't forget to check the weather before heading out to Fort Lauderdale! As is expected with any South Florida destination, the temperature is on the warmer side. While the average temperature is 18 °C (65 °F) or hotter, they do get rain for a third of the year. If you'd like to avoid the rain, I'd recommend visiting between December and April.
When planning your day trip to Fort Lauderdale (or South Florida for that matter), you should also keep hurricane season in mind. It lasts from June 1st until November 30th (give or take a few days) which can put a damper on your plans. I do have some indoor options above but your travels to and from Fort Lauderdale can be impacted.
Moral of the story? Be sure to take a look at the weather before planning your day trip to Fort Lauderdale! However if you do get caught in some bad weather and need to turn your day trip into a few days, check out these Fort Lauderdale hotel options.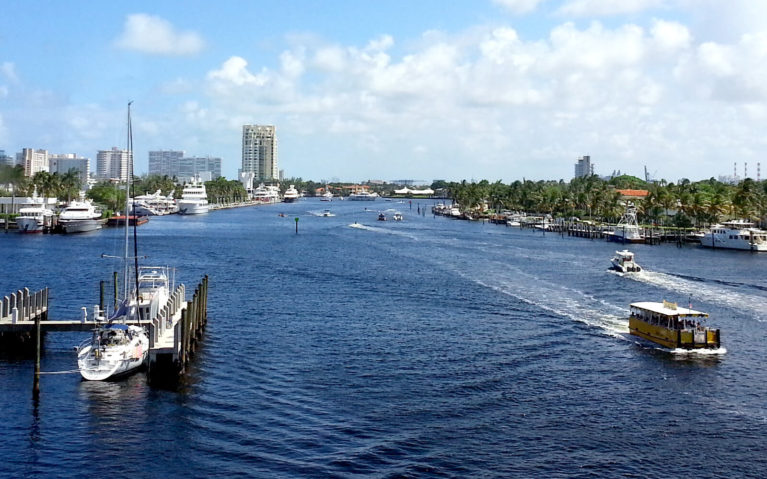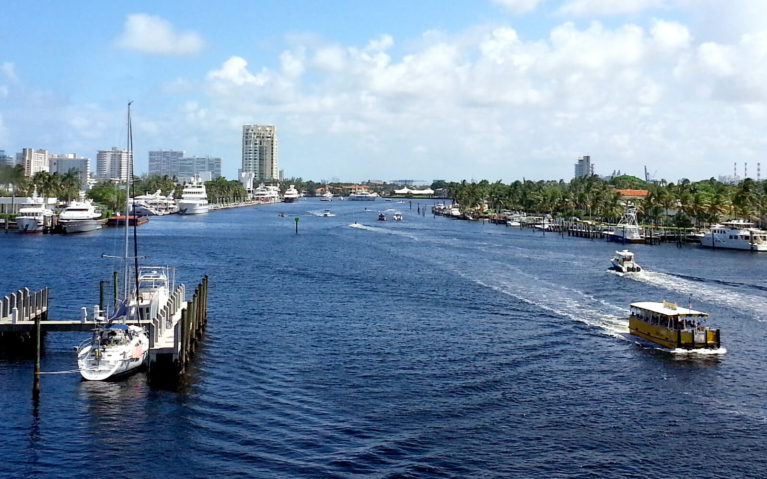 Day Trips from Fort Lauderdale
If you do decide to stay a few days in Fort Lauderdale, it makes a great jump off point for even more adventure. There are plenty of South Florida day trips at your disposal!
As I mentioned in my Miami post, one place you should really visit in Florida is Everglades National Park. Hop on an iconic airboat ride as you soar across the water through the Big Cypress National Reserve. While there are a number of tours available, I highly recommend taking one with Buffalo Tiger. It's truly a memorable experience as you learn about the history and traditions of the Miccosukee People while staring down alligators from the boat. Their general tours also require no reservations meaning you can enjoy a flexible travel schedule.
Another option is to visit the Flamingo Gardens. Originally known as Flamingo Groves, it's a non-profit organization dedicated to preserving and educating others about the history of South Florida and the Everglades. This 60-acre botanical garden showcases over 3000 species of rare plants both native to the area and exotic. You'll find some of the largest trees in the entire state in the Arboretum! There is also an Everglades wildlife sanctuary which permanently injured birds and animals call home. Unable to be released back into the wild, they live out their days in this tropical paradise. While it is close to Fort Lauderdale, you'll want to spend a few hours enjoying all of the sights which make it a perfect day trip from Fort Lauderdale.
Want to head to the western side of Florida? You can do that too! Both Naples and Fort Myers are approximately a two hour drive from Fort Lauderdale, making them great day trip material. There's also West Palm Beach which is located just an hour north of the city. Fort Lauderdale is so centrally located that any of the cities close by make a great day trip destination!
Ready to Visit Fort Lauderdale?
As you can see, the city has plenty to offer whether you plan for a day trip or to stay a few days! Either way, this is one of the day trips in Florida you don't want to miss! If you still haven't had enough of exploring Florida, you can always chase the sun further and head from Fort Lauderdale to Key West.
Now the big question is, what would you do on a Fort Lauderdale day trip? Could you visit for just one day or would you be tempted to stay longer? I mean, Fort Lauderdale is the 'Venice of America' so I wouldn't blame you if you chose the latter.
Looking for more suggestions for South Florida?
Check out these hidden gems in Miami you won't want to miss!
Disclaimer
This post is sponsored by Hotels.com and contains affiliate links where I may receive a kickback at no extra cost to you. Read more in IBB's disclaimer and privacy policy.
Planning a day trip to Fort Lauderdale? Pin it for later!