1000 Islands Cruise Guide: Everything You Need to Know

The Thousand Islands is a beautiful destination and a must-do Ontario road trip whether you're from the province or visiting it. This group of 1800+ islands has plenty to see and do, but one experience you can't miss out on is a 1000 Islands cruise. In this guide, you'll find all the information you need to plan your own 1000 Islands cruise while ensuring you have a wonderful experience.
Why Take a 1000 Islands Cruise?
The 1000 Islands are the Saint Lawrence River's iconic archipelago. It was created when the roots of an ancient mountain range flooded after the retreat of the last ice age. Spanning over 75km, the area is made up of 1867 "islands" – 997 are known to be actual islands, while the others are mainly shoals and rocks. As you can imagine, there's plenty of beauty to be discovered within the area. What better way to tour the Thousand Islands than with a cruise!
Why should you take a 1000 Islands cruise? First, who doesn't love to hit the water and explore? A cruise allows you to cover a lot more ground than you could by staying on land or hopping on a kayak. It also allows you to catch a glimpse of some of the more famous islands like Heart Island (home to Boldt Castle) as well as some of the private cottages which I guarantee will have you daydreaming about owning one yourself. Lastly, the views are absolutely gorgeous so sit back, relax and listen to the commentary as you enjoy the scenery.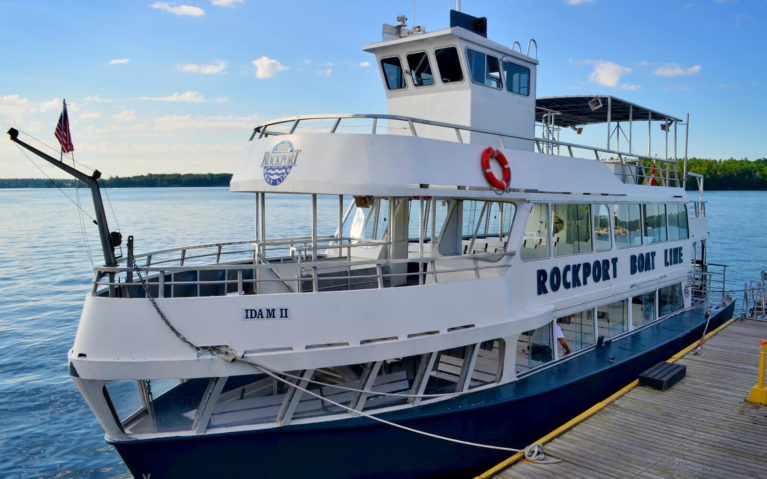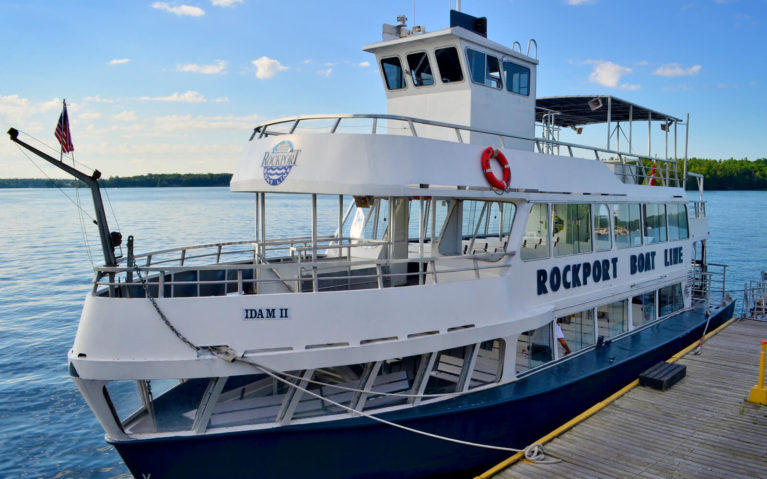 My Thousand Islands Boat Tour Experience
It's been a very long time since I visited the Thousand Islands myself, so I was excited to get back and explore more. My parents and I used to visit the area with my parents when I was much younger. I can remember are bits and pieces from our trips to Alexandria Bay on the US side so I was looking forward to experiencing the area now that I'm older!
Grab a spot along the edge of the deck as you take off onto the calm waters of the Saint Lawrence River. Soon after your departure, you'll hear your guide over the loudspeakers as they share some information tidbits during your tour. They'll also share specific points of interest that are unique to the area. One of my favourites is the smallest international bridge which you'll spot connecting one island in Canada and one in the USA. It looks more like a little walkway than a bridge!
I have to say, it was surprising to see just how many of the islands had cottages on them. I had no idea so many of the islands were privately owned. If you're wondering how these isolated destinations have access to power, it's thanks to underwater cables!
While this is all fine and dandy, chances are you're on this cruise to catch a glimpse of the famous Boldt Castle. Located on Heart Island, this historic site is just as hauntingly beautiful as the story of its creation. Construction started in 1900 as George Boldt began building the castle as a gift to his beloved wife. However, Boldt's wife tragically passed in 1904 very suddenly. Upon her death, Boldt could never return to Heart Island and chose to leave the unfinished castle as a monument to his love.
For over 70 years it was left to face the elements until the Thousand Islands Bridge Authority purchased it in 1977 for $1. Why so cheap? The agreement was created so that all revenue would go towards restoring the castle and maintaining it for future generations. If you want to go inside, you're in luck as tours are available of the castle from both the Canadian and American side of the Thousand Islands.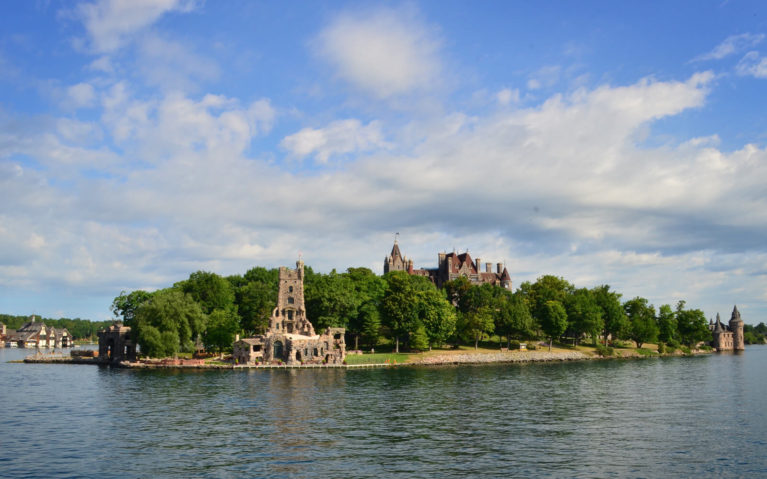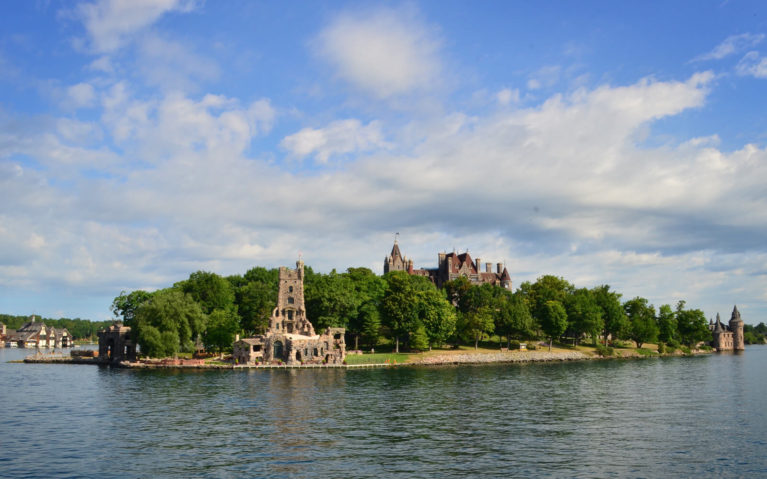 Planning Your 1000 Islands Cruise
Are you ready to book your own cruise around the Thousand Islands? Fantastic! Here are all the details you'll need to plan this awesome adventure.
How to Get to 1000 Islands
The 1000 Islands is a region that encompasses parts of both Canada and the USA. It extends from Cornwall to Kingston on the Canadian side and from Massena to Oswego on the American side. In this area, you'll find a number of popular destinations within the 1000 Islands including Brockville, Gananoque and Mallorytown.
Gananoque is considered your entrance to the Thousand Islands region and is located about a 3 hour drive from Toronto along Highway 401. It's also a great getaway from both Ottawa and Montreal as driving times are 2 hours and 3 hours respectively. From the American side, it's less than 2 hours from Syracuse to the 1000 Islands and about 3 hours from Rochester.
By far the easiest way to get to the Thousand Islands area is by car. If you're visiting from out of the country, I highly recommend renting a car. As places of interest are spread out across the area, this will make it easy for you to get around and not have to worry about trying to find transportation.
If you don't drive, there is a Via Rail service to Gananoque that runs twice daily as well as two airports in the 1000 Islands area. You can get flights to Kingston as well as flights to Gananoque. Lastly, there's a Megabus service that has stops in Kingston, Brockville and Cornwall, but you'll need to taxi or rent a car from there to get around the area.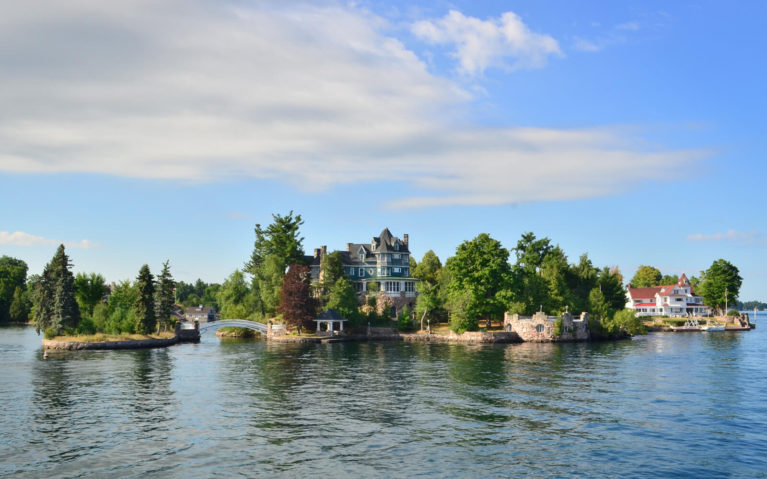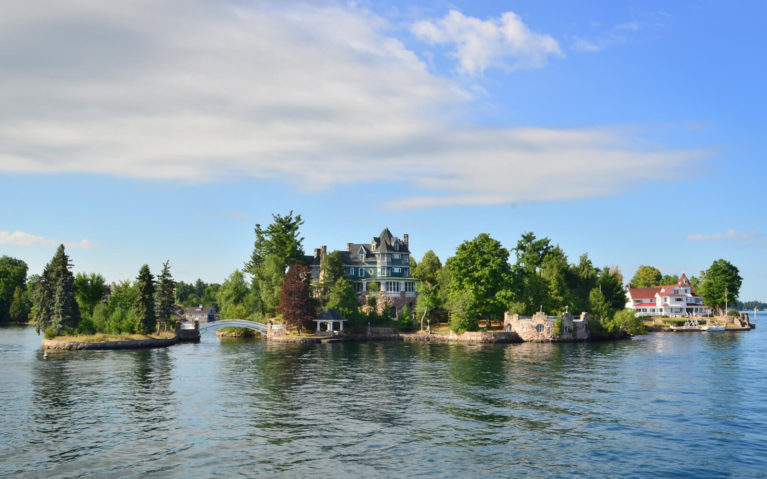 Where to Take a 1000 Islands Cruise
As you can imagine, there are a number of Thousand Islands cruises you can take. Not only are there plenty of tour operators but there's also the time of day, special events and other things to think about when planning your trip. While it can mean an overwhelming number of options, it also means there's probably a tour to fit your schedule.
To start, there are five cities that are home to Thousand Islands boat tours and each of these companies have multiple offerings. I'll go by city and then by the tour company to try and keep this as simple as possible. For full details on what you'll see on each tour, head to their respective websites.
Our first city is Rockport where you'll find the aptly named Rockport Cruise Lines which is the tour company I went with. They have seven different cruise offerings ranging from just under an hour long to six hours. Their longer tours allow you to stop and visit Boldt Castle as well as Singer Castle, located on Dark Island. These castle tours would be what I would do on my next trip to the 1000 Islands! They have sunset cruise offerings as well.
Next is Gananoque which is home to the Gananoque Boat Line. These tour companies are very creative with their naming. They offer six different cruises ranging from one to five hours. Gananoque Boat Line stands out from the others as it has a very unique tour offering – their Lost Ships of the 1000 Islands Cruise.
A Canadian signature experience, this tour combines audio/video commentary and sonar images to share the stories of ships that have been lost along the Saint Lawrence Seaway. Note that some of their cruises depart from Ivy Lea so be sure to double-check your departure city!
We'll finish off the list with Kingston where you'll find two boat tour companies. First is the 1000 Islands Cruises which leaves out of both Kingston and Brockville. They have two sightseeing cruises (90-minute Discovery Cruise and a 3 hour Heart of the Islands Cruise) and three dining cruises (brunch, lunch and sunset dinner) each 3 hours long. They also offer special event concert cruises throughout the summer. Second is St Lawrence Cruise Lines which offers multi-day cruises that visit a number of cities including Montreal, Ottawa and Quebec City.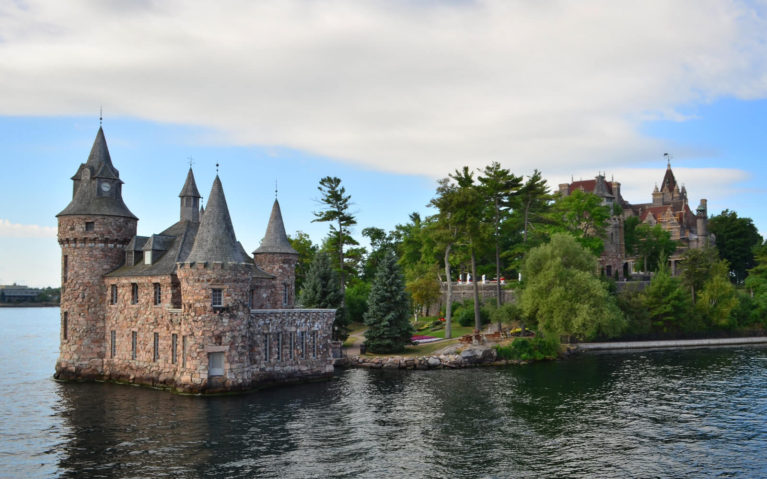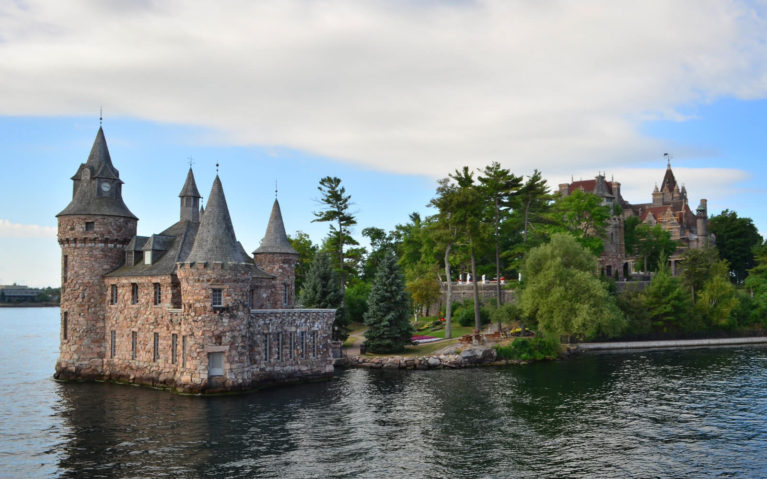 How Much is it to Take a Thousand Islands Boat Tour?
This can vary depending on the length of the tour, what company you go with and other amenities included within your tour. For a general hour long sightseeing cruise, it seems as though the price is the same across the board at approximately $27 per adult. Longer tours like the Rockport Cruise Line's Two Castle tour are upwards of $120 per adult.
If you're planning on a cruise with a meal, a lunch cruise will typically run you between $70-$90 per adult. As far as I know, 1000 Islands Cruises out of Kingston is the only tour company to offer a lunch cruise. They also have a summer brunch cruise at $66 per adult. For sunset dinner cruises, Gananoque Boat Line is the cheapest at $55 per adult. Second is Rockport at $64 per adult and finally, 1000 Islands Cruises is between $90 and $120 per adult.
Which Thousand Islands Cruise is Best?
Ah, the big question. Honestly? I can't say for certain as I haven't been on every single cruise line. However, I can share my conclusions based on my experience and research.
If you're short on time and are looking for a quick cruise that hits the main hotspots, Rockport Cruises is a great option. It was easy to get to, the staff were nice and our guide onboard was full of information and happy to answer any questions the group had.
Are you a history buff that wants to know more about some of the important events along the Saint Lawrence River? I'd recommend Gananoque Boat Lines for their Lost Ships of the 1000 Islands cruise or Rockport Cruise Line's Two Castle tour.
Calling all adrenaline junkies – if you're looking for something with a little more oomph to it, you'll want to check out the Wildcat tour from 1000 Islands Cruises. Departing out of Brockville, you'll zip across the water past historic lighthouses and through inlets the larger boats can't reach. They're the only ones that offer this speedy experience so if you're not a fan of the low-key tours, this might be for you!
Thinking of ending your day with a sunset dinner cruise? I'd recommend taking a look at the menus before booking to make your decision. It might be worth it to pay a few extra bucks if it means you'll enjoy the food more! That's just my two cents anyway.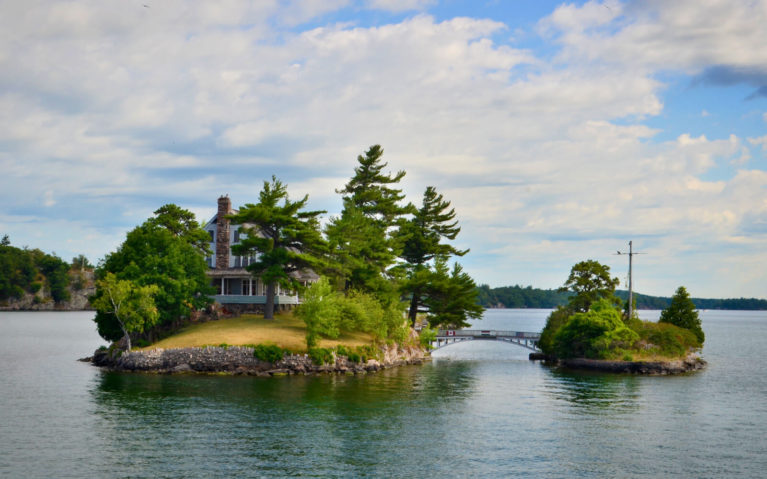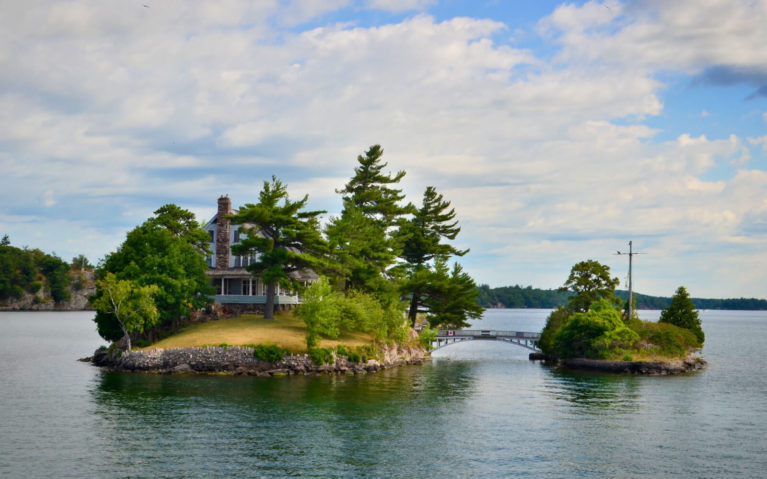 Tips For Your 1000 Islands Tour
Based on my experience, here are a few of the things you should do in order to make sure your 1000 Islands boat tour goes off without a hitch.
If you can manage to get there in the morning, I highly recommend you book the first tour if possible. During peak season, this is often around 9:00 am and will help you dodge the crazy crowds that come with the bus tours. Just the difference between my 9:00 am departure compared to the crowds at 10:00 am was mind-boggling. 10:00 am is apparently when all the tour buses show up so go earlier to avoid those crowds! This will ensure your 1000 Islands cruise is as relaxing and enjoyable as can be.
Planning to visit during peak season? You'll want to book in advance. It's not uncommon for certain times to sell out so if you're set on a specific time, try to book as early as possible to avoid disappointment.
In case you're wondering, yes there are bathrooms onboard. Depending on the tour you book, you might not have as large of a boat meaning the facilities might not be super fancy, but you'll be covered if you gotta go.
If you go on a tour where you will be disembarking to visit Boldt or Singer Castle, you will need your passport. No passport means no entry so don't forget it! Also, admission to the castles isn't always included in your cruise ticket price so be sure to confirm this before booking your tour to avoid any nasty surprises.
One additional fee you need to look out for is parking. Unfortunately, many of the tour companies don't offer free parking… except for Rockport Cruise Lines! This might sway your decision to know that they make planning your trip a little easier.
My biggest tip is don't forget your coupon! Lindsay… there are coupons for these things!? There sure is if you know where to look! Head on over to Attractions Ontario's website as they have coupons that can help you save some money on your tour.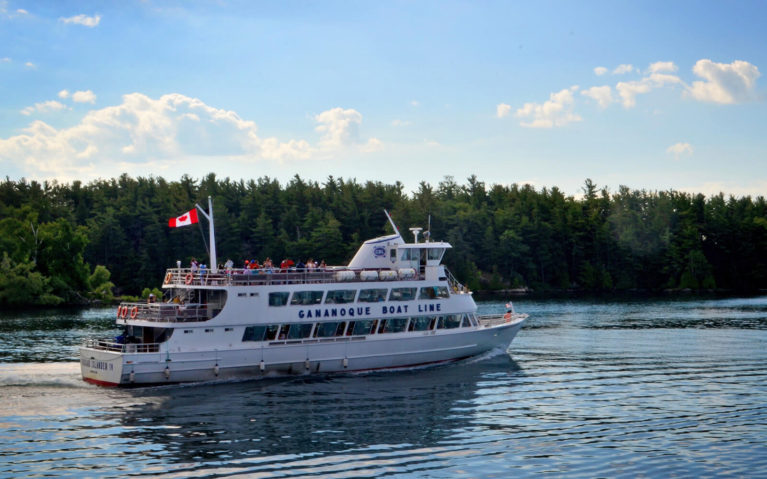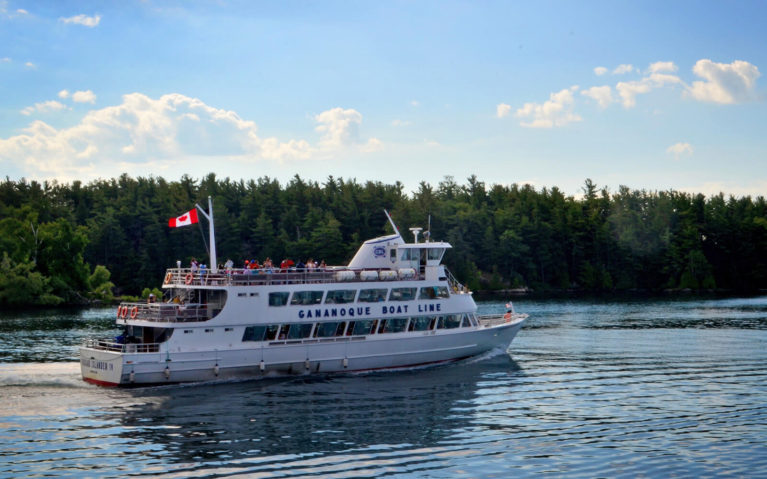 Ready to Enjoy a Thousand Islands Tour?
This is seriously one of the experiences you can't miss out on when exploring the Thousand Islands. Even if you're short on time, try to pencil in a stop so you can enjoy the natural beauty. On the off-chance you're looking to take your Thousand Islands trip to the next level, check out this helicopter tour!
I do encourage you to spend plenty of time exploring this beautiful area as the 1000 Islands make for a wonderful getaway in Ontario. Check out some of the hotels in the area, check out some reviews on TripAdvisor or book an Airbnb if that's more your speed.
Do you like taking sightseeing cruises? Have you ever taken one around the 1000 Islands? If you haven't, you really should change that. This is a cruise that's not to be missed!
Planning to take a 1000 Islands Cruise? Pin it for later!