Rise to the Challenge at Ascent Aerial Park

Just off the shore of Lake Huron stands Bruce County's newest adrenaline rush: Ascent Aerial Park. Test your limits as you climb your way to the tallest point in Sauble Beach. A great spot for the adrenaline junkie and the occasionally adventurous, you'll come out feeling accomplished no matter your skill level!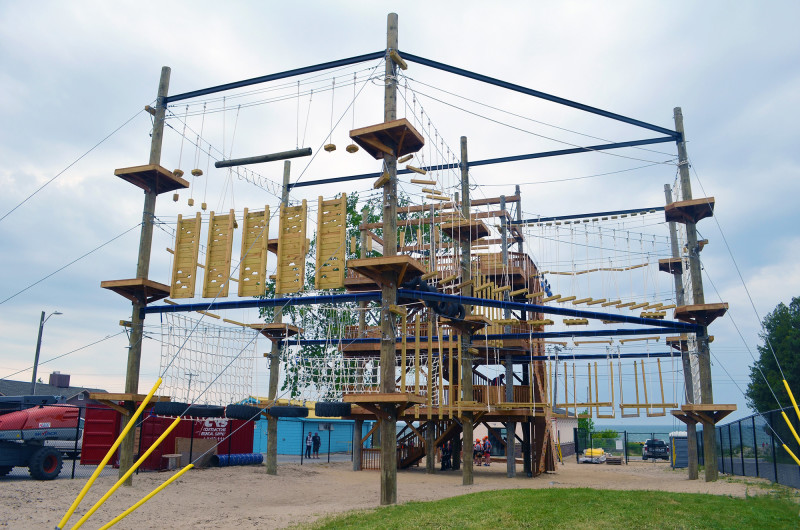 Now a few of you might be wondering – "Lindsay, don't you have a terrible case of vertigo?"
Why yes, yes I do. Just how terrible? Heart racing, palms sweating, hands shaking, knees weakening… you get the idea. So you could imagine how I felt as I stared up at this monster! But trust me, if this scaredy cat was able to make it through the fear and had an absolute blast while doing it – you can too!
The park boasts three attractions: The Tall, The Wall and The Fall. The Tall is the focal point of Ascent, standing 40 feet tall with three levels. The higher you climb, the tougher the obstacles get! And with 30 of them, you'll be sure to find at least one that challenges you. The best part though? You can go as hard or as relaxed as you like – Ascent Aerial Park is like a choose your own adventure course! Robin obviously went hard as he killed it on the top level!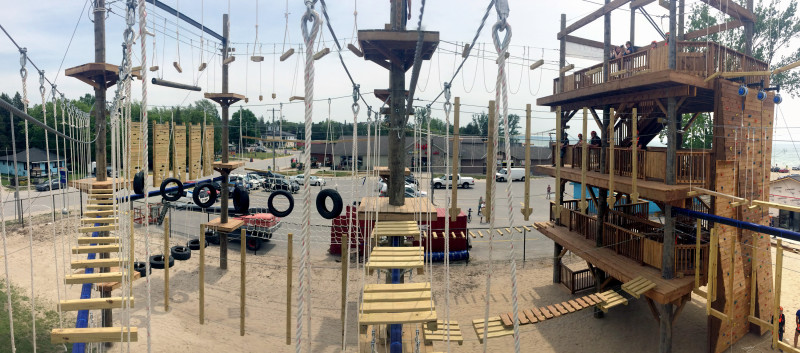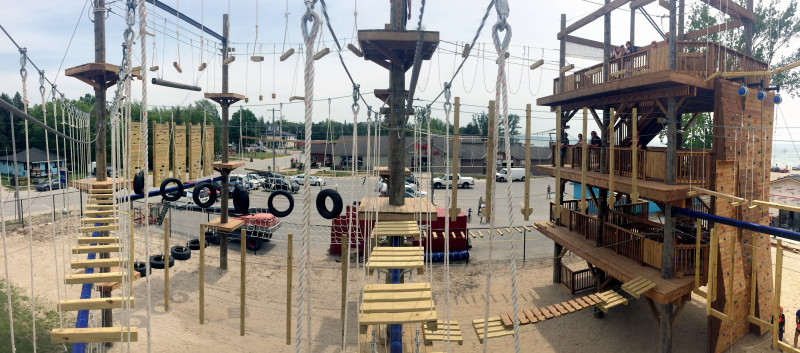 Next is The Wall which features three different rock climbing courses, a beginner, intermediate and advanced. While I unfortunately didn't have the energy to take it on myself, the staff sure made it look easy! Although I challenge you to figure out which is the intermediate and which is the advanced course.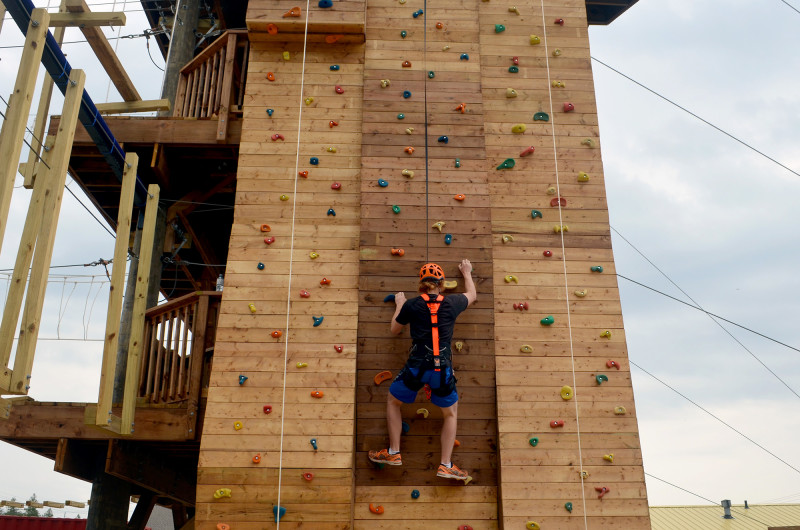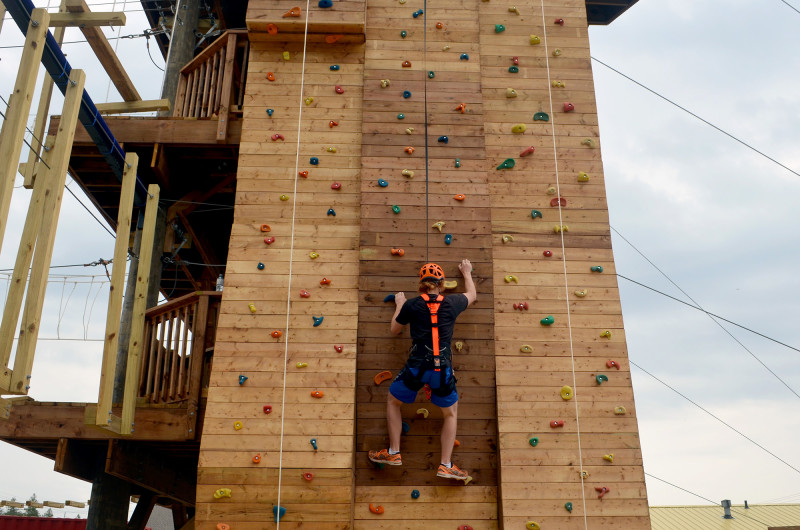 Last but definitely not least is The Fall. This bad boy is what got my knees shaking the most but I'm proud to say that I conquered my fear… but not without screaming like a small child. HOWEVER, the 40 foot free fall experience is an absolute riot!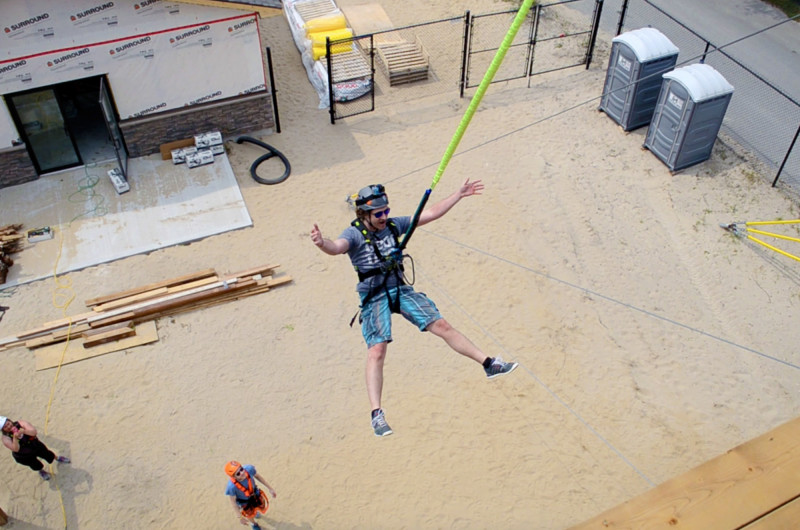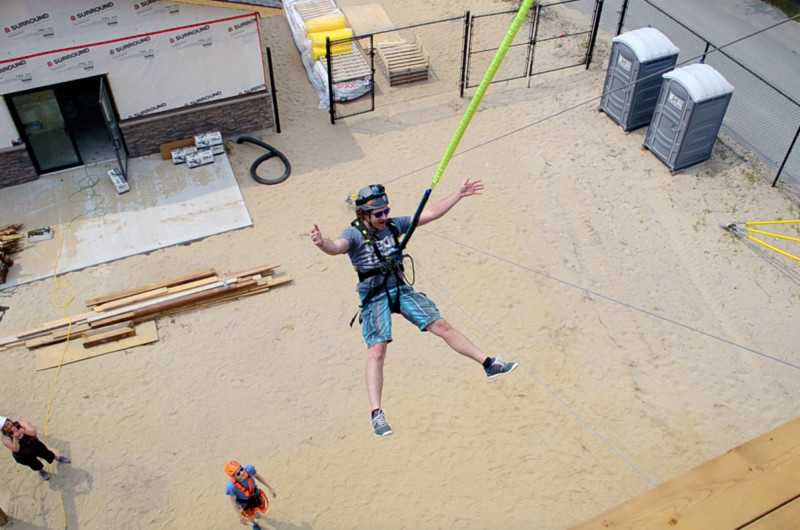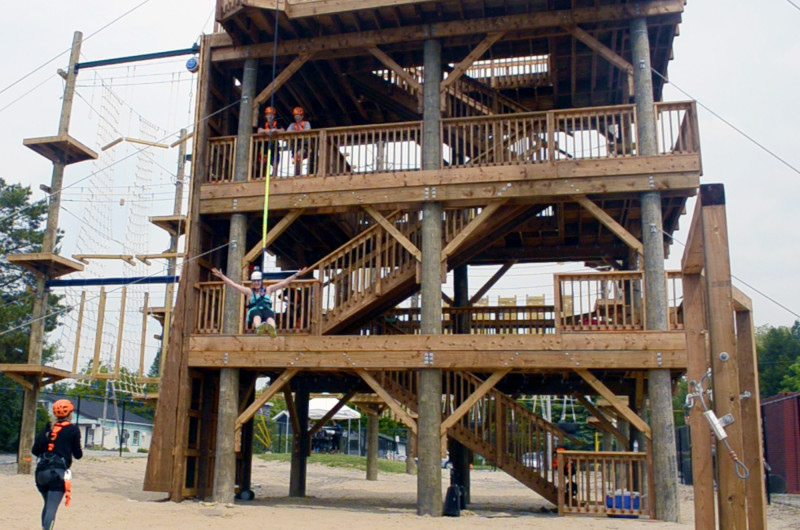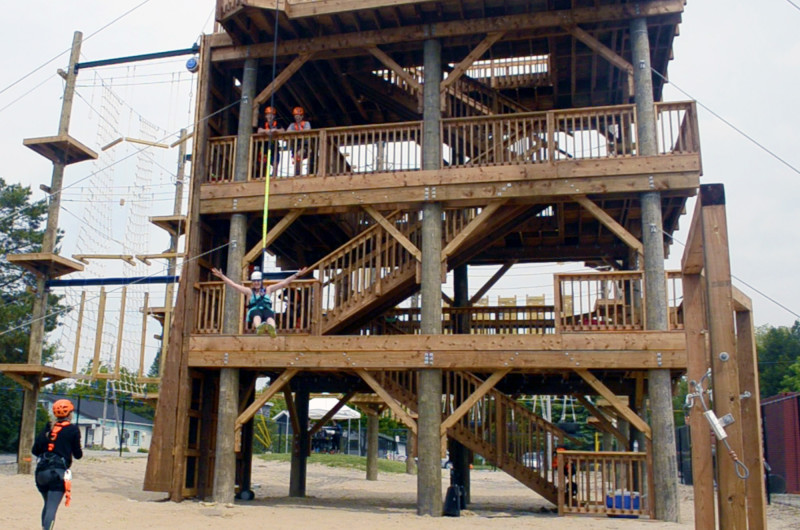 Does Ascent sound like it's right up your alley? It should! Head to their website to check out their pricing, be sure to pass their "Ground School" where they show you the ropes and then you're ready for your adventure! While no cameras or phones are allowed on the course itself, you can rent a GoPro so you have proof of your accomplishments! Want a few more tips for making your adrenaline rush the best it can be?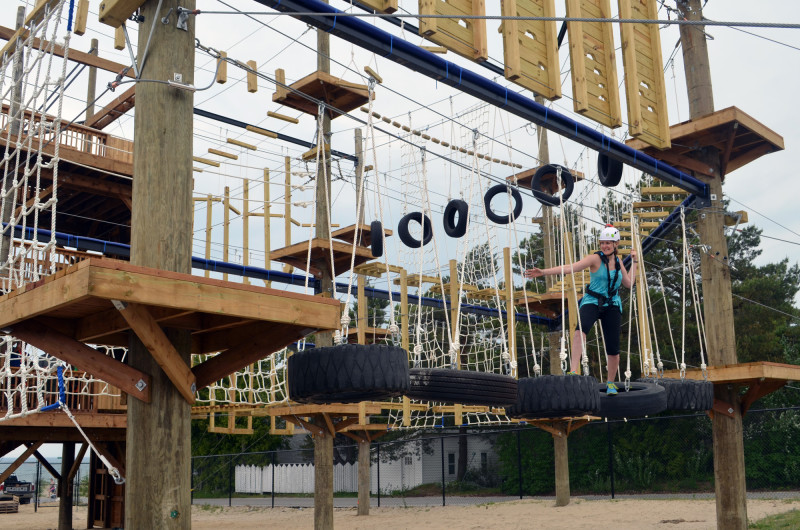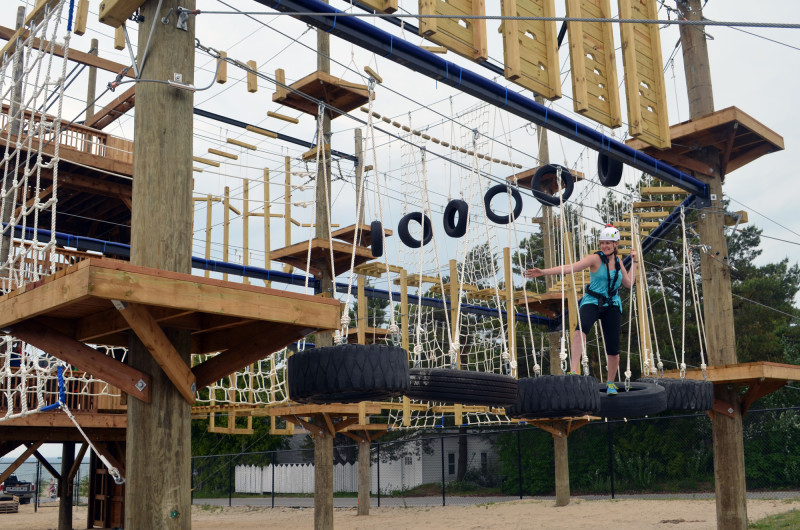 LINDZ'S TIPS TO ASCEND TO THE TOP
Be sure to bring a bottle of water. You'll get thirsty conquering the challenges!
The higher the level, the more upper body strength you'll need. But don't feel required to go to the top! Just do what you're comfortable with so you enjoy it the best you can!
If you have riding gloves, small gardening gloves, or anything of that nature – bring them for The Tall. Gripping the ropes can be tough on the hands!
When taking on The Fall, try to remember to put your feet out. You'll still land softly, but better on your feet than on your butt like me!
Don't forget to lather on some sunscreen. You may not notice it at first, but the sun can be intense! Even in partial overcast and 60 SPF I was a little pink. Make sure you coat yourself 20-30min ahead of time so it has a chance to soak in, especially if you went for a dip in Lake Huron before hand!
Didn't bring a pair of close-toed shoes with you? No problem! You can rent them from Ascent for a small fee.
So, what are you waiting for? Ascent Aerial Park opens Saturday June 17th, 2017 and will be waiting for you to #ClimbSauble all summer long!
DISCLAIMER:
Thanks so much Ascent Aerial Park for pushing me to enjoy new heights! All reviews and opinions are my own.