Breweries in Pittsburgh You Gotta Have a Pint At

Ah Pittsburgh, the Steel City. While it may come from humble beginnings in the steel industry, it has evolved into so much more. Sitting at the convergence of the Allegheny, Monongahela and Ohio Rivers, it's incredibly picturesque with over 400 bridges along with a number of other perks. It's brimming with culture thanks to the plethora of museums, includes incredible works of art within and outside of gallery walls, it overflows with great eats – plus it's home the Pittsburgh Penguins (they're my fave – I can't NOT include them). Though one huge draw is the 'burgh's BOOMING craft beer industry. While I've only been able to indulge in a few during my 48 hour visits to the city, each of these breweries in Pittsburgh has blown my mind with their incredible taste and atmosphere.
Scattered across the city, you won't be disappointed by these Pittsburgh breweries. They're all incredible in their own way and I highly suggest visiting them. Now with over 40 breweries in the city alone, this isn't a complete list. Think of it as more of a continuing quest to indulge in all the brews the city has to offer. Though it will be difficult as I already want to return to each of them… but alas, I digress. The takeaway? You can't go wrong with any of these breweries!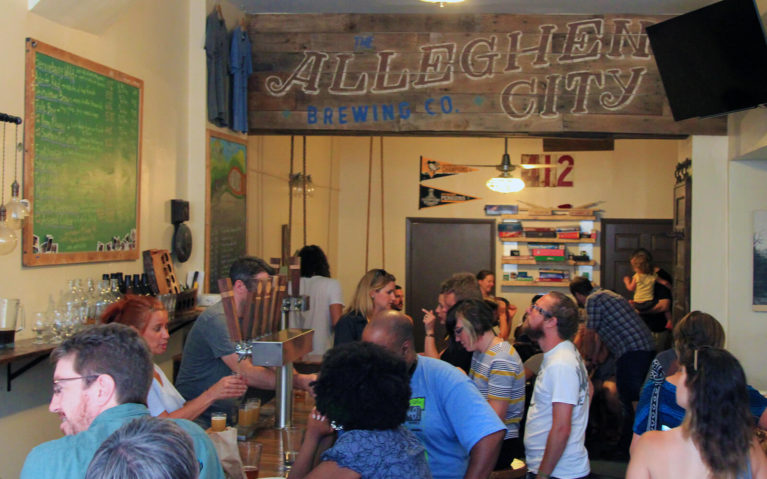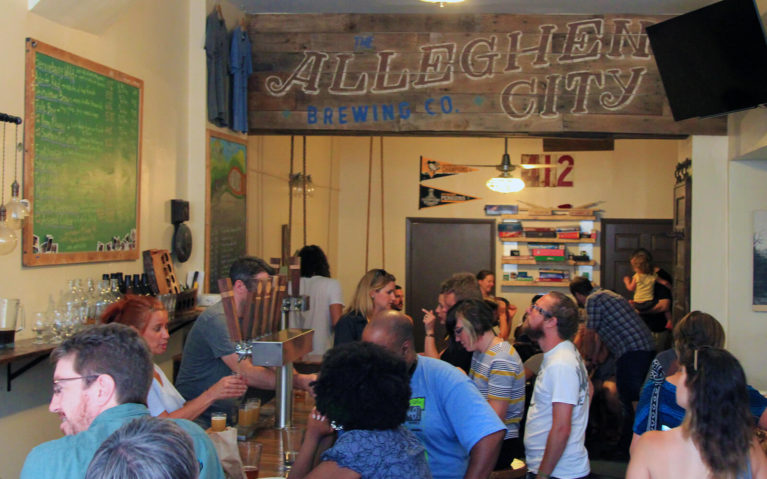 Allegheny City Brewing
Nestled in the Deutschetown neighbourhood on Pittsburgh's north shore, Allegheny City Brewing is the brainchild of three local Pittsburghers – Al, Amy and Matt. While they had moved to Colorado and discovered their love for craft beer there, they brought their passion home and opened their doors in 2016. You'll feel their camaraderie as you enter the brewery with their cozy yet eclectic vibe. Much of the finishes in the tap room have been upcycled by restored objects found in the building's basement. Along the walls, you'll see collections of frames and photos with friends of all shapes and sizes… even four-legged ones!
Their brew system is not the largest nor is it the smallest, but it's just the right size that they can offer a variety of beers on tap year round. If you're lucky and see their Serviceberry Wild Sour Ale be sure to snag a pint, otherwise I'd say grab a flight and taste away! Don't forget to come hungry on Saturdays as they often have a local food truck on hand for some great eats.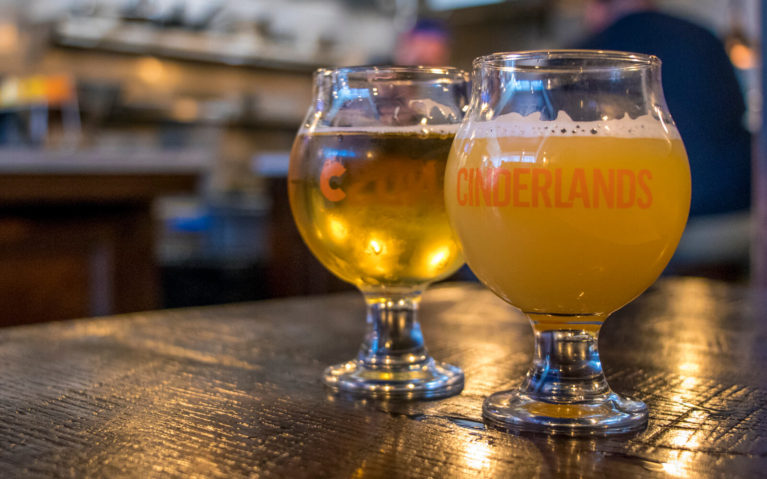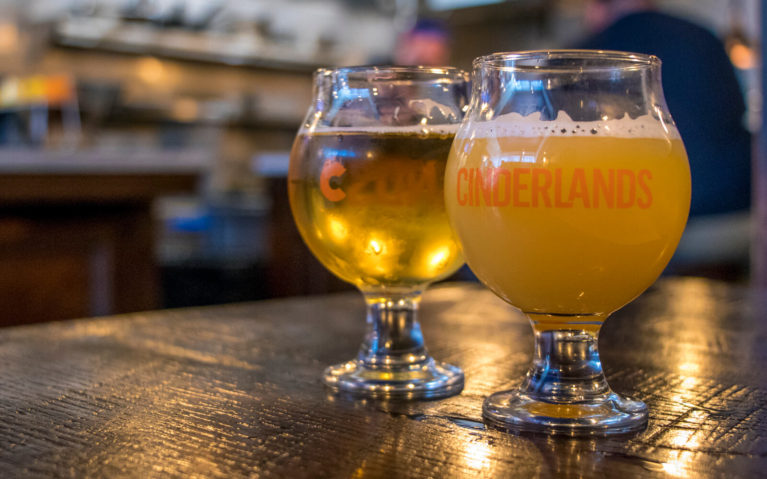 Cinderlands Beer Company
One of the younger breweries in Pittsburgh as it's barely a year old, Cinderlands Beer Company does not mess around. Honestly, if you could only visit one of the breweries listed here – this would be my pick. Joanna and her hubby are incredible people who run an amazing establishment. Their beer is reflective of the Lower Lawrenceville community: ingenious yet familiar, amusing and genuine. Tickle your taste buds with their Pog Whipper, a Berliner Weisse with tropical elements that make for a smooth yet tart beer. I seriously fell in love with this brew. Oh and be sure to come hungry as of all the Pittsburgh breweries with food, you'll want to eat here. Their parmesan tempura cauliflower bites are to DIE for. I ate a whole plate myself and wasn't ashamed one bit. If anything, I was glad I didn't have to share. #SorryNotSorry
Trust me when I say you'll be greeted with a smile and you're guaranteed to have a fantastic time. As a testament to their character, nestle in for this tale about their Party on Wheels IPA. A Cinderlands team member was out for a regular afternoon of swimming with friends in the river when disaster struck. What she thought was deep was much shallower as she dove in, injuring herself upon impact and leaving herself paralyzed. As a way to support her, Cinderlands reached out to the community and had all the ingredients donated to make this beer so all of the proceeds go right to her. How incredible is that?! While I'm not a fan of IPAs, my heart seriously melted when Joanne told me this and I instantly became a fan of this IPA.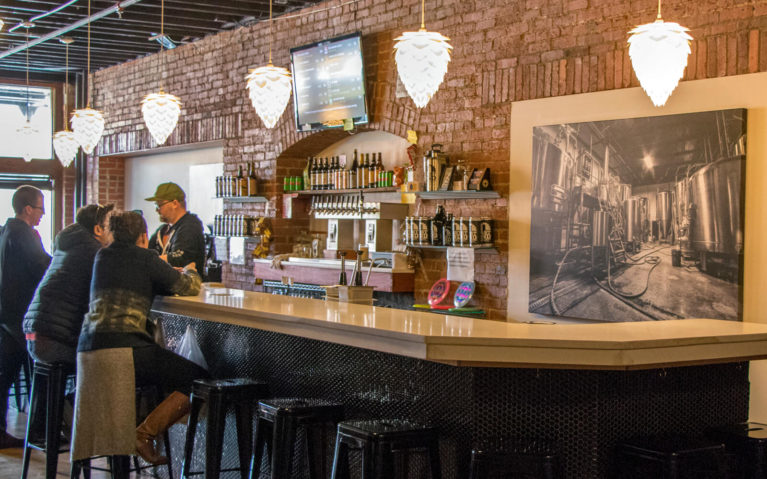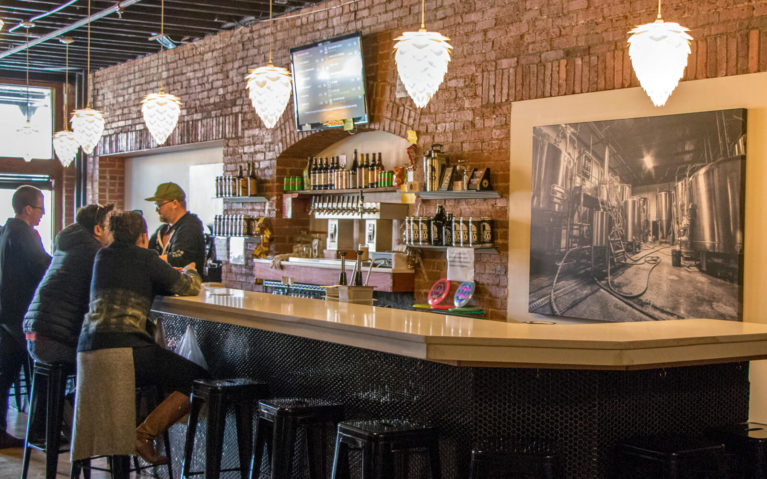 East End Brewing Company
Named one of the best breweries in Pittsburgh by Pittsburgh Magazine in 2012, you know you're in for a treat at East End Brewing Company. With two locations to serve the Steel City, I visited their tap room In the heart of the colourful neighbourhood affectionately known as The Strip. Whether you're looking to treat your tired feet after a day of exploring, to relax with a pint and some friends, or to just pop by for a beer to go, it's the perfect destination. Fun fact: the tap room is BYOF – bring your own food! And with so many delectable cuisines to choose from in The Strip, your struggle will be deciding on what to eat… and what beer to pair with it. I highly suggest their R&R Helles as this Munich lager is one of the best beers I've ever had. Plus I guarantee it'll be the perfect drink to wash down an iconic Primanti Bros sandwich which you can get just around the corner!
You know these guys don't mess around when they have a yearly beer calendar. Yes, you can go in and see by month what beer is available when and plan ahead. Even if your favourite isn't on tap, I guarantee one of their 35 brews will win you over. With their seriousness comes a mischievously fun side that is embodied in their Pedal Pale Ale Keg Ride, a local charity cycling event they host. They kick off the summer season by ceremonially delivering the first keg of their Pedal Pale Ale beer from the brewery to an undisclosed location. It's definitely a hit as it has grown to 600 participants in 6 years!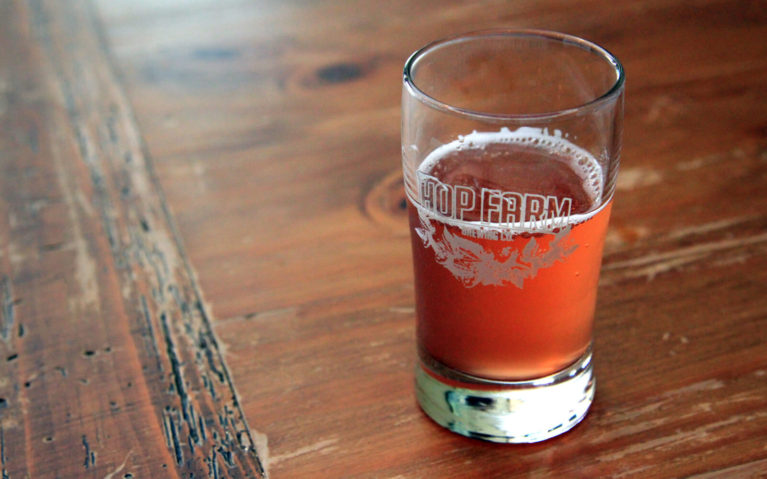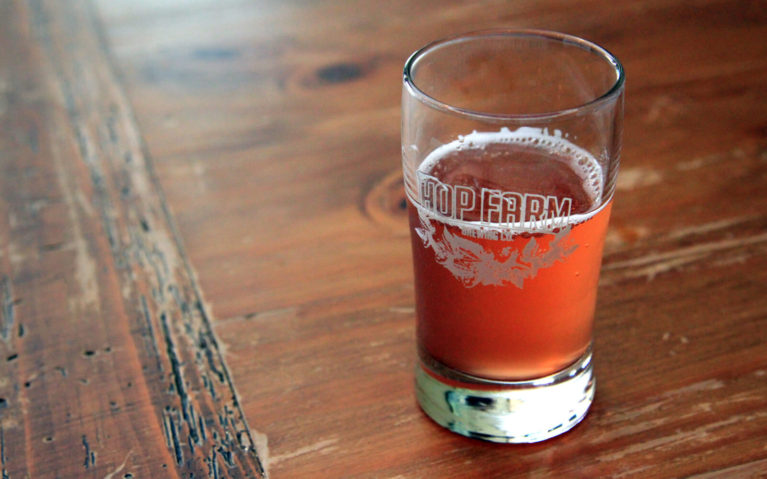 Hop Farm Brewing Company
Dedicated to ensuring all natural resources from brewing to packaging are used responsibly, Hop Farm Brewing Company is as serious about their beer as they are about the environment. They proudly use cans wherever they can in order to reduce their environmental footprint. Hop Farm even grows their own hops by hand and add them to each batch they brew. Their name makes sense now, doesn't it?
Want to learn how their beer is brewed? Get an in-depth tour with their brewmaster and see where the magic happens. Don't worry if it seems complicated, just sip on your Hippy Heffer Hefeweizen and leave it to the masters! We're just there to enjoy the fruits of their labour anyway, right?
INSIDER TIP: Chances are you'll be staying in the heart of the city and downtown Pittsburgh breweries can be hard to come by. As such I highly suggest booking with City Brew Tours so they can get you to and from a number of these breweries responsibly for maximum enjoyment on your part.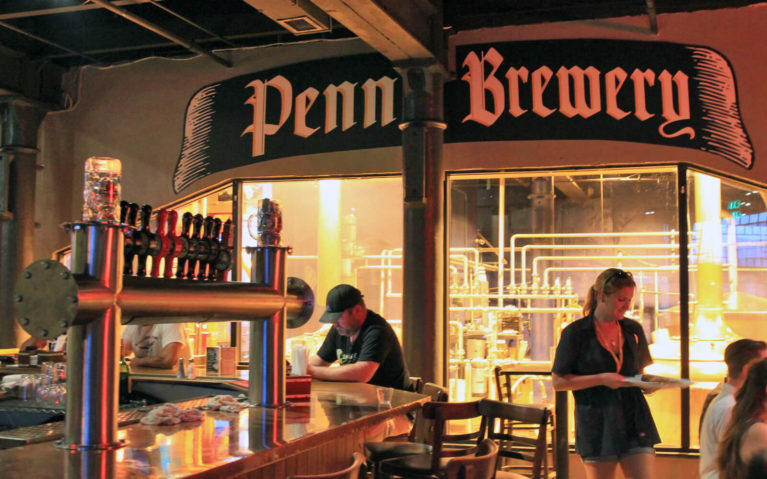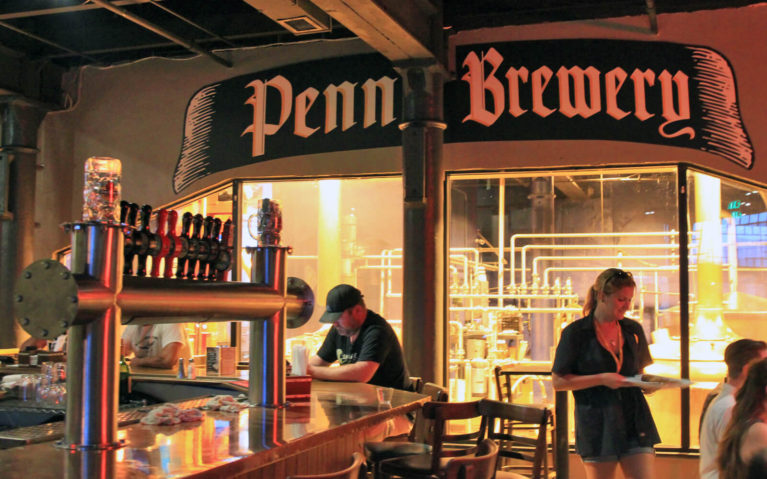 Penn Brewery
These guys were brewing craft beer back in 1986 before it was cool, making Penn Brewery one of the oldest craft breweries in the city and the United States. Their focus originally was on lagers and German-style beers, but since have expanded their repertoire to include IPAs, chocolate beers and more. If you visit in the summer, be sure to try their seasonal Tangerine Swirl – it was hands down my favourite of their brews. Penn Brewery originally adhered to the German purity law (aka the Reinheitsgebot which you've probably heard of if you've been to Munich) and while they no longer do, they still brew all of their beers by hand with the finest ingredients they can find.
Great beer isn't the only thing you'll find here but also great eats. They focus on Pittsburgher fare which includes goulash, pierogi, schnitzel, wurst and more, though any Pittsburgher will tell you that the city loves its french fries so it doesn't come as a surprise that a "french fry salad" is on the menu! No matter the dish, their menu is built on fresh, locally-sourced ingredients.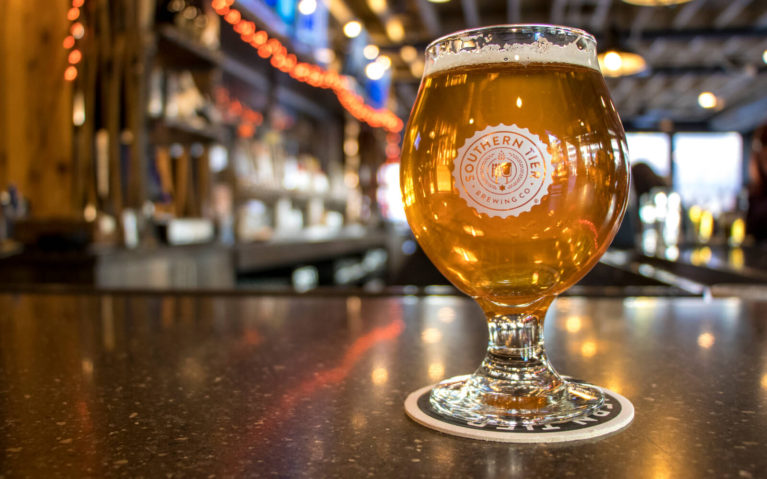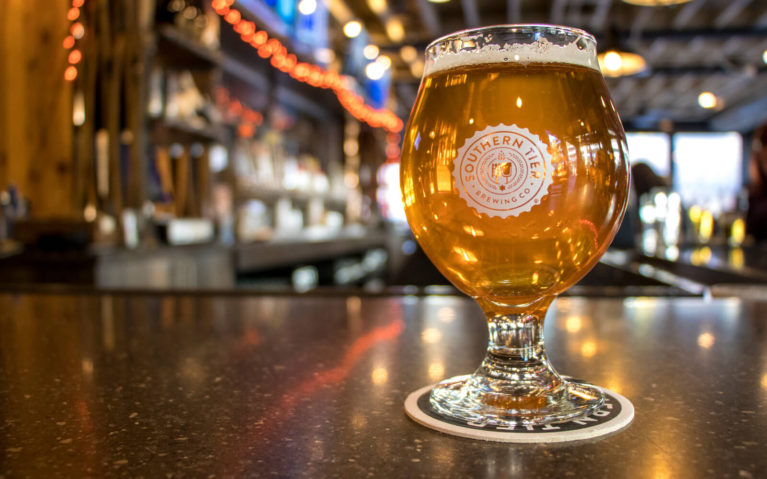 Southern Tier Brewing Company
While Southern Tier Brewing Company may have started in New York state, it seems to have made itself at home in Pittsburgh. As its first satellite brewpub, founders Phineas DeMink and Allen "Skip" Yahn pulled out the stops with the location boasting a full kitchen, German-built brewhouse and a 10,000 square foot beer garden. Just like the Steel City, their hard work has propelled them from humble beginnings into industry leaders. There's a reason they're continuously expanding and that's because they make great beer!
Grab a table with friends or settle in at the bar for a pint. Be prepared though as your head might spin as you peruse their large menu. With so many choices to choose from, it can be tough to decide. If you're a basic b!tch like me however, you'll immediately gravitate to their infamous Pumpking beers. Even more so, if you want the taste of fall in a glass, grab the Chai Pumpking as chai tea meets pumpkin pie. I dare you to find a beer that tastes more like autumn.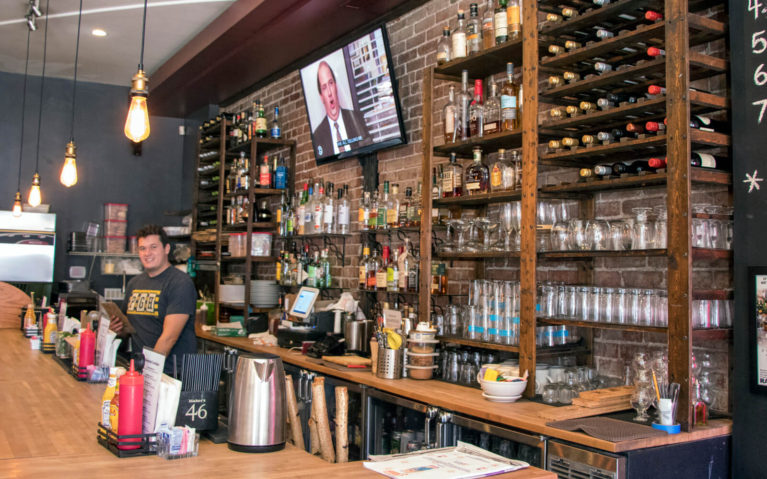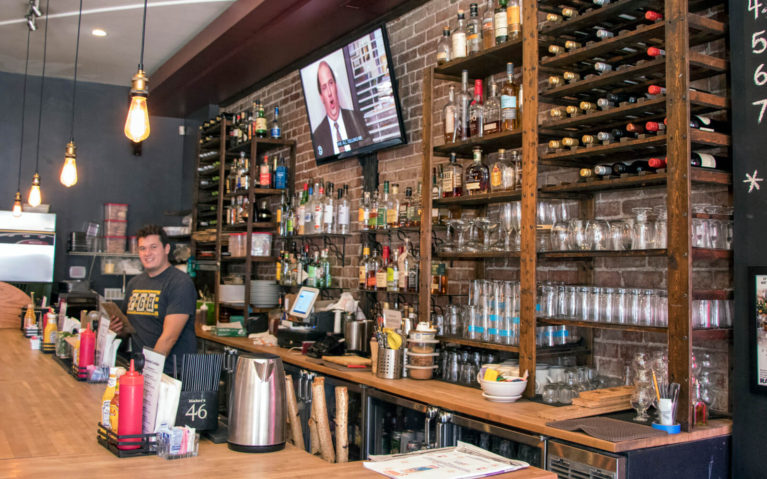 War Streets Brewing
On a sunny October afternoon, I popped into this brewpub while exploring the uniquely named Mexican War Streets neighbourhood where the brewery gets its name. Curious, I asked the bartender Kirk why it was named this. It turns out that the streets in this area were named after people and places from the Mexican-American War of the 1840s. While it was known as Buena Vista at the time, it's not surprising the neighbourhood became known as the Mexican War Streets after knowing this fact. You can read more about the rich history of the neighbourhood here – but back to the beer!
War Streets Brewing and its Bier's Pub are a great place to grab a pint alone or with friends. Honestly, you won't feel alone as the staff are extremely friendly and if you see Kirk, say hi for me! They have a number of not only their town beers on tap but local guest taps as well. Definitely try their Carrington St Kolsch as it's a refreshing brew perfect for any season. If you're hungry, rumour has it they have the best burger in the city, but I have yet to test that claim myself!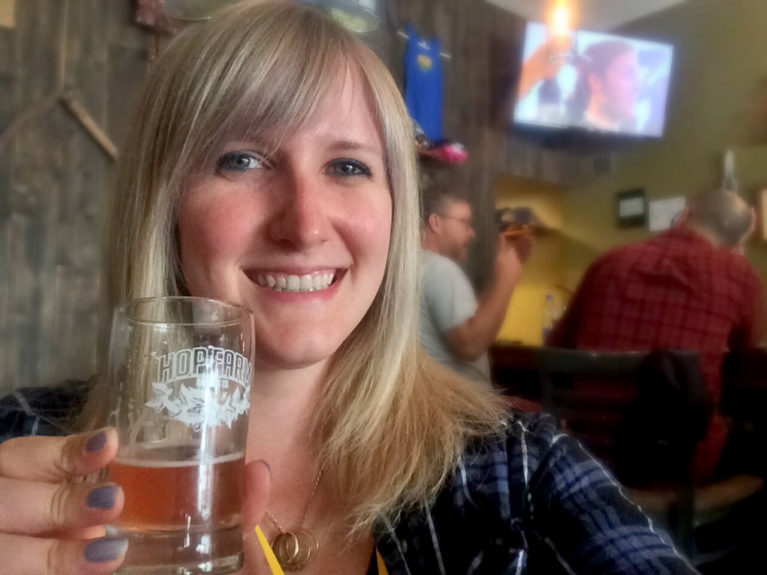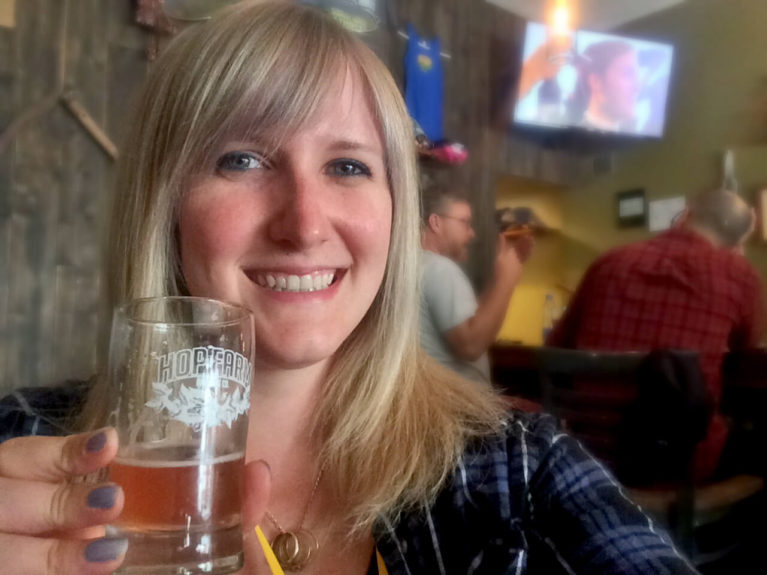 And For My Next Trip…
As I said, 48 hours in Pittsburgh isn't nearly enough to not only enjoy everything the city has to offer let alone their beer offerings! It doesn't help that there seem to be new breweries in Pittsburgh every time I turn around. If you're looking to hit up multiple breweries, I'd suggest booking a Pittsburgh brewery tour. However if you'd rather take your time and truly enjoy each brewery with no time constraints, plan out your route and take your time. Dividing it by neighbourhood is probably the best way to do it! Next time I'm in town, these breweries are on my list:
Church Brew Works
If you say beer and church don't belong in the same sentence, you'll think again here. Church Brew Works calls as decommissioned Roman Catholic Church home. You'll find fermentation equipment on display at the altar along with their slogan "on the eighth day, man created beer" adorning the walls.
Couch Brewery
Looking for a cozy place to sit while enjoying your beer? Me too, and that's what drew me to Couch Brewery! Interior designers will either love it or hate it with its focus on furniture. Though they'll have to giggle as each beer is named after a different sofa style. Hopefully this will distract them from their mismatched seating… but with love seats to plush recliners, at least you'll be comfy!
Strange Roots Experimental Ales
The name says it all for me – strange and experimental? You've piqued my interest! While it recently rebranded from Draai Laag, this brewery's purpose was to dive into the science of sour and wild fermented beers. Count me in!
Do you enjoy tasting local beers while exploring a city? What are some of your favourites you've stumbled upon? If there's a Pittsburgh brewery you think should be on my radar, tell me why in a comment below! If you're planning a trip to the Steel City, don't forget to check out my suggestions on how to experience Pittsburgh in 48 hours like a boss!
Gotta check out these breweries in Pittsburgh? Pin it for later!