Hôtel de Glace: A Night of Ice in Québec City

Staying in an ice hotel has been on my bucket list for years. While I knew there was one in Sweden, I had no idea I could do so in my own country! Thanks to Groupon, I can now say I've crossed this bad boy off my list – surviving a night in Québec City's beautiful Hôtel de Glace! While it wasn't easy, I'd totally do it again in a heartbeat. Check out my adventure as I stayed in North America's only ice hotel. Plus you can learn from the mistakes I made and I'll give you some inside tips to ensure you make the most of your stay!
SOMETHING TO NOTE: I visited the Hôtel de Glace when it was located at Golf de la Faune and the Four Points by Sheraton. Since then, it has moved to Valcartier Village meaning some of the amenities may have changed.
Open from January until March (weather depending), each year the Ice Hotel is constructed from scratch. Throughout January you can witness the process as they add-on sections until it's fully completed at the end of the month. A new theme is presented every year, meaning you'll never have the same experience twice. Don't be fooled if the outer design looks familiar, you'll step inside to a brand new winter wonderland! In 2015 the Québec Ice Hotel was celebrating their 15 year anniversary, with the theme being space-time. You'll witness bits and pieces of past, present, and future carved into beautifully intricate scenes and sculptures.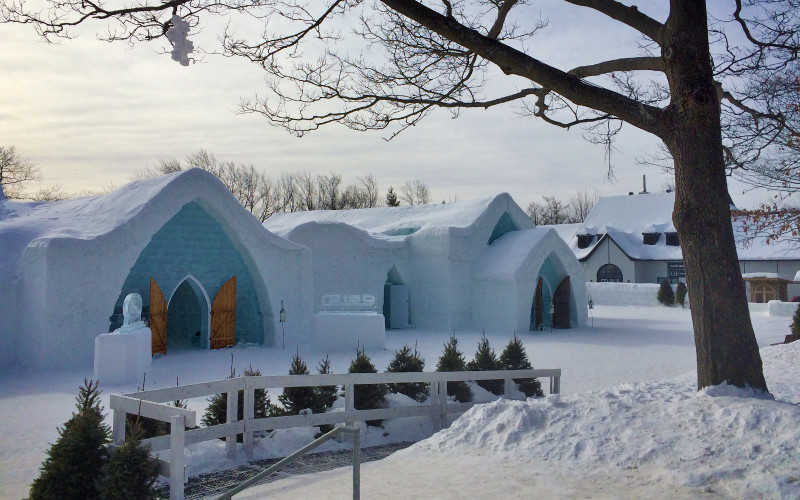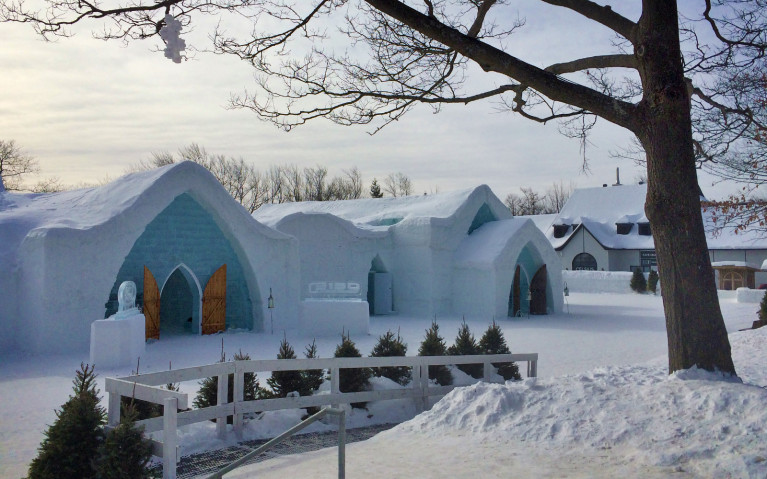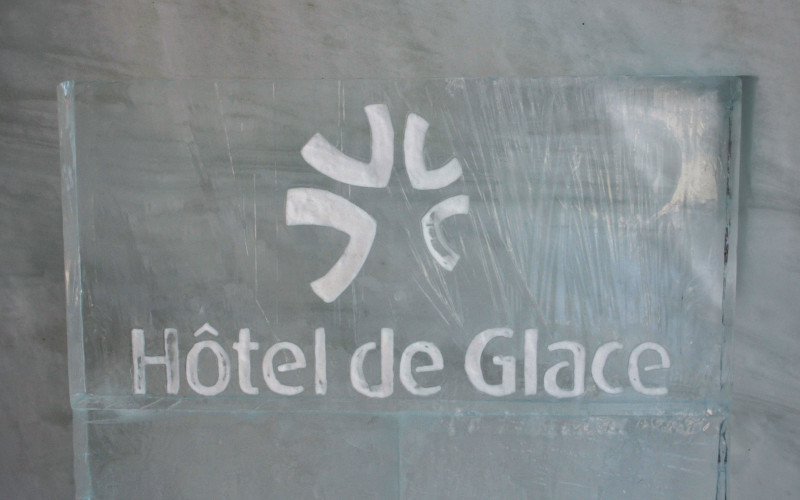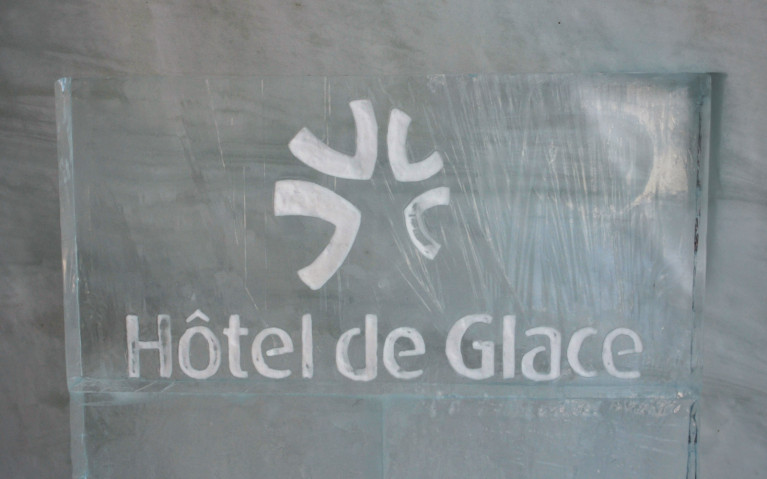 Be Prepared for Québec's Hôtel de Glace
Before getting into the adventure, it's important to know what to pack. Temperatures can be quite chilly and being prepared is the best way to ensure a fantastic time! Be sure to pack day clothes and an outfit for sleeping in. If you're a nude sleeper, get used to wearing clothes to bed as you won't be wearing your birthday suit in the Hôtel de Glace! Layers are the key to comfort, so pack a number of tops and bottoms. Ideally your base layer should be breathable so the sweat doesn't linger while you sleep. You can catch a chill if this happens, meaning you may not last the night! Then, layer up with some fleece or wool to help generate heat and keep your warmth in. Lastly, a thin outer layer like a windbreaker will trap the heat in to ensure everlasting toastiness. For your feet, socks that breathe are best like wool or alpaca. It doesn't hurt to have a second pair to either layer up or switch in case they get wet. Of course winter boots, mittens and a hat are a must to complete the ensemble.
Upon checking in, you'll be given everything you need to ensure you survive your stay. Back in 2015, the Groupon was for the ice room only so if you got cold, you'd head to the pavilion located beside the hotel to warm up. This was also where we stored our luggage. Lucky for you, since the move to Valcartier your stay will include a backup hotel room. Not only is this great for storing your luggage (we had to use lockers during our stay), it's especially essential if you visit during a cold-snap! Yes, the room is even included with the Groupon. Robin and I would have loved this as when we stayed it was -25˚C!
INSIDER TIP: Don't forget to sign up for an information session. While you do have a backup room to retreat to if need be, you're there to say in Québec's Ice Hotel. That's what the true experience is about so the information will help you last all night! I'd suggest signing up for a later one so you can enjoy wandering around the rooms while it's still daylight, and it'll give you a chance to warm up before you continue your adventures.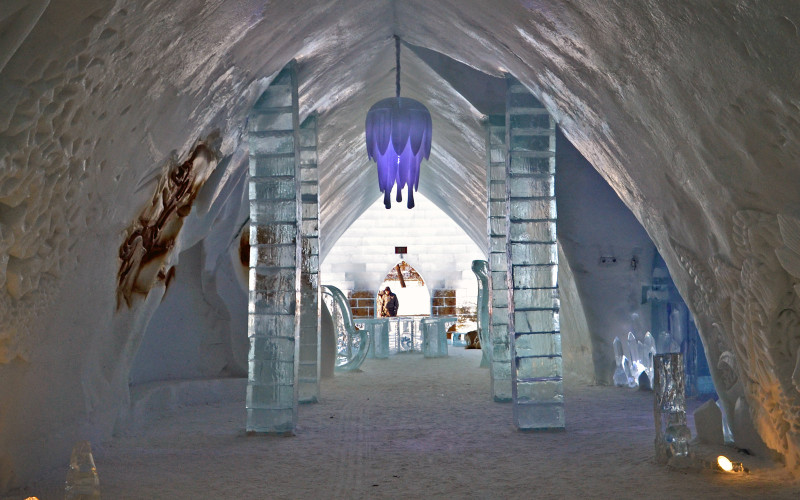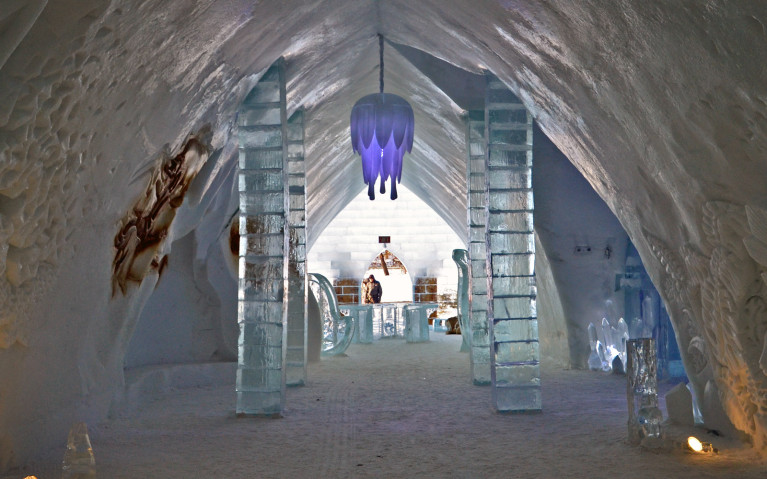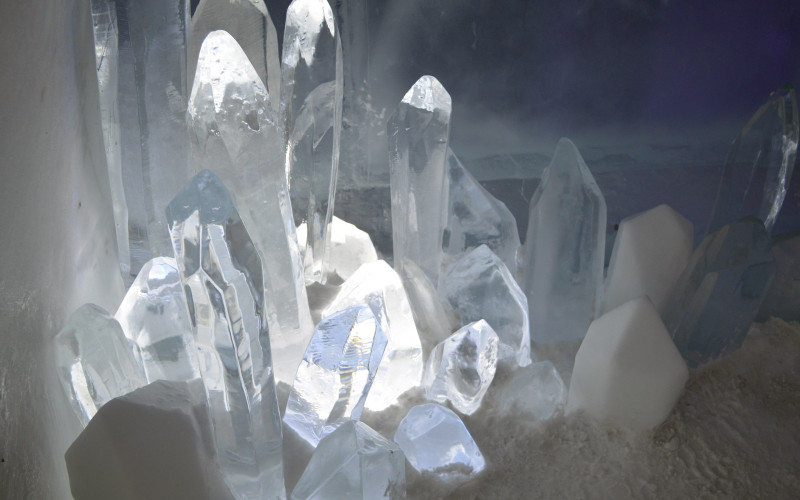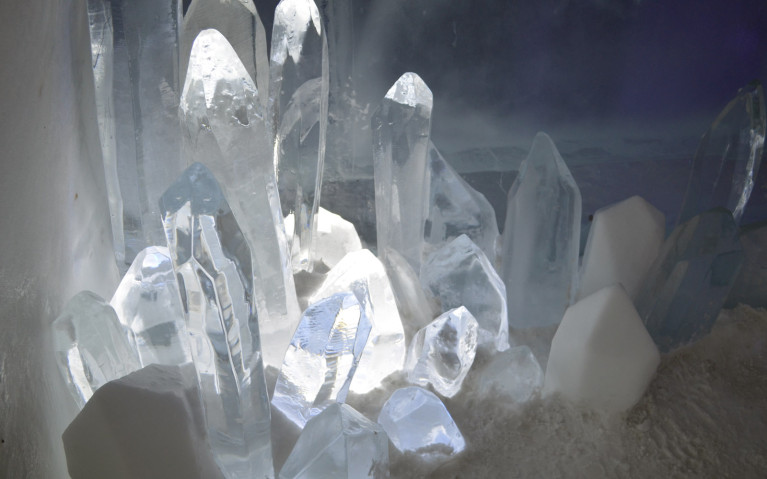 Exploring Québec's Ice Hotel
You only have access to your room from 9:00pm until 9:00am, so until then you're free to wander. In 2015, the Hôtel de Glace boasted 16 different suites – all dating different time periods throughout history with some futuristic rooms thrown into the mix.  There are also igloo-style suites, which is what we stayed in. You'll feel like Elsa as you move from room to room, admiring the intricate carvings and designs. If you've ever tried your hand at ice carving before, you'll have a full appreciation for just how delicate the details are. If you haven't, that's okay – you can try during your stay! Be sure not to miss the chapel too. Yes, you can get married at the Ice Hotel! How amazing would that wedding be?!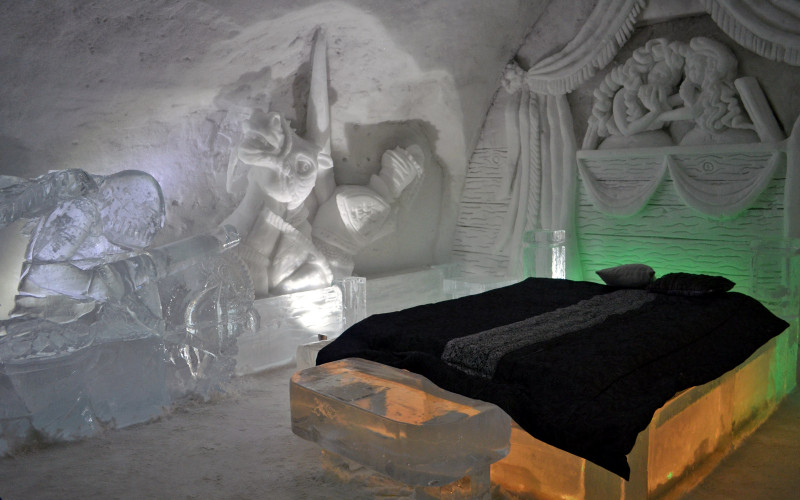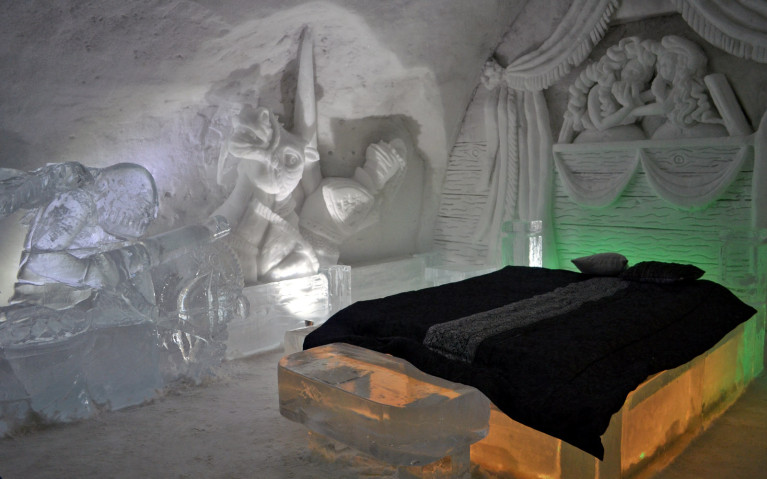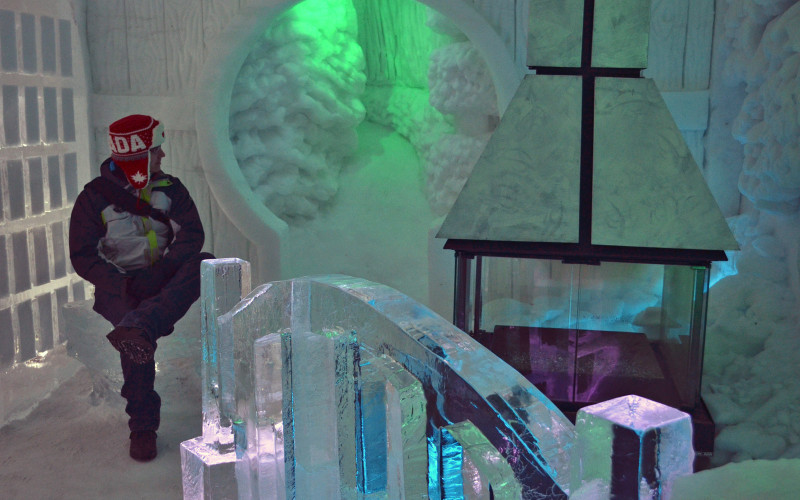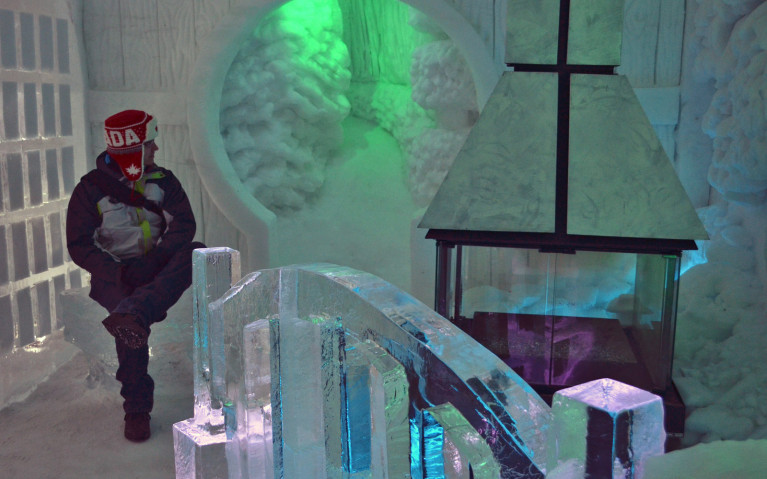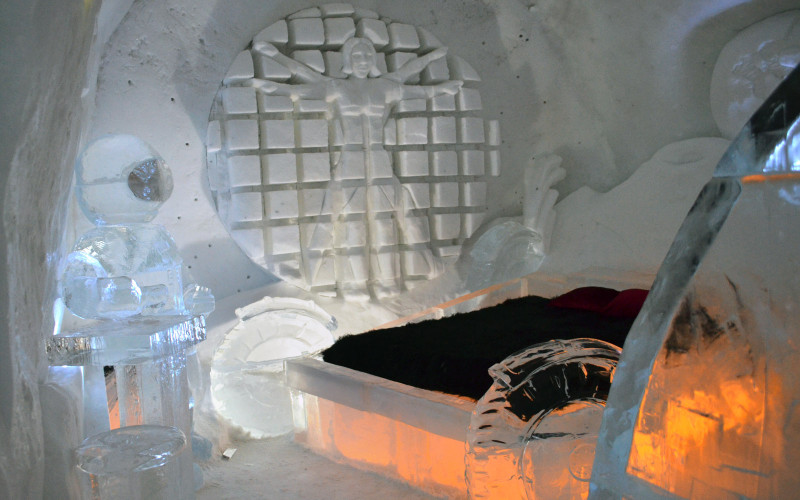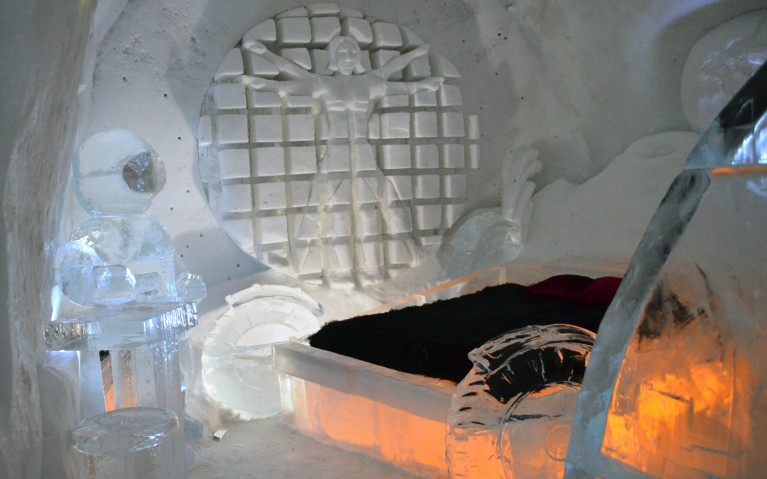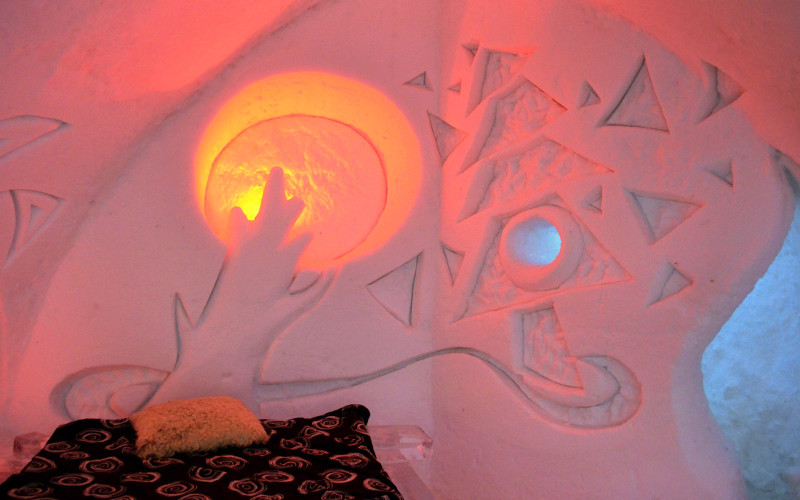 Once your shutter-happy finger gets tired, enjoy some of the additional amenities that come with your package. We enjoyed a quiet snowshoe along the trails by Golf de la Faune. However at Valcartier you can enjoy their snow tubing, ice skating trails and more! This is a great reason to arrive earlier in the day, otherwise you may not have time to fully take advantage of everything the area has to offer.
If you find yourself starting to get hungry, there are a number of restaurants located on the Valcartier property. I can't attest to the experience as we weren't on the property during our stay. However, we did go offsite and grabbed some grub at a local restaurant which is always a great option. Just don't forget about your information session!
Once the doors close to the public at 8pm, it's time to enjoy the exclusivity of being an overnight guest! Enjoy the newfound quiet as you wander through the common areas. Take a moment to fully enjoy these evanescent sculptures and the fact that everything from the structure to the sculptures to the doorways is made of ice and snow. Oh, and don't forget to embrace your inner child by zooming down the ice slide!


Included in your stay will be a delicious cocktail made by one of the hotel's amazing bartenders. You'll never have to worry about a warm drink here! There's a flavour to suit everyone and I guarantee it'll warm you from the inside out despite coming in an ice glass. Mine even had maple syrup – it really doesn't get more Canadian than that! Make sure you don't overindulge though as you'll want to stay in bed once you're there.
INSIDER TIP: Try to avoid licking your lips before you take a sip from your glass. Remember how your parents told you never lick a metal pole in winter? Same idea.
Sleeping at the Ice Hotel
As we started getting tired, it was time to put what we learned in our information session to good use as temperatures were incredibly cold during our stay. Talk about getting the true Canadian winter experience, eh? As I mentioned earlier, layers are a must. It's also imperative to warm yourself up before climbing into your sleeping bag. Whether that's a long hot shower or a trip to the spa, ensure that you're nice and toasty for the night. Towel off completely and make sure you're fully dry before layering up in your bedtime gear.
If you're anything like me, you'll have to pee at least once during the night. Take note of the closest bathroom before climbing into bed so you're not wandering in the cold. I also suggest packing a small flashlight and keeping it in your sleeping bag so you can easily make your way there and back.
Now the fun part… getting into the sleeping bag! You'll notice there's a sheet on the bed as well as a sleeping bag. The sheets are for show as you're bagging it for the night. There's a thinner layer which goes between you and the sleeping bag to help with warmth. It can be a bit of a struggle to get all the layers straight, so I suggest putting your feet into the thinner layer first and pulling it up over your shoulders. Then wrap it around yourself and use one hand to hold it in place while you use the other to get into your sleeping bag. It takes a little coordination, but you'll be comfy in no time flat and sleeping in your mini-igloo!
INSIDER TIP: To help keep your face warm, bring an eye mask. This way you'll have barely any skin exposed once you're all snuggled up!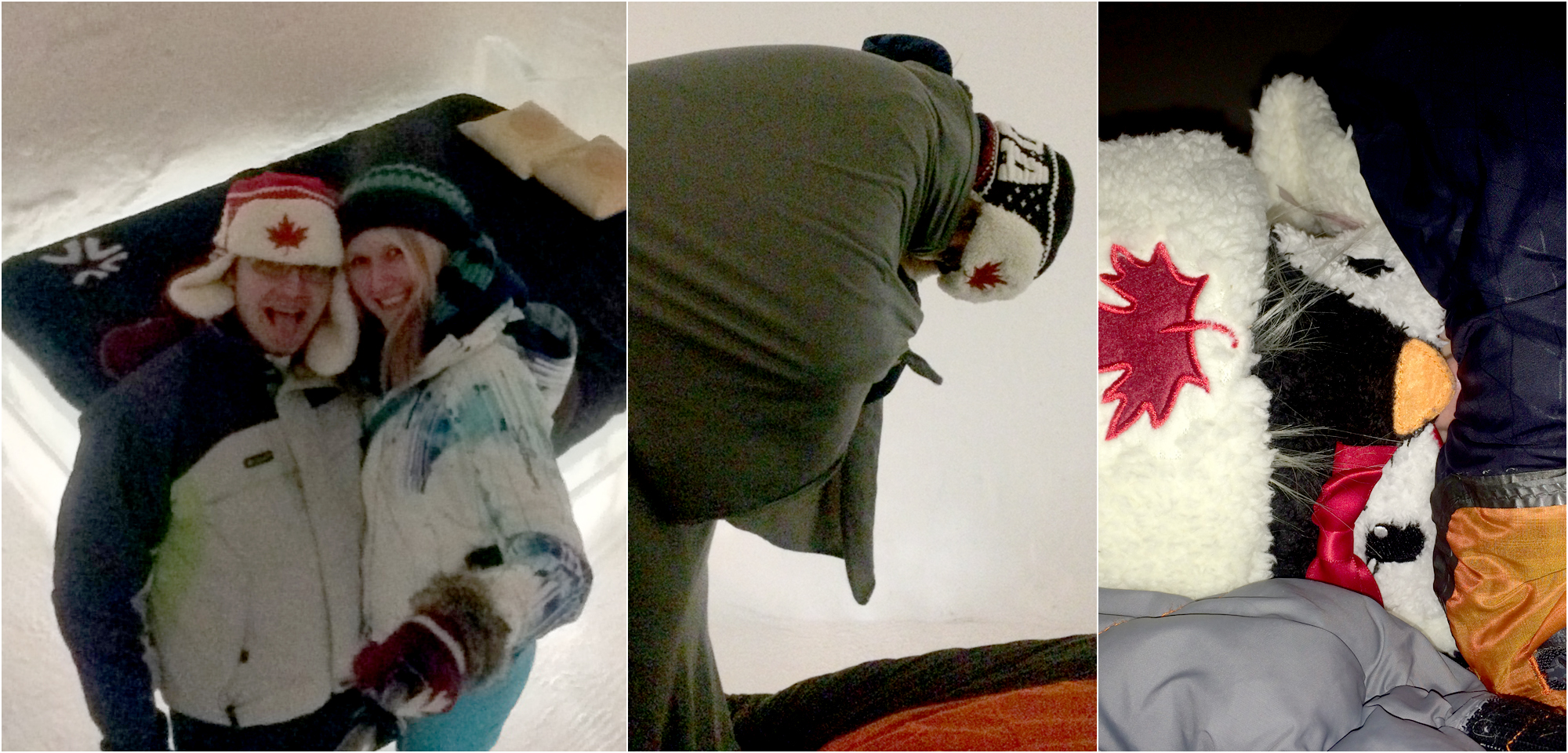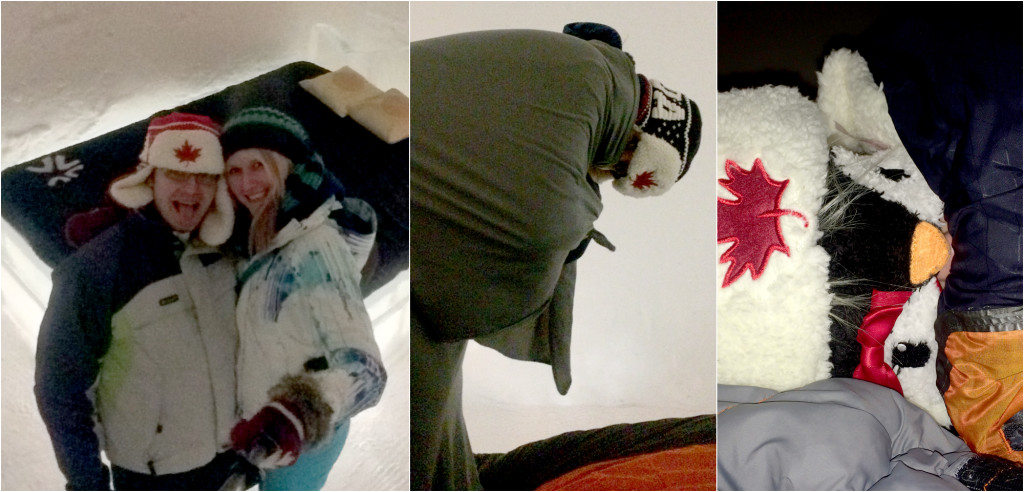 A Stellar Finish
Chances are you won't sleep as well as you would in your nice snuggly bed, meaning you'll be an early riser that day. While 6:00am came way too quickly for us, it was worth it as we had an empty spa all to ourselves!  The spa area at Golf de la Faune had 4 hot tubs and a small sauna, all surrounded by beautiful trees and a snow wall.  We were supplied with towels and a bathrobe, so we had everything we needed to run from the pavilion to the hot tub to the sauna to the hot tub to the… you get the picture.
INSIDER TIP: Bring flip flops! Even though they won't help temperature wise, they'll keep your feet from sticking to the ice as you get in and out of the hot tub. Plus they help with traction so you don't wipe out!


After finishing off our early morning spa time with a hot shower, we indulged in the wonderful all-you-can-eat buffet the Hôtel de Glace had to offer.  With full bellies and warm bodies, we took one last jaunt around the hotel before saying goodbye.  We were sad to leave this ephemeral beauty but very gracious for the seat warmers in the car!
By the way, if you're not interested in staying overnight but rather just witnessing the hotel itself, you can purchase a day pass. It's a great itinerary addition if you already have your Québec City accommodation booked, or if the thought of sleeping on ice makes you shiver. If I lived closer to the Hôtel de Glace, I would visit every year just to see the different carvings!
Have you ever slept in an ice hotel? Is visiting one on your bucket list? If it isn't, I highly suggest adding it. Québec City's Hôtel de Glace is a winter wonderland that's not to be missed!
Want to spend a night in an ice hotel? Pin it for later!