Kassel Weihnachtsmarkt: A Fairy Tale German Christmas Market

Visiting a Christmas Market has been on my bucket list for years now. Although there are some scattered throughout Canada, Europe is truly the place to experience one. During my visit to Germany in 2016, I visited between Christmas in New Years. I thought I had missed this bundle of holiday cheer by mere days, but you could imagine how ecstatic I was to find out that there's one German Christmas Market that runs past December 25th. Once I discovered the Kassel Weihnachtsmarkt… there was no way I was going to miss it!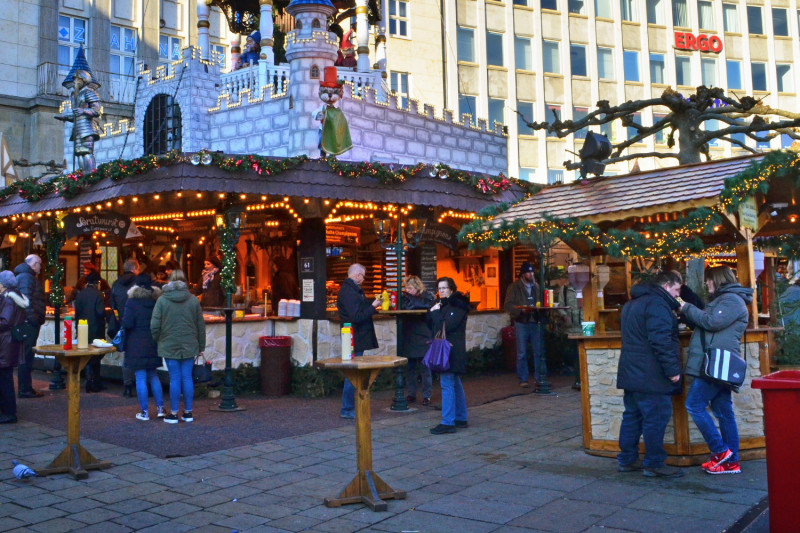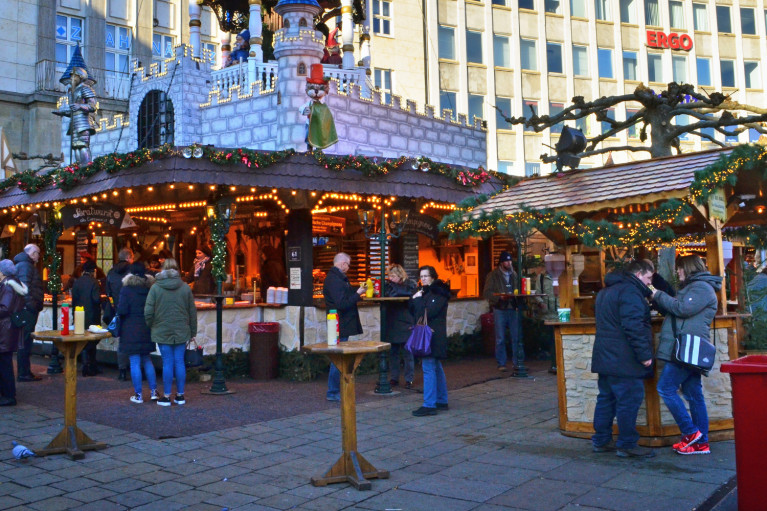 Why Visit the Kassel Weihnachtsmarkt?
Kassel is the capital of Germany's Fairytale Route, a 600km long trail that runs from Bremen to Hanau. Along this route you'll find stops focused on Jacob and Wilhelm Grimm, the two brothers who brought you the Brothers Grimm fairytales. As a tribute, the Kassel Christmas Market selects one of the tales as the market's theme each year. While the fairy tale aspect started in 1975, the Kassel Weihnachtsmarkt is over 200 years old with the first occurring in 1767!
When I attended in 2016, the theme was Little Snow White which as you can guess, is the tale of Snow White and the Seven Dwarfs. Throughout the stalls of Königsplatz and Friedrichsplatz you'd find odes to the story, along with the world's tallest fairy tale pyramid! What's the theme for this year? You'll have to visit their web page to find out! (Be warned though, the site is in German. Google will translate the page for you)
As I mentioned, most European Christmas Markets close right before December 25th. The Kassel Christmas Market is one of the only markets I've seen that stays open past Christmas Day. I actually visited on the very last day of the market! Whether you visit before or after Christmas, you'll have a wonderful time. This year, the Kassel Christmas Market will be open daily 11:00 am until 8:00 pm (but food is open until 10:00 pm!) from November 21, 2022 to December 30, 2022. However, it's closed December 24 to 26.
Yuletide Meandering
Scattered throughout the middle of Kassel you'll find a variety of shops and activities. Whether you visit is a romantic trip or a family getaway, you'll have a wonderful time.
Catch a ride on the Reindeer Railway or die Rentiereisenbahn which is a big hit with the little ones. If you're looking to do a little Christmas and souvenir shopping, wander through Rumpelstiltskin Alley, Little Red Riding Hood's Path, and more. The adorable names from the Brothers Grimm tales add another level of charm to this German Christmas Market! Be warned though… the hardest part will be not taking one of everything home with you.
Throughout the stalls, you'll find a variety of items. From locally sourced honey to handmade jewellery, you'll be able to check everyone off your Christmas list. Although I'd highly suggest taking home a dinkelkissin which translates to spelt pillow. It's a cushion filled with seeds that can be heated in the microwave like a heating pad. Not only is it handmade and eco-friendly but I swear it'll keep you toasty all winter long!
Need a gift idea for the favourite traveller in your life? Check out these gift ideas!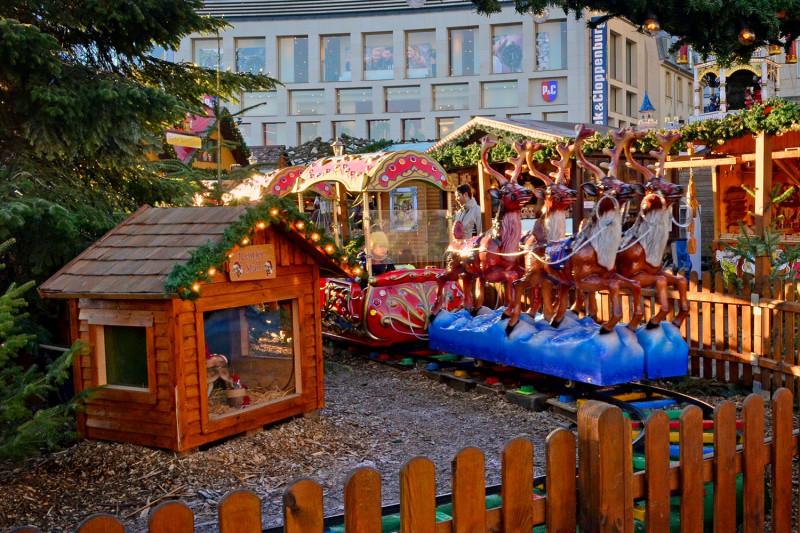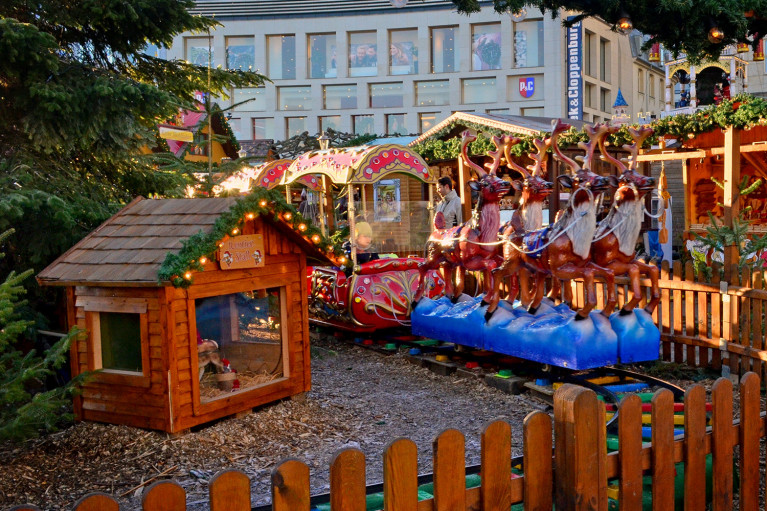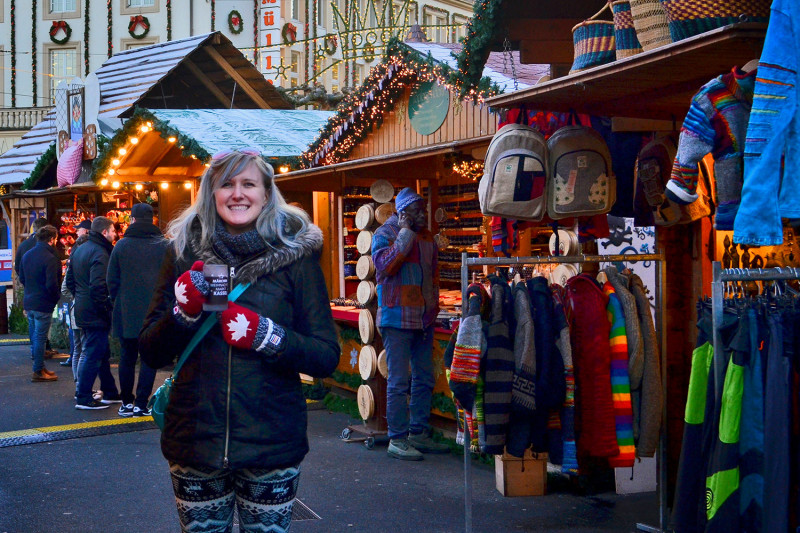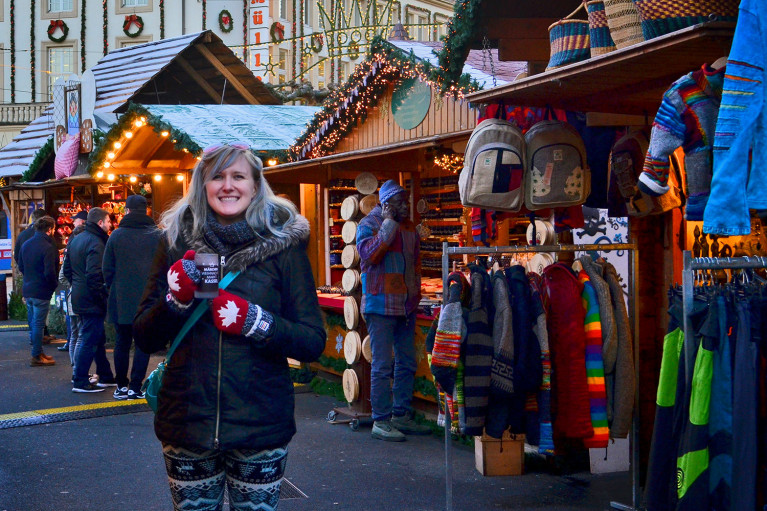 Come Hungry to the Kassel Christmas Market!
Be sure to come hungry as you take in the sights and smells of the market. There is plenty of delicious food to indulge in, to the point that it can be overwhelming! Don't worry though, I've done lots of taste testing to help you out. It's a tough job, but someone has to do it!
If you're not the most adventurous, a kartoffelpuffer is a good place to start. Think of it as a huge hash brown with a hint of seasoning. Are you a cheese lover? Then you must try some raclette with all the fixings. Who can resist potatoes, pickled onion, gurkens and more covered in melted cheese?! My mouth is watering just thinking about it! Lastly, even if you're not a fan of mushrooms, you must try the Champignons mit Knoblauchsoße – sautéed mushrooms in a garlic cream sauce. It's honestly to die for, especially if you're a lover of garlic. Although you'll want to make sure that everyone you're travelling with has some… you'll have some serious garlic breath!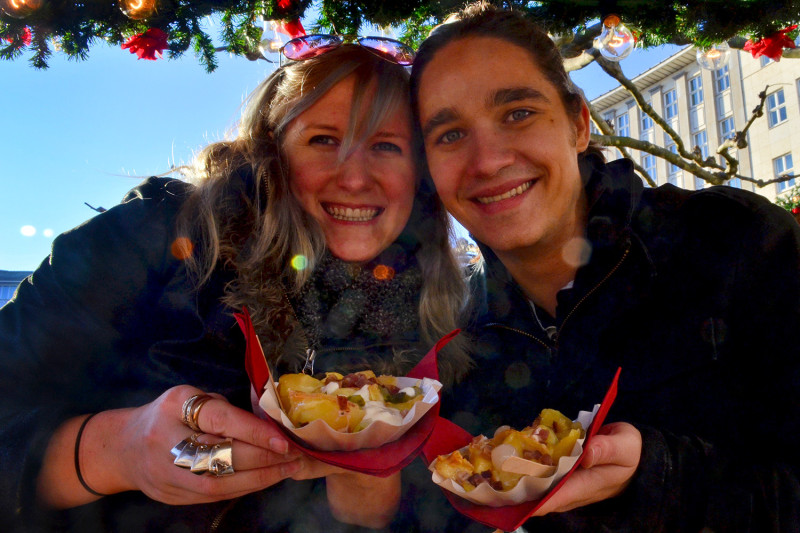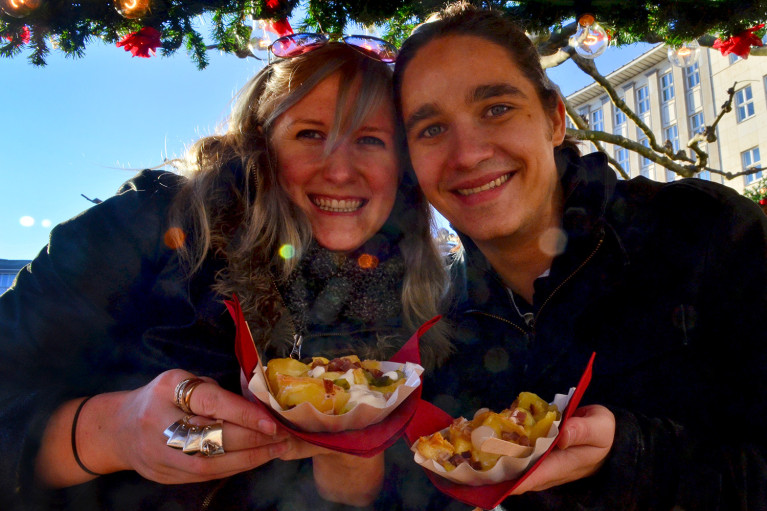 | | |
| --- | --- |
| | |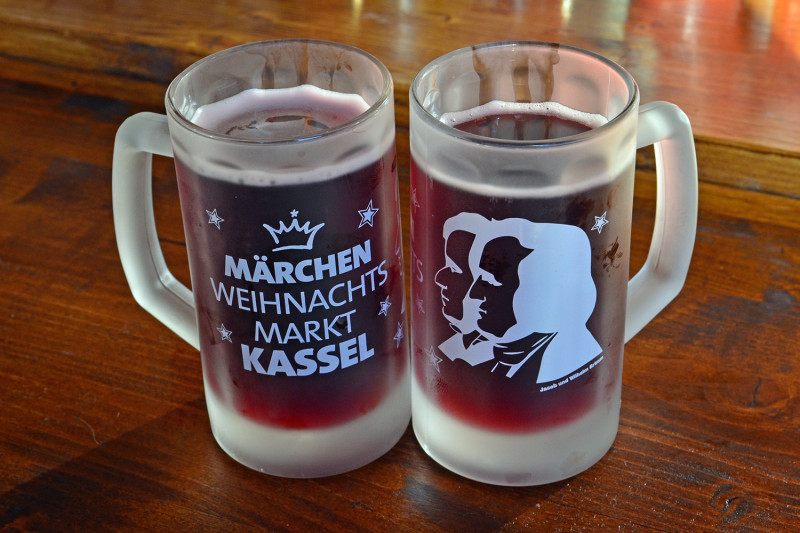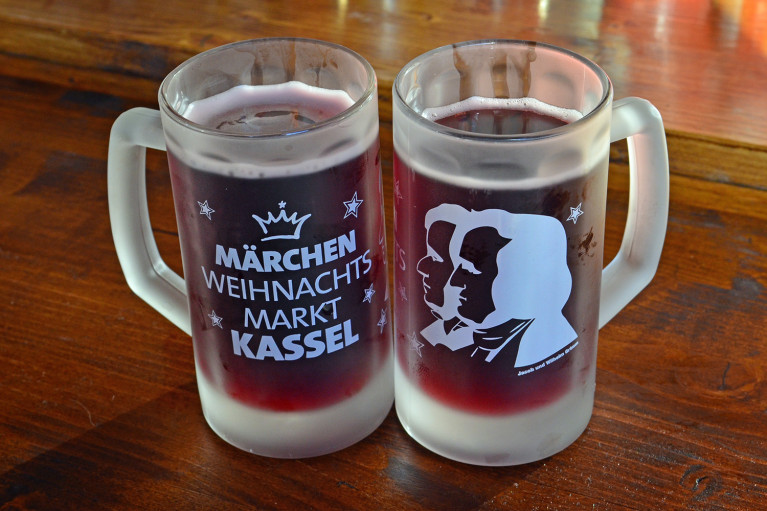 With all these savoury treats, you'll need something to quench your thirst. A German Christmas Market staple, a glass of mulled wine or glühwein will wet your palette and warm you from the inside out. While traditional glühwein is a red wine with cloves, cinnamon, orange peel and other spices, it comes in a variety of flavours. Raspberry, white wine apple cinnamon, cherry and more! I tried my fair share and I have to say the cherry (kirsch in German) is my favourite. Although be warned – it's SO sour you'll be puckering as if you shoved a whole bag of sour patch kids in your mouth! If you're not a wine drinker – never fear! There is also an adult hot chocolate you can sip on. Something to note is that you'll have to pay a deposit for your glasses, but you'll get it back if you return them… I say if because we still have ours to this day for our homemade glühwein!
INSIDER TIP: Previously on their website they offered guided walking tours, however I can no longer find it. They might still be available though you'd have to contact them direclty to confirm.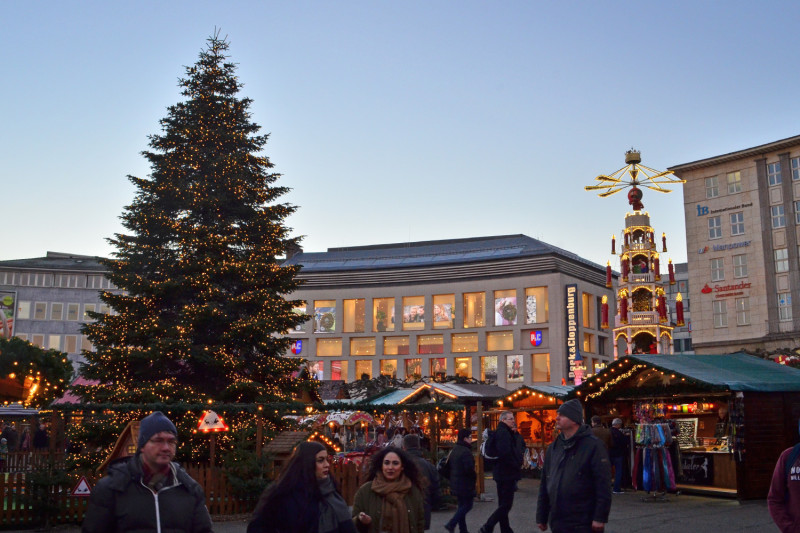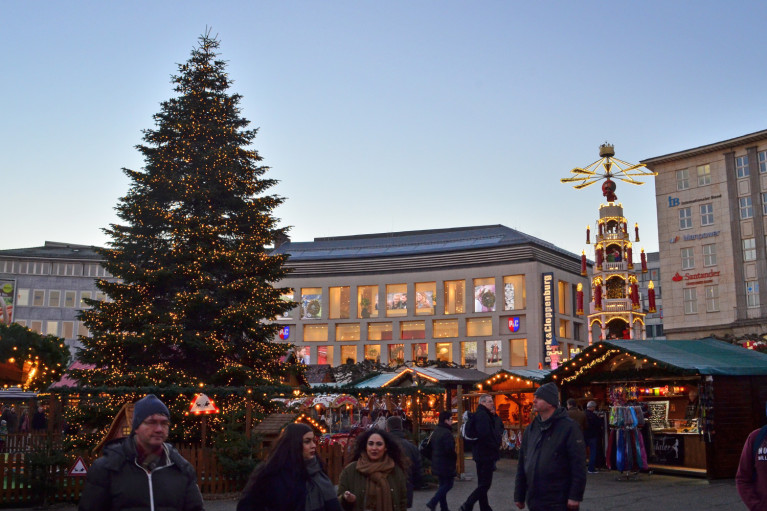 Have you visited a Christmas Market? What's your favourite thing about them? Are you ready to enjoy some Christmas cheer? I guarantee the Kassel Weihnachtsmarkt will get you in the holiday spirit! Start planning your trip using the links below.
Disclaimer
This post contains affiliate links that if you use them, I may earn a small commission at no extra cost to you. Find out more here. As always, all reviews, photos and opinions are my own!
Looking to visit the Kassel Weihnachtsmarkt? Pin it for later!