Perfect Portland Girls Getaway – Portland Harbor Hotel Review

Coastal vibes, impeccable service and superb location… could you ask for anything more in a hotel? In the heart of Portland's old town district, you'll find the Portland Harbor Hotel. Now I may be more of the outdoorsy type but I absolutely love a unique, local getaway which is exactly what you'll find here. Whether you're coming off an epic road trip like I was (more on that in another post!) or you're looking for a perfect Portland girls getaway, by the end of this article you'll be planning your own visit. Without further ado, here's my Portland Harbor Hotel review!
About the Portland Harbor Hotel
As soon as you step inside the lobby, it's easy to see that the Portland Harbor Hotel focuses on catering to their guests. They believe your stay in a boutique hotel should be one-of-a-kind. Somewhere you can really put your feet up and relax, which is seen in each of their hotel rooms – all 95 of them. Yes, I mean that each hotel room is uniquely decorated. As you can imagine, I immediately fell in love with this fact and couldn't wait to find out what cozy, nautical room I'd be staying in!
Before we get into the room though, let's talk about the location. With incredible restaurants, adorable boutique shops and just steps from the waterfront, the Portland Harbor Hotel is the perfect home base for exploring the city. You can easily explore the beautiful cobblestone streets on foot or hop on the complimentary bicycles for more sightseeing opportunities. If it's your first time in Portland, you'll be surprised by just how much this city has in store for you.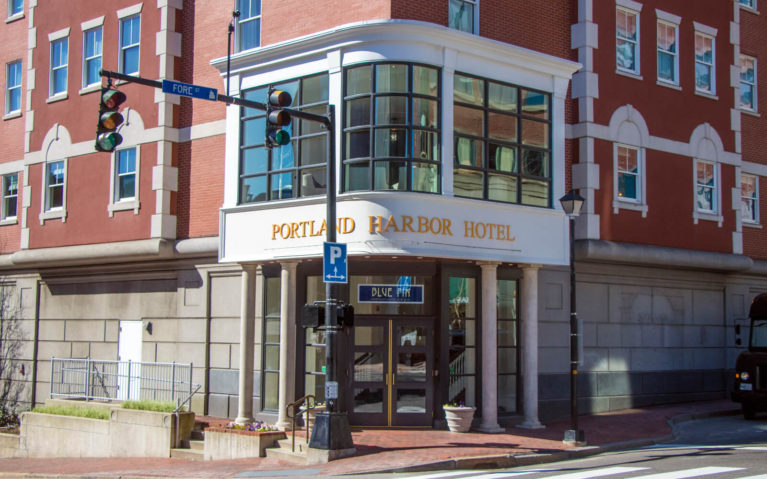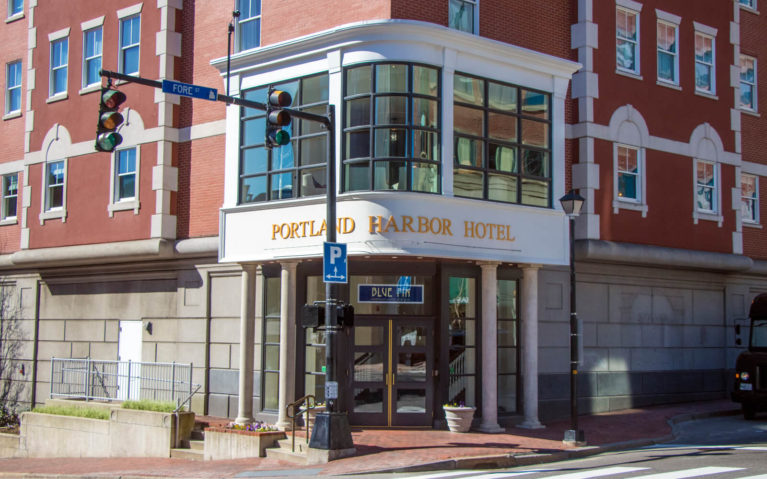 My Experience at the Portland Harbor Hotel
Coming off of an epic road trip with my gal Olivia, we had some long days exploring Maine's coast. We couldn't think of a better way to finish our stay than with a stellar girl's night at the Portland Harbor Hotel. Little did we know just how stellar it would be!
Our Room for the Night
We were given a room on the first floor, just a short walk down the main hallway past their in-house restaurant, Bluefin. We had a reservation for 7:30pm that night and were excited to indulge after some downtime in the room.
I believe both Olivia and I's reactions as soon as we entered the room was 'WOW!' As we're both lovers of all things nautical (her dad was a diver and my father a sailor so we come by it honestly), we were head over heels for the décor. I adored the spin on well-known diving flags adorning the walls. They paired so nicely with the nautical-themed local art within the rooms. Combined with the pops of red and blue, the room really expressed a leisurely yet lavish vibe.
I seriously want their interior decorator to come and spruce up my apartment.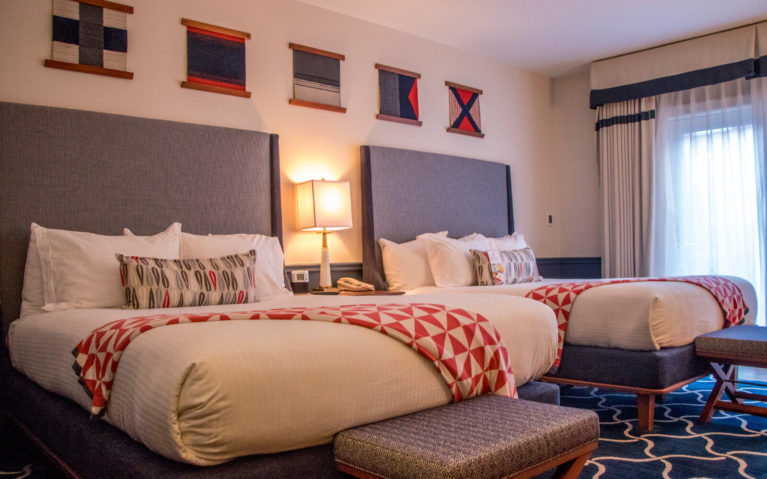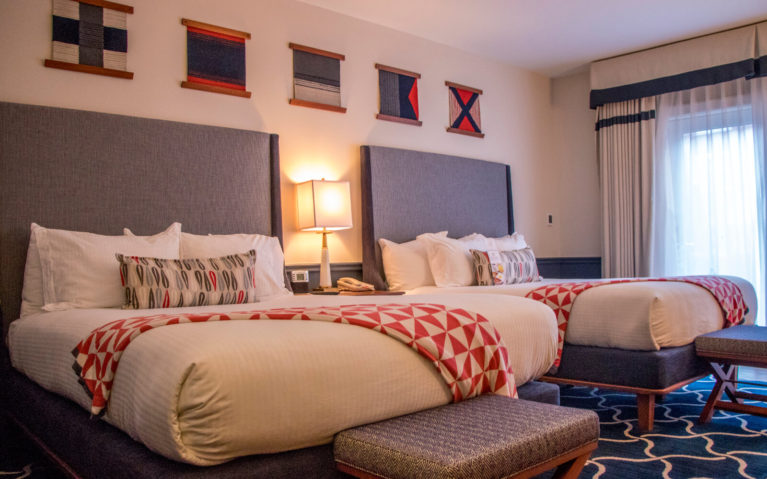 While I normally am not a fan of being on the first floor for a myriad of reasons, I loved this room. There was little foot traffic outside of our room, meaning neither of us were ever disturbed by outside noise. The main reason I was such a fan is the beautiful patio we had! With spring on the horizon, we loved the beautiful courtyard view. We found out later that in the summer months, you can actually see vegetables and herbs growing which they use at the Bluefin! Talk about local eats – it really doesn't get more local than that!
One additional perk I adore is their large soaking tubs. What better way to end the night than by spoiling yourself with a nice relaxing bath and a glass of bubbly? Talk about self-care!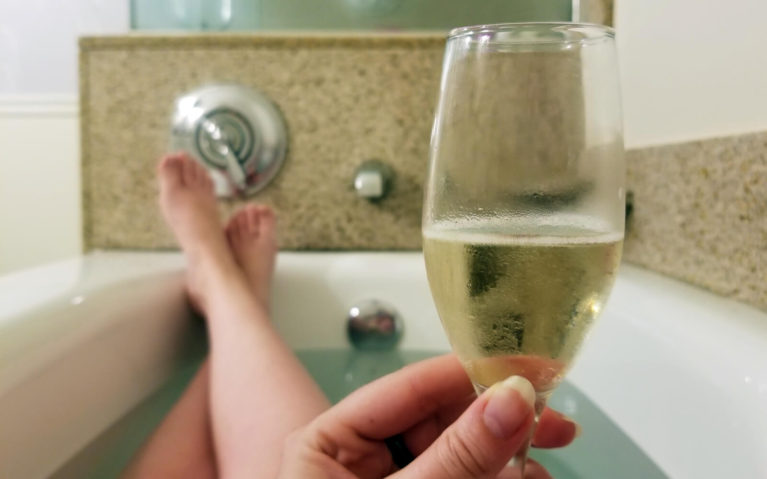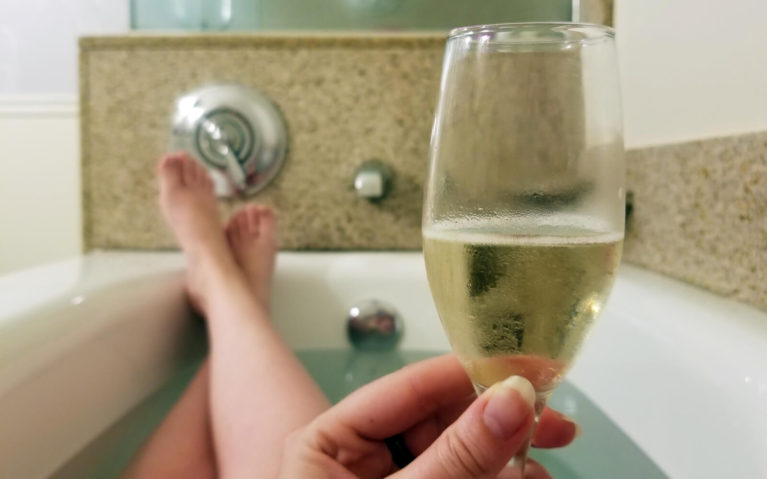 The Hotel Itself
What really makes the Portland Harbor Hotel stand out amongst other Portland Maine accommodations is their amenities.
Help yourself to complimentary Starbucks coffee which is conveniently located in the lobby across from the Bluefin restaurant. If you're on a higher floor, you'll find a cozy nook with a Starbucks touchscreen machine. Settle in on one of the comfy couches and enjoy a cup of coffee, tea or seltzer!
Looking to explore a little further than your feet can take you? The Portland Harbor Hotel has you covered! Help yourself to one of their complimentary bicycles. If you're unsure of where to go, one of the front desk staff or concierge will be happy to offer some suggestions for you.
Or if you'd rather just stay in and enjoy this gorgeous hotel, I really wouldn't blame you. There are a number of beautiful seating areas where you can soak up the sun in the morning and people watch all day long. I  honestly didn't have nearly as much time as I would have liked to enjoy this – and the hotel! I will be scheduling more downtime for my next visit, that's for sure.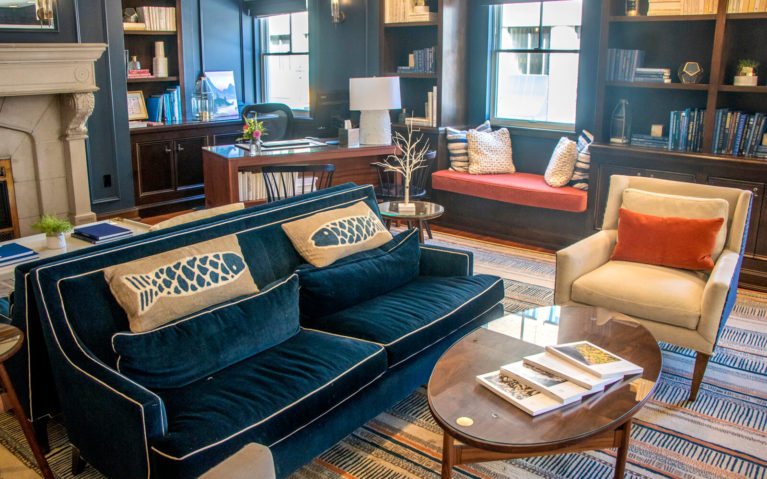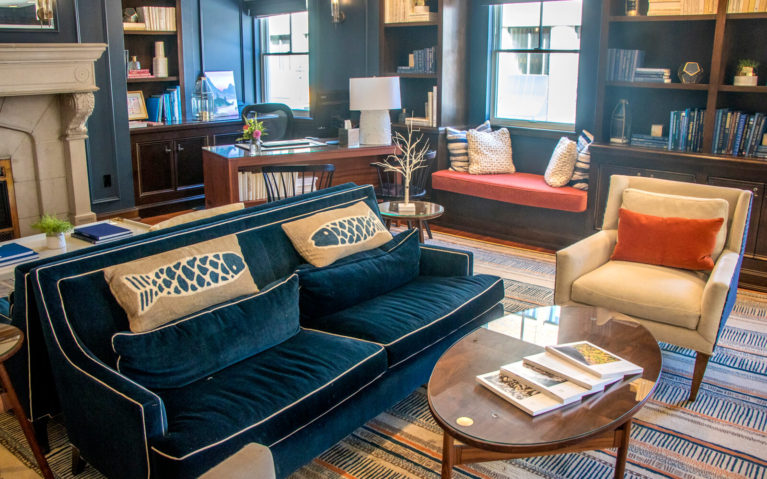 The Service
I knew we were in good hands at the Portland Harbor Hotel as soon as I pulled into the valet parking. Despite my semi-dishevelled, frazzled self as I tend to be after a few long days, the staff were incredibly helpful. All smiles as they told me where I needed to go for check-in, it immediately calmed me down. They happily told us of the services available as I made my way up to reception.
Just one way the staff at the Portland Harbor Hotel really took our stay to the next level was as we were settling in for the night. After our incredible dinner (more on that next!) we arrived to not only find our beds prepped for a good night's sleep but slippers and a little lobster chocolate. Now that's what I call service!
Dinner at Bluefin – The Perfect Girls Night Activity
Whether or not you're staying at the Portland Harbor Hotel, you have to visit Bluefin during your time in Portland. The city was named Bon Appetit's 2018 Restaurant City Of The Year so while there is plenty to choose from, you need to eat here. You'll seriously be doing yourself a disservice to not have at least one meal at the Bluefin!
We were absolutely spoiled by Executive Chef Gil Plaster during our Bluefin visit. Chef Gil's passion for food shows in every dish on the menu. Olivia and I got to experience it first hand as he came to talk to us about each of the dishes we had the pleasure of enjoying!
Chef Gil gave us a rundown of the menu, which changes seasonally. The Bluefin sources as much of its ingredients as possible locally, even growing a few of their own! While our May visit was a little too early for gardening season, the Bluefin grows herbs and vegetables like summer squash, tomatoes and zucchini which they use in their dishes. You can't get more local than on the premises! If it can't be found in Maine, Chef Gil insists its organic because he refuses to sacrifice quality for the price. There will be times when guests will come in and ask for a certain dish and it may not be unavailable. This is because the quality didn't meet his standards and he refuses to serve something that's subpar.
As Olivia and I began to salivate looking through the menu, there was an unwritten understanding of sharing is caring. This really is the best way to go so you can enjoy as many delicious eats as possible. Be sure your dining companion is willing to let you have a bite or two of theirs!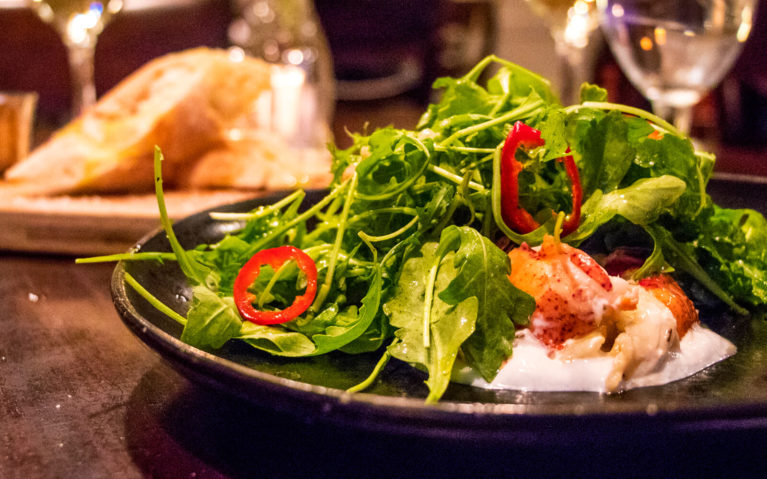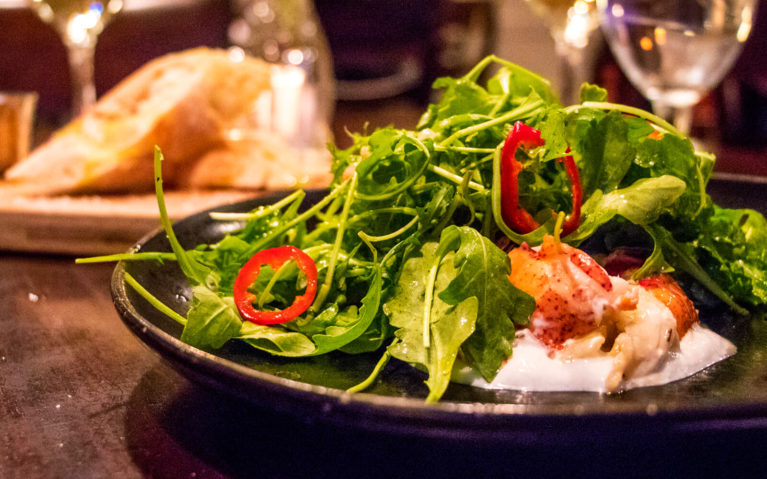 My delicious journey through the Bluefin menu began with the Lobster Salad as Olivia opted for the Clam Chowder. Enjoy hand-picked Maine lobster on a bed of arugula in a buttermilk yoghurt dressing. Sprinkled with a few hot red peppers and Pecorino cheese, this is the perfect dish if you'd like something a little lighter and refreshing. The Clam Chowder is incredibly creamy and full of flavour making it a great hearty starter. Both paired well with the Novellum Unoaked Chardonnay.
When it's hard to get something, you work with what you've got and that's the story behind the Lobster 'scargot. Escargot is quite difficult to find on the east coast so Chef Gil took what they know and made it his own! Lobster meat is cut into bite-sized chunks and sautéed in the same garlic and herb butter as escargot would be. Topped with a lemon crumb, it's seriously a delight for your tastebuds. The dish is served with crostinis but take my word for it – you won't need them!
Another dish that's unique to the Bluefin are their Calamari Fries. They take the body of a larger squid and cut it into long, thin strips. These are then battered in seasoned tempura so they come out looking like fries. Served on top of some shredded cabbage and sweet chili drizzled on top. If you're a lover of calamari or sweet chili sauce, you need to order this. Oh who am I kidding, these seriously need to be served with every meal!
For my main course, I selected the Fisherman Ravioli. As soon as I heard that they make the pasta in-house, I knew I had to try it. Stuffed with local market seafood and herbed ricotta cheese, it's smothered in the chef's choice of sauce and topped with shaved Pecorino cheese. I enjoyed the dish with a salmon ravioli in a lemon caper sauce. The filling changes depending on what's available so it can change daily! If you're looking for a dish that's truly unique to the restaurant, I'd recommend this one.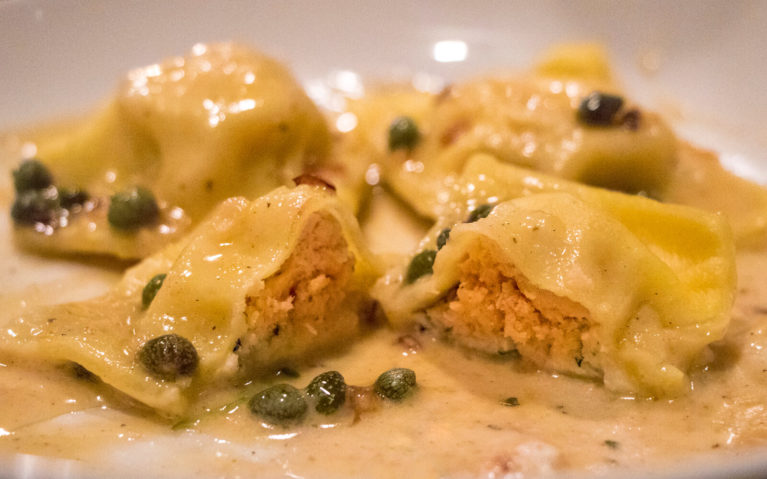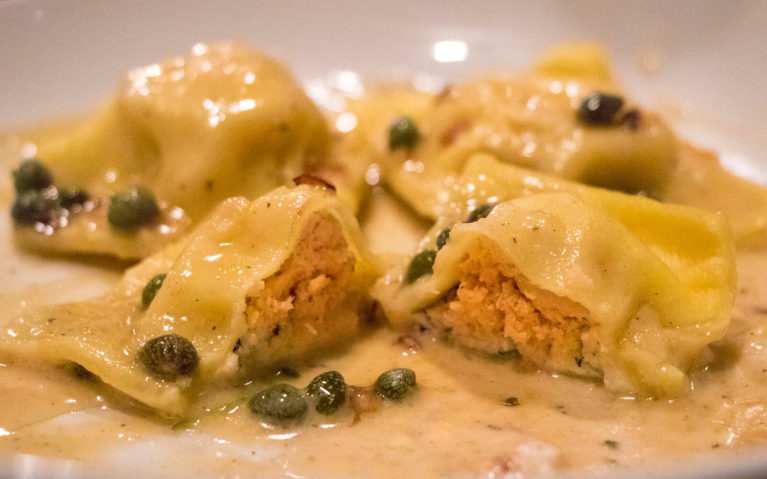 The big finale which you need to end every visit with is their wild blueberry ice cream. Made in small 1-quart batches in-house, this is seriously one special treat. It's hands down the most delicious ice cream I've ever tasted. Even if you're not a big fan of dessert, don't miss out on this!
As we talked with Chef Gil, we got to learn more about him and how he became the Executive Chef of the Bluefin restaurant. Born in Miami, he lived in Portland for a few years before returning home in 2009. He honed his skills at a number of well-known restaurants down south before returning to Portland at the end of 2018. Talk about starting the new year off right! Upon his arrival, Chef Gil completely redid the menu to what it is today. If you visited before this then you'll have to return as it's 100% brand new! Come summer, you'll see some new lighter, more refreshing dishes. I'm not sure what will make the cut through the summer so if you want these eats, you better hurry in as soon as you can!
While I got to enjoy a large number of the menu's offerings, I'm dying to return so I can try a number of other dishes. Yes, I'm looking at you Seared Tuna Loin. Have a peek at the menu but be warned – you'll be drooling by the time you're done!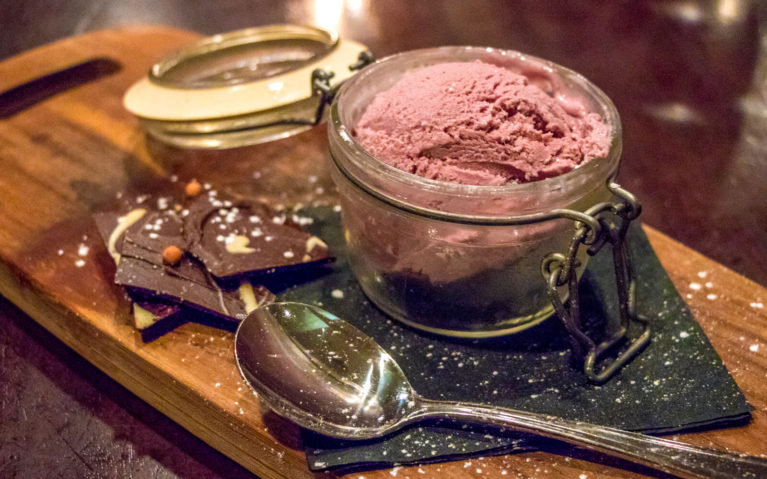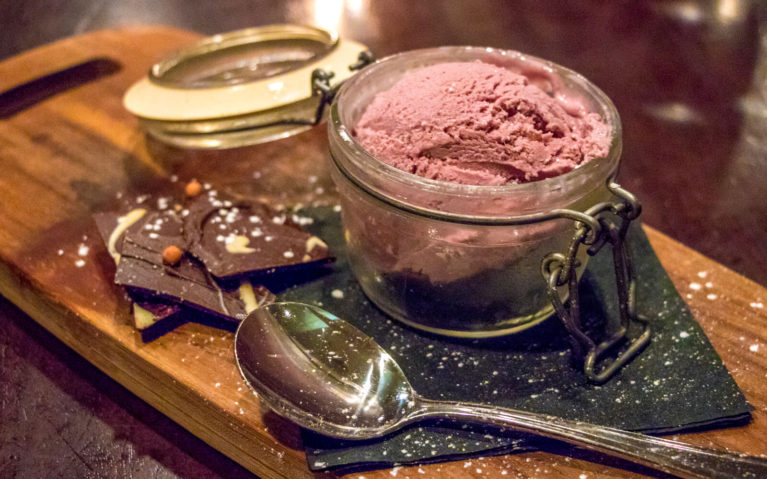 A Stellar Portland Girls Getaway
This really is the best place to stay in Portland, Maine no matter how long you're in town. Why? There are a number of reasons!
Besides the incredible amenities and services I've already discussed, the location is incredible. Just steps away are a number of amazing restaurants, bars and attractions. The best part? The Portland Harbor Hotel offers a town car service (for free!) which can take you wherever you want to go. Talk about next level perks! All you have to do is reserve your time in advance by calling the hotel desk.
Sometimes though, what you really need is a calm evening with good food and great company. This is what Olivia and I opted for and it was the best choice we could have made. It did our minds and bodies good as we indulged in amazing eats, delicious treats and even better company!
Whether you decide to paint the town red or have a quiet night in like we did, your girls getaway will surely be memorable.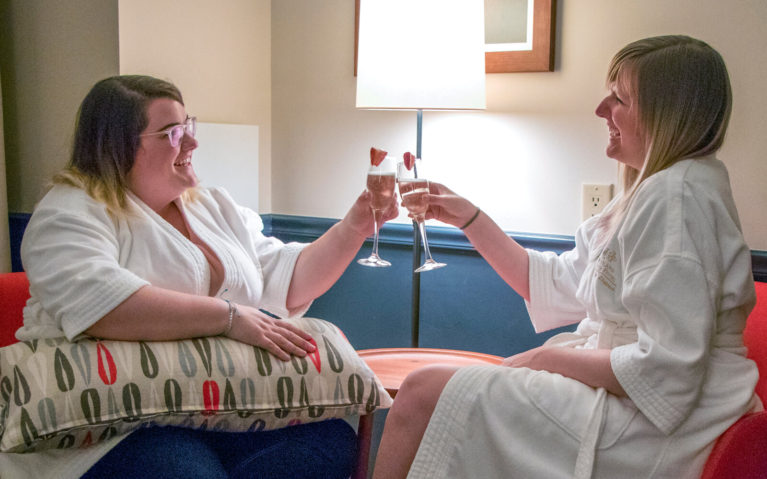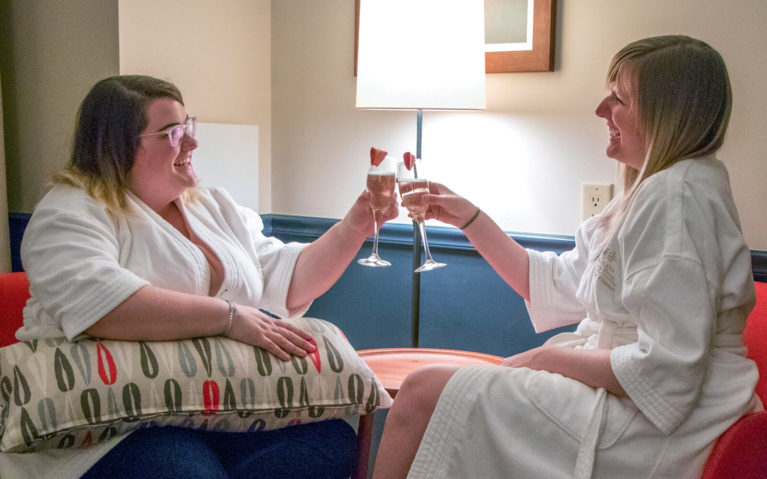 Final Thoughts on the Portland Harbor Hotel
Whether you're staying for a girls trip, with family or a romantic getaway in Portland, this hotel will make your visit to the city memorable. Olivia and I couldn't have asked for a better send-off from Maine! Take a peek at this map of Portland so you can start planning your adventures.  If you're planning a visit to Portland, be sure to check out their offers and take advantage of any special promotions!
Disclaimer
A huge thank you to the Portland Harbor Hotel for hosting Olivia and I during our final night in Maine. While we enjoyed this stay complimentary, all experiences and opinions are truly my own – as always!
Read more in our disclaimer and privacy policy.
Ready for a Girls Getaway in Portland? Pin it for later!