Watkins Glen State Park Hiking: Your Guide to this Epic New York Park

When you hear New York, most people think of the Big Apple – that concrete jungle with all those dreams being made. If you're one of those people, this post is going to change that mindset. Next time you're heading to New York state, head west to the Finger Lakes Region. You're missing out on some serious natural beauty if you don't! Whether you're an avid hiker, waterfall chaser or just a general nature wanderer, a Watkins Glen State Park hiking adventure will be one of the most memorable activities during your visit.
Disclaimer: This post may contain affiliate links where I may receive a kickback at no extra cost to you. It helps keep IBB alive so thank you!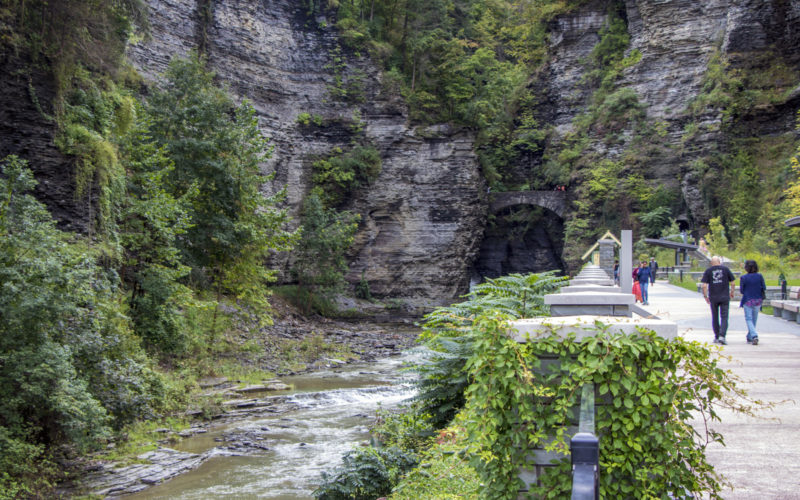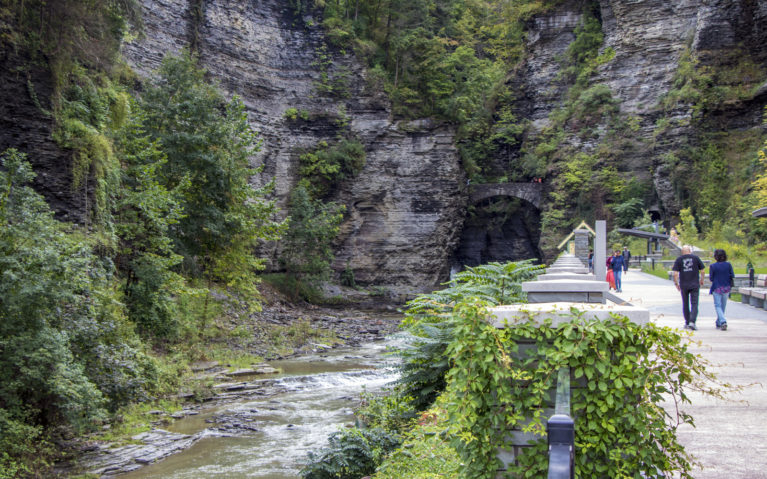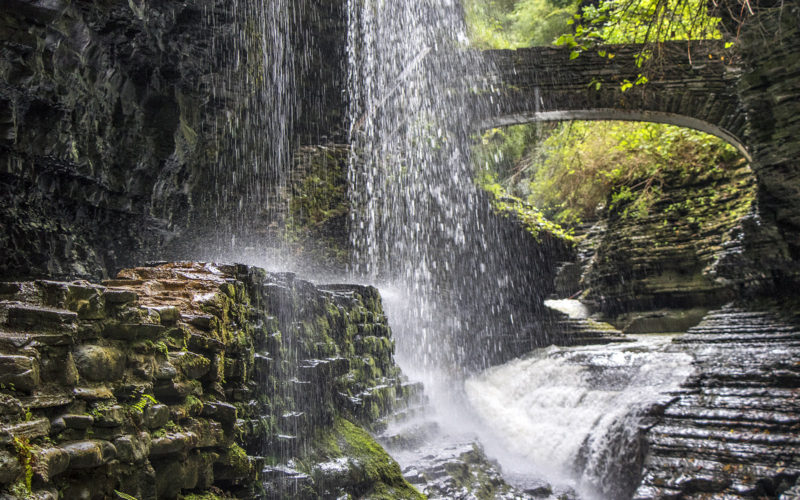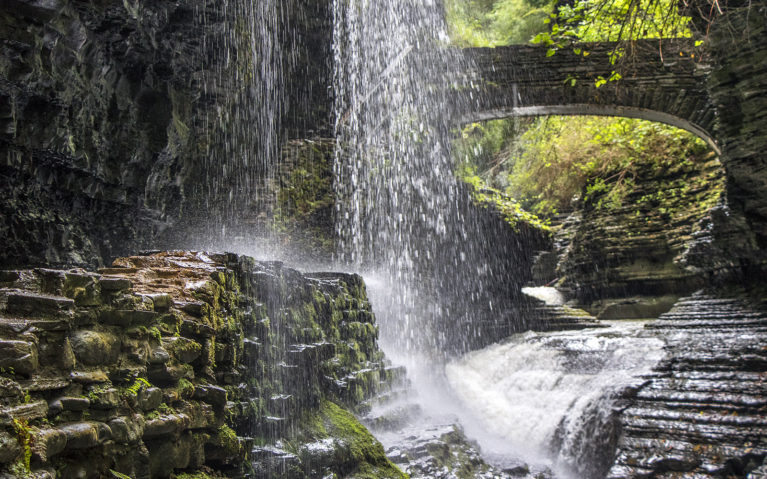 About Watkins Glen State Park
The park is located in the heart of (can you guess it?) Watkins Glen, an adorable little town in Schuyler County. Located at the base of Seneca Lake, one of the iconic Finger Lakes, it offers beautiful views that will have you falling in love with the area. If you're a NASCAR fan, the town may sound familiar as it's home to Watkins Glen International, one of the few road race tracks in the organization.
This 778-acre park is home to a 120-metre deep gorge where Glen Creek runs through. Thousands of years ago, glaciers carved out the Seneca Valley, creating the unique landscape the water runs along. Open to the public since 1863, it's how the 19 beautiful Watkins Glen State Park waterfalls came to be. Yes, you read that correctly, nineteen! No joke, this is a waterfall chaser's paradise.
INSIDER TIP: Whether you only have a few hours like I did or all the time in the world, visit. Don't skip it because you don't think you'll have enough time. Within a matter of minutes you'll see a waterfall, making it the perfect pit stop on a road trip. Plus if your stay is below 2 hours, you can enjoy free street parking across from the Sheriff's Office on 10th Street. Otherwise, you will have to pay the Watkins Glen State Park Parking Fee of $10.
The Watkins Glen State Park hours of operation vary depending on the time of year you visit. In the warmer months, more of the facilities such as their campgrounds and swimming pool are open. There is also the Watkins Glen State Park Shuttle which runs on weekends from the Memorial Day weekend until November, switching to daily service at the end of June until Labour Day. Be sure to visit their website to see the status of the trails before visiting. I'm unsure whether you can access the trails in the winter months, though it would be an incredible destination when the temperature drops below zero.
Be sure to wear sturdy shoes (hiking boots are even better) when tackling the Watkins Glen hiking trails. Even though the trail is rock, there are some places where the floor is uneven so having steady footing is necessary. There are also plenty of stairs (over 800 if you go all the way to the top!) so be ready for a solid workout. If you don't bring a bottle of water with you, be sure to grab one from the visitors' centre.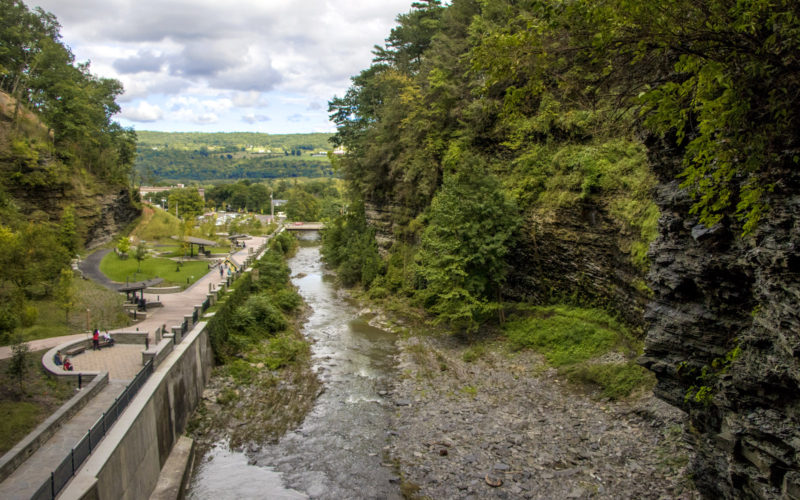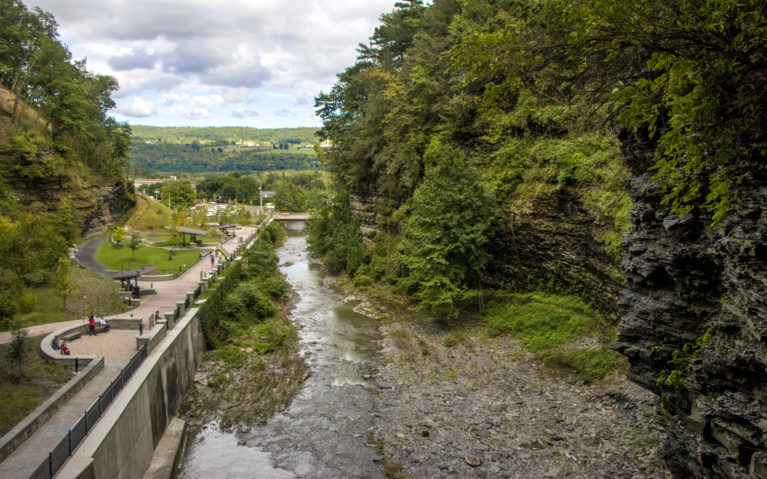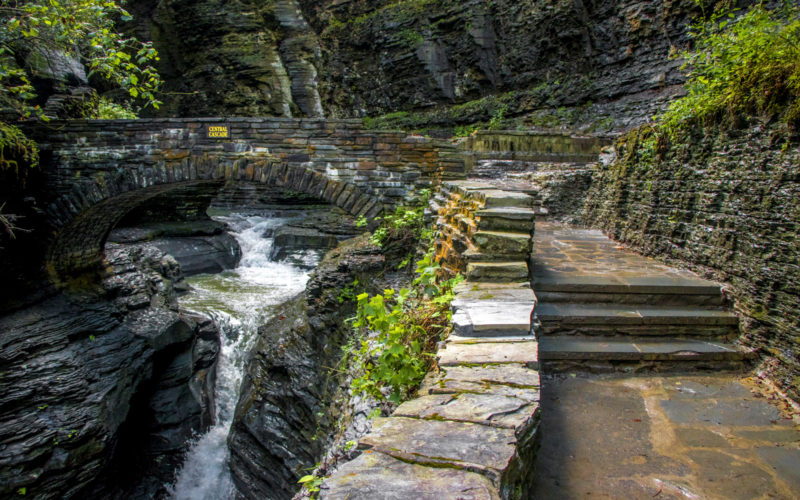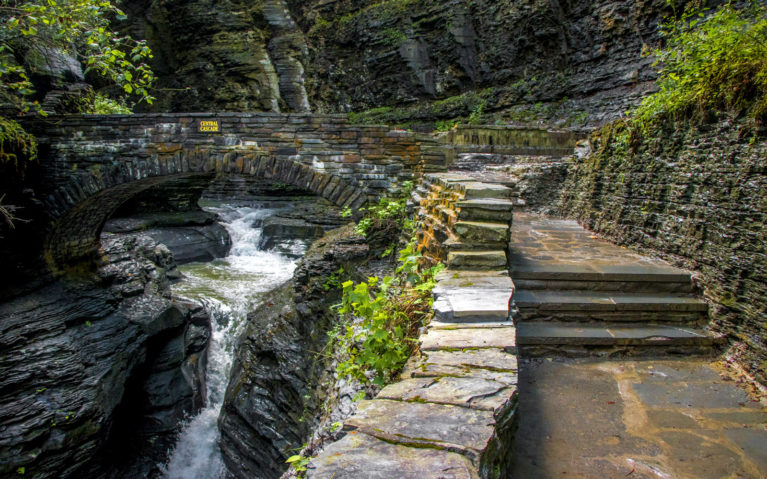 Watkins Glen State Park Hiking Trails
Watkins Glen State Park offers three hiking trails for a total of approximately 7 kilometres of trails: the Gorge Trail, North Rim Trail and South Rim Trail.
The most popular trail is easily the Gorge Trail. This 2.4 kilometre (1.5 mile) long hike takes you through the heart of the gorge. Along the way, you'll spot a number of incredible natural wonders such as the Cavern Cascade, Rainbow Falls the Frowning Cliff and much more. It won't take you more than a few steps to realize why this is the top hiking trail in Watkins Glen State Park. You'll constantly be in awe of nature's beauty!
INSIDER TIP: If you're travelling in a group of ten or more, you can arrange a guided tour of the gorge for free! This one-and-a-half-hour tour will take you along a mile of the gorge trail as you learn about the park's history, ecology and geology.
Once you've enjoyed the beauty of the gorge from within it, check out the North Rim Trail to see these exquisite views from above! Following the top of the gorge, your eyes will be treated to brilliant vistas from the four lookout points by the Central Cascade, Glen Cathedral, Lover's Lane and the Point Lookout. The shortest of all the trails at 1.8 kilometres (1.1 miles), it's definitely not to be missed!
With the Gorge Trail being so popular, it can also be quite crowded. If you're looking for a quieter option, the South Rim Trail is your best bet. Similar to the North Rim Trail, this 2.9 kilometre (1.8 mile) hike takes you along the top of the gorge once again but from the south side. There are a few steep climbs and some descents, so be sure to come prepared with proper footwear and plenty of water! If you're looking for an epic adventure, the white blazes here signify the Finger Lakes Trail that connects to the Catskills and Allegany State Park!
As I said earlier, even if you only have time for a quick stop like I did, be sure to visit these Watkins Glen State Park trails. TheGorge Trail is the perfect nature break to stretch the legs on a road trip or during a Watkins Glen day trip. For full details, here's a Watkins Glen Trail map.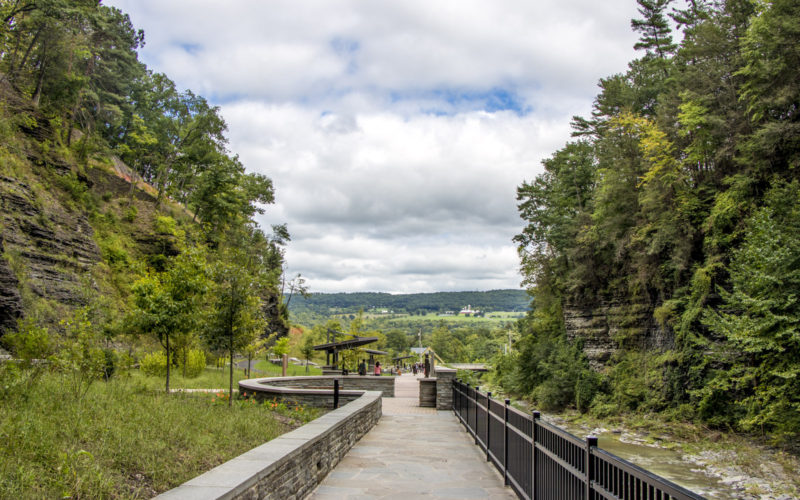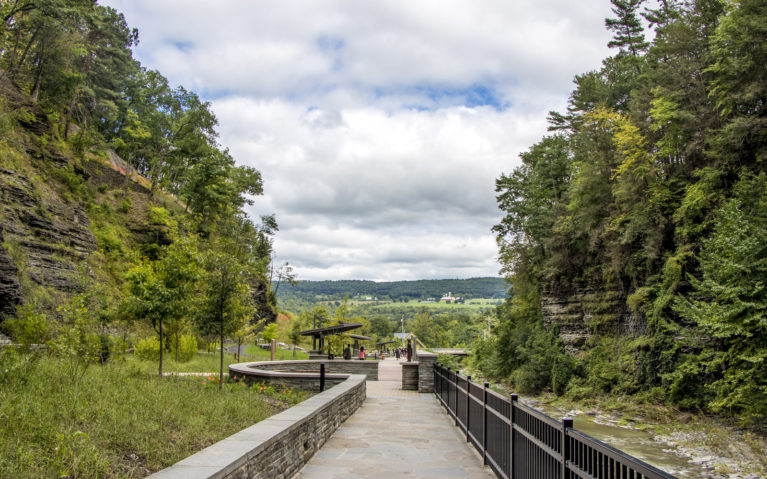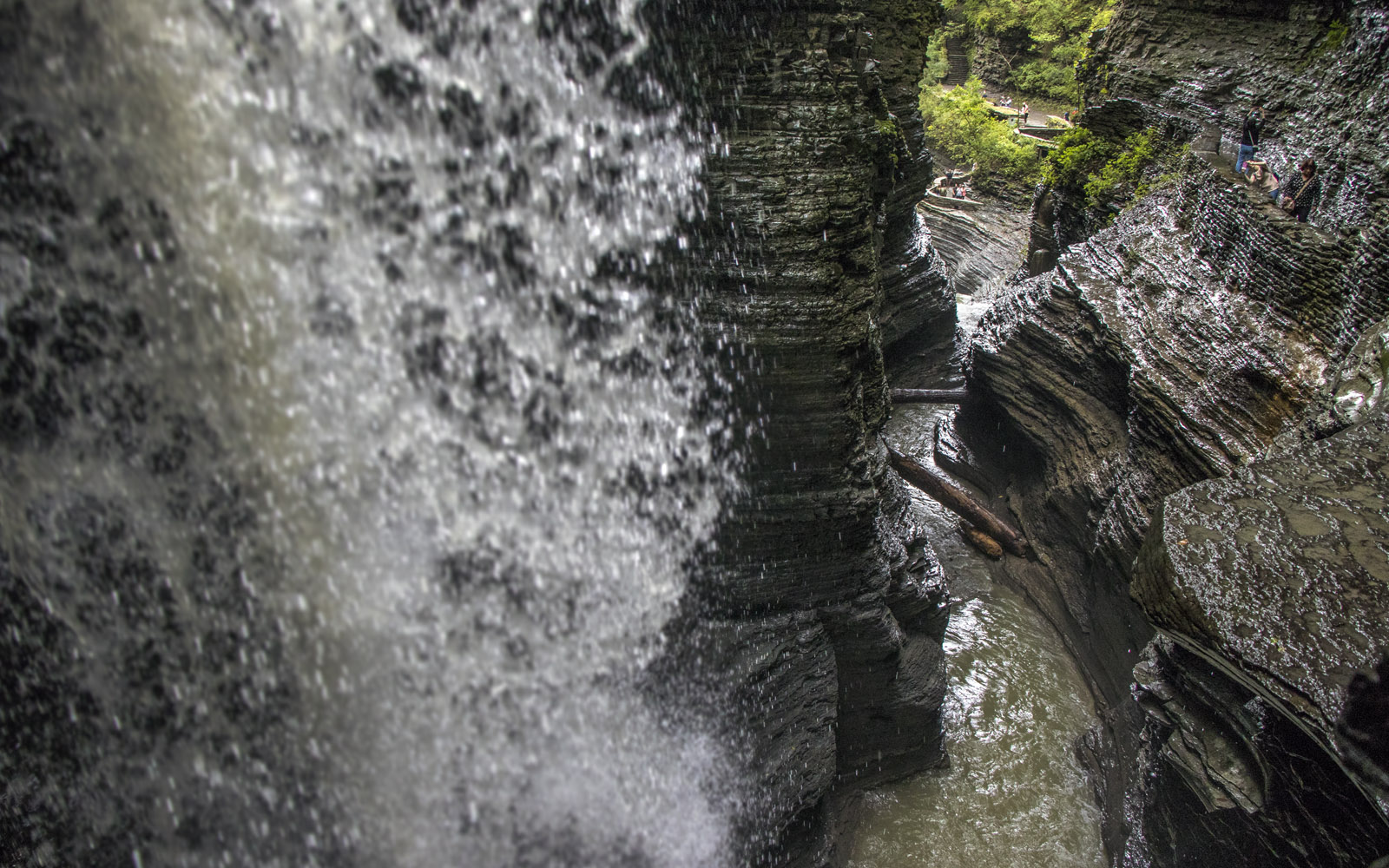 Indigenous Culture and Watkins Glen
First Nations People have lived in this area long before European colonization. The Seneca called this land home, living as part of the Haudenosaunee Confederacy (Haudenosaunee meaning people of the longhouse, known as the Iroquois to the French and the League of Five Nations to the English).
The confederacy served to unite the Seneca along with their fellow man – the Mohawks, Oneidas, Onondagas and Cayugas – with the common purpose of living in harmony. This model of confederacy actually influenced the modern US government as the US Constitution's two-house congress is similar to how the Grand Council and the Chiefs of each nation interacted.
However come the mid-1700s, ideals began to diverge as too many traders were taking advantage of the land. Relationships deteriorated and divisive messages began to appear. The Seneca chose to side with the British during the American Revolution. They suffered great losses as the Americans' goal was to cripple the Iroquois, especially the Sullivan Expedition.
This didn't stop the Iroquois as they resumed raids on American settlements in New York state, fuelled by their anger. Battles ensued and as the Americans won the war, the lands were to be sacrificed and surrendered to them. While the battles may be different now, they haven't stopped as the Seneca have been trying to regain their traditional lands through the modern court system.
I'm barely scratching the surface of the area's rich Indigenous history, but it's incredibly important to recognize it. While the state now controls the park under the New York State Office of Parks, Recreation and Historic Preservation, we need to acknowledge the part of Watkins Glen State Park history where these lands originally belonged to the Seneca, Oneida, Onondaga, Cayuga, Mohawk and the Haudenosaunee Confederacy. If you'd like to learn more about the history and the traditional lands in general, this website can help.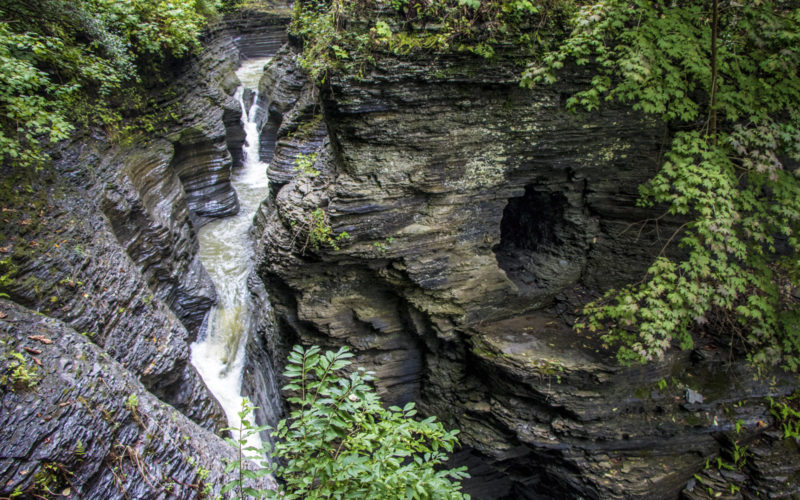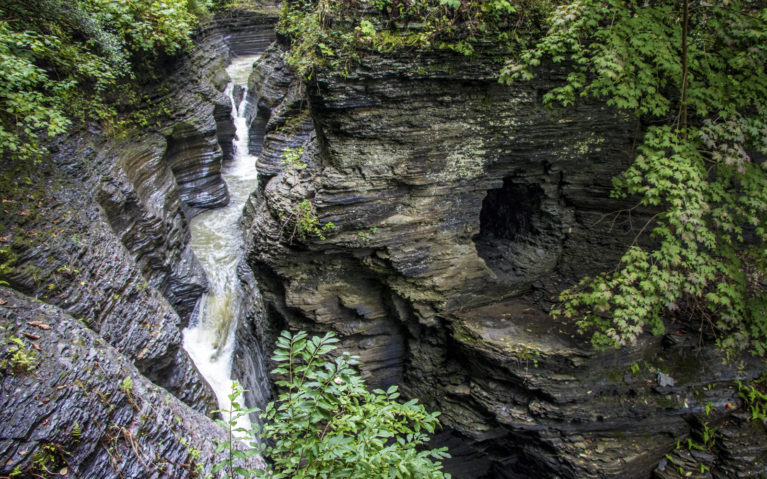 Things to Do in Watkins Glen & the Area
While hiking at Watkins Glen is certainly one of the area's most popular attractions, it's not the only thing to do! The town of Watkins Glen itself is absolutely adorable. Here are some fun things to do in Watkins Glen if you're looking to spend a little more time in the area!
Explore the Heart of Watkins Glen – As I said, Watkins Glen is adorable and has plenty of cute eateries, amazing ice cream and even a craft brewery! Spend some time exploring and indulge a little as you do so.
Chase Some New York Waterfalls – If those beauties weren't enough, you're in luck! There are a number of other gorgeous waterfalls near Watkins Glen just waiting for you to visit like Hector Falls, Ithica Falls, Taughannock Falls and more.
Sip Along the Seneca Wine Route – The Finger Lakes isn't that far from Niagara's wine country so it's no stretch that the Finger Lakes will be a prime wine touring destination! Enjoy a glass or two as you explore the over 100 wineries in the area.
Go Horseback Riding – What better way to explore the Finger Lakes than on the back of a majestic stallion? Okay, Erika over at Painted Bar Stables will scoff at me for that one, but that's because she knows her horses. This is a Finger Lakes experience you do not want to miss!
Visit the Corning Museum of Glass – In nearby Corning, New York, you'll find breathtaking art pieces all made from glass. Founded in 1951, they have over 50,000 glass objects in their collection, some of which are over 3,500 years old!
As you can see, there is plenty to do when visiting Watkins Glen, so why not make it a multi-day adventure? Check out these great hotels in Watkins Glen so that you can truly experience the area.
Planning Your Watkins Glen State Park Hiking Trip
Have I convinced you to plan a Watkins Glen State Park hiking extravaganza? I sure hope so because I know I already can't wait to return one day soon! Here is everything you need to know in order to plan your visit.
Is Watkins Glen State Park Free?
Yes, Watkins Glen State Park is free to enter! If you can arrive on foot, there is no fee. You only have to pay a parking fee of $10 at Watkins Glen State Park. This is another reason to consider staying overnight at one of the Watkins Glen hotels since a few of them are right in town so the park would be within walking distance!
What Time of Year Should I Visit Walkins Glen?
What you wish to experience will depend on what time of the year to plan your visit! Watkins Glen State Park is open all year round, however the Gorge Trail is closed in the winter due to hazardous conditions. If you're looking to catch Rainbow Falls, Central Cascade, etc in full force, visit around late April or early May. The spring thaw will mean an increase in water and a more spectacular flow! If you want to enjoy the magical autumn colours, opt for a visit in October. A few cool nights can even have the leaves start to turn as early as mid-September!
How Long Does it Take to Hike Watkins Glen?
That depends on you! If you're looking to power through then you can easily enjoy the park in a matter of hours. However, chances are you'll want to truly enjoy all of the views (especially along the Watkins Glen Gorge Trail) so I recommend giving yourself at least 3 hours.
Can You Swim at Watkins Glen State Park?
Yes and no. Swimming in the gorge at Watkins Glen is strictly prohibited. However, there is an Olympic size swimming pool available for overnight campers and those staying at the Watkins Glen State Park cabins.
What Should I Wear to Watkins Glen?
Come prepared for the weather! A sturdy pair of hiking boots or trail runners are essential, especially since some parts of the Watkins Glen State Park Gorge Trail can be slippery from all the beautiful waterfalls. If you plan on doing either of the rim trails, you'll want to pack some bug spray. Of course, water is a necessity! You may also want to bring a light waterproof rain jacket as there is a chance of getting wet as the trail does lead you underneath some of the waterfalls.
Disclaimer
This post contains affiliate links where I could receive a kickback at no extra cost to you! Read more in IBB's disclaimer and privacy policy.
Ready for a Watkins Glen Hiking Trip? Pin it for later!