Why Ariel's Point is a Must For Every Boracay Itinerary

If you've heard of any place in The Philippines, chances are it's either El Nido for its pristine water and beautiful landscapes, or it's Boracay for the wonderful beaches and the nightlife. Well, there's a not-so-hidden gem on Boracay island that anyone who visits should check out – and that's Ariel's Point. While I touched on it in my Boracay post, Ariel's Point really deserves its own.
What is Ariel's Point?
Also known as Batason Point, Ariel's Point is a fantastic little day trip you can do from White Beach. Enjoy a banca ride along the pristine Filipino waters to a secret hideaway in The Philippines. Soak up some sun and enjoy the crystal clear waters in this lesser-known paradise. Sound too calm? Don't worry adrenaline junkies, you'll love the main event – cliff diving. Pair that with some great conversation, a wee bit of alcohol and you've got yourself the recipe for a good day. It's honestly one of, if not the top attraction in Boracay. Not convinced? Keep reading!
INSIDER TIP: It's becoming more and more popular, so be sure to reserve your spot a day or two in advance!
Reason 1: It Gets You Off Your Butt
Let's be honest. Boracay is one of those places where you could lay on the beach all day and just enjoy the beautiful Filipino sunshine. While relaxing is a key part of The Philippines, you'll want a bit of exercise for fear of turning into a beached whale. Voila, Ariel's Point will do just that! The boats depart at 11:00am, but you need to sign in by 10:00am at White Beach, also known as Station 1. If you're down at Station 3 like I was, it's about a 20 minute walk to White Beach. Yes you could take a tricycle… but beached whale, remember? If you're staying in Station 1 then you lucked out!
Reason 2: You'll Get To See Another Island
Ariel's Point is a 30 minute banca ride from Boracay as the organizers take you to Buruanga, on the northern tip of Aklan. Chances are you might have already visited Aklan if you flew into Kalibo airport, but you probably didn't see much on the bus ride from the airport. This gives you an opportunity to experience some of its natural beauty!
Reason 3: You'll Push Your Limits
If you're anything like me and struggle with vertigo, cliff diving will be a challenge for you. It's a great way to step outside your comfort zone, and you can control just how much. There are different levels you can jump at – 3, 5, 8 and 15 metres. In all honesty, the 3 would have been enough for me. However with a little coaxing from friends (and liquid courage), I was able to conquer the 5 metre jump! Plus you never know when challenging yourself will come in handy as it did for me a few weeks later while canyoneering in Cebu.
On the other hand, the adrenaline junkies will be smitten with that monster 15 metre death jump. (No deaths have been reported from it as I know of. This is because I haven't done it as I'd totally have a heart attack on the way down.) Robin was crazy enough to do it three times, and there was even a guy doing backflips off it! Whether you wanna play it safe or you unleash your inner thrill seeker, there are plenty of options for everyone.
Reason 4: Enjoy The Scenery at Ariel's Point
If cliff jumping isn't for you – that's okay! There are plenty of other activities you can do. Take some time to enjoy the area of Buruanga with some kayaking and their newest addition, stand-up paddleboarding. Or check out the marine life below the surface with some snorkelling. While I stuck to cliff diving, from what I could tell there was a fair amount to see in these beautiful waters! I'm honestly kicking myself that I didn't explore more of the area this way, so take advantage of it.
Reason 5: You'll Be Spoiled
If you're more of a 'lounge and enjoy the sun' type, then Ariel's Point is perfect for that as well! With an open bar, you can enjoy as many cocktails as you like from upon departing Boracay until you step foot back on White Beach. Yes, they start serving on the boat (but it's beer only). There's also a buffet lunch with a variety of options, including many vegetarian dishes and traditional Filipino cuisine. You may be distracted by all the life choices, but make sure half your plate is Pancit. It's too delicious to miss out on!
Reason 6: You'll Make Lasting Friendships
If you're travelling solo or even with a significant other, sometimes it can be difficult to meet people and build friendships. Here, you're pretty much guaranteed to go home with a new friend. It may be a little awkward at first but as the liquor flows, the chatter starts. I'm lucky enough to have come home knowing quite a few more wonderful people, including my Aussie sister from another mister, Sacha! You never know where your paths will cross either as we both ended up being in Cebu a few weeks later.
Reason 7: The Night Awaits
As you arrive back to White Beach at 5pm, there is still plenty of time to enjoy a romantic dinner and a beautiful sunset… or if you're like me – a pub crawl! Haqqy Boracay PubCrawl runs on Fridays and Saturdays with a few weekday options that vary, so head towards the Boracay Beach Resort to see when it's running. If you join early, you can knock up to 300PHP off your ticket! And that new friends part? They'll make it even more fun… especially if you convince half your banca on the way home from Ariel's Point to join in! True story.
Click here to book the Boracay Pub Crawl from Canada. If you're booking from anywhere else in the world, please click here.
Ready to Experience Ariel's Point?
Ariel's Point was honestly the highlight of my adventure to Boracay. It's a great crew of people and you're there with many like-minded ladies and gents from around the world. Yes it may be a little touristy, and yes it might be a little on the pricier side (2,500PHP per person, or approximately $65CAD/$50USD), but the experience and lasting friendships are worth every peso! My review? Two big thumbs up for Ariel's Point!
Now, if you're thinking 'drinking and jumping sounds super dangerous' – don't worry. We had absolutely no issues, just a day filled with sunshine, laughter, and splashes! There are lifeguards everywhere (both on the platforms and in the water) and of course, know your limits. You don't want to be the "Ariel's Point Accident" headline, do you?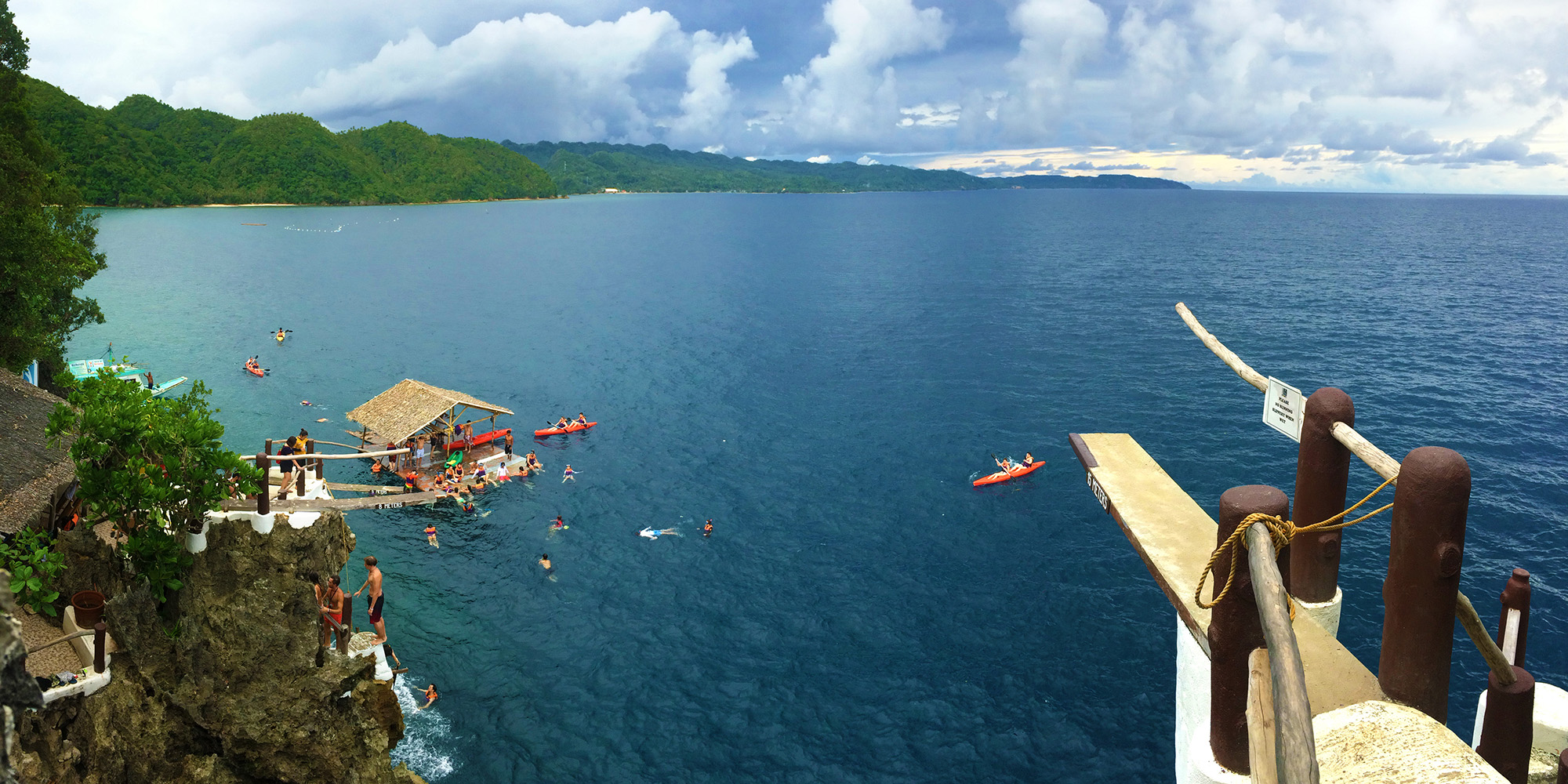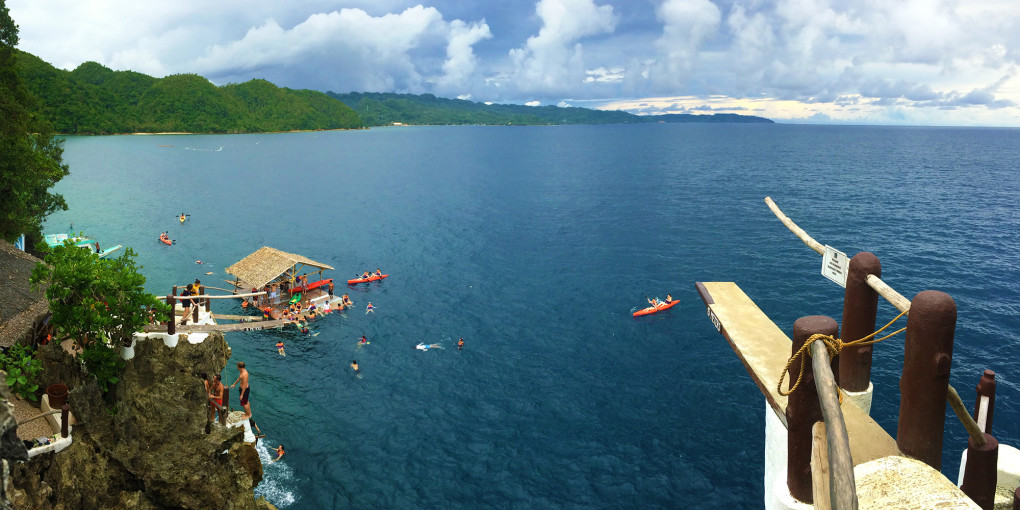 If you're looking for a place to stay, Boracay has plenty of great accommodation options from White Beach to Station 3. In Station 3, we stayed at The Sitio which was perfect for our stay, however if you stay at the Boracay Beach Club then you'll get 500PHP off your Ariel's Point ticket. Either way, Boracay has plenty of hotel options so check out what great deals you can find online.
Would you be brave enough to do the Ariel's Point cliff diving? Is it going to be a part of your Boracay itinerary? I'd love to hear more about your thoughts in a comment below!
Disclaimer
Prices are subject to change without notice. This post contains affiliate links that if you use them, I may earn a small commission. This helps support I've Been Bit! and the costs associated with keeping this site running. As always, all reviews, photos and opinions are my own!
Want to Plan a Future Visit to Ariel's Point? Pin it for later!