Things to Do in Wiarton: The Bruce Peninsula's Hidden Gem

The town known best for its groundhog. While Willie is adorable and a great reason to visit, Wiarton truly has so much more to offer. Often overlooked on the drive up the Bruce Peninsula from Owen Sound to Tobermory, you must change this as soon as you can. There are plenty of things to do in Wiarton, places to eat and much to explore. Ditch the crowds of tourist hot spots and enjoy a relaxing weekend getaway in Wiarton, Ontario!
Things to Do in Wiarton, Ontario
Whether you're planning to visit for a weekend like I did or looking to stay longer, there are so many things to do in Wiarton that many don't realize. You may have to dig a little deeper but trust me, you'll be blown away by the magic of this town!
If you're looking for somewhere to party on until the wee hours of the morning, then Wiarton isn't for you. However, if you're looking to explore the outdoors, enjoy some great eats, put your feet up to relax and support a local community while doing so – keep reading!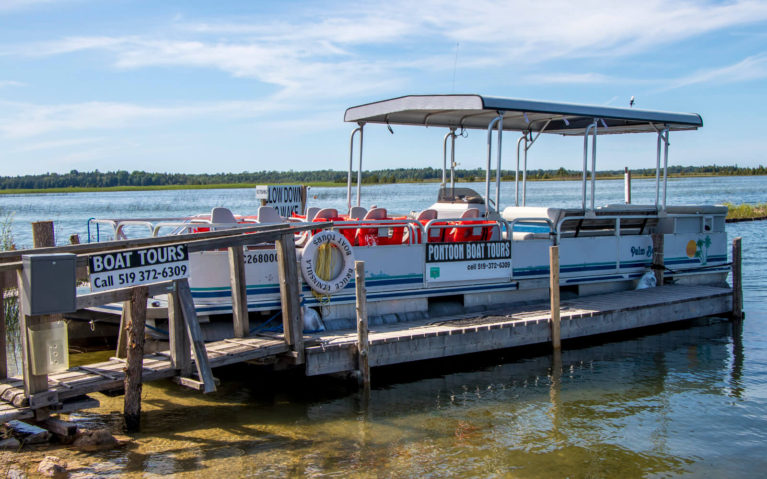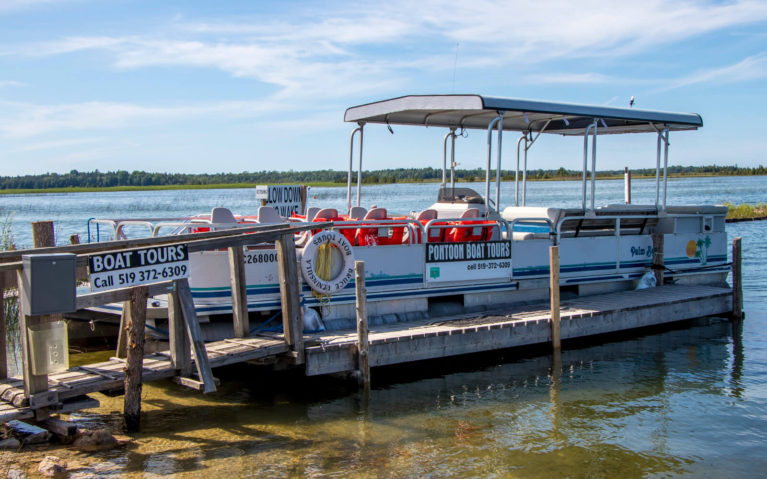 Check Out Some Shipwrecks Along the Bruce Peninsula
I bet you didn't know that the Bruce Peninsula is home to almost 70 shipwrecks. Head to Oliphant on the western side of the Bruce Peninsula for a boat tour with Boat the Bruce!
SOMETHING TO NOTE: When this post was first published, I worked the ever lovely Donna and Pete who owned Bruce Peninsula Boat Tours which is now Boat the Bruce and owned by Colton Tompkins who also runs fishing charters in the area. While I can't speak to the experience of his tours, I know Donna and Pete wouldn't hand the reigns over to someone unless they matched their passion and skill level so I have no doubts you'll have a fantastic experience with Colton!
Lake Huron has served as a refuge for many ships over the years as they head towards the shore to avoid turbulent weather. Unfortunately for some, this wasn't enough and some met their demise on Lake Huron's shores. On thistour, you'll be taken via pontoon boat to see some of these wrecks, found in the traditional lands of the Saugeen Ojibway. Upon departing Oliphant, you'll be mesmerized by the crystal clear waters comparable to those of the Caribbean.
As you tour the beautiful fishing islands, your guide will share with you some tidbits of knowledge of the area. Did you know that the calcium in the rock mixes with the water to create the little divets you'll see in the stone called karsts? Or that a lot of the stone you see is actually dolostone and not limestone? This is just a taste of the fun factoids you'll hear during your adventure!
There are two wrecks you'll possibly get to spot with the first being The Phoenix. Not much is known about this wreck other than it was a 37-tonne, 53-foot long steamboat. Built at Sauble Mills in 1883, it met its demise south-east of Main Station Island on November 30th, 1901. While the cause and details still illude us, it's an eerily beautiful sight to see!
| | |
| --- | --- |
| | |
The other wreck is The Sarah, originally known as the Emma Laura, a 64-tonne schooner measuring 73-feet long. Purchased from Kincardine's Graham Brothers by Robert Reid of Red Bay in 1904, it was on its way to Goderich when Reid, his wife and two crew members were forced to take shelter. The gales of November that Gordon Lightfoot talks about aren't only for Lake Superior! Hiding out on the east side of Burke Island, the ship never made it to their final destination of Howdenvale. The Sarah became trapped in ice as the pressure burst its seams, causing it to sink. Its four passengers were forced to abandon ship and spent numerous hours heading inland on November 22, 1906, racing the winter storm.
This is seriously one of, if not the coolest experience you can have on the Bruce Peninsula. Be warned though, the waters of Lake Huron can be a little chilly at times. Bring a few extra towels to keep you warm as you travel from place to place during your excursion. One thing's for certain though – it'll be much warmer than the waters of Georgian Bay or Tobermory!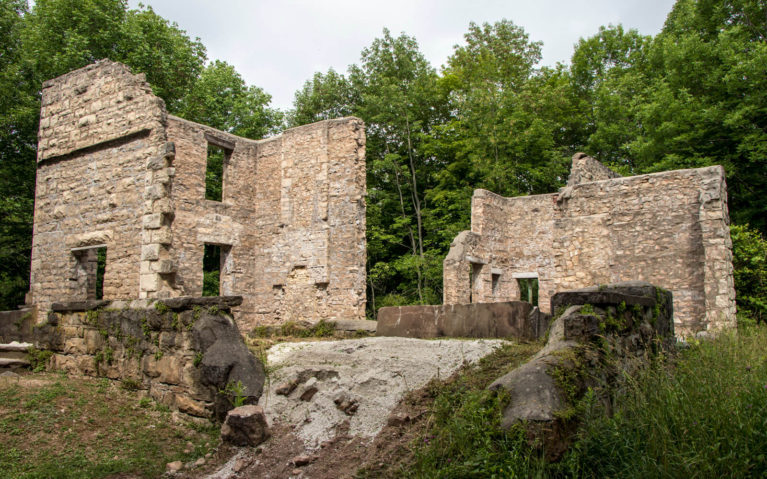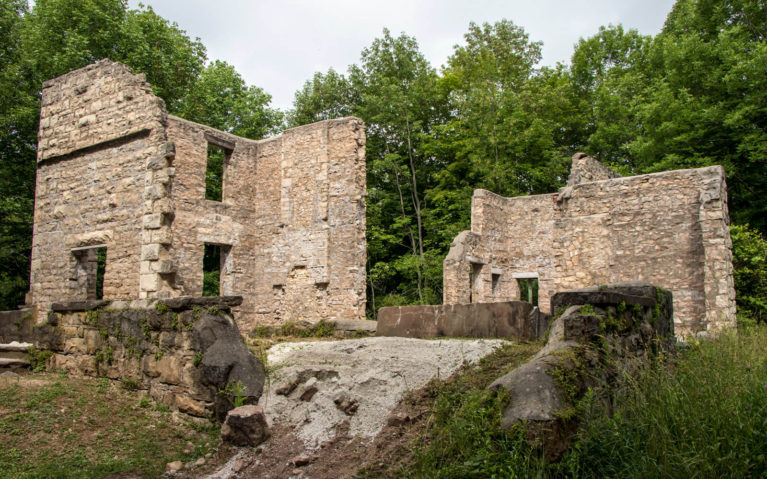 Explore The Corran Ruins
Gaelic for 'point of land running into the sea', the Corran Ruins are what's left of a 17-room mansion. Its story begins in 1821 where Alexander McNeill purchased 121 hectares of land just north of Wiarton. Mining the stone in the area, he built the manor at the request of his wife, Hester. While she passed before its completion, Alexander and his son Malcolm called the mansion home. Reminiscent of McNeill's estate back in Northern Ireland, he transformed the property to include charming gardens, manicured lawns and fruitful orchards. Upon Alexander's death, it was left to Malcolm who had a bit of a spending habit, dwindling the family fortune.
Unfortunately what resides now is a ghost of what once stood. Upon Malcolm's death, the estate was willed to the housekeeper who solid it in 1960. A lack of permanent occupancy saw the mansion vandalized with a fire gutting the mansion. It has belonged to the Conservation Authority since 1976 and now the public can explore The Corran's stone shell. Wander past the walls and witness Mother Nature's reclamation of the land as vegetation creeps up on the stonework.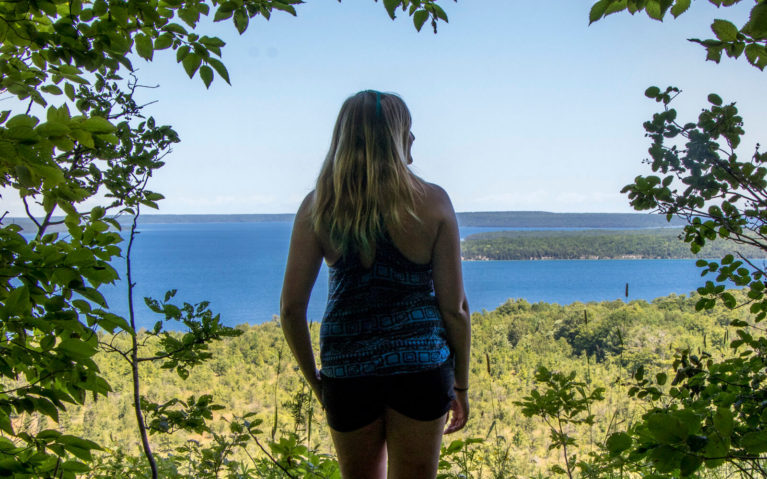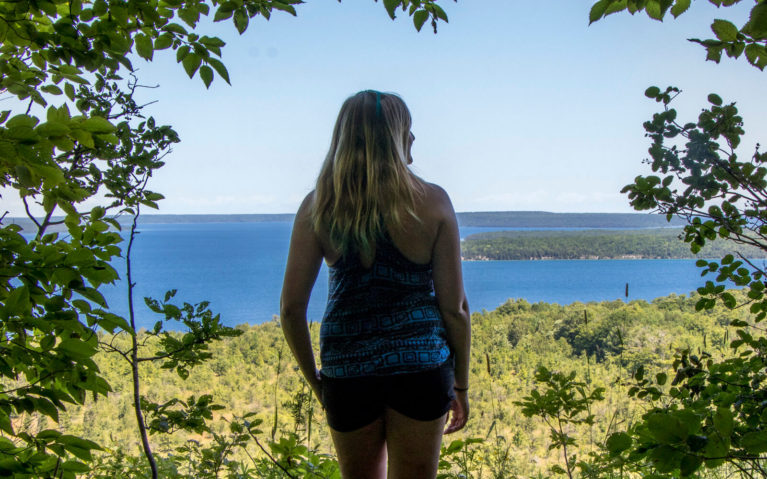 Take a Hike
For the avid hikers, Wiarton is an incredible destination full of amazing trails! The aforementioned Corran Ruins are found in the Spirit Rock Conservation Area, which boasts 5km of beautiful trails. Its most popular trail features an iconic red staircase, leading you down to the shores of Colpoy's Bay and the Bruce Trail. As with the Bruce Trail in the peninsula area, the trail can be tough in spots with plenty of bedrock and uneven ground to tackle. Wear a sturdy pair of hiking shoes and be ready for a workout. If you've never hiked the Bruce Trail before, check out my beginner tips to help you prepare for your trek!
INSIDER TIP: While you can park at the Corran Ruins, you'll have to pay a $6 parking fee. I recommend parking on Bayview Street just before the water treatment plant [map] and heading along the Bruce Trail this way. You can still head up to the Corran Ruins and you'll keep your $6!
Another hiking destination that's not to be missed is Skinners Bluff. It's a little confusing to get to the parking lot, but I promise it's worth it! Google steered me wrong so ignore it and follow these directions. Take Grey Road 1 east from Wiarton and turn right onto Zion Church Road. Then turn left onto Concession 24 until you reach the Blue Moon Studio at the corner of Concession 24 and Centre Road. Take a left and follow it until you see Colpoy's Range Road where you'll turn right. You'll have to drive for a few minutes along what almost looks like a logging road but don't worry, you're going the right way! Eventually, you'll see signs for the Bruce Trail and the Skinners Bluff Lookout. From here it should take you about 15-20 minutes to reach the incredible lookouts. Enjoy your reward of breathtaking views of Colpoy's Bay and the forests below!
Lastly, I highly recommend visiting Bruce Caves. Unique cave formations make this a hiker's Narnia. Formed over 7000 years ago, they're the product of post-glacial wave action from Lake Algonquin. You can see the impact time has had and you'll be amazed at the lake levels from then compared to now! While I didn't get a chance to do so this trip due to lack of cooperation regarding the weather, it's top of my list for my next visit. For those that are feeling really adventurous… you can actually hike from Skinners Bluff to Bruce Caves!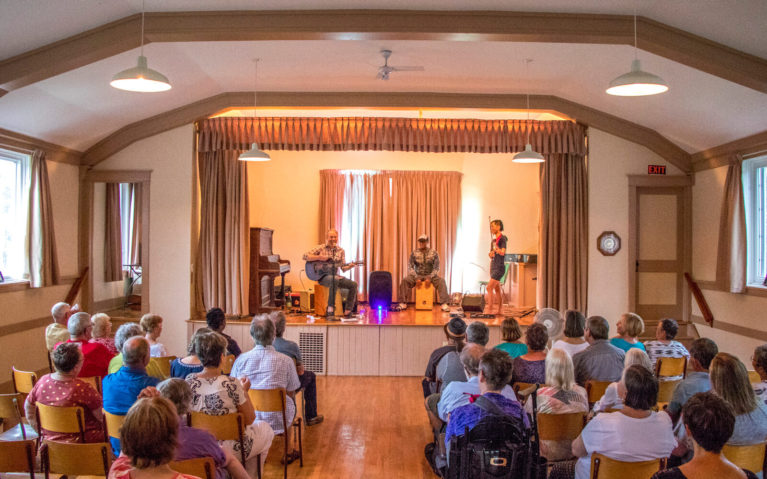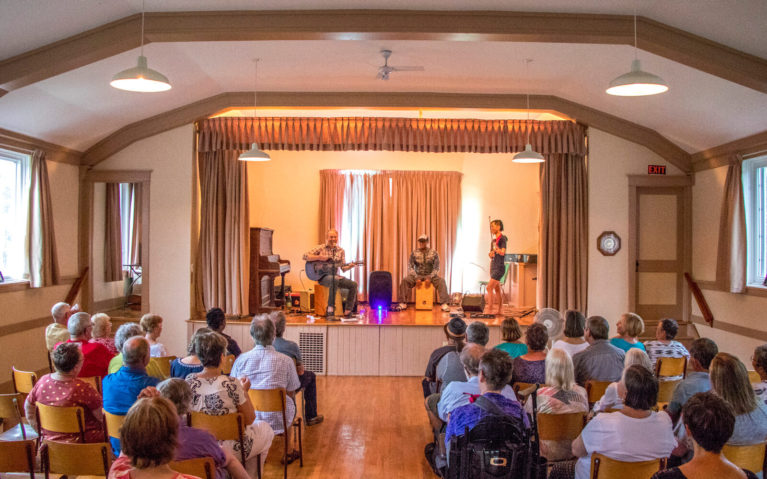 Rock Out at a Concert
Whether you're travelling at home or internationally, it's the local experiences that make a trip really stand out. If you're looking for a truly local experience during your Wiarton visit, head to the Colpoy's Bay Women's Institute for one of their concerts.
The Women's Institute as a whole has been a driving force in many small communities and has advocated for a number of changes to society. The stop arms that extend from school buses? That's thanks to a Women's Institute initiative. Established in 1927, the Colpoy's Bay Women's Institute has quite an amazing history on its own. It began as an educational forum where women met to share knowledge and learn from one another. Since then it has evolved to include more than just these Rose programs, but it suffered some uncertainty itself.
A few years back the building's basement flooded. A quote was given for repairing the damage and it was too much for the senior-aged board members to handle at the time. They felt their only option was to put it up for sale, but the community didn't want to see it sold off. By coming together, a number of ladies joined the board so they could vote to keep it as a Women's Institute – and they succeeded! Since then, the basement has been repaired and the Colpoy's Bay Women's Institute even received a $150,000 Ontario Trillium grant to make structural renovations and accessibility upgrades. Now it has an elevator and accessible washrooms so all can enjoy the hall!
The Colpoy's Bay Women's Institute specifically does a lot for the surrounding community as the proceeds from the events they hold are donated to those in need. By attending an event here, you're not only enjoying a fantastic night out but also supporting the local community in the process. I had the pleasure of attending the Drew McIver concert and it made for stellar Saturday night! For details on all their upcoming events, follow them on Facebook.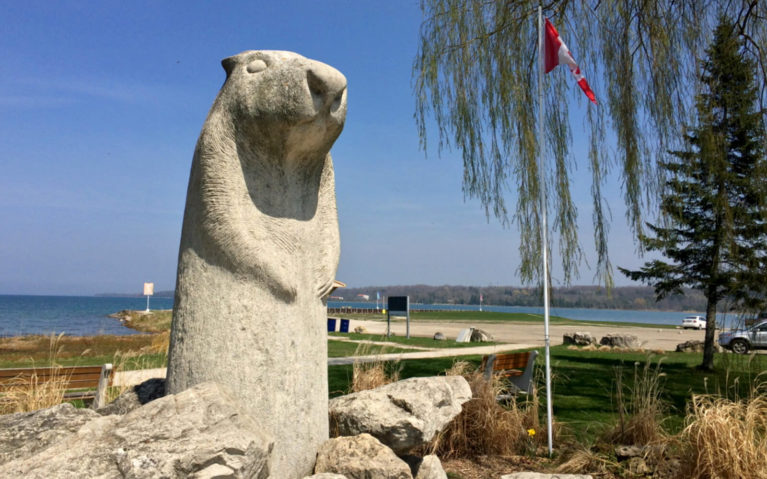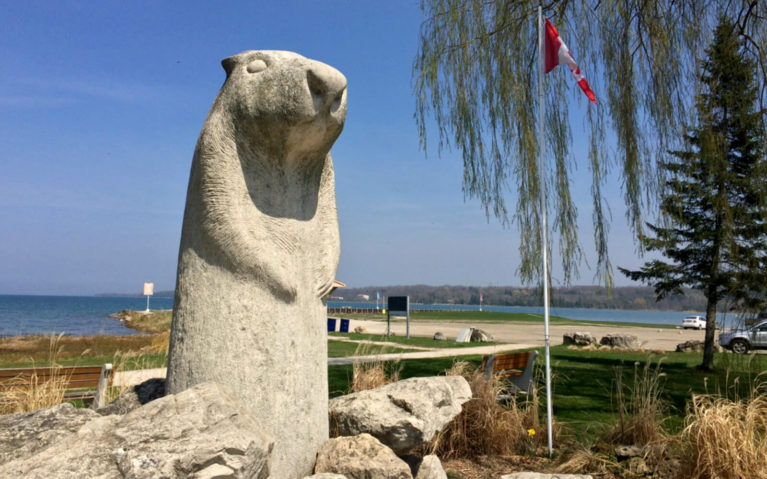 Stroll Through Bluewater Park and Visit Wiarton Willie
No matter the time of day, spending some time in Bluewater Park is a must when visiting Wiarton. Enjoy the views of Colpoy's Bay as you leisurely stroll along the boardwalk. You'll also find plenty of benches and picnic areas along with a number of great family attractions. Kids love the outdoor swimming pool, splash pad and playground areas. Looking to get a workout in? Check out the fitness trail or tennis courts! There's even a ball diamond for a few swings. If it's a little busier than you'd expect, chances are one of the town's special events is happening. This is the location for the Rotary Fair, Agricultural Society Fall Fair, and more.
Bluewater Park is also home to the famous Wiarton Willie. They say third time's the charm – and it is! After two attempts to see his furry little face, I finally got to say hello! It's probably because he was distracted by his delicious midday eats. Remember to not stick your fingers in the enclosure or bang on the glass as this will scare Willie. Then he really won't come out and visit! If you return for a winter visit, this is where the Wiarton Willie Festival is held every Groundhog Day on February 2nd.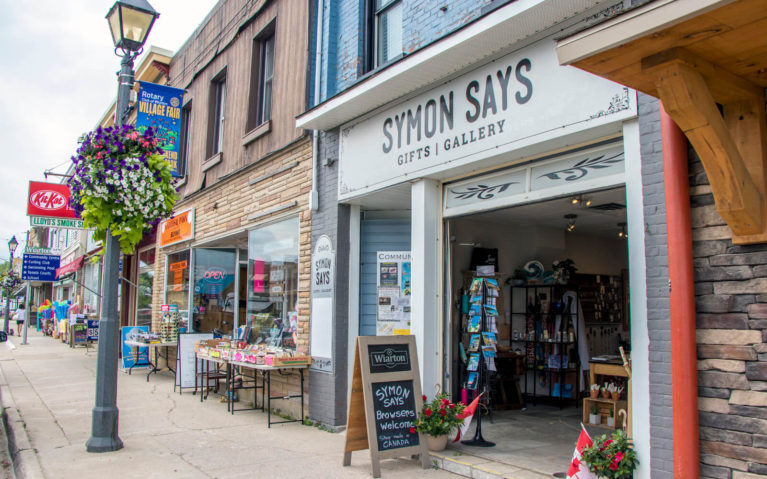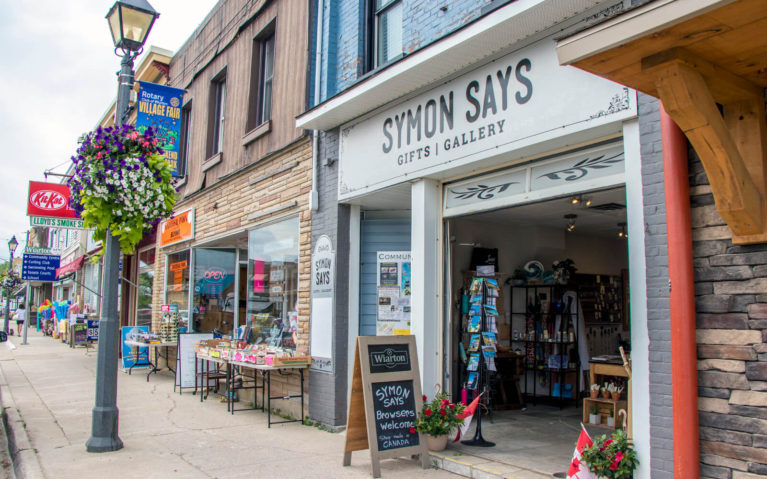 Do a Little Shopping
You won't find any malls here in Wiarton but there are plenty of great local shops to peruse! Grab a coffee (or ice cream) at Northern Confections and make your way down the main road. Whether you're looking for an item you forgot to pack or to buy yourself a little something special, there's a business for you!
One spot that's not to be missed is the Berford Street Artist Market where you'll find a number of local artisans showcasing their handcrafted work. It makes the perfect destination for a keepsake to remember your visit! There is plenty to choose from to suit all tastes and interests. Beautifully gemstones transformed into jewellery, knitted creatures, kitschy home decor and more! If you've forgotten your bug spray, you can get a fantastic essential oil concoction to help keep the bugs at bay.
Meander around town and you'll see just how many cute shops there are around town. It'll be hard not to walk away with at least a few things to take home!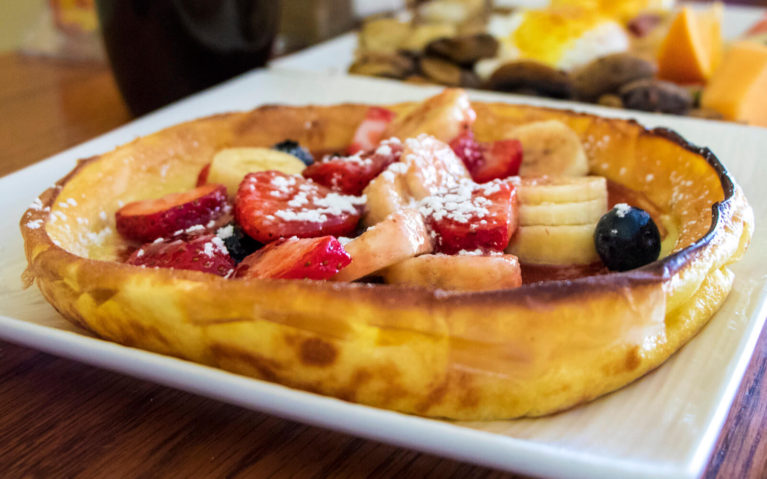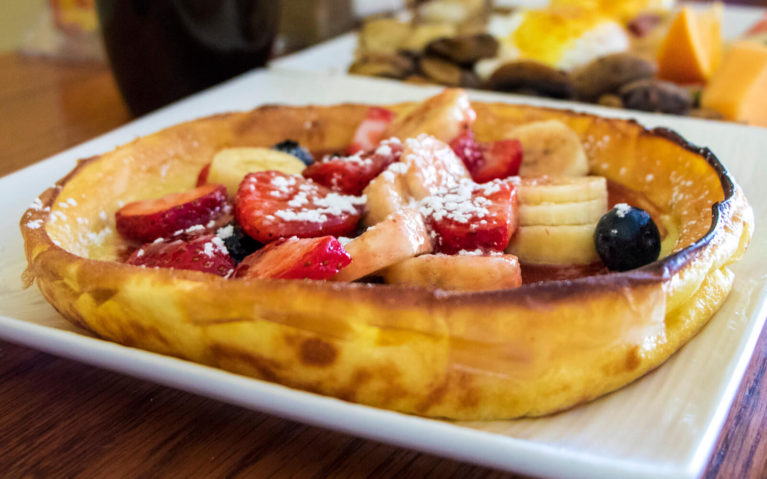 Wiarton Restaurants to Eat At
The more I explore small-town Ontario, the more I'm spoiled by their delicious eats and treats. If you ask a local, they may say there's nowhere good to eat in town – but I beg to differ. There are plenty of great Wiarton restaurants around and I've still got a few more I need to check out! I can say for certain though that you'll have some good eats at these restaurants in Wiarton.
SOMETHING TO NOTE: Many of the restaurants in Wiarton don't take credit. While some places take debit, it's good to have cash so you don't get caught unable to pay for your meal!
J's Amazing Breakfast – Let's start with the most important meal of the day! This place is small and definitely a local hangout, but one of the only places in town that's open early. If you're looking to get out the door to seize the day, this is your best bet for food! I highly recommend the fruit Dutch pancake if you're feeling like something sweet. It's almost like a pancake that's a little more solid and definitely more filling. Leaning more towards the savoury? I'd suggest one of their eggs benedicts.
Green Door Cafe – With an unsuspecting storefront, chances are you've probably walked past if you've been to Wiarton before. The Green Door Cafe has the most variety on its menu which can be dangerous… you'll have trouble deciding from all of their delicious options! Unfortunately, I didn't get to truly enjoy it as I was rushed so their more complex items were off the table. If you're short on time, come back when you're not on a schedule as even their quickest meals can take up to 30 minutes. It's for good reason though! I can say that their Chicken Caesar Wrap is absolutely delicious and their tomato basil soup is some of the best I've ever had. You can really tell that everything (even the Caesar dressing!) is made from scratch. So do yourself the favour and visit when you don't have somewhere you gotta be!
The Wiarton Inn – The name might throw you off a little but they have some great Chinese food in here. I loved their lunch bento boxes because you can get a mix of Chinese as well as Japanese rolls. It's a great spot to go if you're feeling indecisive… which is the story of my life when it comes to food. I had Combo H which included miso soup, spring rolls, seaweed salad, California rolls and sweet and sour pork. The rolls had a little too much rice for my taste but otherwise, it was delicious! Also, they have a great patio where you can enjoy your meal in the summer!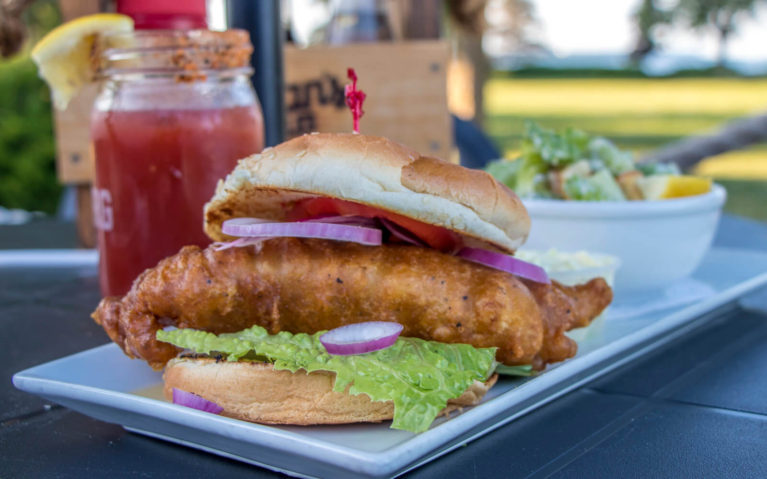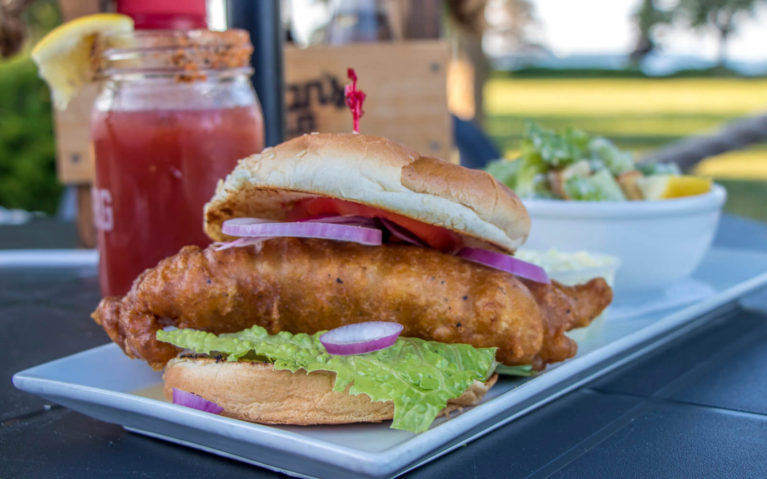 Spirit Rock Cafe – As the only purely vegetarian restaurant in town, I dare even the most carnivorous people to visit. Head through the lodge reception doors and hang a right through the shop where you'll find the cafe. Their speciality is Indian curry and these options change daily, but you'll find other items such as samosas on the menu. You really have to try their curry though because it's so flavourful and delicious. The best option is their 'Thali' where you'll get to enjoy 2 of their daily curry options, rice, naan and dessert. I got to enjoy their dal makhani (lentil stew) and my personal favourite, Shani paneer (think butter chicken but with cheese instead). I could have eaten the Shani paneer 10 times over, it was incredible!
Dockside Willie's – This was my second time visiting Dockside Willie's and it was even more delicious than the last. Their park-facing patio is the place to be on a summer day in Wiarton. They also have cash-only take-out if you're in a hurry or want something to go. With home-cooked eats and pub favourites, you'll find a hearty meal to enjoy. I indulged in their Bluewater Cod Burger and it was seriously delicious. The perfect ratio of batter to fish and it went down too easy. My meal was gone too soon! Their staff is fantastic with awesome service and if you have the pleasure of getting Jocelyn, be sure to say hi for me! Also $6 Caesar Sundays… just sayin'.
Frosty Freeze – When it's a hot summer day, you gotta have ice cream! This old school diner-style kiosk is a favourite for many locals and visitors alike. With your traditional diner eats like hamburgers and hot dogs, most come for their ice cream. What I was excited about was their flavoured soft-serve. I'm not talking about just vanilla and chocolate here. They had bubble gum AND cotton candy soft-serve! Naturally, I unleashed my inner child and got one of each because that's what adulting is all about.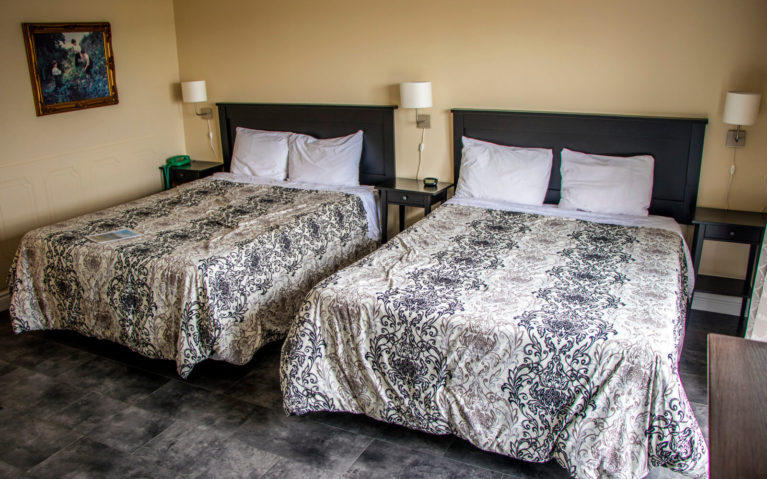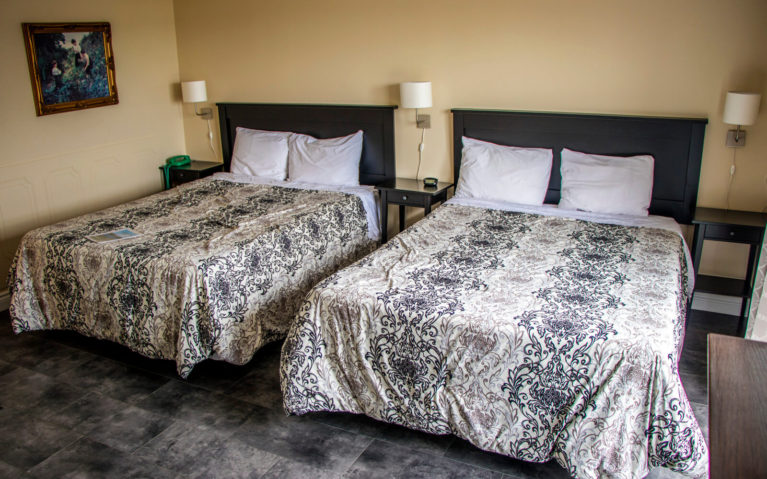 Wiarton Hotels to Stay At
If you're going to stay anywhere in Wiarton, I highly recommend the Waterview Inn on the Bay Resort. About 2km outside the heart of town, it's the perfect spot to stay for a relaxing getaway. Since 2016, new owners Ken and Tammy have transformed the 4 acres of property into an incredible little oasis in Wiarton.
Check-in was a breeze as I settled into Room 301 on the top floor of the motel. The term 'motel' really doesn't do the Waterview justice as it truly is so much more! Our room had 2 queen beds (one for us to sleep in and one to put all my stuff, obviously) as well as a fireplace, mini-fridge and coffee maker. What I was super excited about though was the jacuzzi tub in our bathroom. It sure came in handy after all the outdoor adventures I had! The room also had a private balcony with views of the property and a hint of Georgian Bay's beauty. All rooms also have AC so you can stay cool even on the hottest of summer days!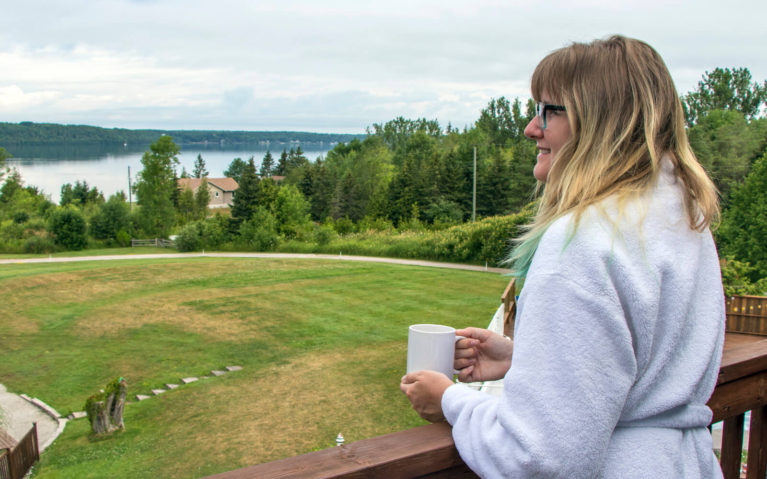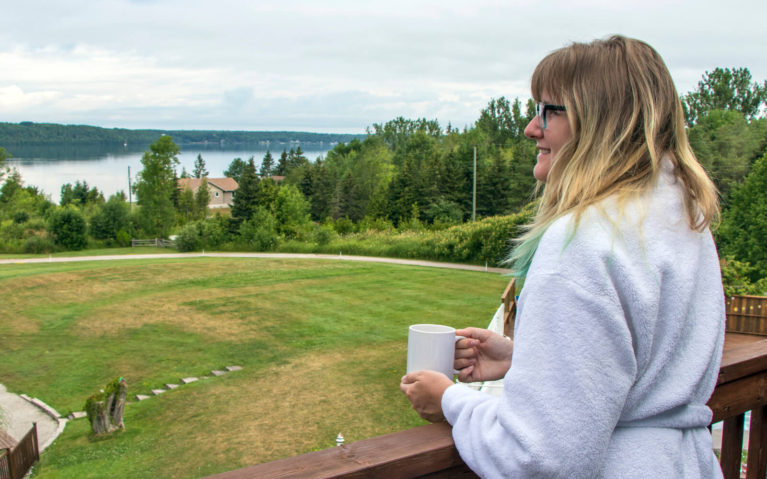 What really makes this spot special is all of their fantastic amenities. They don't have a restaurant on site but you're welcome to cook your own food. The Rec Hall and Willie's Den features portable barbecues for guest use as well as a microwave and toaster along with a sink for clean-up. There's even an ice machine to keep your drinks cold if you can't wait for the fridge to do it! You'll also find videos and board games you can borrow and take to your room for extra fun.
You might just want to schedule an afternoon to truly enjoy the Waterview Resort. You'll find a small, private beach on Georgian Bay where guests can soak up the sun along with a 40-foot dock perfect for fishing. Grab some friends and get a game of beach volleyball going if you're feeling a bit more energetic. There's always the heated pool to relax in afterwards! Cap off your night with one of their evening campfires in the summer months.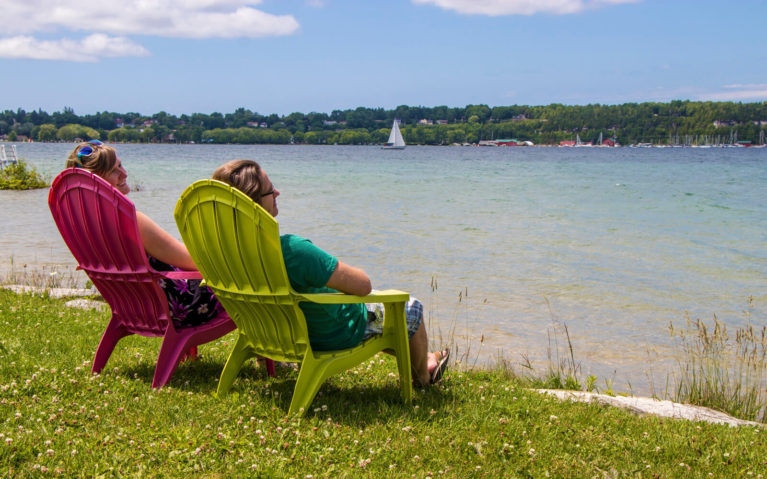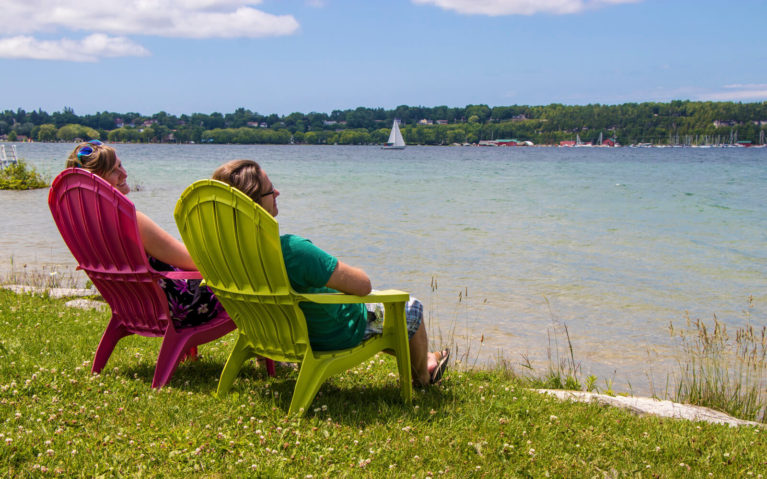 If you're looking for a Bruce Peninsula cottage… the Waterview on the Bay has you covered. Yes, they've even got cottages for rent as well! There are 5 cottages in total, each with at least 2 bedrooms, portable barbecue, private deck and all of the items you'd need from linens to utensils. A few of them even have their own private hot tubs! Take a look and see what other guests have had to say about their experience.
If the Waterview on the Bay Resort is booked during your planned adventure, take a look at these other Wiarton hotels to see what's available!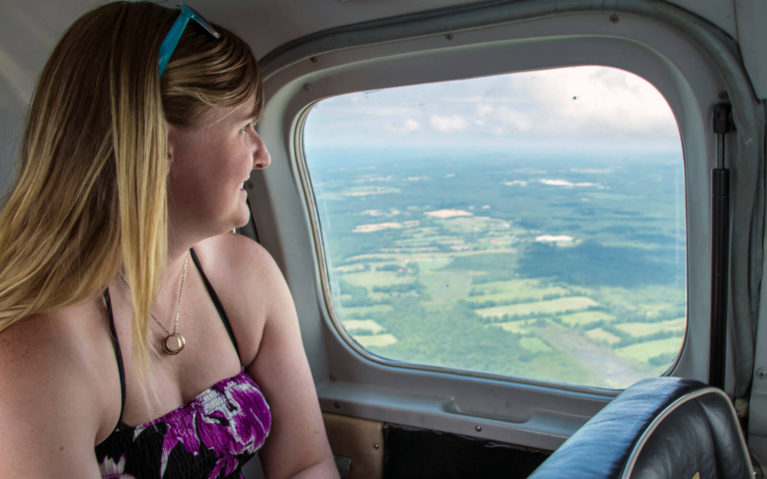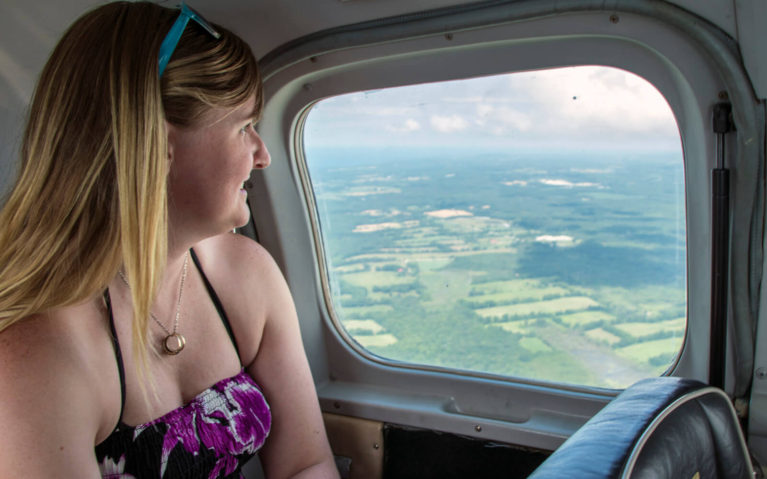 Getting to Wiarton, Ontario
When you're driving up the Bruce Peninsula, you really can't miss Wiarton. It's right along Highway 6, just over 2 hours from Kitchener and a little under 3 hours from Toronto. As you can see, it makes a great destination on its own but also a fantastic stop while heading up to catch the ferry to Manitoulin Island or as part of an overall Bruce Peninsula adventure.
However if you're looking to splurge a little, why not enjoy a sightseeing flight to get there? Yes, that's right. You can hop on a 45 minute flight from the Toronto Island airport with FlyGTA! Gifted this opportunity from the Township of Georgian Bluffs, I took to the skies. As I enjoyed the incredible sights of Lake Ontario, Southern Ontario and Georgian Bay, the flight went by so quickly as I was focused on enjoying the birds-eye view!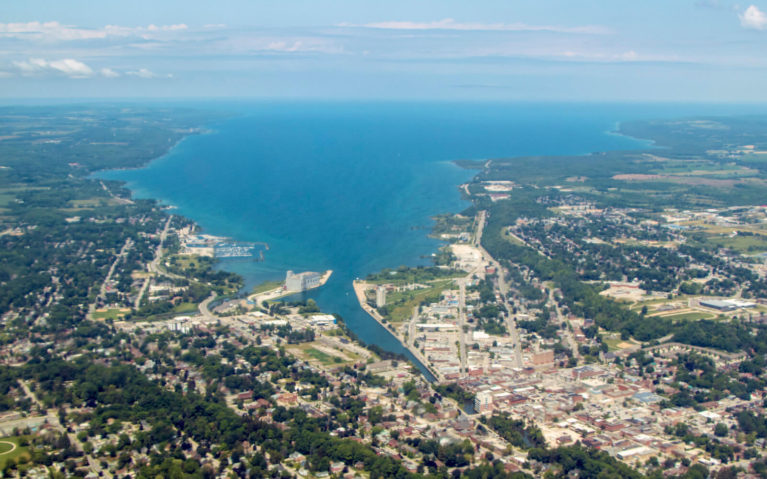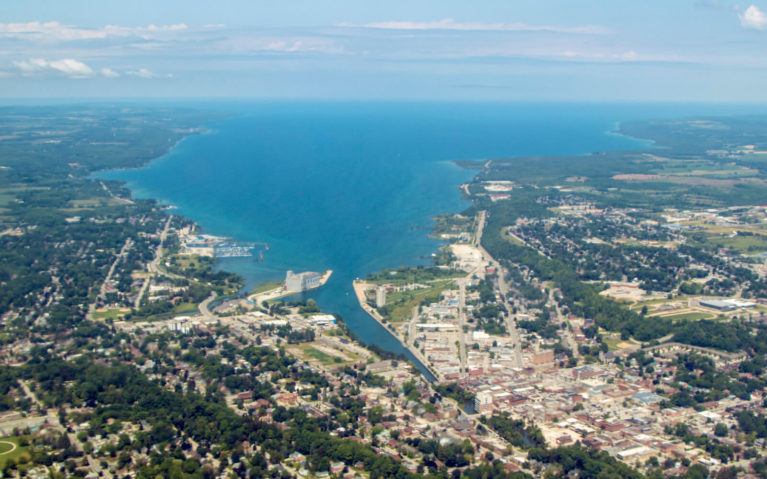 UPDATE: Unfortunately it seems as though FlyGTA has suspended its flights from Toronto to Wiarton. I will check back periodically to see if it is reinstated in the future.
Upon arrival at Wiarton Keppel International Airport, there was a rental car waiting courtesy of Thrifty's Owen Sound. They're the only car rental company along the Bruce Peninsula who will deliver the car right to the airport. You just have to pick up the keys from the airport manager and you'll be on your way. How's that for service?!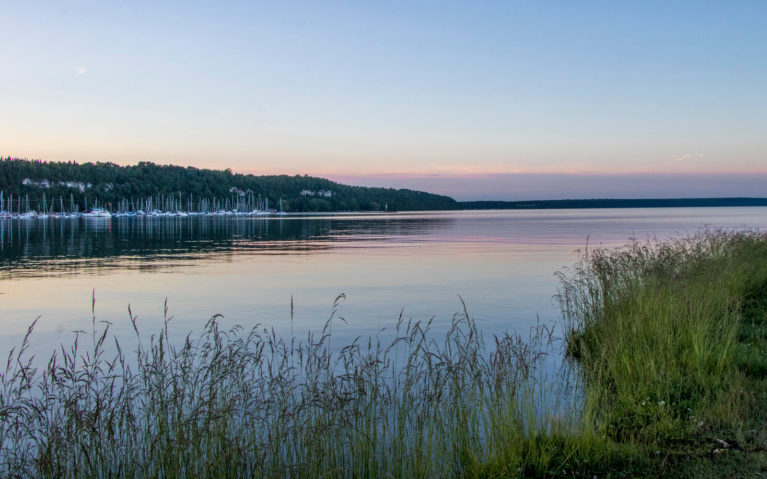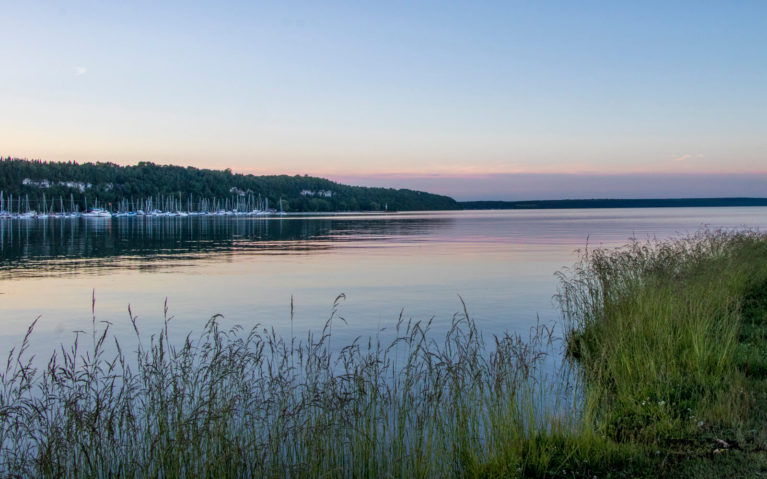 Ready for a South Bruce Peninsula Getaway?
As you can see, the Bruce Peninsula has so much more to offer besides Tobermory. While exploring Bruce Peninsula National Park is fantastic and I highly recommend it, there's no reason why you can't do that while enjoying a tranquil getaway in Wiarton. When leaving the hustle and bustle of everyday life, you don't want to be faced with hordes of people! What you'll find in Wiarton is an adorable town where you can enjoy life how it's meant to be – one relaxed step at a time.
From plenty of amazing activities to good eats and even better treats, you'll quickly find you can't do everything in just one visit! Or if you're able to, you'll be wanting to return for yet another escape. Take a look at the map of Wiarton below to help plan your trip.
Remember, the Bruce Peninsula is a very special place that many love to call home. Be a responsible visitor to the peninsula as well as Bruce County and leave the places you visit as you found them. Practice no trace, take nothing but photos and leave only footprints. If everyone who visits the Bruce Peninsula leaves it as they found it (or even in better shape!), we'll have it for many more years to come.
Looking for More Things to Do Along the Bruce Peninsula?
Plan a Visit to Bruce Peninsula National Park With My Guide
Check Out All the Amazing Things to Do in Tobermory
Disclaimer
Thank you so much to Donna at Bruce Peninsula Boat Tours for arranging this visit to Wiarton. It was an absolute pleasure to go on your snorkelling tour as well as spend some quality time in your adorable little town. While I received the snorkel tour, accommodation and flight complimentary, all thoughts and opinions are my own as always. This post also contains affiliate links where I may receive a kickback on any purchases made through them at no extra charge to you.
Read more in IBB's disclaimer and privacy policy.
Want to remember all these things to do in Wiarton? Pin it for later!