Boston in One Day :: A Wanderer's Walking Guide

What do red socks, hockey and a tea party have in common? If you said Boston, you are correct! While I didn't catch any games or throw tea into the harbour, I explored as much as I could of this beautiful city! One day in Boston isn't nearly enough time for the city, but you can still see plenty of sights and make the most of your time. If you like to wander like me, then this guide to Boston in one day is perfect for you! You'll want to rest up though – you've got a big day ahead of you!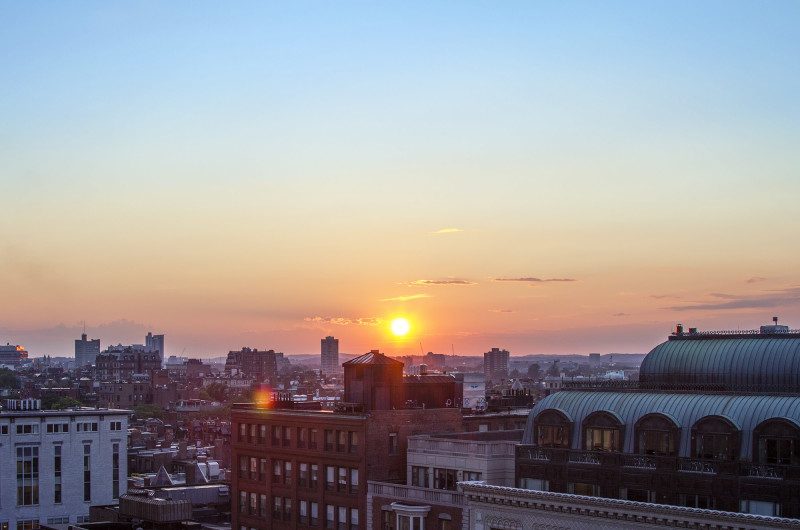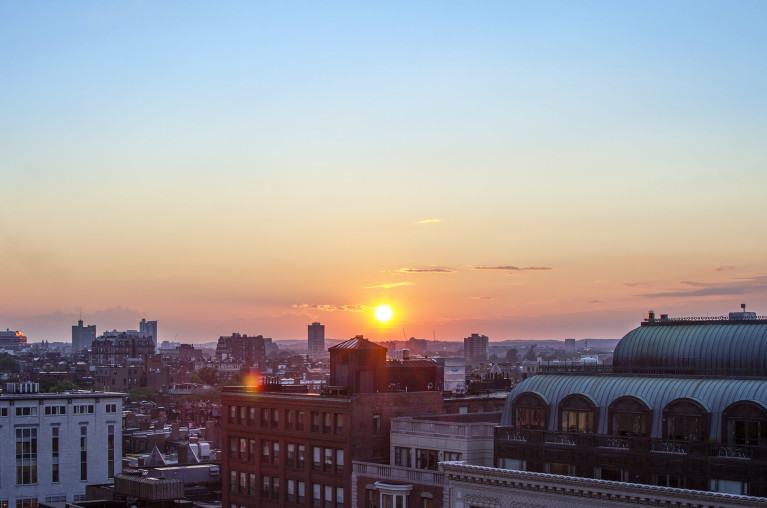 One Day in Boston – aaand GO!
While there are plenty of ways to see Boston, in my opinion, the best way is with your own two feet. This allows you to really take in the sights as well as explore what interests you. Follow this guide as loosely or as rigidly as you like – it's your trip after all!
Start with Breakfast in the Back Bay Area
As I was staying at the Lenox Hotel, this was my natural starting point. If your hotel offers complimentary breakfast then be sure to eat well as you'll need the energy! Instead of ordering from the Lenox, I started with a tasty meal from the Juice Press as it was quick and convenient. Their Açaí Bowl was refreshing and filling! If you're looking for a heartier meal, head for the Friendly Toast. It's a bit of a wait on weekends, so reserve your spot with their app ahead of time. The line moves quickly though as Lauren and I only had to wait about 30 minutes with 13 groups ahead of us! In my opinion, their lobster eggs benedict was worth every second. With a full stomach, head east along Boylston and you'll come to your next stop.
Make Way for the Ducklings!
Take your time along the trails in the Boston Public Garden. Enjoy the statues that are sprinkled throughout as you stroll along. While walking along the pond, you might catch a glimpse of a swan boat! You can take a tour on the swan boat for $3.50 to get a view of the city from the water. There are plenty of beautiful flowers, so don't hurry along – stop to smell them! Before you leave though, be sure to say hello to the duckies… both feathered and bronzed! The 30-year-old Make Way for the Ducklings statue is based on the children's picture book of the same name which takes place in this exact park.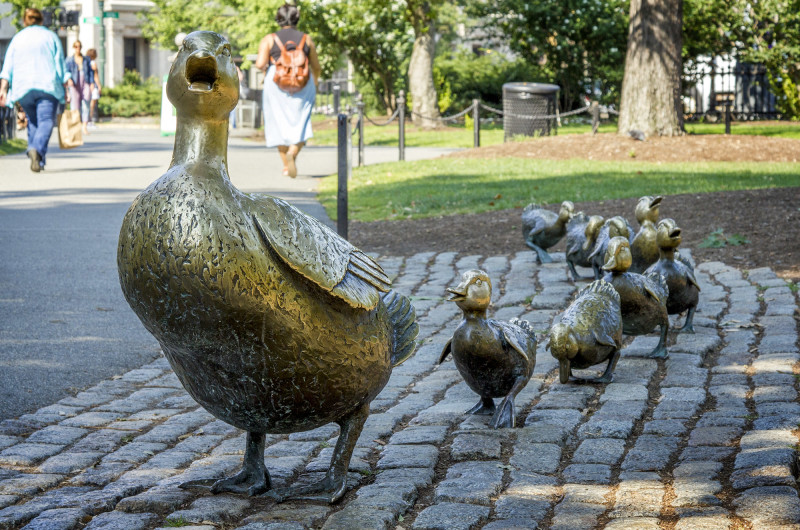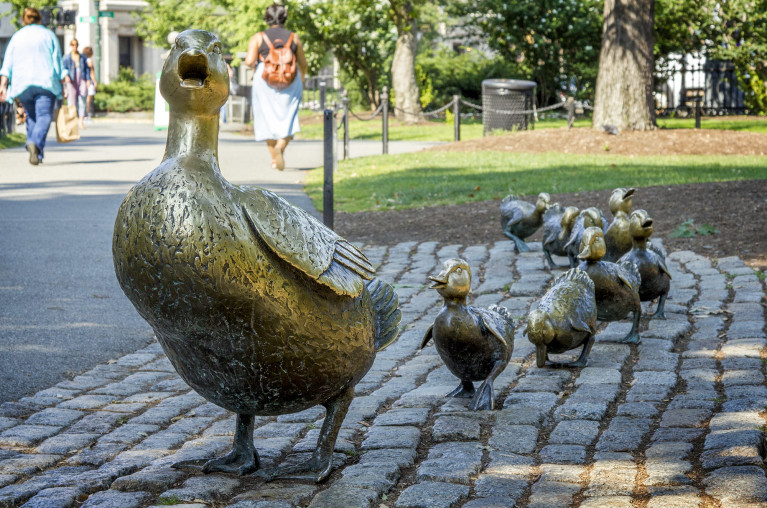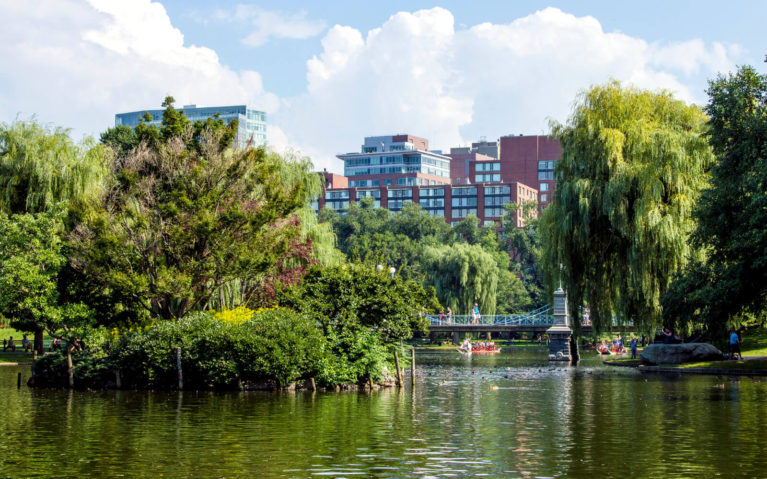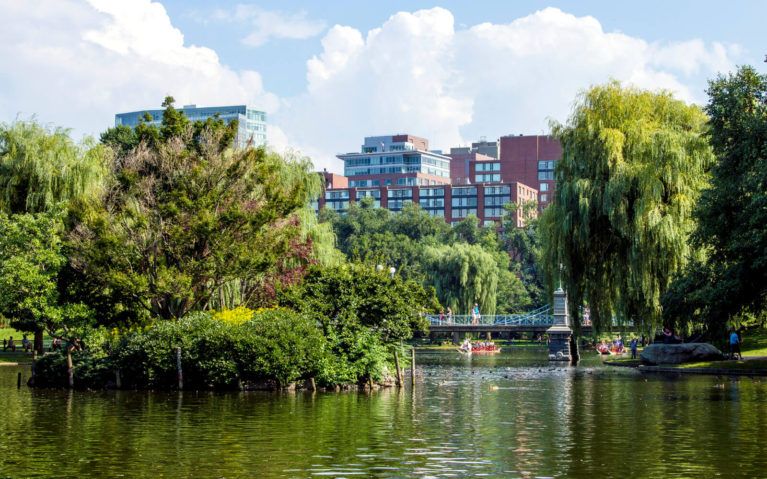 Beacon Hill
Any fans of Cheers can catch a glimpse of the iconic bar as you exit the gardens onto Beacon Street. Make a quick detour along Brimmer Street and then continue east along Chestnut towards your next destination, Acorn Street. From Chestnut take a left on Cedar and you'll come upon one of the most photographed streets in Boston! It's easy to see why as it's adorable with beautiful architecture and cobblestone roads. Once you're done enjoying the view, take a right onto Willow and make your way back to Beacon Street. Keep heading east and you'll come to the Massachusetts State House. It was built over 200 years ago and is one of the oldest buildings in the area. Admire its golden dome and then take Park Street to Tremont Street and hang a right to follow part of the Freedom Trail!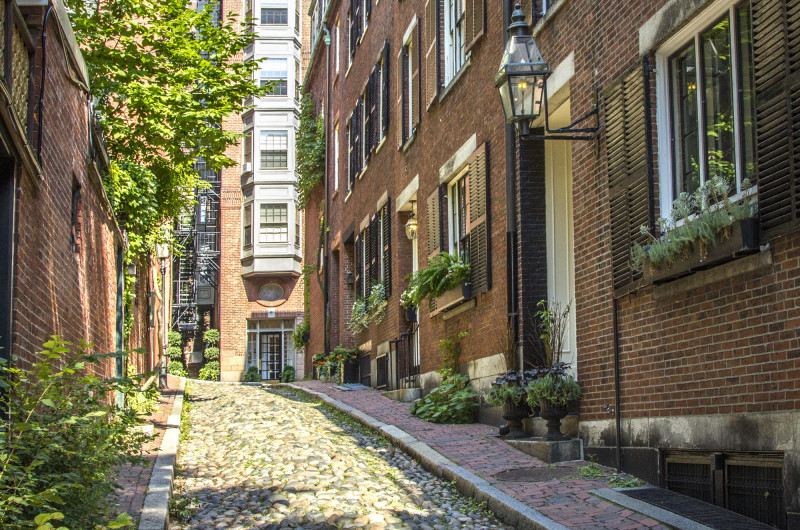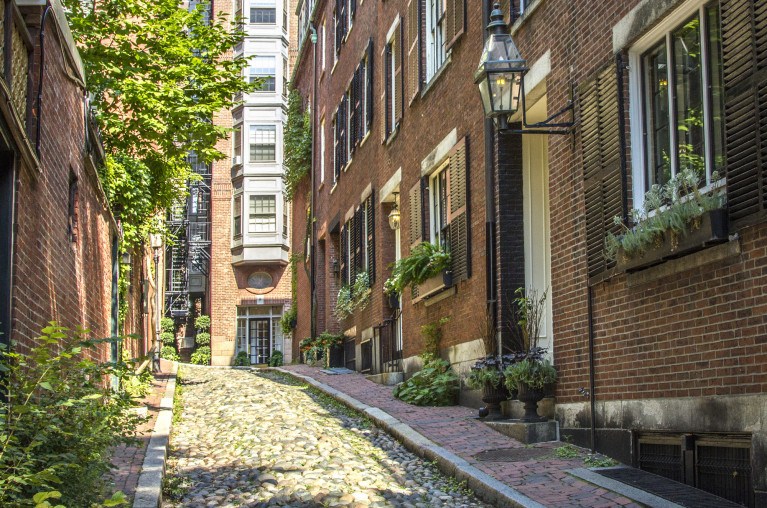 The Freedom Trail
Unfortunately, I didn't get to enjoy much of the Freedom Trail so don't make the same mistake I did! The Freedom Trail is 2.5 miles and takes you past a number of historical monuments. Hop on the trail by taking Tremont to School Street, and then take a left on Washington Street. Along the way, you'll see historical sites like the Kings Chapel and the Old State House. Now here you can choose two options: if you're feeling hungry, read the next paragraph otherwise skip ahead to the section after.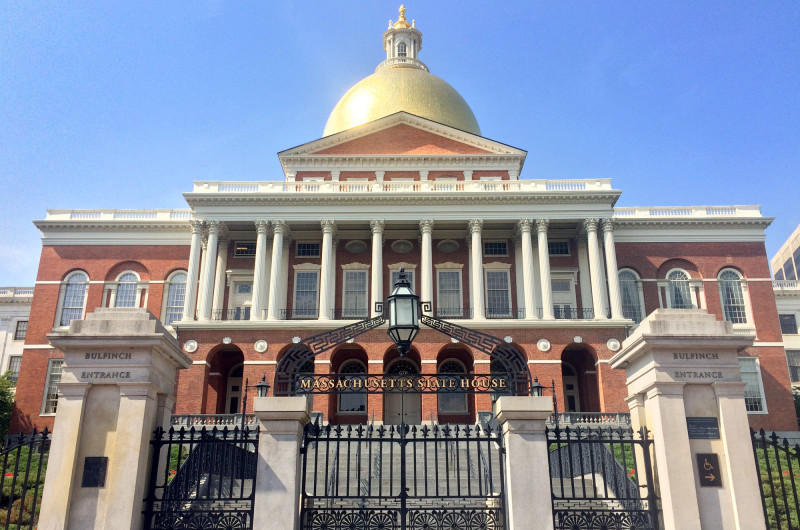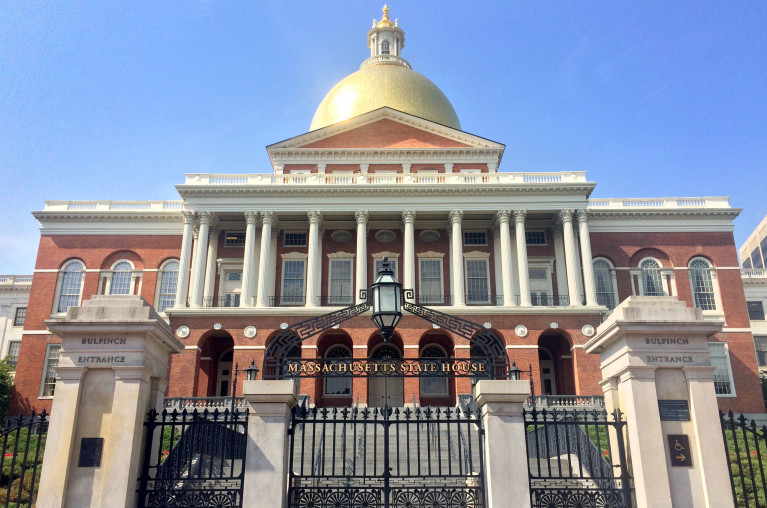 Public Markets
If your stomach's starting to rumble, take a quick right on Court and then a left onto Congress Street. Here you have two options: you can head to the pedestrian strip of Quincy Market and indulge in one of the patios, or take a walk through Quincy and then hang a left towards the Boston Public Market. One of the musts while in Boston, or rather New England in general, is some of their iconic chowder… and it pairs deliciously with a lobster roll! You can grab both from Red's Best and I can tell you first hand that they're delicious. If seafood isn't your thing, there are plenty of options available to cater to any diet including vegan and gluten-free! Now that you're all fuelled up you'll be ready for the next leg.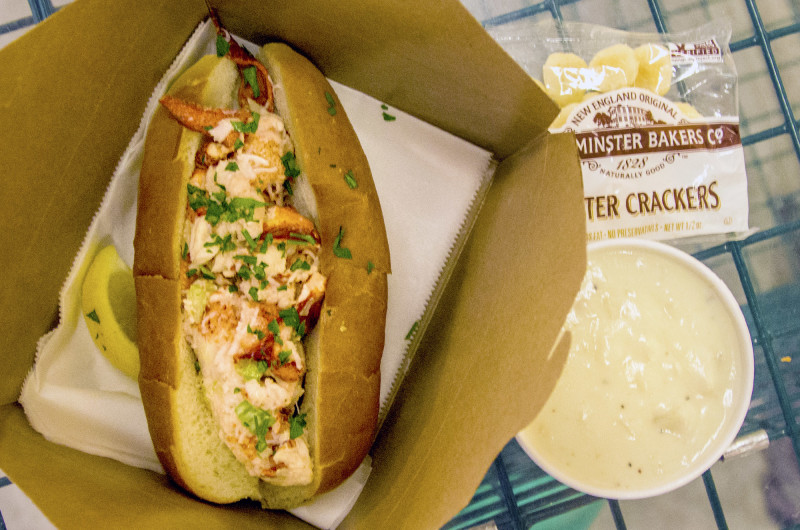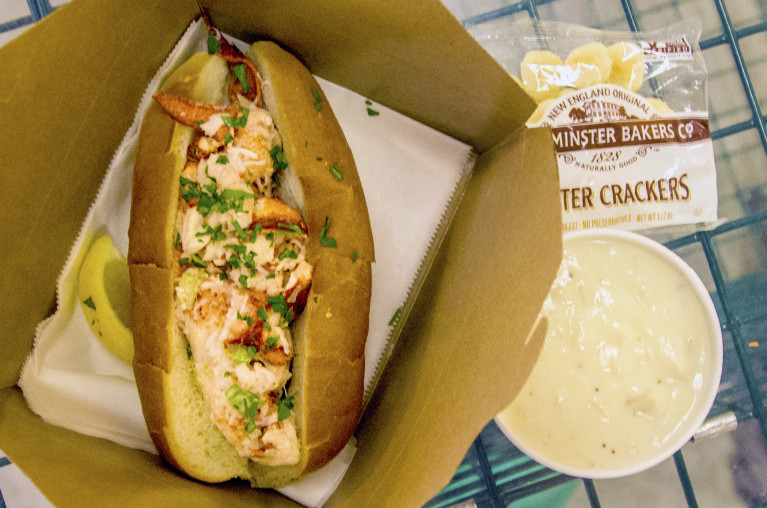 Historic Sightseeing Cruise
Give your feet a break and enjoy the Boston skyline from the water with a harbour cruise. Grab your tickets (the cruise can also be included in the Boston CityPass) from Boston Harbour Cruises and hop onboard! Be warned though, all cruises are on a set schedule. While I took the 11:00am cruise, the Boston Harbour Cruises run at 1:00pm, 3:00pm and 5:00pm as well. I suggest heading for the top floor, and you'll notice all of the seats facing a certain way. Try to grab a seat in the first row – the starboard side offers the best views!
INSIDER TIP: Be sure to bring a bottle of water with you before boarding or you'll be forced to pay $5 for one onboard!
Then sit back, relax and take in all of the sights and fun facts the cruise has to offer. Highlights include Griffin's Wharf where the Boston Tea Party took place, the John Joseph Moakley United States Courthouse, Castle Island, Fort Warren, and much more! After taking in the great sights, I'd suggest referring to the section above as you'll be hungry by now!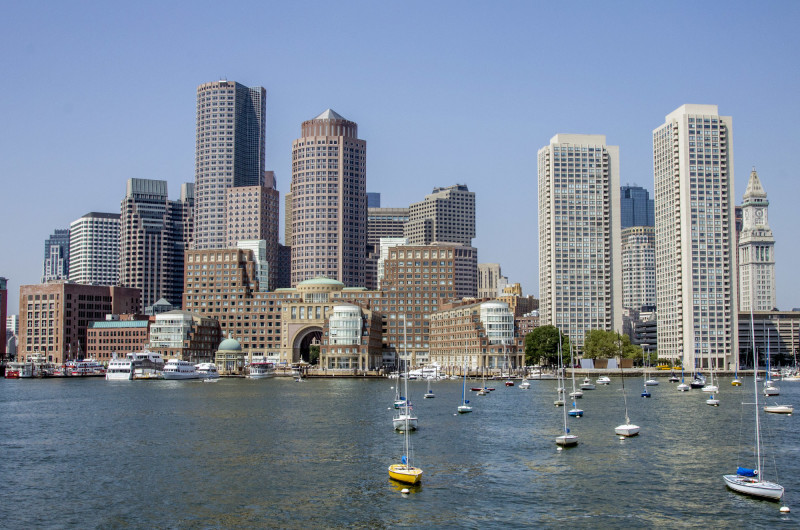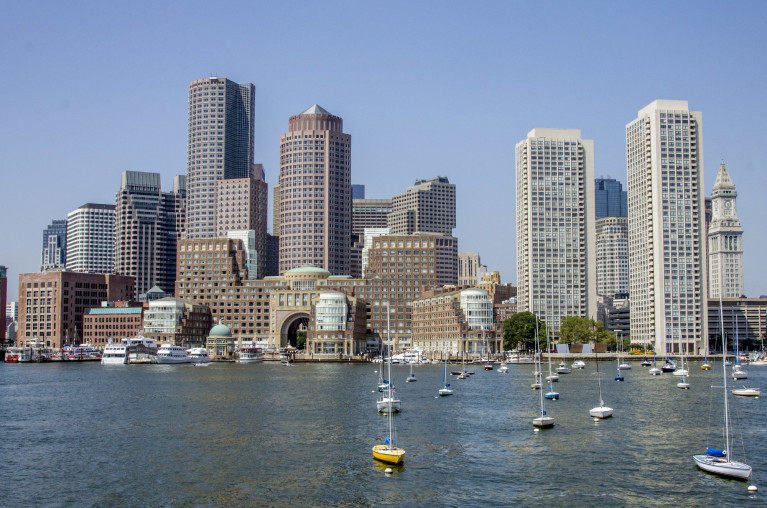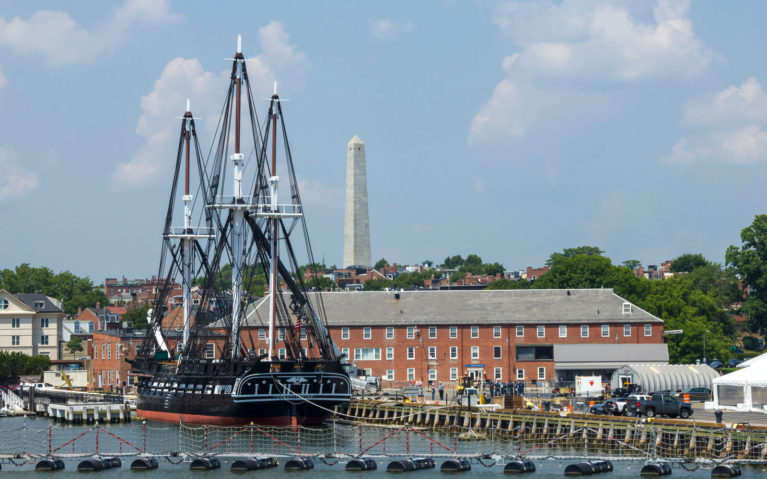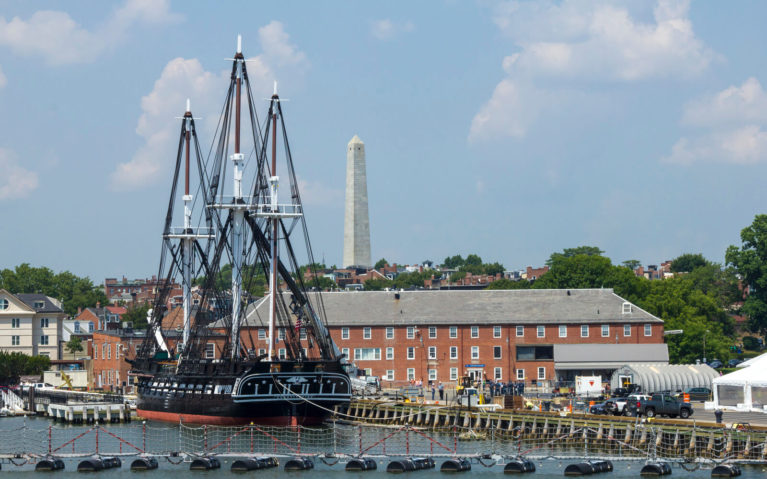 North End Park
After all that walking or sitting in the sun of the sightseeing cruise, you may need to cool off a little. Even if you're not overheating, head to North End Park. It's an adorable little oasis in the middle of the city, and a place I know I'd frequent almost daily if I lived in Boston! Take a moment to enjoy the living wall and run through the fountains – no matter how old you are.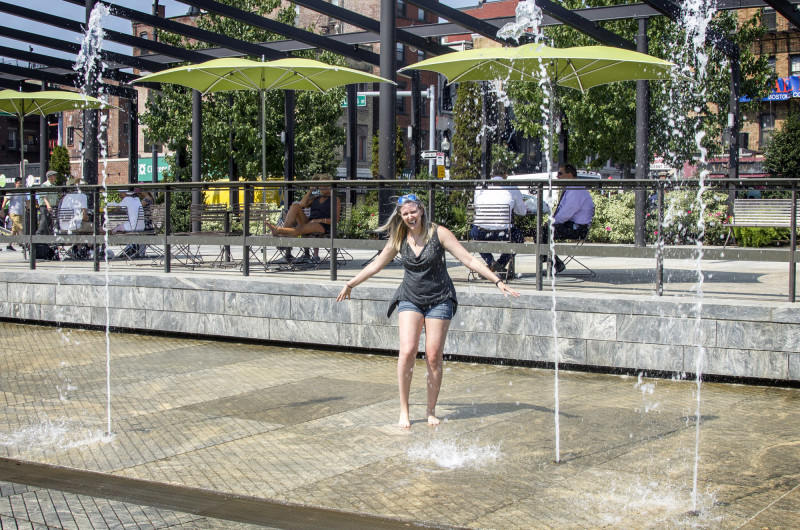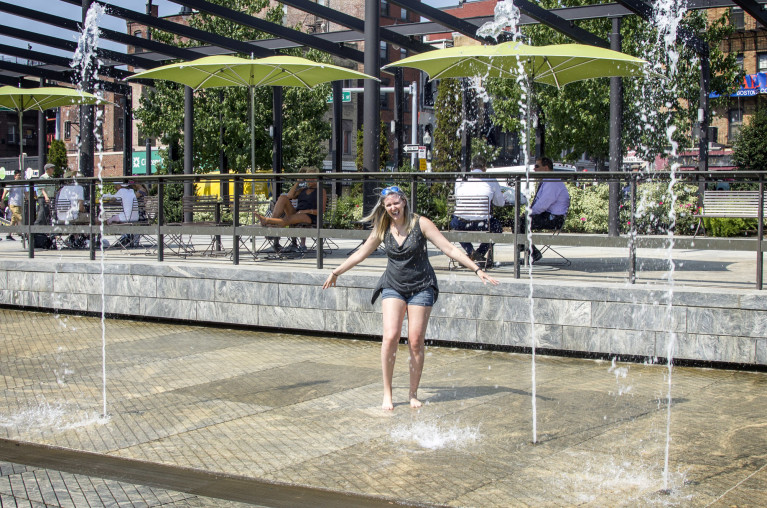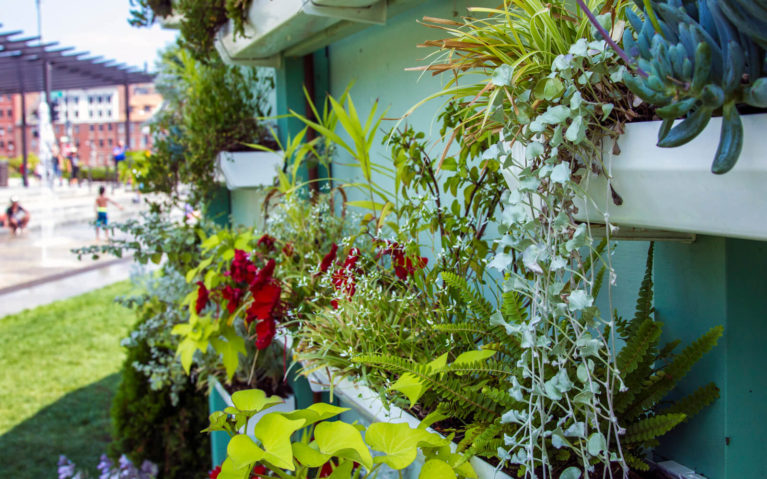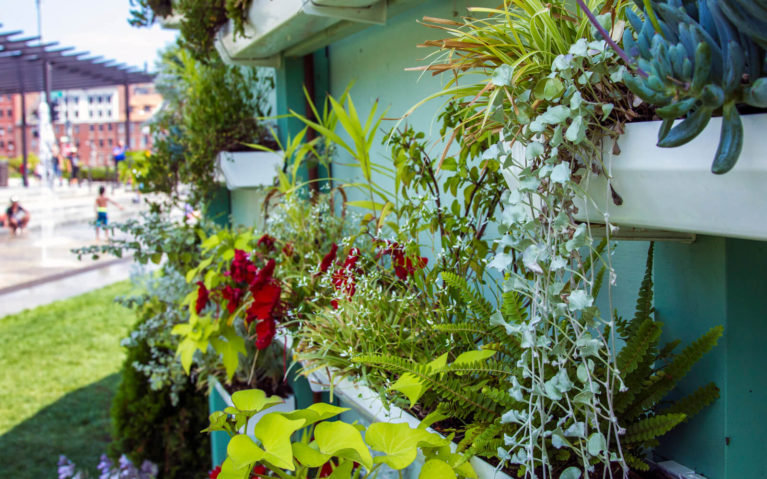 Bunker Hill Monument
Now that you've seen Boston from the water, it's time to get a bird's eye view! It's a bit of a trek to Bunker Hill, but luckily you can enjoy the Freedom Trail all the way to it. Be sure to take in the historic sites along the way as the monument marks the end of the trail. Then take a deep breath and prepare yourself for the 294 steps to the top. This is one of the things I missed out on while in Boston, but know it'll be one of the first places I go upon my return!
Take a moment to enjoy the view as well as the gardens below since it's a bit of a walk to the next stop. From the top, you may have noticed two parks on the water, Paul Revere Park and North Point Park, both of which you'll trek through on your way to the next stop. Now you've been doing a lot of walking, but this is the last big leg and you'll be rewarded! Or if you're feet have had enough, nobody will judge you for grabbing a Lyft or a cab.
Dinner in Cambridge
You've clocked some major steps, so let's celebrate with a delicious dinner at ArtBar! While I unfortunately didn't get to enjoy their usual menu as I was travelling with my vegan travel partner Lauren, I can attest to their chef's skills as the entire plant-based repertoire was delectable!
One thing that is on the menu which is a must try is ArtBar's Chilled Peach-Watermelon Soup. Yes, it sounds like an odd combo, but trust me – it's SO refreshing and even more delicious. I could have had 8 bowls of it. Pair it with their Watermelon Sling and your mouth will be screaming summer. While it may be hard to look up from your tasty food, be sure to enjoy the view of the skyline from the patio.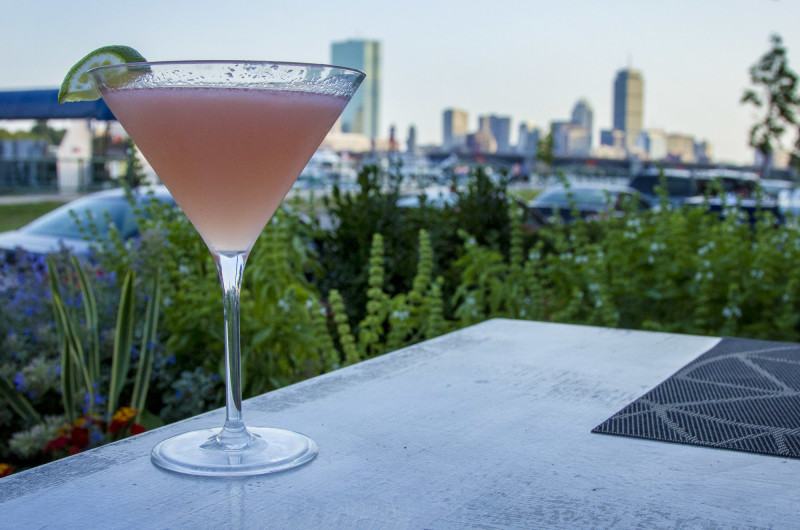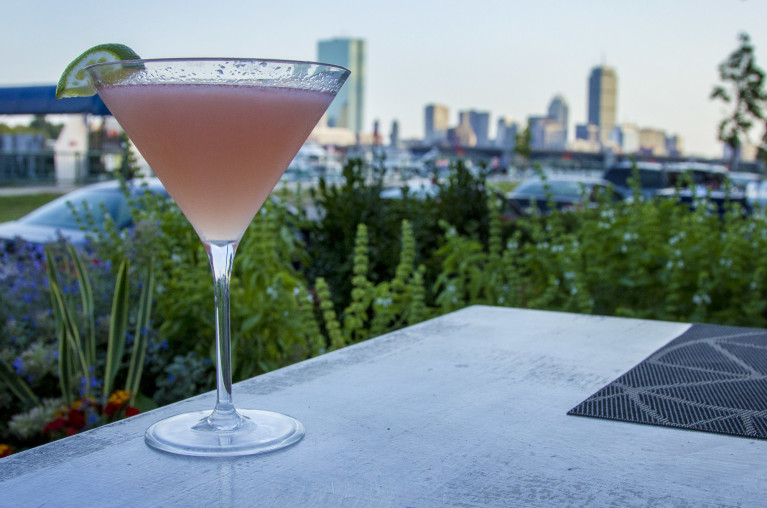 For a Nightcap
If you're not quite ready to retreat after a busy day, how about a nightcap? A short jaunt from ArtBar is Café ArtScience and it's not to be missed. To quote them, it's a "café for the sensorium, conceived in Paris and Cambridge where culinary art, science and design meet the sustainable future of food." You won't be surprised to find out that it's on the edge of the MIT campus. Enjoy some fantastic drinks where artistic expression melds with scientific experimentation to create a unique environment… and drinks! Ask about the flavoured vapour – it may sound weird, but you'll thank me later. Once you've indulged responsibly, be sure to get home safe with a Lyft or cab.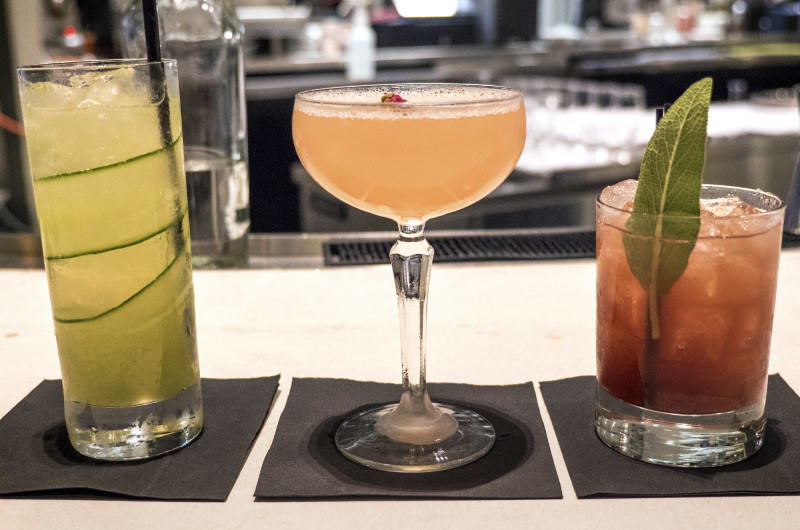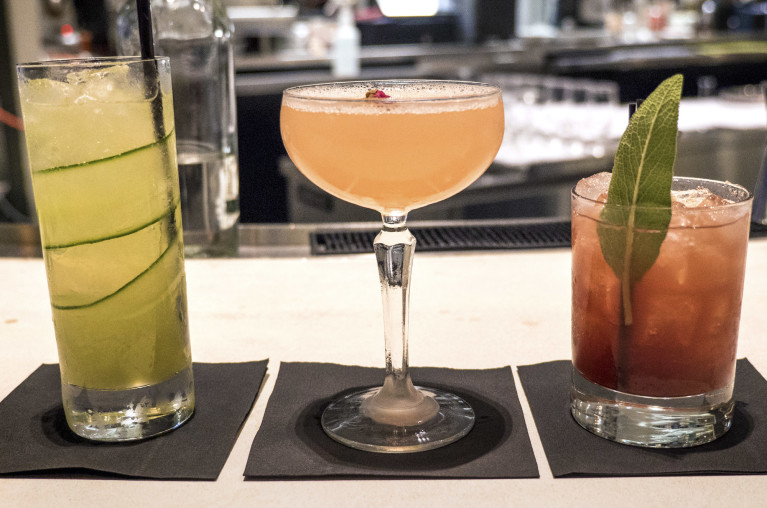 Where to Stay in Boston
As I mentioned at the beginning of this Boston guide, I stayed at the Lenox Hotel in the Back Bay neighbourhood. If you're looking to splurge then I highly recommend treating yourself here – especially if you can snag a great deal on the hotel. The service is absolutely superb and offers a number of great amenities. Inside your room, you'll find incredibly comfortable beds, a mini-fridge, plush terrycloth robes and more. The Lenox Hotel boasts a fitness centre, spa, as well as three restaurants – the City Table, City Bar and Sólas. Don't worry, room service is always an option!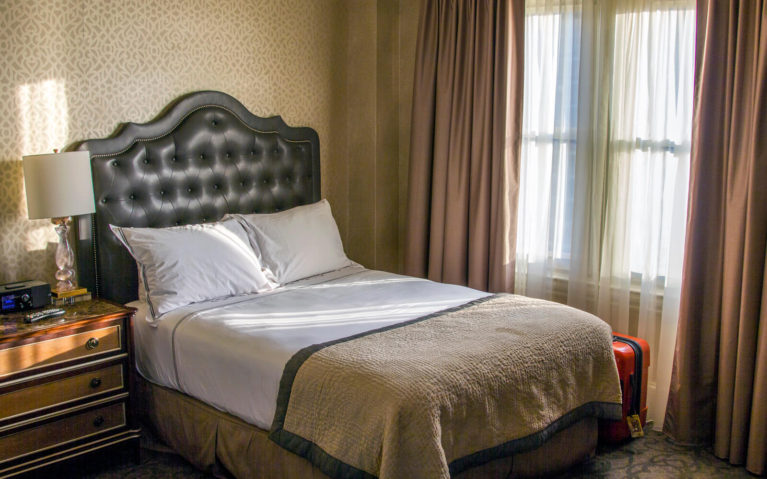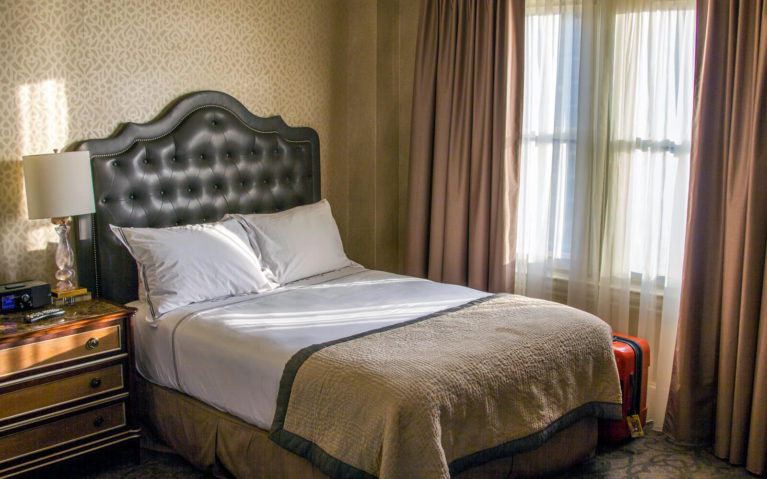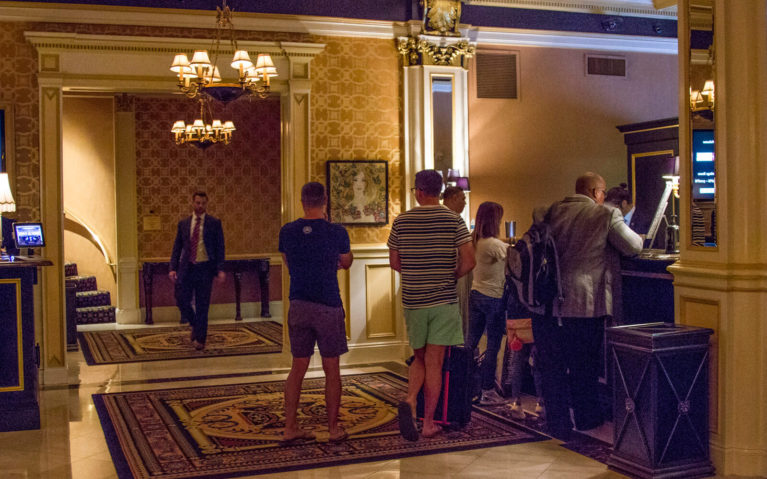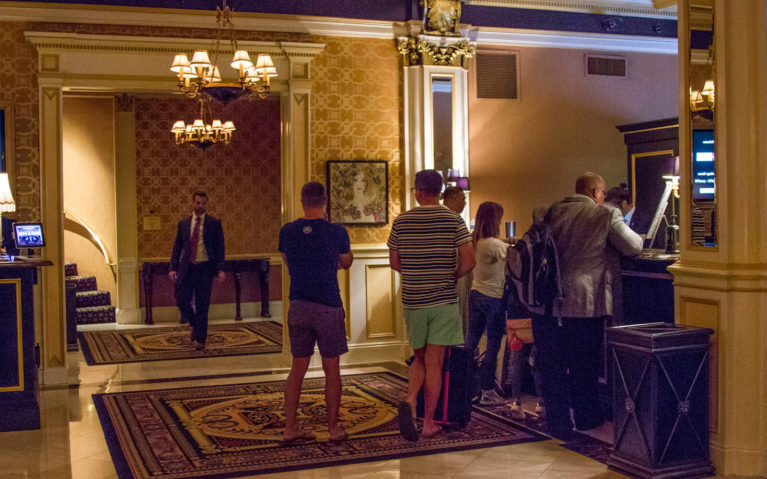 Seriously though, I can count a handful of times where I've felt as spoiled as I did at the Lenox Hotel. The staff are all so warm and welcoming, which to me really makes a stay memorable. No matter how lost Lauren and I felt in Boston, their staff were happy to help us as well as just strike up a conversation. It's a no brainer that they're one of the preferred hotels in the city! See what other travellers have to say about the Lenox Hotel.
If the Lenox Hotel doesn't quite fit your style or budget – don't worry. There are plenty of hotels in a city as big as Boston! Hopefully, this handy search widget can help you find the perfect Boston hotel for you.
Can You See Boston in One Day?
In a city as large a Boston, you can't see everything in just one day, though I'd say this Boston itinerary does a pretty good job! It allows you to hit the highlights while not worrying about transportation. This also means you've earned every delicious meal and drink so be sure to treat yourself!
While this wasn't my exact route as I wandered through Boston, this is the best way (in my opinion) to cover a lot of ground. Feel free to switch up the route to fit your style, and to deviate from it as you please – here's a map of the route for your reference!
As you could have guessed, this guide to one day in Boston is best enjoyed in the warmer months. If you'll find yourself in Boston during the winter season, this guide can still be applicable but you may want to find a few more indoor activities to break up the walk!
Ready for a trip to 'beantown'? I promise you won't regret it! I'd love to hear about your experiences in Boston. If you think of any other points of interest my readers may like, let me know in a comment below!
Disclaimer
Thank you to the Boston Tourism Board for hosting me while in the city. While some of the activities listed were complimentary, all reviews and opinions are my own.
This post contains affiliate links where if you book through them, I could receive a kickback at no extra charge to you! Read more in IBB's disclaimer and privacy policy.
Planning to a day in Boston? Pin this for later!