Finding Accommodation Deals: Top Tried & Tested Tips & Tricks

When I travel, I'm often asked how I go about finding accommodation deals. Obviously I don't pull these cheap hotels out of a hat. It often takes time and patience in order to find the good stuff. However, there are a few corners of the internet that have always been good to me, so I'll spill the beans. In this post, you'll find out how you can find cheap accommodation to help keep you and your wallet happy!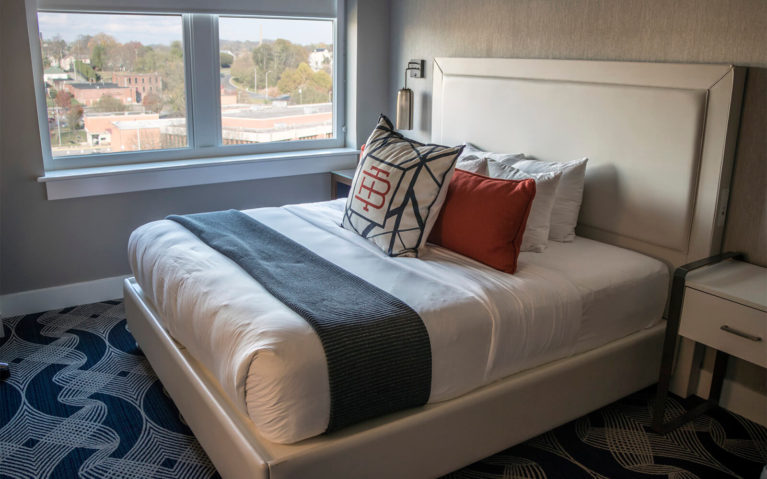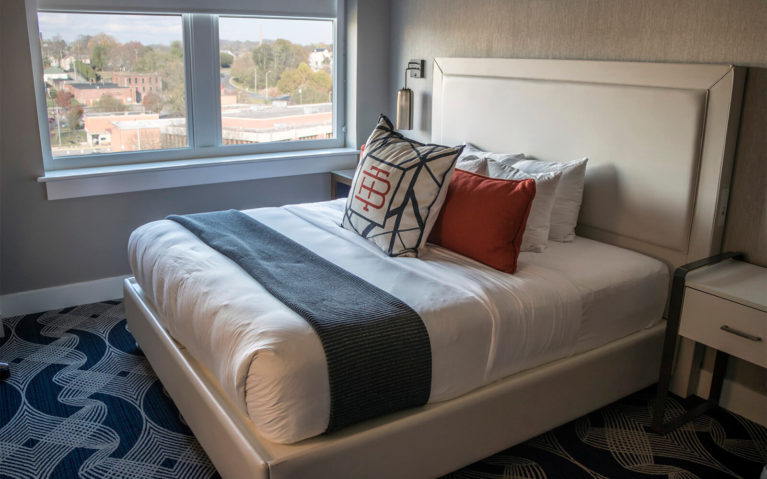 What Kind of Traveller Are You?
First things first however, your travel purpose and style is going to determine what type of accommodation you go for. Let's dive into that.
Personally, my travel style has evolved over the years. I used to live the backpacker life aka the save as much money as possible in any way, shape or form. This often means staying in hostels where you share a number of amenities. Back in the day, I'd be happy to share a bathroom or even a room with strangers if it meant my dollar could go further. I've met some pretty cool people thanks to the backpacking life and I think it's a great option for extended solo travel.
If you don't mind sharing some of the creature comforts of home and are looking to stretch your savings, then the backpacker life is probably for you. Another option for this besides hotels is Couchsurfing where people offer their homes to travellers free of charge. I've never tried this myself but I've heard great stories from friends who have enjoyed their Couchsurfing experiences.
As I get older… I'm just not as fun. Okay I'm lying, I'm just as fun but it's pretty rare for me to stay up all night, rocking in the free world. My days are much longer as I tend to pack more into them, meaning when I come home I'm often exhausted. Anyone who has dealt with a tired Lindsay knows that she likes her peace and quiet… and avoiding people. I have even been known to get take out just to not have to deal with a server. While I used to not like it, alone time is amazing and I thoroughly enjoy my downtime.
Does this sound like you? If so, that doesn't mean we're not as exciting. It means that we enjoy not having to share. Call us selfish, but we love our personal space – and there's nothing wrong with that! With this, chances are you'll opt for a hotel or a bed and breakfast, though hostels are still an option.
Intrigued? Not sure what option is for you? Let's dive into the options – and get to finding those accommodation deals!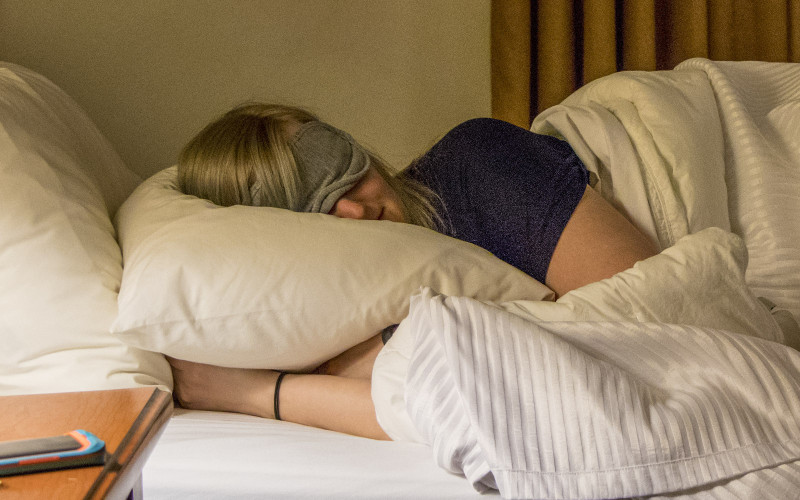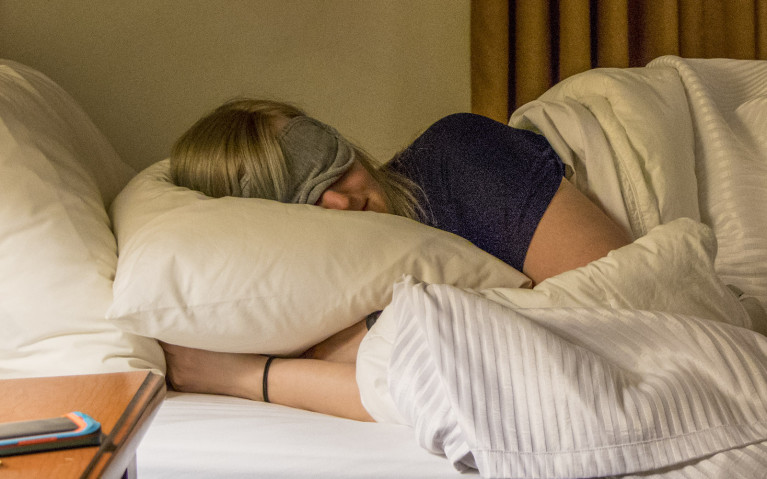 How to Find Hotel Deals
We'll start with what I'd say is the most used form of accommodation – hotels. There are a few corners of the internet which help me snag deals on accommodation.
My go-to is Hotels.com for deals. I find they consistently have lower prices than most of the other websites I use and they have a huge added perk. After booking 10 nights on Hotels.com, you get one night free. This night is the sum of your previous nights, so I'll use it for my more expensive hotels. Doing this allows me to get the most money for my free night.
For example, if you're booking a few hotels in Europe that equate to around $150CDN and then head to Asia and book a few nights that are worth only $40CDN, it will bring the value of your free night down. On top of this, Hotels.com offers Secret Pricing where you can enjoy extra savings once you're a silver status member.
For those cheaper nights, I opt for my second method of finding accommodation, Booking.com. This avoids compromising my free night's average. Another reason I love using Booking is their Genius program. After booking 2 nights, you're automatically eligible for this free loyalty program. As a Genius, you'll get 10% off thousands of properties, perks like early or late check-in and more. Also the more you book online with Booking.com, the more perks you'll receive!
INSIDER TIP: Both Hotels.com and Booking.com have properties that offer free cancellation until a certain date. Just keep an eye out for this when looking through the listings!
Feeling a little adventurous while looking to save on accommodation? Try Hotwire.com and test your luck. Search for your destination and you'll be given prices on hotels in the area along with the star rating, amenities and more. What's the catch? You don't know what hotel you'll get. That's right – you'll find some good hotel deals without knowing the name. So if you're adventurous enough, you can take advantage of these savings!
While it can be a little risky in larger cities, I've found great success with Hotwire in smaller ones. Based on star ratings and what the hotel offers, you can get an idea of what hotel it could be. Honestly, it's perfect for last-minute stays if you don't mind a little ambiguity!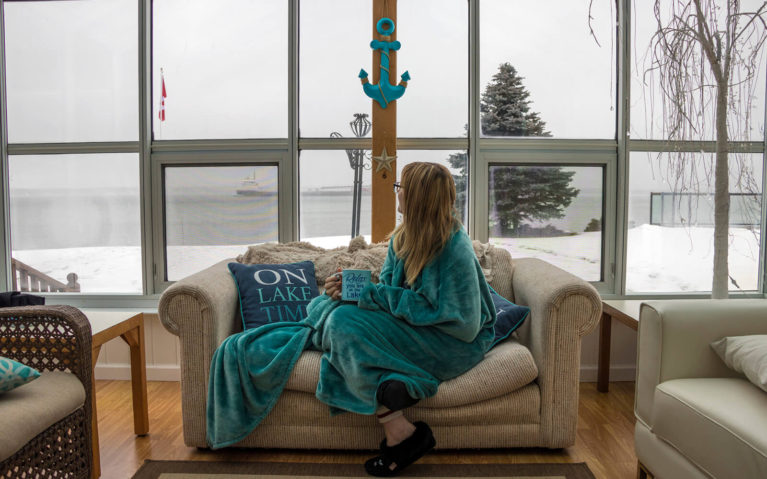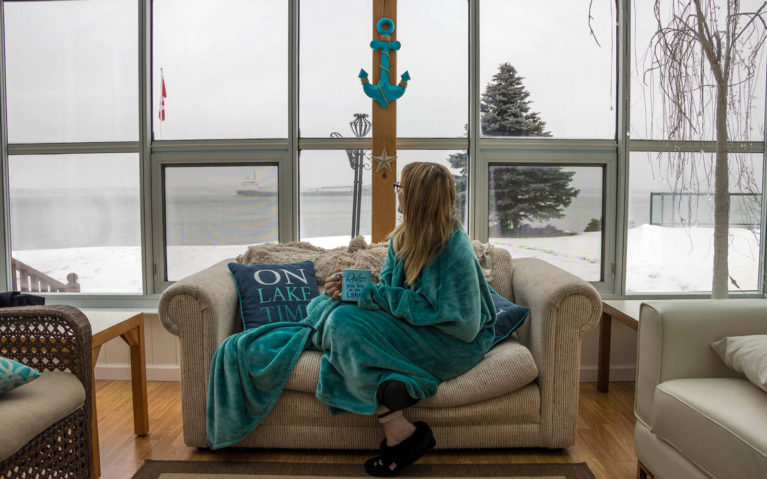 Want More Than Just a Hotel Room? Try Airbnb!
While some hotels may offer a small kitchen for extended stays, sometimes you want something cozier. When I'm looking for more of a getaway rather than a place to sleep, I opt for Airbnb. I love Airbnb as you're helping out people and small businesses rather than supporting a hotel chain. While there has been some negative press around Airbnb, if you do your due diligence you'll have a great time.
When I say due diligence, I mean do your homework. Airbnb is based on a review system, where hosts are reviewed by guests and vice versa. Therefore there's an unwritten level of mutual respect as a host can easily give a guest a bad rating, which may make future hosts reject them for future stays. All of these reviews are public and displayed right on your profile, making it easy for future hosts and guests to access them.
INSIDER TIP: When booking an Airbnb, often you'll find that properties will include a cleaning fee. Before booking, send a message to your host promising to leave the place as clean as you left it and chances are they'll reduce or even eliminate your fee and save you some cash! I'd advise doing this once you have a few reviews under your belt as testament to your cleanliness.
I love Airbnb for girls' trips and romantic getaways. With their search filters, you can look for an entire apartment versus a private room like I did for my trip to Portland, Maine. You can even search for amenities like laundry, fireplaces, hot tubs and more! It's also easy to stay within your accommodation budget with their price range filter. Plus you can find some pretty unique places to stay like a "wine castle" in Germany!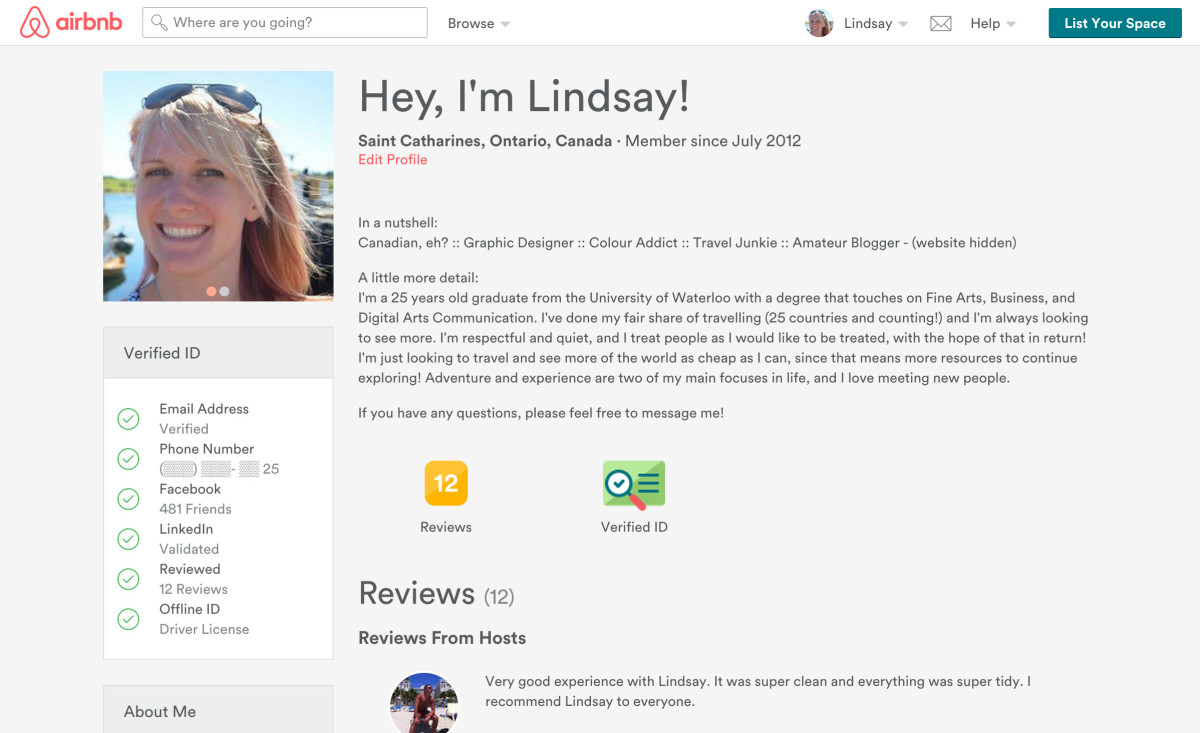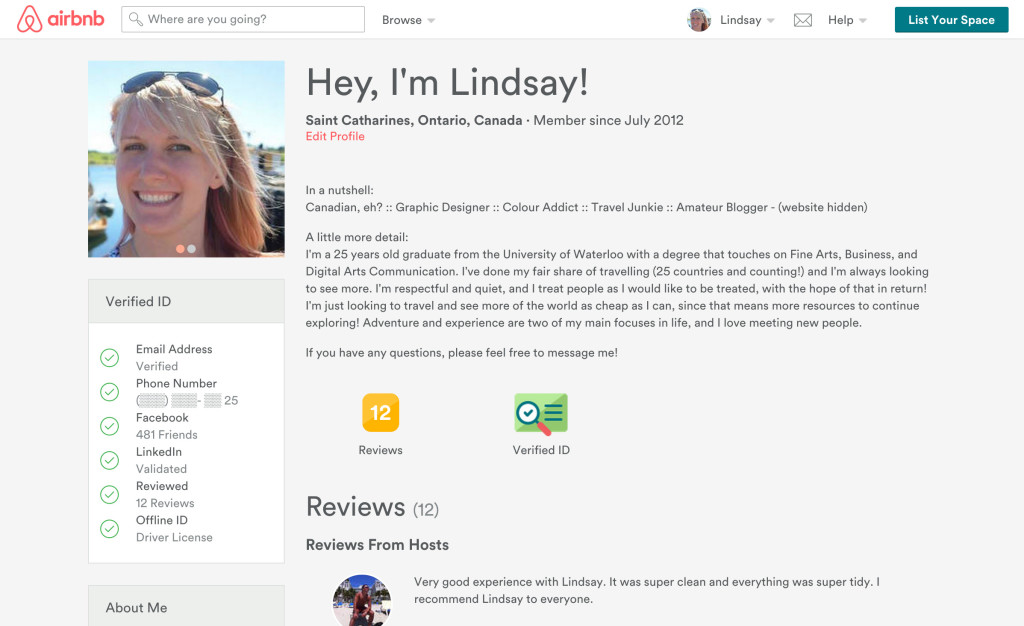 Finding Accommodation That's Cheap As Can Be
If you're looking to stretch your dollar and don't mind sharing a room, bathroom and even bunk bed with strangers, backpacking is for you. This was my method when I did my crazy European trip back in 2012, knocking off 22 countries in 3 months. Backpackers tend to stay in hostels where you often share amenities with fellow travellers. With their low rates, hostels can really help your money go a long way.
While I haven't stayed in a hostel in over 5 years, my main website to find great hostel deals was Hostel Bookers. I found them to be consistently cheaper than their counterpart, HostelWorld. One thing to note with both companies is that you have to pay a deposit that's approximately 10% of your total cost. While free cancellation may be offered, it's not as flexible as a hotel and requires 7 days notice.
Both these websites use a rating system. This system is a key player in choosing your stay on top of the usual location, amenities and all that jazz. If you see a hostel that's rated 80% (aka 8) or higher but there's one in the 60s (or a 6) that's a few dollars cheaper – go for the 80. Like I said a few dollars can go a fair distance… and you want to ensure those dollars include your comfort and enjoyment.
In some cities, you'll have no choice but to opt for a 60% hostel (like I did in Madrid) whether for lack of choice or hostels being booked up, but it will just reinforce this statement even more. My best hostel stays, both accommodation and people wise, were in hostels rated 80% and higher. These hostels have the most personality, the best people and often the most amenities.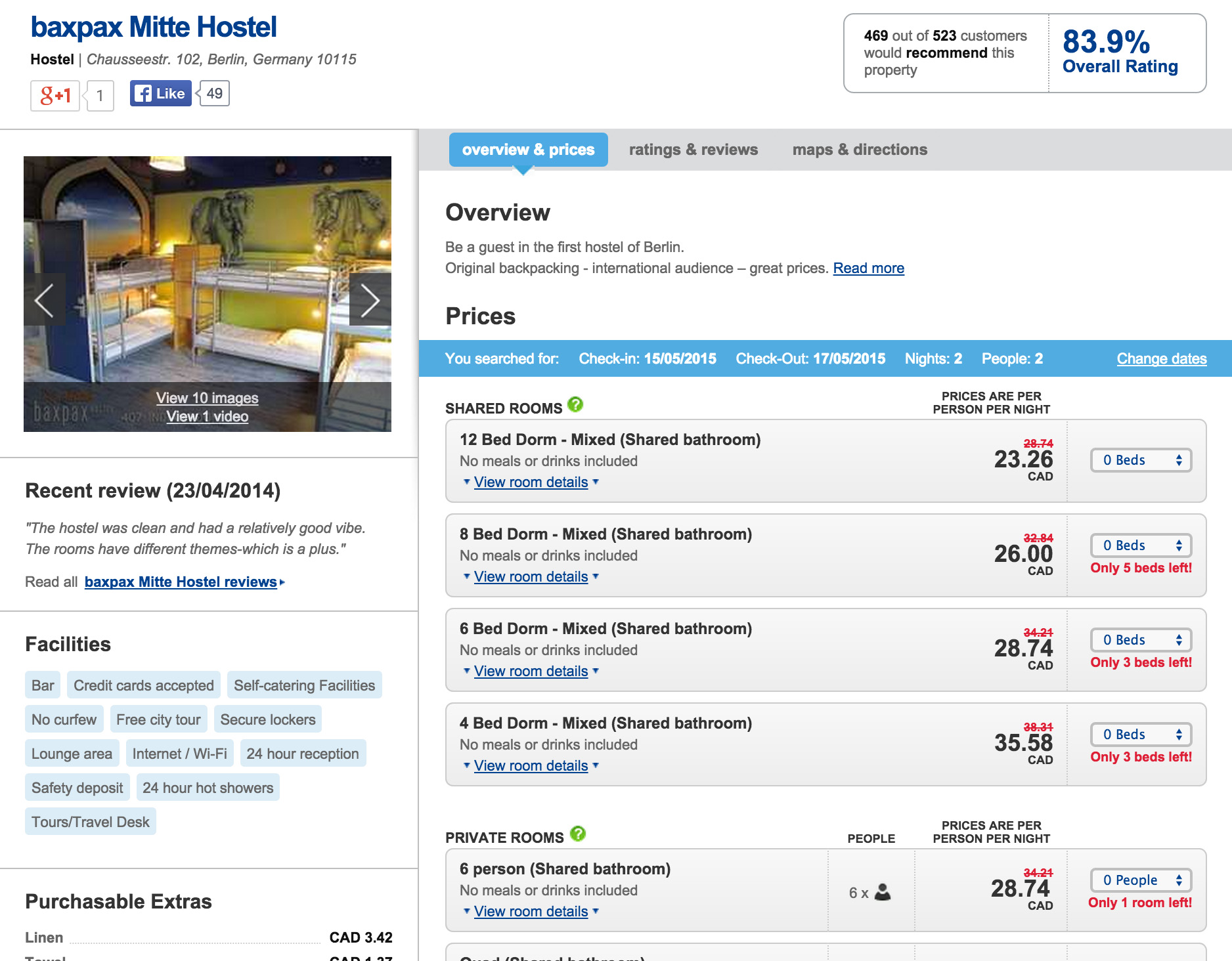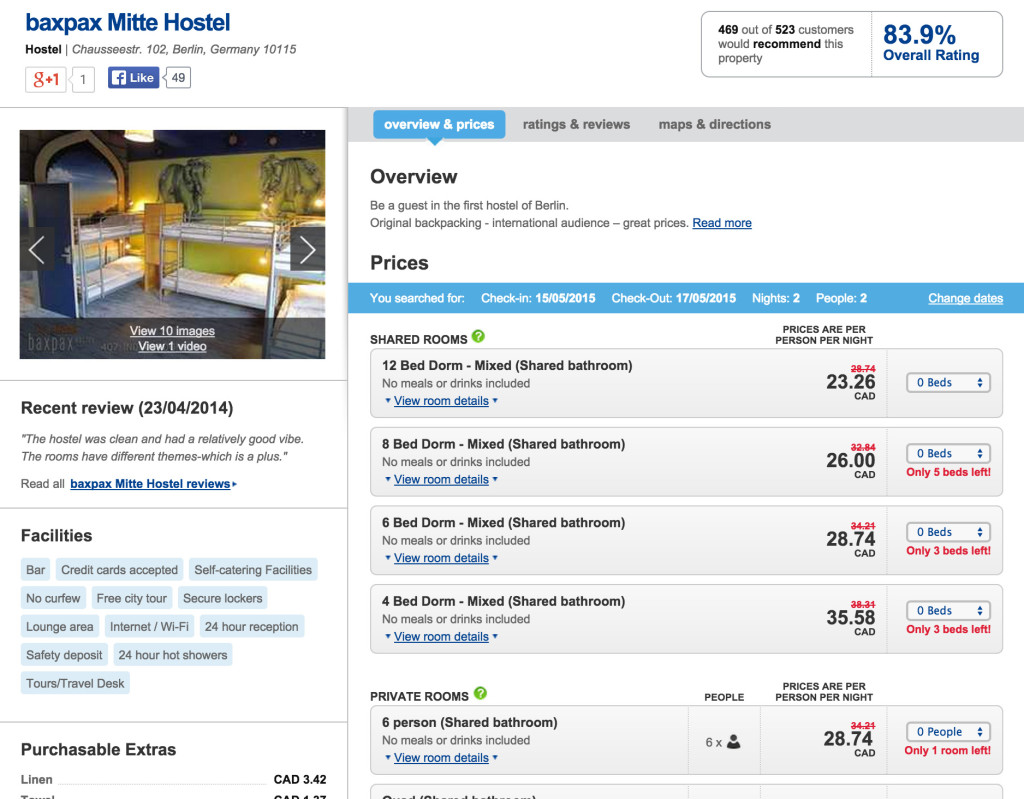 Now, what should you look for when choosing a hostel? These are the things I'd look for when booking back in my hostel days:
Number of beds in the room as I'd never go over 8 beds per room to decrease the chance of movement from others leading to noise, fewer people possibly around my things, etc
Kitchens (normally they come with utensils too) as cooking your own meals helps keep your food costs low since you're not eating out at restaurants
Number of bathrooms as you will be sharing so the more there are, the less you'll be waiting to use the showers, etc
Lockers to keep your valuables in as this will keep your mind at ease when you don't have to worry as much about your passport, money, etc
Decor as if a hostel puts effort into their look, they're going to put effort into additional amenities which will make your stay more enjoyable
As you can imagine, there are some risks that come with sharing a room with strangers. That's where lockers can come in handy so be sure to pack a lock. Locks can also come in handy if you find yourself somewhere that doesn't have a locker so you can lock your bag to help keep your belongings safe.
In regards to the kitchen, there will often be communal fridges for use. If you're thinking 'Lindsay… what if someone steals my delicious eats?!' Don't worry, I thought the same thing. There is an honour system here so you have to put your trust in fellow patrons. Honestly, since you're all there for the same reason, a mutual respect is shown in that you don't touch what's not yours. In all the hostels I've stayed in, I think I've only had one instance where something had gone missing. Another great thing is that there's often a free shelf where you're welcome to take what you need and leave what you don't. This means that less food goes to waste, and you also don't need to drag pounds of food along if you don't want to.
Another thing to be aware of is that the more people there are in the room, the less chance you have of a solid night of sleep. To combat this, pack a sleeping mask and earplugs. Most travellers are respectful in that if they return late at night, they try to be quiet along with using flashlights to light the way or rummage through their luggage. However, everyone has a lapse in judgement (whether it's alcohol-induced or not) and will switch on the lights at 3:00am without thinking. Having your eye mask will soften this blow or even allow you to sleep through the blunder and earplugs will keep any louder noises at bay.
If sharing a room with total strangers sounds like a bit much, some hostels offer private rooms. This means you'd still share a bathroom, showers, etc but your room is all yours. Mind you they will be more expensive but shouldn't be as expensive as a hotel room.
Lastly, you may notice Hostelling International appear during your search for hostels. Hostelling International is an organization which has set up thousands of locations across the globe for travellers worldwide. Each location has a very similar set up to ensure a sense of unity and comfort. While their locations may look nice, there's a catch. In order to get the rate they advertise on websites like HostelBookers, you need to be a member. This costs at least $40CDN for one year, or more if you want a lifetime membership. If you're not a member, then you're subjected to an extra fee in order to stay there. However in some countries, you can only stay at their locations if you are a member.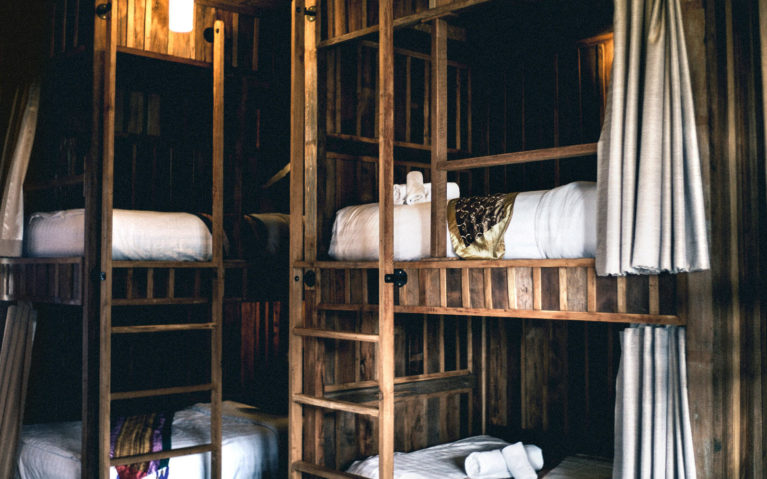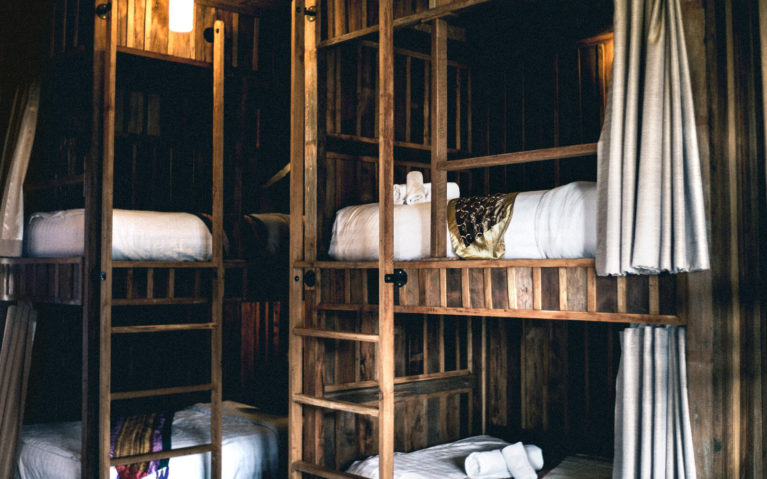 There's No Accommodation Deal Like FREE Accommodation
Lindsay… there's no such thing as free accommodation. Actually there is and it's called Couchsurfing! With Couchsurfing, you make a free account that is verified by your ID to ensure you are who you say you are. Then you message hosts in the city you wish to stay in and get to know each other. You'll ask to stay with them and if it's a good fit, they'll welcome you into their home!
I've never used this service myself as it never worked out. From my experience in trying to book however, I found it was very difficult to find a place. I have a feeling it had to do with the fact my account was brand new so I had no previous experience or history. Either that or it was that I was travelling with someone else… and it's hard to fit two on a couch!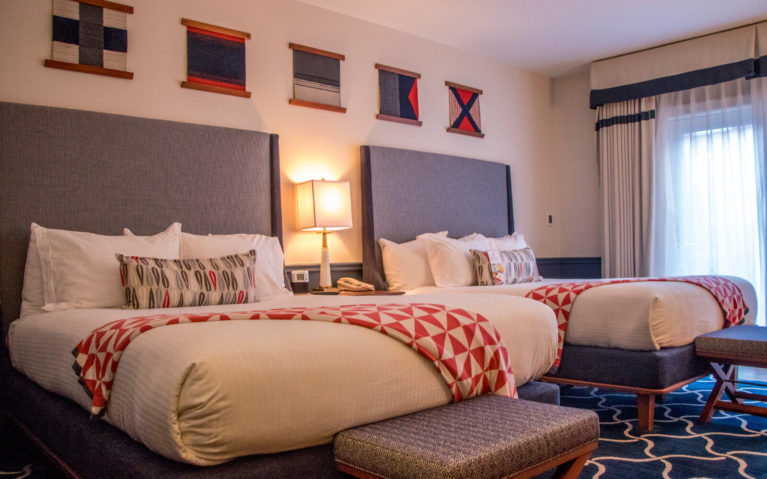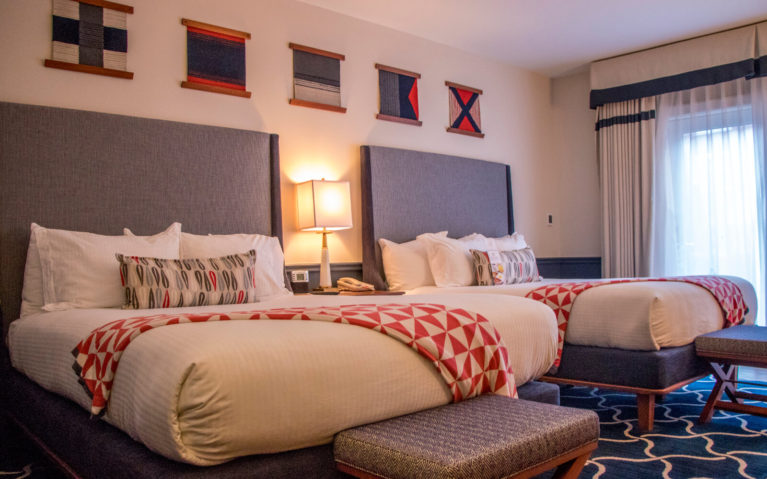 What About Last Minute Hotel Deals?
If you've decided a take a spur of the moment trip, are looking to extend an adventure or you've found yourself needed accommodation for the night, you might be looking for ways to find accommodation deals at the last minute. While you might find something on Airbnb, the chances are low that you'll find a deal.
Hotels are your best bet – hence the title of this section. Now, how to find hotel deals last minute? There are a few different ways to do this!
Let's start with looking at the properties themselves. Locally owned hotels often have lower rates than chains like Comfort Inn or Motel 6. They might not have amenities like a pool or room service but they can save you money. Plus you're supporting a small business owner and not a large chain which helps keep your tourism dollars in the local community!
Another thing to look for is a hotel's location. Hotels located in desirable neighbourhoods or city centres will cost more than those located on the outskirts. If you're mainly looking for somewhere to sleep and have access to transportation, this might be worth the dollars you can save!
There are also phone apps like HotelTonight which focus solely on finding last-minute deals for travellers. As the name suggests, it helps you find good accommodation deals for that night as well as for future dates. While I've never booked through the site myself, I've seen discounts of rates of up to 50%. It's definitely a promising site to find some last minute deals.
Looking for hotel deals which include breakfast, dinner or even some spa time? Websites like Travelzoo can offer some fantastic deals on more complete getaways. I've enjoyed a number of deals through Travelzoo in Niagara Falls and they often come with great perks. (This is just one of my tips for saving money in Niagara Falls.) Travelzoo also has great cancellation policies which are very reasonable for cancellation or rescheduling. As with any deal though, be sure to read the fine print before confirming!
If you're wondering what is the best hotel deals website, there really isn't a holy grail. Hotel booking sites like Agoda, Expedia and Trivago, allow you to compare multiple hotel sites which can be a good option on where to get the best hotel deals. However, this really only works if you're not loyal to a specific site or program. With added bonuses for loyal customers like secret pricing on Hotels.com or genius status on Booking.com, you can get better deals than would be listed on a site like Trivago.
Long story short: there's no quick answer on how to get the best hotel deals. It will always take some sleuthing but chances are you'll be rewarded for your research!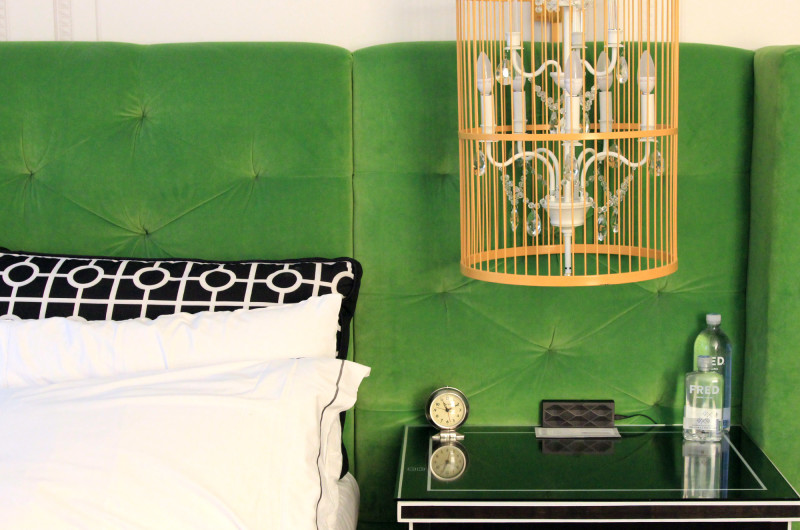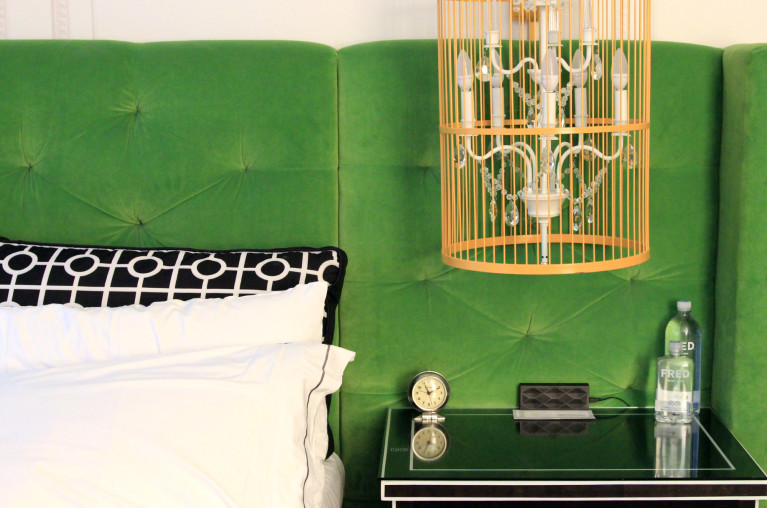 Ready to Find Some Accommodation Deals?
Unfortunately, these tips may not work everywhere you go. Some cities that are a little more on the expensive side (I'm looking at you, Zurich) may have hostels but they'll be very expensive with a lack of amenities. If this is the case, look at a hotel instead. When finding accommodation for my nights in Zurich, I found it was cheaper to have a nice private hotel room for two of us than to have two beds in a hostel.
My biggest tip for finding accommodation deals? Don't just look at one website. All of the sites I mentioned above are what I use in my searches but I rarely find a place on the first search. Also, it pays to sign up for loyalty programs and mailing lists for sites like these as you may get a coupon or promo code to give you an even better rate.
Are there any websites you use to keep accommodation costs down? What about any tips or tricks I've missed? Do you use any of these websites to save some cash? Armed with this information, you should have no problem finding accommodation deals in Germany, Canada or anywhere in the world. Hopefully, you'll snag some great travel deals too!
Disclaimer
This post contains affiliate links where if you book through them, I could receive a kickback at no extra charge to you! Read more in IBB's disclaimer and privacy policy.
Finding accommodation deals for a future trip? Pin it for later!