20+ Insider Tips for Visiting Niagara Falls From a Local

Niagara Falls is arguably the biggest tourist destination in Ontario, Canada. People come from all over the world to see this magnificent beauty. Considering I was born in the Niagara Region, I've definitely taken the Canada side of Niagara Falls for granted. Growing up in St Catharines, the go-to adventure for any visiting out-of-towner was Niagara Falls. This turned from day trips to overnight adventures as I got older, and I've learned a thing or two throughout my visits and I'm spilling the beans with my insider tips for visiting Niagara Falls!
Wondering if you should visit Niagara Falls? I 100% say yes! It's a given for any Canadian bucket list whether you're from the country or otherwise. Niagara Falls is ever-changing with new restaurants, attractions, and more. This means you can easily have a different adventure each time you go!
Disclaimer: This post may contain affiliate links where I may receive a kickback at no extra cost to you. It helps keep IBB alive so thank you!
The only thing that comes with a tourist mecca is the tourist traps which can really take a toll on your bank account. I don't want you to come and say aww man, these are the things I wish I knew before visiting Niagara Falls. So hopefully these tips from a local should help you plan your Niagara Falls visit!
SOMETHING TO NOTE: Before I dive in, I want to clarify that these tips are for visiting the Canadian side of Niagara Falls. While there is plenty to do on the American side, that will have to wait for another post.
Niagara Falls Tips for Planning Your Trip
Before we even get to your Niagara Falls vacation, let's talk about planning your trip. We all know a fair amount of planning goes into every adventure so let me help you make the most of it.
You Will Need a Passport
Niagara Falls is a popular destination for Canadians, Americans and international travellers alike. A popular question is "Can I visit Niagara Falls without a passport?" If you're travelling within Canada whether that be by air, train or car, it is possible to visit without one. However, if you're visiting from outside of Canada, you will need a passport to enter the country. It doesn't matter whether you are crossing by land, air or sea, a passport valid for at least 6 months past your visit is required to enter Canada.
Check to See if You Need an eTA
You also might be required to have an Electronic Travel Authorization or eTA in order to enter the country. This costs $7 and you can apply online on the Government of Canada website. One thing to note is that there are a number of scam websites out there that will try to sell you the eTA for upwards of $50. Don't fall for it! ONLY apply via the Government of Canada website and you should never pay more than $7 for it.
Things International Visitors Should Watch For
While this might be obvious to some, I know I've been caught a few times by these when crossing the border and I'm sure I'm not the only one! Niagara Falls might be just a short drive and border crossing for some of you, but it's still in another country which could mean some additional fees you might not be aware of! If you're travelling from within Canada, feel free to skip this section.
Tolls for Bridge Crossings
If you're driving to Niagara Falls from the USA, you'll be crossing one of four bridges. Each bridge has a toll that you will be required to pay in order to cross into Canada. The cost depends on the size of your vehicle as well as if you have a valid Nexus Card. I'd recommend having either some Canadian or US cash on hand so you're not caught by surprise!
Watch for Pesky Roaming Charges
Another thing to look into is your cellphone carrier. The last thing you want to do is rack up an insane bill because of roaming fees! It's not uncommon to find wifi at hotels and restaurants within Niagara Falls, I wouldn't depend on it. I highly recommend looking into a roaming package with your cellphone provider to ensure you keep your costs at bay!
Check For Credit Card Fees
While cash is widely accepted, chances are you'll be using a credit card during your visit to Niagara Falls. It's easy, convenient and you don't have to worry about exchanging more money than you need. However, you'll want to look into your credit card and see what your bank's rate of exchange is and if they charge any additional fees. In the long run, it might be worth exchanging a set amount of money rather than relying on your card.
When You Should Visit Niagara Falls
One of the most expensive elements of a trip is accommodation and it can get pricey, especially during the peak summer season. Visiting in the off-season is honestly the easiest way to save some cash. Not only do the prices come down to help entice tourists to visit, but the hotels and attractions be quieter too.
Is there a best day to visit Niagara Falls? Not really, but the best time, in my opinion, is the winter from about mid-January to late-April. It's even better if you can manage to plan to visit during the week. Hotels often have mid-week deals so why not cash in on them! They might even have a falls view room if you're lucky. That leads me to my next point…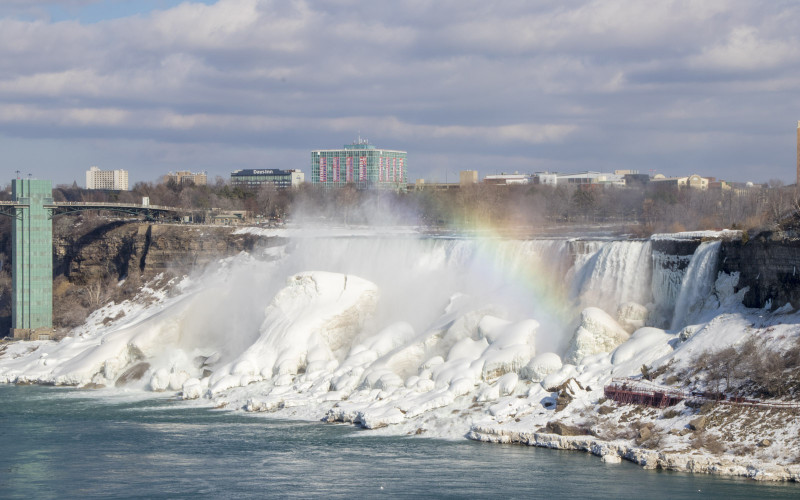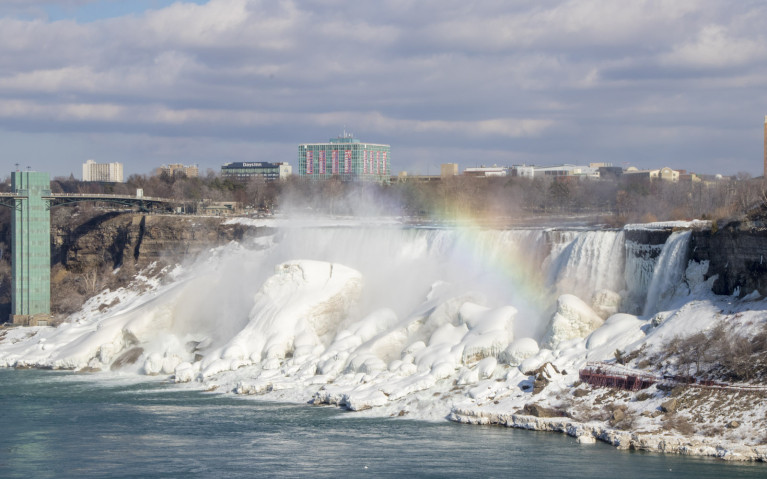 How to Get to Niagara Falls
As with any major travel destination, there are a number of ways you can get to Niagara Falls. Here's the lowdown on all the transit options for Niagara Falls.
Tips For Visiting Niagara Falls by Air
If you're looking to fly to Niagara Falls, you have a few options. While Niagara Falls has its own airport (code IATA), the only passenger airline that flies into it is DirectAir which flies from a small handful of destinations.
The closest airport on the Canadian side is the John C Munro Hamilton International Airport (code YHM) located about 70km away. It's an hour drive from Hamilton to Niagara Falls and you can sometimes find some great deals as it's a smaller airport. From here you can rent a car for your trip or get a taxi or shuttle instead.
Chances are though, you're flying into Pearson International Airport (code YYZ) in Toronto which is the largest airport in the area. Similar to Hamilton's airport, you can either arrange a shuttle or rent a car to get you to Niagara Falls for your getaway.
Lastly, you can also fly into Buffalo-Niagara International Airport (code BUF) but this is located in the United States. It's a little over 30 minutes away from Niagara Falls but can offer some great deals if you're looking to visit from a US destination.
Tips for Taking the Train and Bus to Niagara Falls
The majority of tourists travel to Niagara Falls via car, but that's not the only way to get into the area. VIA Rail, Canada's national passenger rail service, offers direct trains from Toronto and New York City once a day with a returning train in the evening. If you're travelling from a different destination, there are a number of connecting trains that can get you to Niagara Falls. It's best to buy your VIA Rail ticket on Tuesdays since that's their deal day. You can also travel to Niagara Falls from a number of American cities with Amtrak including Cleveland, Albany and more.
If you don't manage to snag a VIA ticket on a Tuesday, GO Transit offers a cheaper alternative. GO Transit provides transit from the Greater Toronto Area as well as Hamilton. GO Trains run from Toronto to Niagara Falls on weekends from the Canada Day weekend in July until Labour Day, as well as during the May long weekend.
From the Niagara Falls GO Transit terminal, you can either walk 30 minutes to Clifton Hill or hop on the WeGo bus to take you to your destination. GO buses only run in the summer months as well. However, by 2023 there is said to be regular service from Toronto to Niagara Falls year-round so that gives you something to look forward to!
Lastly, you can always hop on the bus. Both Greyhound and Megabus have daily buses from Toronto and Buffalo to the Niagara Falls Bus Terminal. While it's not the fastest as traffic on the highway can slow you down, you can get a ticket for $3 Canadian one way if you book early enough!
Tips for Visiting Niagara Falls by Car
I'd say the majority of people who come to Niagara Falls visit by car. Niagara Falls is a popular destination not just because of the sheer beauty of the falls but because of its accessibility. It's a popular Ontario road trip destination for day trips, weekends and more! From downtown Toronto, you follow the Gardiner Expressway westward to the Queen Elizabeth Way. Follow it until you see the exit to the Ontario 420 and you'll be in Niagara Falls!
NOTE: If you need to fill up your tank, gas stations close to the highway will always be more expensive than those further out. If you're able to wait until St Catharines or the outskirts of Niagara Falls, this is where you'll find the best prices.
One of the biggest tips I have for visiting Niagara Falls by car is to enjoy some of the amazing stops on your way in. There is so much that folks pass by while en route to see the Horseshoe Falls!
If you're passing through Hamilton, you may not realize that you're driving through the waterfall capital of the world. Stop and enjoy a few of the best waterfalls in Hamilton or take a hike along one of the city's top hiking trails. Continue heading east and you'll pass through Vineland where you'll find a number of incredible wineries. Then there are adorable towns like Beamsville and Grimsby which are perfect for a pitstop. I mean, the possibilities really are endless!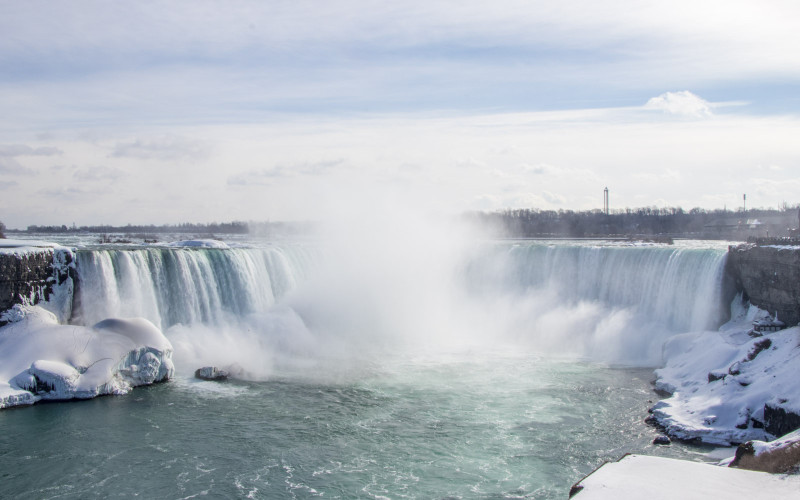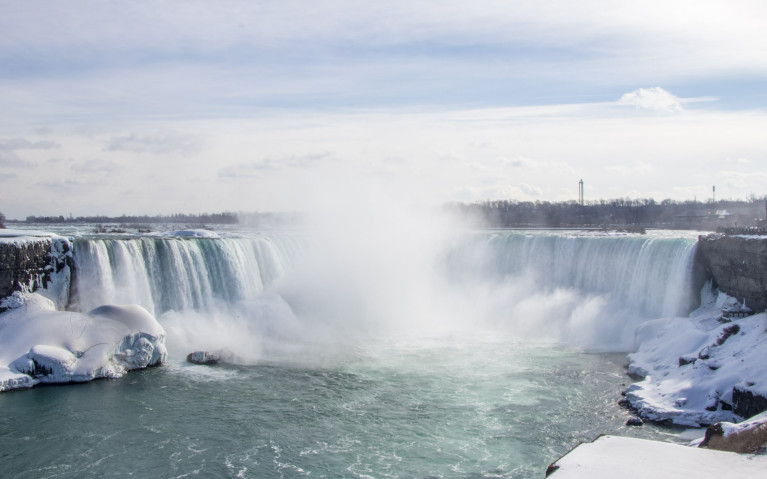 Hotels Tips For Your Niagara Falls Visit
One of the first things I do once I've chosen a destination is to look for accommodation. I have a few tricks I use to save money on hotels, though there are few more things you should look out for while choosing where to stay when visiting Niagara Falls.
Watch Out for Pesky Parking Fees
One of the downsides of being close to the falls is that many of the hotels charge for overnight parking, especially ones you'll find in Travelzoo or Groupon deals. While it's a bummer, it's not a deal-breaker if you're visiting for one night. If you're planning an extended stay however, I'd highly suggest opting for a hotel that includes parking.
Don't worry, I've done all the research for you to see which hotels are close to the core area of Clifton Hill. The Holiday Inn By The Falls, Quality Hotel Fallsview Cascade and Clifton Victoria Inn at the Falls all offer free parking and are just a short walk from the core attractions
As you know, I always recommend staying as local as possible when visiting a destination. As Niagara Falls is a popular tourism destination, there aren't as many local options as there are chain hotels. To support local, you'll need to get a little further away from the core area. The Crystal Inn on the Parkway and the River Rapids Inn are great choices for this and both include free parking. You might not be able to walk around as easily but it also gives you a little peace and quiet as you're away from the hustle and bustle that come with the core area. The WeGo bus is also here which will give you transit if it's too far for you to walk!
Of course, you can always take a peek at the map of Niagara Falls below to see what other hotel options are best for you.
Make the Most of any Travelzoo or Groupon Deals
Those mid-week Niagara Falls deals? They can come with a lot of perks as many of them offer things to do in Niagara Falls for couples or families with children. My most recent trip came with coupons for a number of restaurants in the immediate vicinity, attractions like the arcade and magic shows, casino credits and more!
Every time I've utilized these deals, I've never been able to use all of the perks that came along with it. Luckily the majority of them don't expire on the day you receive them, so that means you can use them on another day or come back again and still save money. Some are even valid until the end of the year! I highly recommend signing up with Travelzoo so you don't miss out on these incredible deals.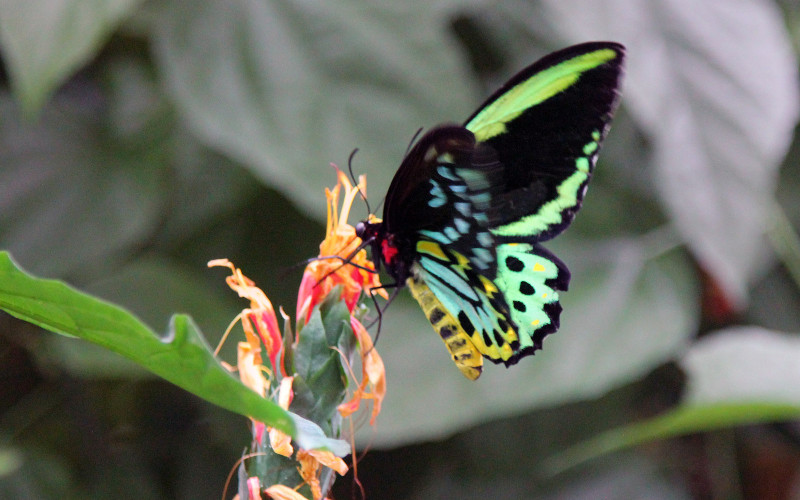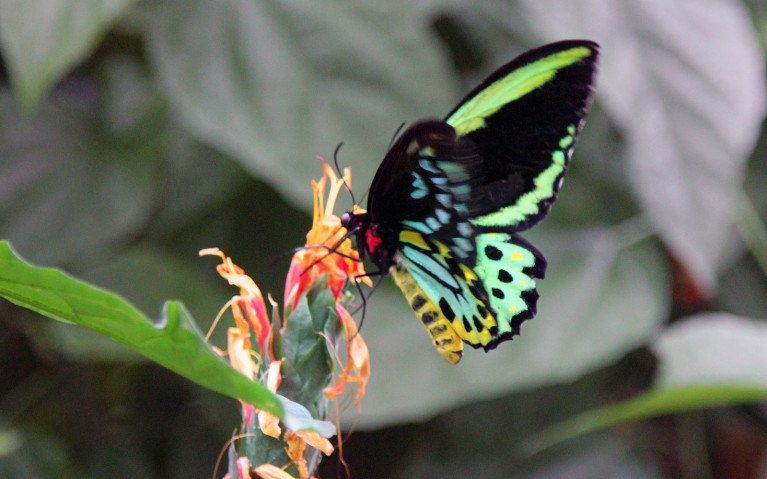 Tips for Things to Do in Niagara Falls
While the main draws are the Horseshoe Falls and American Falls themselves, the area offers plenty of other activities to entertain you. Here are my insider tips of things to do in Niagara Falls to keep you entertained during your visit.
Niagara Falls Tips and Tricks for a Rainy Day
Let's face it, sometimes the weather just isn't on our side. While most visit Niagara Falls to enjoy a day outdoors, there are a number of incredible attractions that will keep you dry while still enjoying your visit.
Check Out the Amazing Indoor Attractions in Niagara Falls
Whether it's a frigidly cold winter day or a rainy summer afternoon, you'll be happy to experience these amazing indoor things to do in Niagara Falls.
If you're looking for a great spot to warm up, head to the Niagara Parks Butterfly Conservatory. It's home to over 60+ species of tropical butterflies that flutter freely within the conservatory's glass dome! Watch as over 2,000 butterflies carry on about their day around you while you admire their beauty and warm up inside the tropical atmosphere of the conservatory. Check out my guide to the Niagara Parks Butterfly Conservatory for more details.
Another fantastic spot is the Niagara Parks Floral Showhouse. For over 60 years, it has provided a beautiful oasis less than a kilometre from the Horseshoe Falls. Inside you'll find a number of tropical plants, seasonal exhibitions and plenty of little critters going about their day! If you're really lucky, you may catch a glimpse of their Titan Arums (giant corpse flower) in bloom. There's no rhyme or reason to when it does bloom but the Niagara Parks staff always keep a watchful eye and share when they do!
RELATED: For all the details, don't miss my guide to all the amazing indoor things to do in Niagara Falls!
Take Advantage of a Niagara Parks Pass
Remember how I mentioned travelling in the winter is the best time to visit? The Niagara Parks Wonder Pass is another reason to do so as you get great discounts on a number of Niagara Falls attractions. For just $25 per person, you'll get access to the Journey Behind the Falls which offers the best views of Niagara Falls (well, the Horseshoe Falls) in my opinion, the Butterfly Conservatory, Floral Showhouse and the 4D adventure film called Niagara's Fury.
Not only this, but you'll also get plenty of coupons. These include a 2-day Falls Incline pass which will take you from Table Rock up to the Fallsview Casino area and a 2-day WeGo pass which is the transportation service that operates around the main tourist area. You can use the WeGo to get to a number of incredible areas that are a bit off the beaten path like the Niagara Glen Nature Reserve. This is literally savings of $40+ so you're getting all of these attractions for less than half price. The only downside is it's only available from November to April.
In the warmer months however, there is more selection as more attractions are available. If you're planning on doing a Niagara Falls boat tour via the Hornblower Boat Cruise (formerly known as Maid of the Mist) and one or two more other attractions, I highly recommend grabbing the Niagara Parks Adventure Pass. It's worth it for the money you'll save! Visit the Niagara Parks website for more details.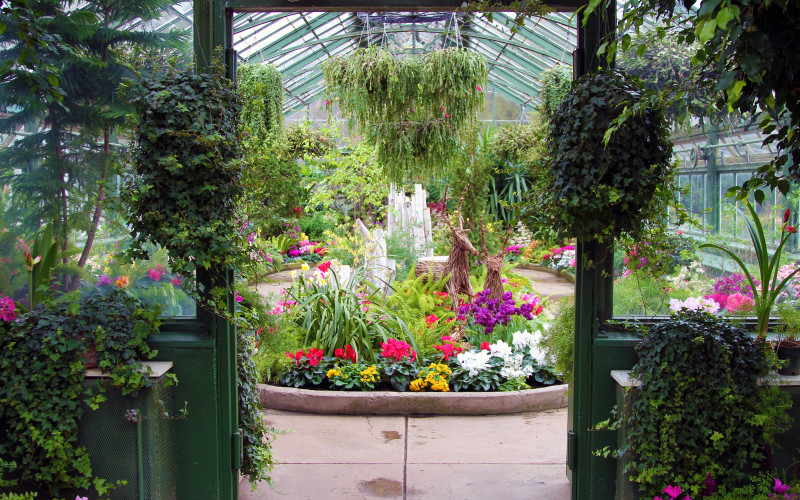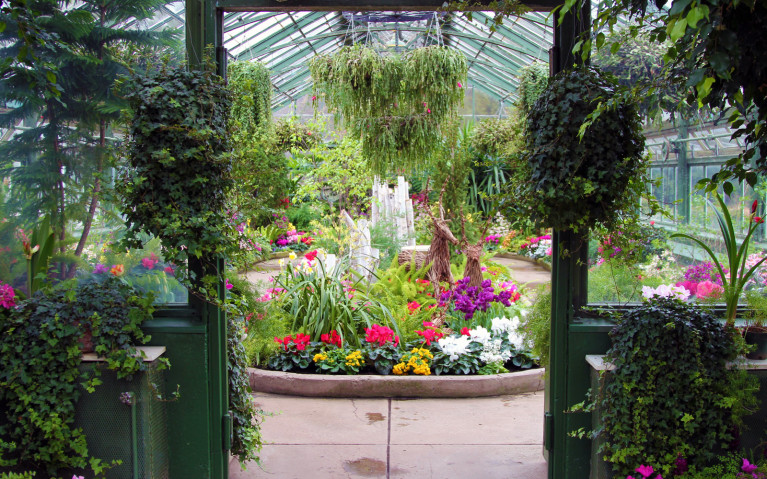 Enjoy the FREE Things to Do in Niagara Falls
As Niagara Falls is a top tourism destination, the costs can quickly add up. Luckily, there are a number of amazing free things to do in Niagara Falls so you can enjoy your time without breaking the bank!
Go For an Epic Hike
If you're an avid hiker, you won't want to miss the top hiking trails in Niagara Falls. There are a number of fantastic trails in the city, but if you're going to go anywhere – it has to be the Niagara Glen Nature Reserve. You'll be treated to some of the best views in Niagara Falls as you can get up close to the brilliant turquoise water of the Niagara River. Enjoy a few hours exploring the 4 kilometres of trails throughout the area. Check out my full guide to the Niagara Glen for more details!
Hunt for Street Art
That's right, there's art to be found in Niagara Falls! Head to the downtown core where you can find a number of murals that add an extra sparkle to the core. Queen Street doesn't see nearly the foot traffic that a hotspot like Clifton Hill does, but it still makes for a great adventure. Plus there are a number of fantastic local restaurants in the area if you're hungry!
Explore the Heartland Forest
While it's a little off the beaten track, the Heartland Forest is worth detouring for! Head to the western side of the city where you'll find a natural oasis that's accessible to all. Stroll through the park's beautiful trails and enjoy the beautiful art installations and carvings. It's a welcomed breath of fresh air if you need a break from the hustle and bustle that comes with Niagara Falls!
RELATED: For the full lowdown, check out my inside scoop on all the free things to do in Niagara Falls!
Be in Two Places at Once
A fun fact you may not know is that you can actually be in two places at once. All you'll need is a quarter and your passport. It isn't really advertised but the Rainbow Bridge across from Casino Niagara is pedestrian-friendly! Just throw a quarter in the turnstile and walk towards the US side. Halfway you'll find a plaque that illustrates the exact border between the two countries – meaning you can have one foot in Niagara Falls on the American side, and one on the Canadian side. How cool is that?! An added bonus is the view is pretty fabulous too!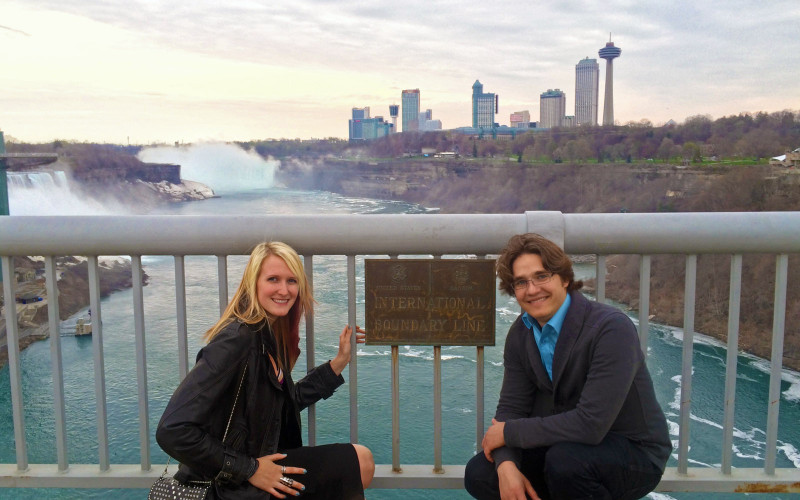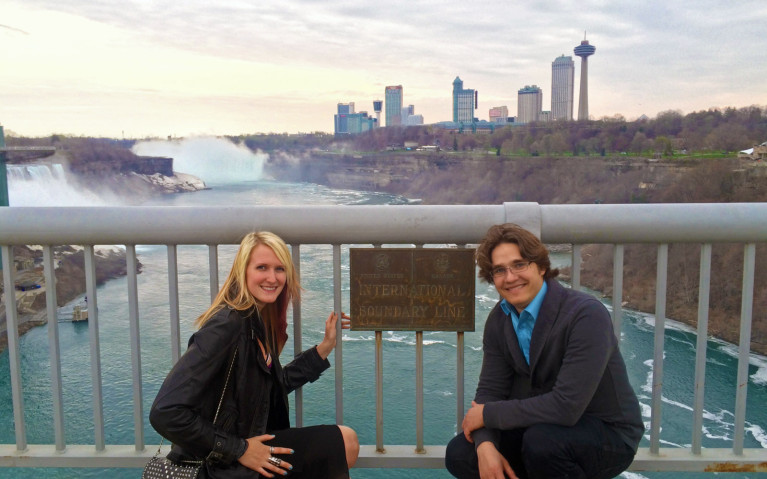 Things to Do for Families in Niagara Falls
Niagara Falls and families go hand-in-hand as there is plenty to do for families of all shapes and sizes. The majority of the attractions mentioned above are great for families with small children, and there is plenty more to do around Clifton Hill. With fun houses, wax museums, bowling, mini putt and more you could easily spend one day just in Clifton Hill alone! Everything is also paved sidewalks and easily accessible for those with strollers. However, the sidewalks can get crowded in the busier months.
I'm not typically one to support chains but dinner at the Rainforest Café is a must if you haven't been before. With animatronic animals and 'thunderstorms' every 30 minutes, it's bound to entertain the youngin's… it still entertains me! Although it can get loud, so if your little one has sensitive ears, a pair of earplugs might be a good idea.
Things to Do in Niagara Falls for Couples
For all the lovebirds, there is plenty of romantic spots for a memorable trip. You can get some of the best views of the area from the top of the Niagara Skywheel. Just you and your partner in crime snuggled up enjoying each other's company and the views from your own personal little pod. If that doesn't make you go aww… then you're a tough crowd. Click here to purchase your tickets.
Looking for a more easy-going, low-key adventure? Grab a drink and enjoy some friendly competition at the arcade! Go old school with some ski ball, rip up the dance floor with some Dance Dance Revolution and more at the Great Canadian Midway. The upstairs arcade next to the Boston Pizza is licensed so you can enjoy an adult beverage while kicking your partner's butt… I mean, celebrating each other's wins. Yes.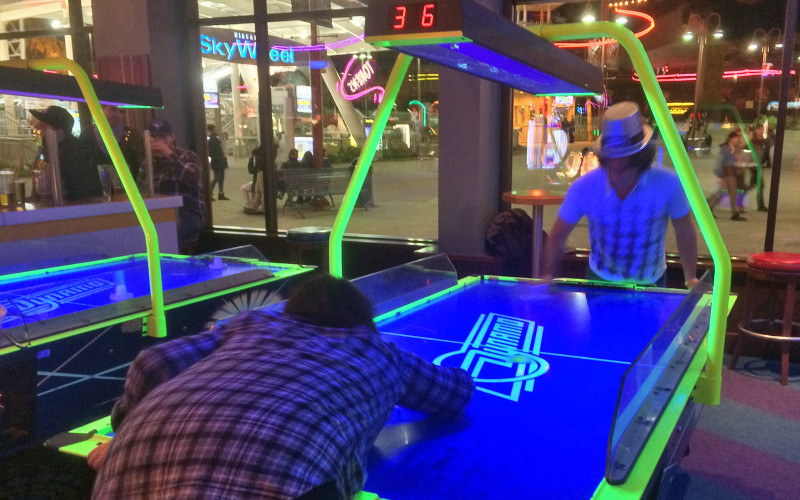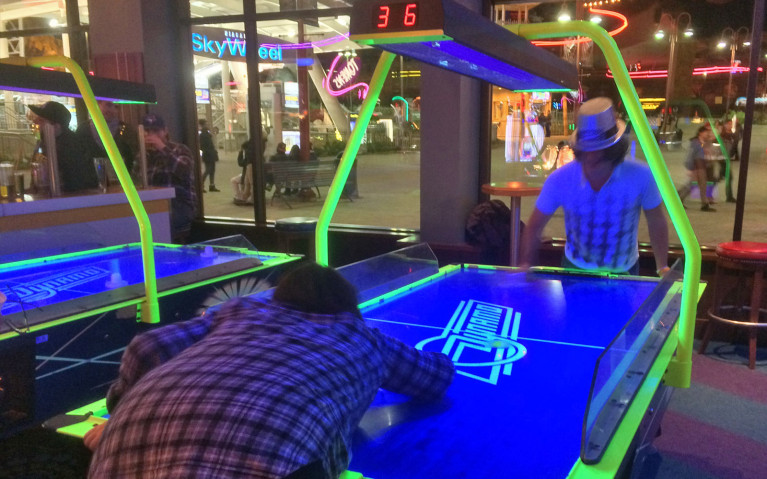 What about the guys looking to woo their new main squeeze? How about a trip to a haunted house? Protecting her from the wrath of Dracula and his goons is bound to earn you some points… unless you're the one hiding behind her. If you're a pair of horror buffs, you can always take on Screamers… if you dare!
For those looking to celebrate a big night, dinner at the Skylon Tower's revolving restaurant is a great spot. Get a little fancied up and enjoy the great food and service. I highly suggest going around sunset, if not to have dinner while the sun is saying goodbye for another day then to enjoy it from the observation deck which is included at no extra cost!
Although if you're really looking to kick it up a notch, there's the Ruth Chris Steakhouse across from the Fallsview Casino. I can honestly say it was one of the best meals I've had in the area, but the price tag shows it… so I'd save this for a big event or if you've gotten lucky at the casino prior. Although if you cashed in on one of those Travelzoo or Groupon deals, it'll help ease the pain on your wallet.
In all honesty though, whether you're going for the low-key fun or fancy dress & tie, I'd avoid the peak travel times. I don't know about you, but fighting through crowds really isn't my idea of a romantic getaway!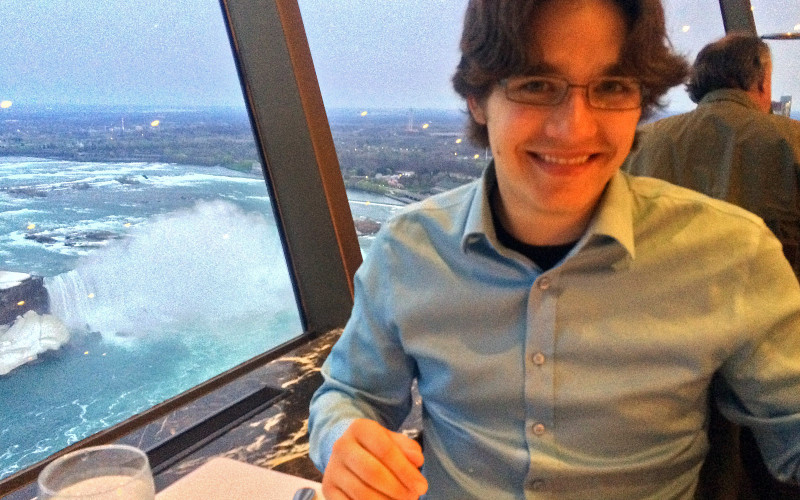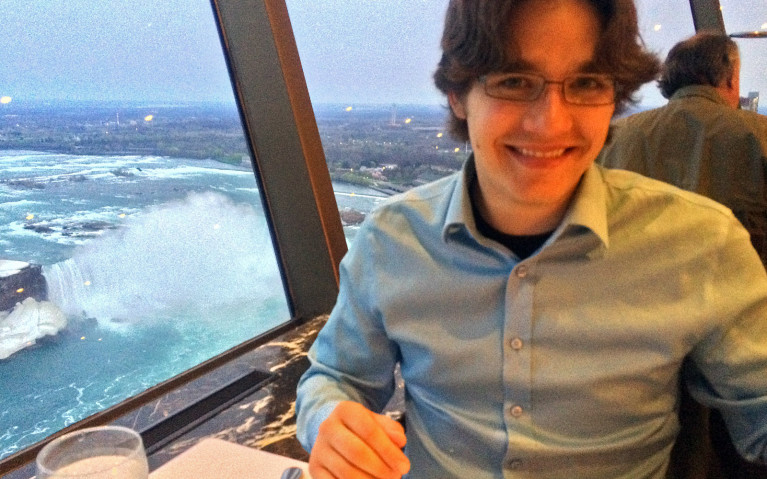 Tips for Saving Money in Niagara Falls
Visiting Niagara Falls itself is free, but it all depends on what you do and where you go within the city. If you're stopping in just to catch a glimpse of the Horseshoe Falls and wander around the city, then you can do so without paying a dime. However, chances are you'll be spending the day there meaning you'll probably spend a bit of cash at some point.
Hungry? Go Outside the Tourism Core
One of the easiest ways to save money in Niagara is by where you eat. Many of the restaurants along Clifton Hill, near the Fallsview Casino and in the Table Rock Centre are convenient but expensive.
Your best bet is to go into downtown Niagara Falls and support local establishments. Not only this, but chances are you'll get an amazing meal as they're concerned about having repeat customers while many of the big restaurants are more focused on the number of one-time visitors. One of my favourite restaurants is Taps Brewhouse where you can enjoy incredible eats and a refreshing craft beer on their patio!
If you're travelling with a big group, grabbing some takeout is always a fantastic option. There are a number of great pizza spots like Red Swan Pizza on Thorold Stone Road and Zappi's Pizza on Stanley Avenue. I'm also a huge fan of the build your own taco kits from Eager Beaver Eatery on Dorchester Road! Make sure you get the fish tacos – you'll thank me later.
Drink in Your Hotel Room
For those looking to get a little crazy, alcohol can get expensive if buying it from a restaurant. The best place to get alcohol without breaking the bank is at the LCBO (there's one right on Ferry St and Fallsview Blvd – perfect for stopping on your way in) or the Beer Store. There is a Wine Rack in the Fallsview Casino complex which will do in a pinch, but the selection will be small. Grab a selection of adult beverages and enjoy a few in your hotel room to save some serious cash.
If you touch the mini bar though… be prepared for a serious price tag. Avoid it at all costs!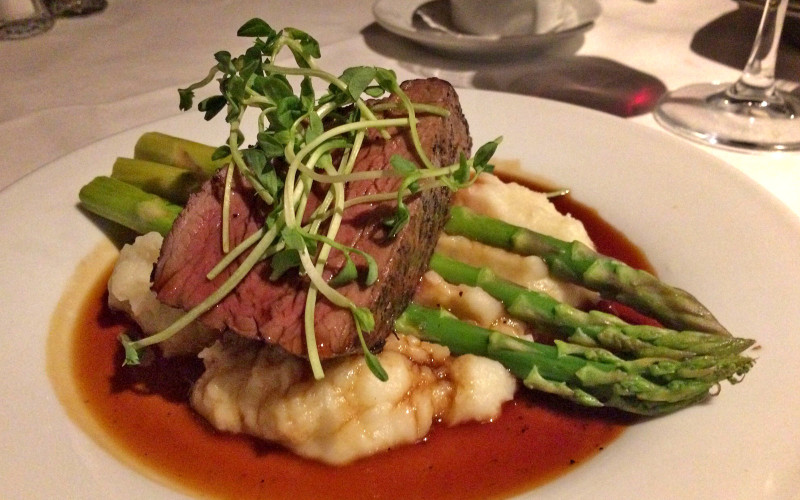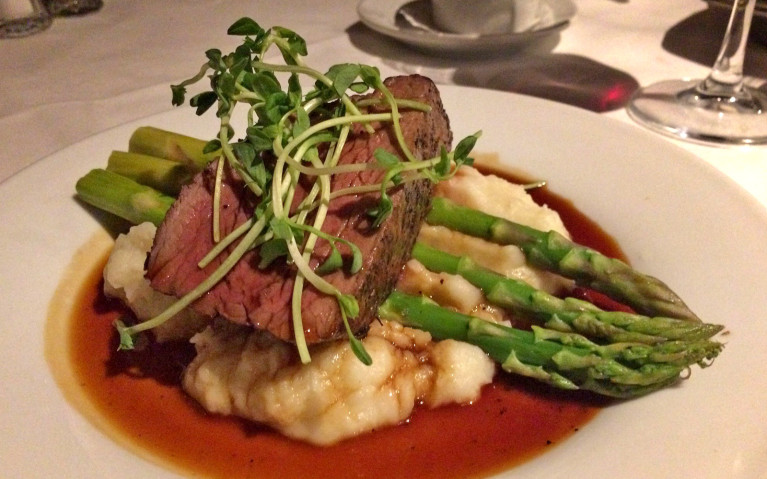 Additional Things to Know For a Trip to Niagara
Each time you visit Niagara Falls, you'll discover something about the destination. It's from multiple visits that I've gained this wealth of knowledge! Here are a few additional things to know for your visit to Niagara Falls.
What to Wear When Visiting Niagara Falls
What many don't realize is that Canada is infamous for fluctuating weather. We've had snow in May, scorching temperatures of almost 40°C (~100°F) in August and Niagara Falls even came close to freezing over a few winters back. As you can imagine, it's hard to pack when the temperature is all over the place!
As I briefly mentioned earlier, I always recommend dressing in layers. If you visit in the summer, it could be incredibly hot outside but then you'll have air-conditioned restaurants and stores. As someone who almost always finds the AC too cold, I don't leave home without some sort of hoodie or zip-up sweater to ensure my teeth aren't chattering. As for winter, it's pretty much the reverse. Freezing temps outside with warm and cozy inside. You'll want to wear a t-shirt under your hoodie in case you get too hot!
If you plan on going out to a fancy dinner or hitting up the casino, it's not uncommon to get a little dressed up. I'd recommend packing at least one outfit that's at least business casual if you plan on splurging a little with a sophisticated night out. It never hurts to throw in a little black dress (and whatever the male equivalent of that is)!
What Do I Need to Visit Niagara Falls?
If you're Canadian then all you need is your two feet and your transportation! If you're coming from the United States, you will need a valid passport or NEXUS card in order to cross the border. This goes for the pedestrian bridge too! You will also be required to pay a toll for the bridge as you enter Canada. You can find a list of what the current toll price is here.
Are you a citizen of another country? Chances are you will need an Electronic Travel Authorization or ETA in order to visit Canada. This is easy to obtain and is connected to your passport. All you need to do is fill out this form online and pay a $7 fee. However, some countries may even require a visitor visa in order to visit Canada. If you're unsure which one you need, take a look at the Government of Canada website to see if you require an ETA, visitor visa and how to go about getting either one.
Is There Any Time I Can't Visit Niagara Falls?
Contrary to what some may say, Niagara Falls never closes. The stores, restaurants and other establishments may close, but the falls are always there for you to admire. Yes, you can visit Niagara Falls at night. Yes, you can visit Niagara Falls in April or December or any month of the year.
If you're looking for a specific time on when to visit Niagara Falls, well that's entirely up to you! You can have a different experience depending on when you visit. If you're wondering whether you should visit in December or any other time for that matter, I think the answer is yes. Each season has its perks and quirks, you just have to decide what time is best for you!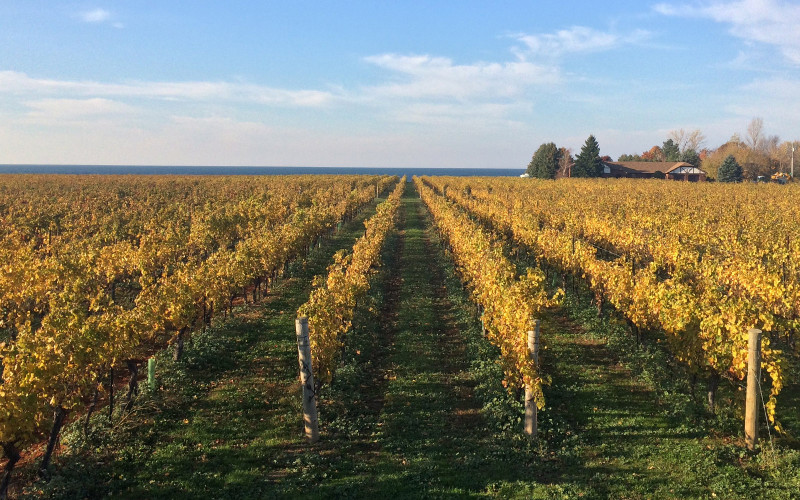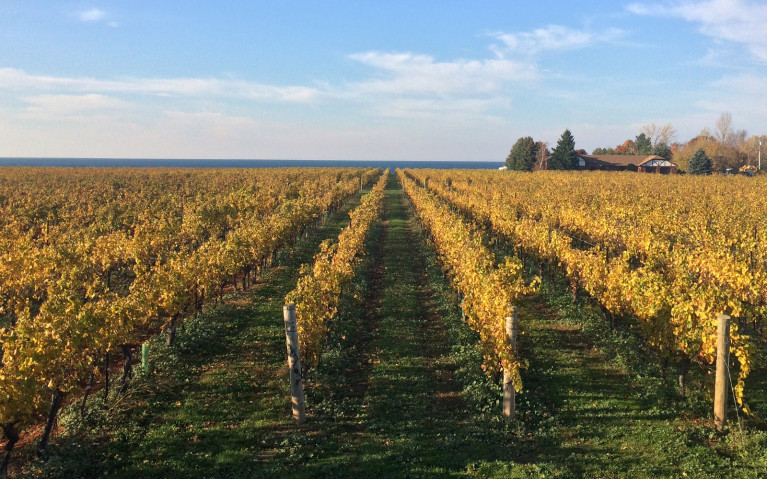 Looking for Other Things To Do in Niagara?
The city itself is great and all, but there are plenty of things to do in Niagara Region that shouldn't be missed. The picturesque town of Niagara-on-the-Lake is perfect for an afternoon of wandering shops, delightful boutique eateries and to catch a theatre show. If wine is your thing, I highly suggest heading to one of the many wineries in the area. There's a reason why this region is the 2nd highest for Canadian wine exports!
You have two options for this and there are perks and downsides to both. The first option is to hop on a guided tour. You can either enjoy a bus tour that leaves right from one of the hotels in Niagara Falls or you can earn your wine with a cycling tour. There are quite a few guided Niagara Falls tours which are great since everything is planned for you, but they typically take you to the larger wineries. Here are my top picks for Niagara winery tours:
Your alternative is to assign a designated driver and hit the open road. If you're wondering what Niagara wineries to visit, I suggest Inniskillin, Peller Estates, Pillitteri, Konzelmann and Small Talk Vineyards. I've got all the details on these Niagara wineries and more! Most wineries can get really busy in the summer so if you're looking for somewhere on the quieter side during that time, the wineries in Vineland are a great option!
If you're looking to do a little shopping, you have the option of two outlets in Niagara. There's the Canada One Factory Outlet which is closest to Niagara Falls or the newer Outlet Collection at Niagara. Both offer a different ensemble of stores, but if you had to choose I'd select the latter.
Are you one that heads for the trails? There's plenty of hiking to be done. As I mentioned earlier you can tackle part of the Bruce Trail or enjoy the views from the Niagara Glen. If you need more waterfalls in your life, Decew Falls is the closest option with Swayze Falls in Short Hills Provincial Park, Louth Falls and Rockway Falls just around the corner. Here's a round up of over 10 waterfalls you can check out in the Niagara Region! Waterfall hunting is hands down one of the top things to do on the way to Niagara Falls.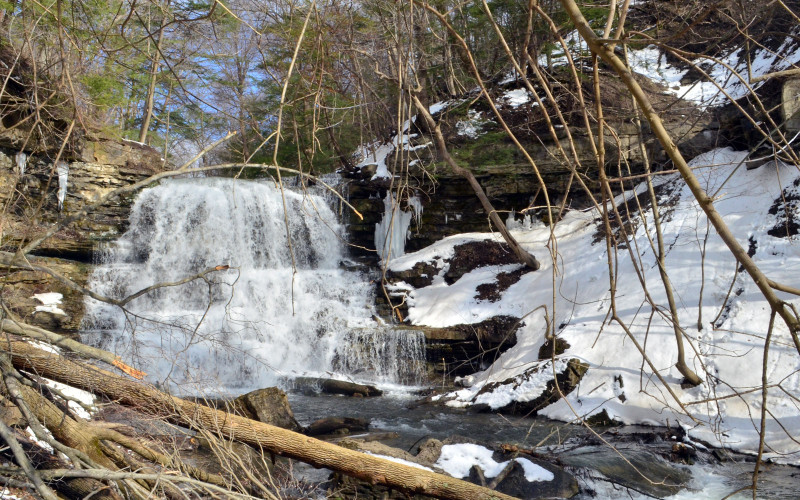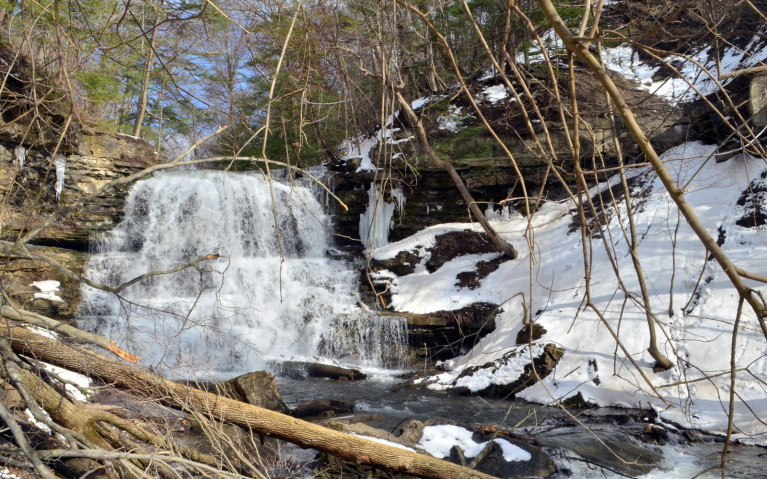 The Biggest Thing to Know When Visiting Niagara Falls Canada
I put this one at the bottom because if you're going to remember any of these Niagara Falls travel tips – this is the one. The worst is that it flies under the radar so often. If you look at your bills, you may see the acronym DMDF. This refers to the "destination marketing and development fee", a 3% charge which many hotels and restaurants will add to your bill. Also known as a TIFF (tourism infrastructure funding fee), it is entirely voluntary and can be refused.
Since 2018, a hotel tax of $2 per night has been approved but it is ONLY for hotel rooms and cannot be applied to any other tourism components. However, some hotels have made it mandatory and have increased it as high as 10%, so be sure to read the fine print or call and inquire when booking your accommodation.
What makes it even worse? This money isn't being collected for the joint purpose of helping the region – it's going right to the establishments for them to spend as they see fit. For some bills, it may only be a dollar or two, but for an extended hotel stay… it quickly adds up. Be sure to ask about it as hotels and restaurants will not say a word unless you do.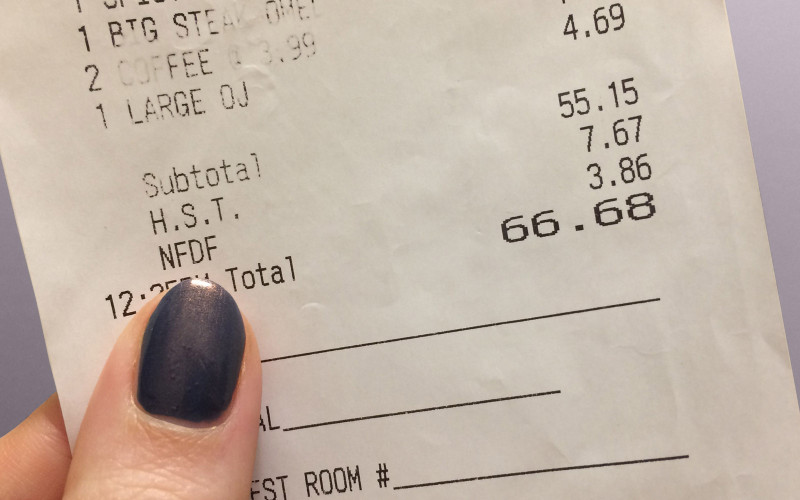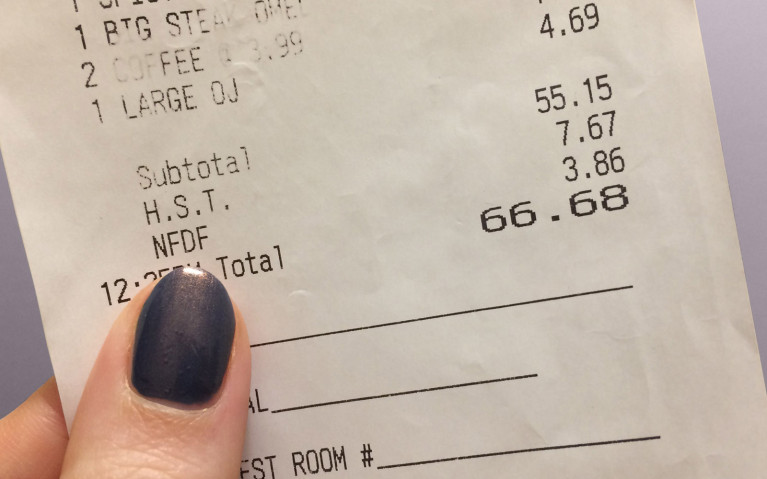 Summary of Lindsay's Insider Tips for Visiting Niagara Falls
For those skimming this post who are looking to just cut to the nitty-gritty, here are the important tips for traveling to Niagara Falls Canada:
You will need a passport and possibly an eTA visa in order to enter Niagara Falls if you're not already in Canada
Coming from outside Canada? Watch for tolls, roaming charges and additional credit card fees
Niagara Falls is always open, meaning you can see both the Horseshoe Falls and Bridal Veil Falls (aka the American Falls) any day at any time.
While attractions cost money, visiting Niagara Falls is free if you're there to witness the gorgeous waterfalls!
You can visit Niagara Falls at any time of the year. Can you visit Niagara Falls in winter? Yes. Can you visit Niagara Falls in March? Yes. Can you visit Niagara Falls now? Of course, come on down!
The best way to save money is to visit Niagara falls in the off-season which is from October to April
When selecting your hotel, watch out for parking fees as they're daily and can become very expensive over an extended stay
Travelzoo has amazing deals as well as Groupon where you can enjoy a number of attractions at a great discount
Don't let any rain dampen your visit and check out the top indoor attractions in Niagara Falls
Take advantage of the Niagara Parks Passes like the Wonder Pass or Adventure Pass to save money on attractions
Keep your wallet happy and check out all of the amazing free things to do in Niagara Falls
Don't miss out on the amazing hiking trails in Niagara Falls like the Niagara Glen Nature Reserve and get outside the city, especially to chase waterfalls in the Niagara Region
There are plenty of things to do for families, couples and friends in Niagara Falls making it a great destination for any type of trip
Save money on meals by eating at local restaurants like those in downtown Niagara Falls or grabbing takeout and eating in your hotel room
Grab your adult beverages from the LCBO or Beer Store to avoid the high price of alcohol in restaurants
Dress in layers when visiting to ensure you're always comfortable no matter the climate
It's a great idea to get outside of Niagara Falls so you don't miss out on exploring Niagara-on-the-Lake aka wine country and other great features of the area
Never forget to ask to have the DMDF or TIFF to be removed from your bills as it is entirely voluntary and can be refused.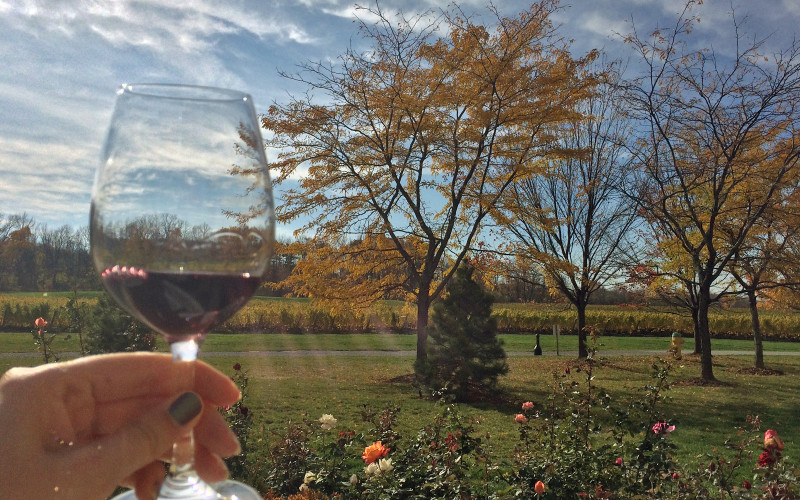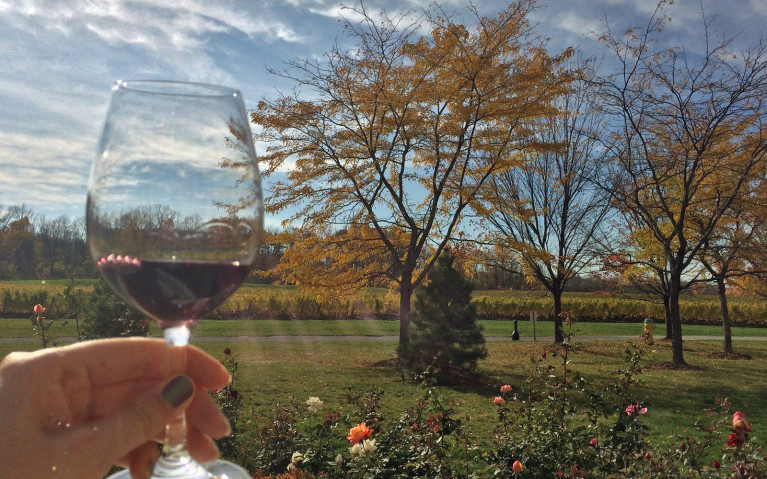 Ready to Visit Niagara Falls?
Phew, that's quite the lengthy list! As I said before, visiting Niagara Falls can be quite the ordeal, but I hope this round-up of Niagara Falls vacation tips will help make your stay as enjoyable as possible. If you're looking for tips for visiting Niagara Falls USA, you'll have to stay tuned for another post. Even though I lived in the area for over 20 years, I still have barely experienced the American side. I think I need to fix that one day!
Are you going to Niagara Falls soon? I hope these tips for going to Niagara Falls will make planning your trip easier! Have you visited Niagara Falls before? Have I missed any of your questions about Niagara Falls that you'd like answered? Please let me know in a comment below!
Looking for More Tips for Visiting Niagara Falls?
Top 5 Ways to Experience the Niagara Gorge
Indoor Things to Do in Niagara Falls on a Rainy Day
Don't Miss the Top Hiking Trails in Niagara Falls
Enjoy a Natural Escape in Niagara Falls at the Heartland Forest
Plan a Spring Visit to Chase Cherry Blossoms in Niagara
Embrace the Snow with a Visit to the Winter Festival of Lights

More Articles For Your Visit to the Niagara Region
30+ Incredible Things to Do in Niagara-on-the-Lake
The Best Guide For Chasing Waterfalls Across the Niagara Region
Hike Through Short Hills Provincial Park, Niagara's Largest Park
Check Out One (or More!) Of the Niagara Region's Best Hikes
Explore the Top Hiking Trails in St Catharines
Enjoy a Glass at The Best Wineries in Niagara
Take a Hike at the Woodend Conservation Area
Explore the St Johns Conservation Area in Fonthill
Follow the Bruce to the Beautiful Rockway Falls in Lincoln
Don't Miss This Self-Guided Tour of Vineland's Wineries
The Top Beamer Memorial Conservation Area Hiking Guide
Things to Do in Port Colborne, Niagara's Ship Shape City
Plan a Visit to the Niagara Icewine Festival

Disclaimer
This post contains affiliate links where if you book through them, I could receive a kickback at no extra charge to you! Read more in IBB's disclaimer and privacy policy.
Want to remember these tips for visiting Niagara Falls Canada? Pin it for later!