11+ Amazing Indoor Things to Do in Niagara Falls on a Rainy Day

Niagara Falls is a top destination for many tourists as it's one of our planet's many natural wonders. When you've seen the sheer beauty of the Horseshoe Falls, it's no wonder why so many travel from all over the world to witness it. Unfortunately, sometimes Mother Nature will put a damper on your trip but luckily there are plenty of great indoor things to do in Niagara Falls on a rainy day. Don't forget to pack a rain jacket and/or umbrella and let's have some fun!
Be sure to check out my insider tips for visiting Niagara Falls as this local gal shares how to save money, where to stay and more!
Disclaimer: This post contains affiliate links where if you make a purchase, I may receive a kickback at no extra cost to you. It helps keep IBB alive so thank you!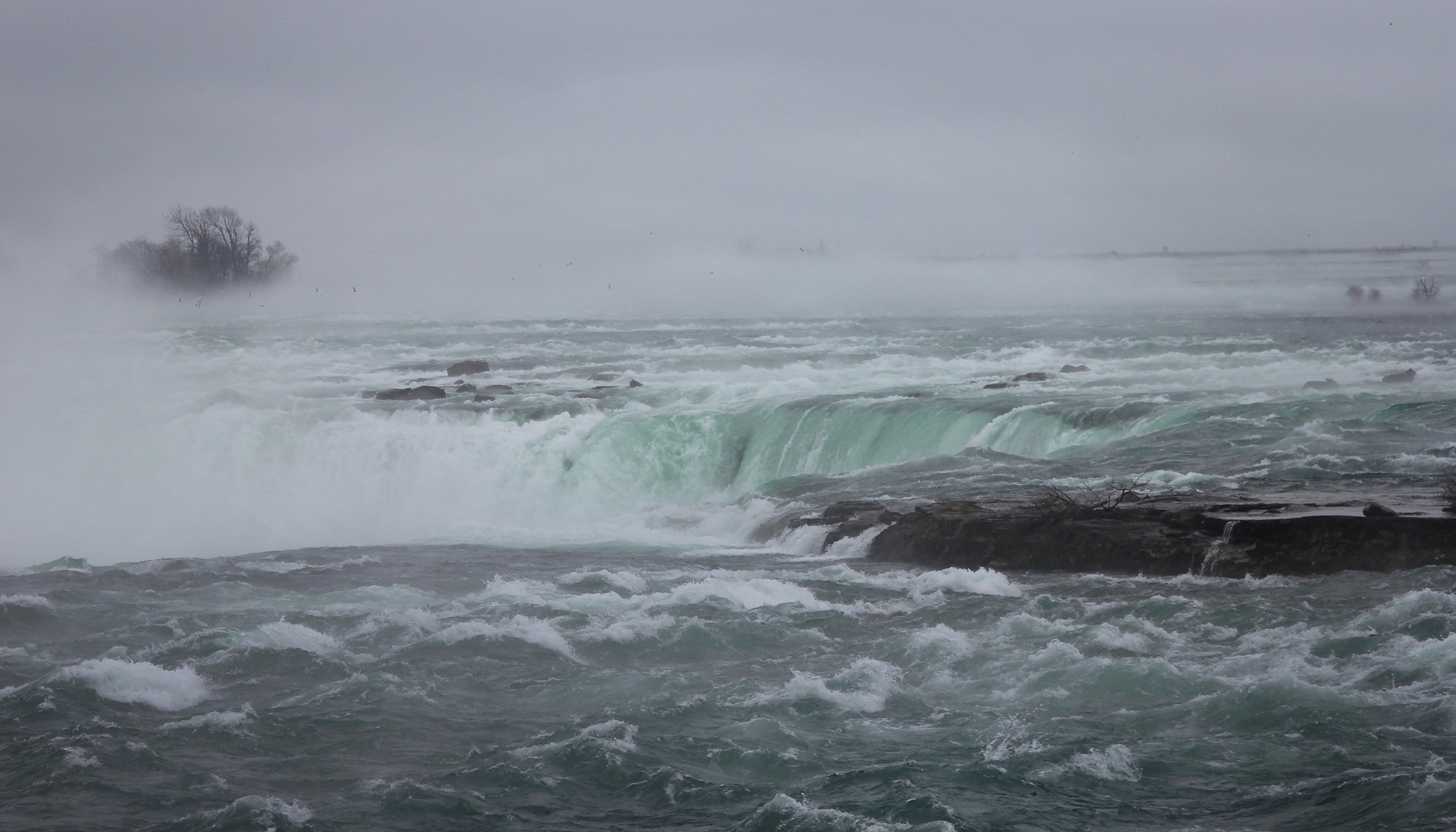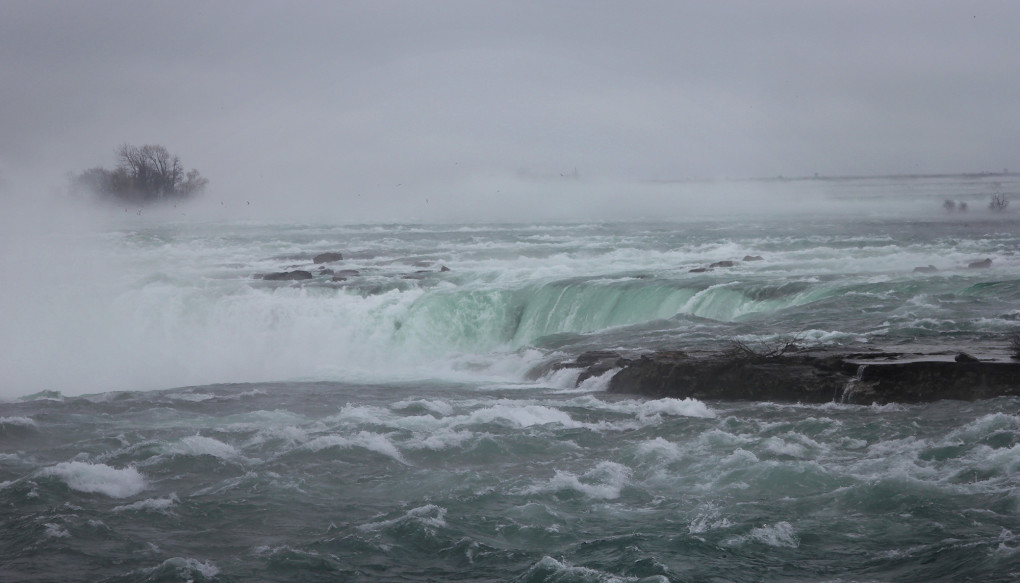 Indoor Things to Do in Niagara Falls Canada
While the falls themselves are the big draw, there is plenty to see and do when the weather turns sour. This list isn't just great for a rainy day in Niagara Falls but also for escaping the heat of summer or staying warm in the winter too!
Niagara Parks Floral Showhouse
With the ever-increasing influx of travellers, Niagara Parks protects and preserves the beauty that is Niagara Falls and its surrounding area. Established as an agency of the Government of Ontario in 1885, Niagara Parks is responsible for 1,325 hectares (3,274 acres) of parkland along the Niagara River, as well as the 56 kilometres that compose the Niagara Parkway. Within these areas are many attractions, some of which are available year-round. For example, the Floral Showhouse is definitely one of the top things to do in Niagara Falls on a rainy day!
A delightful oasis for over 60 years, the Floral Showhouse is only a short walk from the Horseshoe Falls. Inside are beautiful tropical plants, a seasonal exhibition, and lots of critters scurrying around! Walking in, you feel as if you've become Snow White as chipmunks scamper by, birds tweet away and if you're lucky, Violet the softshell turtle will even come to say hello! You'll often see her hanging out with her flowery turtle counterpart.
The displays change seasonally, so you'll want to return again and again! I've heard if you visit around Easter time there just might be some bunnies and chicks wandering about. Another highlight is that the Floral Showhouse is home to not one but several Titan Arums, also known as the giant corpse flower. This flower doesn't bloom every year and there's really no way of knowing when exactly it will bloom. However, the staff often have an inkling as to when it will so keep an eye on Niagara Parks' Facebook Page for reports. You might get lucky and witness it depending on when you visit!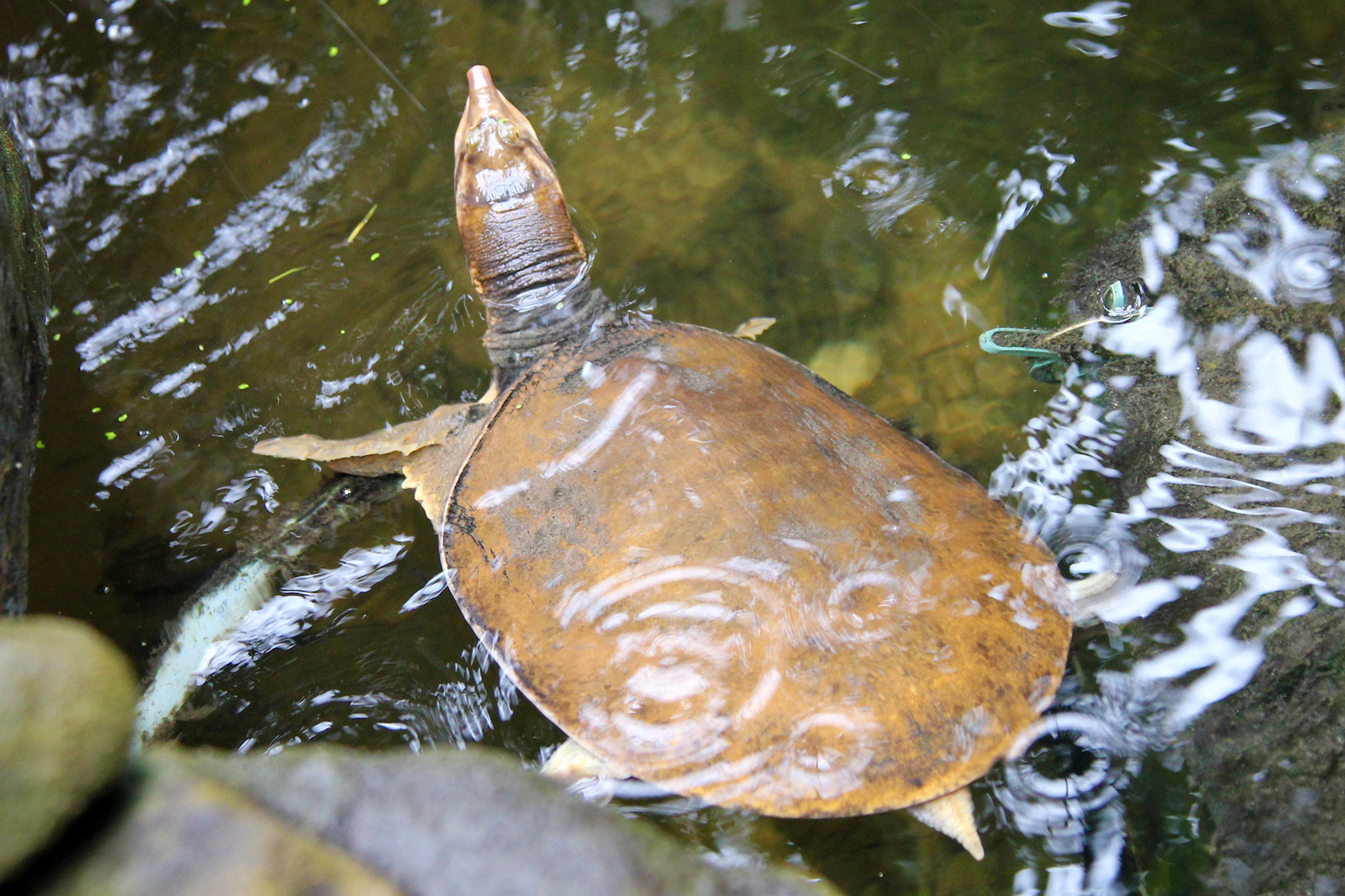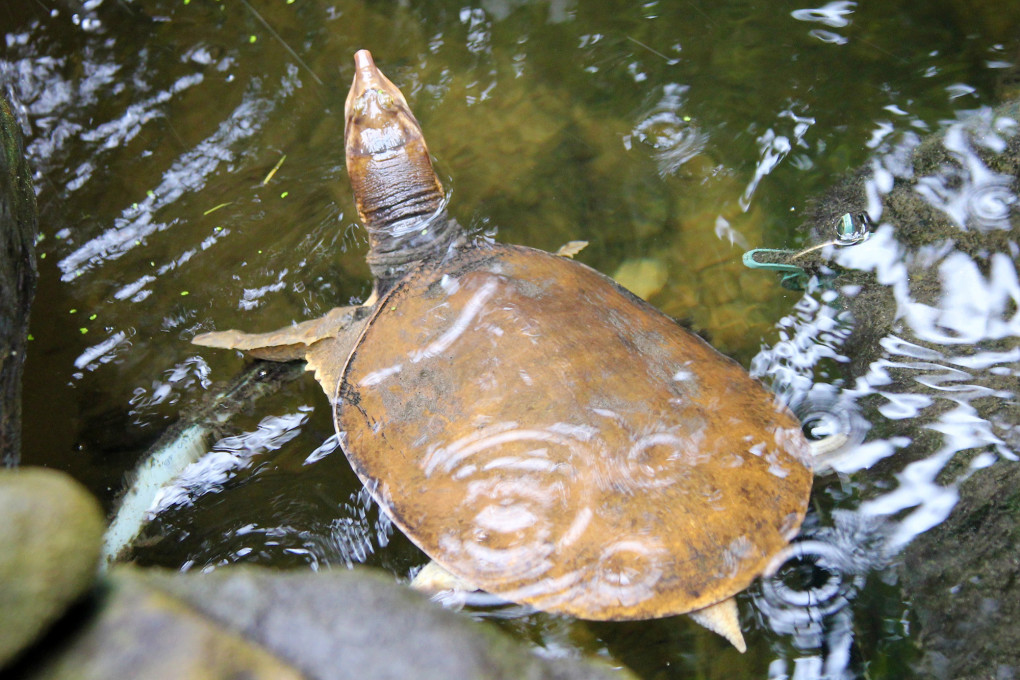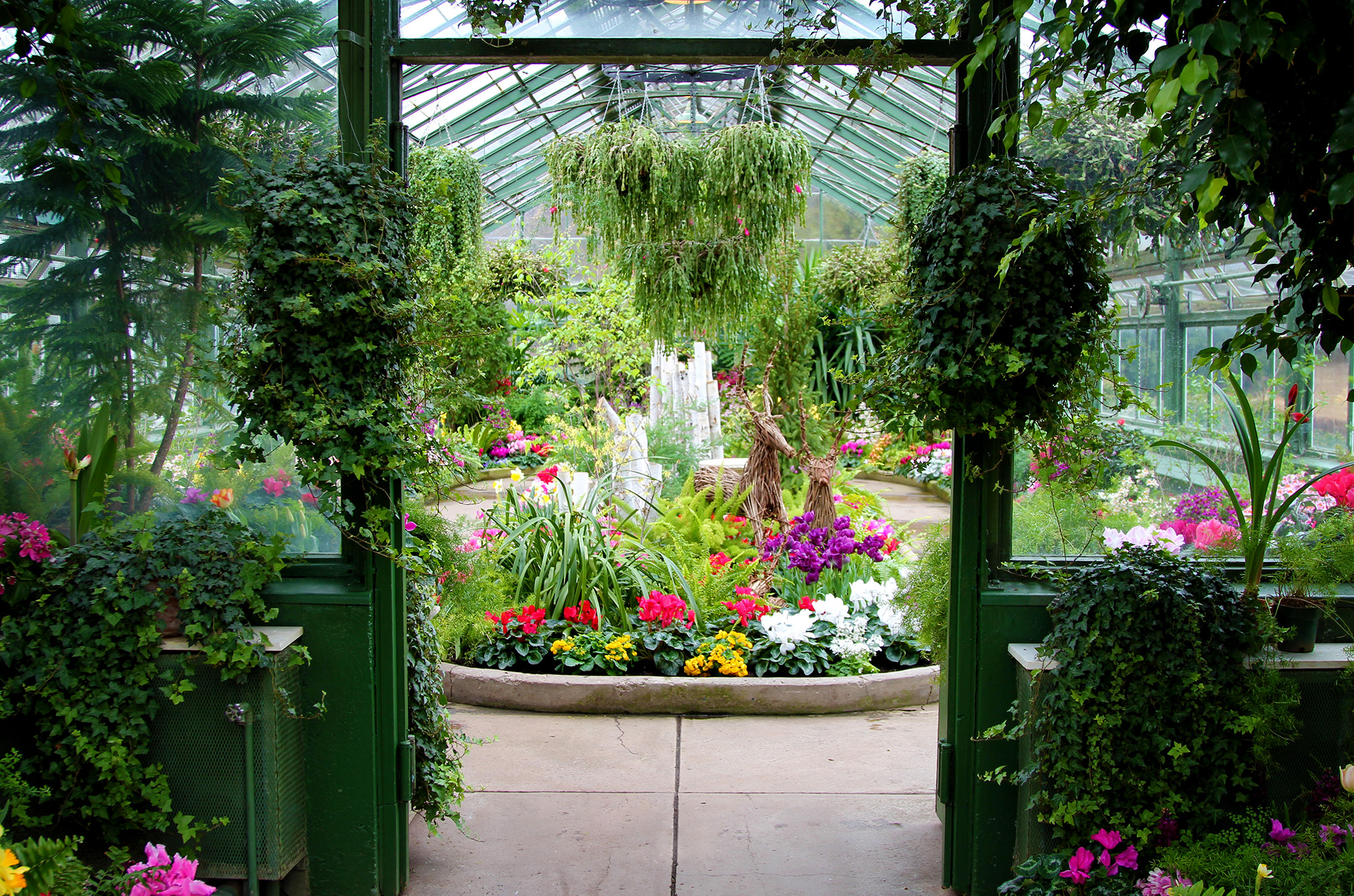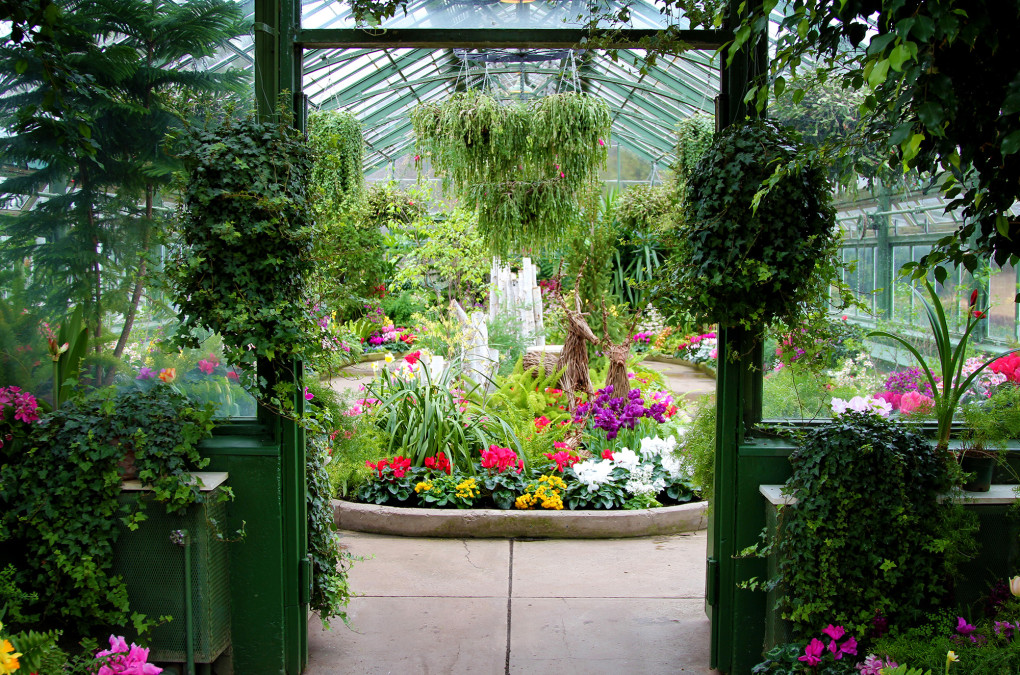 See a Flurry of Feathers at Bird Kingdom
Did you know Niagara Falls is home to the world's largest free-flying indoor aviary? Bird Kingdom is home to over 400 free-flying birds including at least 35 exotic bird species. You'll also find lizards, spiders and snakes inside the 50,000-square-foot "Lost Kingdom".
Besides the sheer number of species within their walls, another claim to fame for the Bird Kingdom is their Javanese House. It's the only one of its kind found in North America and it dates back to the 1800s. Hand-carved using solid teak, you'll marvel at this beauty where no nails are used to hold it together!
For anyone who is concerned about seeing tropical animals in captivity, Bird Kingdom is a member of the Canadian Association of Zoos and Aquariums, a professional organization dedicated to upholding standards and ethics for animals in captivity. They obtain their animals in three ways: by trading with other facilities via Species Survival Programs; breeding of animals at Bird Kingdom and donations by private owners. Many of the birds are rescued from individuals who found the birds to be too much to handle, so they live out their years at Bird Kingdom where their animal care committee takes great care of them.
INSIDER TIP: Don't forget to see if Groupon has a deal or check out this coupon from Attractions Ontario to save some money on admission!
Niagara Parks Butterfly Conservatory
The Butterfly Conservatory is probably my favourite of all the Niagara indoor attractions on this list. Established over 20 years ago, it is located in the heart of the 80-year-old Niagara Parks Botanical Gardens. It is currently home to over 2,000 butterflies – most of which are found in the tropics! You might even get a bonus complimentary exhibit as they have special guest displays throughout the year. During my visit, the We Are The Insects exhibit was on loan from Montréal's Insectarium. I got some insight into how many insects and beetles have evolved to suit their habitats, and said hello to a few live critters as well!
SOMETHING TO NOTE: NEVER eat or drink within the conservatory itself. This will attract ants which will eat butterfly eggs and larvae. For the sake of future generations, be courteous and be sure to consume anything outside the butterfly exhibit!
The Butterfly Conservatory is very educational for all ages, making it a Niagara attraction that's not to be missed. For example, did you know a butterfly's colour comes from tiny overlapping scales that are very easily disrupted or destroyed? This is why you should NEVER touch a butterfly! You can tell a butterfly is older if there are some scales missing since they're missing from flying around the block once or twice! Whether you're there to learn or just enjoy the beautiful colours, this is the place to be when it calls for rain in Niagara.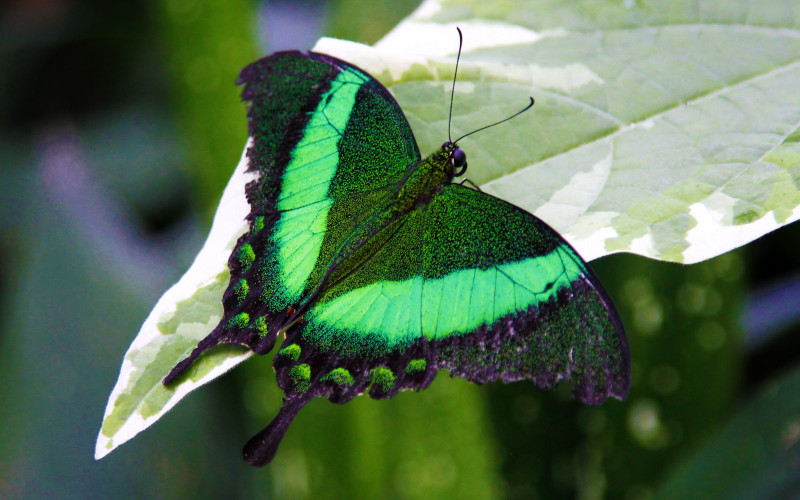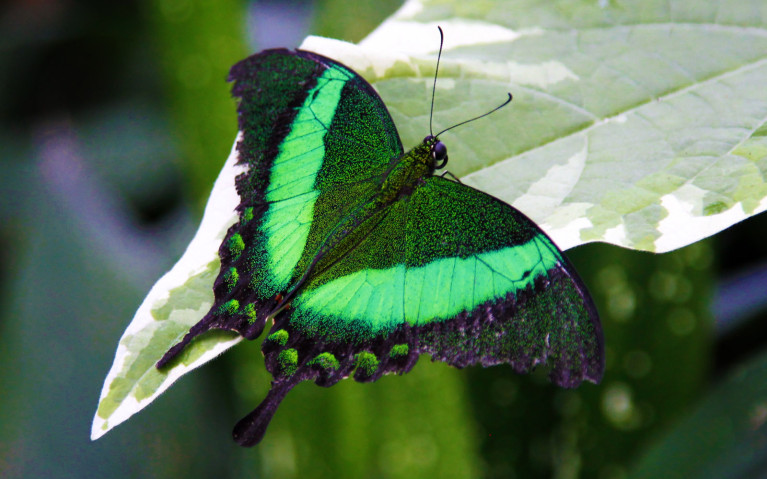 Take a Journey Behind the Falls
Okay so Journey Behind the Falls isn't entirely inside but rain shouldn't stop you from enjoying this Niagara Falls attraction. Get up close and personal with the Horseshoe Falls as you take an elevator 38 metres below the surface to explore 198 metres of tunnels. A rainy day means it may be a bit foggy so visibility won't be the greatest, but it won't stop you from feeling the sheer power of the falls from the outdoor observation decks!
SOMETHING TO NOTE: If you do visit in the winter months, only the smaller platform is open for visitor safety. Don't worry, you can still get a great view of the Horseshoe Falls from below!
Niagara Falls carries 20% of the world's freshwater which flows in from the Great Lakes at 65 kilometres per hour. The absolute power of the falls can be seen in the migration of its brink. It has slowly moved south 11 kilometres from its original position near the village of Queenston! During the last century, engineers intervened to divert the water in order to slow this erosion from 3 metres every year to only 30 centimetres every 10 years!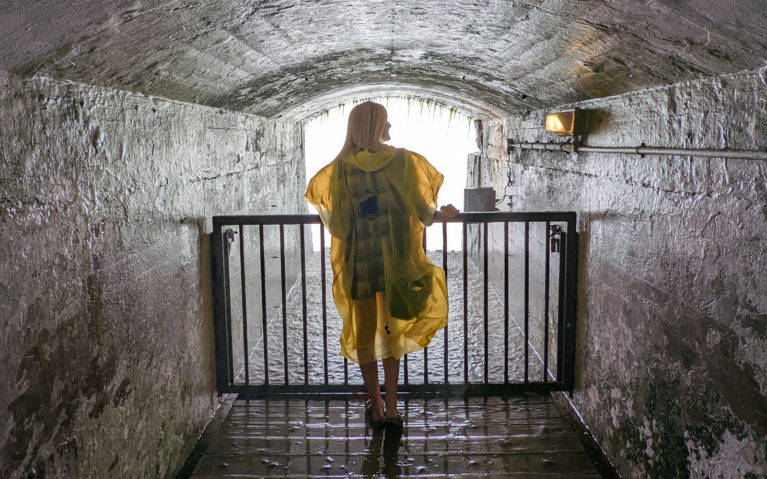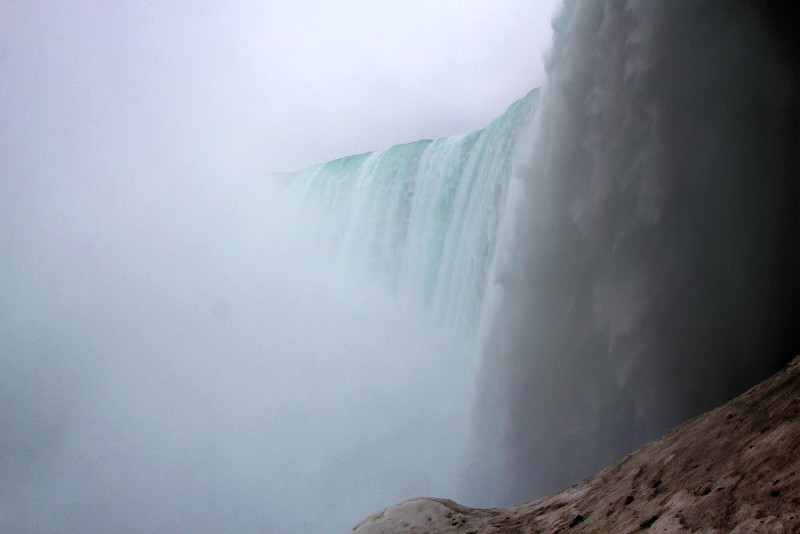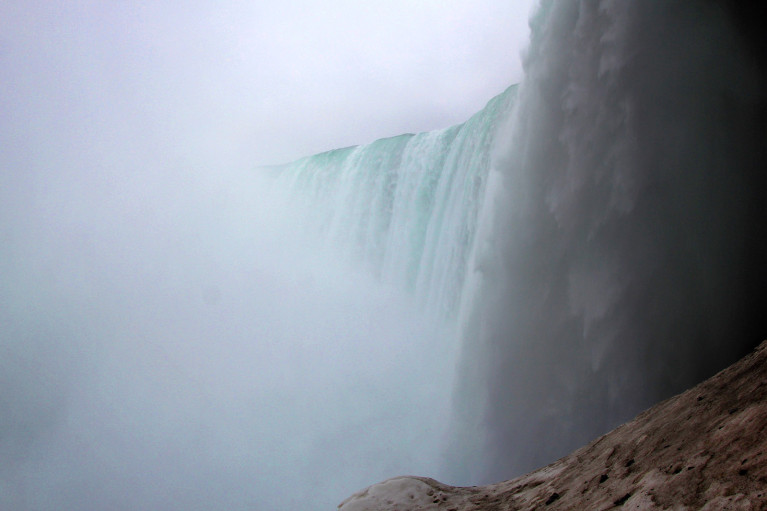 Play a Game at Clifton Hill's Great Canadian Midway
So this is definitely one of my favourite things to do when visiting Niagara Falls. I know, I know, it's cringeworthy but it's just so much fun to let loose with some classic arcade games!
My favourite part is that there's a separate, upstairs arcade specifically for older folks where you can enjoy some adult beverages while you play. I don't know about you but I'm definitely much better at air hockey after a couple of drinks – at least that's what my false sense of liquid confidence tells me anyway.
If you plan on visiting with little ones, I recommend staying on the main level of the Great Canadian Midway for some family fun. There are more games to choose from so the kiddos will be entertained for longer. Don't forget to cash in those tickets for a prize before you carry on to your next Niagara Falls stop!
Pop Into Another Clifton Hill Indoor Attraction
Often referred to as "Canada's Las Vegas", you'll find a number of other indoor attractions where you'll be safe from the rain. Quite a few are spread out along Clifton Hill itself as well as on Victoria Avenue.
Haunted houses like Frankenstein's Castle and Screamers are definitely popular for those who are into that sort of thing. (Spoiler: I'm not. I dodge that sh!t like my life depends on it.) There's also Louis Tussaud's Waxworks, a wax museum that contains over 100 life-like copies of celebrities, historical figures and more. Chances are you'll get a taste of the creepiness as there's often a wax figure on display right on Clifton Hill.
For more light-hearted fun that won't scare the children, there's The Fun House which offers a number of wonky rooms to climb through. It's a pretty quick whirl (unless you go back and forth a few times, but you didn't hear it from me) so you might want to save yourself the admission fee and use that money elsewhere. Let's not forget the Upside Down House which you won't be able to miss… it's not right on the main drag of Clifton Hill but you won't forget a house standing on its roof! A newer addition to the scene is the Big Top Amazing Mirror and Lazer Maze. I've never been myself but reviews give me the impression it's a good time! Of course, the Wizards Golf mini putt is always a good idea!
INSIDER TIP: Groupon often has bundles so you can enjoy a few of these indoor experiences together and save a few dollars while you're at it! Click here to see what's available.
Eat at These Amazing Niagara Falls Restaurants
If the dreary weather is getting to you, a fantastic meal will fix you right up. There are a number of restaurants including the typical names you recognize like TGI Fridays and Kelsey's, but I highly recommend ditching the chains for some of the great local eats Niagara Falls has to offer.
My first recommendation is an iconic one that you'll recognize if you've spent any time at all in Niagara Falls – the Skylon Tower. This 360-degree rotating restaurant truly offers dinner with a view! If you want to treat yourself a little during your Niagara Falls visit, this is a great way to do it. The menu can be pricey, but you can enjoy their early dinner of a 3-course meal for the set price of $45. Don't forget to check out the observation deck if there's a lull in the rain for some fantastic views! Entry to the observation deck is included when you dine at the Skylon Tower but you can purchase a ticket if you want to skip dinner.
The other spot I recommend is one that I'm kicking myself that I haven't eaten at sooner and more often. Niagara Parks' Table Rock House Restaurant is seriously incredible and reasonably priced! Their menu rotates seasonally as it focuses on locally sourced ingredients from Ontario. While you can't go wrong with meals like their Manitoulin Island Rainbow Trout and Whitefish or their Butternut Squash Bauletti Pasta, the big draw is the incredible view of the Horseshoe Falls that will accompany your meal. It's the perfect spot for a dinner date with your significant other or a meal with friends!
If you're going to have anything on the menu though, it has to be the 1918 Shipwreck Apple Barge. Oh. My. Stomach. Niagara spy apples mingle with warm cinnamon and raisins as it's cradled by a delightful filo pastry. Snuggled up with vanilla gelato and topped with Chantilly cream, you don't want to miss out on these flavours. I would come back to the Table Rock Restaurant JUST for this dessert!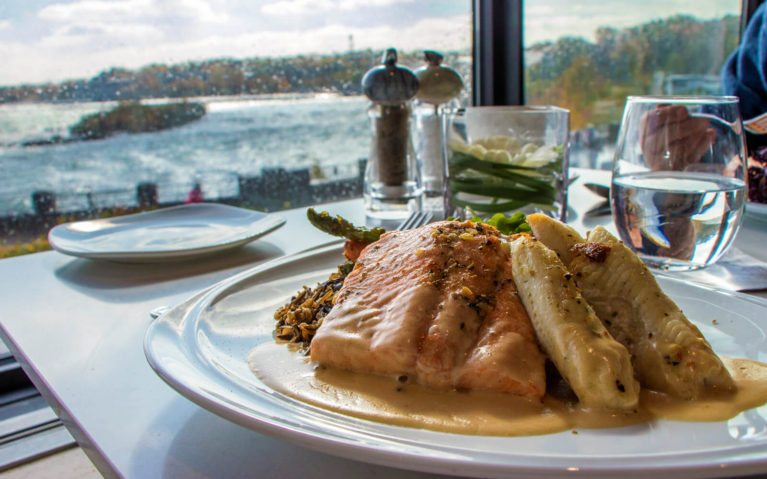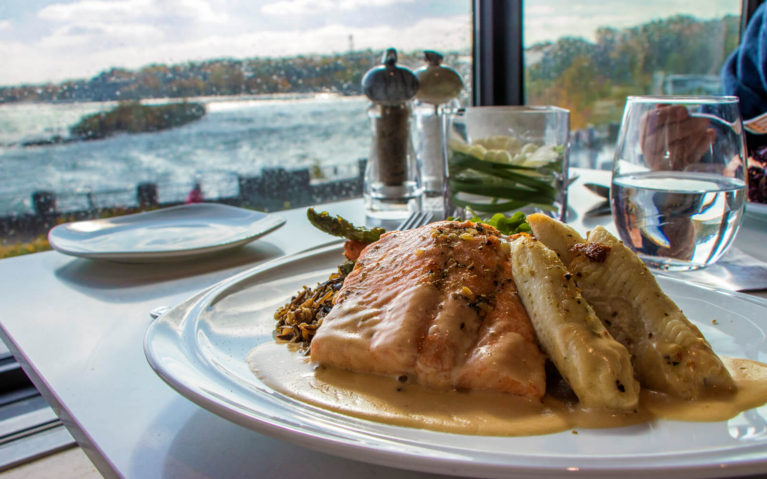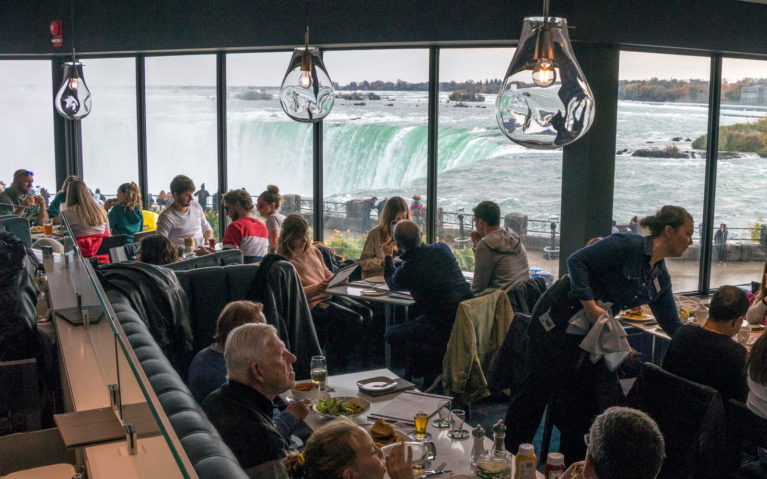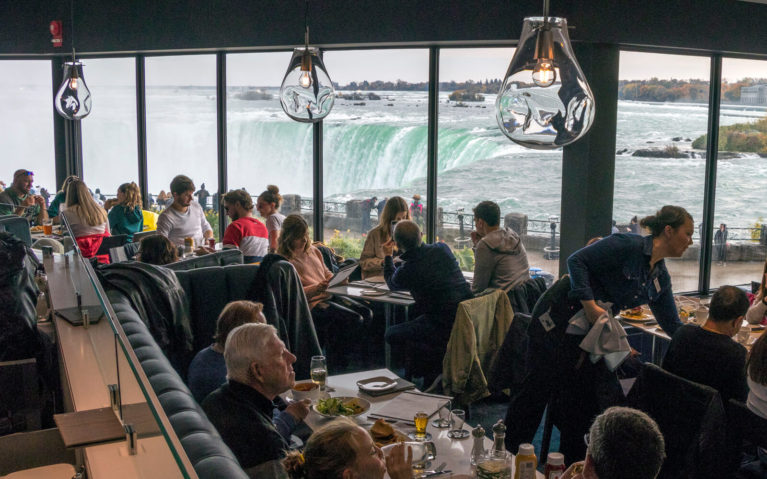 Visit the Fallsview Casino Resort
There are more times than I can count that I've popped into the Fallsview Casino to warm up on a chilly winter visit to Niagara Falls. Though I'm going to start by saying I am in no way endorsing gambling. While I have been in the odd time to try my luck, I've never spent more than $20. If you choose to go and gamble, have a plan to ensure you don't get caught up and spend more than you can. Please visit responsibly.
The Fallsview Casino has more indoor activities to offer than just slots and Black Jack tables! Looking to pamper yourself when the weather isn't cooperating? Head to their spa for some true relaxation with one of their available treatments. The Fallsview Casino also hosts a number of events so you should always check their schedule if you're interested in catching a concert or live comedy show. Honestly, I recommend just taking a walk through the complex as it is quite stunning including their constantly decorated fountain, the Teslatron.
Explore the Niagara Parks Power Station
The newest attraction in Niagara Parks' repertoire, the Power Station is a sight to behold. Decommissioned in 2005 after producing hydroelectricity from the powerful Horseshoe Falls for a century, Niagara Parks took ownership in 2009. These fine folks gave it new life as you can now learn about how this engineering marvel harnessed the power of water to generate electricity for 100 years!
Walk through the main floor as you pass by interpretive signage, interactive exhibits and repurposed artifacts on display from a bygone era. You'll learn about the importance of water and discover the heritage and history of the visionaries behind the creation of the station as well as the fine folks that kept it in working order. Your entrance fee enables you to enjoy the exhibits as a self-guided adventure but you can book a guided tour of the main generator floor for an additional cost. This will allow you to gain an even further understanding of the Power Station!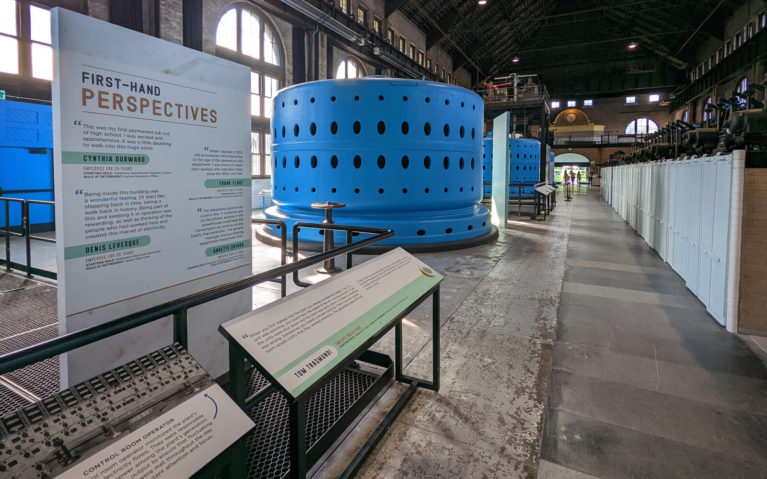 Walk The Tunnel
Included in your Power Station admission, you can experience Niagara Parks' brand new attraction – The Tunnel. Opened in July 2022, visitors will descend 44 metres into the belly of the Power Station. You will step out into the Tail Race Tunnel which had the water used to generate hydroelectric power rushing through it from 1901 to 1904. Follow the tunnel for approximately 650 metres and you'll be treated to some of the most incredible views of the Horseshoe Falls. The best part? This viewing platform is from a never before seen access point and, in my personal opinion, offers even better views than the Maid of the Mist.
Similar to Journey Behind the Falls, you will get wet so since it's already raining you might as well check out these epic views! Bring your rain jacket or keep that poncho from earlier and you'll be all set.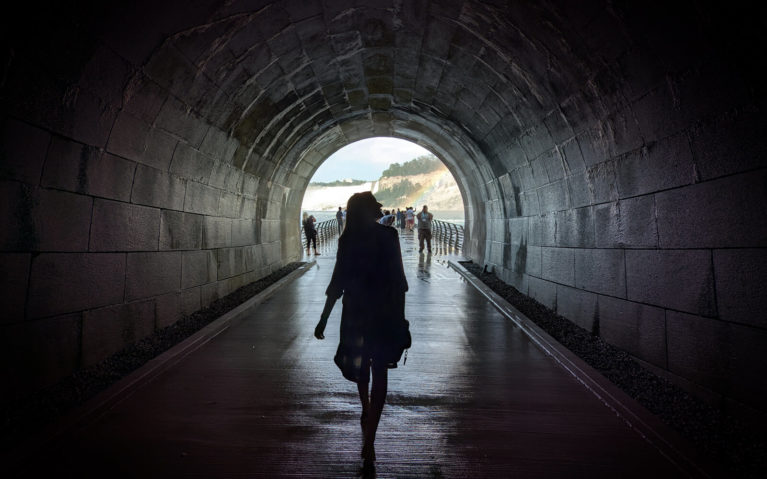 Experience Currents
Once you've dried off from all that fun in The Tunnel, return to the Niagara Parks Power Station later in the day for one unforgettable light show. Currents is a spectacular immersive, interactive media event where projections are shown across the main generator floor. Watch the colours and shapes dance their way over the building as it's transformed into a magical wonderland.
This sensory experience is one-of-a-kind as you see another side of the machinery of this historic power plant through imagery, colour, lights, sound, and an incredible musical score. I was honestly blown away by the magic of this experience and it's guaranteed to be a hit for all ages. This is easily one of the top indoor things to do in Niagara Falls on a rainy day or otherwise!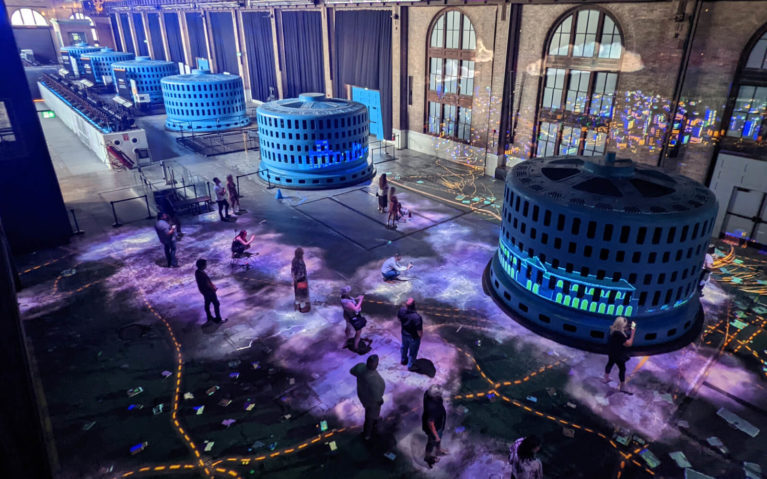 Additional Things to Do in Niagara Falls on a Rainy Day
If you're brave enough to whether to rain in Niagara Falls, there are a few other great things to do in Niagara Falls. Be prepared though, chances are you'll get wet!
Take a Hornblower Cruise – You're pretty much guaranteed to get wet with Hornblower Niagara Cruises, so why not go for it if you're wet already?! It's the best way to get up close and personal with both the Horseshoe Falls and Bridal Veil Falls in Niagara. This is not to be confused with the Maid of the Mist tours which depart from Niagara Falls New York!
Go For a Hike – Now this really depends on two things: how much it's raining and how soaked you're willing to get. If your answers to these questions have you ready to hit the trails, you don't want to miss exploring the Niagara Glen hiking trails. These trails are pretty rugged so make sure you have proper footwear and watch your step as it'll most certainly be slippery!
Splash Around at an Indoor Waterpark – If you can't beat 'em… join 'em. You're guaranteed to get wet at a waterpark but at least it's by choice! If you're only in Niagara for a day this probably won't make your list but if you're visiting for an extended period of time, spending an afternoon at an indoor waterpark might be just what you're looking for.
Stroll Along the White Water Walk – Marvel at the power of some of the world's most dangerous rapids. Don't worry, once you descend 70 metres down to the gorgeous wooden walkway, you can safely enjoy these insane rapids along the Niagara River. Even in the rain, this makes for a nice break from the commotion of Clifton Hill.
Zip Around on a Whirlpool Jetboat – Those Class VI rapids we were just talking about? Tackle them head on with a whirlpool jetboat tour as you zip across the whitewater. The main question here is if you're willing to get soaked as you can enjoy this adrenaline rush on a covered jetboat or get the full experience with an open-top jet boat. If you opt for the latter, be sure to bring a spare change of clothes!
Do A Little Shopping – How does the phrase go? Whoever said money can't buy happiness doesn't know where to shop? Okay so I really don't believe that but you can snag some seriously great finds at the Outlet Collection at Niagara. While this is an open-air mall, all of the stores are covered making it easy to hide from the rain.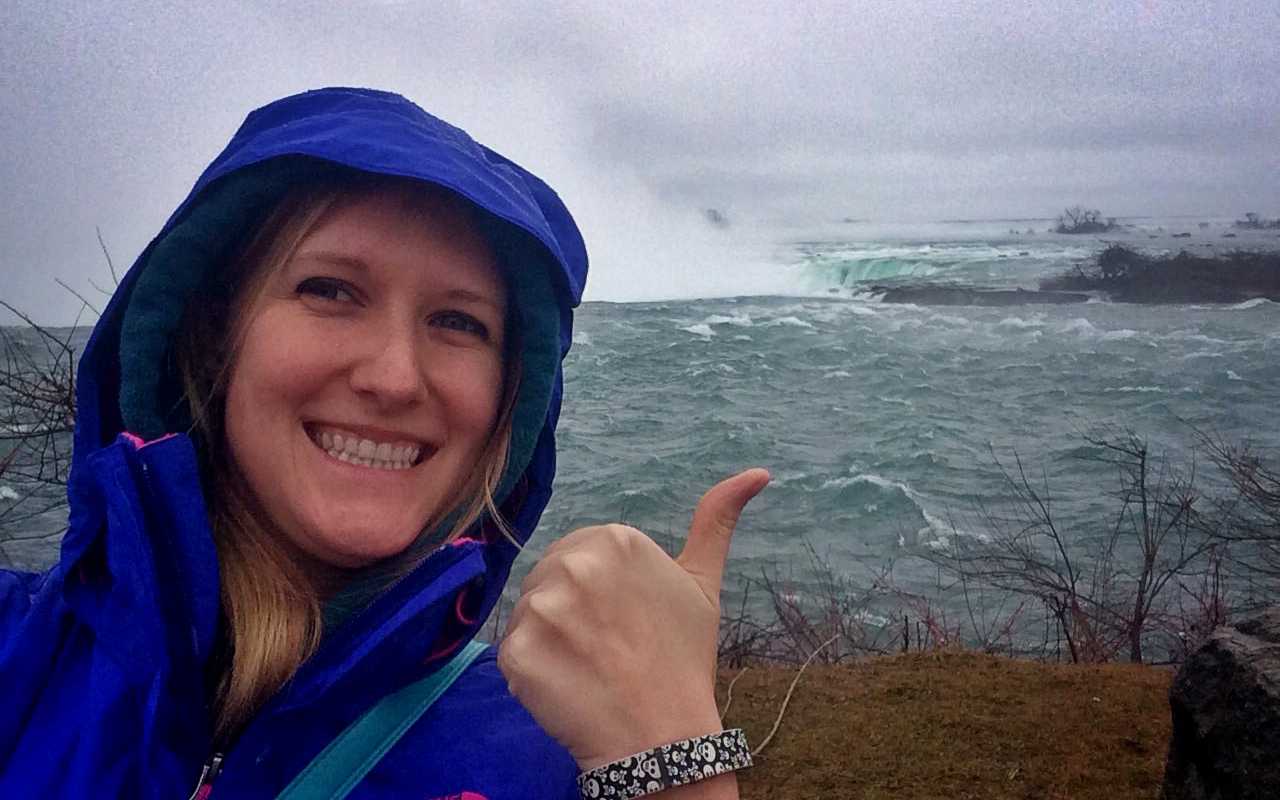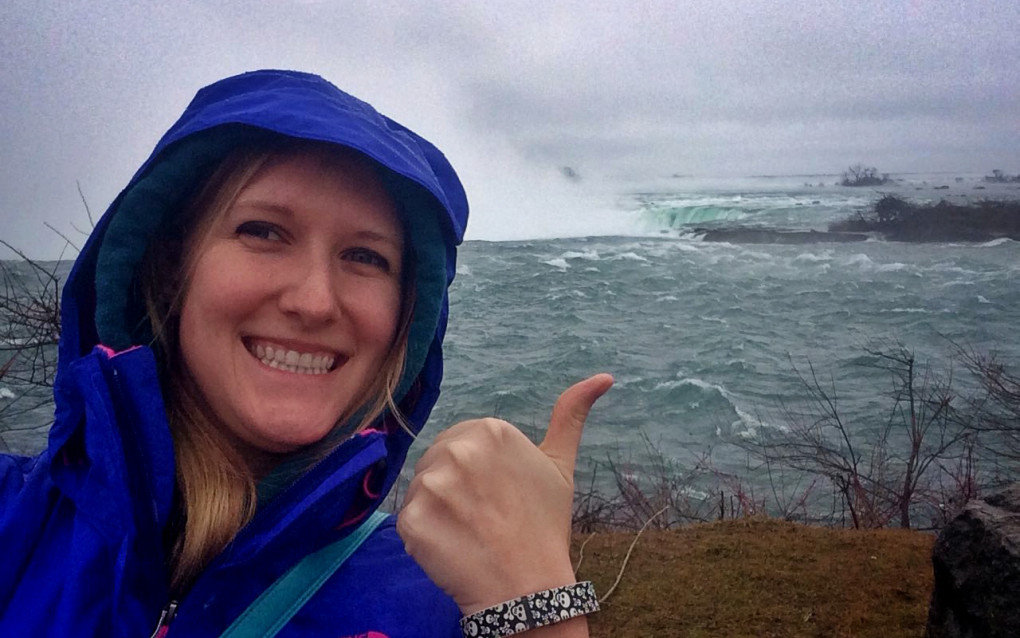 Things to Know For Your Rainy Day Visit to Niagara Falls
These indoor Niagara Falls activities are a perfect way to explore when the weather is less than ideal. Whether it's snow or rain that's falling outside, I'm sure you'll find some warmth inside Niagara Falls. Here are some things to know when experiencing Niagara Falls in the rain:
Children 5 & Under Are Free at Niagara Parks
It's true, kids 5 and under get free admission to ALL Niagara Parks attractions, making them a great place for young families to visit. The Floral Showhouse, the Butterfly Conservatory and Journey Behind the Falls are included in the Niagara Falls Wonder Pass which will save you money in admission fees as well as in transportation. Why? It includes access to the WeGo bus system which will take you between these great Niagara Falls attractions. Check out my post for more insider tips like this!
Always Dress in Layers
The key to surviving any Canadian destination is layers. It doesn't matter what time of the year it is. Between temperatures changes outdoors to indoors and day to night, you'll be happy to have an extra layer to take on and off. In the rain, it goes without saying to bring a rainjacket. If you plan on braving the rain and walking around outdoors, you'll want a pair of waterproof shoes or boots too.
Should I Still Go to Niagara Falls if it's Raining?
In my opinion – yes! Honestly, the weather changes so much that sometimes the forecast can say thunderstorms but it'll be just a minor sprinkle. As you can see though, there are so many indoor things to do in Niagara Falls on a rainy day that you won't be bored. There's no reason to be sad if there's bad weather as there are plenty of indoor activities in Niagara that will help you turn that frown upside down!
There's so much to do that you really need more than just one day to explore. If you're doing a little road trip in Ontario, I bet you're planning to explore the area including the beauty of Niagara-on-the-Lake and more! Weather is prone to change quickly here in Canada so if you stay for more than one day, chances are the weather will turn around. Why not stay and make a weekend out of it? There are a number of great Niagara Falls hotels you can check into to extend your visit!
Looking for More Information About Visiting Niagara Falls?
Don't Miss This Local's Tips for Visiting Niagara Falls
These Are the Best Free Things to Do in Niagara Falls
Check Out the Top 5 Ways to Experience the Niagara Gorge
Take a Hike at These Top Hiking Trails in Niagara Falls
Experience the Heartland Forest Where Nature is For Everyone

Additional Places Near Niagara Falls to Explore
Here Are Some Things to Do in Niagara-on-the-Lake
Chase Some Waterfalls Across the Niagara Region
Check Out One (or More!) Of the Niagara Region's Best Hikes
Explore the Top Hiking Trails in St Catharines
Hike Through Short Hills Provincial Park, Niagara's Largest Park
Enjoy a Glass at The Best Wineries in Niagara
Take a Hike at the Woodend Conservation Area
Explore the St Johns Conservation Area in Fonthill
Follow the Bruce to the Beautiful Rockway Falls in Lincoln
Don't Miss This Self-Guided Tour of Vineland's Wineries
The Top Beamer Memorial Conservation Area Hiking Guide
Plan a Visit to the Niagara Icewine Festival
Things to Do in Port Colborne, Niagara's Ship Shape City
Disclaimer
I experienced some of the activities in this post in partnership with Niagara Parks. However, all of the content and opinions here are honest and speak to my personal experience!
Remember These Things to Do on a Rainy Day in Niagara Falls & Pin It for Later!