Top St Catharines Hiking Trails To Experience When In Niagara

I'd say it's common knowledge that the Niagara Region is home to some incredible natural wonders. Yes I'm looking at you, Niagara Falls. Combine waterfalls with wine country and you've got a recipe for a great getaway. However, you may not realize that the largest city in the Niagara Region is home to some pretty rad hiking trails. Next time you're exploring Niagara, don't miss these top St Catharines hiking trails. I mean, there's over 90 km just waiting to be explored!
Bruce Trail
If you're from Ontario then chances are seeing the Bruce Trail on this list won't surprise you. If you're not familiar with the Bruce, it's easily Ontario's most epic trail. This trail starts in Queenston and follows the Niagara Escarpment all the way to Tobermory. At over 900 km in length, the Bruce Trail has so much to offer – and that's not including the side trails!
As you've probably guessed, the Bruce Trail winds its way through St Catharines. With over 30 km of trail to explore within the city limits, you might not know where to start! Well, a few of the highlights on this list are part of the Bruce Trail. To be honest though, I have yet to have a bad hike on the Bruce Trail. No matter where you start, you're bound to have a fantastic adventure on these Niagara Escarpment hiking trails!
DeCew Falls
This local gem has become more popular over the years, but she's still a sight to see. DeCew Falls has both an upper and lower falls as Twelve Mile Creek tumbles between the walls of the Niagara Escarpment. Upper DeCew Falls is a ribbon-style waterfall and stands at approximately 21 metres tall. Lower DeCew Falls isn't quite as impressive as she's about half as tall but she's much wider than her upper counterpart. Both waterfalls are absolutely beautiful and flow all year round.
At the top of Upper DeCew Falls sits the Morningstar Mill. Here you'll find the only water-operated mill in the entire Niagara Region. The original equipment is still inside and can be operational. Rumour has it that grain is still ground into flour on occasion! In the summer months, it's possible to head inside and tour the mill thanks to the Friends of Morningstar Mill who help with the upkeep of this historic site. Visit their Facebook Page to learn more about the history of the Morningstar Mill.
For more information about DeCew Falls and experiencing her for yourself, check out my post to help plan your trip.
Glenridge Quarry
As someone who is rarely in the area near Brock University, I only recently found out about the Glenridge Quarry. Though I have to say, I really wish I found it sooner! What was once an active landfill has since been transformed into what has been dubbed "St Catharines' Central Park' thanks to the hard work of concerned locals.
There are seven trails though most are less than a kilometre in length, therefore it's not impossible to enjoy all the trails in one trip. The Loop Trail is the longest at 1.9 km though you definitely won't want to miss the Summit Overlook Trail. This takes you to the highest point in the Glenridge Quarry where you'll be treated to panoramic views of the Niagara Region and Lake Ontario. There's also a trail that connects to the Bruce Trail if you're looking to extend your hiking adventures even further!
If you're from or familiar with the Kitchener area, this probably sounds a little bit like McLennan Park aka Mount Trashmore. Both parks were once landfills that have since become natural areas and a literal breath of fresh air. Because of this, I like to think of the Glenridge Quarry as St Catharines' Mount Trashmore.
Laura Secord Legacy Trail
Yes, we're talking about the same Laura Secord as the chocolate company. Laura Secord became famous in Canada for walking 32 kilometres during the War of 1812 to warn the British of an impending American attack. This act helped the Mohawk and their British allies to defeat the Americans in the Battle of Beaver Dams in June 1813.
The Laura Secord Legacy Trail follows (as closely as possible with population development since then) the 32 km route she took from the Secord Homestead in Queenston to the aforementioned DeCew Falls in St Catharines. If you've hiked the Niagara section of the Bruce Trail, chances are you've seen signs for the Laura Secord Heritage Trail as they often overlap. The trail is divided into five stages, each with its own interpretive signage to give hikers insight into Laura Secord herself and this historic time.
If you'd like to learn more about Laura Secord and the historical significance of her route, you can also enjoy self-guided audio tours. They're available for download here thanks to the efforts of the Friends of Laura Secord.
Merritt Trail
From Martindale Road where it meets Lakeshore to Bradley Street and Townline Road, you'll find the 11 km of stone dust and dirt that forms the Merritt Trail in St Catharines.
Completed approximately 45 years ago in 1986, the Merritt Trail is named after William Hamilton Merritt. Who was he exactly? Well, if you're familiar with the Welland Canal System, we have him to thank for it as he was the one who thought to create it. The Merritt Trail actually follows some of the remnants of the first and second Welland Canals. Along it, you'll find residual pieces of the original first and second canals which are fascinating to see!
As you walk along the Merritt Trail, you'll come across a small section known as the Green Ribbon Trail. This 500-metre section was established as a memorial to missing children around the globe. You can read more about the trail here in my in-depth guide about it.
Recently, there have been discussions about sprucing up the Merritt Trail, though it will take some time to get through the red tape and planning. If things work out, we could see a more thoroughly connected trail system by 2029.
Short Hills Provincial Park
As 660 hectares in size, say hello to the largest park in the city! The valley where you'll find Short Hills Provincial Park was once filled with sedimentary and glacial deposits. Then, the Twelve Mile Creek sliced through, creating the parks' namesake "short hills". This is easily one of my favourite places to go hiking in St Catharines!
Short Hills Provincial Park features 7 hiking trails that range in size and difficulty. The Palaeozoic Path is the shortest in length at 800 metres and is a wide gravel path, created to give beginner hikers and those with disabilities a fantastic hiking opportunity in the park. It will also lead you right to Swayze Falls, one of the biggest draws to Short Hills Provincial Park. However if you're looking for a solid afternoon of hiking, you'll want to check out the Swayze Falls Trail which is the longest trail in Short Hills Provincial Park.
INSIDER TIP: It's not uncommon for Swayze Falls to be dry in the summer months. To see her (along with many of the other waterfalls in the Niagara Region) at their best, I recommend a spring visit or even better, a winter adventure!
This park isn't just for hiking though! It's not uncommon to see visitors fishing, mountain biking and even horseback riding! However, there are some trails that are restricted to hiking only so if you choose to enjoy some of these other activities, please respect the trail designations. For more details, check out my guide to Short Hills Provincial Park to help plan your adventure!
Be sure to check out the Friends of Short Hills Provincial Park for more information about trail closures and park updates.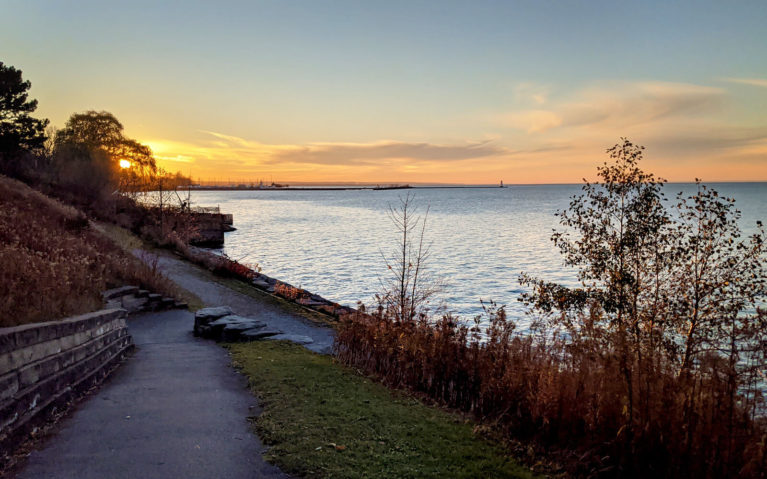 Waterfront Trail
The Great Lakes Waterfront Trail stretches over 3600 km as it connects over 150 cities, communities and First Nations in the province of Ontario. It starts at the border with Quebec just east of Cornwall and follows the shores of Lake Ontario, Lake Erie, Lake Huron and a small part of Georgian Bay.
As you can guess, the Waterfront Trail runs along the shore of Lake Ontario as it winds around the lake and across St Catharines. Enjoy the beautiful views of Lake Ontario from the shores of Port Dalhousie, along the water via Beachview Park and Cherie Road Park, and more.
Some of the Waterfront Trail follows the road as dirt and gravel sections are connected to work around private property, but it's easy to find some great spots to catch a sunrise or sunset. Plus it connects to a number of additional trails on this list to ensure some great St Catharines hiking fun! Visit the St Catharines section of the Waterfront Trail website for more details.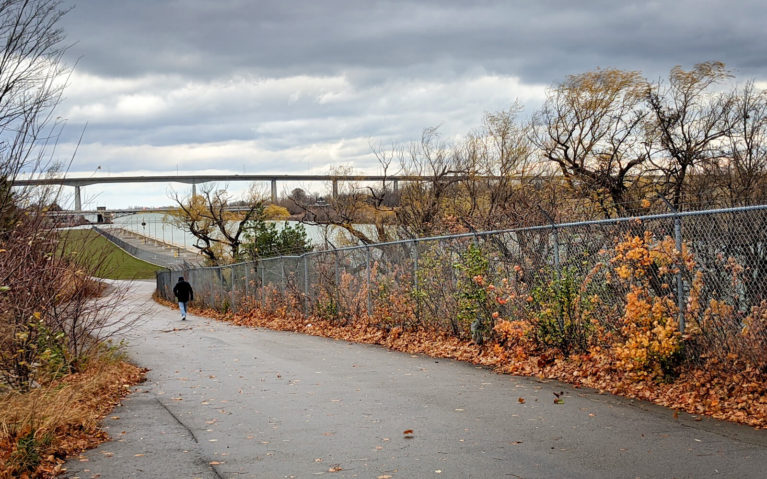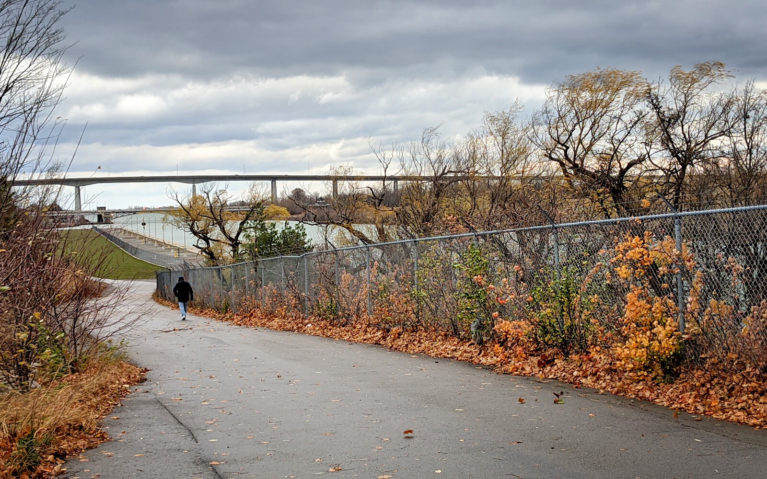 Welland Canal Trail
Of all these St Catharines hiking trails, I'd say the Welland Canal Trail is one of the most utilized in the city. Running parallel to the new Welland Canal system, this 45 km long trail begins by Lock One in St Catharines. You'll follow the Welland Canal Parkway southward as you head through Thorold and Welland as you make your way to Port Colborne on the shores of Lake Erie.
The Welland Canal Trail is paved, making me consider it more of a walking trail than a hiking trail. It's also a very popular route for cyclists so be sure to keep an eye out and share the path! While the terrain is easy, you'll be joining the huge transport ships as they "climb the mountain" by ascending over 40 metres along the trail.
If you're a history buff or a ship enthusiast and want to know more about the Welland Canal itself, plan some time to visit the St Catharines Museum & Welland Canals Centre. Inside are exhibits dedicated to this important waterway as well as more information about the area. You'll need to book a time in advance but entrance into the museum is by donation and it will also give you access to one of the most popular lookouts along the Welland Canal. You just might see one of the huge transport ships pass by if you're lucky!
One part of the trail I have yet to explore is the George Nicholson Trail. It marks the most northern section of the Welland Canal Trail as it sits on the shores of Lake Ontario. I will have to report back once I explore it but I have a feeling it'll offer some great sunrise and sunset views.
Woodend Conservation Area
Ah, Woodend. Anyone who has grown up in St Catharines knows this conservation area well as it has been a popular spot for outdoor field trips for many public schools in the city. I wouldn't be surprised to hear if it still is! Okay so it's technically in Niagara-on-the-Lake, but I just had to include it in this list of St Catharine's hiking trails. I mean, it is one of the best hikes in Niagara after all!
The Woodend Conservation Area spans 40 acres and is part of the UNESCO Niagara Escarpment Biosphere Reserve. Get lost in the tall forest of hardwood and Carolinian trees as you meander along The Bruce Trail which creates a 3 km loop within the conservation area's boundaries. It will take you along the edge of the Niagara Escarpment as well as the environmental education centre.
Though I have to say, I think my favourite part of Woodend is the Wetland Ridges Side Trail. It takes you outside the conservation area and through to the wetlands behind the Niagara College Teaching Winery. Around the outskirts of the ponds, you'll find interpretive signage about the area. If you've done the Bruce Trail loop PLUS this side trail, chances are you might be a little parched so why not reward yourself with a glass at one of the best wineries in Niagara?
Be sure to check out my guide to Woodend Conservation Area for full details and to plan your visit!
Looking For More St Catharines Hiking Trails?
I'm a little ashamed to say that I didn't explore more of these trails as I spent the first two decades of my life mainly in the Niagara Region. Better late than never though, right? If you've already explored the aforementioned St Catharines hiking trails, here are a few more suggestions for you.
Burgoyne Woods – This park is a popular spot for folks to get outside for a stroll. It offers picnic areas, lots of wide-open green spaces and an off-leash dog park so your pooch can run off some energy.
Jaycee Gardens Park – Follow the path that the third Welland Canal originally took between 1886 and 1932. It offers beautiful views of Martindale Pond and connects to the adorable area of Port Dalhousie via a pedestrian bridge to Rennie Park.
Malcomson Eco Park – What was once a tree farm and maintenance yard for the Welland Ship Canal Company is now a lovely little park dedicated to the restoration of native ecosystems found in Southern Ontario! Take a stroll along the trails to see tallgrass prairie, Carolinian woodlands and wetlands as you explore this conservation area.
Mel Swart Lake Gibson Conservation Park – Okay so this is technically in Thorold BUT the views are too beautiful to not include it here. The trails are relatively flat and easy but it's the picturesque views from the boardwalk over the marshland that make this park a must-visit! You won't want to miss sunset as the brilliant golden hour colours reflect off the lake.
The Twelve Trail – This has quickly become a favourite of mine since I moved to downtown St Catharines! The Twelve Trail follows the Twelve Mile Creek in the heart of the city. It was created in 1984 as an Environment 2000 Project by Brock University students and supported by Environment Canada along with various other local, provincial, and national agencies.
Walker Creek Trail – This one is a blast from the past for me as the elementary school I went to was once just blocks from the Walker Creek Trail. I spent many afternoons playing with friends and enjoying this natural spot, especially as it features a great tobogganing hill come wintertime. The trail is mainly dirt and has some elevation change but is overall an easy one. I often go trail running here while visiting my parents in the city!
Not sure what hiking trail to hit? Are you in Niagara and wondering what hiking trails are near me? This St Catharines hiking trail map should help.
If You're Still Looking for More Hikes Close By…
This Local Shares the Best Hikes in Niagara You Need to Check Out
Don't Miss These Beautiful Waterfalls in the Niagara Region
See Why the Niagara Glen is One of the Region's Top Hiking Trails
Take a Hike Through Niagara's Only Provincial Park
Enjoy a Family Outing in Nature at Niagara Falls' Heartland Forest
Explore Grimsby's Beamer Memorial Conservation Area
Check Out This Lesser Known Waterfall in Niagara
Stretch Your Legs with the Top Hiking Trails in Niagara Falls
Additional Things to Do in St Catharines
Hiking isn't the only thing to do around St Catharines! The city is often overlooked for its neighbour Niagara Falls, but the city has lots to offer. If you're looking to extend your stay in St Catharines, here are some places to check out.
Grab a Bite in the Downtown Core – St Paul Street has changed a lot in the past decade, not just transforming from a one-way to a two-way street but also with its restaurant scene. You'll find a number of local eateries, making it the perfect spot to grab lunch or dinner. I personally recommend Lost + Found Taqueria and Bolete.
Treat Yourself to a Beechwood Doughnut – I've had my fair share of doughnuts over the years and Beechwood consistently is at the top of the list. Their seasonal offerings are constantly changing as they continuously come up with new flavours. The best part is that their doughnuts are vegan so you can feel a little less guilty about eating four of them in one day.
Hunt for Street Art – More and more murals are popping up across the city and I'm absolutely LOVING it! There are quite a few just in the downtown core off of St Paul Street, making this a great activity to combat food coma after dinner or to help you earn that treat from Beechwood.
Visit Port Dalhousie – While this little area of St Catharines has certainly changed over the years with plenty of ups and downs, it's starting to come back once again. There are a couple of great restaurants and it offers some fantastic sunset views. Stop in at Lock Street Brewing for some great craft beer or the Kaiserhaus for some incredible eats!
Stop by Wine Country – Are you surprised that I added this? I mean, you're right beside Niagara-on-the-Lake after all! Why not grab a glass and enjoy the beauty of Ontario's wine country? If you're not sure where to go, I've got a running list of the best wineries in Niagara. Or if you'd like to go a little off the beaten path, you might want to check out the wineries in Vineland on your way in or out of town.
Where to Stay In & Near St Catharines
If you're looking to tackle a few of these St Catharines hiking trails, chances are you'll need to spend a night or two in the city! There are a number of options for accommodation in St Catharines, though most people stay in either Niagara-on-the-Lake or Niagara Falls.
Niagara-on-the-Lake is popular for those who enjoy bed and breakfasts or are looking to splurge a little. There are a number of famous properties like the Prince of Wales Hotel which is popular due to its beautiful Victorian architecture and overall charm. I mean, just look at some of the photos and you'll immediately fall in love with it. Plus there's the added bonus of being walking distance to a number of shops, restaurants and the picturesque heart of Niagara-on-the-Lake. There are a number of gorgeous accommodations in Niagara-on-the-Lake though so be sure to take a look and see what property jumps out at you.
RELATED: If you're planning to stay in Niagara-on-the-Lake, don't miss my guide to all of the amazing things to do in town!
If you're looking to snag a deal (especially if you're visiting in the off-season), then you'll want to head towards Niagara Falls. It is very easy to find a hotel deal in the city as they often have fantastic rates or great packages. If you haven't signed up for Travelzoo, I highly recommend making an account as they always have great bundles on hotels in Niagara Falls that include added perks like free wine tastings, coupons to tasty restaurants and more!
Whatever you choose to do, take a look at the map of St Catharines below to see what accommodation jumps out at you!
Well, what are you waiting for? If these St Catharines hiking trails are calling to you, then I say strap on your trusty footwear and get outside. There is so much natural beauty to see in St Catharines. I mean, it has been dubbed the "garden city" for a reason so go and see for yourself!
Looking for More Things to Do in the Niagara Region?
Don't Miss These Insider Tips for Visiting Niagara Falls From a Local
Check Out These 15+ Absolutely FREE Things to Do in Niagara Falls
Here Are Some Things to Do in Niagara-on-the-Lake
Top 5 Ways to Experience the Niagara Gorge
Indoor Things to Do in Niagara Falls on a Rainy Day
Enjoy a Glass at The Best Wineries in Niagara
Don't Miss This Self-Guided Tour of Vineland's Wineries
Plan a Visit to the Niagara Icewine Festival
Things to Do in Port Colborne, Niagara's Ship Shape City
Plan a Spring Visit to See the Cherry Blossoms in Niagara
Disclaimer
This post contains affiliate links where I may receive a kickback at no extra cost to you. It helps keep IBB alive so thank you! Read more in IBB's disclaimer and privacy policy.
Ready to Hit These Top St Catharines Hiking Trails? Pin It For Later!