Niagara's DeCew Falls: Hiking to This Year-Round Beauty

It's no secret that the Niagara Region is home to many beautiful waterfalls. While Niagara Falls is top of mind, Decew Falls is her smaller sister and a local gem. Hidden away from the tourist hot-spots, this Ontario waterfall is the perfect spot when looking to enjoy some peace and quiet in nature.
Hiking to DeCew Falls
As soon as you arrive you'll notice the picturesque Morningstar Mill. This working grist mill is an industrial heritage site that features a working grist mill – the only water-operated mill in the Niagara Region. Morningstar Mill is also one of the first milling operations to be performed by a water-powered turbine. It was rebuilt in 1872, with the Morningstar Family's home repaired ~60 years later. The Morningstar Mill still houses the original equipment and operates with its original water source. It's said that grain is still ground into flour from time to time! In the warmer months, you can go inside and take a tour of the mill for free.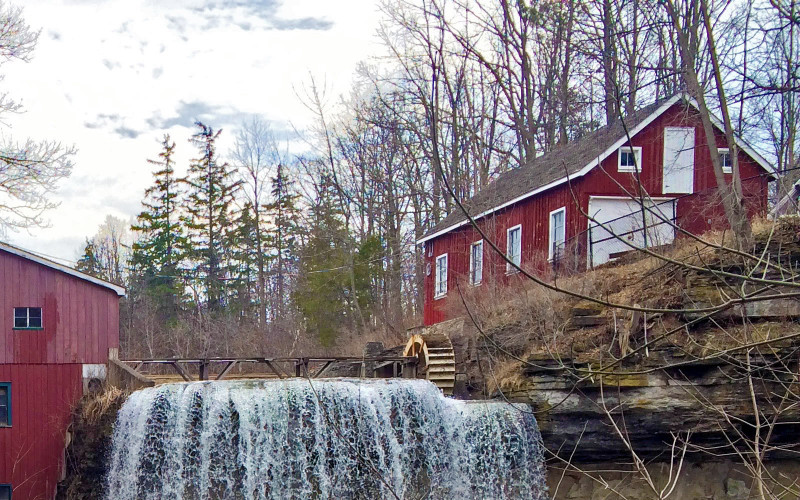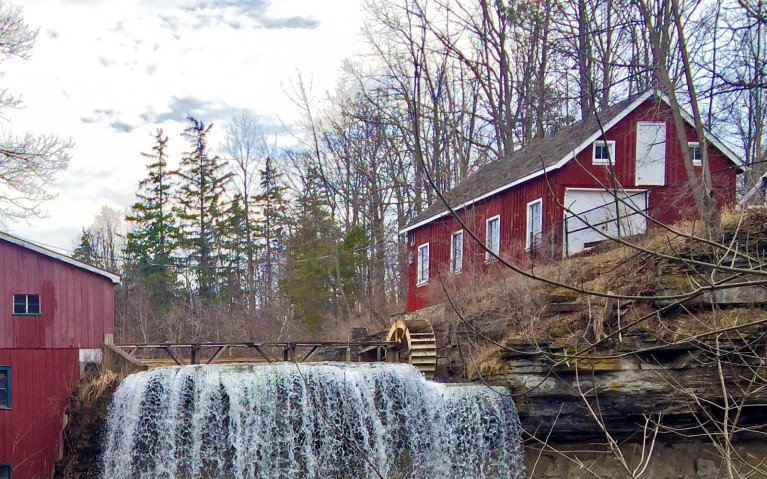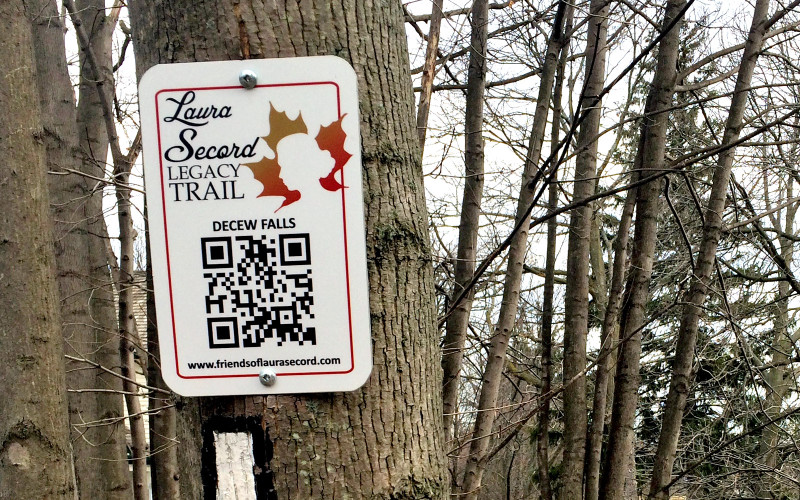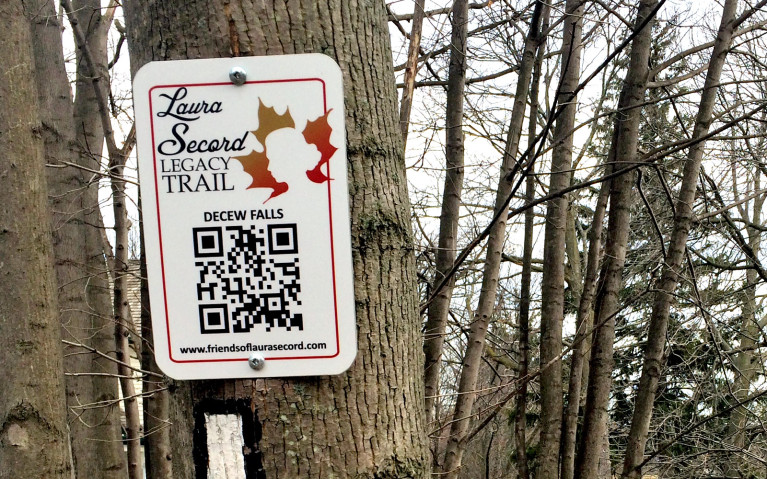 Just past the mill, you'll see the typical white rectangle blazes for the Bruce Trail along with markers for the Laura Secord Legacy Trail. This is an ode to the brave heroine who traversed American territory to warn the British of their impending attack. Spanning 32 km, this trail follows a large part of the route Laura herself actually took during the War of 1812. You can learn more about her pilgrimage throughout this five-part trail. For this waterfall adventure however, you don't have to go nearly as far.
Follow the Bruce Trail blazes 250 metres or so to get your first view of this natural beauty. However, it should be noted that 'DeCew Falls' actually refers to two separate waterfalls. If you've explored some of the other waterfalls in Niagara, you'll realize this is a bit of a trend here. So, what you're really looking at is Upper DeCew Falls. Both came to life when the Niagara Escarpment formed over 450 million years ago. The compressed limestone and shale you see now are made from sediments of a tropical seabed.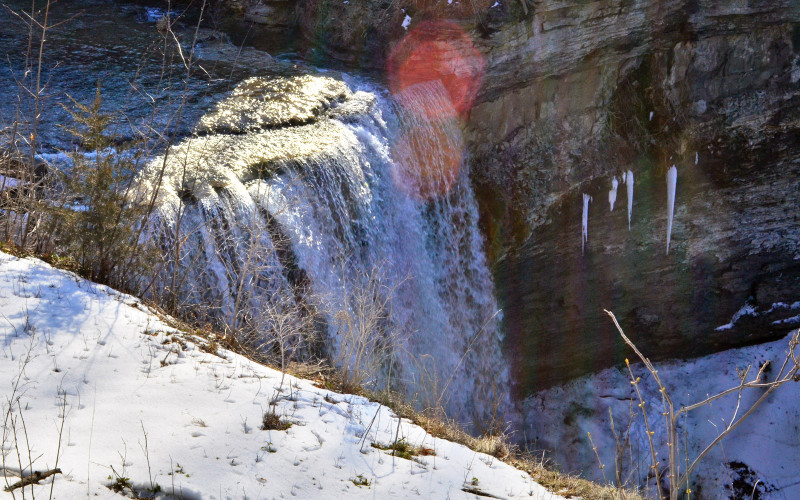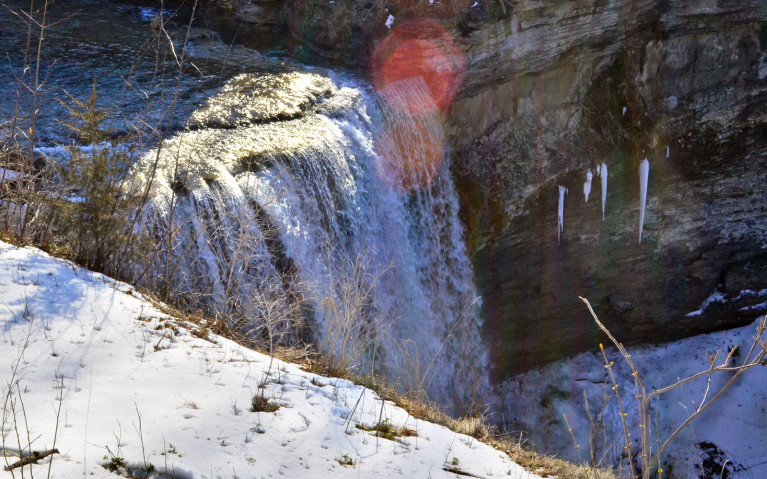 This plunge-style waterfall sits about 20m tall and 14m wide when at full force. The softer shale has eroded, leaving the water to flow over the edge of the Escarpment. While it's tough to access, it isn't impossible. Because of the difficulty, I suggest only fit individuals try to get to the base of Upper DeCew Falls. There are said to be two ways to do this. The short way is by following a rope to help with the climb down the steep escarpment, but I've never seen it myself.
If you make it to the base of Upper DeCew Falls, keep your eye out for Tunnel Falls. Also known as Faucet Falls, you can access it by walking behind the plunge on the left side. This is an artificial man-made waterfall as this gap in the bedrock was forged for the DeCew Falls Generating Station No 1 in 1898. There is also a cave you can explore at your own risk.
If you're hell-bent on getting to the base of Upper DeCew Falls but think there has to be an easier way – there is. Another 300 metres along the Bruce you'll see Beaver Dams Creek drop into Lower DeCew Falls. While smaller than her sister upstream at 11m tall and 5m wide, this cascade waterfall is still a sight to behold. Take a moment to admire the flora on either side as the differing levels of sunlight make the vegetation much different.
Lower DeCew Falls is easier to access, albeit it requires a bit more hiking. Follow the Bruce Trail until you notice a sharp turn to the right. From here you should be able to hike downwards to the riverbed. Be careful where you step and take your time! This is where you'll find the infamous swimming hole that many talk about. Additionally, the famous Decew Falls tire swing was once found here but has been removed.
However, this is on private property so instead of going for a swim, follow the river upstream. Hiking along Beaver Dams Creek will take you to the base of Lower DeCew Falls. The terrain is tough so you'll want some solid footwear.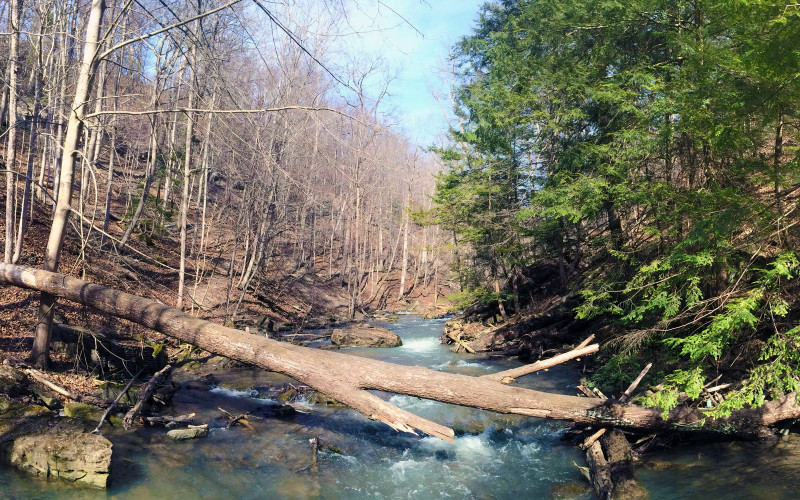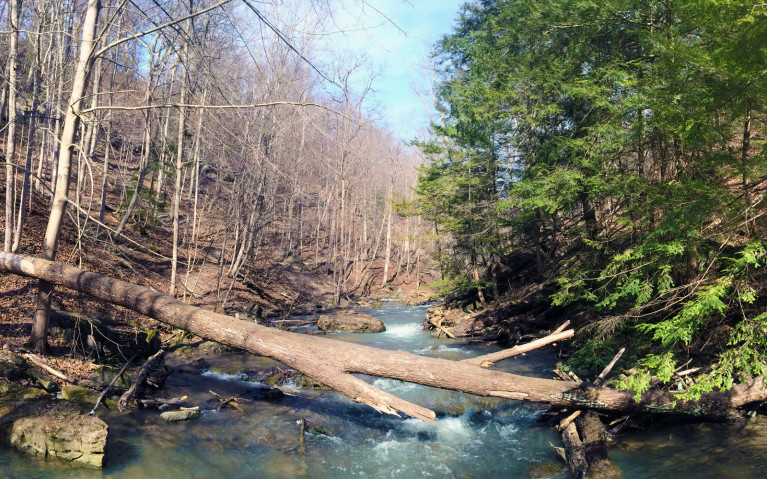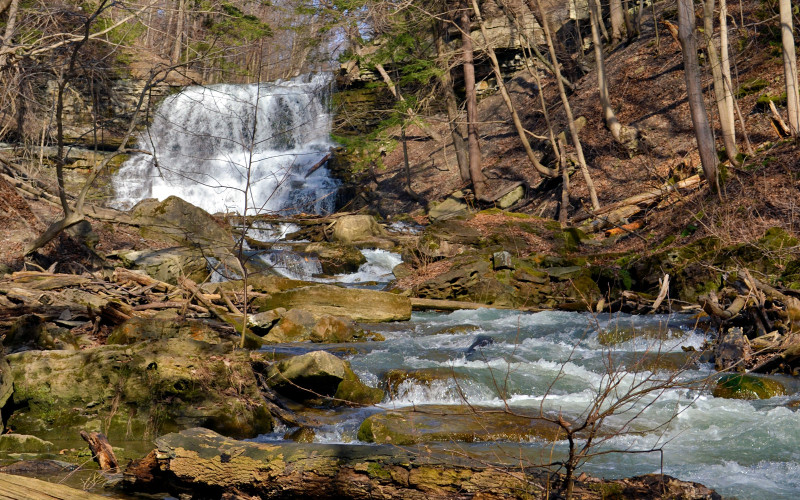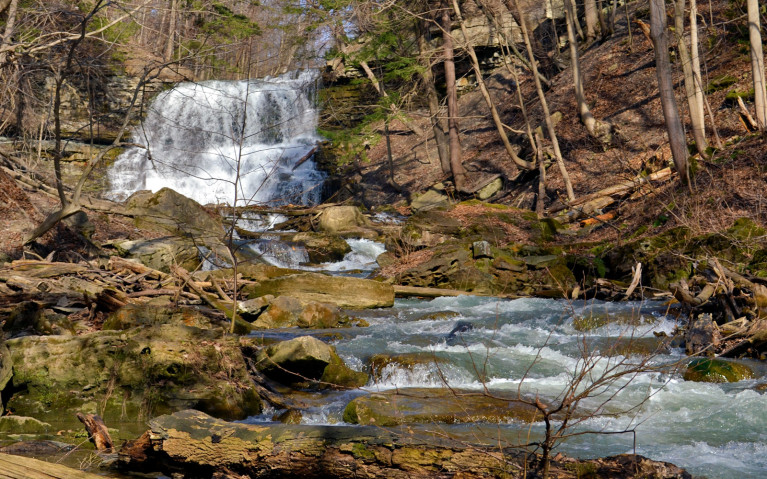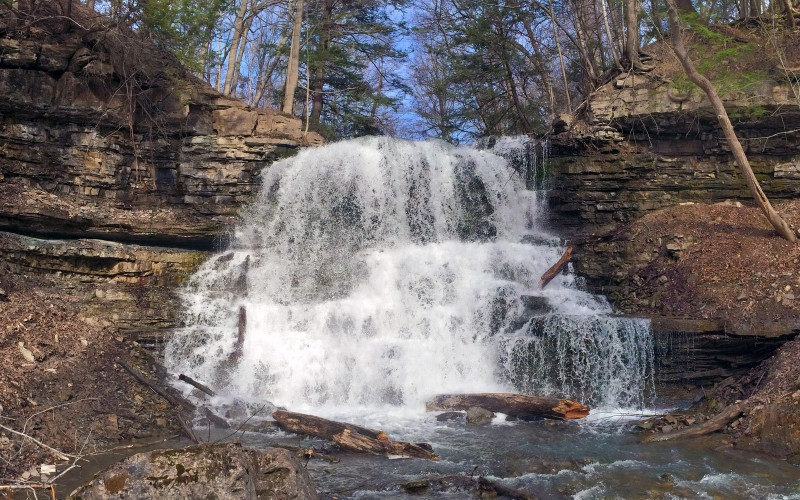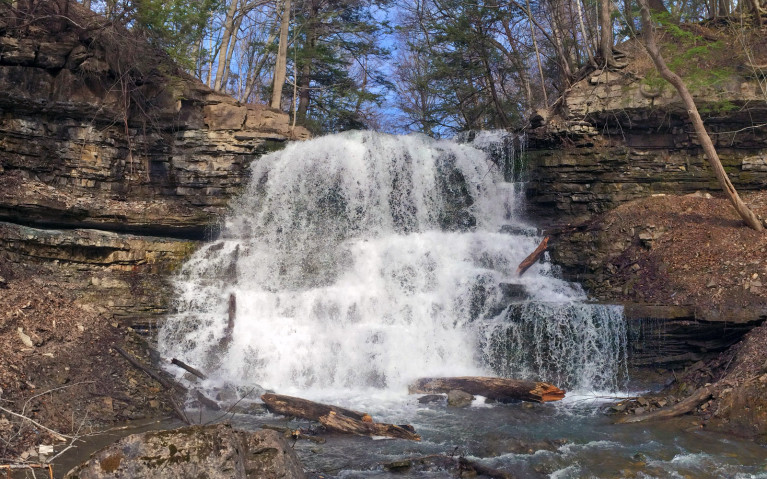 Once you've finished marvelling in the beauty of Lower DeCew Falls, you can head for her counterpart. This is where you'll find the second option to reach Upper DeCew Falls' base. You'll need to backtrack a little and it involves climbing but you should be able to slowly make your way to the top of Lower DeCew Falls. Continue from here and you should reach Upper DeCew Falls. There is no set path so you'll need to find your own way, but it is possible. The escarpment walls are steep though so if you choose to do this – you're doing so at your own risk.
In the summer months, it's not uncommon to see people swimming in DeCew Falls. If you visit Decew Falls in winter, chances are you'll have the place to yourself. If you'd rather not have to share your nature, I highly suggest visiting midweek during the colder months. Plus the ice formations are absolutely magical!
If you continue along the Bruce Trail, it'll take you into Short Hills Provincial Park where you can enjoy a few more waterfalls. Even further is Rockway Falls but rather than walking all that way, I'd suggest taking your car and parking at the Rockway Community Centre. You can reconnect with the Bruce Trail here.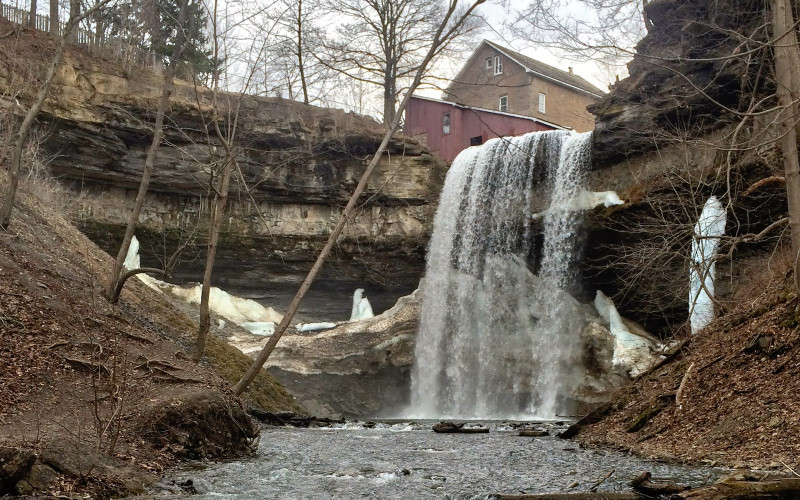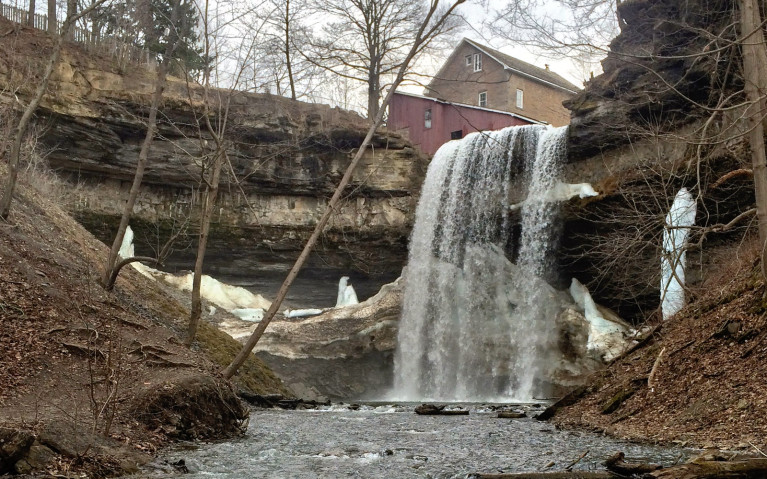 How to Get to DeCew Falls
DeCew Falls is located in St Catharines, Ontario. Head along the aptly named Decew Falls Road where you'll find a small parking lot. Parking is free, however the lot doesn't fit more than 20 cars. If the lot is full, you'll have to try another time as parking on the road is illegal.
If you're driving in from out of town, you'll want to put Morningstar Mill into your GPS (aka Google) and not DeCew Falls. Navigating to DeCew Falls will not take you to the parking lot but rather a few hundred metres away. It's not the end of the world but save yourself the headache and the panicked feeling of thinking you're lost.
DeCew Falls and the Morningstar Mill are located approximately 20 minutes from Niagara Falls by car. If you're coming in to visit this tourism mecca, I highly recommend making a stop at DeCew Falls. If you're driving in from Toronto, DeCew Falls is an 80-minute drive and a short 20-minute detour if your destination is Niagara Falls.
SOMETHING TO NOTE: Due to an influx of visitors causing a number of issues including blocking roads and a lack of social distancing, the parking lot at Moringstar Mill is closed. It's my understanding that you can still hike through the area but you'll need to park further out. Make sure to park in designated areas or you could risk a ticket or worse, help ensure this area stays closed for longer.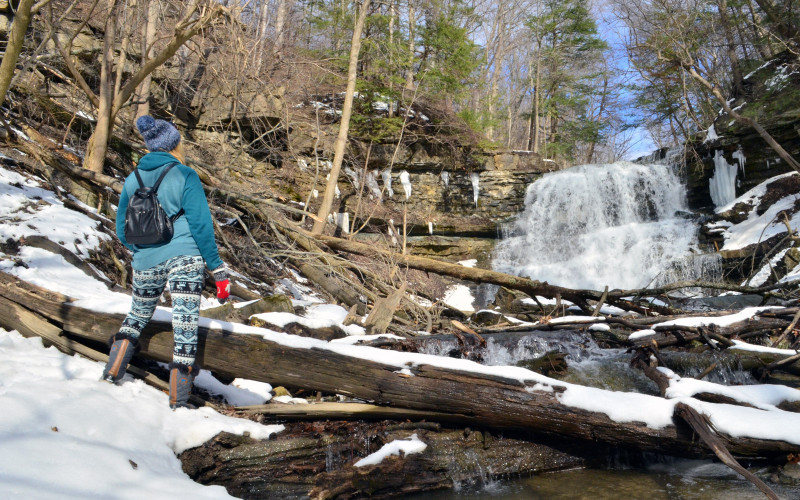 Ready to Visit This Niagara Waterfall?
Have I convinced you to visit DeCew Falls? I sure hope so. This area is one of many great things to do in St Catharines. Before you tackle this hike, make sure you have the following:
Clothing You Don't Mind Getting Dirty – There's water and dirt aka there's mud so don't wear something fancy. Chances are you'll slip at least once on the trek down.
Sturdy Footwear – I highly recommend hiking boots with some tread as you'll want some grip. If you're hiking this trail in the winter, I wouldn't try it without crampons. I love mine from Hillsound and you can buy them on Amazon.
Swimsuit? – In all honesty, I've never swam in the water here though I've heard many have. To be honest though, I often enjoy hiking in a swimsuit so that if I do manage to get wet or the opportunity arises to cool off by water, I can take that opportunity.
Towel – As I said, the trail can be pretty muddy. I'd recommend a towel of some sort in case you wipe out or end up taking a swim and want to dry off.
Water – Especially if you're hiking on a hot day, you'll want to have a bottle of water. Seeing as there's a treatment plant right beside here, I wouldn't advise drinking the water from DeCew Falls…
What if I told you that you could take this adventure to the next level? Does visiting TEN waterfalls in one day sound amazing to you? It sure does to me which is why you have to check out this epic waterfalls in Niagara road trip. I promise you won't want to miss it.
Looking for More Top-Notch Hiking in Ontario?
Check Out The Best Hiking Trails in St Catharines
Stretch Your Legs with These Top Hiking Trails in Niagara Falls
Check Out the Epic Trails Along the Niagara River at the Niagara Glen
You Don't Want to Miss These Top Hiking Trails in Niagara
Chase Some Waterfalls Across the Niagara Region
Hike Through Short Hills Provincial Park, Niagara's Largest Park
Don't Miss These Top Hiking Trails in Hamilton
Get Outside with These Awesome Cambridge Hiking Trails
Hit the Trails with The Best Kitchener Hikes
Don't Miss These Top Hiking Trails in Waterloo
…or check out IBB's hiking archives!

For More Things to Do in Niagara…
30+ Incredible Things to Do in Niagara-on-the-Lake
Don't Miss These FREE Things to Do in Niagara Falls
Insider Tips for Visiting Niagara Falls From a Local
Top 5 Ways to Experience the Niagara Gorge
Indoor Things to Do in Niagara Falls on a Rainy Day
See Where Nature Can Be Enjoyed By All at the Heartland Forest
Enjoy a Glass at The Best Wineries in Niagara
Don't Miss This Self-Guided Tour of Vineland's Wineries
Plan a Visit to the Niagara Icewine Festival
Things to Do in Port Colborne, Niagara's Ship Shape City
Plan a Spring Visit to See the Cherry Blossoms in Niagara
Don't Miss Exploring Niagara's Ship Shape Town, Port Colborne
Want to visit Decew Falls? Pin it for later!