Cambridge Trails Perfect for Hikers of All Skill Levels

Cambridge, Ontario probably isn't the top of your list when it comes to hiking trails. There are no turquoise waters like Bruce Peninsula National Park or waterfalls like you'll find in Grey County or Niagara. However, you'll find the Grand River, a historic downtown, conservation areas and more. If you think there aren't any great Cambridge trails – think again! Here's a list of Cambridge hiking trails so you can get out and explore the city.
Top Cambridge Hiking Trails
It's safe to say that the trails in Waterloo Region are all fairly flat and quite easy to navigate. Cambridge trails are no different. Most also have level terrain without too many hills making these trails great for hikers of all experience levels.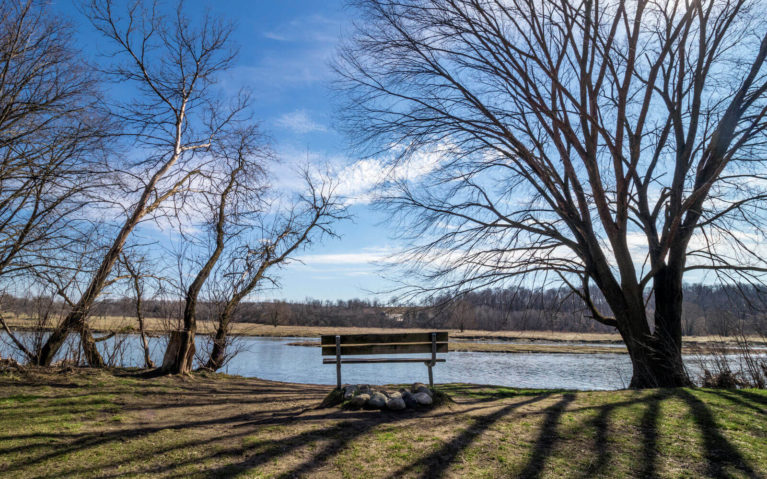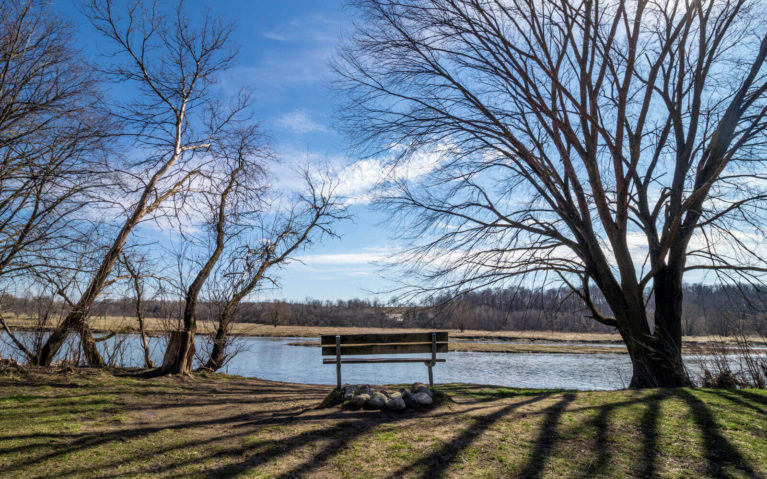 Bob McMullen Linear Trail
Beginning at the corner of Chopin Street and Hamilton Street, this 3.2km long trail follows the shores of the Speed River as it connects with the Grand River through Linear Park. Finishing at the corner of Bishop Street North and Hamilton Street, you'll find a number of benches as well as beautiful views of these two rivers.
There are a number of historical and natural features to be found along the Bob McMullen Linear Trail. If you look across the river close to the start of the trail, you'll find Preston's very first grist mill. Later on, you'll see dolomitic limestone cliffs which were formed approximately 450 million years ago when this area was part of a tropical sea known as the Michigan Basin.
While there is a slight hill where the trail forks by Sturdy Park, the majority of this trail is flat. This makes it a great option for families with small children or parents with strollers.
Parking is available at lots on Chopin Drive and at the end of Bishop Street North. Street parking is also available along Riverside Drive.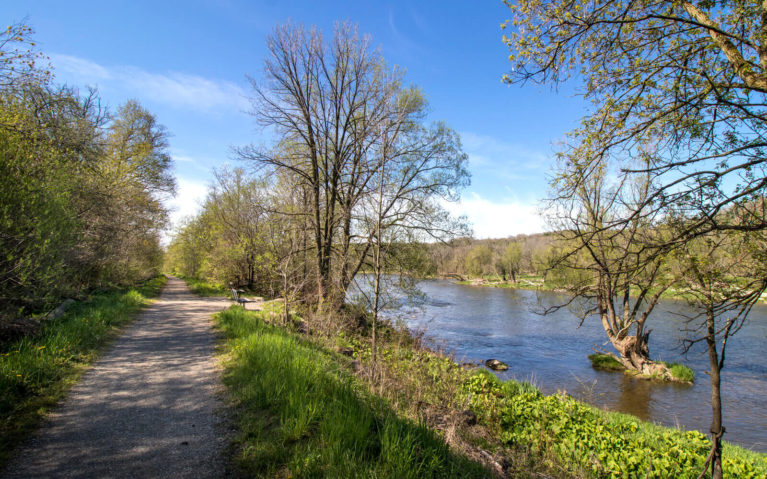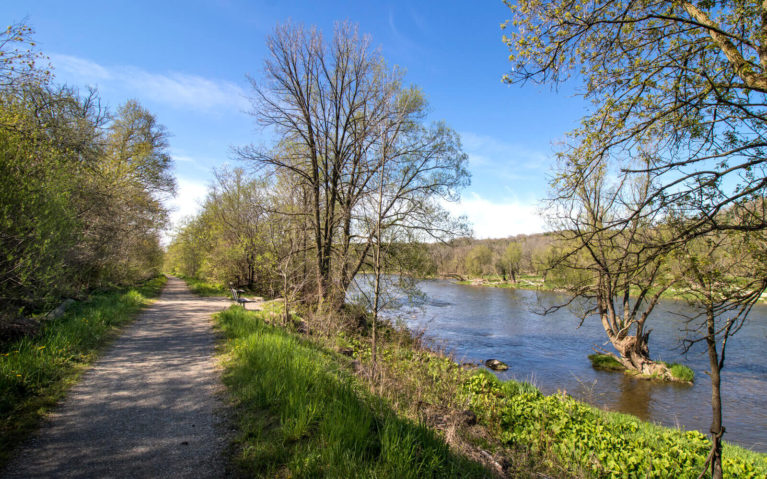 Cambridge to Paris Rail Trail
Just south of Galt in Downtown Cambridge, you'll find the start of the Cambridge to Paris Rail Trail. Maintained by the Grand River Conservation Authority, it follows the abandoned route of the Lake Erie and Northern Railway. It became one of the first abandoned rail lines to be converted for recreational trail use in Southern Ontario when it was established in 1994!
While this trail is 18km long, it's actually one of four sections that make up this Rail Trail. Continuing along the route, it follows the Grand River past Paris (aka Canada's prettiest town) into the heart of Brantford. Continuing through the telephone city, you'll eventually make it all the way to Hamilton! This 77km trail is a major component of the Trans Canada Trail system within Southern Ontario.
RELATED: If you make it all the way to Hamilton, you might want to check out the best hikes in the city or see why it's nicknamed the city of waterfalls with these top waterfalls in Hamilton!
While it does run parallel to Highway 24, this trail is still gorgeous. You may get some road noise but you'll tune it out quite quickly. About 2.5km from the parking lot, you'll find a bench to rest your feet as you take a moment to admire the Grand River.
Parking is limited but available beside the Petro Canada gas station on Highway 24.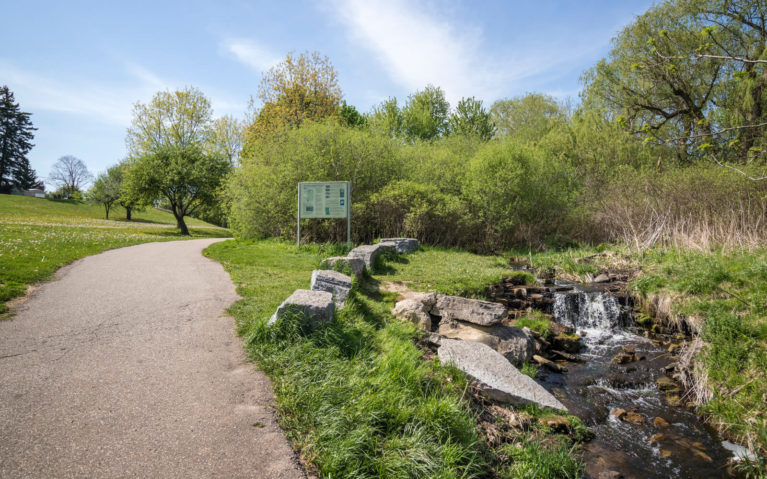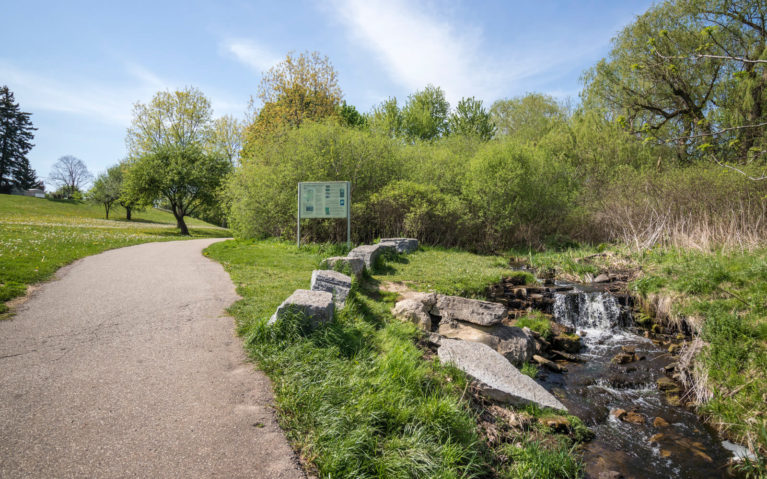 Devil's Creek Trail
This 1.7km trail follows the Devil's Creek watershed from Kent Street by Devil's Creek pond to the Grand River. Here, the trail connects to the larger Grand Trunk via a tunnel which passes underneath George Street North.
Why is it called Devil's Creek? Rumour has it that back in the day, smoke would occasionally arise from a small cave in the limestone bluffs along the Grand River. Parents told their children to steer clear as that's where the devil lived in order to keep them away from the tall cliffs. The name has stuck ever since!
Now, parts of this trail pass through environmentally sensitive areas that contain over 30 rare plant species. This is due to its location on the edge of the Carolinian Forest, making the area a Regional Environmentally Sensitive Policy Area (ESPA) and a Provincially Significant Wetland (PSW). While nature should always be respected, it is extra important to be kind due to this significance!
Parking can be found on Blair Road by Morva Rouse Park.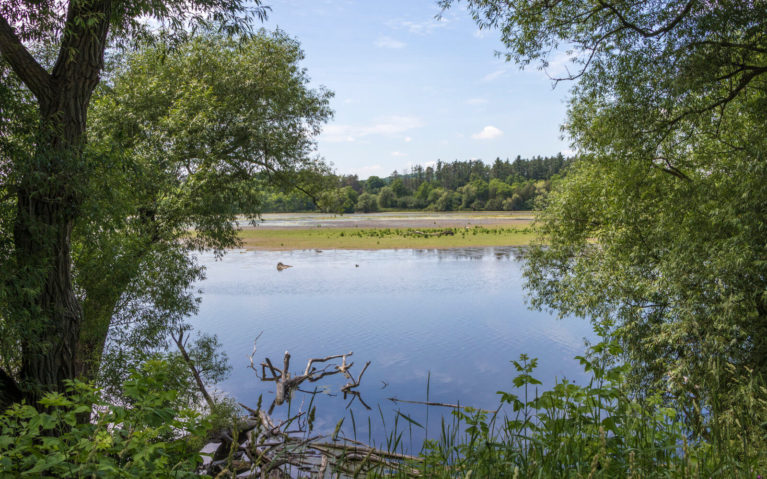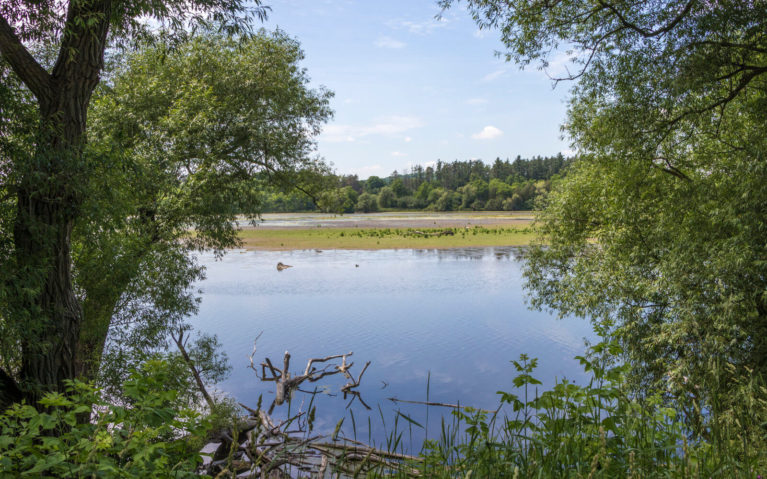 Hespeler Mill Pond Trail
If you're wondering what a mill pond is, don't worry – I had no idea either. Turns out a mill pond is a body of water which is used as a reservoir to power a grist mill. Back in the day, this is where the Silknit Mill used to reside. Now, you'll find 5km of trails to explore!
This area is also special as it's a provincially significant wetland as it's home to over 450 species of plants and wildlife. Significant rehabilitation has been done along this stretch of the Forbes Creek which was named after George Alex Forbes who maintained a Wood Duck Sanctuary on this land. If you're an avid birder, it's not uncommon to see a number of feathered species here. There are even stretches of trail lined with birdhouses! Check out this Cambridge trails map for more information about the Hespeler Mill Pond Trail.
If you're looking for a great place to catch the sunset in Cambridge, hop on over to the other side of the Hespeler Mill Pond. Here you'll find the Ellacott Lookout just off of Queen Street East.
Parking lots are located just off of Guelph Avenue and Blackbridge Road as well as Baldwin Drive.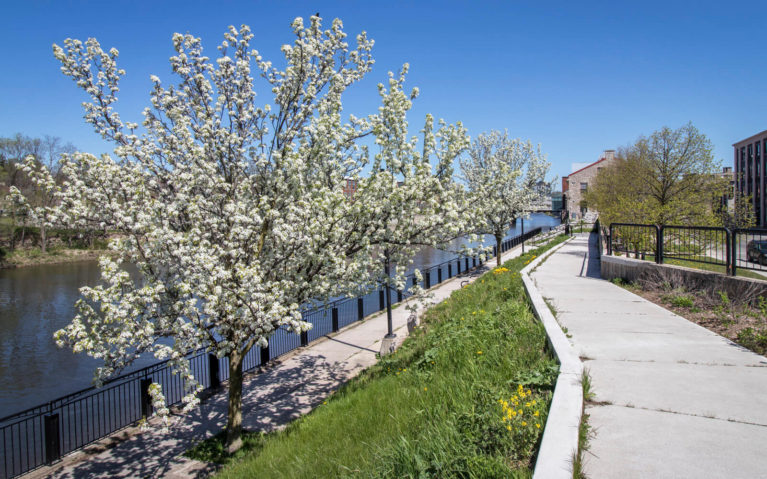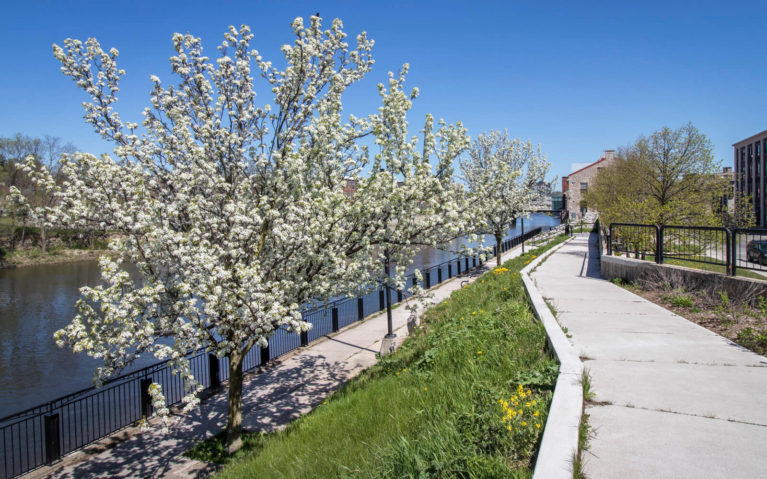 Living Levee Trail
If you've visited downtown Galt in Cambridge, there's a chance you've walked part of this trail without realizing it! This 2.4km urban trail follows Water Street to the Park Hill Dam. Hang a left on Grand Avenue North and follow it until you can hop back on the trail close to the Grand River as it takes you to the pedestrian bridge after passing through the Cambridge Sculpture Garden.
This is the perfect trail to check out if you find yourself in downtown Cambridge on a beautiful day. There are plenty of great restaurants for a bite to eat before or after your stroll! I recommend visiting in the spring as you'll be treated to plenty of gorgeous cherry blossoms along the route.
RELATED: Looking for more blooms across the province? Check out my guide to where you can find cherry blossoms in Ontario!
Parking is available at a number of locations including lots on Water Street and Grand Avenue as well as a number of street parking spaces in the downtown core.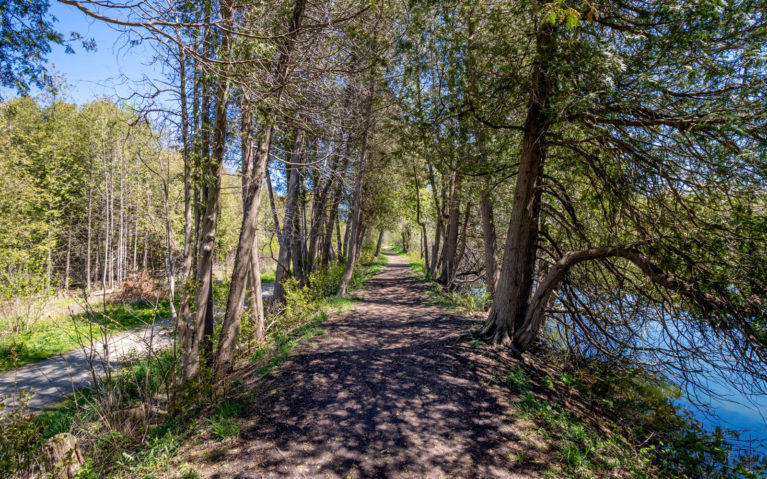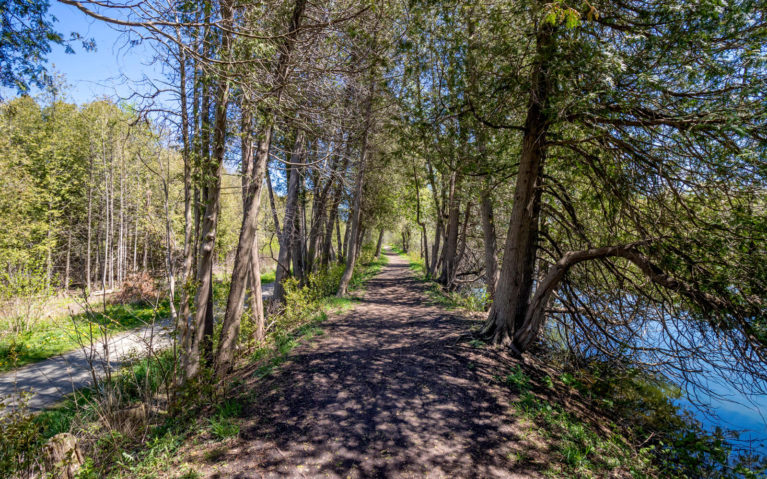 Mill Run Trail
Not to be confused with the Mill Pond Trail above, the Mill Run Trail starts at Riverside Park just off of King Street East and ends by Guelph Avenue just short of the Mill Pond Trail. It sits on the original Galt, Preston and Hespeler Street Electric Railway's railbed which was constructed in 1895. This 6.5km trail will take you past three mill runs which are channels for water to flow and power a watermill's wheel. Take a look at this City of Cambridge map for more points of interest along the Mill Run train.
The Mill Run Trail passes through the Chilligo Conservation Area which is maintained by the Grand River Conservation Authority. While many of their conservation areas such as Shade's Mills Conservation Area have paid admission, Chilligo is one of their passive-use areas. This means access is free for all to use, however the infrastructure is limited.
Parking can be found at Riverside Park or at the lot just off of Sheffield Street.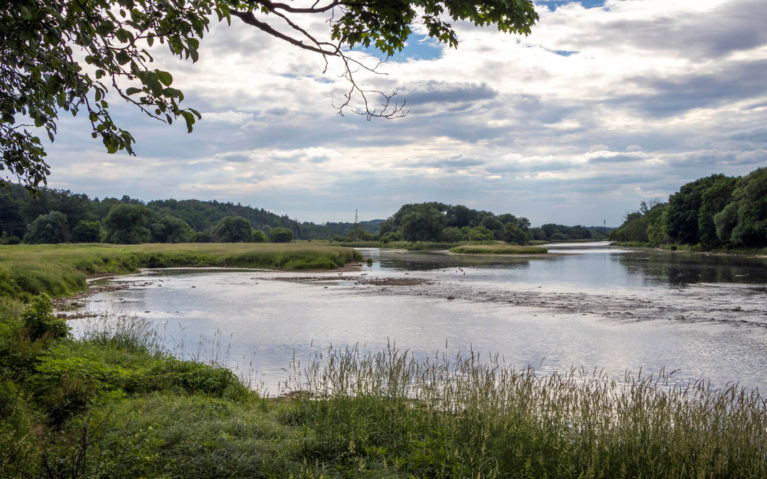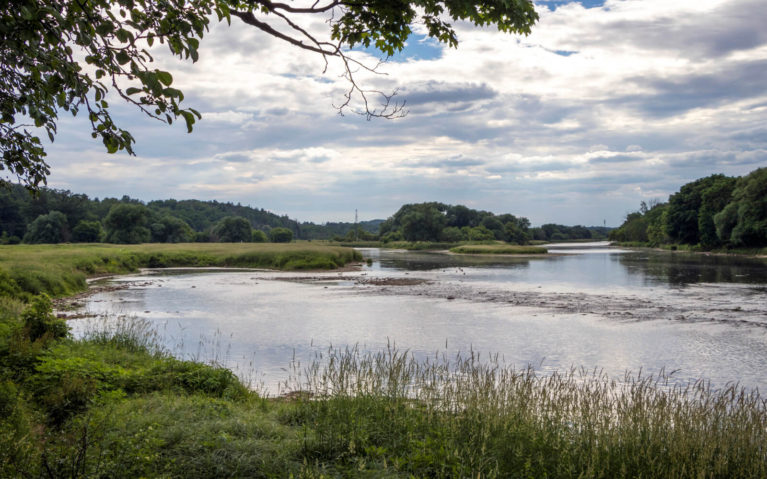 rare Charitable Research Reserve
This is hands down my favourite of these Cambridge trails – actually, probably in the entirety of Waterloo Region. It's a hidden gem that so many don't realize is there. I'm honestly nervous to include it but I hope upon visiting you'll realize just how special this area is and be kind to it whenever you visit!
With 900+ acres, the rare Charitable Research Reserve seeks to protect the land at the junction of the Grand and Speed Rivers. This area encompasses 24 different types of habitats and offers plenty of trails within them.
FUN FACT: the rare Charitable Research Reserve is larger than Central Park in New York City!
Another thing I love about the rare Charitable Research Reserve is that it places a large emphasis on the community. Their values reflect the need for respect to live alongside nature as well as one another. rare also honours the Indigenous communities of the area, including the Anishinaabe Peoples of Mississauga of the New Credit and the Onkwehón:we Peoples of Six Nations of the Grand River.
Parking and trail access can be found at the rare Eco Centre on Blair Road.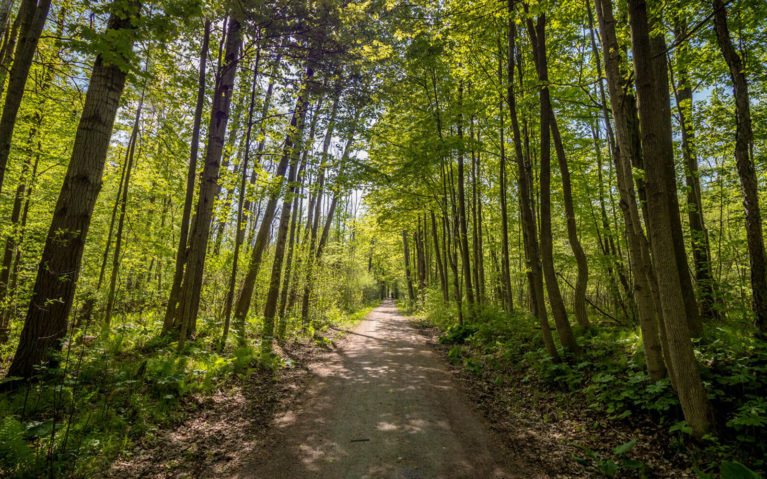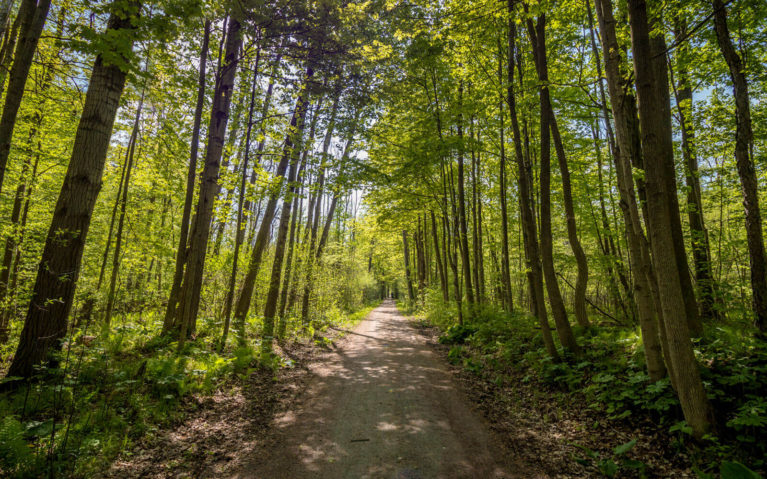 Walter Bean Grand River Trail
I'd say it's the most well-known trail in all of Waterloo Region – and for good reason! While the majority of the Walter Bean Grand River Trail is in Waterloo and Kitchener, a small section resides in Cambridge. The trail begins just east of where Blair Road becomes George Street North along the Grand River.
The Walter Bean Trail actually passes right through the aforementioned rare Charitable Research Reserve and then becomes a paved path along Blair Road. As the river bends around Moyer's Blair Landing, the trail becomes a gravel path again as it heads towards Fountain Street South. You'll have to navigate the roundabout to continue where you'll find a fork in the trail. You'll want to take the right path as you head under Highway 401 to continue along the Walter Bean into the Kitchener trail section. You can find a map here.
Parking can be found at the start of the Walter Bean Trail where you'll find a small lot. Additional parking can be found at the rare Charitable Research Reserve.
RELATED: For more fantastic hikes along the Grand River, check out these top trails!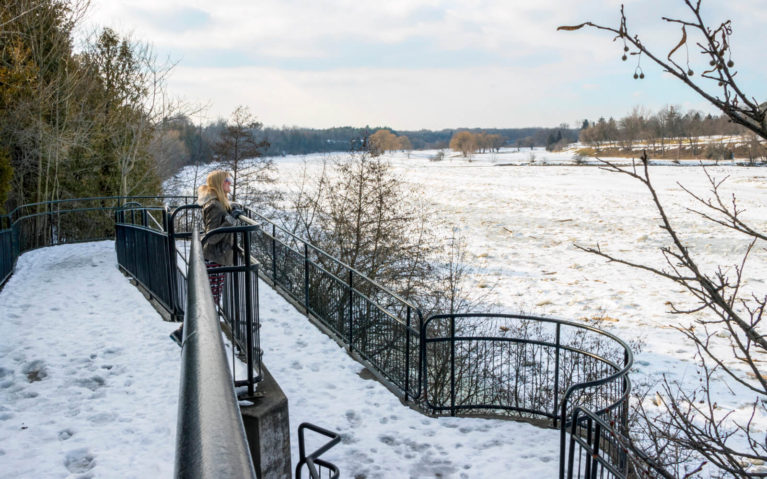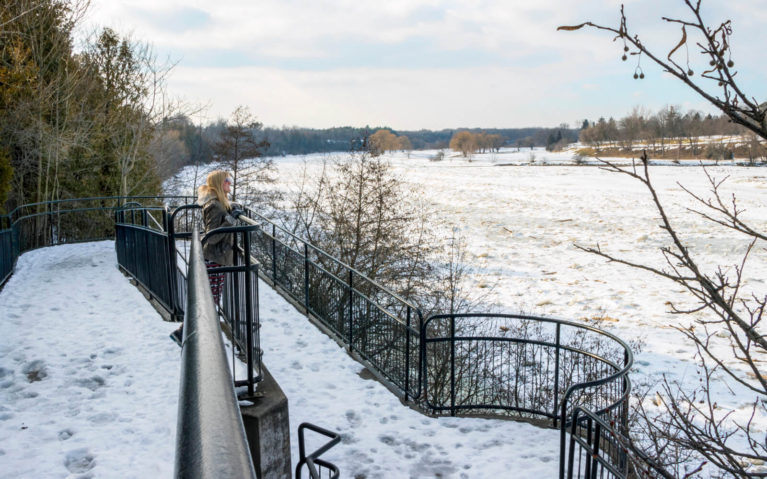 Additional Cambridge Trails
Despite living in Waterloo Region on and off for almost a decade, I have yet to check out all of the hiking trails in Cambridge. If you've tackled the above and are looking for more suggestions, here are a few more that are on my list!
Blair Trail – This tiny 500m trail is in the heart of Cambridge's Blair neighbourhood. It offers a small lookout where you'll find interpretive signage that talks about the history of the bridges built in this area across the Grand River. There's really nowhere to park here but you can follow the Walter Bean Trail from the rare Charitable Research Reserve to access it.
Brewster Trail – Starting at Queen Street East, the 1km long Brewster Trail runs through the Hespeler Wood Lot. As this trail is paved, the Brewster Trail is popular for year-round use.
Grand Trunk Trail – So the Grand Trunk Trail actually combines a few of the trails listed above including the Living Levee Trail, the Walter Bean Trail and a section of the rare Charitable Research Reserve trails. It's also part of the much larger Trans Canada Trail. Click here to see the full map of this 7.5km long trail.
Northview Heights Trail – Another one of the paved Cambridge walking trails, the Northview Heights Trail connects a number of neighbourhoods within Cambridge. Passing through Greenway Park, it gives locals a route to the Cambridge Mall without needing access to a vehicle.
There are also a number of great conservation areas in Cambridge which offer hiking trails. They may also offer other activities such as birding, fishing, paddling and more.
Dumfries Conservation Area – This 75-hectare conservation area that has plenty of forested areas as well as wetlands with trails running through it. If you find yourself in the area during the first weekend in June, stop by to check out the Dumfries Kite Festival!
Shade's Mills Conservation Area – A day-use park, Shade's Mills offers plenty of outdoor fun like swimming, fishing, hiking, cycling and canoeing in the warmer months. Come winter, visitors can enjoy some great cross-country skiing, snowshoeing and ice fishing. Unlike the other areas on this list, you will have to pay an entrance fee to visit.
Valens Conservation Area – Some sites say this is in Flamborough while others say it's in Cambridge so I'm included Valens anyway because I can. The area offers 10km of trails as well as a boardwalk overlooking wetlands and an observation tower! You'll also find cross-country ski trails in the winter months. Admission is $15 per vehicle (includes the driver) and $5 per additional person.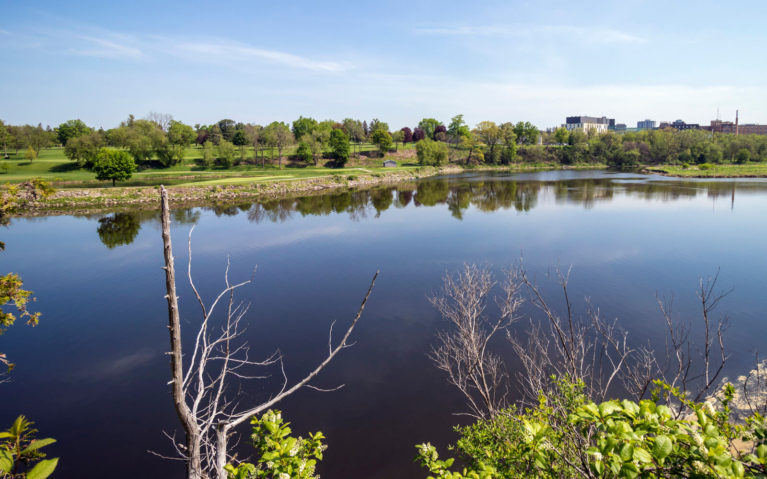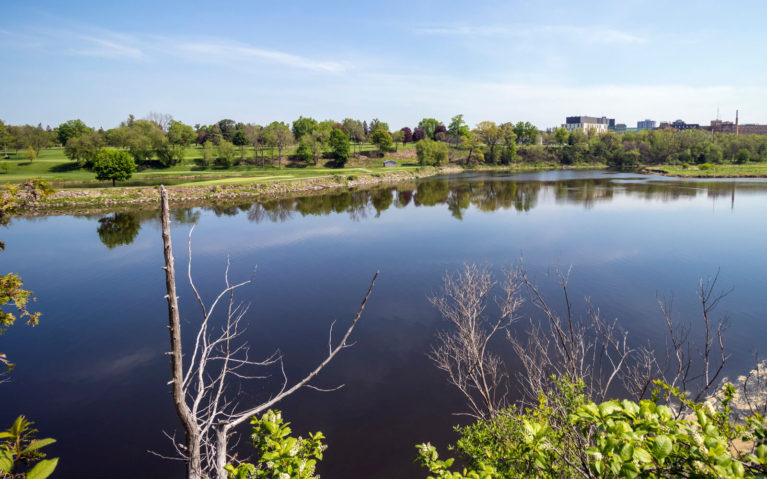 Things to Know When Visiting These Cambridge Trails
As with any trail, please respect these natural areas. Ensure any garbage you may have ends up in a trash can or better yet, take it home with you. If you want to help out even more, take a bag with you and pick up any garbage you may see. I know it's frustrating to clean up someone else's mess but Mother Nature can always use a helping hand.
Trail maintenance can occur and often does in the spring months of April and May. When this happens, it could mean the closure of certain trails. If you're wondering what Cambridge trails are open, be sure to visit the organization's website that oversees the particular trail you're looking to visit. Can't find the information there? Reach out to them via social media and I'm sure they'll be able to answer your questions!
Are you looking to take your pooch along for the trip? They're allowed on many of the trails listed above! However, dogs must be leashed at all times. Also, please pick up after your pup and don't leave your baggies hanging on the trees for later!
Lastly, no motorized vehicles are allowed on these trails. Driving all-terrain vehicles along these trails can cause significant damage as well as endanger those walking the Cambridge trails.
As with any hike, check the weather and make sure you're wearing the proper gear! While these trails aren't as intense as other Ontario hiking trails, a sturdy pair of hiking boots or running shoes are always a good idea. Don't forget a reusable water bottle to keep yourself hydrated!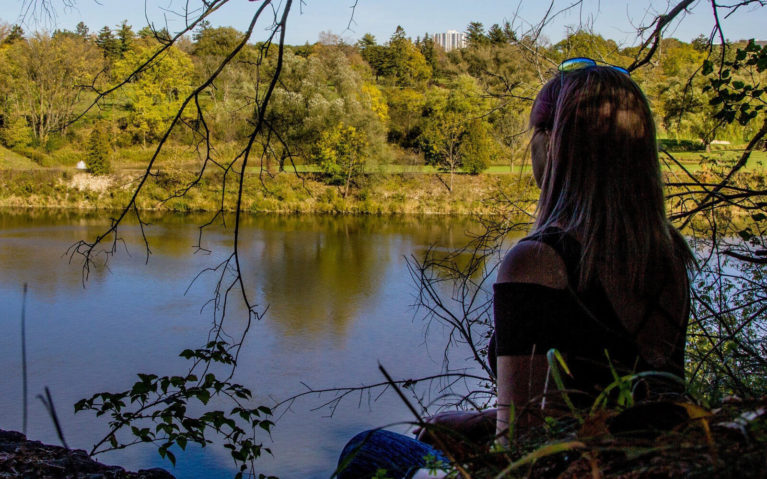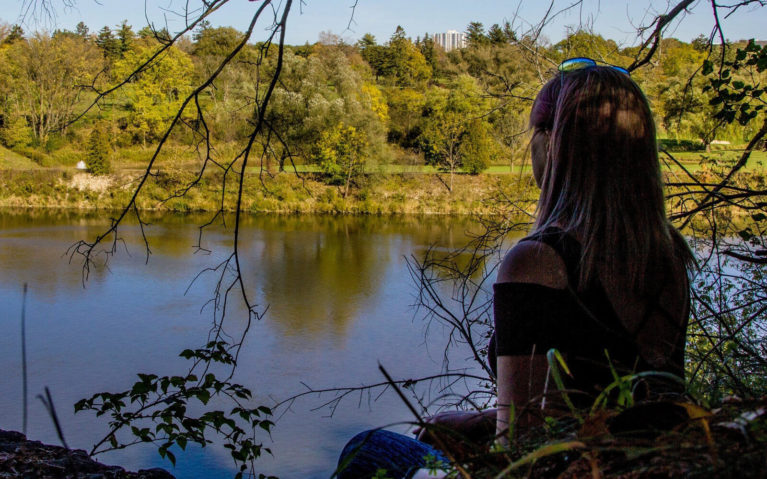 Which of These Hiking Trails Top Your List?
Whether you're looking for a quick nature break or an afternoon outdoors, you can't go wrong with these Cambridge trails. They are truly a breath of fresh air no matter your fitness level.
I'm not the most avid of runners but my love-hate relationship with running is slowly becoming more love than hate. If this is the case for you, you can always try running these Cambridge trails! Personally, I think the Walter Bean Trail and Cambridge to Paris Rail Trails would be the best options for this as they're both gravel, quiet and the flattest. They would be my top choices for an outdoor run!
Are you from Cambridge or have travelled to the region and think I missed a great trail? Which of these Cambridge trails would you want to explore first? Let me know in a comment below!
Looking For Other Things to Do in Waterloo Region?
15+ Fun Things to Do in St. Jacobs for a Fabulous Visit
Don't Miss These Awesome Hikes in Kitchener
Grab a Pint at These Amazing Breweries in Kitchener-Waterloo
Check Out KW's Incredible Food Truck Scene This Summer
Enjoy a Meal at These Top Downtown Kitchener Restaurants
Stretch Your Legs With These Hiking Trails in Waterloo
Disclaimer
This post contains affiliate links where I may receive a kickback at no extra cost to you. It helps keep the site alive so thanks! Read more in IBB's disclaimer and privacy policy.
Ready to check out these walks in Cambridge Ontario? Pin it for later!