Downtown Kitchener Restaurants That Are Dine-amite

In the past decade, the city I now call home has really come into its own. A big reason for that is the abundance of good eats. There are some awesome downtown Kitchener restaurants and more continue to appear. If you're a lover of food like I am, you can't go wrong at any of these establishments! I truly stand by that as I've taken one for the team to research each of these restaurants in Kitchener. Tough job, right? Anyways, let's get your mouth watering with these dine-amite (I'M SO FUNNY) restaurants in the heart of Kitchener, Ontario.
SOMETHING TO NOTE: Due to the current situation, some restaurants may be closed or only offering take-out at this time. Visit their website or social media channels for more details!
Awesome Restaurants in Downtown Kitchener
I don't have a personal photo for each of these places as I'm not always on my blogging game when I'm out and about. Sometimes a girl just wants to enjoy a delicious meal without working! Despite this, I've eaten at every restaurant on here and wouldn't recommend it if I didn't believe it served amazing food. Alright, let's get to it!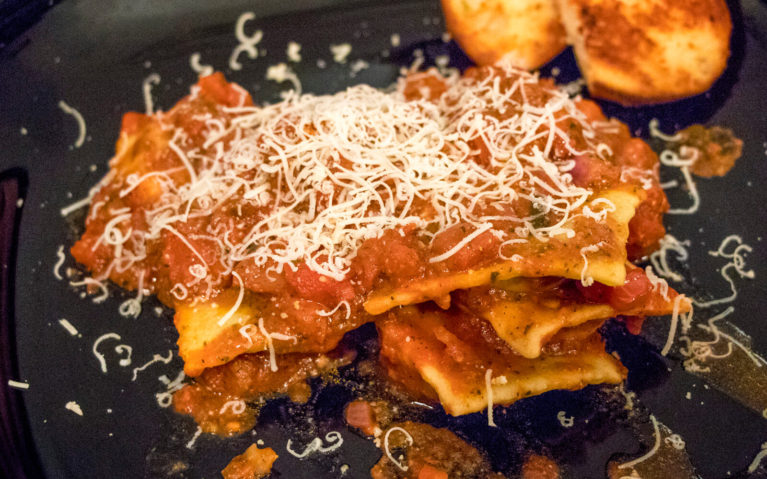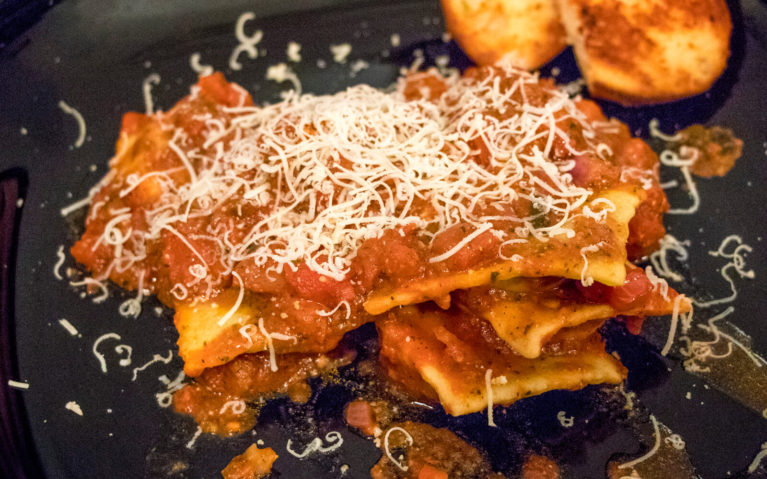 271 West
If you're like me and can't resist pasta made from scratch, plan a dinner date at 271 West. Their pasta isn't the only thing that's homemade as they bake their bread and craft their salad dressings in-house as well! I don't know about you, but fresh bread and pasta are two things I just can't resist. 271 West also sources its produce locally and its meats from the region.
With a focus on Mediterranean dishes, everyone can find something on their menu which also includes vegetarian and vegan options. While I haven't had any specific requests myself, I've heard they're very accommodating when it comes to customizing your dish. The hardest part will be trying to not order one of everything! Your mouth will be watering as you wait for these beautifully crafted dishes, though I should mention the portions are a bit on the smaller side for the price. It's 100% worth it though for the top-quality meals you'll indulge in.
LINDSAY'S RECOMMENDATION: Ravioloni di Ricotta e Spinaci
Abe Erb
While their original location is in Uptown Waterloo, Abe Erb has called The Tannery home since late 2016. Many come for the beer as they're one of the most popular craft breweries in Kitchener, but you will not regret staying for a meal.
Whether you visit Abe Erb in downtown Kitchener or at one of their other locations in Ayr or Guelph, their brewpubs are gorgeous and have an awesome, chill vibe. One thing that's awesome about their DTK location is this is where the magic happens. Watch as water turns to wine beer while their dedicated staff are hard at work. I think it makes the beer taste better knowing exactly where it comes from, but that's just me. Plus their food is crafted to specifically pair with their beers so you know it's gonna be good. The only downside is that since their menu changes seasonally, you may see some of your faves disappear. There's not much you can do but hope it comes back in a revitalized form like I do with their Korean BBQ chicken. So far, so good.
Come summertime, it's not uncommon to see Abe Erb's patio packed with people (whoa, that's a lot of p's). It's one of my favourites in downtown Kitchener so if you can snag a seat, do it! Feel free to bring the fur baby too as doggos are welcome on the patio.
LINDSAY'S RECOMMENDATION: Anything With Their Korean BBQ Chicken
Cafe Pyrus
This is easily my go-to of these downtown Kitchener restaurants for some delicious comfort food so you think I'd have my own photo. Nope, too busy eating to take one! Cafe Pyrus offers vegan eats so it's comfort food you don't have to quite so guilty about indulging in! If you're rolling your eyes because of the 'v' word – don't. You'll miss out on some incredibly delicious food.
Cafe Pyrus uses organic ingredients as well as sustainable packaging wherever they can. Their goal? To help make a positive impact on our planet with each and every meal. The Cafe Pyrus team is continuously a leader in the community by proudly paying their staff a living wage, helping the less fortunate in the area and more.
You really can't go wrong with any of their eats as, to my knowledge, everything is made in house. I'm absolutely addicted to their tempeh so I highly recommend anything on their menu that includes it. Cafe Pyrus also has monthly specials which you can never go wrong with. I'm still dreaming about their Oktoberfest sandwich on a delicious pretzel bun. Mmm! Oh, and be sure to always get their kale slaw.
LINDSAY'S RECOMMENDATIONS: the Rueben Soho and a Fruit Bomb Latte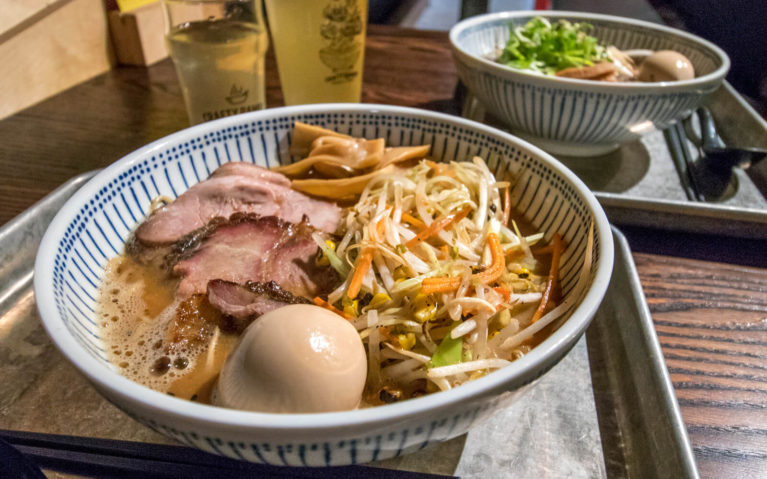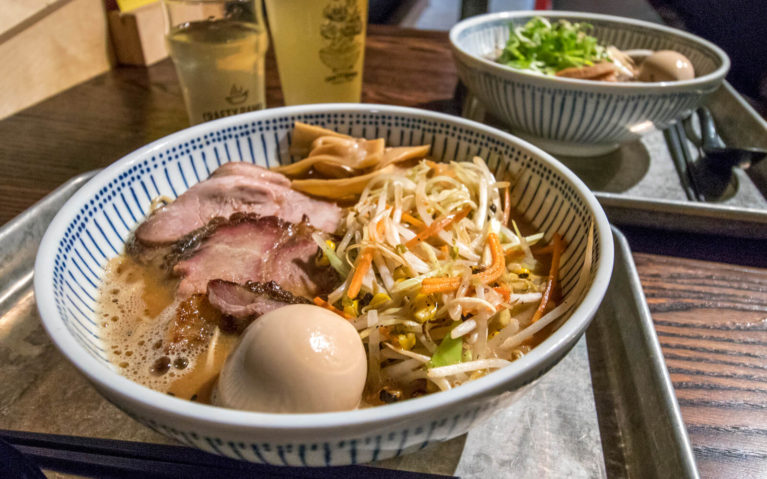 Crafty Ramen
The newest restaurant on this list, Crafty Ramen is the perfect addition to Kitchener's downtown core. Founders Miki and Jared travelled all across Japan in search of the best ramen so they could bring a taste of it to Canada. Opening their first location in Guelph, they have since joined the DTK crowd and I couldn't be more excited. While ramen is good all year round, it's especially delicious on the blistering winter days we get in Kitchener.
Featuring a versatile menu, you know you'll get the best tasting ramen around as they use locally sourced ingredients whenever they can. To top it off, they make all their broths, oils AND their noodles in-house. It doesn't get better than that! If you're vegetarian or vegan, a number of their dishes are adaptable to ensure you have something to eat on the menu. You don't want to miss out on the dumplings either as they're based off Miki's family recipes. It was love at first bite for me!
Ever wanted to try your hand at making ramen yourself? Don't miss checking out Crafty Ramen's DIY kits. All of the ingredients are ready to go – just assemble for deliciousness!
LINDSAY'S RECOMMENDATION: Miso Rich and Corny (I love their dish names)
Grand Trunk Saloon
This new-age tavern is a nod to the watering holes found back when the Grand Trunk Railway ran through this area. Inside you'll find a dark but intimate atmosphere, perfect for enjoying one of their craft cocktails. Take a look at the Venn diagram for your perfect combination of something sweet, dry, or bold. Looking for something specific? Ask – you'd be surprised at what concoctions they can create.
If you're looking for soulful comfort food, Grand Trunk Saloon has you covered. They're bringing some serious Southern-style barbeque game to Kitchener. From blackened catfish to fried chicken, you're doing it wrong if you leave hungry. Grand Trunk is known to have some unique dishes like alligator on the menu from time to time, depending on availability. Check out their Facebook page for the latest menu to see what's for dinner. They have daily specials though their most popular is definitely Tuesday's 10-piece bucket of chicken for $20.
Hoping to make a reservation? You'll need to make it a lunch date as they don't take reservations for dinner or the evening. If you want to increase your chances of a seat, you'd be better off to go early and enjoy a cocktail or visit on a Monday, their quietest day.
If you're looking for something on the sweeter side of life, head down the street to their sister restaurant – the Grand Surf Lounge. You'll find a solid dose of tropical Tiki vibes which we could all use a little more of. The menu isn't as vast as that of the Grand Trunk Saloon but chances are you're there for a drink anyway so it's all good.
LINDSAY'S RECOMMENDATIONS: Hominy Fries and Mac n Cheese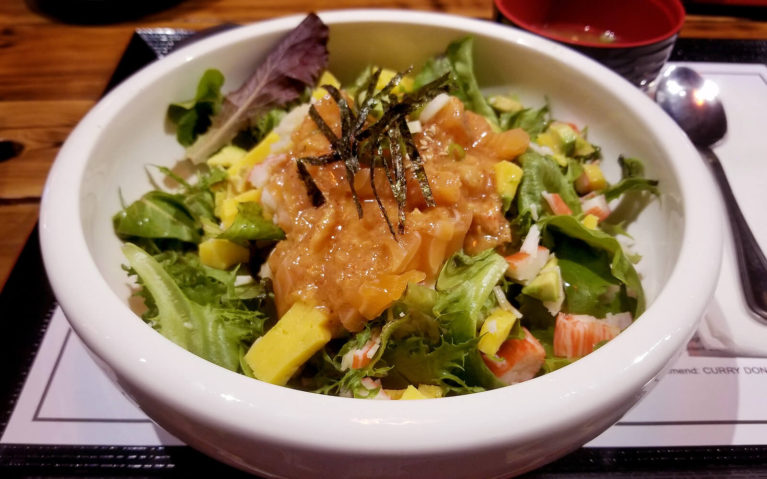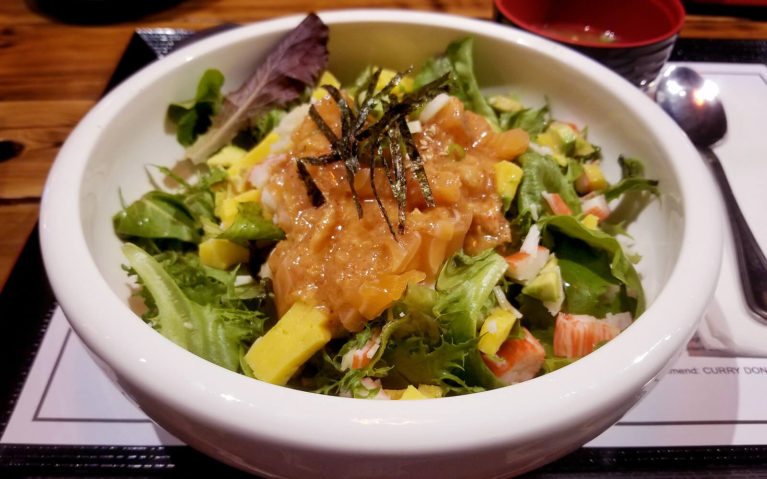 Izna Donburi
One of the newer restaurants in downtown Kitchener, Izna Donburi has quickly become one of my go-to destinations for Japanese eats. Their menu has a number of items you can't find anywhere else in the city (at least not that I'm aware of) including Okonomiyaki (Hiroshima-style pancake with bacon, cheese, egg and vegetables) and O-sambokeum (squid and pork stir-fried in a homemade Korean-style spicy sauce). If you're going to get anything though, I recommend trying some of their in-house specials. They do not disappoint!
While I always embrace stuffing my face from the comfort of my couch but if you're going to eat in anywhere, let it be at Izna. The interior of their restaurant is nothing like anything you'll find in Waterloo Region!
For anyone with a sweet tooth though, you'll be out of luck as Izna currently doesn't have any dessert options. I'm more of a savoury gal so I don't mind. I'll happily replace dessert for an appetizer instead!
LINDSAY'S RECOMMENDATION: the Salmon "Sandwich" and the Izna Donburi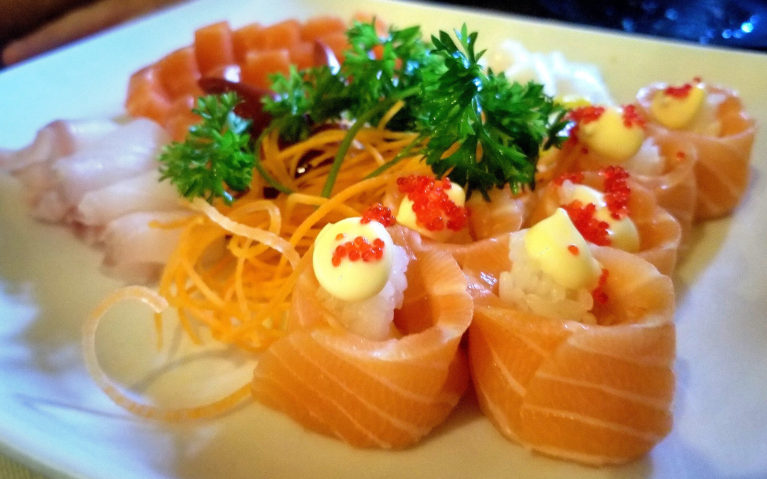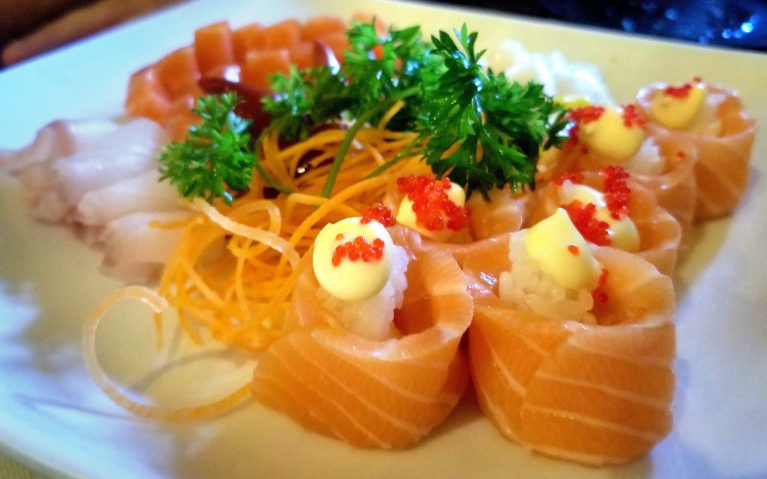 Kinkaku Izakaya
I would hard-pressed to find a better all-you-can-eat sushi restaurant within not just the city but all of Waterloo Region. There's a reason you'll find a line-up daily for dinner! If you're someone who hates deciding on just one dish, this tapas-style restaurant is perfect for you. It's also a great destination for a larger group as there are a variety of menu items to choose from. The service is top-notch along with every one of their eats. I've visited a number of times and not once have I been dissatisfied! As a fan of sashimi, their salmon is some of the freshest I've had in the province.
If you're a party of 6 or larger, I recommend making a reservation. Unfortunately for 5 or less, you'll have to put your name on the list and wait for it to be called as reservations are unavailable. I haven't waited much longer than 30 minutes. If it is a long wait, I recommend heading down the street and grabbing a drink to kill some time.
LINDSAY'S FAVOURITES: Ebi Mayo and Salmon Sashimi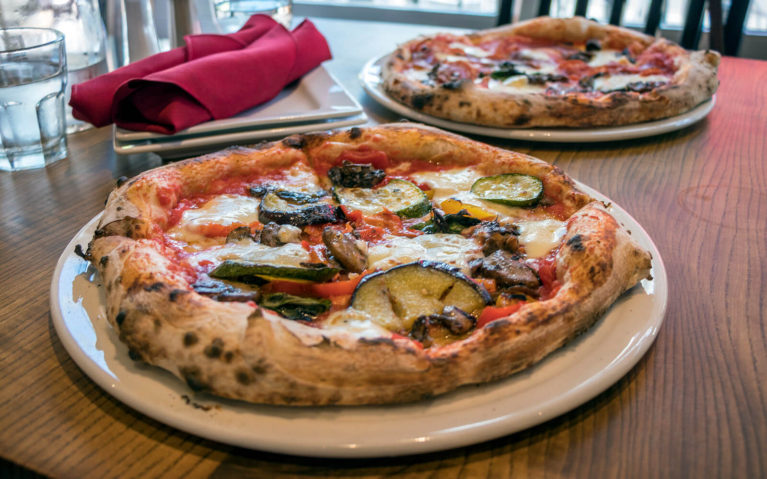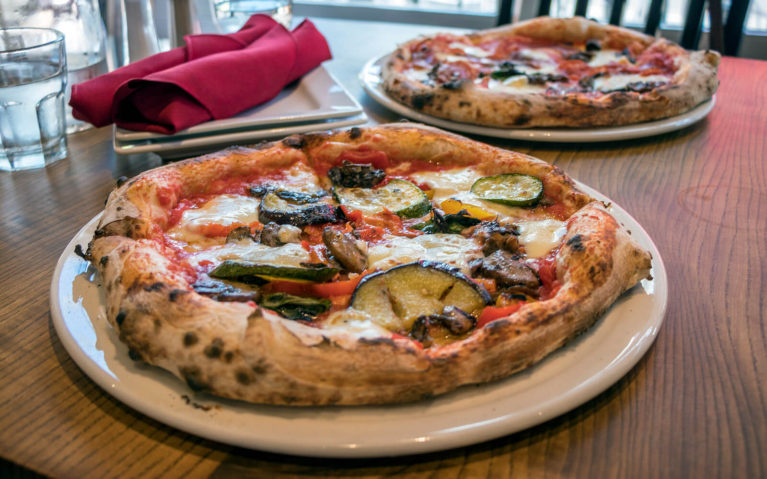 La Cucina
You'll find Italian dishes that rival those found in Florence and Rome here at La Cucina. Their pizza is made fresh and baked in their custom-built Malagutti pizza oven. The smell alone as its cooking will make your mouth water! While chances are you'll be coming here for a slice, they have plenty other items to offer including homemade pasta, paninis, antipasti and more. You'll be drooling over the delicious dishes on their menu whether you're enjoying it inside or on their King Street patio. No matter what item you choose, you know it will be top quality as all ingredients are sourced either from Ontario or Italy.
They offer a number of mid-week specials for those looking to dine frugally. On Tuesdays, you can enjoy any of their pizzas for just $14 and the same for their pasta dishes on Wednesdays. If you're a fan of wine with dinner, you'll love their Thursday feature of half-price bottles of wine. The best deal though is their lunch special where you can enjoy either a soup or salad along with a Margherita pizza or Penne al Pomodoro for just under $15.
LINDSAY'S RECOMMENDATION: the Vegetariana Pizza and the Diavolina Calabrese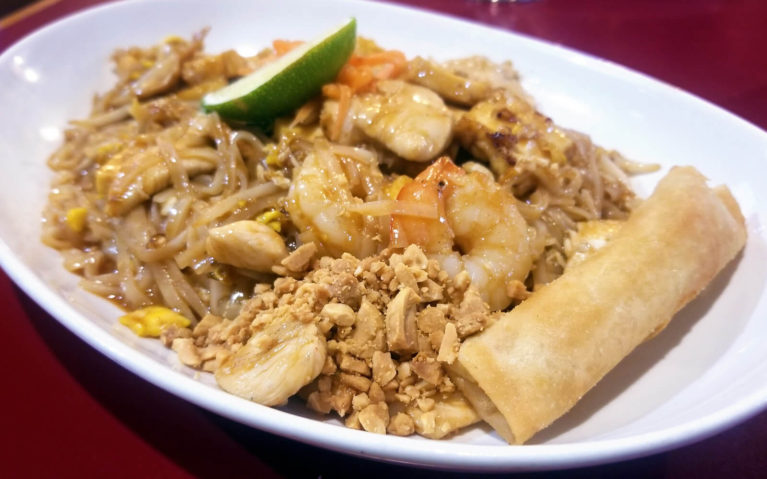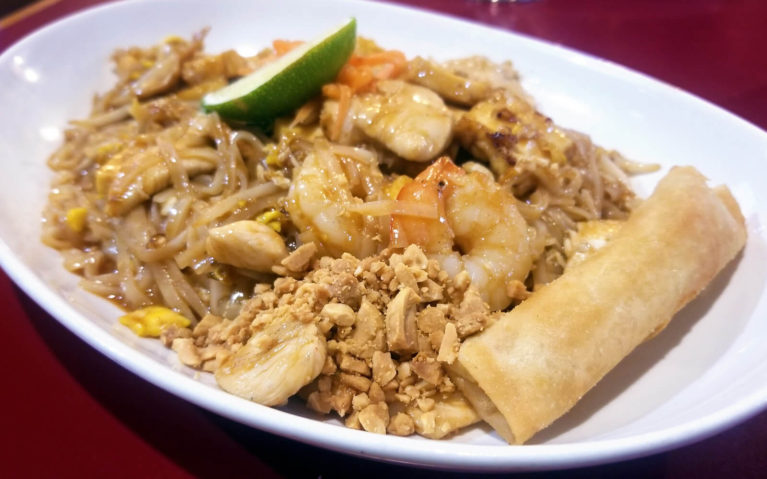 Northern Thai
For over 20 years now, Northern Thai has been serving traditional Thai eats to Waterloo Region. This family-run restaurant aims to provide a 'culinary escape' to Thailand. When you can't travel physically, they'll take you there via your taste buds!
The restaurant doesn't look like much inside and it could really use a facelift. However, that often doesn't bother me. I'm happy as long as it's clean and the food is good and Northern Thai is definitely both! I have found their service to not be the most attentive but I let that slide for good food.
They have a wide range of dishes on their menu including Thai soups, salads, noodle dishes and more. I'm unsure about vegan options but there are a number of vegetarian dishes. I've been eyeing their Thai Style Eggplant for a while but I still have yet to try it! Whatever you decide to order, know that everything Northern Thai serves is incredibly flavourful. There's a reason they're considered the best Thai place in Kitchener Waterloo! Don't miss their weekday lunch specials Monday through Friday from 11:00am-3:00pm. Your belly and wallet will enjoy these deals!
LINDSAY'S RECOMMENDATION: Pad Thai or Pad-Kee-Mao (Drunken Noodle)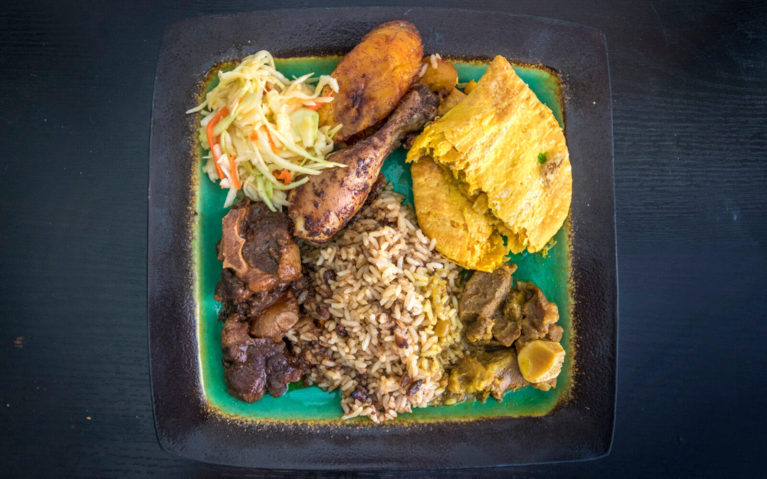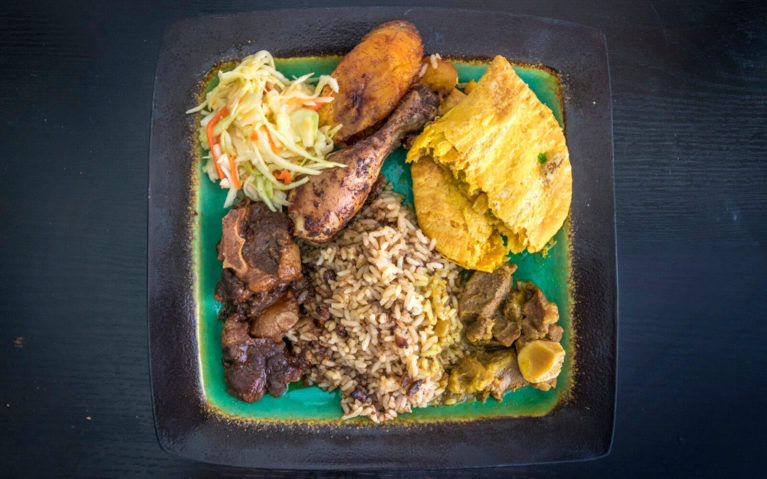 Rainbow Caribbean Cuisine
If you're looking for a taste of the tropics, Rainbow Caribbean Cuisine will deliver! While it says Caribbean in the name, their menu focuses mainly on Jamaican eats. I have never been to Jamaica myself, however my taste buds dream of the beautiful beaches and tasty delicacies I've only witnessed online.
The restaurant itself is quite simple as it's set up like a cafeteria. The ease of a quick in-and-out meal makes it a popular spot for lunch in downtown Kitchener. As I mentioned, their menu focuses on Jamaican cuisine and is fairly straight forward. You have a variety of proteins like beef, goat, fish and of course, jerk chicken. While I haven't tried it myself, their roti special seems to be the most popular item on the menu! To my vegan and gluten-free readers, you'll probably have trouble finding something to eat here.
As I mentioned, I've never been to Jamaica so I don't know how these flavours stack up against cuisine from Montego Bay or other Jamaican cities. However, if the flavours are just a good as the ones you'll enjoy at Rainbow Caribbean Cuisine… I'm going to need a strict exercise regiment when I do visit. I won't be able to stop myself from eating all the things!
LINDSAY'S RECOMMENDATION: Classic Meal with Oxtail, Coleslaw, Rice and Peas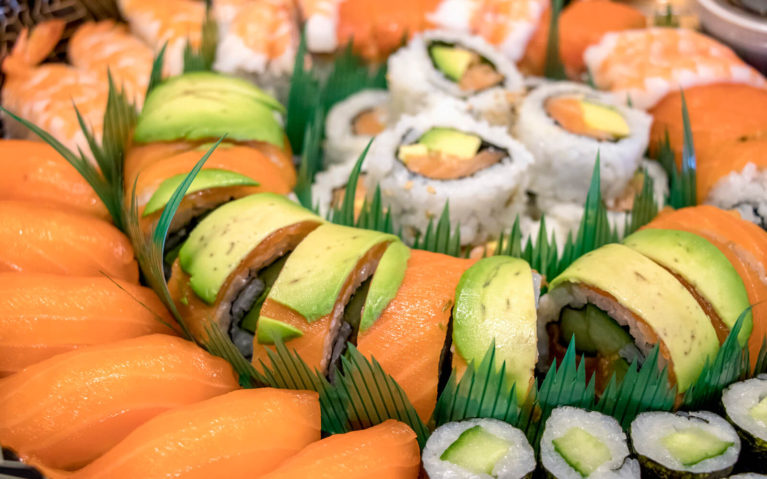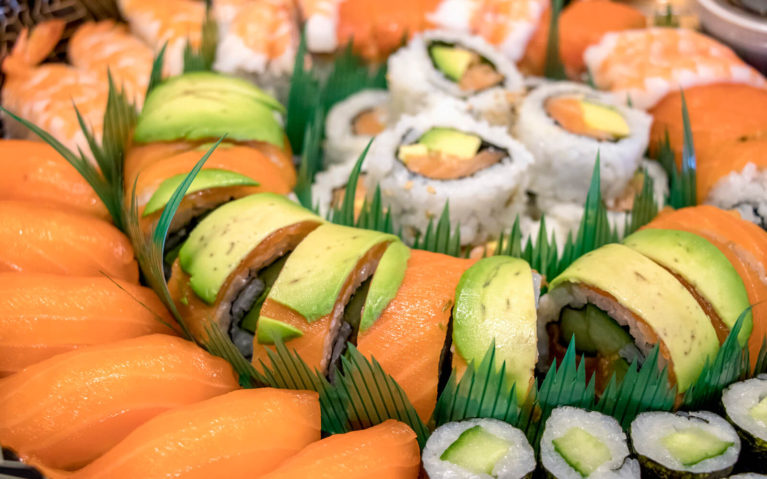 Taste of Seoul
If you're a Kitchener local, you may have heard the Taste of Seoul name around town. You can find their pre-packaged meals at Vincenzo's as well as the St Jacob's and Kitchener Markets. The latter is where I first discovered them and was delighted to find out they had opened a small restaurant close by. They might technically be just on the outskirts of downtown Kitchener but this is my article so I say they get included because their food delicious.
I've only had a peek at their eat-in restaurant on Victoria since I opted for take-out but you can't go wrong with Taste of Seoul. While Japanese tastes tend to be milder, Korean flavours can be quite bold but Taste of Seoul blends them together to create delicious menu items your taste buds will enjoy. Every bite is fresh and flavourful. Plus their generous portions will ensure you're satisfied by your meal!
LINDSAY'S RECOMMENDATION: Jap Chae or Red Dragon Roll
Have You Eaten At These Downtown Kitchener Restaurants?
Kitchener is a fairly large city, meaning there are more restaurants than those listed above! However, downtown Kitchener is becoming a foodie haven starting at Victoria Street to Otto Street, the Kitchener Market, Victoria Park and everywhere in between. You can't walk more than two blocks without finding something delectable! I've already got a few more restaurants in my cross-hairs so stay tuned for updates.
This area is also great for those who utilize public transit (which I encourage you to do!) as a number of bus routes as well as the new Ion light rail system take you right here. Whether you're visiting for a weekend or just passing through on an Ontario road trip, you have to check out some of these downtown Kitchener Ontario restaurants. Trust me, your taste buds will thank you!
Looking for More Things to Do Near Kitchener Ontario?
Check Out These Pitcher-Perfect Kitchener-Waterloo Breweries
Don't Miss These Brew-tiful Kitchener Coffee Shops
Walk Off Your Eats with These Awesome Kitchener Trails
Still Hungry? Don't Miss These Amazing KW Food Trucks!
Stretch Your Legs & Explore Waterloo's Hiking Trails
Take a Hike on These Top Cambridge Trails
Don't Forget These Downtown Kitchener Restaurants & Pin It For Later!