Charming Must-Do Kitchener Trails For Locals and Visitors Alike

As a Kitchener, Ontario transplant from the Niagara Region, I was spoiled by the abundance of rugged hiking trails. They aren't kidding when they say you don't know what you've got until it's gone! Despite being a lookout enthusiast and a bit of a waterfall addict, neither of which are overly prominent in the city, I've discovered a number of great Kitchener trails. No matter which one you tackle, you'll get that dose of nature the doctor ordered!
Hiking These Top Kitchener Trails
While Kitchener is kind of flat meaning a lot of these are more like walking trails, there are still a number of great Kitchener hiking trails that'll get your blood pumping. While this means you won't find the rough, rocky terrain you'd expect along the Bruce Trail, these trails are great for a number of reasons.
First, you won't have to worry as much about rolling an ankle since these walking trails in Kitchener are fairly level and flat. I know my ankles are breathing a sigh of relief already! Second, this makes them great for a family outing. The majority of the trails are either paved or fine gravel that are well groomed. In the winter, many of the trails are not maintained but as Kitcher is a part of the snow belt, the piles of snow are usually tamped down flat for all to enjoy. Lastly, you can adjust them to whatever difficulty you like. If you're looking for a short jaunt, or to really get a workout, it's easy to increase the difficulty.
Now whether that's by choosing stretches that have a steeper incline, increasing the distance or enjoying these Kitchener walking trails at a faster speed – that's up to you! Okay Lindsay, I'm convinced! Let's get to these Kitchener trails already!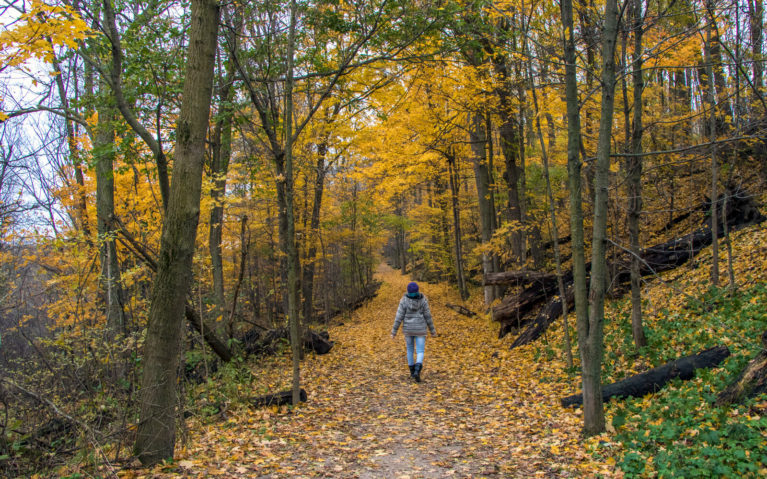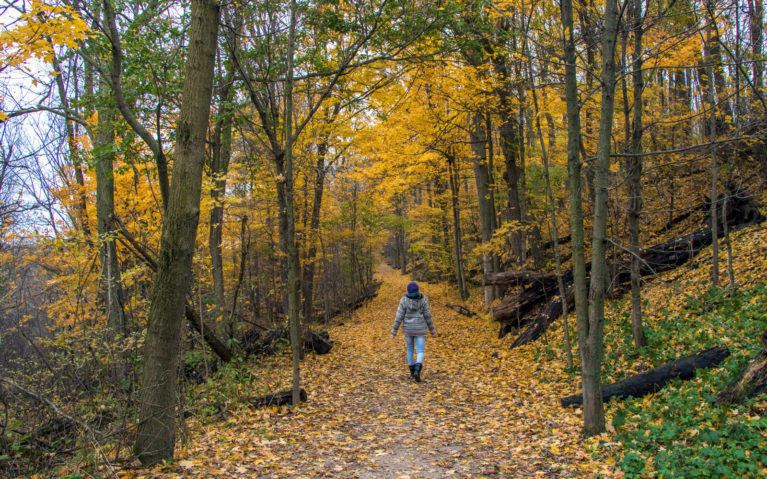 Homer Watson Trail
If you'd consider any of the trails in this post as a true Kitchener hiking trail, it would be the Homer Watson Trail. As part of the Trans Canada Trail, it offers visitors a number of great options. One option is to follow the Grand River itself and complete a short loop often referred to as the Homer Watson Park Trail. Or, you can head further south through Homer Watson Park, the Schneider Greenway and more for a bigger challenge. I hear if you go as far as Windrush Park you'll be treated to one of the best views of the city. I'll have to tackle it and report back!
This is definitely a spot where you'll enjoy a different experience each time you visit. Bird watchers will rejoice in the spring as they look out for the Warblers' that love the area. In the summer, the trails are a great spot to get away from the heat as large parts of the trail are heavily shaded. The combination of thick forest (thanks to copious amounts of Hemlock trees) and still water makes it a mosquito's paradise so don't forget the bug spray! As the weather cools, enjoy all of the beautiful golds as the leaves change colour and fall to the ground, awaiting old man winter's arrival.
As for Homer Watson Trail parking, there are a few places I'd suggest. The first is a small parking lot with 5 spots at the bend where Huron Road becomes Mill Park Drive. On a warm weekend in the summer this fills up fairly quickly, so I'd then suggest heading to the end of Wilson Drive. Here you can park on the street so it often has plenty of availability.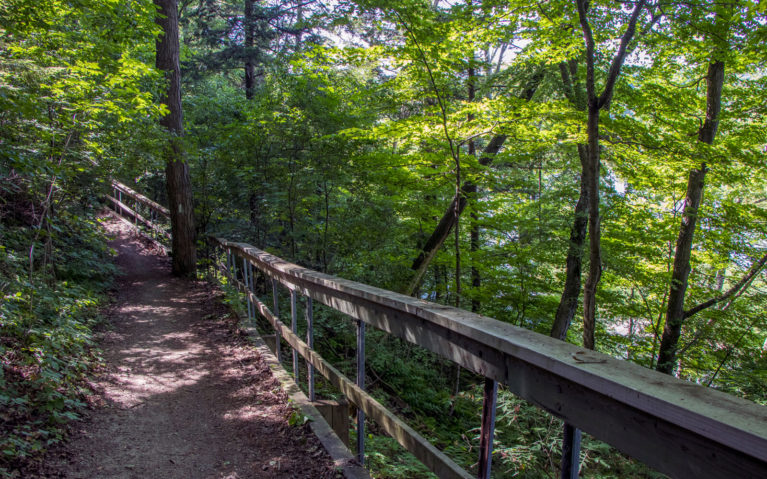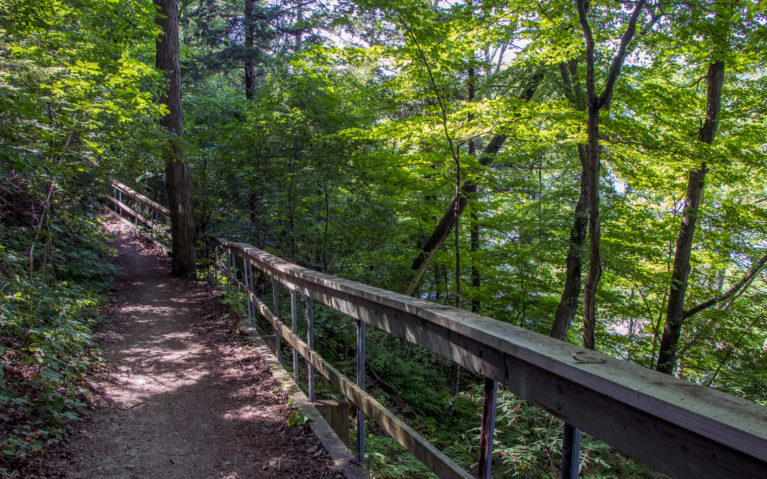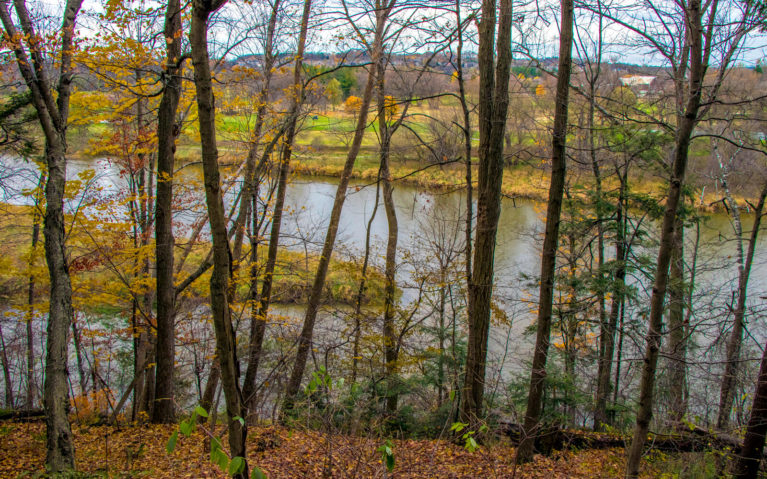 Huron Natural Area
What's probably my favourite area to explore in the city, the Huron Natural Area (also referred to as Huron Park) has plenty of amazing trails to offer. As Kitchener's largest natural space, it plays a significant role in the city. Home to one of Kitchener's only cold water streams, provincially important wetlands, an archaeological protected area and more, this 107-hectare park is loved by families, joggers, nature enthusiasts and pretty much anyone who has ever visited. With over 7km of trails, plenty of interpretive signs and a children's playground, it's a great spot for a quick dose of nature or an afternoon outdoors.
FUN FACT: Kitchener is known as a 'bee city', meaning it's dedicated to creating new pollinator habitats and educating the community via outreach initiatives. You can celebrate pollinator week here at Huron Park in June!
I've traversed each of these trails and while the views around the Board of Education Pond are beautiful, you can't miss the Strasburg Creek Trail. Along it, you can learn about the 20,000 individuals known in history as the Neutral Nation.
Named as they refused to affiliate with either the Wendat (Huron) or the Haudenosaunee (Six Nations) in their conflict, 600 of them called this area home. Archaeologists tell us that the Neutral Nation were farmers who relied on crops like corn, beans and squash and tended to these fields in a responsible way. After planting their crops in one spot for a few years, they would move them to another location to allow the field to rehabilitate and return to its original state. Follow the trail to learn more about their hunting habits, relation to the land and handmade items found via archaeological digs.
Many of the trails within the Huron Natural Area are wheelchair accessible which can be hard to come by in regards to Kitchener trails. Combined with the fantastic children's playground, it also makes them great for families with young children. If you're going to visit at any time during the year, it has to be during the autumn season as the views are magnificent when the leaves are at peak colour. You'll be blown away by the natural beauty as you wander through the forest.
Iron Horse Trail
If these Kitchener trails had a popularity contest, the winner would be the Iron Horse Trail hands down. Back in the 1900s though, it looked very different. Originally the Preston and Berlin Railway, this electrically powered passenger service train ran for less than 50 years before service ended. Purchased by the cities of Kitchener and Waterloo, it became the main walking conduit between the two cities in 1996. You can still find artefacts from that time period along the trail!
Despite starting as an abandoned Canadian Pacific Railway line, it is now used over 250,000 each year, 7 days a week. This piece of the Trans Canada Trail is a common commuter path as it connects downtown Kitchener and Uptown Waterloo. With all 5.5km (4km of which are in Kitchener alone!) fully paved and wheelchair accessible, it's used by both cyclists and pedestrians and is a great trail for all!
Looking for More Trails in Waterloo Region?
These Cambridge Trails Are Perfect for Hikers of All Skill Levels
Stretch Your Legs with These Waterloo Hiking Trails
As it connects to the heart of both cities, the Iron Horse Trail is not quite a natural escape. Rather, I'd say it's a great gateway to exploring more of the towns. With a number of great restaurants, shops and other establishments just steps from the trail, it's the best route to explore the city without a car. If you're going to stop anywhere along the route, don't miss Belmont Village where you'll find a number of great eateries!
In the spring of 2018, the Iron Horse Trail started getting a facelift. This included a number of improvements like the widening of large sections of the trail, the addition of a parking lot where it connects in Victoria Park, and improved signage. There is also talk of lighting large stretches of the trail for an improved experience at night! As an avid solo female hiker, I find this aspect super important and hope to see it come to fruition sooner rather than later.
One thing to note is that is a linear trail. Unlike many of the others in this list, you'll have to retrace your steps to get back to where you started!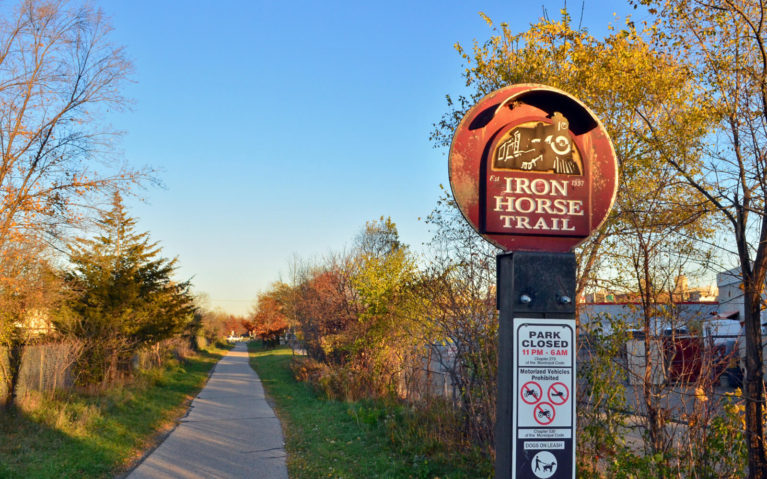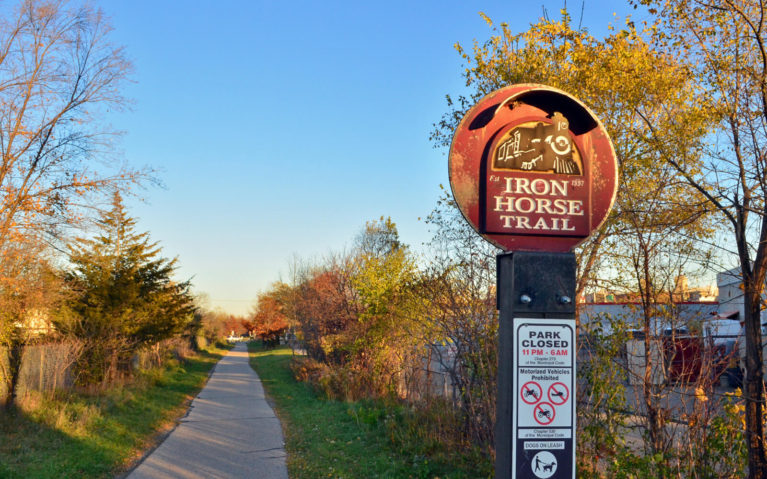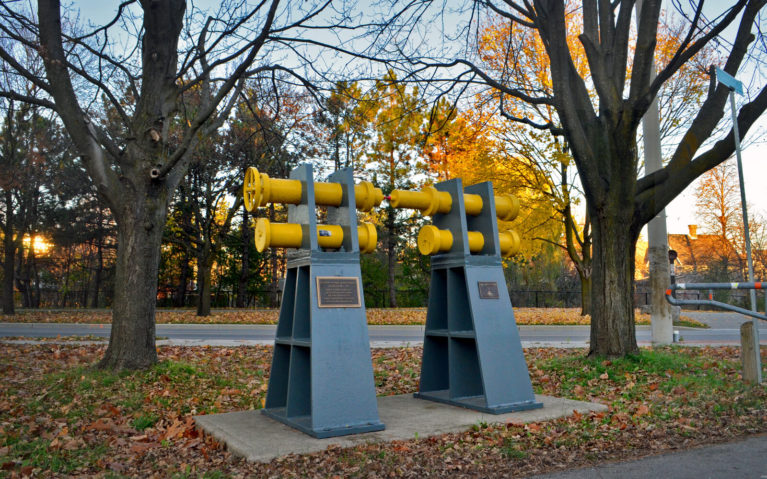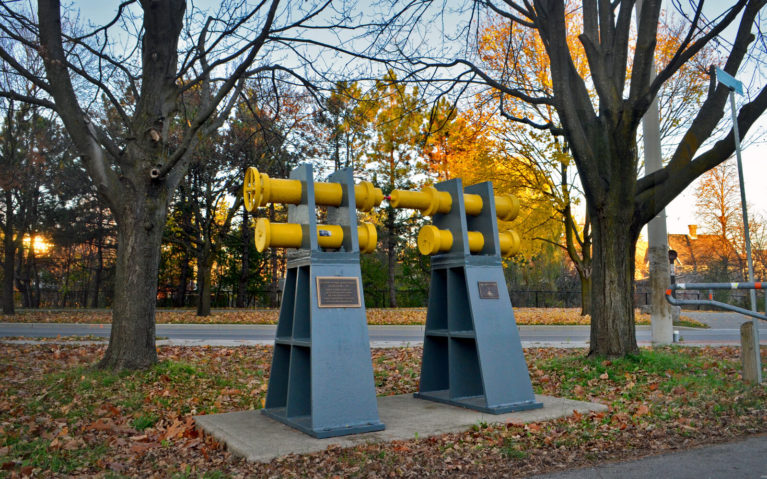 McLennan Park
Affectionately known by the locals as Mount Trashmore, McLennan Park is an example of something ugly being transformed into something beautiful. Gone are the days when this site was used as a landfill for the city. In its place, you'll find a beautiful outdoor complex complete with walking trails, splash pad, dog park, volleyball and basketball courts along with a BMX bike park in the summer months.
As it is on a giant garbage pile, McLennan Park is actually sinking – faster in some spots than others. As a result, some facilities may close from time to time for repairs, but overall this is an awesome spot to enjoy a sunny day. If you're concerned about gas byproducts – don't worry. Ventilation and gas-monitoring systems are in place to ensure everyone can enjoy the park safely.
Don't miss out on heading to the top of the bike park. This is where you'll find the best view of the city I've discovered to date!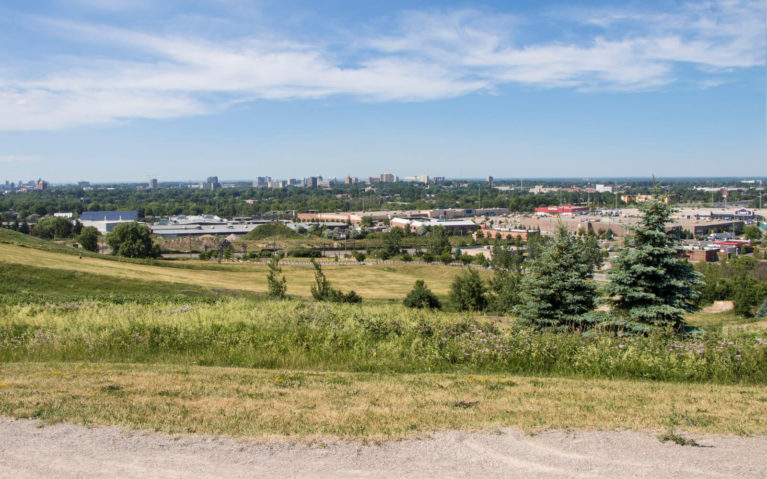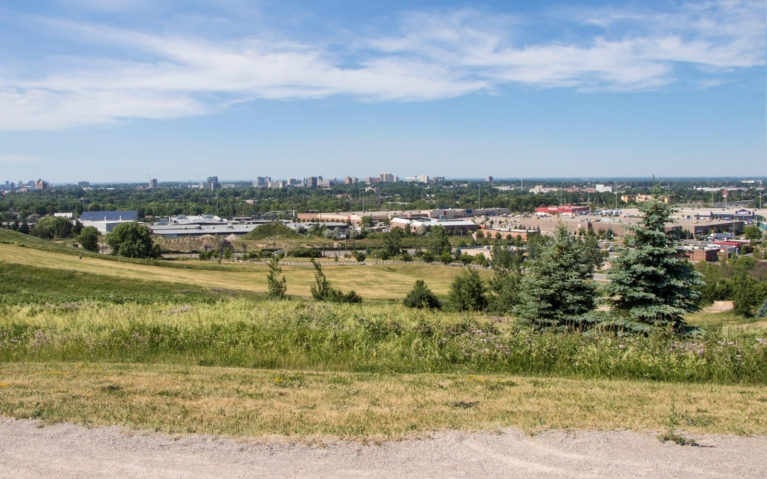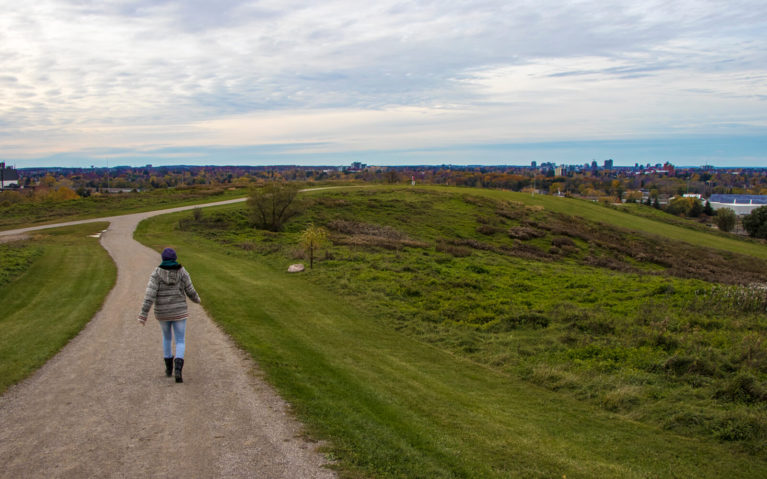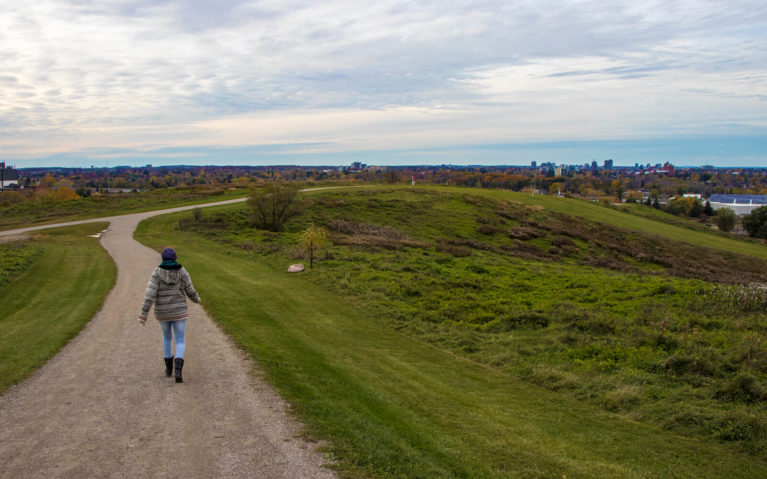 Walter Bean Trail
What started as a dream by a community leader born in Berlin (now Kitchener), the Walter Bean Grand River Trail has become what I'd call the most epic trail in Waterloo Region. Spanning over 70kms, this trail follows the beautiful Grand River – the crown jewel of the area. With the trail starting in West Montrose and crossing through Waterloo, Kitchener and Cambridge to connect with a trail that can take you to Hamilton… there's a lot to cover!
Along the trail, you'll find interpretive signage that tells about both the natural and cultural history of the area. Learn about the Grand River watershed and its significance as well as the animals that call the area home. They also talk about how socially significant the area was and tell the tale of how it was established.
RELATED: For even more fantastic views of this majestic waterway, check out these top Grand River Trails!
Chances are you won't want to tackle it end to end (though that would be an epic adventure!), there are a number of great places to enjoy it. My favourite of its Kitchener walking trails is the Stanley Park Optimist Natural Area just off of Victoria Street on your way towards Guelph. Connected to the JA Pollock Family Trailway, here you can learn about the Grand Trunk Railway which provided Montreal and Toronto with a direct link to the American Midwest in the mid-1800s.
Another great place is the Pioneer Tower Natural Area where you can admire the Waterloo Pioneers Memorial Tower. In the late 1700s, it was designated by the British Crown as a reserve for the Six Nations (Cayuga, Mohawk, Oneida, Onondaga, Seneca and Tuscarora) during colonization. However, this land was then sold to a United Empire Loyalist who later sold it to Mennonite farmers. So eventually the Betzner and Schoerg families established the first non-Indigenous settlement which later became Waterloo Township. The area is still home to remnants of the original buildings and the tower stands as a tribute to the German heritage of the community.
Lastly, I'd be amiss not to include the Margarite Ormston Trailway just off of Homer Watson Boulevard. Following the trails inward and keeping to the left at each of the forks will take you to what's left of the Doon Mills. Built in 1834, this series of mills was decimated by two fires in 1909 and 1910. One fire occurred in the Saw Mill while the other was in the Flour Mill. Approximately 50 years later, the ruins collapsed and a flood washed out the nearby dam so all that is left is what you see now! Though you might see more than you bargained for as rumour has it the area is haunted…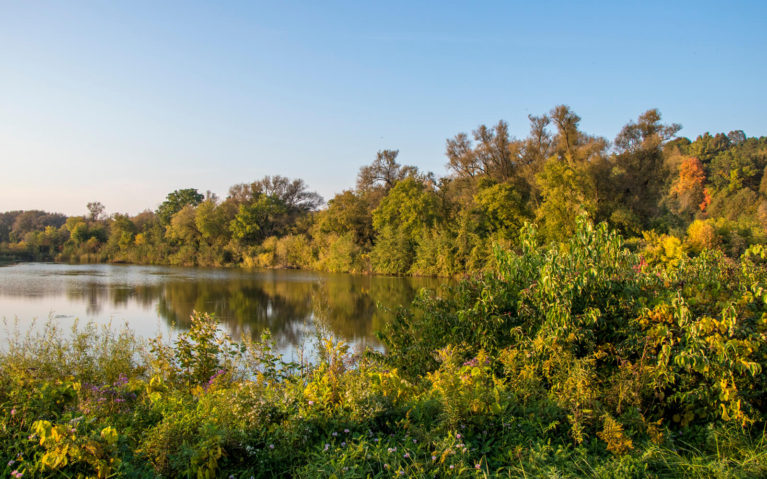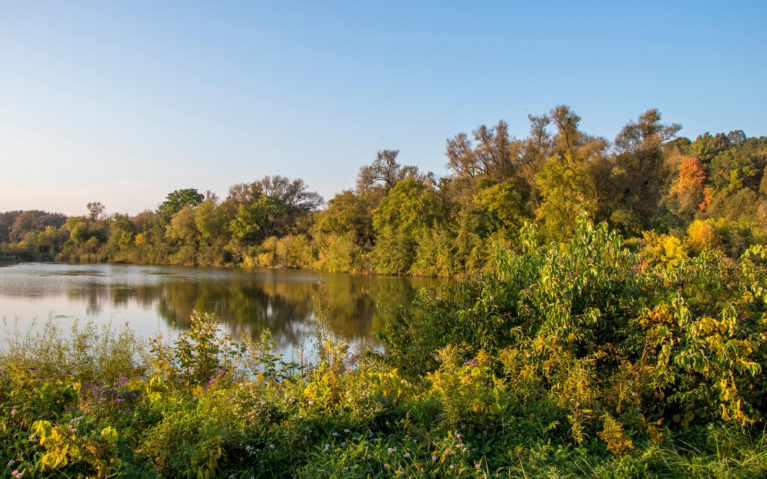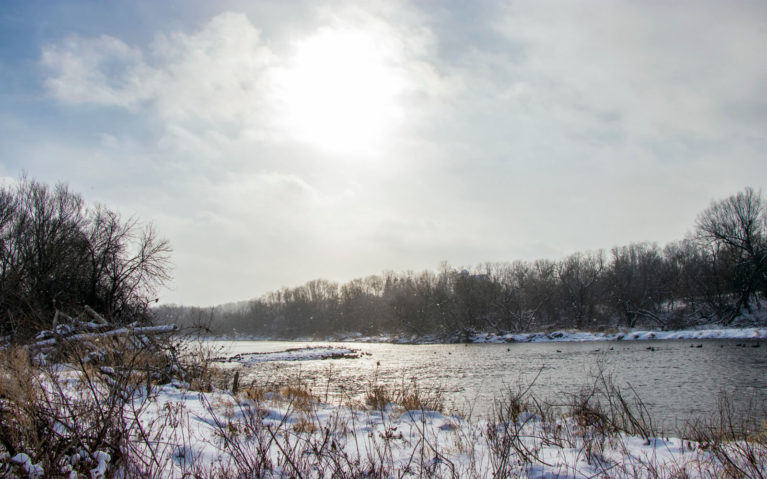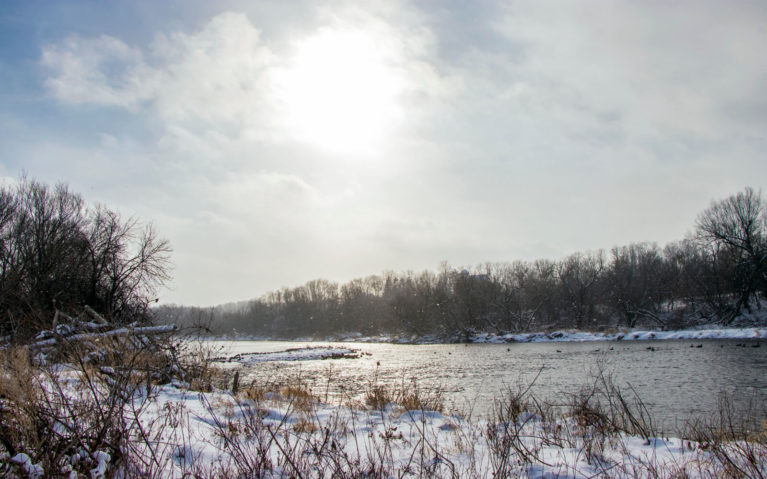 Victoria Park
Saving the best for last… okay I might be a little biased as this one is dear to my heart. Living very close to Victoria Park, I've enjoyed many leisurely strolls along these Kitchener trails. A solid choice for every season, there's a reason they're are so popular. Plan a visit during the summer to catch one of the many festivals like Bluesfest or Kultrun. Did you enjoy a dinner date at one of the incredible restaurants in downtown Kitchener? Take a stroll through the park to fight off food coma!
Another element that makes Victoria Park so special is its acknowledgement of the past. There are a number of monuments throughout the park. Before it was named Victoria Park, or even Kitchener for that matter, this area belonged to Mississauga and Anishinaabe (Ojibway) First Nations. One specific plaque, located in the heart of the park, talks about Tuhbenahneequay, a member of the Anishinaabe who camped in this vicinity with her extended family at the turn of the 19th Century. Two of her children, Kahkewaquinaby and Maungwudaus, wrote about the history of the Ojibway in Ontario. Take a walk through Victoria Park and you'll be surprised at what you learn!
As this is a hotspot in many seasons, it's not surprising to be unable to find parking off of the aptly named Park Street. However, you can usually snag some at the northern end of the park. You can also park for free on my streets in Kitchener from April until November.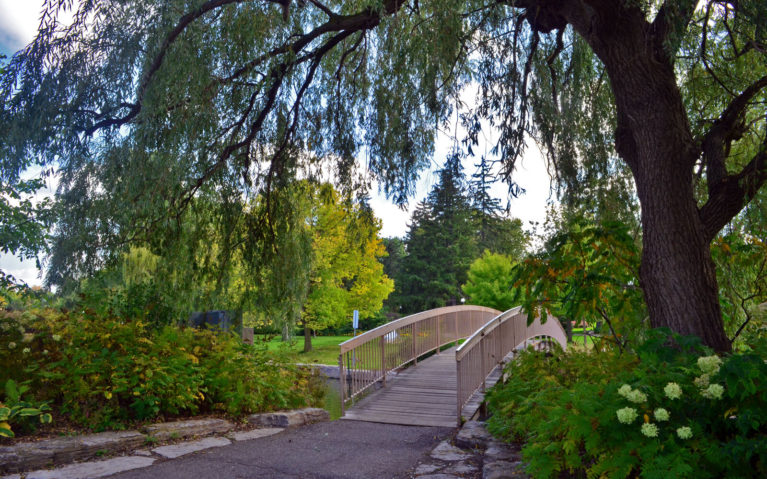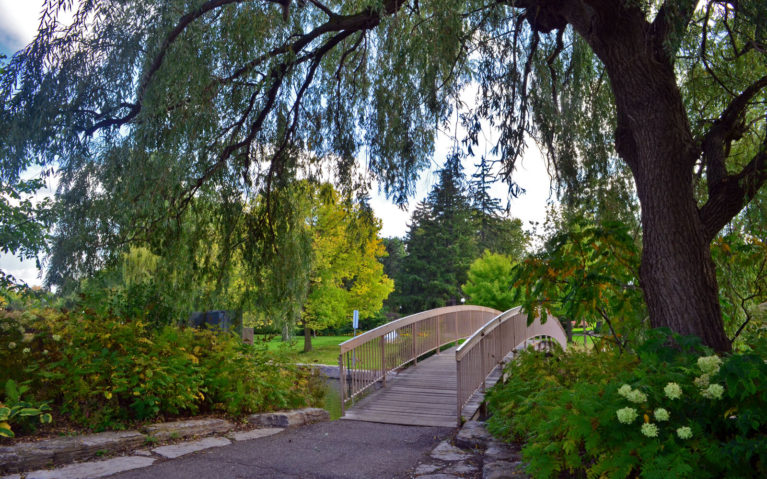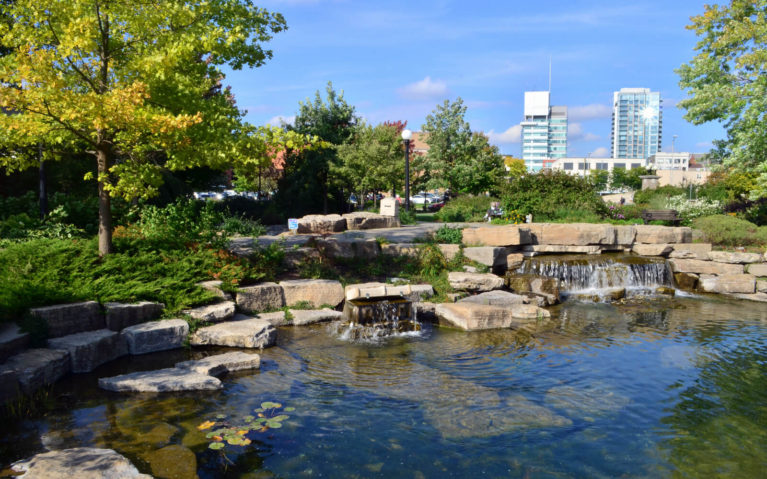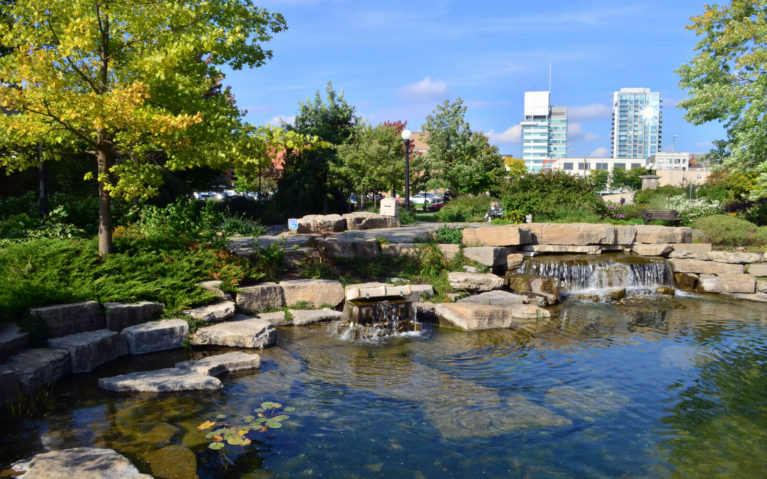 Additional Kitchener Trails & Nature Breaks
Kitchener is a big city and so many trails that I'm sure I haven't heard of them all! I've also stumbled on some great areas that while I wouldn't make the trip specifically to visit, they're definitely worth checking out if you're in the area.
Breithaupt Park
Over by my old stomping grounds, I used to frequent Breithaupt Park on a regular basis. These trails weave through the woods and make a great quick escape from the busy-busy of everyday life. You'll also find a public pool, gymnasium, baseball diamonds and other multi-purpose spaces. Oh, and plenty of Poké stops if that's what you're into…
Borden Wetlands
Just off of Fischer Hallman lies a beautiful little oasis in the Williamsburg neighbourhood of Kitchener. I literally stumbled upon the Borden Wetlands during my 30 day walking challenge and loved every minute of it. Behind rows of townhouses lies a beautiful trail of tall, lush trees you wouldn't expect to find in the middle of a subdivision. It seriously feels as if you're walking into another land as you follow the trail and leave civilization behind. The trail itself isn't very long, but that makes it perfect for a quick nature break to clear your head. However with the Laurentian Wetlands just a short jaunt away, you can easily make this a longer trek!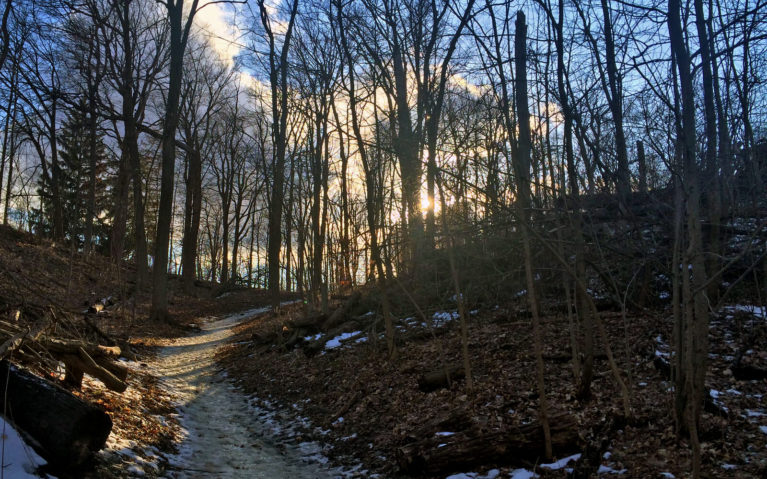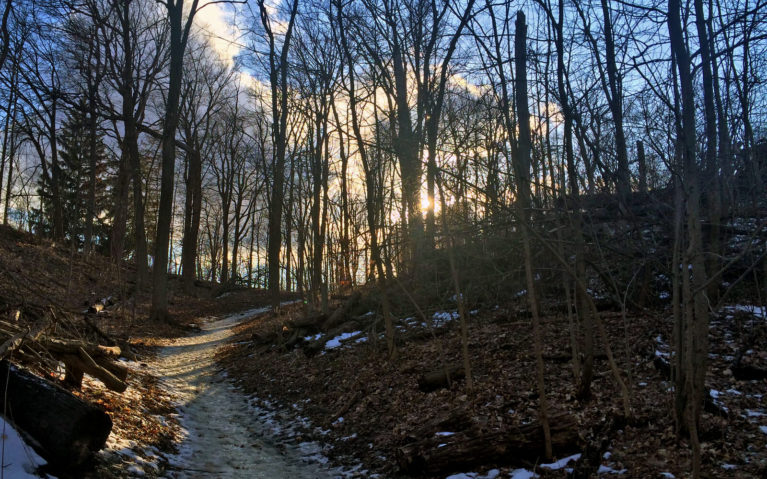 Which of These Kitchener Trails to Tackle First?
Okay, so you won't find anything like the Bruce Trail per se, but these trails are the perfect way to enjoy some quality nature time. These are just a few I've had the pleasure of completing, but Kitchener has so many trails to offer. Whether they're a short route through a park or following the Grand River, they're just waiting to be tackled. So, which of these Kitchener trails should you explore first?
Are you a local that had a great suggestion for any Kitchener hiking trails I've missed? Or have you visited the city and fell in love with a Kitchener walking trail I haven't listed here? What are your favourite hiking trails in the Kitchener Waterloo area? Let me know in a comment below!
Looking for More Things to Do in Kitchener Ontario?
Don't Miss These Fantastic Kitchener-Waterloo Breweries
Enjoy Some Caffeine From These Local Kitchener Coffee Shops
Ready to check out these Kitchener trails? Pin it for later!