Top Waterloo Trails To Get Outside & Stretch Your Legs

While Waterloo is probably the most known city between it, Kitchener and Cambridge, I have to say it doesn't quite live up to them in terms of hiking trails. However, that's not to say there aren't some amazing spots! Check out these top Waterloo trails to get your hike on.
Explore These Waterloo Trails
Many of these trails are not just flat but also paved, making these Waterloo trails a fantastic option if you're looking for a gentle stroll rather than a solid workout. It also makes them great for families with small children. Let's hop to it!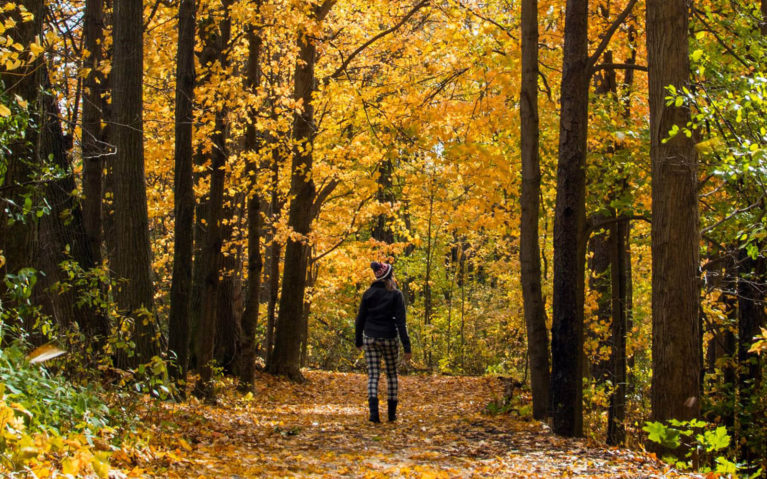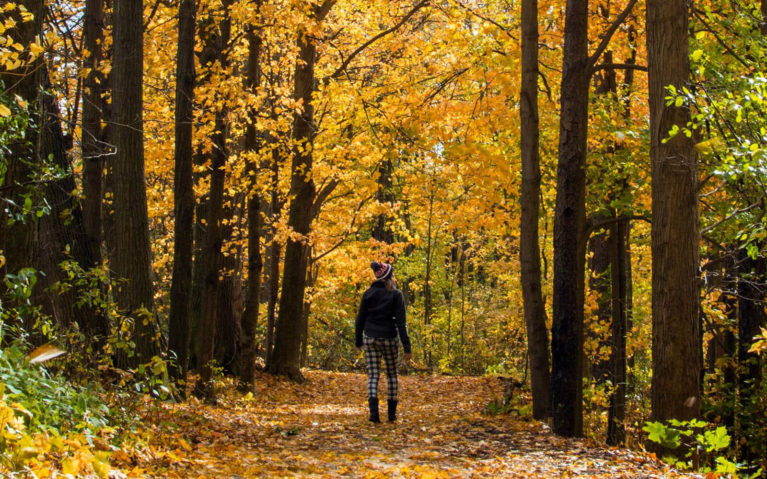 Bechtel Park Trail
Well known to dog owners in Waterloo, Bechtel Park is more than just a spot for the pups to run free! With many twists and turns, it's easy to clock at least 3km along the trails. There are some decent sized hills but nothing too intense as the terrain is also quite flat with dirt and mulch. Though I have to say, this spot is quite magical in autumn with all the fall colours!
Also to clarify, dogs are allowed on the trails but must be on a leash. They can only run free in the specified dog park area.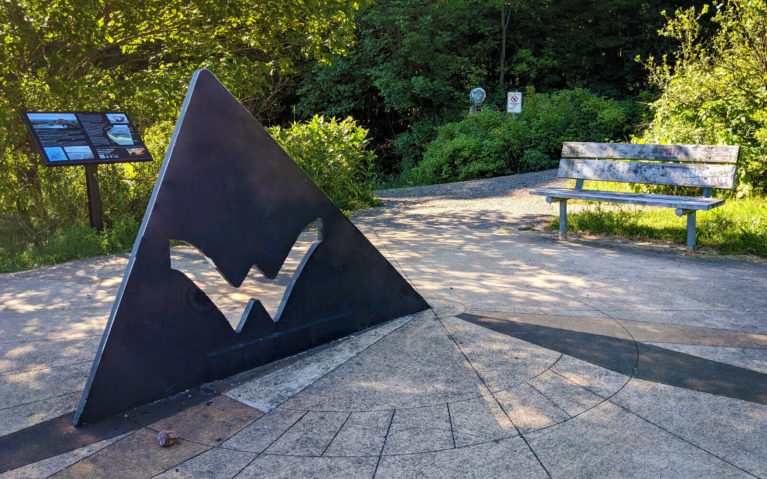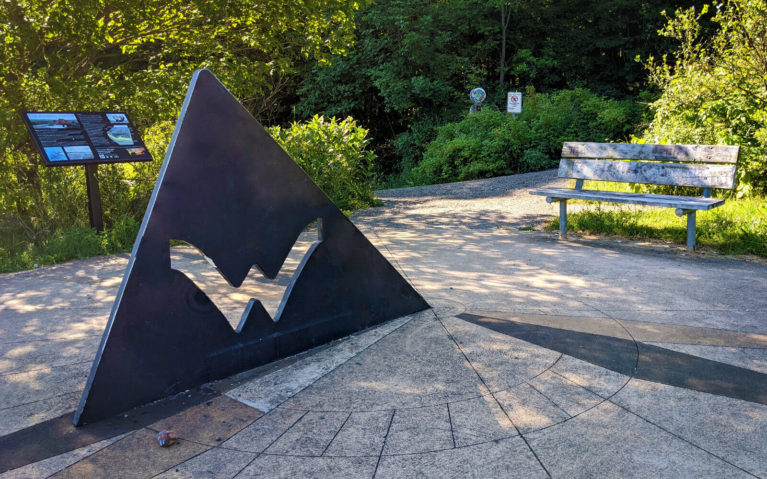 GeoTime Trail
More commonly referred to as the Westside Trails, this collection of pathways connects to create this 4km long trail. It's called the GeoTime Trail because every metre of the trail marks one million years of geological time!
With 18 interpretive signs along the way, you'll learn about major geological events that occurred to create what you see today. Not only will you read about the Archean, Proterozoic, Paleozoic, Mesozoic and Cenozoic eras but you'll also come upon an ancient way to tell time – a sundial! You can check out the full map including the periods of time along the trail here.
Even if you aren't a history buff, these trails are really incredible. You'll find yourself in a forest that you'd never expect to find just 5 minutes from a suburban subdivision. It'll feel as though you've been transported to an entirely new destination! If you're looking somewhere to really escape into nature, I highly recommend the Westside Trails. However, you'll want to make sure you bring some bug spray!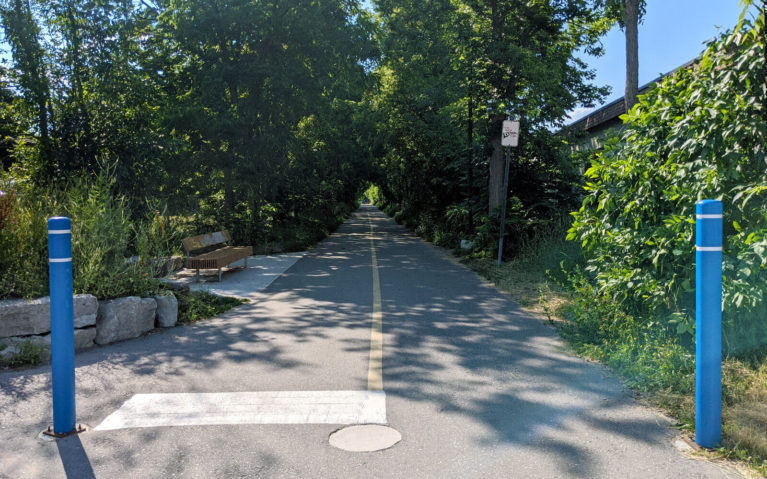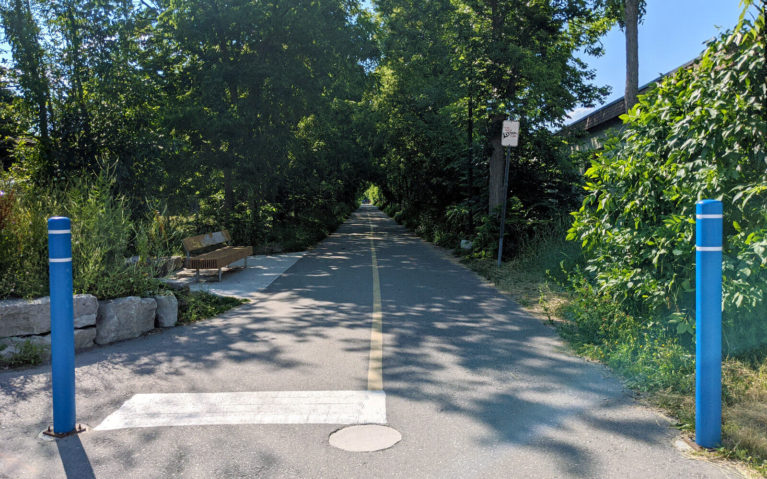 Iron Horse Trail
I think it's safe to say that the Iron Horse Trail is the most popular and most utilized trail in the city. This 5.3km long paved trail connects the heart of Waterloo and Kitchener as it links Waterloo Park in Uptown Waterloo to Victoria Park in Downtown Kitchener. It is also part of the much longer Trans Canada Trail which connects Canada's provinces and territories from coast to coast to coast.
The Iron Horse Trail came to be when both cities partnered to purchase the route which follows an abandoned rail line. Canada's rail system has played a pivotal park in the region's history and both cities have worked to create a nod to it. Along this historic route, you'll find various artifacts which are mounted and displayed by the trail.
If you're looking for a quiet trail, this most certainly isn't it as both locals and visitors alike use it to move between the two cities. It's a beautiful alternative to walking up King Street, especially with recent upgrades including seating areas and overhead lighting for nighttime use.
Looking For Some Other Ontario Walking Trails Nearby?
Enjoy Some Grand Views With These 5+ Grand River Trails
Don't Miss These Waterfall Trails in the Niagara Region
Head 1.5 Hours North & Chase These Waterfalls in Grey County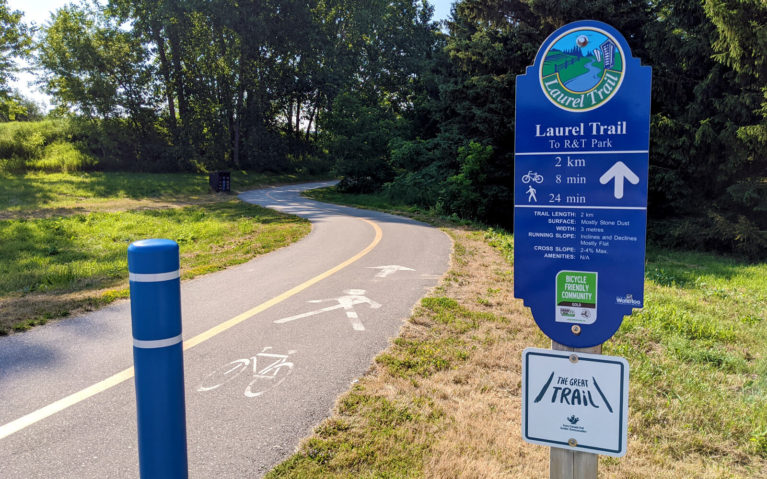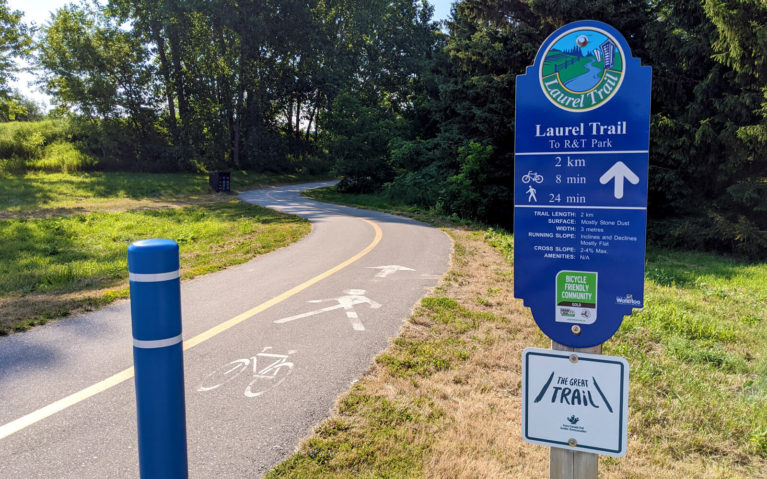 Laurel Trail
I always thought the Laurel Trail was just a small paved trail that I used to occasionally hop on during my days at the University of Waterloo. Upon further inspection, it is much larger! This 8km trail runs from Uptown Waterloo through the UW campus and ends at Columbia Lake.
Chances are you've walked along it while exploring Waterloo Park and didn't even realize! At least that was the case for me. Though you'll really want to head to the northern section from the corner of Westmount Road and Bearinger Road to Columbia Street West across from the University of Waterloo's Mackenzie King Village residences.
This section is made of flat, loose gravel making it a great spot for a calm, morning stroll. You'll meander through the University of Waterloo Environmental Reserve past serene views of Columbia Lake. There's even a disc golf course if you're into that sort of thing!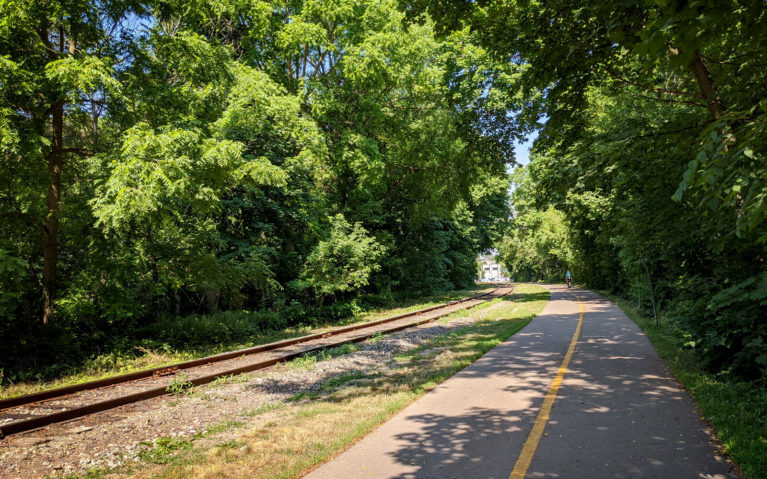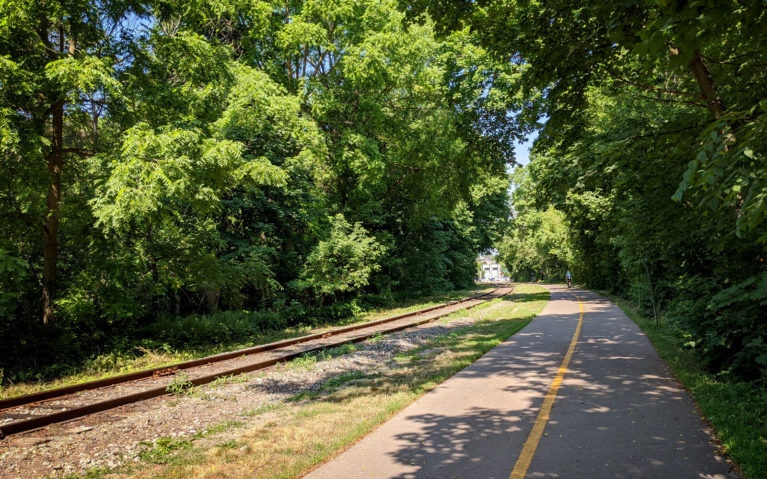 Spur Line Trail
Similar to the Iron Horse Trail, the Spur Line Trail follows the CN Waterloo Spur Railway. The only difference is this rail line is still actively used to be sure to keep an eye out for trains passing by! Beginning just east of Uptown Waterloo's core, this 2.4km trail heads south following the train tracks where it ends at Breithaupt and Ahrens, just behind Kitchener's GO Station. Keep an eye out when you're enjoying the trail as you'll spy a few free libraries close to it!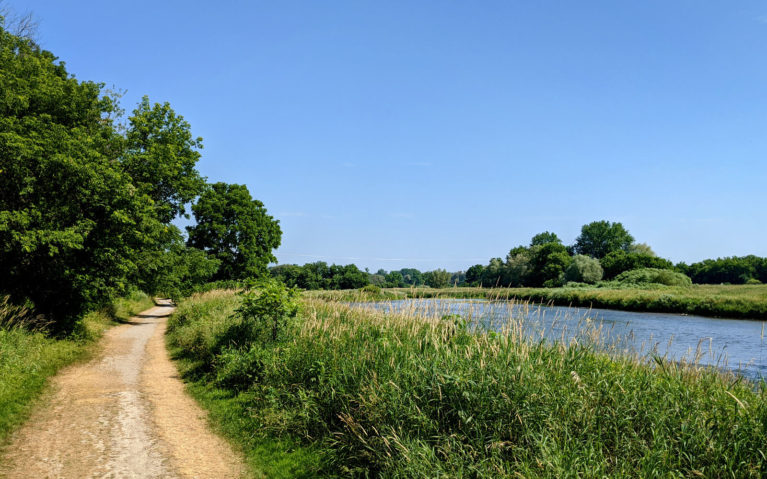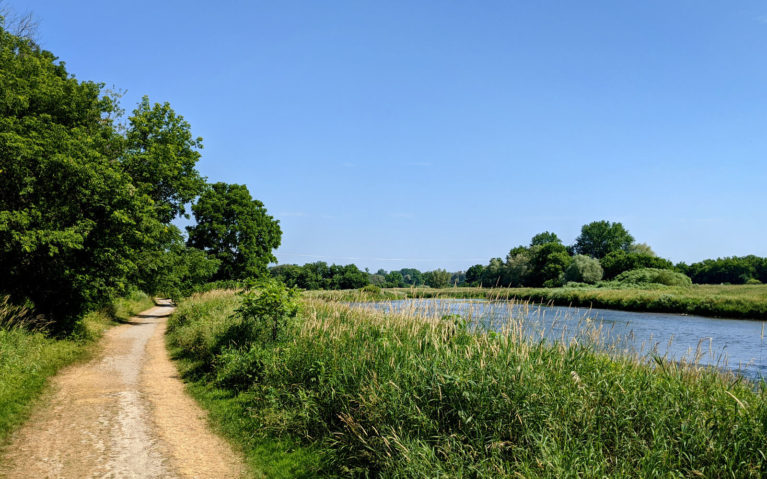 Walter Bean Grand River Trail
Yes, I've mentioned the Walter Bean Trail in both my posts about hiking trails in Kitchener and Cambridge but it's such an awesome trail that it deserves the multiple shout outs! The Walter Bean is quite possibly my favourite trail in Waterloo Region. I just love how varied the terrain is and how many beautiful spots there are along it!
While there is just 10km of this +70km long trail in Waterloo, this is definitely a stretch you don't want to miss. Head to the Claude Dubrick Trailway for a calm, gorgeous walk along the shores of the Grand River. It's not uncommon to see people fishing here or enjoying a paddle on the Grand River!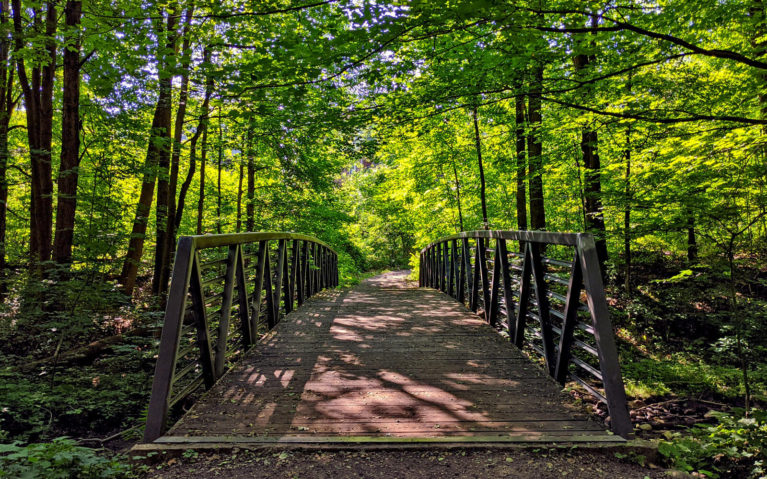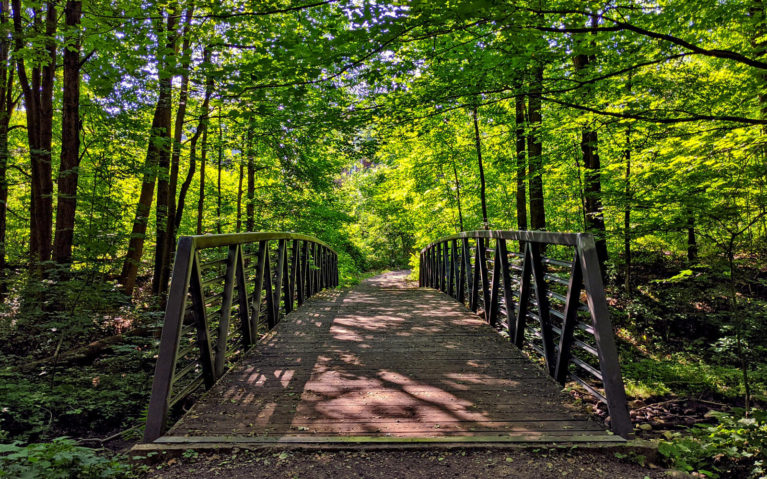 Additional Trails in Waterloo
While there aren't as many longer, rugged trails compared to Kitchener and Cambridge, there are a number of shorter Waterloo walking trails scattered throughout the city. Connecting neighbourhoods, they often hide in plain sight but can offer a nice quiet spot to relax during a busy day.
Hillside Trail – This one brings back memories for me as I used to live in the area near Lexington during my final year of university. Fully paved with a few hills, these trails were what I trained for my first 5km on! They're honestly nothing special but worth stretch your legs for if you're in the area. It also connects to the Forwell Trail if you're looking for a longer jaunt.
Hydrocut – So the majority of these trails are technically in Wilmot, but there's a parking lot just off of Glasgow Street in Waterloo so it squeaks onto this list. Most popular with mountain biking enthusiasts, the Hydrocut Trails are definitely the most rugged trail on this list. While some of the trails can be hiked, you must be diligent and watch for mountain bikers in order to get out of the way so they can pass. If you're someone who likes to lose yourself in thought while on the trail, I'd steer clear of this one.
Laurel Creek Trails – Not to be confused with the aforementioned Laurel Trail, the Laurel Creek Conservation Area has a few trails for you within its 294 hectare park. As they are on Grand River Conservation Authority Land, you'll need to pay an entrance fee in order to access them. However, at the western end of the park by Laurel Creek Drive and Beaver Creek Road, there are some trails which are accessible at any time. Don't miss visiting the Laurel Creek Lookout Tower for some fantastic views of the area!
Sugarbush Park – Tucked between Weber and Albert Streets, Sugarbush Park has a solid 1.6km loop to stretch your legs. While it's not worth going out of your way to visit, it's a great little spot if you find yourself in the area.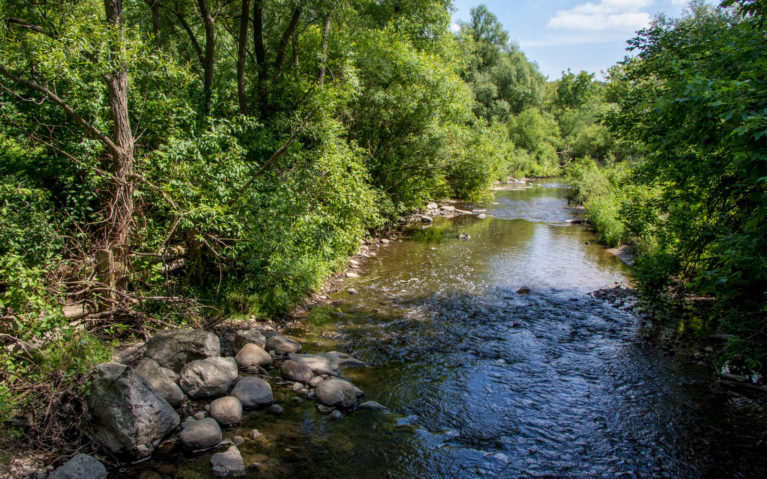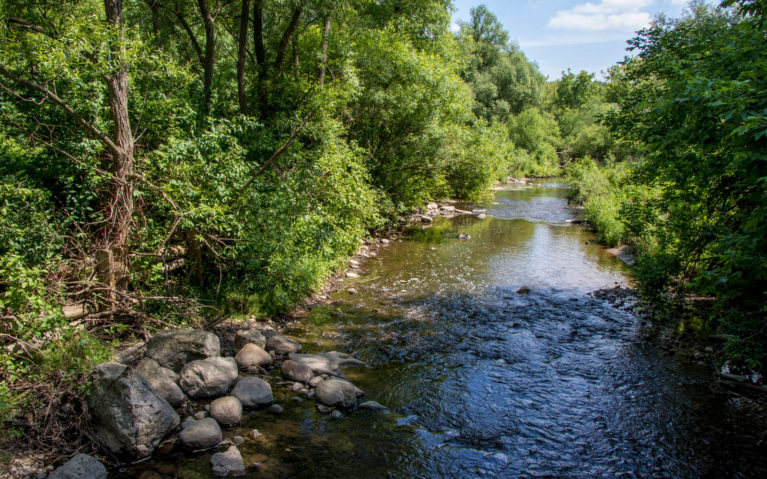 Ready to Get Hiking Waterloo?
As I mentioned, these trails are on the easier, simpler side of those available in Waterloo Region. If you're looking for hiking trails near Waterloo that are more challenging, I recommend either checking out some Kitchener trails or head to Cambridge for their hikes.
Whether you're looking for a quick little jaunt or a few hours of fun, these Waterloo trails will get the blood flowing while taking you to some beautiful spots in the city!
Looking For Other Things to Do Near Waterloo?
Check Out THese 15+ Ways to Have a Blast in St. Jacobs
See Why You Need to Visit Perth County ASAP!
These Things to Do in Brantford Will Get You Talking
Disclaimer
This post contains affiliate links where I may receive a kickback at no extra cost to you. It helps keep the site alive so thanks! Read more in IBB's disclaimer and privacy policy.
Want to Check Out These Hiking Trails in Waterloo? Pin It for Later!