These Things to Do in Perth County Will Have You Visiting ASAP!

There's something to be said about country roads, beautiful farm fields and the sun shining down on you. If that's painted the perfect picture for you, then you'll love a visit to Perth County! Enjoy a breath of fresh air as you leave your responsibilities behind and escape to the small town vibe. This is seriously one underrated Ontario road trip destination you don't want to miss out on… especially once you see all of the things to do in Perth County!
Where is Perth County?
No, I'm not talking about the land down under in Perth, Australia. Perth County is the heart of Southwestern Ontario, neighbouring Waterloo and Wellington counties. It is divided into four sections – North Perth, Perth East, Perth South, and West Perth. Many may know it because Stratford is a popular destination within it, however there is so much more to discover! If the towns Listowel and Mitchell come to mind, then you'll have a general idea of the area.
RELATED: Interested in visiting Stratford during your visit to Perth County? Don't miss my guide to all the amazing things to do in Stratford!
For those that don't Perth County is located approximately 100km west of Toronto and just a short hour drive from Kitchener. This makes Perth County the perfect day trip or weekend adventure from a number of cities including Toronto, Kitchener, Hamilton, Owen Sound and more! Take a look at this map of Perth County to get a better idea of its location.
Why Visit Perth County?
Other than the obvious reason of getting away from the hustle and bustle of city life, the county of Perth Ontario has plenty to offer visitors.
Are you an avid antiquities fan? Head to the town of Shakespeare. How about a bird enthusiast? People travel from all over Ontario and Michigan for the fowl found in Mitchell. I can't forget the crafty folk out there who love to knit as you'll have to stop in Listowel to get your yarn fix! I hear this pairs well with the delicious eats and treats the town has to offer.
Throughout Perth County, there are also a number of amazing trails for nature lovers like myself. Whether you're looking to explore in the warmer months or get out and enjoy the winter sun while you can, there are plenty of places to do so.
I can't forget about the amazing food as well. You'll find plenty of amazing local restaurants across the region. Whether you're looking to celebrate a special occasion or a hearty meal to fuel your adventures, Perth County has you covered!
Each of the towns has something to offer, making Perth County a fantastic destination for everyone. Ready to see what's in store for you? Let's dive in!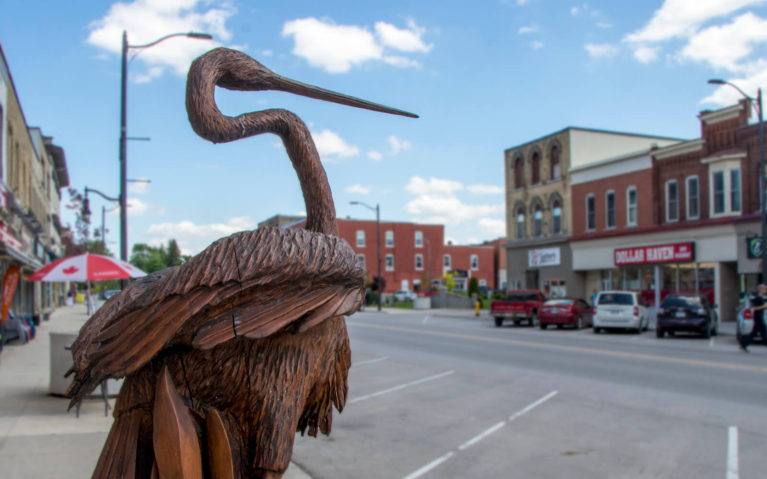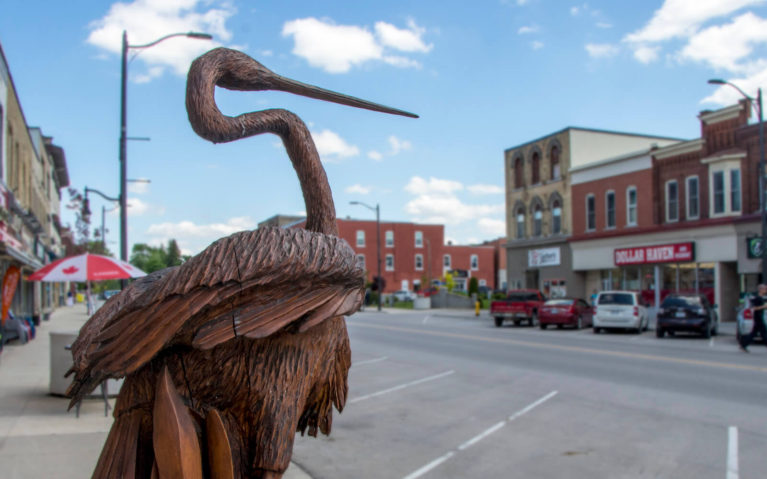 Unmissable Things to Do in Perth County
Wondering what there is to do in Perth County? How about some awesome hiking trails? Check. Local businesses that will blow you away? Yep, check there too. Plenty of friendly faces as you explore the area? It's smiles for miles! Take a look at all of these amazing things to do in Perth County and I guarantee you'll be planning your visit ASAP.
Visit the West Perth Neighbourwoods Demonstration Forest
They had me at neighbourwoods! What exactly is a demonstration forest? It's a beautiful natural area which encourages residents and visitors alike to observe and learn about the trees around them. These 3.5 acres of flood plains have been transformed into a natural sanctuary where one can learn the importance of maintaining a healthy forest for the community.
The West Perth Neighbourwoods Demonstration Forest is run entirely by volunteers, initiated by the West Perth Forestry Committee. Everyone is welcome to visit and learn about the variety of flora and fauna located here. Walk through the pathways and read the information signs installed throughout. You'll discover different types of trees, their characteristics, what they can be used for and much more!
If you visit in the spring as I did, you might even get to enjoy some of the spring blossoms too!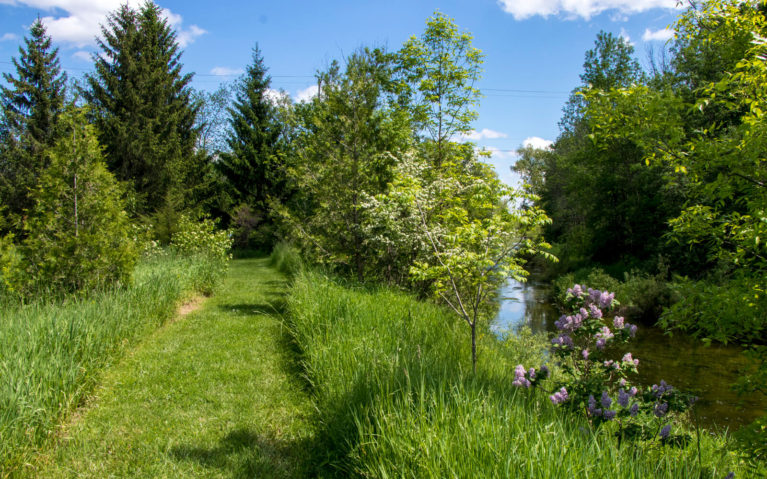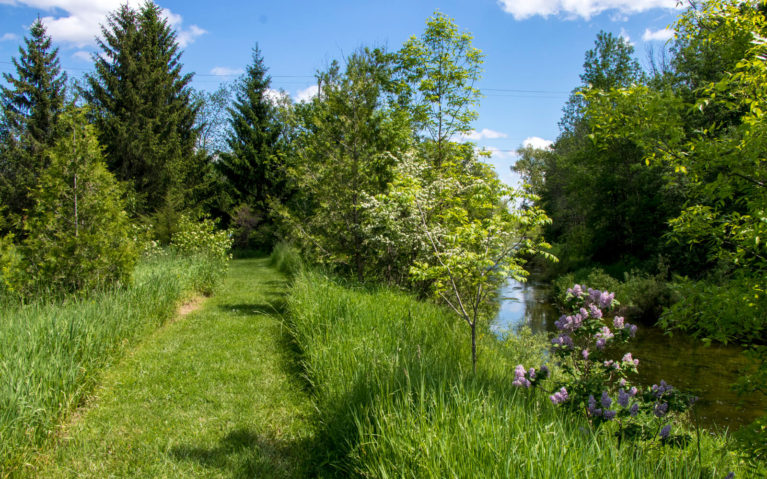 Shop for Home Decor at Jillian's
Even if you're not looking to spruce up your home, Jillian's is a must-stop when in Perth County. I absolutely fell in love with their rustic decor while wandering through the shop. Products change seasonally so you'll see a variety of items from pottery to prints to metal art and more.
The designer in me absolutely fell in love with the place. I wish I had such an amazing eye for interior decorating! Luckily, they offer services where you can book an appointment, they'll come to your home and help you decorate your space. How incredible is that?! I'm seriously contemplating it as my apartment could seriously use a makeover.
Their mantra is small town shopping, big-time style – and they've nailed it! Check out Jillian's Facebook page for updates on their products.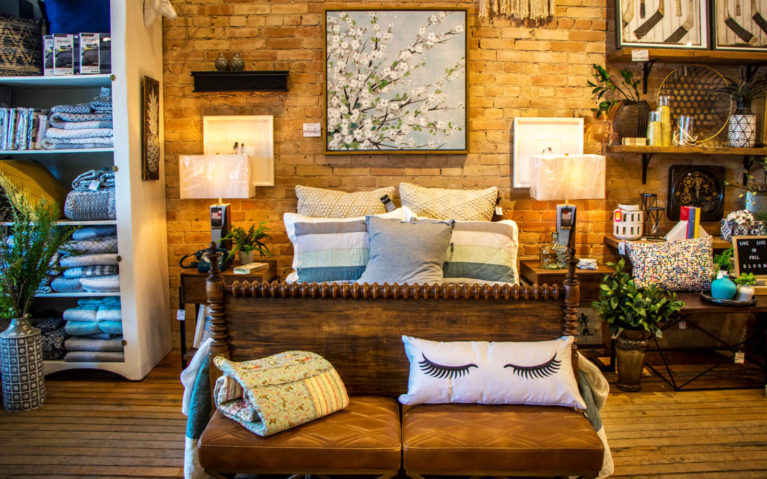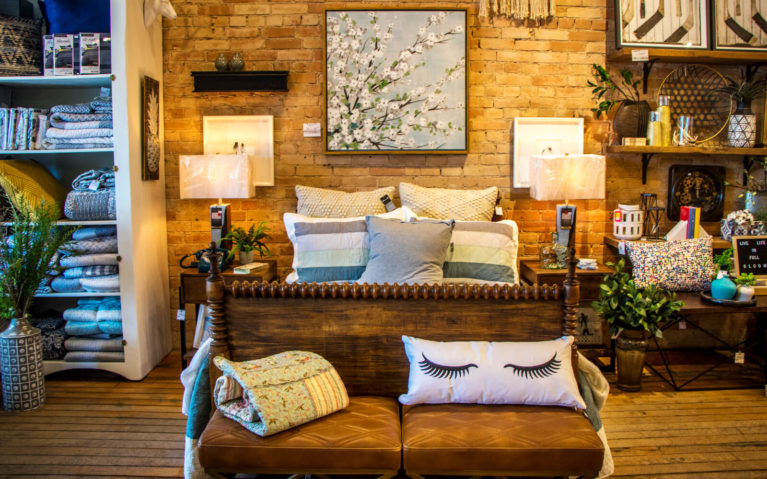 Get a Taste of Farming Life at Organic Oasis
While the store itself opened in 2001, the 'oasis' has been developing for decades. Ditching harmful chemicals and pesticides in 1993, Organic Oasis been certified organic ever since! Jessie comes from a family of farmers and she, with her husband Andrew, share their values of 'health is wealth' with all those who stop by. Read more about their amazing story!
If you're looking for hearty, healthy nourishment all year round, Organic Oasis is the place to go. This is one of the few places where you can Ontario grown produce all year round thanks to their hard work, determination and greenhouses. Yes, that includes the dead of winter!
This destination will be fun no matter how old you are. Wander up to the Happy Hog Lookout to see their pigs as they roam the pastures. You might even catch them bathing at their watering hole! You also might come across some chickens, the resident cat or some of the other animals that call Organic Oasis home.
Whether you quickly pop in to grab a delicious treat for home or you say hello to the local hogs, your visit will always be wholesome and memorable. Take a moment to enjoy their pollinator patio and appreciate the beauty around you.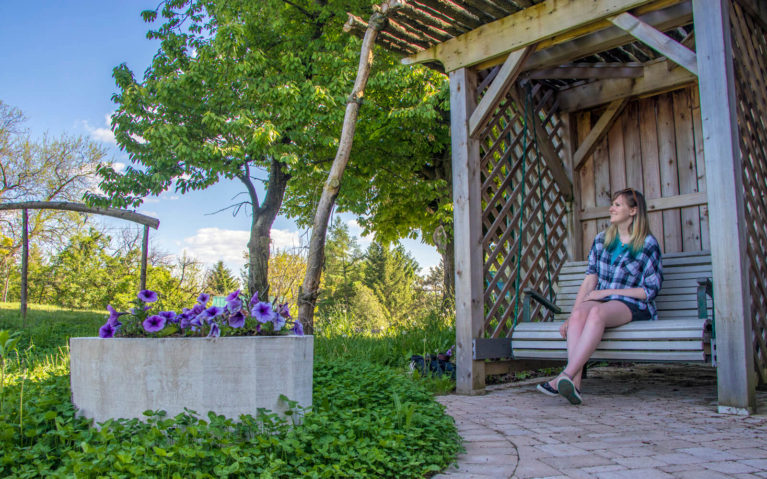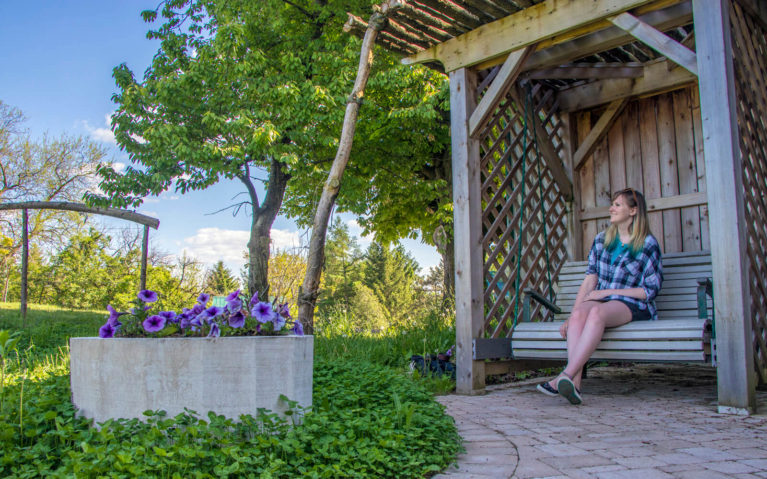 Explore the Land & Water at Wildwood Conservation Area
For outdoor enthusiasts like myself, you've hit the jackpot at Wildwood Conservation Area! This 3500 acre natural playground has so much to offer. Check out one of the four hiking and biking trails which range in length from 1.2km to the full 25km Lake Trail. If you have a valid fishing license, bring your rod and see what bites! You can even test your navigational skills by borrowing one of their four GPS devices and go Geocaching. Who doesn't love a real-life treasure hunt?!
Above all, I highly recommend hitting the water whether it be via your own personal motorized boat or a (wo)man-powered kayak or canoe. While I had the pleasure of a guided tour thanks to the crew at Wildwood, I can't wait to return and wander the waters. If you're like me and don't own any sort of watercraft, you can rent kayaks, canoes and paddleboards on site. Be warned though, better to go early as they're very popular and often all get rented!
If you're an avid camper, then you'll be excited to hear about their new backcountry campsites. Easily accessible by the Lake Trail or by boat, you'll enjoy your very own slice of paradise without having to be too far away from amenities. These sites are seriously beautiful and their lakefront views will make your getaway extra special.
Wildwood Conservation Area is a great destination for families as well. Throughout the summer they offer a number of special events including arts and crafts, educational workshops and more! Check out their social media channels or this list of events for more information.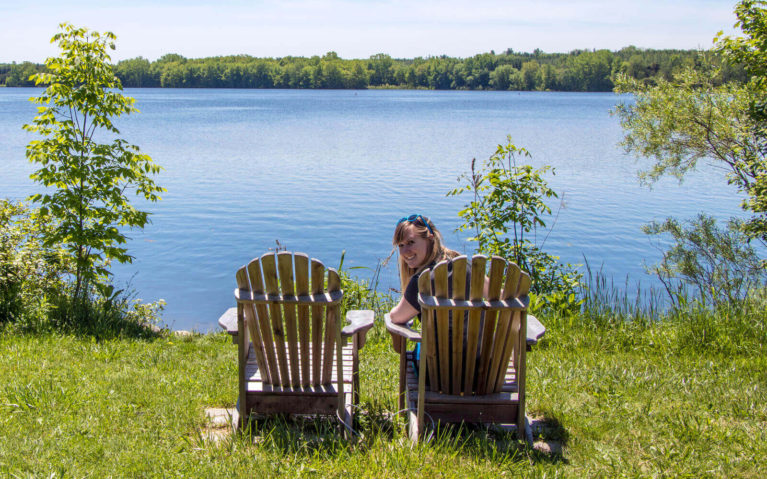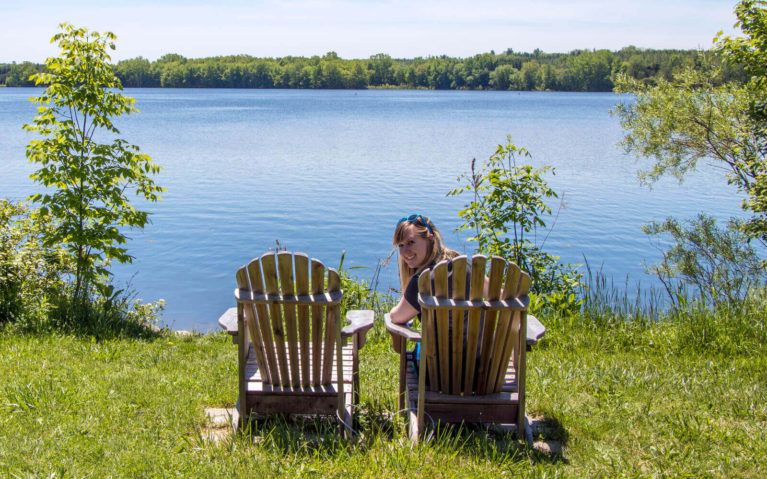 Learn About Local Trees at the Sawyer Preservation Woodlot
Named after Otis Sawyer who purchased this land as part of his 150 acre farm back in 1923, the Sawyer Preservational Woodlot serves as a local destination for education, recreation and wildlife habitat. You'll find over 33 different species of trees with trails connecting them all. Take a strong along the 2.4km loop which is accessible year round. Be sure to check out the Maple Syrup Arch – what remains of a stone structure from an early syrup boiling site!
There is no designated parking lot, however you can park on the gravel road to the south of the woodlot. Follow Line 12 until you see some large boulders and a big wooden sign. Pull off the road and park on either side of it for your forest adventure.
INSIDER TIP: As this is a heavily wooded area, the mosquito game is strong at the Sawyer Preservation Woodlot. Be sure to load up with bug spray if you're often a target for them, or wait until the cooler months to visit.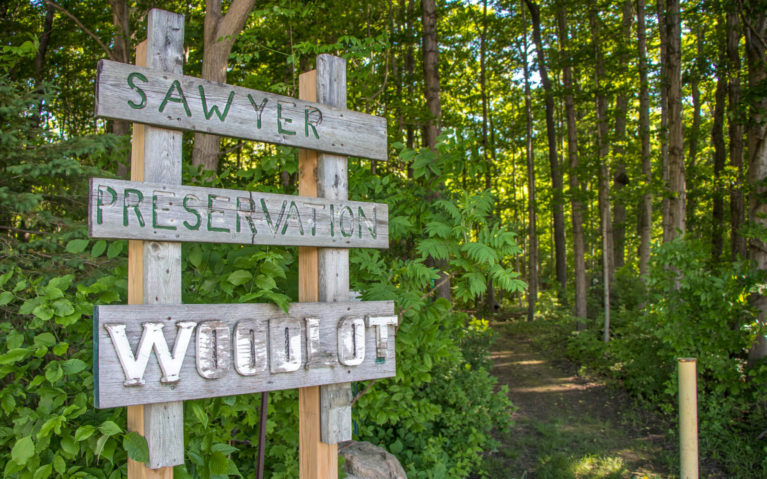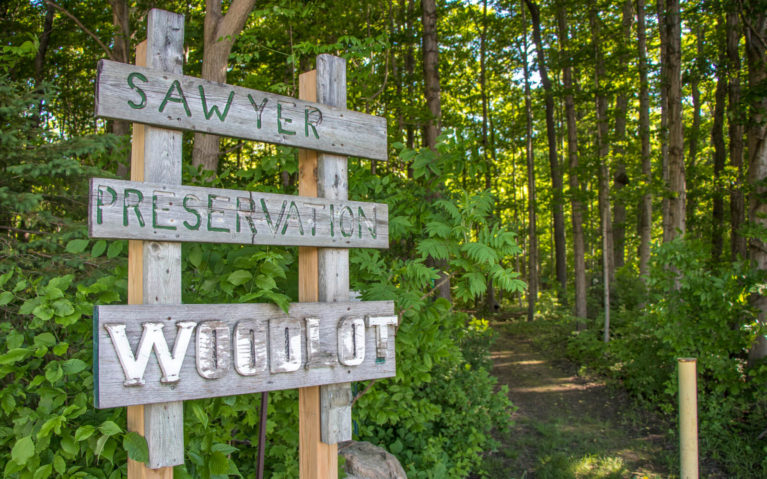 Have a Pint at Shakespeare Brewing Company
This is a must-stop for every beer lover while in Perth County. Drop in for a cold pint at Shakespeare Brewing Company and say hello to Ayden and his wife Katie along with Adrian and his pup. The best way to enjoy their hard work is with a flight (why just have one when you can have multiple?!) as you grab a seat inside their old school bus garage-turned-brewery. In the warmer months, they have an amazing patio which is the perfect summer hangout!
It seems as though many (including Ayden) are fans of their Grumpy Goat IPA. I like to be different and recommend you try my favourite – the Reckless Rooster. Not only is the name awesome, but it's an Ontario Pale Ale. What does that mean? Every single ingredient is sourced from Ontario. This is quite the feat as barley is hard to grow in the province, but if there's a will then there's a way! Not only do I love it because of my love for supporting local, but it's also a damn good easy-drinking beer. It pairs nicely with the food trucks and local eateries they invite to their patio on summer weekends! If you don't like it, I'll forgive you since all of their beers are pretty awesome.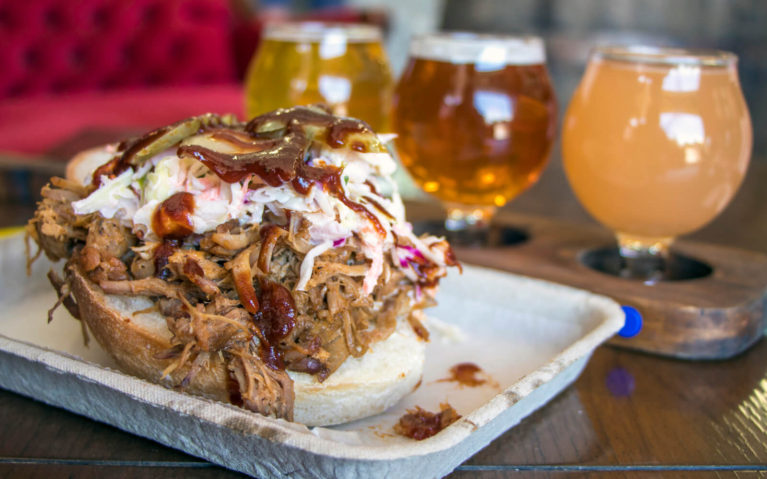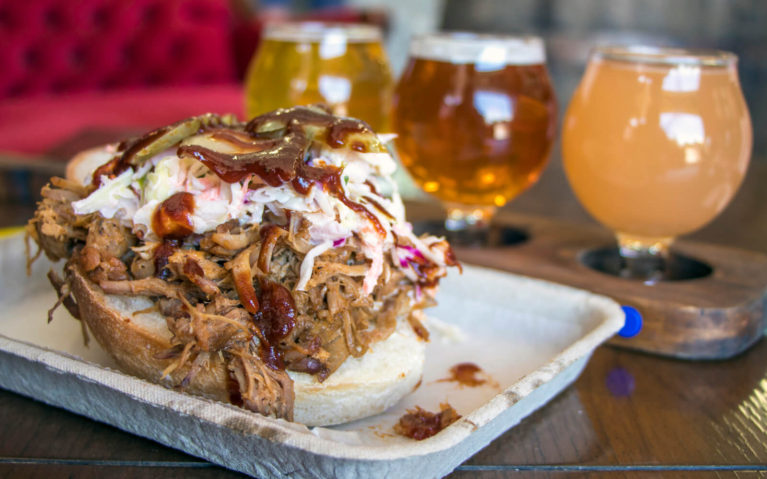 Visit One (or More!) Farm Gates
One thing that's super amazing about Perth County is their brand new farm gates program. What's a farm gate you ask? Have you ever seen signs on the side of the road saying 'fresh eggs' or 'maple syrup'? These are destinations where you can get local produce, jams, honey, meat and more straight from the farmers. Does it get any fresher than that?! Interest is growing in where the food we eat comes from and these farm gates connect locals to visitors. I just love how easy Perth County is making it for visitors alike to support the local community!
If you're looking to hit a few different farm gates throughout your trip, check out this handy online map or stop by a visitors centre and grab a hard copy! A number of the destinations will have hard copies as well that you can pick up free of charge. You can also use this handy post below to see what fruits and vegetables are in season!
Go Birding at the West Perth Wetlands
People travel from all over Ontario and Michigan just to visit Mitchell, Ontario. Why? For the birds! Representing almost half of the wetlands found in Perth County, you'll find a variety of bird species to admire at the West Perth Wetlands. Over 200 rare species of birds have been spotted here alone!
Even if you're like me and not an avid birder, it's still a beautiful place to go for a peaceful walk. Take a stroll around the ponds as you soak up some of the brilliant sunshine. You'll enjoy the various sounds as the fowl go about their merry way, flying overhead or frolicking in the water close by. There is a lookout platform which is easily accessible from the parking lot in Kinsmen Park.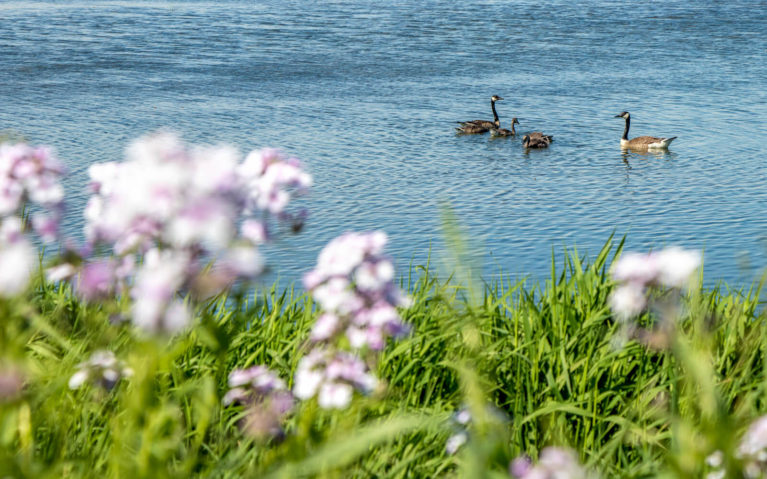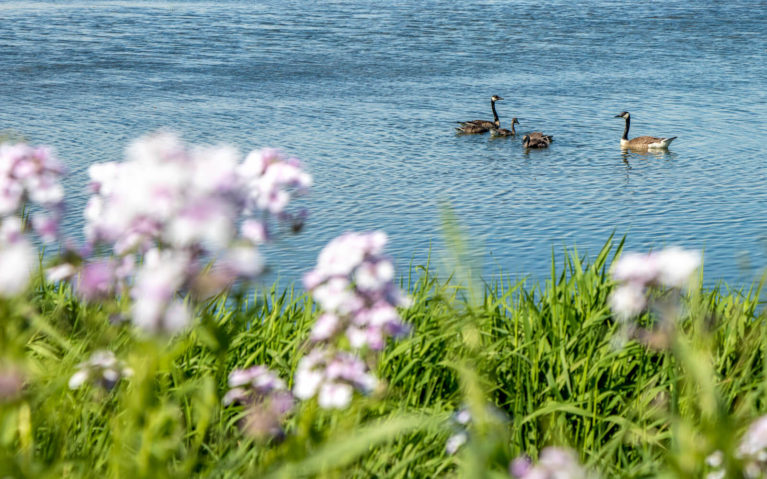 Catch the Sunset Along the Thames River
While the water may be low right now, it doesn't take away from the beautiful sunsets! Follow the trail along the Thames River and you'll be treated to beautiful colours as the sun sets for the day. My favourite spot to enjoy this is at the dam close to Ontario Road in the heart of Mitchell. This trail spans from the Mill Pond all the way to the wetlands, making it not just a great hiking trail but also perfect for cyclists! Don't forget to check out the Lion's Loop and say hello the critters at the petting zoo. Chances are you'll probably hear them before you get there!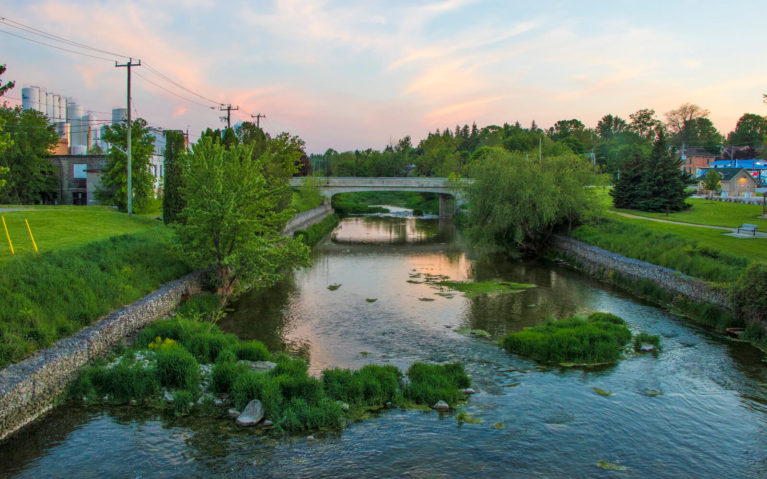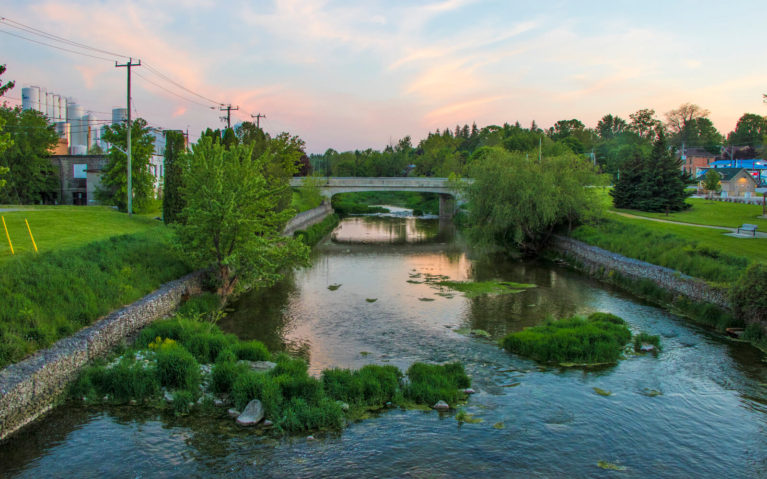 Where to Eat & Drink in Perth County
If you leave Perth County hungry, then you've seriously done it wrong. There are so many amazing restaurants and eateries that I was blown away. I can't wait to return to eat at these restaurants in Perth County again but also check out some that I didn't have the belly room to try!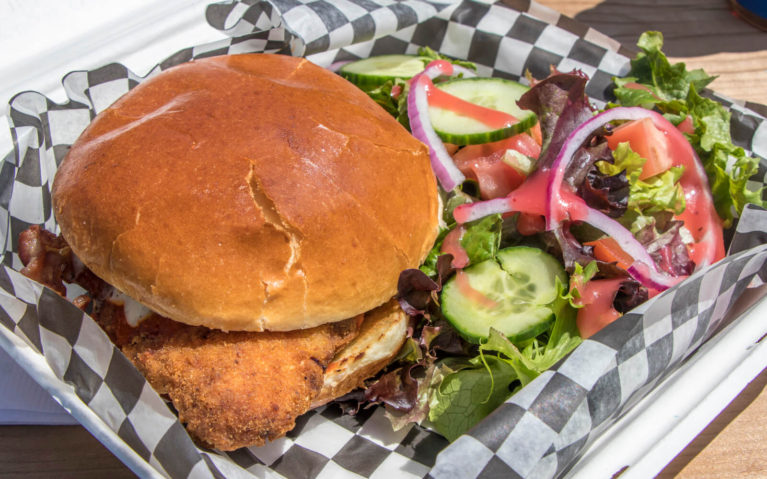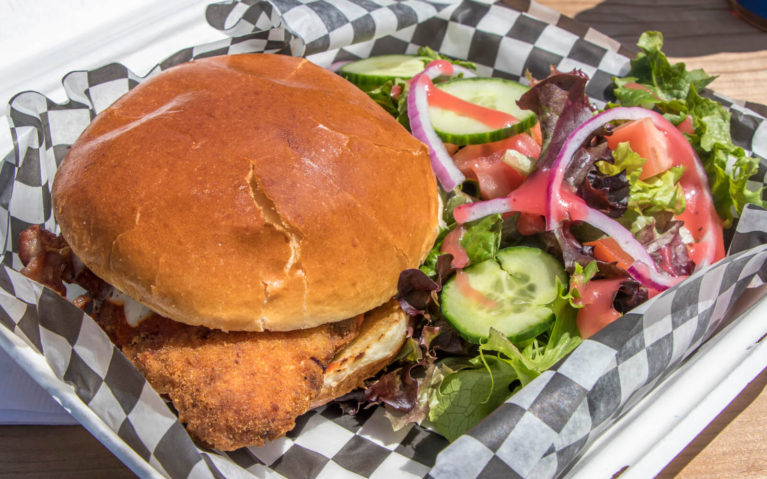 Mitchell Golf & Country Club
Location: 81 Frances Street in Mitchell [map]
Hours of Operation: Monday-Friday: 11:00am-Dark, Saturday: 9:00am-Dark​, Sunday: 8:00am-Dark
You may not think to eat at a country club but from April until December, The Lounge at the Mitchell Golf & Country Club is open to the public. It's a good thing too as we'd be missing out on their delicious eats! I've also heard the sunset views from the restaurant are amazing, making it a great end to a beautiful summer day.
Whether you choose to eat in or enjoy a picnic at say the West Perth Neighbourwoods Demonstration Forest, your tastebuds will be happy. I enjoyed The Rooster – a juicy breaded chicken breast smothered in their buffalo wing sauce adorned with bacon, Swiss cheese, lettuce, tomato & onion on a toasted Ciabatta loaf. Pairing perfectly with their house salad, the sweet raspberry vinaigrette dressing balances out the heat nicely!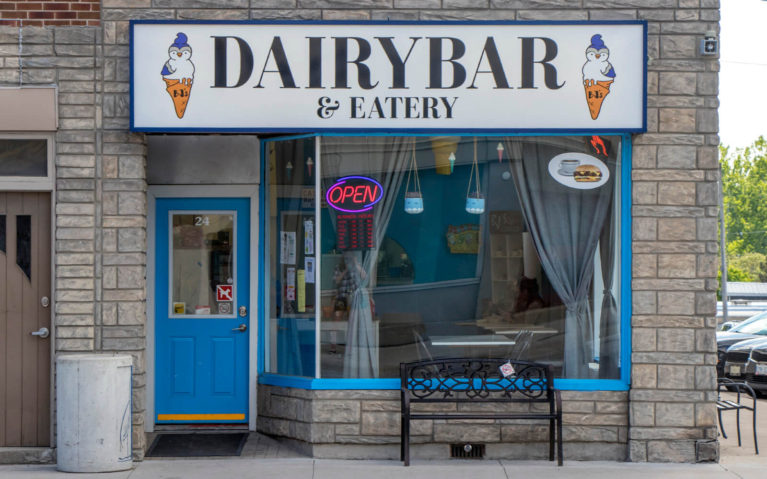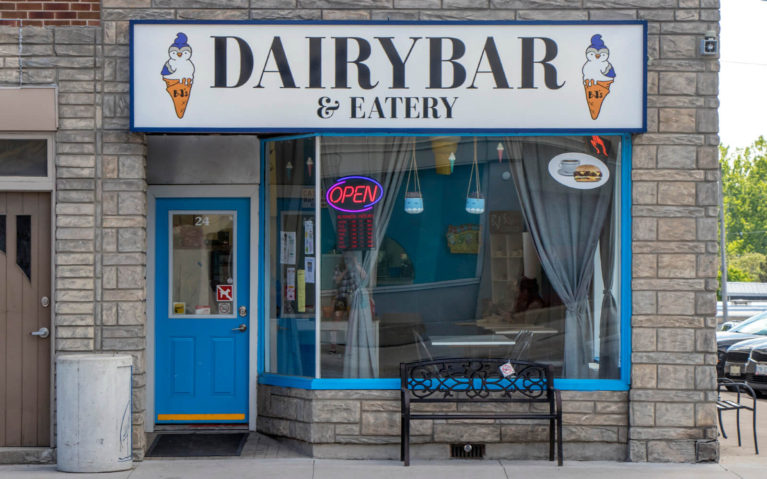 BJ's Dairy Bar & Eatery
Location: 24 Ontario Road in Mitchell [map]
Hours of Operation: Monday-Saturday: 11:00am-9:00pm, Sunday: 12:00pm-9:00pm
What better way to combat the heat of summer than with some ice cream?! From tasty flavours like maple walnut and cotton candy to ice cream cakes for any occasion, BJ's Dairy Bar & Eatery has you covered! They also have soft serve options (including chocolate!) as well as a number of delicious dip flavours. Check them out on Facebook for a peek at their
While I didn't enjoy any ice cream myself, I can attest to how incredible their cupcakes are. S'mores flavour? I kid you not – these are some of the best cupcakes I've had in a very long time. It's the perfect place to stop for a mid-day snack or after-dinner treat!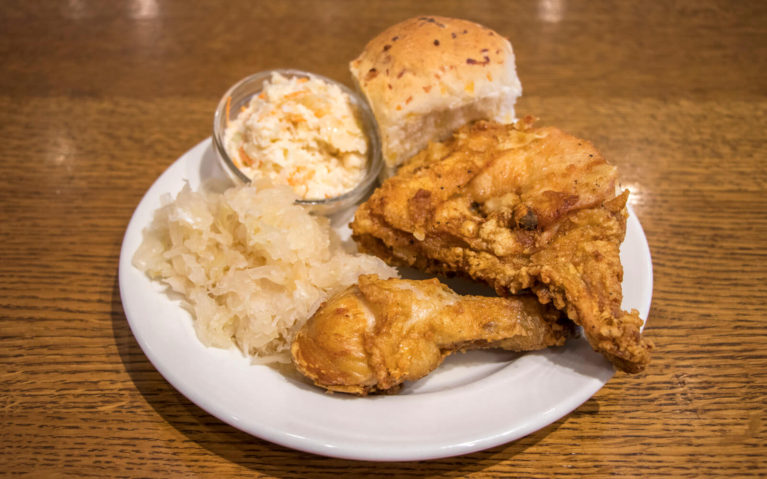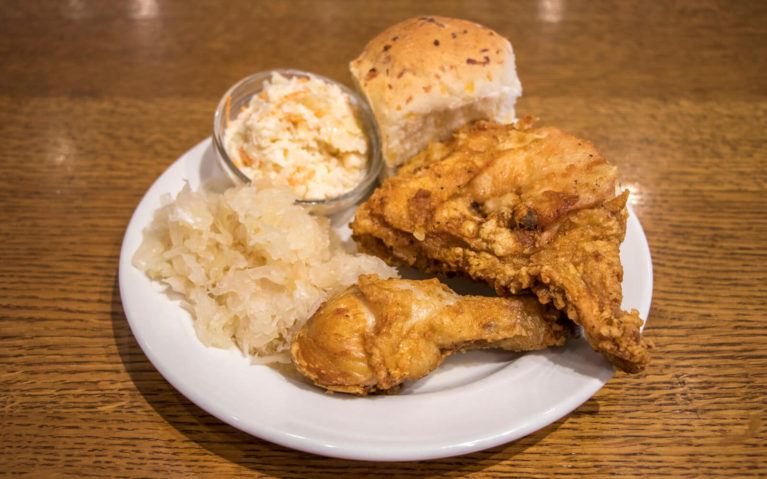 Anna Mae's Restaurant & Bakery
Location: 4060 Perth County Line 72 in Millbank [map]
Hours of Operation: Monday-Saturday: 7:00am-8:00pm, Closed Sundays
This is probably the most well-known restaurant in all of Perth County and it's for good reason. Not just because Anna Mae's was featured on the Food Network's You Gotta Eat Here, but for their hearty eats and wholesome hospitality… and their desserts.
Established by Anna Mae Wagler herself in 1978, it began as a simple baking business that started out of her home. When her husband's health to a turn for the worse, she did what she could to get by. It began with selling pies at the end of her laneway on Thursdays, Fridays and Saturdays and has since grown to what it is today! Now you'll find not only a cozy restaurant which has since expanded into Anna Mae's original home but also a gift shop which includes items from local artisans.
This Mennonite restaurant and bakery will win over the heart of any food lover, no matter the age. While their infamous broasted chicken is available every day, they have a 5-week rotating schedule of additional home-cooked eats. It's not uncommon to see locals out on their favourite nights! While I was tempted to try one of their daily specials, I didn't think my belly had room for it all. I was surprised to find out that they have varying portion sizes so you can have your meal AND dessert too! I opted for their small meal deal which includes a choice of meat, potatoes, choice of vegetable and a dinner roll. Trust me on this, you won't want to miss out on dessert so if you're not a big eater, this is the perfect answer!
SOMETHING TO NOTE: While their menu includes a lot of meat options, they do have vegetarian and vegan options. Just ask your server for their special menu! This includes gluten-concious folks as well.
If you don't have time to eat in, at least stop by and grab some of their incredible baked goods to go. However, if you plan on eating in for your meal, be sure to book a reservation so you can get the best seat in the house – their buggy booth!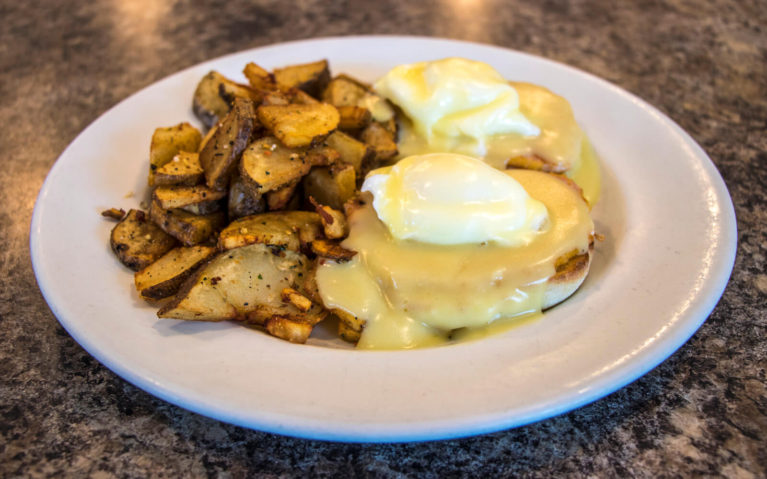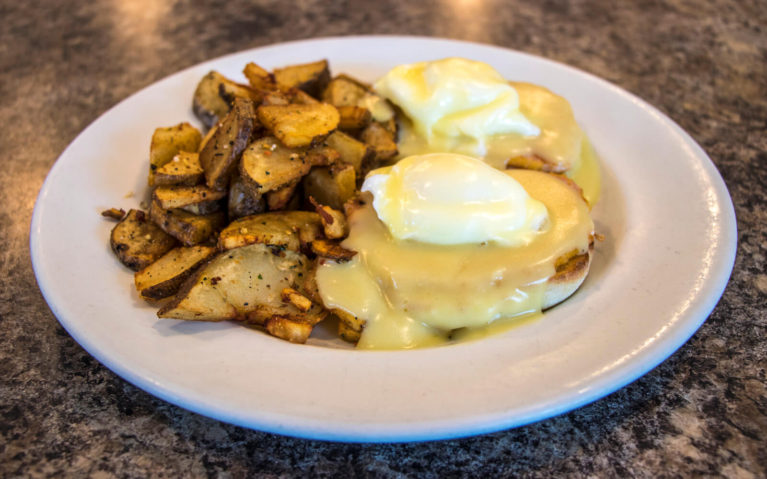 Dave's Diner
Location: 188 Huron Road in Sebringville [map]
Hours of Operation: Monday-Wednesday: 8:00am-2:00pm, Thursday/Friday: 8:00am-6:30pm, Saturday/Sunday: 7:00am-2:00pm
Look at any reviews of Dave's Diner and you'll be hard-pressed to find a page that doesn't mention their fries. Known for their secret spices, Dave's Diner is the perfect way to start any day of exploring Perth County!
You won't find a large menu here which I'm personally a fan of. I hate being overwhelmed by pages and pages of menus! Don't cater to everyone, stick to what you know and do it right. After enjoying a hearty breakfast at Dave's, I can say with certainty that the eggs benedict is incredibly delicious. Also, their homefries are seriously some of the best I've ever had. I'll be surprised to hear if you don't think the same! If they aren't, then I wanna know where you've had them because Dave's secret spices take them to the next level! Oh, and be sure to tell Dave they're the best – even though he knows it.
Hands down, Dave's Diner is the perfect fuel for any Perth County adventure. Check out their blackboard specials for deals on burgers, fish and chips and more!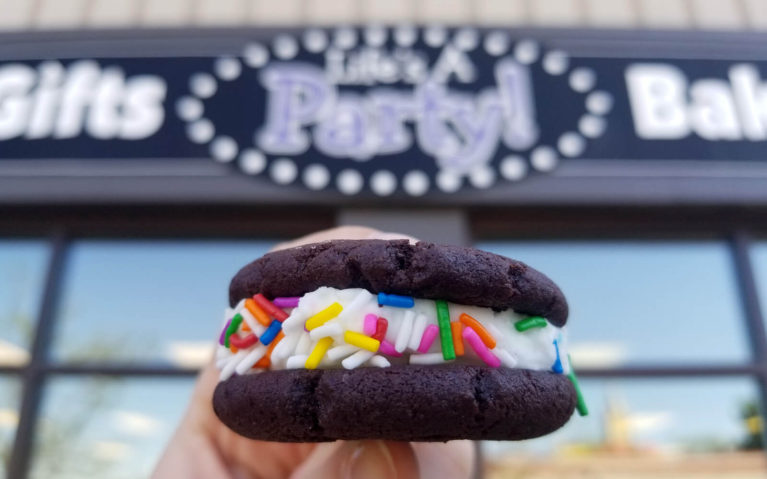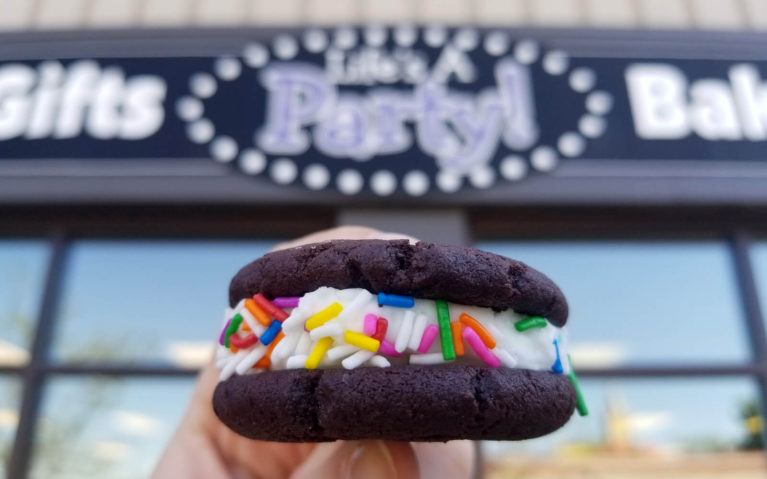 Life's a Party!
Location: 240 Main Street West in Listowel [map]
Hours of Operation: Monday-Friday: 7:30am-5:30pm, Saturday: 9:00am-4:00pm, Closed Sundays
What used to be just a party supply store has been expanded to include a number of good eats and delicious treats! Peruse Life's a Party for all of your party planning needs, then enjoy lunch or a snack for your efforts. Whether you enjoy some of their delicious sandwiches or salads in-house or raid their grab and go fridge, you won't be disappointed. They also have a number of caffeinated and non-caffeinated beverage options to give you the caffeine boost you need or quench your thirst. Check out their Facebook page to see their daily specials!
One thing to note is that their selections of sweets is almost overwhelming. I say overwhelming because you'll literally want one of everything! While it took all of my willpower to not walk out with more treats than I can carry, I succumbed to their homemade Oreos. These put original Oreo cookies to shame. The best part? They're a total steal at just $1 – bet you can't eat just one!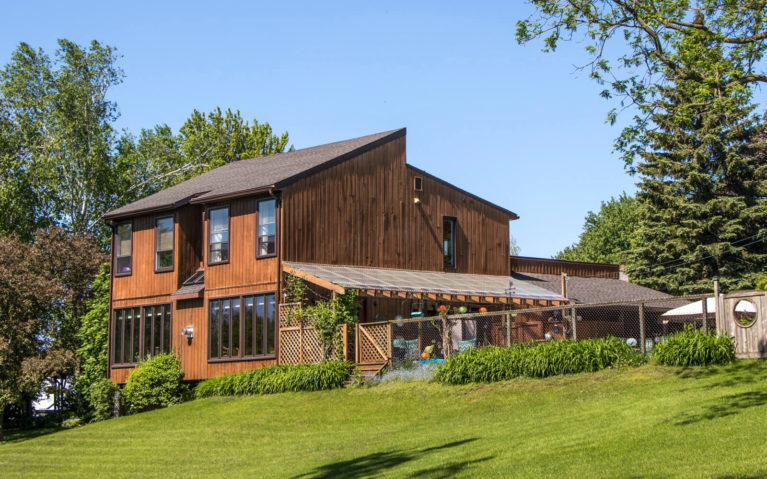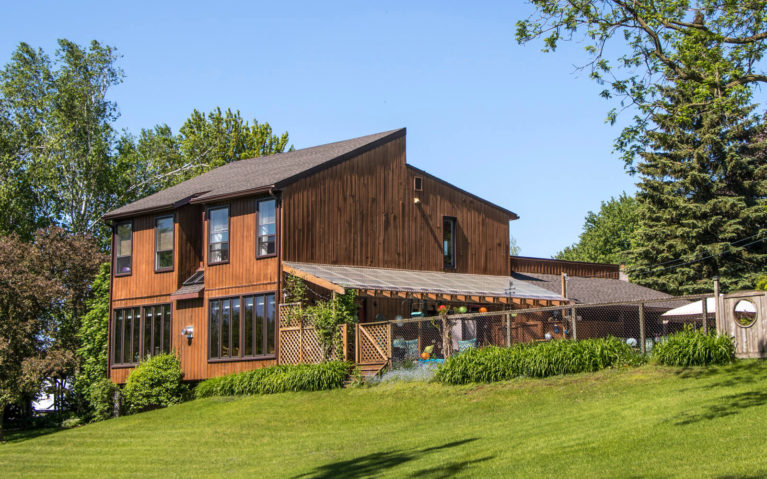 Where to Stay in Perth County
As you probably know, I'm a big advocate for supporting local whenever I can. This is not only with local experiences, restaurants and cafes but accommodation as well! I was thrilled to be hosted by Gerry and Patty at The Heron's Nest. This adorable bed and breakfast is located along the beautiful Thames River in Mitchell, Ontario.
While the Thames River is currently low on water as repairs are being made to one of the dams, it doesn't take away from this bed and breakfast's charm. Enjoy having this basement apartment to yourself as you enjoy all the amenities of this self-catering suite. Featuring a cozy Olympic queen bed (6″ larger than a normal queen size!), you'll feel right at home as you explore Perth County.
Gerry and Patty have seriously thought of everything when it comes to this bed and breakfast. In the kitchen, you'll find a small fridge with freezer to house any goodies you may obtain throughout your travels. Between the microwave, toaster oven, counter-top cook plate, slow cooker and blender, you've got everything you need to make a tasty meal. Though I have a feeling you'll be out enjoying the plethora of delicious local eats. Though these will come in handy when heating up your leftovers! There's also plenty of coffee, tea, juice, bottled water along with a number of snacks perfect for a quick breakfast or to satisfy that late night tummy grumble.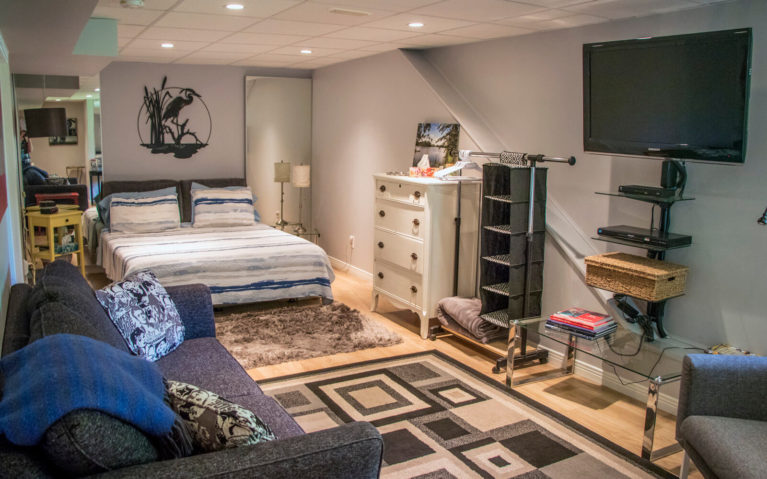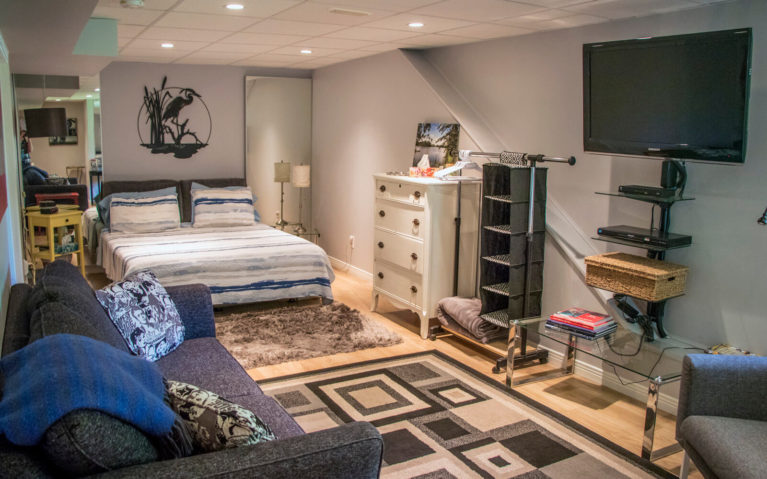 Additional amenities include your own private entrance with electronic keypad for easy access, air conditioning, HD television with cable and DVD player along with free wireless internet. To top it all off, Gerry and Patty are gracious enough to let guests utilize their beautiful swimming pool and backyard barbeque. Does it get any better than that?! Book your stay through TripAdvisor or click the link to see what other folks have to say about their stay.
RELATED: Unsure what type of accommodation is right for you? Or are you looking to see how you can save some money on accommodation? Check out my article on how to find great accommodation deals and what options are best for you!
In case The Heron's Nest is booked during your adventure, use the map below to see some other accommodation options in Perth County! Just zoom out for more properties or take a look at these options in Shakespeare or Listowel. Staying in Stratford is also an option for accommodation though I recommend staying outside of the city to truly enjoy Perth County!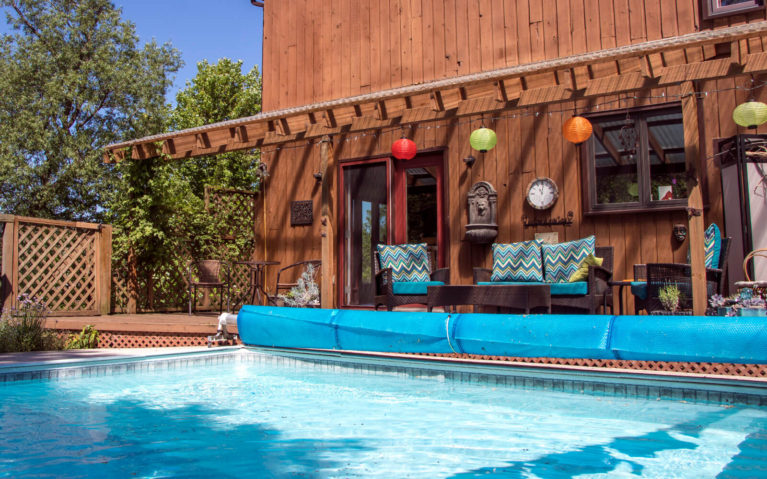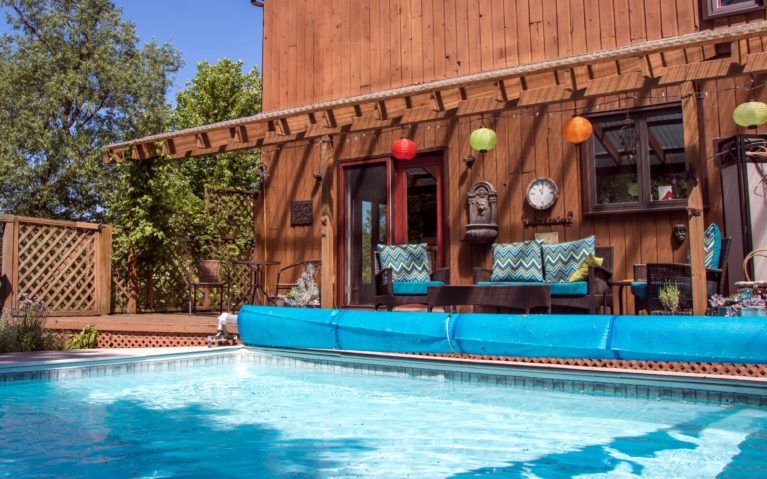 Additional Points of Interest For Your Itinerary
If you've done all of the above or are just curious about what else there is to do in Perth County, keep reading. There are so many great places you just can't do it all in one visit! Check out this list of additional places you should visit within Perth County. I know I will next time I'm in town!
Canoe/Kayak the Thames River
With the water levels being too low on the Thames right now, this will be reserved for a future trip! Another perk of staying at The Heron's Nest is that you can borrow their kayak and enjoy a paddle along the river for a different perspective of Perth County. This is the top of my list of things to do in Perth County for my return visit!
Relax at Orchard Valley Spa
I don't know about you but adventuring can sure get tiring! On days where the weather isn't cooperating or when you just need to treat yourself, a spa day is always a good idea. Set inside a beautiful Victorian home in Shakespeare, this would be my go-to for some self-love. Plus it's just steps from the brewery which sounds like the perfect combo to me!
Enjoy High Tea at Harry Ten Shilling
Unfortunately for me, they were closed during my visit but that just means another trip is in order! Open seasonally from May until October, enjoy a delicious lunch selection while sipping on tea inside a beautiful historic building in Shakespeare.
Say Hi to the Goats on 86
Who wouldn't want to make a pitstop to see some animals? If you find yourself trekking down Highway 86 from May until October, be sure to say hello to the Goats on 86! It's just one of the great kid activities in Perth the little ones will love. However, make sure to be kind and only feed them the corn that's available on the property. We don't want the goats getting sick!
Hunt for Street Art
This one may be tricky as I'm unsure as to how much there is throughout Perth County. However, I know for a fact there is some beautiful artwork in the centre of Listowel! Take a stroll to admire the huge murals while enjoying the town. This makes the perfect pre- or post-dinner activity!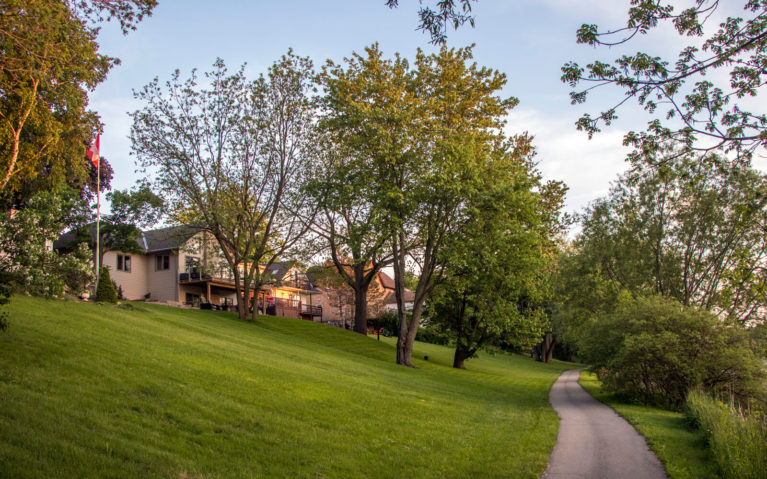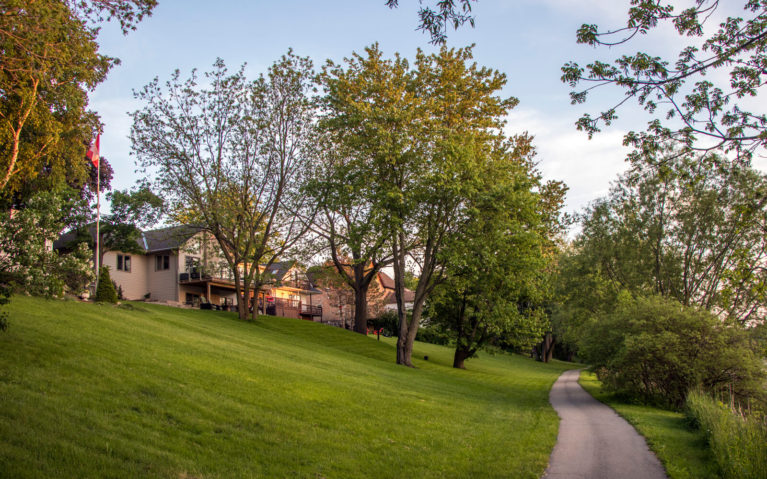 Ready to Visit Perth County?
As I mentioned, Stratford is a common destination within Perth County. Though as I'm sure you've seen, I haven't talked much about Stratford at all. Why? As I said, there's so much more to the area than just Stratford! If you don't explore the other towns within the county then you're seriously missing out. I'm a hard advocate for getting off the beaten path and spreading those tourism dollars so all can benefit. So, I challenge you to discover more and explore Perth County!
You'll quickly discover that Perth County has so much to offer you'll have to visit more than once. I only got a taste during my visit and can't wait to return yet again! Whether you're planning a solo adventure as I experienced, you plan to have a travel partner in crime, or you're bringing the whole family, you'll absolutely adore your visit. Check out this Perth County map and start planning your trip with all these fun things to do in Perth County!
Disclaimer
Thank you to Perth County Tourism for hosting me as I enjoyed all of these amazing things to do in Perth ON. While I was paid to create this content, all experiences and opinions are truly my own – guaranteed! Additionally, this post includes affiliate links where I may receive a small kickback at no extra cost to you.
Read more in IBB's disclaimer and privacy policy.
Excited to check out these things to do in Perth County? Pin it for later!