12+ Best Things to Do in Stratford Ontario For a Fabulous Getaway

Despite living in Waterloo Region on and off for about a decade, I have only made it to Stratford once. And honestly? I wouldn't call that a proper visit. Even when I was exploring the hidden gems of Perth County a few years ago, I never made it to "The Classic City". Well, it's better late than never and with my gal pal Steph in tow, I'm thrilled to share the best things to do in Stratford! Whether you're looking for an awesome girls' getaway destination, a romantic escape in Ontario, or just a destination for some exploration – Stratford has you covered.
Disclaimer: This post may contain affiliate links where I may receive a kickback at no extra cost to you. It helps keep IBB alive so thank you!
About Stratford Ontario
Long before European settlement, many Indigenous groups called this land home. The Anishinaabe, Attiwonderonk (Neutral) and Haudenosaunee Peoples. The land where Stratford now stands is a part of Treaty 29, the Huron Tract Purchase, which was signed in 1827. Just one year later, European settlement of the area begins.
A few years later in the winter of 1831-32, Little Thames was founded by William Seargeant. In the two years following, the area's first sawmill, gristmill and tavern open, along with the Shakespeare Hotel. With the arrival of Grand Trunk and Buffalo-Lake Huron railways in 1856, the town begins to grow as the industrial revolution takes off.
While both the town and river originally went by Little Thames, the Avon River and what is now Stratford received the names they're known as today in 1835. This was done to honour the birthplace of William Shakespeare – Stratford-upon-Avon in England.
Since then, a number of big names and developments have occurred in Stratford. Thomas Edison briefly lived resided here in 1864, Tom Patterson established the well-known Stratford Festival in 1953 and plenty more. For now though, let's get to all the fantastic Stratford Ontario attractions since I know you're itching to explore!


Best Things to Do in Stratford Ontario
Wondering what things to see in Stratford Ontario? Well, let me tell you – there's lots to do! Here are my top picks for some of the best things to do in Stratford Ontario.
Stop By a Stratford Cafe to Start Your Day
I don't know about you but I love starting my day with a coffee or tea, especially if I'm planning a day of wandering! Luckily, there are a number of coffee shops in Stratford to get your dose of caffeine or just a tasty handcrafted beverage.
My personal favourite has to be Revel Cafe. On those hot summer days, you can't go wrong with one of their cold brews with a hint of simple syrup. They pull out all the stops too as they include coffee ice cubes so as to not dilute your cold brew AND they're in the shape of a coffee bean! Too cute! If you're visiting on a Saturday, you'll definitely want to check out their doughnuts. Don't worry if you're not though, Revel's danishes and breakfast buns are certainly the perfect sweet treat to start your day off right!
Of course, there are other fantastic cafes in the city such as Edison's Cafe, the Livery Yard, Cafe Bouffon and the original Balzac's! Each one offers its own fantastic beverages, eats and treats and in all honesty – you really can't go wrong with any of them.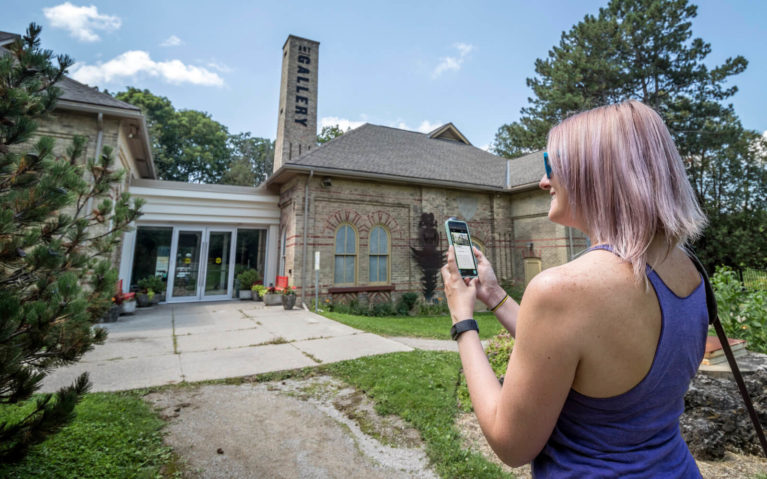 Take a Self-Guided Audio Tour
A walking tour is one of my favourite ways to get acquainted with a new city – even better when it's self-guided! Explore Stratford with any of the nine self-guided audio tours developed by Visit Stratford as you learn more about the city.
Do you have a green thumb and love exploring parks? Enjoy the beautiful public spaces with the Stratford Garden Tour. Are you starstruck with the talent that has come out of Stratford? Check out their Bronze Stars of Stratford tour (or the Bieber tour if that's who you're into). If you're a fan of things that go bump in the night, follow along with the Epitaphs and Headstones tour. To see all of their offerings, head to the Stratford Tourism website.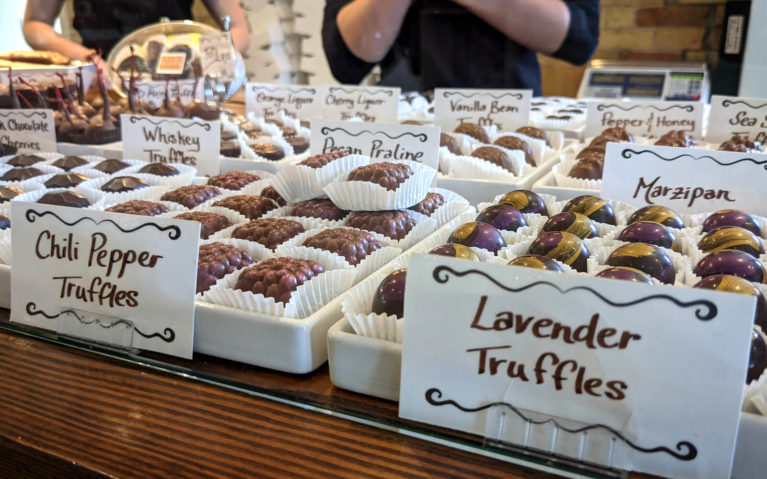 Indulge in the Chocolate Trail
If you have a sweet tooth, the Chocolate Trail is one of the things to do in Stratford you must experience! The city is home to world renowned confectioners and bakers and this year-round trail is the perfect way to indulge in their craft.
For $30 (plus tax), you'll be given six passes which you can redeem at your choice of the over 20 stops along the trail. With so many fantastic businesses to choose from including the famous Rheo Thompson Candies, I recommend checking out the full list of participating establishments and planning your route in advance. If six passes aren't enough, you can always purchase more – or just pop by each stop and treat yourself to whatever your heart desires!
Don't forget to follow the Chocolate Trail audio tour if you're looking for even more information about each unique stop.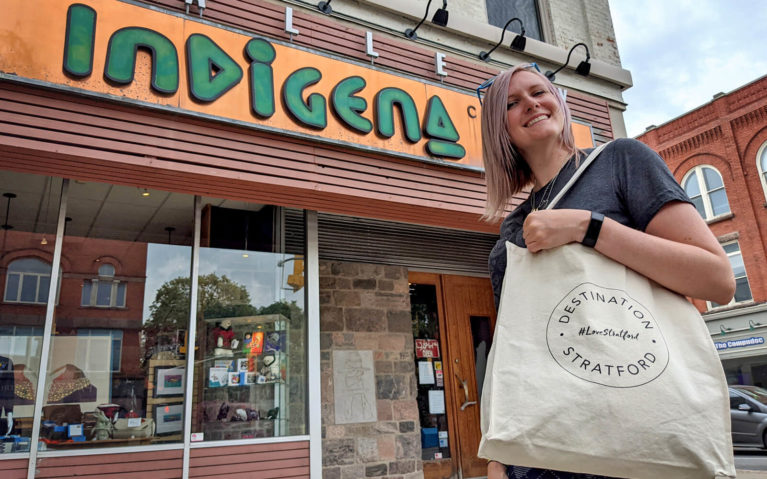 Treat Yourself to Some Retail Therapy
If you're looking to find some unique items to add to your wardrobe, you can't go wrong with some Stratford shopping. There are so many unique shops to check out! Here are a few of my favourites Stratford stores to visit.
Bradshaws – Family-owned and operated since 1895, this is the most iconic shop in Stratford. From kitchenware to bath and body as well as everything in between, you're bound to find some items for you and your home at Bradshaws.
Distill Gallery – Inside this beautifully bright storefront, you'll find well-crafted curated items from Canadian designers and artists. Distill Gallery has been showcasing ethical and sustainable fashion, unique jewellery and home decor items since 2003.
Harmony – Originating in Guelph, this is one of their four storefronts in Southern Ontario. They focus on distinct minimalist designs that, while subtle, can certainly make a splash. Ladies, this is one store you don't want to miss!
Treasures – This quaint little shop features over 200 local, Canadian and fair trade artisans! From ornaments to mugs to clothing to adorable knick-knacks, you're bound to find a one-of-a-kind gift that you'll treasure.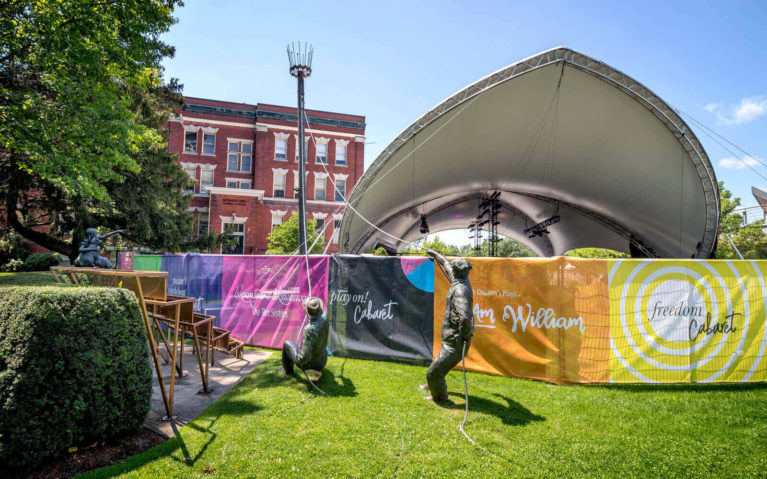 See a Stratford Festival Show
I'm no theatre buff by any means, but when the opportunity arises to attend the opening night of the Stratford Festival – you don't say no!
I honestly had no idea what to expect with the Stratford Festival, especially in this current era. Looking back to the festival's roots, the open-sided canopy is reminiscent of the early days. You may succumb to the elements depending on how Mother Nature is feeling, but the fresh breeze and open-air make the experience that much more memorable/
I'm not much of one for theatre performances but I absolutely loved Why We Tell the Story. Speaking to the stories of African-American life, you can feel the emotions of life, love, pain and hope as it reverberates through the performers. You'll be absolutely captivated and, like me, I'm sure it'll leave you wanting more!
Be sure to take a look at their programming and if you can snag some tickets – do it! It's one of the events in Stratford Ontario that's not to be missed.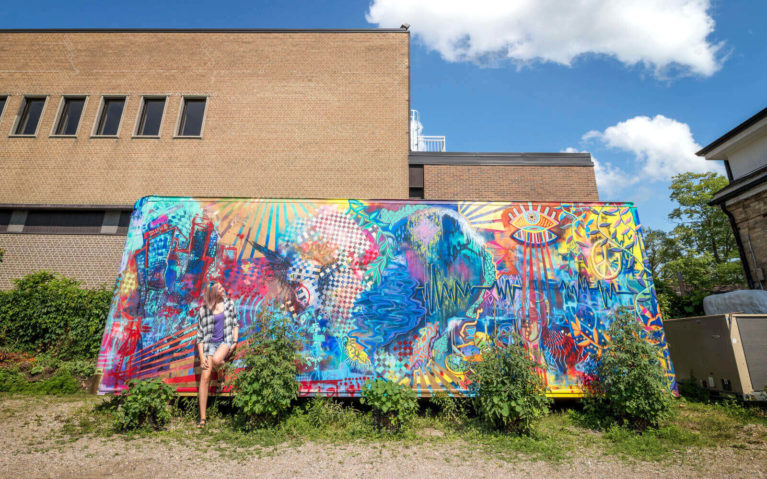 Hunt for Street Art
As you can probably tell, Stratford is a pretty artsy city so naturally, there is plenty of street art to be discovered! Keep your eyes peeled for beautiful murals and decorated electrical and telephone boxes as you explore – especially in downtown Stratford. They always make for a fabulous photo opportunity!
There are also a large number of public art statues from temporary offerings to permanent installations. Don't miss visiting the Stratford Art Gallery as there are a number of beautiful outdoor pieces to be admired. Chances are you'll discover pieces that are new to you with every visit, making the hunt for public art one of my favourite free things to do in Stratford Ontario!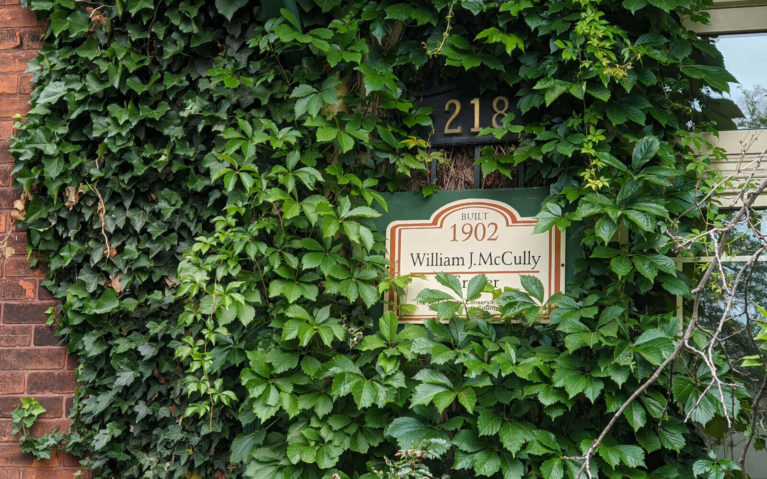 Admire the Historical Buildings
As you know, Stratford dates back to the mid-1800s and many of those early buildings are still standing to this day!
Some are much larger and easy to spot like Stratford City Hall or the Perth County Court House, and they make for a fantastic photo opportunity. However, I recommend wandering down some of the more residential streets and keeping an eye out for the plaques above. These mark the historical homes and will tell you how old the building is and who originally lived there along with their occupation!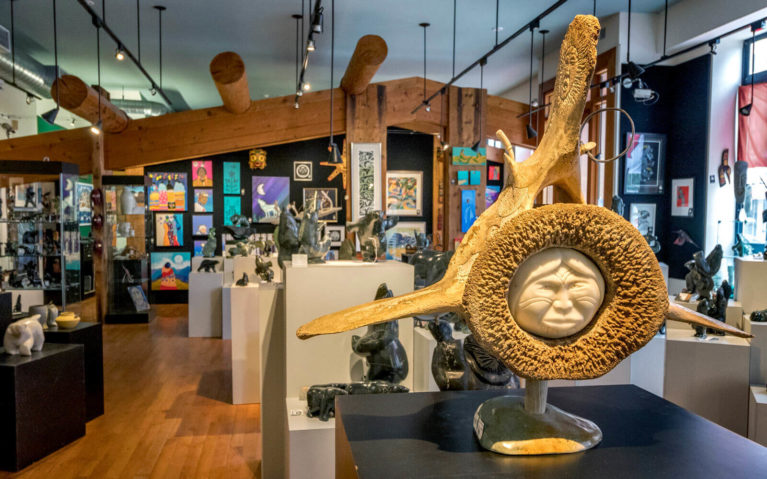 Visit an Art Gallery
With approximately ten galleries in town, I highly recommend visiting a Stratford Art Gallery during your visit. If you choose to do the art walk self-guided audio tour, it'll take you right to Gallery Stratford as this is one of the main stops along the route. Housed in the city's original pump house, this historical building has been home to the art gallery since the 1960s. Pop in and see the current exhibits or if it is closed during your visit, explore the grounds as these public sculptures are always accessible.
As you may or may not know, I try to seek out Indigenous experiences, shops and more in every destination I explore. When I heard about Gallery Indigena in Stratford, I knew I had to visit. While the owner Erla Boyer is not Indigenous herself, she works to uplift Indigenous artisans and ensures the products and artists she works with are indeed Indigenous. Step inside to the gift shop with a number of items including jewellery, drinkware, clothing and more. Do a little perusing and then head to the second room. Here you'll find gorgeous works from First Nations, Inuit and Métis artists. I was absolutely blown away by the sculptures, especially those that incorporate found items with their carvings.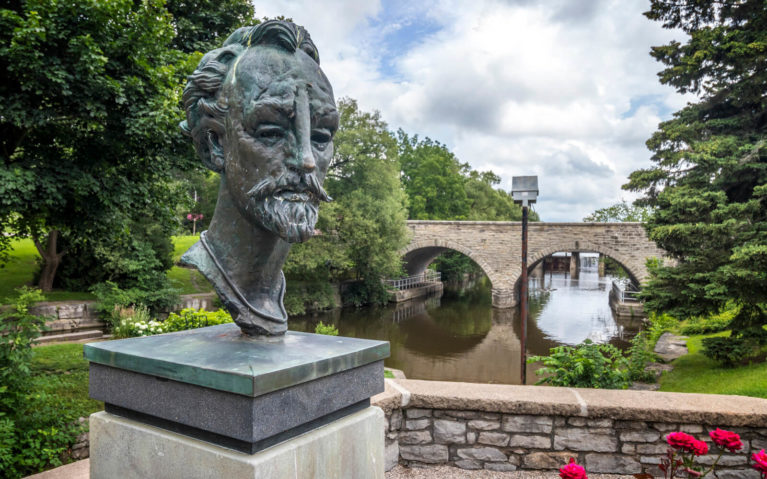 Stroll Through the Shakespearean Gardens
What was once the site of the Dufton Woolen Mill is now home to one of the most popular gardens in Stratford. A decade after it burned to the ground (save the chimney which still stands to this day), local businessman R Thomas Orr pitched the idea of crafting a garden dedicated to Shakespeare. In fact, much of Stratford's 115-acre park system came to be mainly due to the efforts of Orr!
Originally, the plan for the Shakespearean Gardens was to only include flowers mentioned in Shakespeare's plays. While there is still a large emphasis on this, the plants found here have diversified over the years. Enjoy the gorgeous views as you explore the pathways that meander through the displays of flowers. Don't forget to snap a photo of the Shakespeare statue as you do so!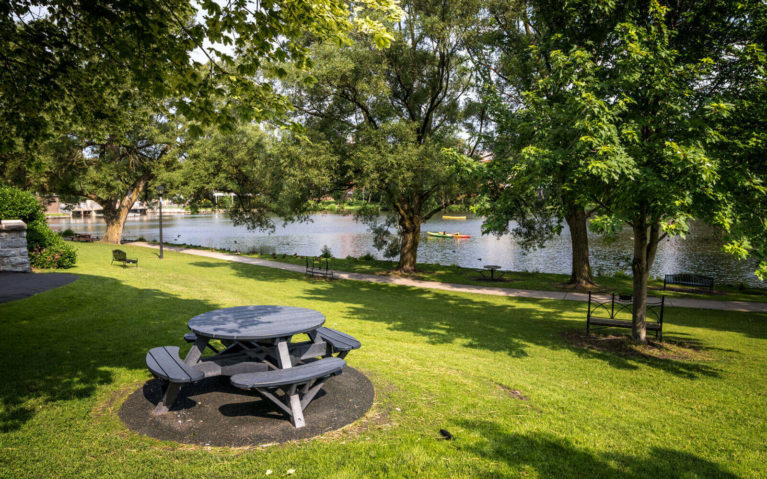 Enjoy a Walk Along the Avon River
No trip to Stratford is complete without exploring along the Avon River! Grab an iced coffee or other beverage from town and enjoy a leisurely stroll along the riverfront. This is where you'll find the city's famous swans in the summer months, along with a number of geese, ducks and other waterfowl. You'll also stroll by the brand new Tom Patterson Theatre and the Stratford Festival grounds. While most enjoy a walk along the path parallel to Lakeside Drive, don't miss exploring the William Street side as well!
INSIDER TIP: From now until October 31st, 2021, Stratford has an 'al fresco' program where you can enjoy alcohol with a food purchase at specific areas in the city. Much of this is along the Avon River (as well as Market Square and Tom Patterson Island) meaning you can enjoy some takeout and an adult beverage while appreciating the sites of the city! Click here for more details.
It's not hard to enjoy a dose of nature in Stratford! If you'd like to continue your jaunt, follow the Avon Trail to the T J Dolan Natural Area. Here you'll feel as though you've been transported to the countryside when you're just a mere minutes drive from downtown Stratford!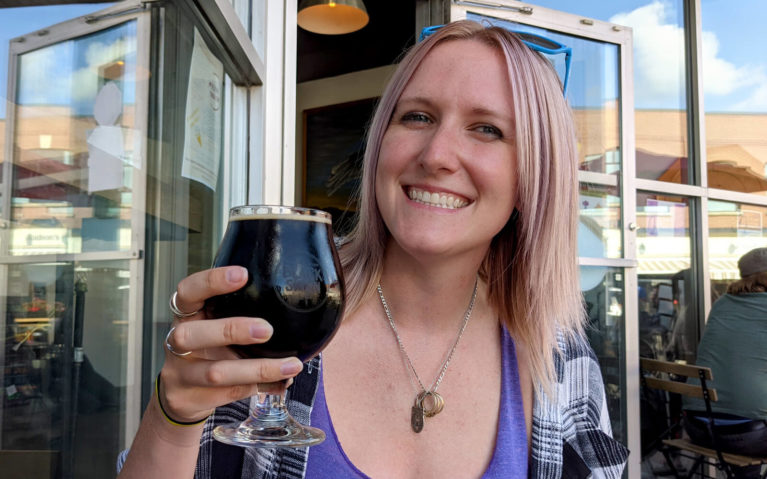 Quench Your Thirst with An Adult Beverage
All the wandering can certainly make you parched, so why not enjoy an adult beverage or two? Stratford is home to three craft breweries – Black Swan Brewing Co, Heritage Hops Brewing Co and Jobsite Brewing Company. Each brewery offers a wide range of beers, though Jobsite also has additional offerings like their seltzer.
Stratford also has one distillery, Junction 56. Using only Ontario-grown grains, they produce moonshine, vodka, gin and whiskey. Pop by for a guided tour (when available) or indulge in a sample or two on Saturdays.
Of course, there are also a number of additional taverns and pubs in Stratford if you'd like to enjoy a beverage with a bite to eat. Let's just say there's no shortage of spots to enjoy a refreshing drink!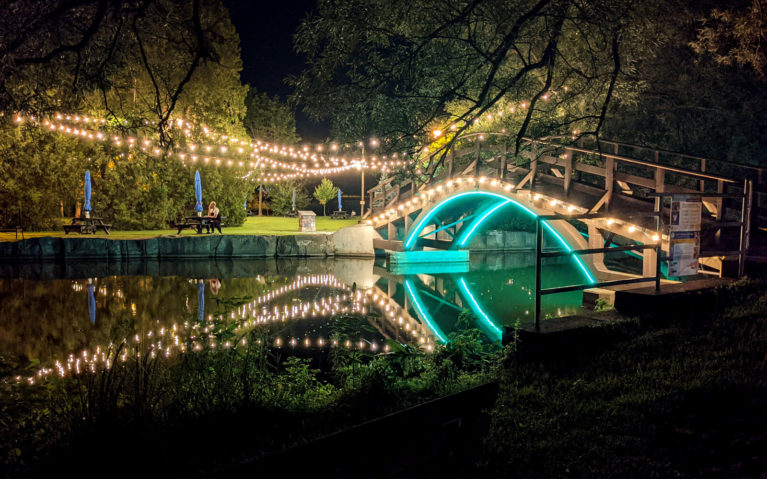 Finish the Night with Lights On Stratford
While Lights On Stratford is more of a winter light display, you can still see remnants of the festival year-round. Snap a photo with the hope display outside city hall as you wander through downtown Stratford.
As the sun sets, head along the waterfront to Lower Queen's Park as the bridge as well as Tom Patterson Island are lit up for all to enjoy. You'll also want to keep your eyes peeled for hearts scattered throughout town, though the show stopper is outside the Stratford Festival Theatre.
There are a few benches along the riverfront that offer the perfect mix of adorable lights and seclusion. Taking a stroll and settling in for a quiet moment is certainly one of the romantic things to do in Stratford Ontario – at least I think so anyway!
The actual Lights On Stratford Festival will be in full swing from December 17th, 2021 through to January 21st, 2022.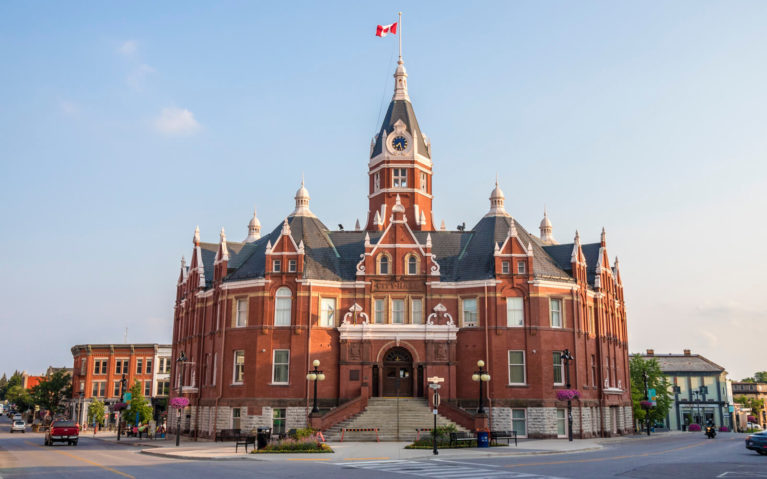 More Things to Do in Stratford
Looking for even more places to go in Stratford? I've got you covered. Don't miss these additional things to do in Stratford Ontario!
Take a Ride on the Juliet III – Historic cruises are engrained into Stratford's history as they've been running since the mid-1800s. The Herr family has been continuing that tradition for over 50 years now with Avon Boat Rentals! Hop on the Juliet III and enjoy Stratford from the water. They also have kayak, canoe and paddleboat rentals available by the hour.
Paddle the Avon River – While I was hoping to do this during my visit, Mama Nature just wasn't on my side this time! Enjoy Stratford from a new angle with a paddle along the Avon River. You can launch just east of Avon Boat Rentals or upriver just east of Lakeside Drive North, in behind Gallery Stratford.
Experience a Ghost Walk – As a city older than the country itself, it's not surprising to hear stories of ghosts and ghouls. Hop on a Ghosts of Stratford tour to learn more about the unsavoury characters that have walked Stratford's streets. Tour offerings vary from year to year but most take place Thursday through Saturday in the summer and then sporadically around Halloween.
Take a Culinary Class at the Stratford Chefs School – While many aspiring chefs come here for formal training, the public is welcome to visit for dinner… and to learn! For the time being, classes are only offered online but this is a great way to bring Stratford to you when you're unable to visit!
Check Out the Stratford Farmers Market – One of the oldest markets in Ontario, the Stratford Farmers Market has been in operation since 1855. Travel to the Stratford Agriplex in the Stratford Rotary Complex to shop local eats and treats. The market runs every Saturday from 7:00 am until noon all year.
Visit the Stratford Perth Museum – Unfortunately, the Stratford Perth Museum was closed due to provincial regulations during the time of my visit. However, that just means I need to plan another trip to Stratford! The museum features a number of exhibits that speak to the history of Stratford, Perth County and of course… Justin Bieber. While the Stratford Museum may be closed from time to time, the trails behind it are accessible year-round. They're lined with interpretive signage so you can learn a bit more about the history of the area.
Join the Stratford Swan Parade – In the winter months, the city's famous swans keep warm in an enclosure near the William Allman Memorial Arena. Come springtime however, the city comes to life with the annual Stratford Swan Parade! Locals and visitors alike follow the flock of 20+ swans as they make their way through town to the Avon River for nesting season. This event spills over to neighbouring cities as it signals the return of Otis and Ophelia, the famous swans of Kitchener's Victoria Park.
Looking For Things to Do Near Stratford Ontario?
Be Sure to Check Out All that Perth County Has to Offer!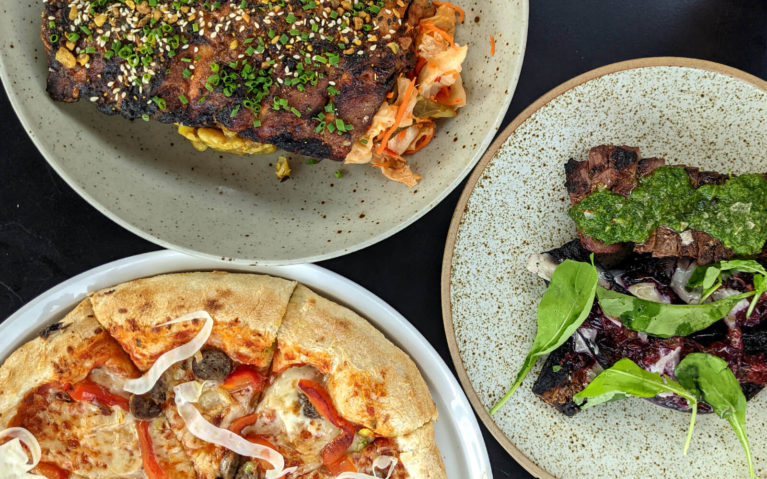 Stratford Restaurants to Eat At
There are more incredible restaurants in Stratford than you can shake a stick at. While Steph and I only had so much room in our bellies, we indulged to the fullest. Here are a few of my top recommendations of Stratford restaurants for a delicious bite to eat.
Braai House – It's one of the best restaurants in Stratford for a number of reasons. Not only are their dishes unique but the atmosphere is incredible! You'll be treated to a taste of African cuisine but with a modern twist. Enjoy appetizers like their bobotie (think Shepherd's Pie but with a hint of curry-like spices in samosa form), mains like their fall off the bone ribs, and delightful desserts to round out your meal. I have to mention that their pizzas are incredible too! Braai House is popular though so if you have your heart set on eating here, be sure to make a reservation.
Edison's Cafe – If you're looking for something quick but flavourful, pop by Edison's Cafe. Each day they have freshly made treats like cookies and muffins, breakfast items such as yogurt and chia, vegan energy bowls to keep you fuelled and a variety of handheld paninis and croissant sandwiches. While they have limited seating both inside and on their patio, their eats are perfect for takeout so why not enjoy them at a picnic table along the Avon River?
The Hub Pub & Patio – Here you'll find the only rooftop patio in Stratford! This three-floor restaurant is a mish-mash of sports bar and beer hall but with a hipster flair. It's a great spot to catch a game but also offers a secluded, country-like vibe on their patio. Enjoy a variety of eats from funky poutines to burgers to fish and chips. I can say from experience that their fish tacos are delish! You can also find locations in Bayfield, Mitchell and Seaforth.
Pazzo Pizzeria – When it comes to great eats, Italian is never a bad idea. Don't let the name fool you though, Pazzo does much more than just pizza! They make their pasta in-house and also have delicious appetizers such as mussels, burrata and more. Pazzo has an adorable patio in their back alley but there's limited seating. You'll definitely want to make a reservation for this one!
Stratford Thai Cuisine – If you're craving some Thai food, this is the perfect place to go! Chef Nancy Sanawong of the former Thai Angels restaurant in Toronto has opened this beautiful restaurant to bring Thai food to the city. While many rave about their curries and Pad Thai, I absolutely loved their Pad Kee Mao or "drunken noodles". It was chock full of vegetables, plenty of beef and had just the right amount of kick! Stratford Thai Cuisine is the perfect spot for lunch midweek as they offer delicious specials for just $12 plus tax.
Can I return to the city yet? Just reading this again is making me hungry and I want to check out all the other Stratford restaurants that are on my list!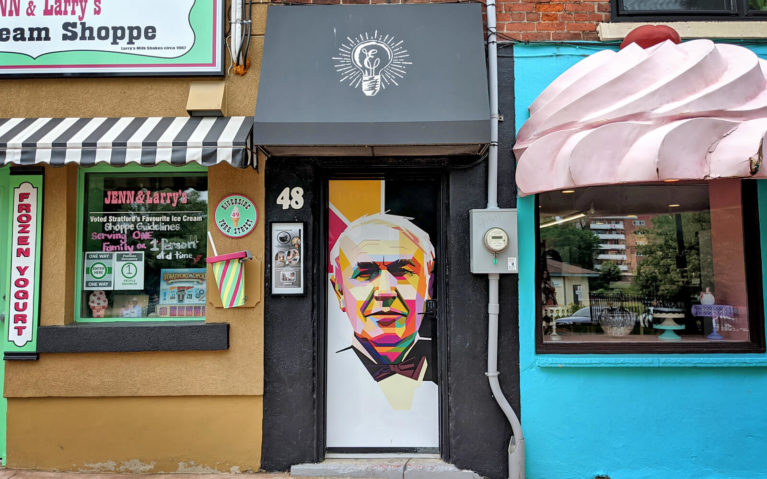 Where to Stay in Stratford
As you can see, Stratford is a charming city. Naturally, there are accommodations that are just as adorable! I highly recommend staying in the heart of town at one of Stratford's boutique hotels like Edison's Inn.
Located above the aforementioned Edison's Cafe, there are three uniquely decorated rooms awaiting your arrival. There's the cafe room which is located along the shores of the Avon River. It's perfect for coffee lovers as it connects directlyt to the cafe itself! Next, there's the music room that is their largest room and features a guitar that you can try your hand at playing or just enjoy the ample space to get your groove on. Lastly, there's Edison's Room where the inventor himself lived back in 1863!
Each room has a mini-fridge, kettle for tea, and the usual amenities such as a blowdryer, shampoo, etc. Everything is high quality and made my stay extra cozy. I also love that we had both card and board games in our room. Unfortunately though, we had no time to enjoy them since we were too busy exploring Stratford!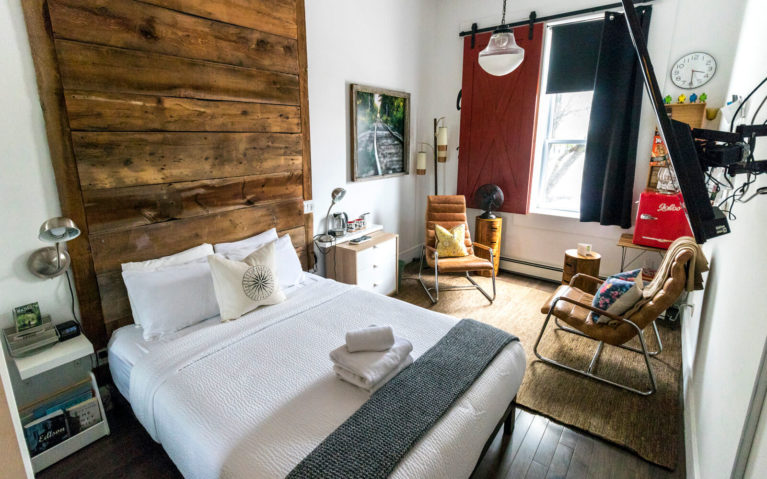 As you'll be exhausted after long days of adventuring, it's important to get your beauty sleep. Let me tell you, these beds are some of the comfiest you'll ever sleep in. I typically don't sleep well the first night I'm somewhere new but I was out like a light. I even struggled to get up in the mornings because it was so comfy!
Just take a look at some of these photos and you'll see why Edison's Inn is a fantastic spot to stay. Its location in the heart of town makes it close to many of the amazing things to do in Stratford I've talked about in this post. Parking is included and just a short walk away from the hotel. See what others have to say about their experience or book your room at Edison's Inn now!
Edison's Inn also has a sister hotel, the Perth County Inn. While it may be confusing as it is named after the region Stratford is in, the hotel is located just down the street from Edison's Inn. Take a look and see if there's availability during your dates or you can check out the map below to see what other amazing Stratford hotels are available.
Frequently Asked Questions About Stratford
Ready to check out all of these amazing things to do in Stratford Ontario? I know I sure can't wait to return! Before you head out, check out these frequently asked questions about visiting the city.
What is Stratford Known For? What is Stratford Ontario Famous For?
Stratford is known for a number of reasons! Currently, I think it's safe to say Stratford is best known for the Stratford Theatre Festival. However, there are a number of big names that have made their mark on Stratford such as the aforementioned Thomas Edison, William Shatner (he was a Stratford Festival sensation long before he took to space in Star Trek!) and my least favourite… Justin Bieber.
How Do I Get to Stratford From Toronto?
It's easy! You'll want to hop on Highway 401 heading west until you reach Ontario Highway 8. Use the second from the left lane (you can go a number of directions at this exit so don't miss this lane!) and then follow it onto Highway 8 heading westbound. Then you'll follow Highway 8 right into the heart of town! The trip from Toronto to Stratford should take just over 90 minutes.
Is There Only Paid Parking in Stratford? Can I Park Anywhere For Free?
While most parking spaces in the heart of town are paid and often have short time limits, there are some areas where you can park in Stratford for free! Along Lakeside Drive you'll find a number of free spaces as well as across the Avon River on William Street. However, you cannot park overnight here as on-street parking is prohibited from 2:00 am to 6:00 am. If you're looking for somewhere to parking overnight for free, the Cooper Lot at 164 Downie Street allows you to park there for 24 consecutive hours.
Disclaimer:
This post is brought to you in partnership with Stratford Tourism. While we were compensated for many of these activities, all of the content and opinions here are honest and speak to my personal experience.
Save All the Fun Things to Do in Stratford Ontario Canada & Pin It For Later!