10+ Romantic Getaways in Ontario For a Passionate Escape

Chocolate, roses, jewellery, etc are nice and all but nothing says romantic to a gal who loves to travel like an intimate escape! While your brain may gravitate to the imagery of Italy or France when thinking of romantic getaways, there are a number of incredible destinations much closer to home to fuel that fire. If you're looking to whisk your special someone away for a weekend adventure, you don't want to miss these romantic getaways in Ontario!
I'm definitely not the typical girl but being treated to a little getaway? 100% my type of romance. In case my Mr Right ever does check out this blog post… taking me to any of these Ontario getaways will score you some major points in my books! Mind you I'm not above whisking myself away on an escape and hopefully, this list will help YOU plan a romantic getaway whether that's for you and your partner or to just treat yourself!
Disclaimer: This post may contain affiliate links where I may receive a kickback at no extra cost to you. It helps keep IBB alive so thank you!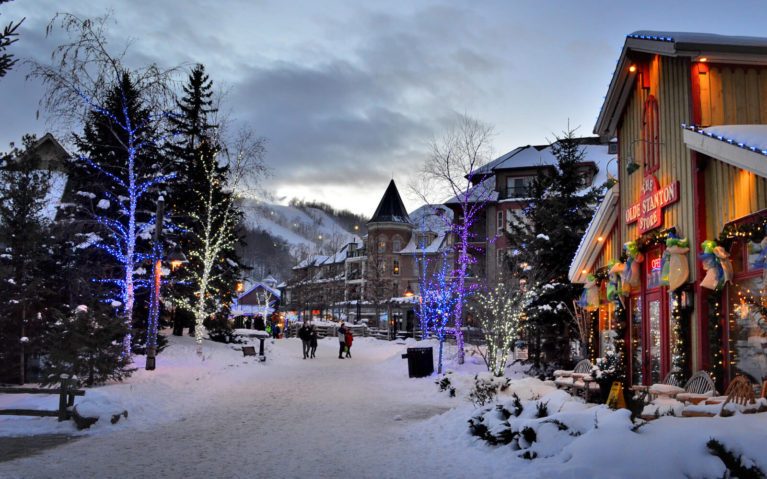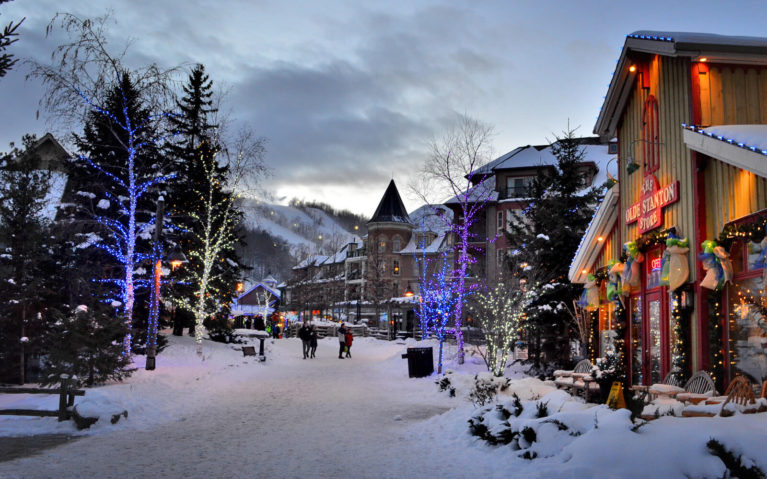 Blue Mountain & Collingwood
Nestled along the southern shores of Georgian Bay, Blue Mountain is a fantastic destination for a romantic getaway in Southern Ontario. While it's an outdoor lover's playground, there is plenty to enjoy for a relaxing yet steamy weekend.
Things to Do On Your Blue Mountain Getaway
Take a stroll through Blue Mountain Village where you'll find plenty of incredible restaurants and adorable shops. Be sure to check out Northwinds Brewhouse as this Collingwood brewery recently opened a location here and their food (and beer) is top-notch.
While a summer visit means patio season and plenty of great hiking opportunities, Blue Mountain Village truly shines in the winter months. You'll find it decked out with beautiful lights that make it as picturesque as a Hallmark Christmas card. Don't miss their Woodview Mountaintop illuminated skate trail as you meander through the trees for brilliant views from the Niagara Escarpment – or by torchlight once the sun sets to really turn up the romance.
RELATED: The South Georgian Bay Area is a great destination in all seasons. Here are some great ideas of things to do in the area and make sure you take a peek a few of the waterfalls close by in Grey County.
Whether you visit in the summer or winter, you'll want to plan a visit to the Scandinave Spa for a soak that's good for the body and soul. Dip in out of their hot pools and cold plunges, take a deep breath in the eucalyptus room and put your feet up in one of their gorgeous relaxation areas – all while surrounded by beautiful forest.
Where to Stay in Blue Mountain
There are a number of luxurious accommodation options in Blue Mountain, like the Westin Trillium House. While I've never had the pleasure of staying in it, I've only heard amazing things from former guests. Though I have stayed right in the resort at the Grand Georgian's Mosaic Suites and I felt absolutely spoiled. Equipped with a fully-stacked kitchenette, a beautiful fireplace and a lovely view from the balcony, it's a great spot to spend a romantic weekend getaway in Ontario. You're also right close to all the amenities so you can easily park your car and not touch it once during your entire getaway! Click here to book your stay.
I've also found this beautiful condo towards the outskirts of Blue Mountain Resort. It features plenty of natural light and honestly looks like something straight out of Home and Garden Magazine. There's even an electric fireplace AND a jetted tub – I'd say that's the perfect combo for turning up the romance. Click here to book your stay!
If you're planning a winter getaway, Blue Mountain can be really busy as it's one of the most popular ski resorts in the province. Head a little east and you'll find this gorgeous log cabin overlooking a personal, spring-fed pond. All you need is to bring your own linens and towels and you're looking at an incredible escape in the Collingwood area!
If all of these accommodation options are booked up for your dates, there are plenty more gems to be found on VRBO as well as great hotels options in Collingwood and the surrounding area.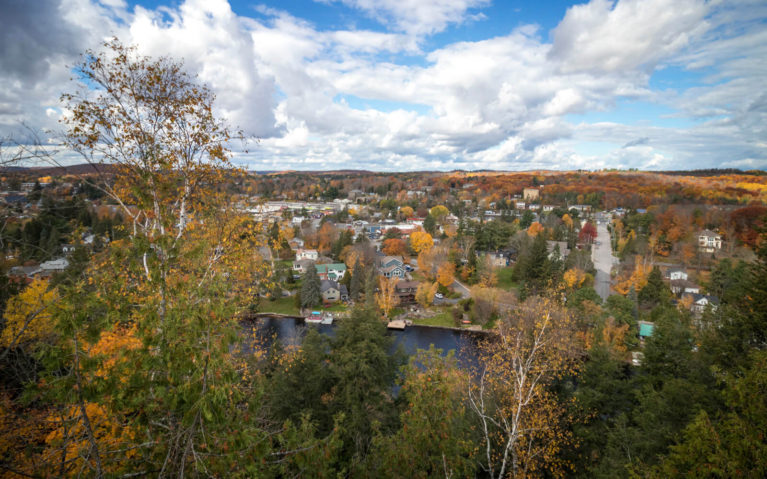 Muskoka
There's a reason why Muskoka is so sought after for a romantic getaway in Ontario. It's close proximity to Toronto paired with the incredible beauty of the area make it a top destination. With its inland lakes and breathtaking forests, it's no wonder so many people fall in love with Muskoka.
Things to Do on Your Muskoka Getaway
There is so much to see and do in Muskoka that you'll definitely need a few trips to experience it all, especially since that experience will vary depending on what time of year you visit!
For some winter fun, I highly recommend either a skate or snowshoe. Johnston's Cranberry Ice Skating Trail is one of the most unique outdoor skate trails in Ontario as you have forest on one side and cranberry beds on the other. There's also the skate trail at Arrowhead Provincial Park though I highly recommend head out along the Stubb's Falls, one of the best winter hikes in the province.
In the warmer months, enjoy a sunset dinner cruise onboard the Lady Muskoka as you take in all the sights and sounds from the water. Though if you're not looking to make waves, there's always the Muskoka Drive-In in Gravenhurst where you can catch a flick… in between the smooching of course. 😉
There's also Algonquin Provincial Park which I think is a must-visit, especially if you're like me and haven't been before (I know, I need to fix this!). For the outdoorsy folks, the Track and Tower Trail is a bit of a trek but it offers some incredible views of the park. There's also the Barron Canyon Trail which is breathtaking and a little easier on the legs. Algonquin is a hot spot in the autumn months thanks to all the incredible colours so if you're looking for a cozy fall getaway, keep Muskoka in mind!
No matter if you're looking to warm up after some winter fun or to just treat yourself on a relaxing summer getaway, a little spa time never hurts. It is said the couples packages at the Rosseau Spa are some of the best around. Located within the JW Marriott The Rosseau Muskoka Resort and Spa, it features a HydroSpa, private outdoor pool and even an oxygen bar. If you're really looking to splurge, you can always stay overnight for a weekend of true luxury.
Where to Stay in Muskoka
Speaking of places to stay, there are a number of plush resorts in Muskoka if you're really looking to pamper your significant other. Though there's one spot that claims it's "Valentine's Day every day" so if you're really looking to turn up the romance, you'll want to check out the Couples Resort. That's right, this resort is just for couples and features an all-inclusive style atmosphere with five-course meals, private hot tubs and more. Be warned though, it comes with a hefty price tag!
If you're looking for a more affordable stay, not to worry. In all honesty, if you don't stay in a cottage… have you truly experienced the Muskoka area? I mean, when folks are talking about cottage country, chances are they're referring to Muskoka. Luckily there are plenty to rent like this unique Triple Round House. With plenty of space, a gorgeous yard with a huge patio and it's not far to gorgeous lakes and a number of provincial parks. That sounds like the recipe for a fantastic getaway to me!
Who needs a big fancy resort when you can have a little slice of paradise like this? There are plenty of other great cottage options in Muskoka so take a peek on VRBO and see what tickles your fancy.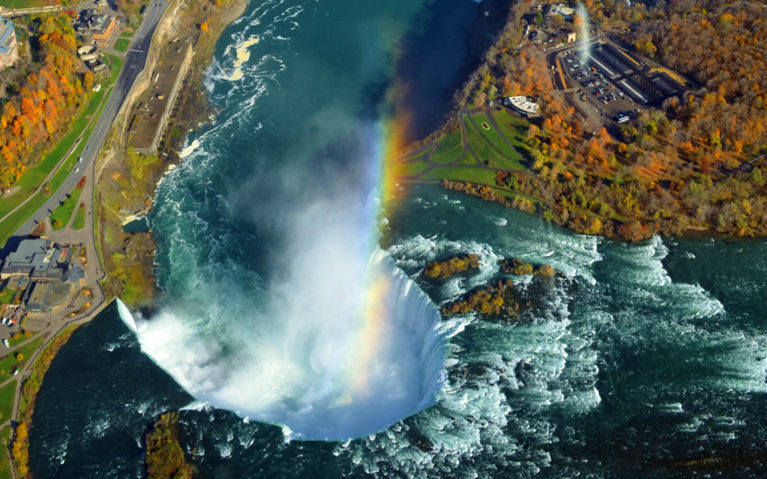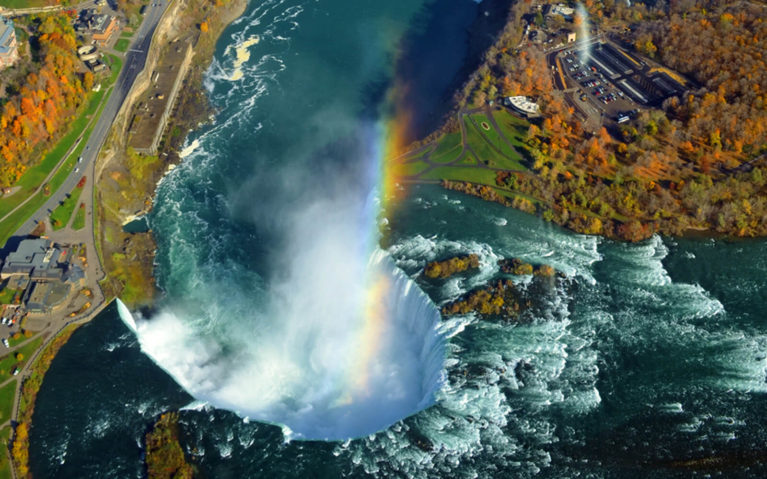 Niagara Falls
So this might be a cliché destination for romance but there's an allure to Niagara Falls that keeps bringing people back. The Vegas-esque vibes of Clifton Hill definitely don't scream romance, however there are plenty of ways to spice up your romantic getaway in Niagara Falls.
INSIDER TIP: Spending the majority of my life in Niagara has it's perks – like finding out all the tricks so that you can have an incredible getaway without breaking the bank. Don't miss my guide where I share ALL my tips to make sure you have a memorable stay!
Things to Do on Your Niagara Falls Getaway
The Horseshoe Falls are always majestic, especially during golden hour. Whether that's sunrise or sunset I will leave up to you though! However, there are more waterfalls than just those along the Niagara River – and many you can actually get up close and personal with! I mean, when is gazing at a gorgeous waterfall not romantic? Take a look at all these Niagara Region waterfalls and see which ones you'd like to visit.
No matter how many times you do it, enjoying a meal overlooking the falls is always magical. My top pick for this is at Niagara Parks' Table Rock Restaurant. As a FeastON certified restaurant, you're guaranteed some delicious local eats at very reasonable prices. They also do a mean Sunday Brunch if you're looking for the perfect way to start your Sunday. Of course, the Skylon Tower is another option for a memorable meal while enjoying a bird's eye view of the Falls from their revolving restaurant. I don't know about you but I'd say great views of the falls and yummy eats are the perfect way to turn up the heat!
Of course, Niagara-on-the-Lake's wine country is just a hop, skip and jump away. Stroll through picturesque vineyards and indulge in some of the best wines the province has to offer. I've got a full list of the best wineries in Niagara so you know exactly where to go to indulge in some of that liquid gold! This isn't just a summer activity either as Niagara is the world's top producer of icewine and we love to celebrate it. There's even a festival dedicated purely to icewine! Plus there are so many incredible things to do in Niagara-on-the-Lake, you'd be silly not to spend a little time there on your getaway.
Looking for More Things to Do in Niagara?
Great Indoor Activities in Niagara If The Weather is Subpar
Don't Miss These Fantastic Free Things to Do in Niagara Falls
See the Beautiful Niagara Gorge From All Angles With This Guide
Check Out These Top Hiking Trails in the Niagara Region
Plan a Spring Visit to See the Cherry Blossoms in Niagara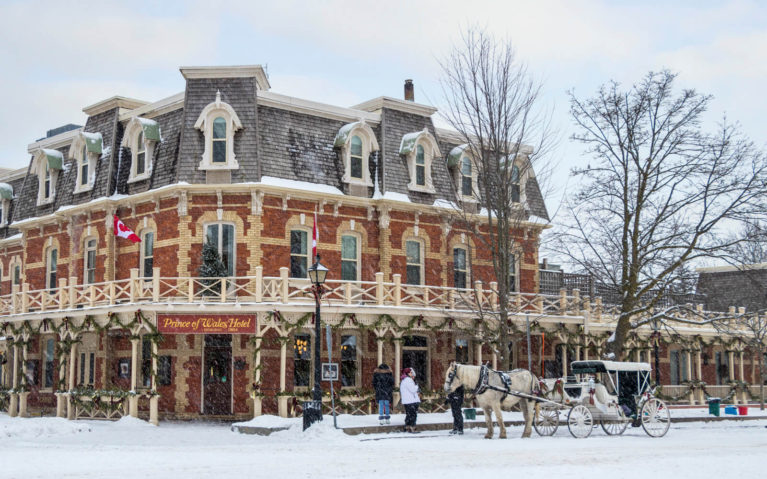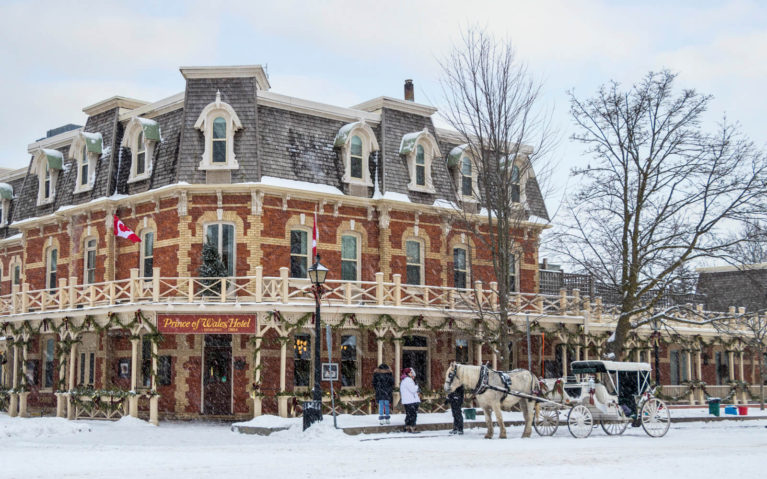 Where to Stay in Niagara
As you can imagine, there is no shortage of accommodation options in Niagara as this is a prime destination for Ontario weekend getaways. However, there are definitely some spots that are a head above the rest.
When it comes to the Tower Hotel, I mean this literally. Set almost 100 metres above the ground, you'll be treated to breathtaking views of the Horseshoe Falls, the American Falls and the Niagara River. If you're looking for a memorable stay in Niagara, it really doesn't get much better than this! Click here to book your stay.
If you're looking for a quaint, relaxing little getaway, how about a charming cottage getaway? Not only is it adorable but it's just steps from the heart of Niagara-on-the-Lake. This means you can walk to plenty of amazing restaurants, do a little shopping at some of the boutiques, and take in the sights of this adorable town. While it's bursting with colour thanks to all the flowers in the summer months, it truly shines in the winter when it looks like something straight out of a Hallmark Movie!
I'd be amiss not to recommend the iconic Prince of Wales Hotel, one of the oldest hotels in the province. Older than the country itself, the Prince of Wales Hotel lives up to its name as guests are treated like royalty. Enjoy top-quality eats (and even high tea!) at the on-site restaurant, spoil yourself at the Secret Garden Spa or just relax in your Victorian-style room fit for a queen. Be warned though, you may catch a glimpse of something otherworldly as the Prince of Wales is one of Niagara's haunted destinations! Don't believe me? Check out what others have to say or click here to book your stay!
Though if you really want to make your romantic getaway memorable, you can always stay in a vineyard! That's right, you can sleep amongst the grapes in the iconic Beamsville Bench. While it may be lesser-known than Niagara-on-the-Lake, there are some pretty incredible wineries in the area (like these ones in Vineland). Beat the crowds and enjoy a quiet getaway as you put your feet up and sip on some local vintages.
The Bay of Quinte
This one might come as a surprise to you but keep reading and you'll quickly see why the Bay of Quinte needs to be on your radar for a romantic getaway in Ontario.
Things to Do In the Bay of Quinte
With five separate communities, each with their own unique experiences and things to do. Let's start with Brighton, your gateway to the region when coming from the direction of Toronto. The town has a picturesque Main Street complete with beautiful greenspaces, gorgeous street art and quaint little shops throughout. Just off the main drag, you have the adorable Gables Restaurant, a house from the 1800s converted into the perfect spot for a romantic dinner. And for those of us who are outdoorsy, you have Presqu'ile Provincial Park just south of town where you can enjoy some brilliant sunsets!
Continuing on you'll find Quinte West, home to CFB Trenton. An airforce base probably isn't romantic for most (but it might be for some!) however, beautiful trails along the river are the perfect place for a stroll with your significant other. Climb Mount Pelion for some incredible views of the region from atop the lookout. Get a little feisty with some friendly competition that comes with playing a game of cornhole at Wild Card Brewing. Then finish off your evening with a riverfront patio and incredible Italian eats from Tomasso's.
Right in the heart of the Bay of Quinte is where you'll find Belleville. The largest of the Bay of Quinte's communities, you'll find some incredible eats, beautiful waterfront trails and adorable shops in the downtown core. Let's not forget the abundance of beautiful street art too! There are a number of fantastic waterfront patios in and around Belleville which pretty much guarantees a romantic dinner as you watch the sunset with your boo. It's definitely a great spot to visit as there is so much to see and do in Belleville!
Next, let's head over to what I think is the coolest part of the Bay of Quinte – Tyendinaga. This is definitely for the more culturally-inclined couples though there honestly are a lot of great things to see and experience. There are a number of incredible artisanal shops including Rebecca Maracle, Native Renaissance and the Eagle Pod Gallery. For the foodies, you'll be surprised at the great eats you'll find such as the croiffle (think croissant meets waffle… yes, it's delectable) and some of the best Korean dishes and sushi you'll ever get out of a food truck. Let's not forget the extracurricular items you can indulge in by either smoking or eating…
Lastly, there's the birthplace of Canada's favourite punk rock princess, Napanee. The downtown core is seeing a revitalization with a number of cute restaurants and cafes as well as the beautiful Napanee River running through it. Follow the Riverwalk to Napanee Falls which is the perfect spot to share a romantic kiss as the sun sets. If you're a couple that likes to get on the water, this is a great area to do some kayaking as the Napanee River twists and turns to offer some spectacular views as you leisurely paddle along it.
Where to Stay in the Bay of Quinte
If you're going to stay anywhere in the Bay of Quinte, it has to be in Tyendinaga at the Lil Crow Cabin Complex. Why you may ask? Well, first off it's been rated the second most romantic getaway in Southeastern Ontario (I personally think it should be first BUT that's just me) and secondly, it has a number of options which will cater to couples of all interests.
For those looking for a unique stay, you'll find two adorable waterfront pods. These little abodes are certainly cozy with an emphasis on a tiny home, but they will certainly be a getaway you'll never forget! Next door you'll find the namesake Lil Crow Cabin, a tiny home with a screened-in porch for those looking who like a bit more room and love a rustic vibe. Lastly, you have their full cabin for a luxuriously romantic escape. I'm talking about a full screened-in area that's perfect for couples yoga or relaxing with some wine and a good book as well as a private hydro spa hot tub.
Overall though, there's a serenity to this space that you almost can't explain. Whether you're looking for the perfect romantic getaway to disconnect from the world with your partner or to do some self-soothing and healing, this is the place to be.
Looking for More Things to Do in the Bay of Quinte?
Here Are All the Great Things to Do in Belleville
Check Out My Full Guide to Exploring Napanee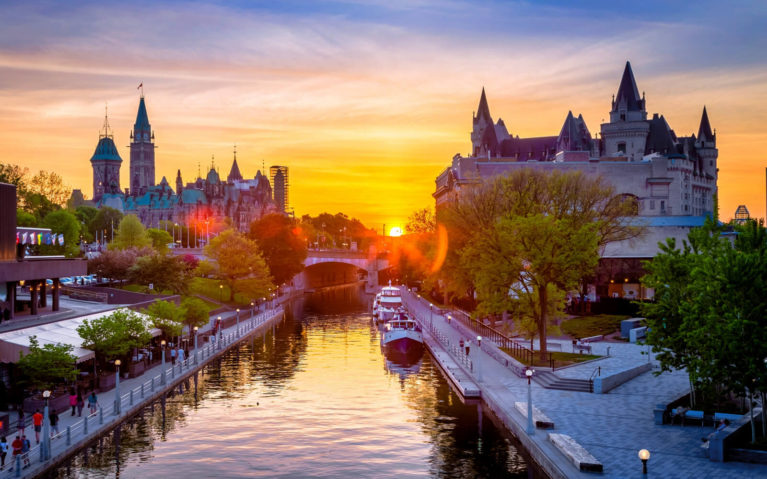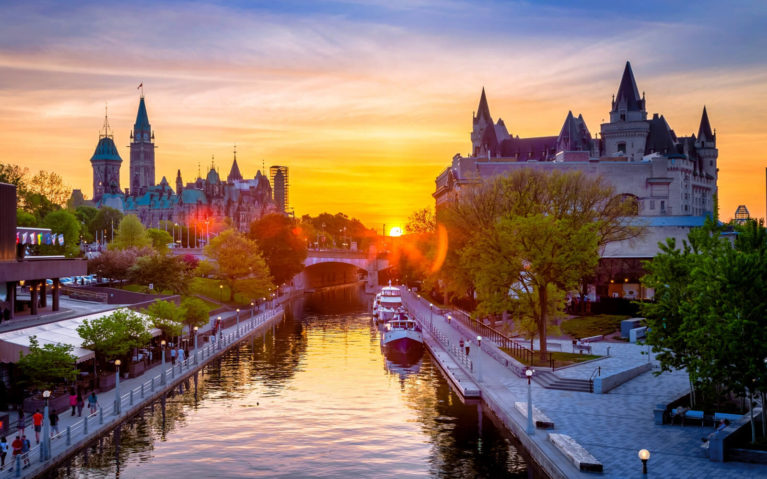 Ottawa Area
Next, we'll head to our nation's capital. While it is the heart of Canadian colonialism (that's a whole other blog post though), Ottawa is honestly one cool city. There is so much to see and do within the heart of downtown and even more to explore in the surrounding area.
Things to Do In and Around Ottawa
One of the things I love about Ottawa is honestly just walking around downtown. One of my favourite places to go is the iconic Byward Market to peruse the shops as well as stop in for some delicious eats. If you're looking for a romantic spot for dinner, Play Food & Wine is the perfect place. Their seasonal menu focuses on shareable plates that use local products from farmers in the Ottawa area whenever possible. It's easily the best meal I've had in the city besides Beckta, its sister restaurant located on Elgin Street.
Since you're out stretching your legs, take a stroll along the Trans Canada Trail as it follows the Ottawa River behind the Parliament Buildings for some stunning views. If you or your partner are into arts and culture, there are a number of great museums as well as the National Gallery of Canada. Though you don't need to go into a gallery to see art as there's plenty of public art to be found like in Confederation Park beside Ottawa's City Hall. Be sure to keep an eye out for the beautiful murals (hint: Bank Street is a great place to start) that you'll find along the way!
If you're planning a cozy winter getaway, one thing you must do is go for a skate along the Rideau Canal. While Muskoka's Arrowhead Provincial Park likes to claim it's the first outdoor skate trail in the province, I'd argue that the Rideau Canal is the original since it first opened in 1970. At almost 8 kilometres long, you'll have a blast exploring the world's largest naturally frozen skating rink! Pair this with the incredible ice sculptures and events that accompany Ottawa's famous Winterlude festival and you have one excellent winter getaway.
Ottawa definitely does winter well, however it's also a fantastic destination in the warmer months. There are plenty of fantastic farmer's markets, beautiful beaches to lounge at and of course, patios to indulge on. If you're a fan of live music, you don't want to miss the city's largest music festival, Bluesfest, which happens in July. There's also the Canadian Tulip Festival in May where you'll find an incredible collection of this iconic spring flower and a sure sign that winter is officially over!
While there's more than enough to experience in the city itself, there are a few gems surrounding the city. Hop over the border to Quebec where you'll find Nordik Spa-Nature in Chelsea. You'll be blown away by the breathtaking views of the city from the panorama pool as you soak your worries away. I haven't visited this location myself but I know it'll be similar to Nordik's Thermëa Spa in Winnipeg which I've had the pleasure of experiencing – and it was an absolute dream. If you're looking to wow your significant other, you can't go wrong with a spa day here.
Where to Stay in Ottawa
If staying in a castle doesn't scream romance, then I don't know what does! In the heart of downtown, you'll find one of the most romantic hotels in the province – the Fairmont Château Laurier. An Ottawa icon, it was built in 1912 as a luxury railway hotel. The Château Laurier recently underwent a multi-million dollar renovation including a reinvigorated lobby lounge and upgraded guest rooms. If you really want to be spoiled, opt for a Fairmont Gold room or suite where you'll enjoy access to a private lounge as well as your own personalized concierge service.
If the Château Laurier is a little too bougie, how about an affordable luxury one-bedroom in the heart of downtown? This bright and spacious apartment features floor-to-ceiling windows and a spacious balcony. You'll find everything you need for the perfect getaway in the heart of our nation's capital.
Of course, there's always the option of a rural getaway and enjoying the city with a day trip. If this sounds right up your alley, then you'll want to remember this century-old log cabin in Lanark County! Located on Mallochs Bay, you'll be treated to a gorgeous three-bedroom cottage with gorgeous views overlooking the bay. Spend some time enjoying the private beach or cast a line and see if you get lucky.
Looking for More Things to Do in the Ottawa Area?
Go Exploring in Lanark County for a Weekend of Serenity
See Why the Small Town of Bancroft is a Must Visit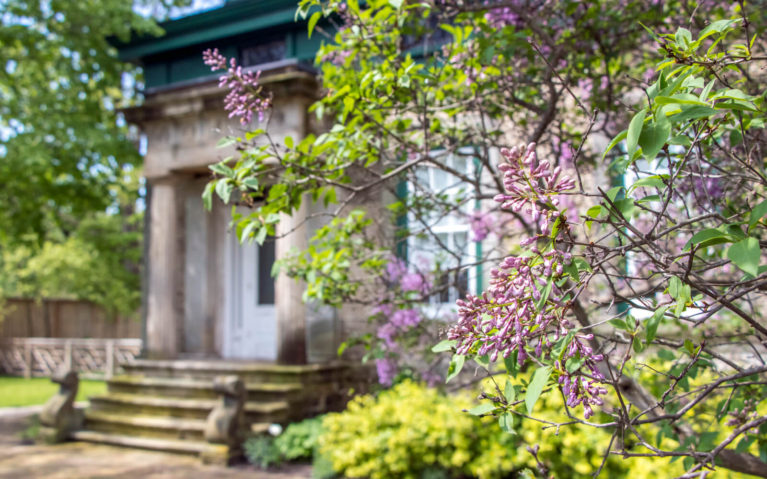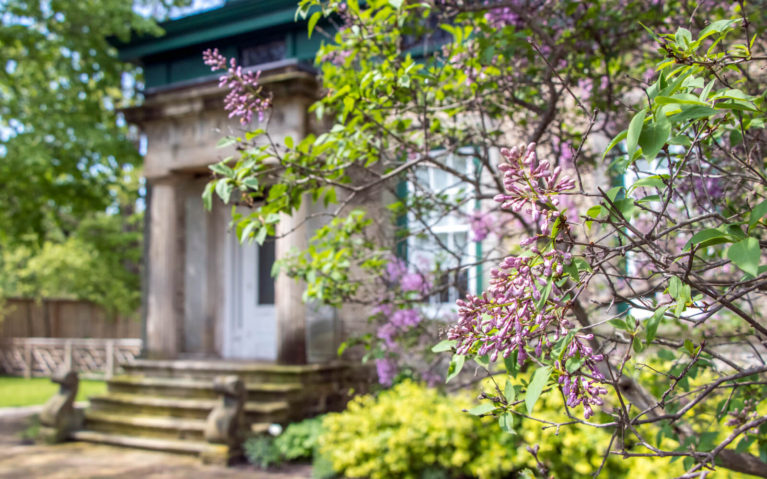 Paris
Paris, France is one of the most romantic places on the planet and while Paris, Ontario might not have the Eiffel Tower, it's still one adorable spot for a romantic escape in the province.
Things to Do on Your Getaway to Paris
Paris has been dubbed the "prettiest little town in Canada" and with the beautiful Grand River running through the middle of town along with all the adorable shops and homes, you'll quickly understand why. It's also the cobblestone capital of the country so naturally, you and your loved one should take a stroll along the town's adorable streets. While doing so, be sure to visit the Penman's Dam along the river. It's the perfect spot to enjoy a picnic! That's right, when was the last time you settled in for a picnic? I'd say planning a delicious spread with the Grand River as your backdrop is a perfect yet simple way to turn up the romance.
Whether you've never been to Paris before or you know the town like the back of your hand, you can't go wrong with a Tasty Road Trips tour. I had the pleasure of experiencing not one but two tours and I had an absolute blast. You'll be wined and dined as Jan, owner and tour guide, takes you around the city and shares the best the town and area have to offer. This is no ordinary food tour as you pop into shops and galleries while seeing the many reasons why Jan is so passionate about this area. She has a number of tours including her One Bite at a Time Tour, her Explore Paris Like a Local Tour, and her Explore Farms and Chefs Tour. I guarantee you'll love whichever one you choose!
If you're looking for a spot to enjoy a romantic dinner, Stillwaters has a beautiful patio which overlooks the Grand River. Enjoy beautiful panoramic views of the town and river as you feast on delicious eats. Their extensive menu features a variety of dishes including grilled salmon, striploin steaks and more. Crated by Chef William Thompson of Top Chef Canada, their meals focus on seasonal, quality ingredients. Plan to catch the sunset and you've got yourself one enchanting way to finish off your day.
Looking for More Great Places to Eat?
Check Out This List of the Best Restaurants in Paris!
Of course, if you'd like to explore the area, that's always an option! Just a short 15 minute drive away is the city of Brantford where you'll find plenty of cultural experiences, great eats and more. Pamper yourself at the Grand Wellness Spa where you can treat mind, body and soul with a salt cave experience… or a trip to the beer spa. That's right, you'll be soaking in a stunning barrel tub filled with hops as you indulge in a pint of craft beer or a glass of wine. Now that's a spa date any man will get on board with! Read more in my extensive Brantford post.
Where to Stay in Paris
While I have not had the pleasure of staying at the Arlington Hotel myself, it's been on my list for quite some time. This hotel features 23 rooms, each uniquely decorated and inspired by a famous personality. Ranging from Sigmund Freud to JRR Tolkein and even Stan Lee, there's plenty of character within these walls. That paired with the hotel itself being older than the country and you're guaranteed to have one memorable stay. Click here to book your getaway!
As you've probably guessed, there are a number of historic homes in Paris. You can stay in one of the oldest homes in town in this beautiful Carriage House B&B. The home dates back to the 1850s and was built by Asa Wolverton, a very prominent lumber dealer in his time. This style of home is very iconic for New England and the Maritimes, but very rare here in Ontario. Recently upgraded and fully restored, the studio offers beautiful views of the Grand River as its nestled in a gorgeous natural setting. Enjoy a coffee on the outdoor patio or snuggle up by the fireplace for a cozy little getaway. Click here to book now!
If both the Arlington Hotel and Carriage House are booked for your getaway days, check out these other hotel options in the area or peruse some of the other adorable options on VRBO!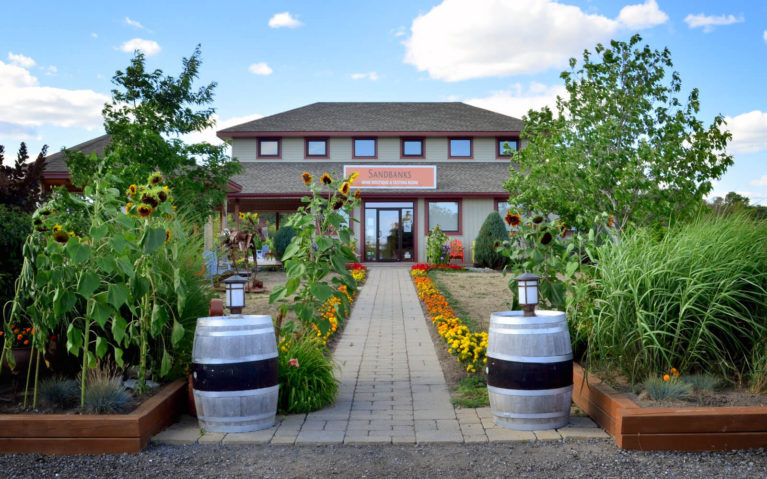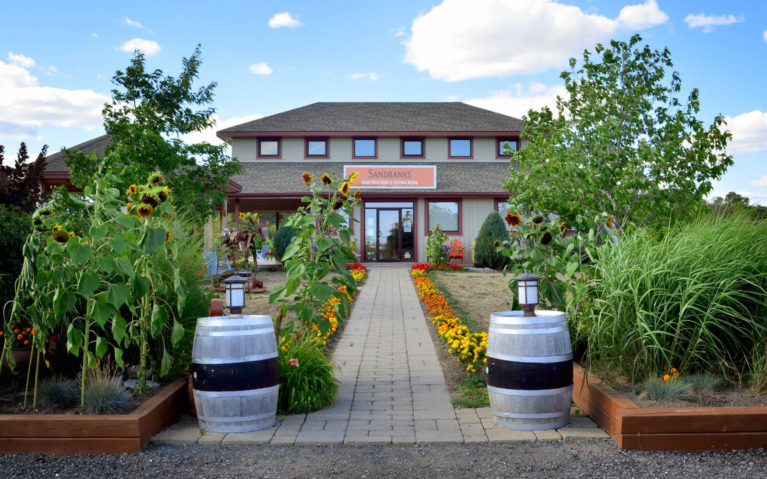 Prince Edward County
South Eastern Ontario is home to a number of beautiful getaways, including the ever-gorgeous Prince Edward County. With incredible wineries, beautiful scenery and a vibrant arts and culture scene, you'll love being whisked away to this corner of the province.
Things to Do in Prince Edward County
If you're looking for a little fun in the sun, Sandbanks Provincial Park is a must for your getaway to Prince Edward County. It features three sweeping beaches along the world's largest baymouth barrier dune formation. Take a stroll along some of the park's gorgeous walking trails or just enjoy basking in the sunshine for a relaxing afternoon. It also has some incredible sunsets if you're looking for a romantic view to end the day!
As I mentioned, Prince Edward County is home to some seriously incredible wineries. The area is a top destination in Ontario for wine tourism and as such, has plenty of great spots to offer. I personally love Sandbanks Estate Winery as it's not only women-owned and run but their vintages are amazing! Stop in for a tasting or enjoy a glass in one of their brightly-coloured Muskoka chairs and sip the evening away. Wine isn't the only thing though! Prince Edward County is also home to a number of great craft breweries and Ontario cideries if the liquid grape isn't your forté.
How about a beautiful view of a lake that has no apparent water source? That's right, the mystical Lake on the Mountain is definitely a headscratcher, but it makes for a beautiful backdrop to enjoy a meal or beverage at The Miller House Cafe and Brasserie. Part of Lake on the Mountain Resort, this seasonal restaurant sits inside a historic mill built in the late 1700s. Though the big draw is its gorgeous patio with panoramic views of the incredible waterway below!
Where to Stay in Prince Edward County
There's a reason why the Drake Devonshire and its sister property The Drake Motor Inn are some of the most sought-out hotels in Prince Edward County… they're picturesque, they're unique and they will take your stay to the next level. Condé Nast has claimed the Devonshire to be one of the most romantic hotels in the world as it's a mix of art gallery meets adult luxury escape. The Motor Inn focuses more on play as eclectically-coloured rooms pair with additional features like picnic baskets delivered to your door, Panorama cameras for rent, and more. I mean, they've honestly thought of everything to make your stay a memorable one. Click here to book the Drake Devonshire and click here to book The Drake Motor Inn.
Unless you're planning well in advance or that off-season getaway (there's a reason why they're the bomb dot com!), chances are you won't be able to snag a room at the Drakes. Not to worry as there are plenty of other amazing properties to stay at in Prince Edward County! If you're looking for a place to yourself that has a similar vibe to The Drake Motor Inn, you'll definitely want to take a look at the Runaway Rooster in Bloomfield. This adorable getaway in the heart of town will have you wanting to "fly the coop" with its boho meets modern style and brilliant pops of colour.
Prince Edward County is a popular destination to escape, especially in the summer months. Take a look on VRBO and you'll find a number of amazing accommodations. There's no shortage of great getaways in PEC!
Manitoulin Island
The world's largest freshwater island means plenty of shoreline for a waterfront retreat. Pair that with some brilliant night skies and you'll be well on your way to a romantic weekend!
Things to Do on Manitoulin Island
Manitoulin is one of those places where you'll certainly need a car as there are plenty of small communities scattered across the island. However, each and every community has its own charm and you'll love exploring every nook and cranny!
One of the biggest draws is Bridal Veil Falls, located in Kagawong. This is the largest waterfall on the island and is always a sight to see no matter what time of year you visit. In the summer months though, you can actually get behind the plunge and swim at the base of her!
Bridal Veil Falls is just the tip of the iceberg though as Manitoulin Island is bursting with natural beauty. There are so many incredible hikes like the famous Cup and Saucer Trail where you'll find some of the best views on the island to Misery Bay Provincial Park where you'll be treated to beautiful sandy beaches and forests so tall you'll feel completely surrounded by nature. I mean, Manitoulin Island is known as Manidoowaaling in Odawa meaning 'cave of the spirit' and as soon as you start exploring, you'll quickly realize just how magical this place is.
If you're a fan of arts and culture, then a stop at the Perivale Gallery is a must. Shannon as an impeccable eye for art as you'll find a brilliant collection of local artists from Manitoulin Island and the surrounding area. I was blown away by not just the talent but the vast difference in styles, yet she displays them in such a way that they all belong. Plus the gallery itself, as well as the grounds, are absolutely beautiful!
The island certainly has a rural, country vibe but don't you think for a second that there aren't incredible places for a romantic dinner! Enjoy the art of fine dining in a casual setting at the School House Restaurant. Originally built as an educational institution in 1989, it's now one of the most sought after spots on the island for dinner. High quality, local ingredients are crafted into a variety of dishes that will be a treat for your tastebuds. Reservations are highly encouraged and don't worry if you have any dietary restrictions as they'll happily accommodate you!
If you're looking for a romantic way to end your day, it has to be with a sunset in Providence Bay. This is easily the best spot on the island for some brilliant sunsets – and the perfect after-dinner activity if you've eaten at the aforementioned School House Restaurant. Enjoy a stroll along the beach as the cotton candy clouds take over the horizon. Don't forget to grab some ice cream from Huron Island Time for your walk!
Looking For Even More Ideas?
Don't Miss All of These Great Things to Do on Manitoulin Island!
Where to Stay on Manitoulin Island
The adorable town of Little Current is the perfect place to rest your head for a romantic getaway to Manitoulin Island. Located along the water's edge of the North Channel, you'll find the Manitoulin Hotel & Conference Centre and my recommendation for your romantic getaway. As soon as you step inside this Indigenous-owned and run hotel, you'll be mesmerized by the beautiful entranceway. It features over 50 rooms adorned with Indigenous art that have refrigerators, coffee makers and other amenities. The on-site restaurant, North 46, has incredible eats and will give you a taste of the Indigenous flavours found here on Turtle Island (North America). Enjoy some poolside fun in the warmer months as well as a romantic dinner on their patio with the beautiful views that accompany it. Click here to book your stay!
If you'd rather have a place all to yourself, head west of Providence Bay to the Lake Huron Log Cabin. Floor to ceiling windows along the northern side of the cottage are the highlight as you'll be treated to impeccable views of Strawberry Island and the waters surrounding it. Settle in by the woodstove or enjoy a meal on the expansive patio as you take in the fresh Manitoulin air.
Manitoulin is one of those places that folks are still discovering so I highly recommend planning a visit before it gets too busy! Check out these listings on VRBO to find your perfect Ontario getaway.
Romantic Resorts in Ontario
Looking for a one-stop shop where you can wine and dine until your heart's content? These resorts have you covered with stellar restaurants, wonderful wine pairings, a little bit of spa time and more for some seriously romantic getaways in Ontario.
Heather Lodge in Minden
In the heart of the Haliburton Highlands, you'll find the tranquil paradise known as Heather Lodge. Designated as one of the Finest Hotels in Ontario, here you'll find 12 charming studios and the finest accommodation in the area. Each one is luxuriously equipped with a king-size bed and amenities such as a bar fridge, bathrobes, wine glasses, and more. The owners Maria Micallef and James Jennings have had a passion for the hospitality industry for many years and so they know what their guests want! I mean, these glowing reviews say it all!
There are three styles of suites to choose from with their most popular being the Lakeview Studios. They each offer a beautiful view of Twelve Mile Lake from their private balconies as well as cozy wood fireplaces, perfect for snuggling up on a chilly winter's eve. Though their finest room is the Deluxe Studio which, while it only has a partial view of Twelve Mile Lake, it does have a jacuzzi tub for the ultimate romantic getaway.
I'd be amiss not to touch on their on-site restaurant as every meal is created to order. Chef James and Chef Mike offer a wide range of dishes derived from their combined creativity and seasonal ingredients. Combine this with an authentic Niagara wine list along with top-notch service and you have the perfect dining experience for you and your loved one.
Ready for your own escape? Click here to book your getaway!
Hockley Valley Resort in Mono
Just an hour northwest of Toronto, you'll find the gorgeous Hockley Valley Resort located in the heart of rural Ontario. Surrounded by the picturesque countryside of the Headwaters Region, you'll feel like a queen (or king) at this four-season resort. Settle into one of their 104 rooms, each designed with elegance in mind. All of their rooms are spacious, each with its own seating area. Most of the rooms have balconies and some of their upgraded rooms like the Regal and Executive Suites even have two floors! Talk about luxury!
While you'll be tempted to stay snuggled up in bed all day, the resort itself offers so much to do. In the winter, hit the slopes with their 15 runs. Enjoy a round on their 18-hole course in the summer months. Of course, it doesn't matter what time of the year it is when it comes to Hockley Valley's stunning 8000 square foot spa. Treat yourself to a facial, spa massage, manicure, pedicure or any combination of these services and I guarantee you'll come out feeling like a whole new person.
Hockley Valley Resort also features not one but three restaurants – Cabin, Babbo and Restaurant 85. Cabin is definitely the highlight as the restaurant itself is just as beautiful as the food is delicious. 80% of all their ingredients come from the four-acre farm on the property for a true farm-to-table experience. Plus you have Adamo Estate Winery just down the road and The Paddock Café where you can indulge in a flight of wine and a nibble while enjoying picturesque views of the vineyards.
With its beautiful grounds, stylish rooms, impeccable spa and other amenities, Hockley Valley is easily one of the best romantic getaways near Toronto. Click here to book your romantic getaway now!
Enjoy These Romantic Getaways in Ontario
Whether you're looking to spoil your partner for Valentine's Day, whisk them away for an anniversary, or just reconnect with a weekend of passion, these romantic getaways in Ontario should give you some great ideas for planning your own escape.
Ready to Escape on an Ontario Romantic Getaway? Pin It for Later!