Take a Self-Guided Tour of These Amazing Vineland Wineries

In the warmer months, visitors come from all over for a taste of liquid gold the Niagara Region is famous for – wine! While most flock to Niagara-on-the-Lake, little do they know the amazing wine region they're passing right by. Luckily I've got all the details on these amazing Vineland wineries so you can not only enjoy some great vintages but fewer crowds! AND there's even a way to do it responsibly! That's a win-win in my books. Intrigued? Let's dive into this self-guided wine tour in Vineland!
Take a Tour of These Vineland Wineries
In Vineland, there are 8 wineries all within walking distance. There will be a few hills involved and some walking on the road so be careful and stay aware of the cars around you. Trust me though when I say it feels so great to enjoy a wine tour without having to worry about a designated driver!
While I visited all of these wineries in one day, you don't necessarily have to. This itinerary is meant to be a guideline so follow it as closely or loosely as you please! In all honesty, you might want to break it up over a weekend and do four one day and four the next so that you have plenty of time to enjoy each of these Vineland wineries. Also if you do the route in reverse, you'll have less uphill battles to contend with!
SOMETHING TO NOTE: With the state of things right now, doing a walking self-guided tour might be a little more difficult as some wineries require tastings to be booked in advance. It can definitely be done but it just might take a little extra planning!
Stoney Ridge Estate Winery
3201 King Street in Vineland [map]
Stoney Ridge Estate Winery opened in 1985 and is owned by sports broadcaster Bob McCown. You'll see a variety of premium VQA wines in their repertoire, although you'll probably recognize them most for their Tragically Hip wine. Stop in at their tasting room or enjoy a glass or two on their gorgeous outdoor patios as you're surrounded by magnificent gardens. If you're a cheese lover, you won't want to miss their Cheese Cellar boutique. They carry over 20 varieties of cheese from Canada and across the globe!
During my visit, I tried their 2013 Gewurtztraminer. This light white wine is not overly sweet and a great summer wine that's very refreshing. However, it's definitely versatile in that it pairs well with root vegetables which makes it great for fall meals.


Kacaba Vineyards
3550 King Street in Vineland [map]
A short 15 minute walk down King Street takes you to Kacaba Vineyards. They focus on small-batch wine to ensure their wines are the highest quality possible. Each of their wines has a rich aroma and you'll find their often deep in colour and have a velvety finish that's a treat to the tongue. With its first vintage in 1999, the winery has won a number of prestigious awards and with one taste, you'll quickly understand why!
Here I enjoyed their 2010 Reserve Syrah. Kacaba is one of the first wineries to grow the grapes specific for Syrah wines, and they are all about the quality! Usually, they have 8 tonnes of grapes. With this batch however, they only had 2 to ensure better quality – and it showed. It was one of the best reds I've enjoyed in a long time. The 2010 Reserve Syrah is full-bodied and full of flavour making it the perfect wine to snuggle up inside in the cooler months.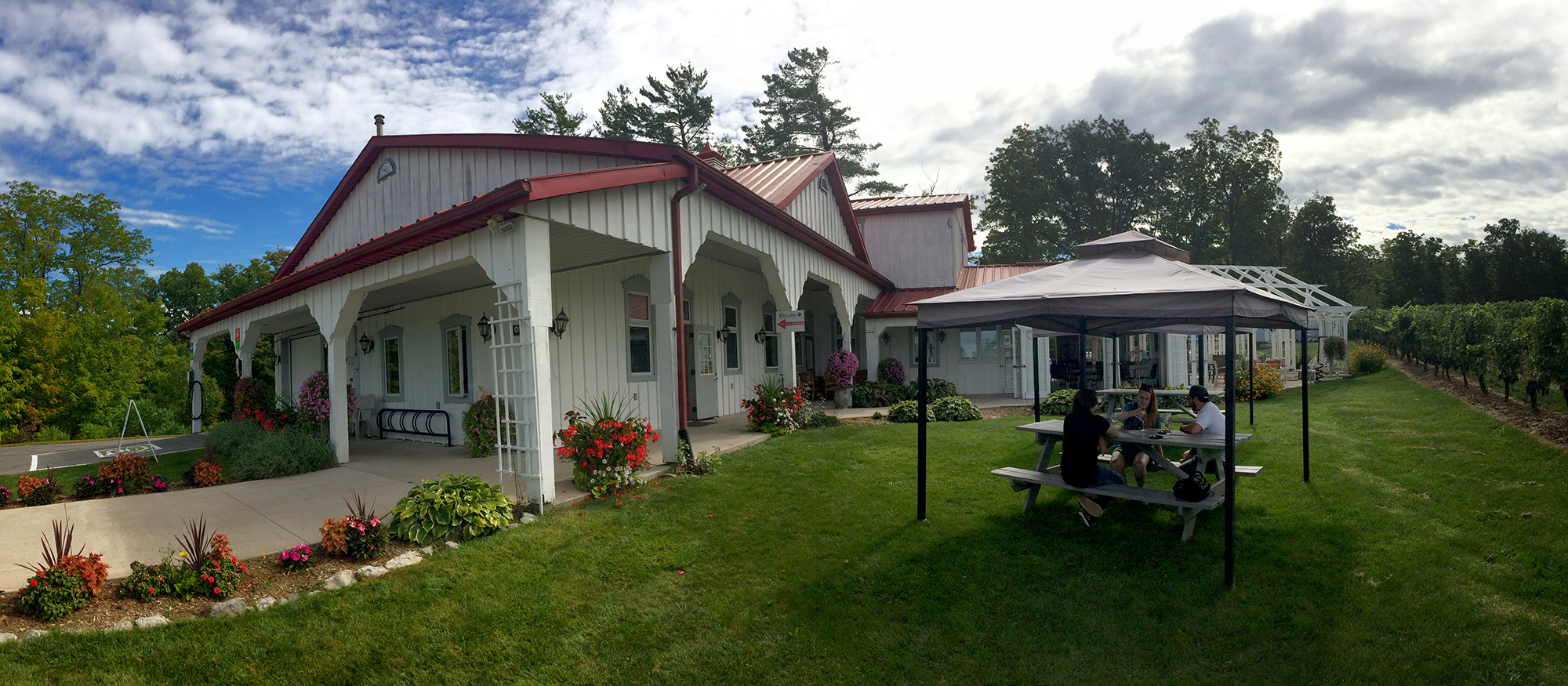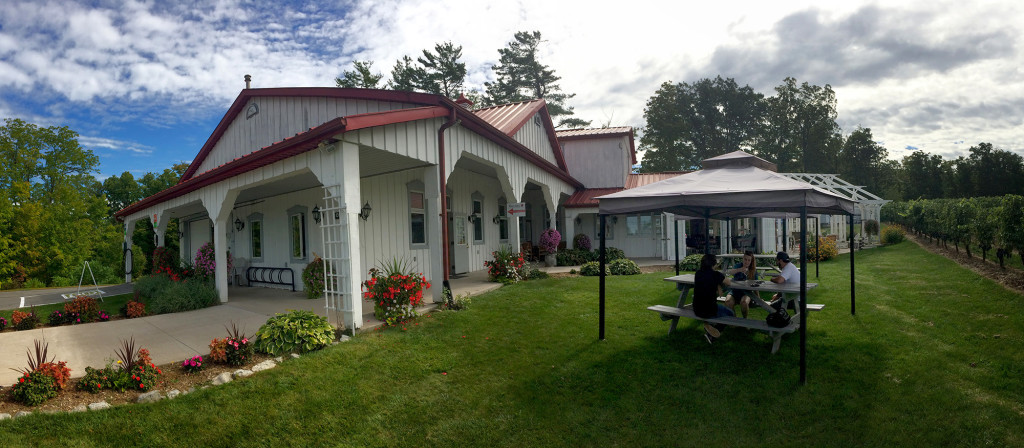 GreenLane Estate Winery
3751 King Street in Lincoln [map]
Your next stop will be the GreenLane Estate Winery. Their winery is gorgeous and boasts a large patio which makes it a great spot to spend some time on a sunny afternoon. GreenLane Estae Winery focuses on experience and that's what guides their winemaking practices. There is never a set formula meaning each of their vintages is unique. As such, sometimes these wines are a limited run meaning if you like it, buy it right then and there or it might be gone by your next visit! Oh and for the dog owners out there, you can bring your pooch along for your tasting.
I would be amiss not to mention how incredible the staff are at GreenLane. My visit was during the Niagara Wine Festival (more on that below) and as I waited for my food pairing to be prepared, they insisted I taste a few of their other wines. They didn't need to do this at all but it was such a pleasant surprise along with the fantastic conversation that paired with it!
GreenLane has a wide range of both whites and reds to choose from, although I have to say their Chardonnay is absolutely delightful. As I'm practically religious to Rieslings, I was definitely surprised when I enjoyed it more! Though I have to say their 2013 Rosé won me over and it reminded me how versatile rosé wine is. It pairs well with so many things!


Tawse Winery
3955 Cherry Avenue Vineland [map]
Tawse is a little off the beaten path but your jaw will drop as you make your way up the driveway. Take a moment to admire the beautifully manicured grounds before walking past gorgeous stonework and into their modern wine bar. This family-owned winery is meticulous and utilizes organic methods in every aspect of production. Even the building itself has a gravity-flow design, a geothermal system and even a wetland bio-filter to lessen their impact on the environment!
During my visit, I was taken through a set of glass doors and into the belly of the beast for a glimpse of their production facility. As I sipped on their 2012 Cabernet Merlot, I learned that Tawse is home to some of the oldest Riesling vines in Ontario! They also have four sister vineyards in the Niagara Region: their Quarry Road Vineyard, Hillside Vineyard, Tintern Vineyard, and Limestone Vineyard North. I'm not sure if each of these properties can be visited but if so, that sounds like a trip all on its own!


Megalomaniac Winery
3930 Cherry Avenue in Vineland [map]
What began as a retirement project by John Howard to raise funds for the Kids' Health Links Foundation has become one of the top wineries in Niagara. Why the name Megalomaniac? Well, originally John wanted to have the wine in his namesake but his friends accused him of being a f*cking megalomaniac and well, it stuck. Open since 2009, the winery exudes Canadiana with materials sourced from the Niagara Escarpment, cabinetry made entirely of Canadian wood and maple trees lining the property.
Take some time to explore their beautiful showroom as you sample a few of their wines, though I think you'll have trouble deciding which ones to try. With catchy names like Contrarian, Bravado and even sonofabitch, you'll want a taste of them all! I enjoyed their Groundbreaker, a Cabernet Sauvignon and Pinot Noir mix along with their Narcissist Riesling and Bubblehead Sparkling. The latter was definitely my favourite as I'm a sucker for a good bottle of bubbly. Whatever you choose, it'll taste extra lovely as you enjoy the incredible views from their patio!


Ridgepoint Wines
3900 Cherry Avenue in Vineland [map]
As you enjoy your wine at Megalomaniac, you might just spot a smaller building off in the distance. A short walk will cure your curiosity and bring you to your next stop! Ridgepoint Wines is family-run and has been producing their vintages for 25 years now. They believe the old adage "the best grapes are grown on hillsides", hence why they purchased this property in 1995.
Ridgepoint's focus is on red wines and owners Anna Gottardo and Mauro Scarsellone have sought to diversity Ontario's wine scene since day one. Through hard work and determination, they were the first to bring varieties like Nebbiolo and Corvina to the region!
They use Old World wine techniques like Appassimento where the grapes are dried before the winemaking begins. From what I've seen, it's quite uncommon here in Niagara! With over half their vineyard dedicated to three varieties of red wine grapes, you know they mean business. I enjoyed their 2010 Pinot Noir and 2010 Merlot Cabernet Aglianice during my visit.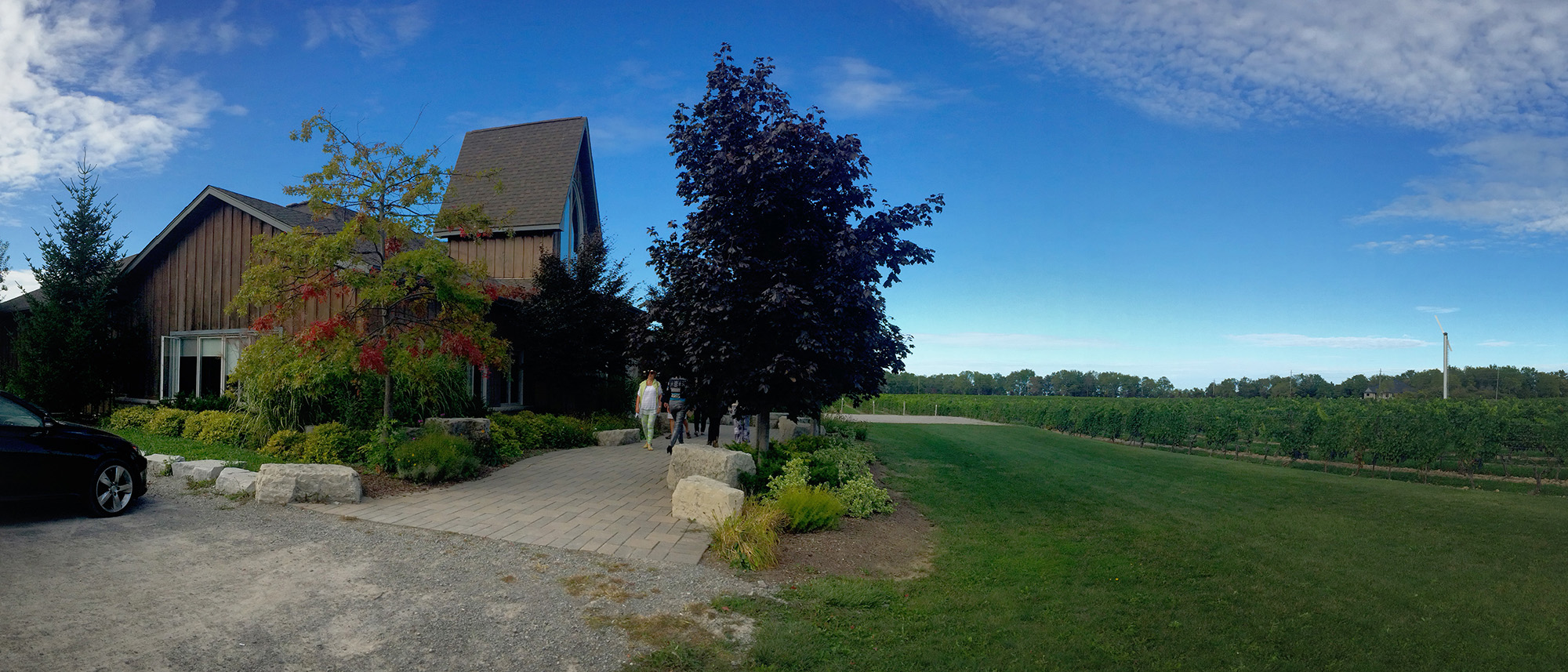 Vineland Estates Winery
3620 Moyer Road in Vineland [map]
If you're going to visit any of the wineries in Vineland, this has to be one of them. Vineland Estates Winery boasts a beautiful complex featuring buildings that are over a century old! Enjoy the breathtaking vistas as you explore the property at this award-winning winery.
During my visit, I was treated to some eats along with their 2014 Riesling and 2013 Cabernet Franc, which they've been recognized to be top producers of! Their Riesling is impeccable and the product of their oldest vines. Full of flavour, it is easily my favourite Riesling in all of Vineland! and is full of flavour – hands down my favourite Riesling of the day! This winery is also a popular spot for visitors to the region to enjoy a romantic dinner and after a small taste of the Vineland Estates menu, I quickly knew why!


Featherstone Winery
3678 Victoria Avenue in Vineland [map]
Lastly, Featherstone Estate Winery is a small family-operated winery along Victoria Avenue. They might be more quaint than most of their counterparts on this list, but great things come in small packages. Their winemaker and co-owner, David Johnson, was awarded Ontario Winemaker of the Year in 2019 so you know you're in for a real treat! I definitely enjoyed their 2012 Gemstone, a Baco Noir blend, during my visit.
Though I have to say what really sets Featherstone apart is its team. Have you ever heard of a winery 'employing' a flock of sheep? I know I haven't! Just one of Featherstone's eco-friendly practices, the sheep wander the vineyards to eat the leaves, ensuring the grapes get as much sunlight as they need. However with more exposure comes a greater chance of the grapes being eaten by birds like starlings. Never fear though, their 'Grape Guardian' Amadeus keeps the birds at bay! Who is Amadeus? Why it's their resident falcon! To round out their team, you'll have to say hello to Tucker the Grape Hound before you depart.


Tour with the Niagara Wine Festival
While this tour can really be done any time, you can have a little extra fun in September thanks to the Niagara Wine Festival. Previously known as the Grape and Wine Festival, festivities are spread out across the region to celebrate all things wine. Many flock to Montebello Park where a number of wineries have tents set up along with some local eateries. It's an easy way to sample many of the Niagara wineries since they're all in one place!
As you can imagine though, Montebello Park gets busy and I mean really busy. So busy that it really is too much of a hassle at times! In my honest opinion, I'd say skip the crowds and disorganization for a more true wine experience – by visiting the wineries themselves with a Discovery Pass.
Niagara Wine Fest Discovery Pass
For $45, you'll be given 8 passes to be used at the participating wineries. They're not just located in Niagara-on-the-Lake but rather scattered across the entire region! While you don't need the pass to indulge in these pairings, I'd suggest grabbing it as a food and wine pairing experience is $10 on its own, meaning you get it at almost half price! Also, be sure to come hungry as many of these portions are quite large. Between the wine and the food, you'll be full at the end of the day!
The passes can be used across the three weekends, however… why not do them all in one day? Go big or go home right? That's when this self-guided tour can really come in handy as typically all of the wineries listed participate! Sounds like a great way to spend a Saturday or Sunday in September if I do say so myself. Before you go though, make sure to check out the Niagara Wine Fest website to see if these wineries are indeed participating.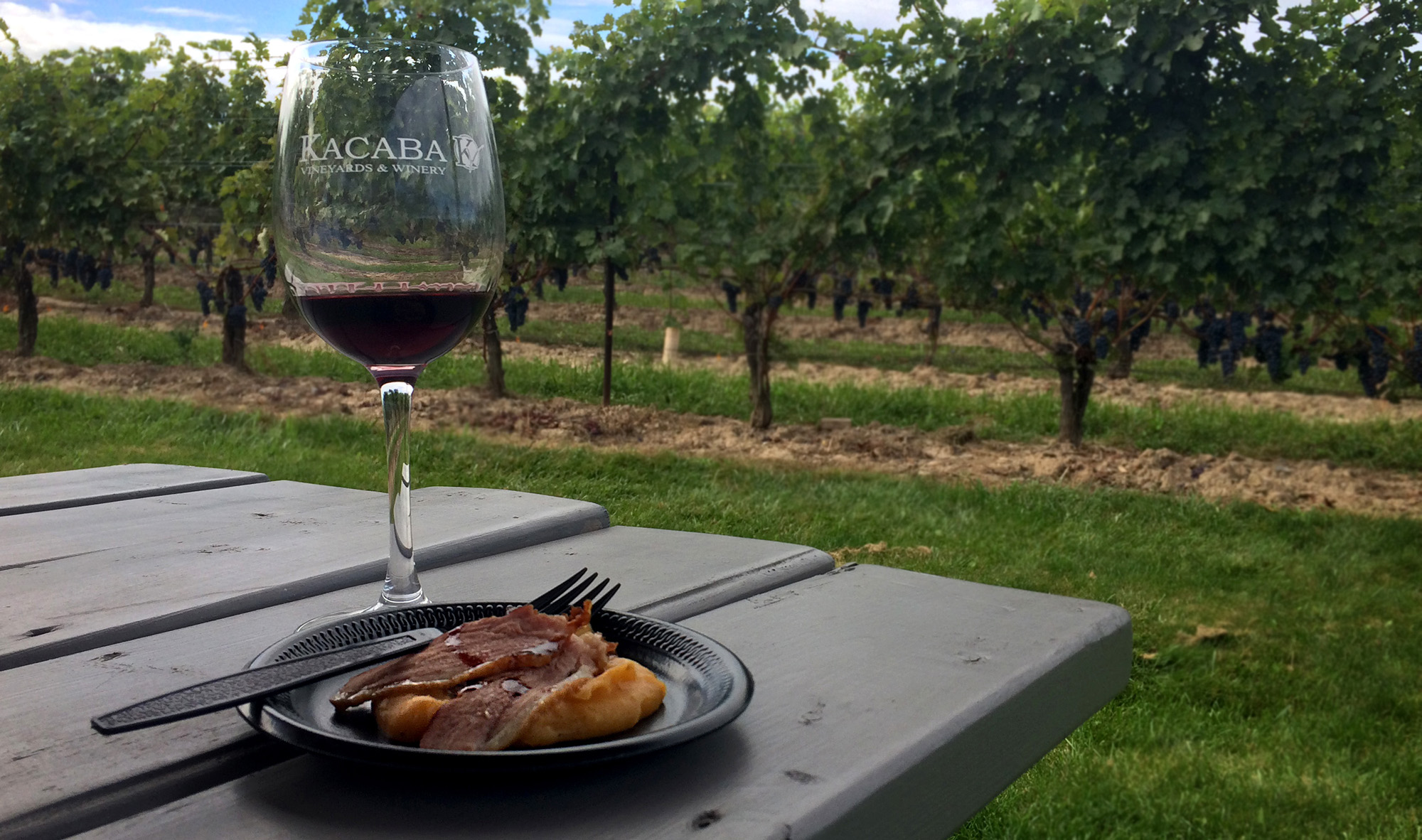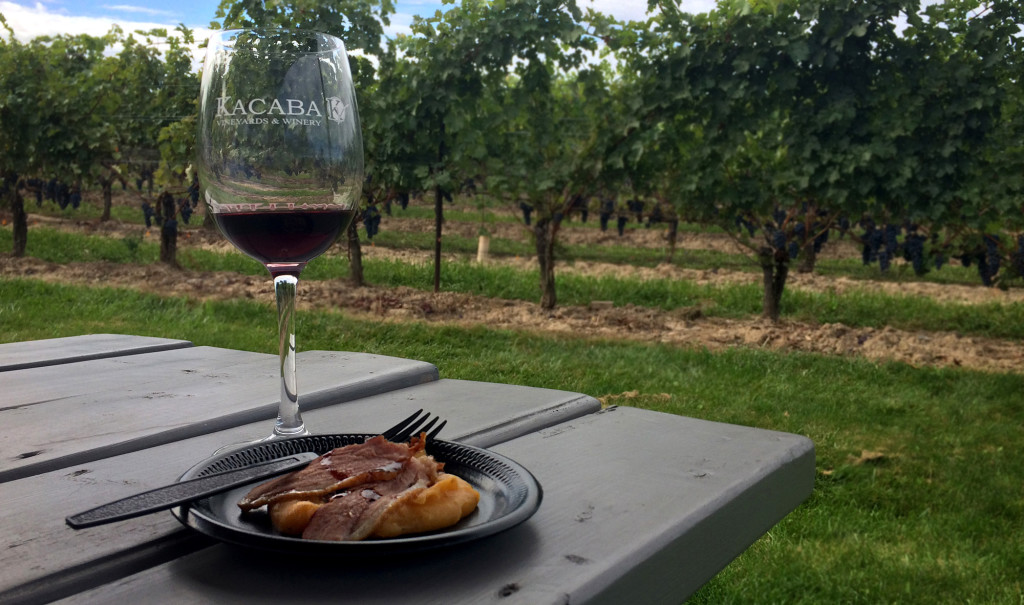 Where to Stay in Vineland
As this is meant to be a designated driver free excursion, you'll need some places to stay so you can indulge responsibly! If you're looking for hotels in Vineland, the closest are located in Jordan which is the next town over.
The first is the Jordan House Hotel which is best described as cozy cottage chic. This spot has plenty of history to tell though as a roadhouse has been on this site since 1844! Click here to book a night at the Jordan House Hotel for a rustic getaway in Niagara. Just down the road is your other hotel option, the Inn on the Twenty. You might be enticed to book here not just because their rooms are beautiful but there's a wine cellar right on the property! It's incredibly picturesque and with its location in the heart of Jordan, you'll like you've stepped inside a Hallmark movie. Click here to book your stay at the Inn on the Twenty!
If you'd rather have a place all to yourself – not to worry! There are a number of great Airbnbs and cottages in Vineland and the surrounding area. My top pick is hands down this adorable cozy home in the heart of wine country. Located in the heart of Beamsville, you're close to great restaurants and just minutes away from the great wineries on this list! It has four bedrooms, an incredible backyard with an outdoor seating area, wifi, Netflix and all the fixings you could ask for. Oh, and it's an absolute steal at just $130 a night!
Ever wanted to stay in a renovated barn? You will after seeing this gorgeous getaway! The Red Haven Hideaway is a new luxury accommodation in Niagara with hints of country charm. With a fully renovated, sleek interior design and a brilliant patio overlooking a working fruit orchard, it makes for a gorgeous escape in Niagara. While the Red Haven Hideaway is a little further away from these Vineland wineries but I think you'll agree it's worth the trek once you see these photos!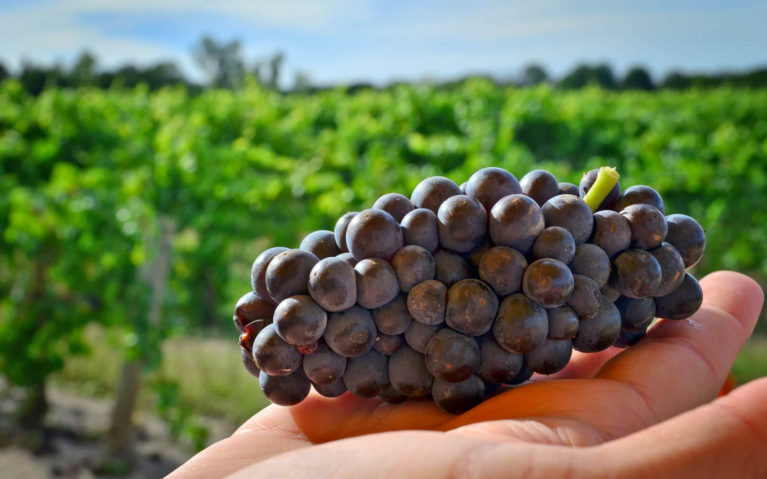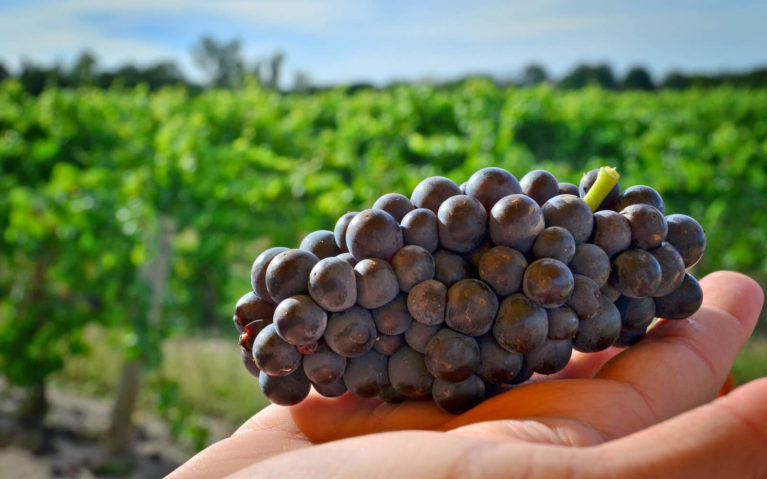 Ready to Explore the Wineries in Vineland?
This route is a great way to enjoy to grapes of Vineland without the worry of having a designated driver. While Niagara-on-the-Lake is the usual destination for wine experiences, I'd highly suggest these lesser-known stops. You'll still get the top-quality wine of the Niagara Region without the crowds!
Looking for More Things to Do in Niagara?
Add a Few More Niagara Wineries with my List of the Best in the Area
Plan a Return Visit & Check Out the Niagara Icewine Festival
Hike Off Some of that Wine By Visiting These Incredible Waterfalls in Niagara
Experience All the Charming Things to Do in Niagara-on-the-Lake
Be Sure to Check Out These Top Trails Across the Niagara Region
Explore a New Side of Niagara Falls With These Hikes in the City
Stretch Your Legs With These Top Hiking Trails in St Catharines
Hike Through Short Hills Provincial Park, Niagara's Largest Park
The Top Beamer Memorial Conservation Area Hiking Guide
Take a Hike at the Woodend Conservation Area
Explore the St Johns Conservation Area in Fonthill
Follow the Bruce to the Beautiful Rockway Falls in Lincoln
Things to Do in Port Colborne, Niagara's Ship Shape City
Plan a Spring Visit to See the Cherry Blossoms in Niagara
Top 5 Ways to Experience the Niagara Gorge
Indoor Things to Do in Niagara Falls on a Rainy Day
Don't Miss This Local's Tips for Visiting Niagara Falls
15+ Absolutely FREE Things to Do in Niagara Falls
Disclaimer
This post contains affiliate links where I may receive a kickback at no extra cost to you. It helps keep the site going so thank you! Read more in IBB's disclaimer and privacy policy.
Don't Forget these Fantastic Vineland Wineries & Pin It for Later!