10+ Gorgeous Waterfalls in Niagara & How to See Them in One Day

People travel from all over the world to see the majestic beauty of Niagara Falls. However, the majority of these visitors miss out on so many other waterfalls in Niagara Region. Luckily they're close enough together that you can easily see them all in one day. I promise it's not too good to be true! Take a look at how you can see all of these waterfalls in the Niagara Region in a single day.
Chasing Waterfalls in the Niagara Region
The best way to start this trip is by heading with the furthest west waterfall and head east. That way you end at the holy grail and what you're probably in the area to see – Niagara Falls. This is also the best route if you're heading to Niagara Falls from Toronto since you'll be going in the same direction along Lake Ontario. If you're coming from Niagara Falls USA, then this itinerary will have you starting with the furthest away waterfall. Now without further ado – let's chase some natural beauties!
Disclaimer: This post may contain affiliate links where I may receive a kickback at no extra cost to you. It helps keep IBB alive so thank you!
Beamer Falls in Grimsby
Our first stop on this waterfall road trip through Niagara is in Grimsby, Ontario. Just 10 minutes south of the Queen Elizabeth Way you'll find the Beamer Memorial Conservation Area. Ontario's famous Bruce Trail runs through here along with the side trail you're looking for. Follow the blue blazes for the Beamers Falls Side Trail and your pathway to the falls! It will take you right to Upper Beamer Falls by the Grimsby Scouts building. Admire Forty Mile Creek as she flows across this ramp waterfall's numerous layers.
Afterwards, follow the trail back towards the parking lot when you can see an access to Forty Mile Creek. While there's no official trail, follow the riverbed (ONLY if it's safe to do so) upstream and you'll find Lower Beamer Falls. Both are gorgeous and best visited after the spring thaw or heavy rain. Dry Ontario summers tend to kill the flow, especially for Upper Beamer Falls. If you didn't do so on your way to the falls, be sure to check out the Lookout Trail. You won't want to miss the fantastic views across Lake Ontario!
RELATED: For more details on this hike, check out my guide to Beamer Falls Conservation Area.
Ball's Falls in Jordan
From Beamers Falls, head eastward and you'll find your next destination in the Twenty Valley – Balls Falls Conservation Area. From the parking lot, you can either head south to Upper Ball's Falls or North to Lower Ball's Falls. The trails are flat gravel and easy for hikers of all ages. However, there is an incline on the way to Upper Ball's Falls so I say get the harder part done first.
Follow the river upstream and in less than a kilometre you'll find the lookout for Upper Ball's Falls. Watch the water flowing over the Niagara Escarpment from the crest of this plunge waterfall. If you'd prefer to get more up close and personal, it is possible to follow the river upstream to the base. Be sure to wear sturdy footwear if you plan to do this as the terrain is extremely uneven.
Once you're done admiring Upper Ball's Falls, retrace your steps towards the parking lot. You'll see a bridge which will take you towards the historical village. This 19th-century historical village has been restored to give you a glimpse at how the Ball family lived back in the day.
However, you're not here for a history lesson! Cut through the village to the river and you'll find the viewing platform for Lower Ball's Falls. She's just as magnificent as her upper counterpart so don't skip out on visiting! You can also take the Bruce Trail which runs along the western side of the river, but the cliffside is fenced in. While this is for your safety, it obstructs the views of Lower Ball's Falls.
RELATED: For more details about what the area has to offer, check out my full guide to the Balls Falls Conservation Area!
If you'd like to learn more about the area's history and the Niagara Escarpment, stop in at the Ball's Falls Centre for Conservation. This is also where you'll pay your entrance fee. If the centre is closed, there's a self-pay dropbox along the walkway from the parking lot.
Louth Falls in Lincoln
Louth Falls is one of those waterfalls that has a high chance of running dry in the summer months. If you're brave enough to go in the chilly temperatures, you'll be rewarded. You might also get lucky in the early spring after the thaw or after a few days of rain throughout the rest of the year.
There's a small parking lot off of Staff Avenue. This is where you'll find the Louth Side Trail, marked by blue blazes. Follow them to the right and you'll come upon a fork in the trail. While you'd think the waterfall would be along the side trail, you'll actually want to take the left trail and follow the main Bruce Trail. Follow the Bruce approximately 250 metres and you should see Louth Falls in all her beauty.
Rockway Falls in Lincoln
Stop number three on this waterfalls in Niagara Region road trip will be Rockway Falls. Pop the Rockway Community Centre into your Google Maps as you can park on the right side of their lot. Head towards the lake and you'll see the trailhead for the Rockway Falls Side Trail. While you think this would lead you right to the falls, you'd be wrong. Take this trail until it crosses the main Bruce Trail. Then, hang a left as you follow the trail towards Fifteen Mile Creek. The Bruce Trail will cross the river, however you'll want to continue straight for a little off-roading adventure.
There's no set path here so just follow the river as best as you can. The terrain is extremely erratic so be prepared to use all limbs to climb over rocks and boulders. Keep carefully climbing upwards and you'll come upon the majestic beauty of Rockway Falls. I love the layers of shale and dolomite beneath this 18-metre tall ramp waterfall. If the water levels are low, it'll allow you to further explore the numerous layers of rock that make up the Niagara Escarpment.
RELATED: For more details on this hike, be sure to check out my guide to Rockway Falls!
Swayze Falls in Pelham
To find our next waterfall, you'll be heading to Short Hills Provincial Park. Home to a number of trails, there are a few ways you can access Swayze Falls from within this Ontario provincial park. I'd say opt for the most direct route (more time = more waterfalls!) and park at Short Hills Parking Lot B.
From here, follow the red markers of the Palaeozoic Path to the viewing platform. The trail is very easy as this is the only paved path in the park, making it accessible for wheelchairs. At less than a kilometre in length, it won't take long for you to arrive at the viewing platform! Another gorgeous ramp waterfall, she's even more magnificent in the winter months. It's not uncommon to see her freeze over entirely!
While I haven't done this myself, there is a way to hike to the base of Swayze Falls. I believe there's access off of the Swayze Falls trail. This is the trail you'd take if you need to park at Short Hills Parking Lot A just off of Pelham Road. Follow the yellow markers and they'll lead you right to the same lookout platform, it'll just be a longer hike.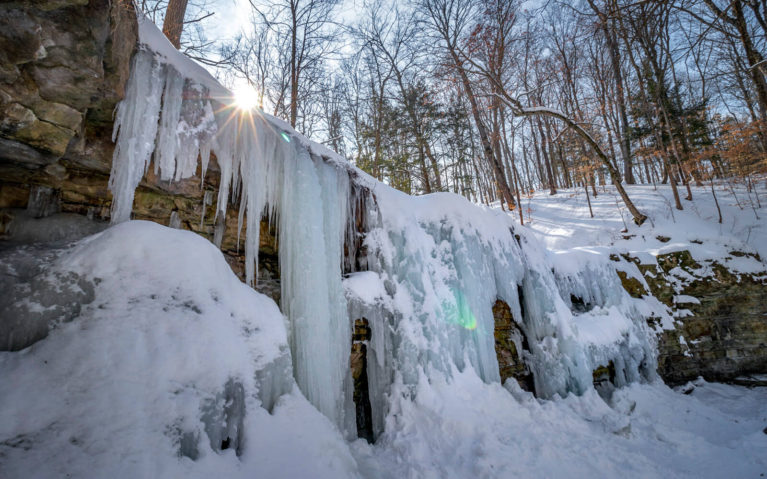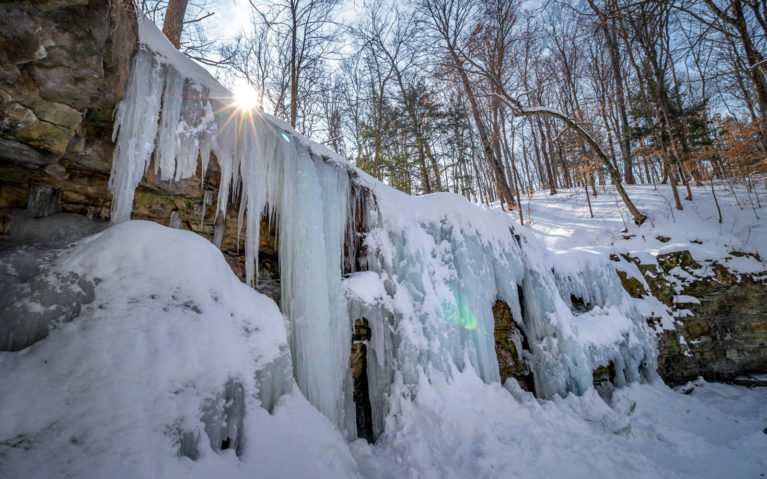 Terrace Creek Falls in Pelham
That's right, there are not one but TWO waterfalls in Short Hills Provincial Park! While most head to Short Hills Provincial Park for the aforementioned Swayze Falls, you can enjoy one more waterfall if you're up for the trek.
If you start your visit at Parking Lot B, head east from the lookout platform where you'll see both yellow markers and the Bruce Trail. Now, you are in Short Hills after all but you should know that not all the hills are short. The terrain definitely has some steep sections so you'll be in for a bit of a workout!
While you'll see signs for trails named after Terrace Creek Falls – don't be fooled like I was. There are actually two stretches of this trail which make a loop and if you take the northern part instead of the southern section, you won't see the falls at all! Luckily the Bruce Trail follows the southern section of the Terrace Creek Falls Trail so as long as you follow the white blazes, you should come right up to the falls.
During my hike, Terrace Creek Falls actually snuck up on me! I made my way along the Bruce Trail from Parking Lot C and as I was heading downhill, I didn't see the falls until I was practically on top of them. If you hike in the same way I did, the falls will be on your left side. Similar to Swayze Falls, winter or right around the spring thaw are definitely the best times to visit as these falls will also run dry in the summer months!
DeCew Falls in St Catharines
In Niagara, we like to have our waterfalls in pairs. This is the case yet again as you head to the Morningstar Mill and DeCew Falls. You'll hear the roar of Upper DeCew Falls from the parking lot as you walk towards what's left of this original saw mill site. This plunge-style waterfall sits 22 metres tall and is still capable of powering the mill to this day. Follow the pathway to the far end of this historic site where you'll find the Bruce Trail as well as the Laura Secord Trail. It'll lead you along the top of the Niagara Escarpment where you can catch a view of Upper DeCew Falls through the trees.
About 300 metres down the trail, you'll see Lower DeCew Falls and the other half of this pair. She might be smaller than her former counterpart but this 8-metre cascading waterfall is still a sight to see! While it is possible to make it to the base of both falls, you'll need to scale the cliffside in order to do so. It's not advised but do so at your own risk as the rocks are not overly stable.
RELATED: For more details about this trek, check out my guide to hiking around DeCew Falls.
The Finale: Niagara Falls
Last but not least, your final stop on this waterfall adventure will be at the mecca of Canada's waterfalls. There's a reason Niagara Falls is one of the most popular bucket list destinations in Canada. Though many refer to the waterfalls as 'Niagara Falls', this is technically the city… and there are actually two waterfalls. What else might you not know about Niagara Falls?
Some Fun Facts About Niagara Falls Canada

There are two waterfalls in 'Niagara Falls' – the Horseshoe Falls and Bridal Veil Falls
Horseshoe Falls spans both Canada and the USA as the Niagara River divides the two countries
Bridal Veil Falls is entirely in New York state and is often referred to as the American Falls
Contrary to popular belief, Niagara Falls is not the highest waterfall in Canada
Up to 2,832 tonnes of water per second is flowing over Niagara Falls at any given time
The crest of the Horseshoe Falls have moved back 11 km (~7 miles) from it's original position thousands of years ago
While the falls continue to erode, this rate has been reduced greatly because of diversion for hydro power generation and flow control efforts
While there is a Niagara Falls Ontario and a Niagara Falls New York, most visitors come to the Canadian side. I'd say it's because we're lucky to have the best vantage point to view the falls!
Unlike the waterfalls above, you can't really hike to the base of these waterfalls. You can get a little closer via Niagara Falls State Park on the American side, but most people opt for a Hornblower Cruise. Formerly known as Maid of the Mist, this half-hour tour will take you as close to the Horseshoe Falls as is safely possible.
Though I have to say my favourite way to see the falls is from the air! An epic helicopter tour over Niagara Falls is hands down a must-do at least once in your lifetime. Mind you now that The Tunnel is open from Niagara Parks, this is an affordable alternative that offers spectacular views of the Horseshoe Falls. You can read more about this epic experience in my indoor things to do in Niagara Falls article.
Planning a trip to Niagara Falls?
Don't miss these insider tips to make the most of your Niagara Falls visit!
Ready to See These Waterfalls in Niagara?
If you're an avid waterfall chaser like me then this post is music to your ears. Despite growing up in Niagara, I didn't take advantage of this route until just recently. I've visited every single one of these Niagara Escarpment waterfalls and this is one road trip you don't want to miss.
Now the big question – how long will this route take? Believe it or not, driving the route along these waterfalls (including Louth Falls) will take just over an hour. What's even better, a lot of these waterfalls are close to the parking lot or trailhead. Don't get me wrong, it'll be a full and busy day, but a very fulfilling one.
If you don't want to tackle this route all in one day, it can easily be broken up. This is especially true if you're coming from Toronto or somewhere else west of the Niagara Region. What better way to spend a weekend than to hit a few waterfalls on your way into Niagara Falls, enjoy a few of the finest wineries in the region, spend a night in a hotel overlooking the falls to then turn around the next day and chase more waterfalls. Plus there are plenty of amazing hiking trails in Niagara AND you can always hit the city of waterfalls if you still haven't had your fill.
Looking for a SUPER Cool Overnight Getaway?
Check Out This Treehouse in Niagara (& Others in Ontario!)
While these waterfalls are accessible all year round, the best time to visit is in spring. This is when the flow will be in full force so you can see these waterfalls in Niagara at their finest. Personally though, my favourite time to explore is in the winter. Not only are there fewer people but you'll get to see these beauties decorated with ice formations. It truly is breathtaking and I highly recommend braving the cold to admire them!
If you choose to explore these waterfalls in the winter months, be sure to come prepared. If you're new to winter hiking, check out my post full of tips and tricks. It'll help make sure you're prepared for your snowy adventure! Above all though, make sure you have the proper winter hiking gear so you stay warm and safe on the trails.
So, what are you waiting for? Ready for a waterfall-filled trip to Niagara Falls? Strap on those hiking boots, grab a travel buddy (or tackle it solo!) and go explore some waterfalls.
For Even More Fun in the Niagara Region…
This Local Spills the Beans on All the Amazing Things to Do in Niagara-on-the-Lake
Plan a Visit to Niagara's Ship Shape City, Port Colborne
Hit the Trails with These Top Hikes in St Catharines
Check Out the Top Wineries in Niagara – & Which Ones to Skip!
Top 5 Ways to Experience the Beauty of the Niagara Gorge
Rain in the Forecast? These are the Top Indoor Attractions in Niagara Falls
Check Out One (or More!) Of the Niagara Region's Best Hikes
Hike Through Short Hills Provincial Park, Niagara's Largest Park
Take a Hike at the Woodend Conservation Area
Explore the St Johns Conservation Area in Fonthill
Follow the Bruce to the Beautiful Rockway Falls in Lincoln
Don't Miss This Self-Guided Tour of Vineland's Wineries
The Top Beamer Memorial Conservation Area Hiking Guide
Plan a Visit to the Niagara Icewine Festival
Plan a Spring Visit To See the Cherry Blossoms in Niagara
Pin This for a Later Adventure of Chasing Falls in Niagara!