Woodend Conservation Area: A Great Natural Spot in Niagara

Anyone from the Niagara Region has probably heard of Woodend Conservation Area. My first visit to the area dates back to my elementary school days as it's a popular destination for school field trips. While I've changed a lot since those early formative years, I have to say that the Woodend Conservation Area still pretty much looks the same. If you're looking for a great natural spot to escape to, this Niagara-on-the-Lake conservation area is a great choice.
History of Woodend Conservation Area
The Woodend Conservation Area is approximately 40 acres in size and is a great place to get some fresh air all year round. As part of the UNESCO Niagara Escarpment Biosphere Reserve, you'll find a forest full of hardwood trees along with some Carolinian species like Black Cherry and Sugar Maple sprinkled throughout. Woodend's trails are thoroughly shaded, making it a great refuge on a hot summer day!
The land that we now call Canada originally belonged to the Indigenous Peoples of Turtle Island. There are still Indigenous People in the area to this day, however it's important to recognize that they lost most of their land due to colonization. Woodend Conservation Area is the land of the Anishinaabe, Attiwonderonk (Neutral), Haudenosaunee and Mississaugas of the Credit First Nation Peoples.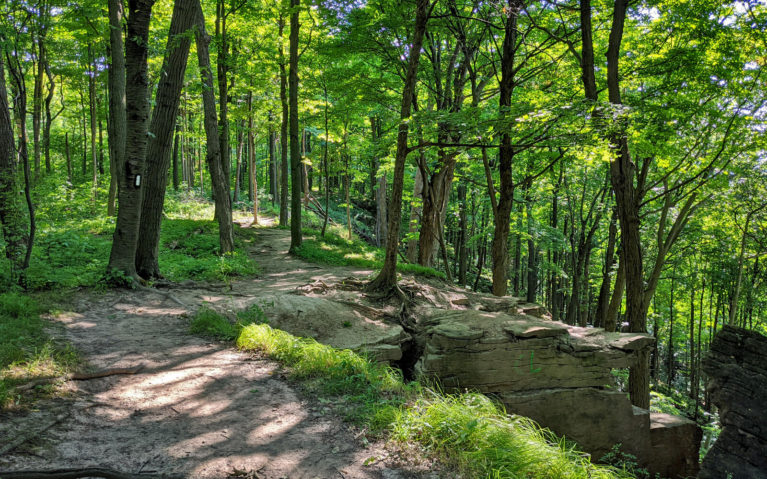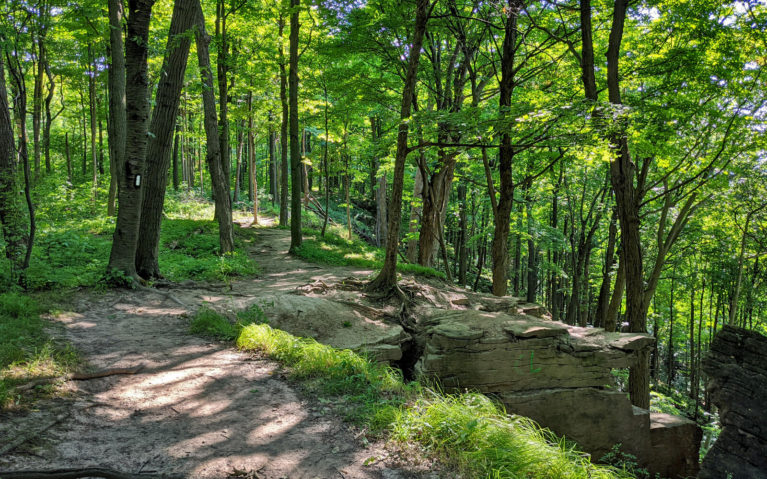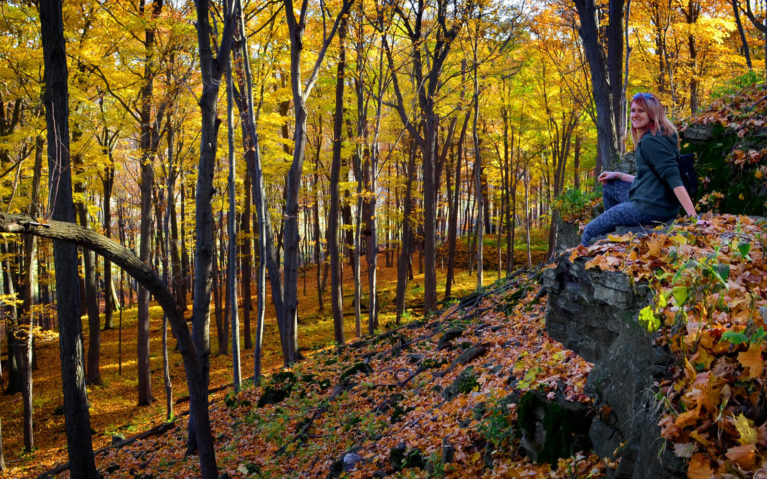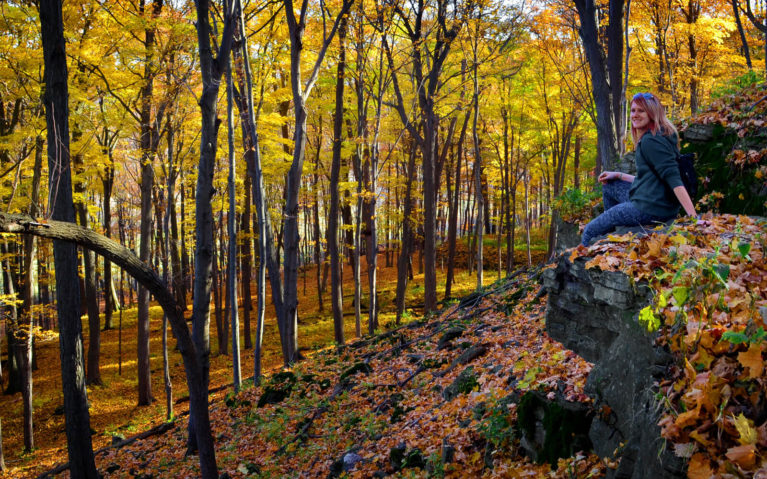 European colonization brought United Empire Loyalist families (those who followed the Royal Standard and settled in Canada during the American Revolution) towards the end of the 1700s. In 1796, the land belonged to the Van Every family who built the dwellings you still see today.
Fast forward to 1974 when the Niagara Peninsula Conservation Authority purchased the land. These buildings are now being used as an environmental education centre by the Lincoln County Board of Education. They have developed numerous programs aimed at conserving, developing, and managing the natural resources within the Niagara Peninsula.
The Niagara Peninsula Conservation Authority oversees 34 properties in the Niagara Region. If you're interested in visiting a few more Niagara conservation areas, I recommend the Beamer Memorial Conservation Area, Rockway Conservation Area and the St Johns Conservation Area.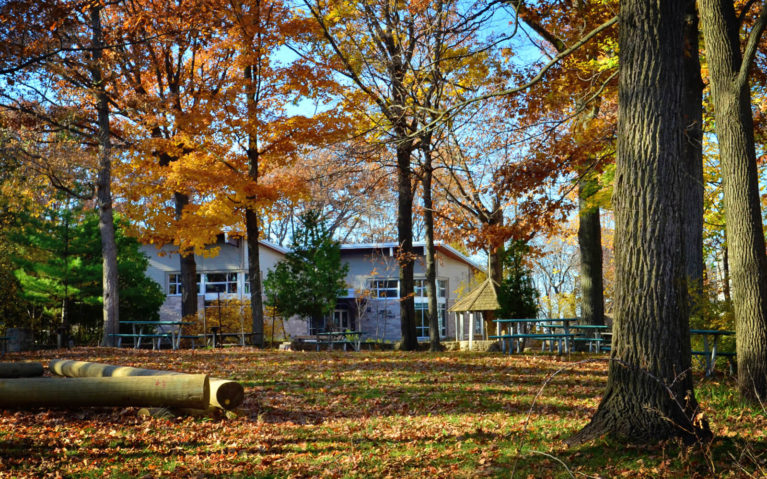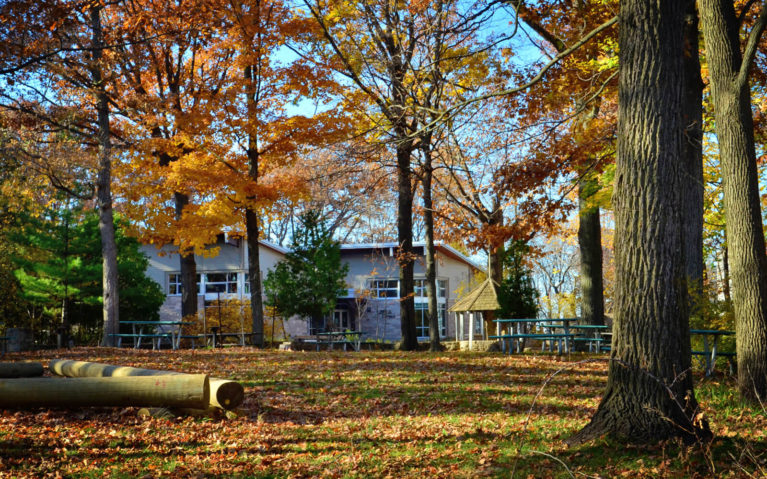 Hiking in Woodend Conservation Area
Chances are if you're visiting this conservation area in Niagara, you're here to hike the Bruce Trail. Ontario's famous trail creates a great loop that's just over 3km as it follows the edge of the Niagara Escarpment. With its close proximity to the highway, you may notice some road noise from time to time. It will fade into the background as you become engrossed in the natural beauty that surrounds you. Just be sure to keep an eye out for the white blazes as they aren't always on the trees!
SIDE NOTE: Online I've seen mentions of two other trails – the Hardwood Trail and the Silurian Trail – but in looking at maps, it looks like they're just alternate names for this particular section of the Bruce Trail. If I'm wrong or you have more information about this, please let me know and I'll be sure to update this post!
While the terrain is uneven, there isn't a large difference in elevation making it a great spot to get out with the family. If you have a child in a stroller however, I wouldn't recommend this area as it's definitely a hiking trail versus a walking trail.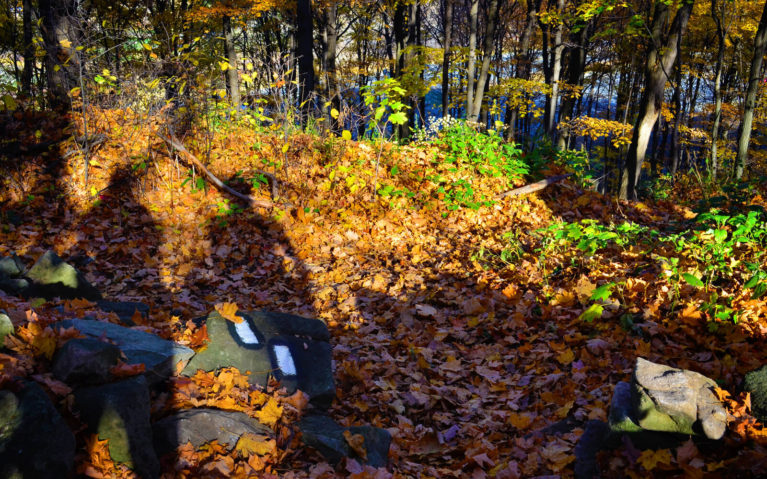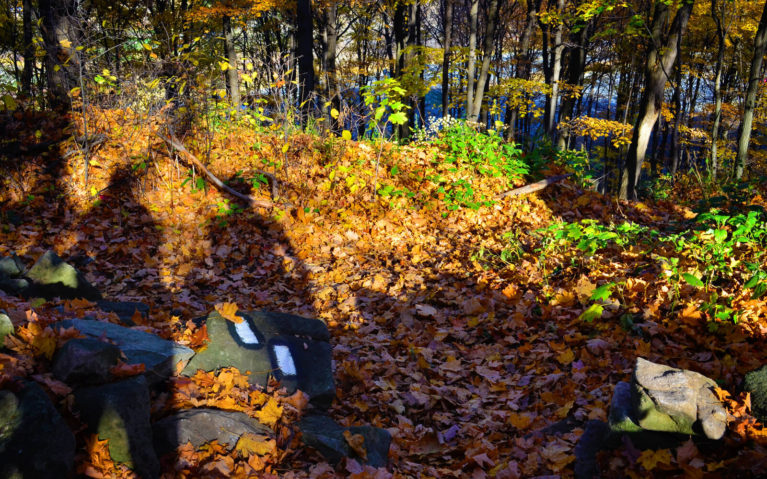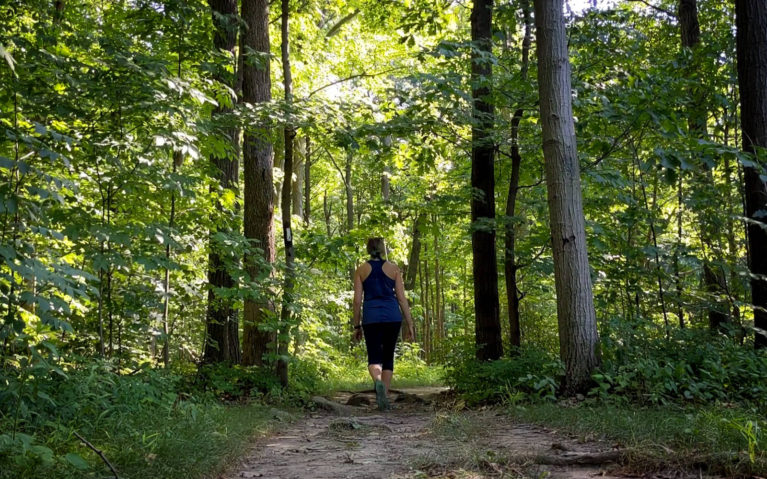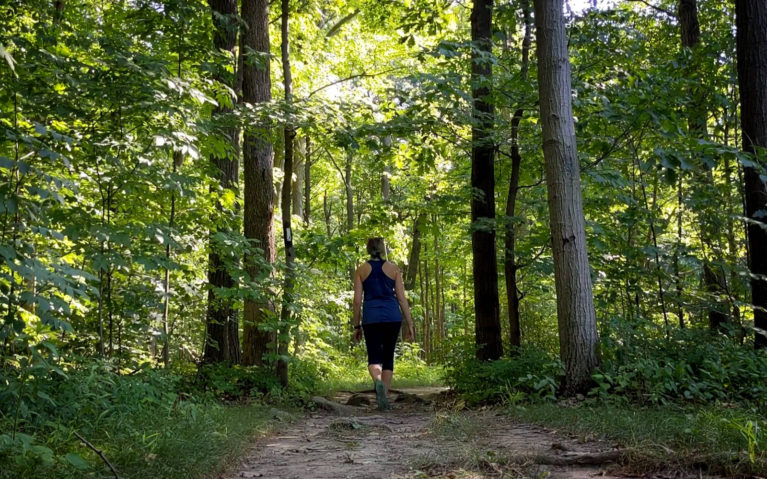 Depending on your walking pace, the main Bruce Trail loop should take you about an hour or so. If this isn't quite long enough for you, there's a way to add a few more kilometres to your trek!
As you're heading to or from the parking lot off of Taylor Road, you'll notice some blue blazes heading north. These mark the 1.1km long Wetland Ridge Side Trail. It will take you from the main Bruce Trail through a forested area to Niagara College's Teaching Winery. If you're looking to reward yourself with an adult beverage after your hike, take a peek inside one of the best wineries in Niagara!
You'll also see markers for the Laura Secord Legacy Trail, a 32km long trail dedicated to Laura Secord herself. This route traces her path as she delivered the life-saving message of the American attack to the British and Canadian forces during the war of 1812. This is also a part of The Great Trail which is more commonly referred to as the Trans Canada Trail.
As you can see, this area is absolutely gorgeous for an autumn adventure. No matter what time of the year you visit this Niagara park, always leave yourself with plenty of time to get back to your car. You don't want to be caught on the trails with no flashlight in the dark!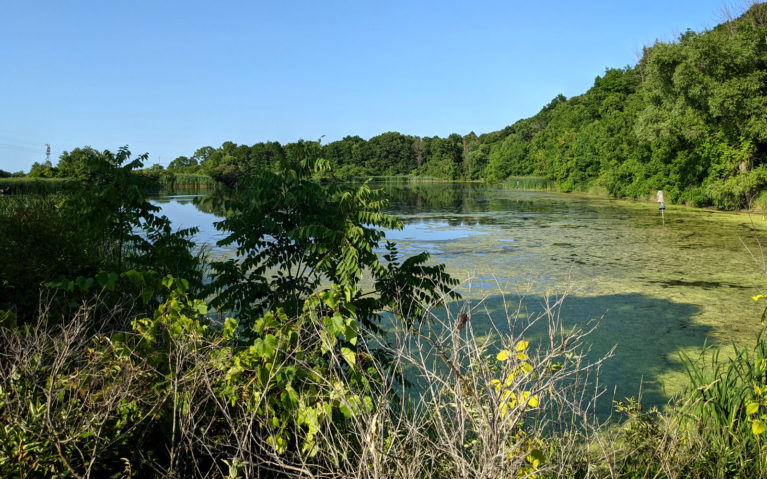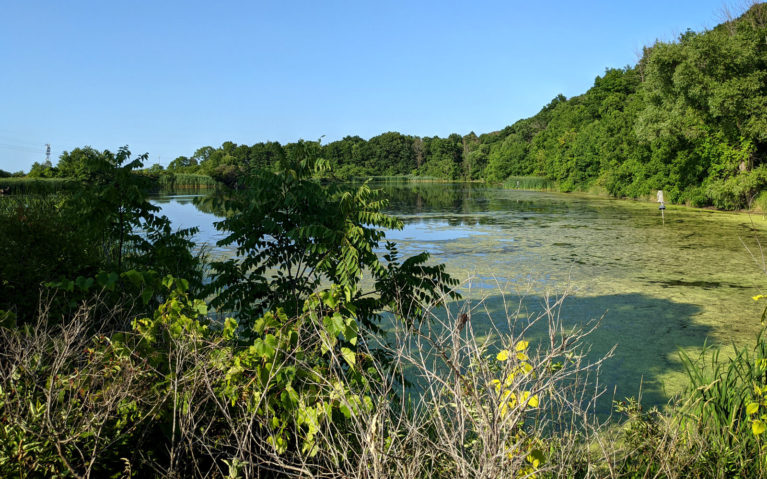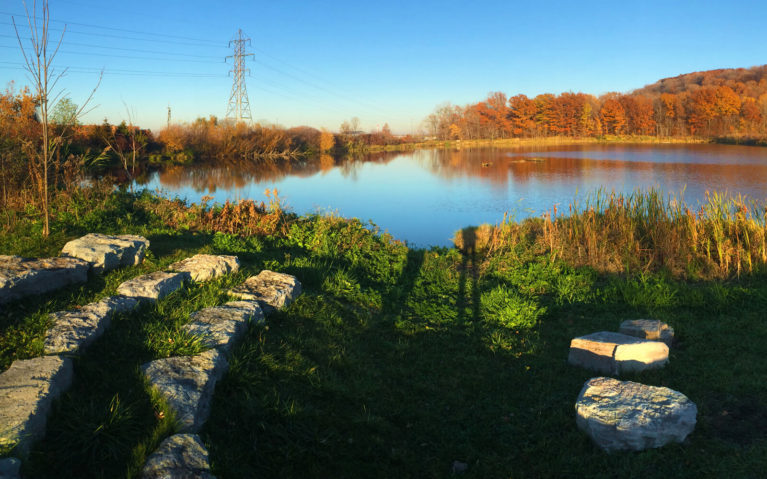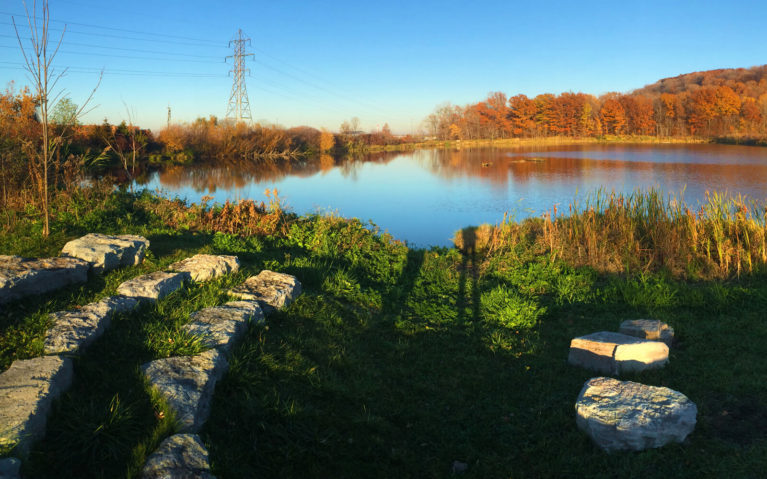 Ready to Visit Yourself?
Like many of the conservation areas in Niagara, Woodend is open all year round. This makes it a great spot for winter hiking and even some cross-country skiing! There are a few things you should know though before visiting:
No entrance fees and no parking fees meaning it's free to visit
The main parking lot is located off of Taylor Road [map]
There are no bathroom facilities at the Woodend Conservation Area so plan accordingly
Don't forget to bring plenty of water, especially on those hot summer days
It is fairly wooded so I'd recommend bringing bug spray
The terrain is uneven so I recommend a sturdy pair of shoes or hiking boots
Trails are quite shaded which is great in the summer but can be chilly in the fall so I recommend bringing a windbreaker for those cooler fall days
Parking is limited but this spot isn't popular so you shouldn't have trouble finding parking, though the earlier the better on weekends to ensure you can find a space
The Woodend Conservation Area is just one of the many great places to go in Ontario. I highly suggest checking it out when you have the chance!
Looking For More Great Spots Nearby?
Hike to This Secluded Waterfall in Niagara
Visit These 10+ Waterfalls Across the Niagara Region
Planning to Visit Niagara Falls? Don't Miss These Insider Tips!
Check Out the Epic Trails Along the Niagara River at the Niagara Glen

Disclaimer
This post contains affiliate links where I may receive a kickback at no extra cost to you. It's one small way to support IBB so thanks! Read more in IBB's disclaimer and privacy policy.
Don't Forget About This Conservation Area Near St Catharines & Pin It For Later!