Hamilton Hiking Trails: Your Guide to the Best Hikes in Hamilton

While I only recently moved to the Hamilton area, I'm no stranger to the city's trails. Many don't think of Hamilton as a city for those of us who love the outdoors but it has always been a fantastic destination for hiking. Adding to the fact that it's dubbed the waterfall capital of the world, its trails are not to be scoffed at. I've completed a number of hikes in Hamilton over the years and let me tell you, these Hamilton hiking trails are guaranteed to make for some fantastic outdoor adventures. Trust me on this – I've hiked every single one!
With the beauty of the Niagara Escarpment, the shores of Lake Ontario, and plenty of elevation in between, these hiking trails in Hamilton are full of natural beauty. You'll be treated to beautiful waterfalls and magnificent gorges as you wander through forests and make your way to brilliant lookouts. Let's dive into the best hikes in Hamilton!
Disclaimer: This post contains affiliate links where if you make a purchase, I may receive a kickback at no extra cost to you. It helps keep IBB alive so thank you!
Bruce Trail
Let's start with what is easily Ontario's most famous hike – the Bruce Trail. This trail is over 900km in length as it weaves its way from Queenston to Tobermory along the Niagara Escarpment. It's said to be one of the longest continuous footpaths in the country and is the oldest and longest in Ontario. I've had the pleasure of enjoying a number of Bruce Trail hikes and I've always had a great time exploring this epic trail!
While it's not confined only to Hamilton, a large part of the Iroquois section passes through the city. There are also a number of amazing Bruce Side Trails too, some of which will be mentioned further in this post. Let's just say that if you see white or blue blazes while Hiking in Hamilton, you're probably on the Bruce Trail!
One of my favourite spots along the Bruce Trail in Hamilton is not far from Scenic Drive. Follow the trail from the parking lot about 400 metres east and you'll find an amazing lookout that's truly a hidden gem. I don't know if it's the juxtaposition of nature versus industry but the view looking out across Highway 403 towards downtown Hamilton and Lake Ontario is just spectacular in my opinion!
Chedoke Radial Trail
The aforementioned scenic lookout makes the perfect segway into our next trail as the lookout is located about halfway along the Chedoke Radial Trail. Some guides may tell you it's 2.7 km in length but this refers to the more popular section. It's actually much longer as it connects downtown Hamilton to the heart of Ancaster!
Built on what was once the railroad tracks for the Brantford and Hamilton Electric Railway, it has since become a popular spot for hikers and cyclists in the city. If you're looking for some lesser-known waterfalls, this is one of the best places to hike in Hamilton for them as you'll pass by Princess Falls, Sanatorium Falls and Westcliffe Falls along the way. They might be smaller than some of their other waterfall counterparts in the city but they're still beautiful to see.
Dofasco 2000 Trail
You won't find any lookouts or waterfalls along this trail but the Dofasco 2000 Trail is an underrated gem in my opinion. This 11.5 km multi-use trail is located in Hamilton's East Mountain area. Situated between Ridge Road and Green Mountain Road, this predominantly gravel trail cuts through fields and brush. It sounds a little boring compared to the rest of the trails on this list, but I love how quiet it is. Plus it features some of the largest stretches of boardwalk I've seen in the Hamilton area which I absolutely love!
The Dofasco 2000 Trail predominantly flat in nature, making it great for anyone looking for a leisurely stroll that's still in a natural setting. It's also the perfect spot to give trail running a try as it can help you get used to the uneven terrain without any big changes in elevation. If you're a family with small children, especially those with outdoor strollers, I highly recommend this trail. As an added bonus, there are a number of places you can access it which include free parking and that's always a win in my books!
Dundas Valley Conservation Area
I'd say this is one of the most popular spots to go hiking in Hamilton and it's for good reason. Inside the Dundas Valley Conservation Area, you'll find 40 km of trails which will give you a taste of the 1200 hectares which span this geographical area. For perspective, the Dundas Valley is EIGHT times larger than Central Park in New York City! The Hamilton Conservation Authority protects 3000 acres of it, including the Spencer Gorge and the Escarpment spanning Ancaster, Dundas and Flamborough.
As you can imagine, there are numerous entry points to the Dundas Valley Conservation Area. The Main Loop Trail is probably the most popular as it takes you by the Hermitage Ruins (one of Hamilton's haunted places!) as well as the Dundas Valley Trail Centre which is a replica of a Victorian train station. Personally, I enjoy making a loop along the Heritage Trail as it connects with the Bruce Trail. This is also where you'll find Canterbury Falls which is not to be missed when exploring the Dundas Valley Conservation Area!
Dundas Peak
There's a reason the Dundas Peak is the most popular of all the Dundas hiking trails! Inside the Spencer Gorge Conservation Area, you'll find what's easily the most famous lookout in all of Hamilton. Follow the Tews Falls Side Trail along the top of the Niagara Escarpment and you'll come to a gorgeous vista overlooking the town of Dundas and the Dundas Valley.
No matter which way you come from, completing the Tews Falls Side Trail in full will bring you right by, well, Tews Falls! The East Spencer Creek (aka Logie's Creek) tumbles for 41 metres over the Niagara Escarpment to become the tallest waterfall in the city. Back in the day, I've heard her flow could match that of the great Horseshoe Falls in Niagara though that's definitely not the case today. This is one of those falls you definitely want to visit after a heavy rain, in the spring or in the winter to avoid disappointment.
While there used to be a trail to connect the two, there is another waterfall close to Dundas Peak and Tews Falls but it's no longer accessible in one hike. I'll dive into visiting Webster's Falls a little later in this post.
RELATED: For more details, be sure to check out my guide to Dundas Peak as it's full of tips and tricks for planning your adventure.
Eramosa Karst Conservation Area
You won't find any impeccable views or waterfalls here but Eramosa Karst is incredible for another reason – and it's right in the name. This conservation area features over 7 km of trails including boardwalks and bridges which take you through gorgeous forests, meadows and of course, its namesake unique geological formations, karsts. These crevices are created when soluble rock such as dolomite, gypsum and limestone dissolve, creating unique underground drainage systems which tend to include sinkholes and caves.
Eramosa Karst Conservation Area has 16 different karst features, earning it the designation of an Area of Natural and Scientific Interest in 2003 by the Ontario Ministry of Natural Resources. Word has it that Eramosa Karst has the largest number of unique karst features in any one area in the entire province! Some of them are even large enough for you to explore like the incredible shelf-like formations of Pottruff Cave or pop yourself into the crevices of the Nexus Cave Entrance.
RELATED: Don't miss my full Eramosa Karst Conservation Area guide to see everything this park has to offer!
Hamilton to Brantford Rail Trail
Beginning at Ewen Road, this trail spans 32 km to connect its namesake cities and is Canada's first fully developed, entirely off-road interurban trail. Following the abandoned rail lines of the Toronto, Hamilton & Buffalo Railway which ran along this route from 1892 to 1987, it's part of the larger Hamilton-Brantford-Cambridge Trails which spans 80 km. They're also a large piece of the Trans Canada Trail's section found in Southern Ontario!
The Hamilton to Brantford Rail Trail is the third portion of the trail and was completed in 1996. It meanders through the aforementioned Dundas Valley through gorgeous forests and a number of city parks. The trail is surfaced with stone dust and is suitable for bikes, walkers and equestrians. If you've seen any rail-themed signs like the one above, then you've been on the Hamilton to Brantford Rail Trail! A popular section is the Sulphur Line Rail Trail that's right by the Dundas Valley Conservation Area.
Curious About What's Along the Hamilton-Brantford-Cambridge Trails?
Don't Miss the Prettiest Town in Canada & Stop by Paris Ontario
See What Other Amazing Trails Await You in Cambridge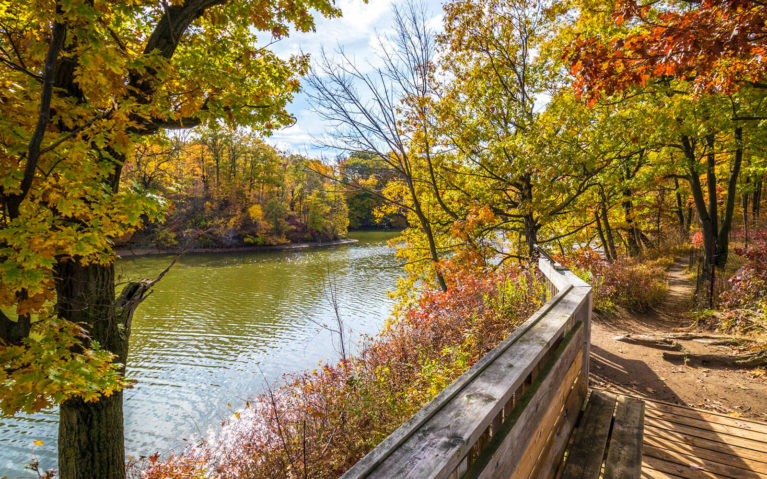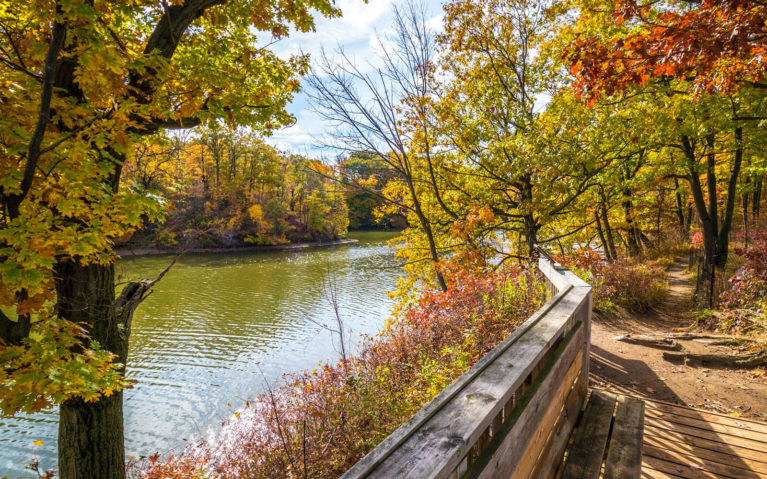 Sassafras Point Trail
If I had to pick any of the Hamilton trails on this list, it would have to be the Sassafras Trail. Located in the Royal Botanical Gardens' Cootes Paradise, this trail's beauty will blow you away! I recommend parking near Dromore Crescent (free street parking!) where you'll find the start of the Ravine Trail. This will take you through incredible tall trees that tower over you as you make your way to the Sassafras Point Trailhead.
This trail has some uneven ground and can be quite muddy so make sure you've got some solid footwear. It's worth every step and stumble though because the views from the Sassafras Lookout are absolutely incredible! Once you see the views overlooking Cootes Paradise from the viewing platform at the end of the trail, you'll realize why this is easily one of my top Hamilton hiking trails.
The Sassafras Point Trail itself is on the shorter side so if you'd like to extend your hike, continue along the Ginger Valley Trail to connect with the Princess Point Trail. This will make your hike over 5 km long and includes some inclines to get the blood flowing! Plus you'll be treated to another fabulous lookout at Princess Point.
Albion Falls
At the edge of the Hamilton Mountain area, you'll find one of the most popular waterfalls in the whole city. The Mountain Brow Side Trail runs along the edge of Mountain Brow Boulevard to take you to the top of this 19 metre tall cascade waterfall. Fed by the Red Hill Creek, she's a magnificent sight to see in any season. While some waterfalls in the area tend to dry up in the warmer months, Albion Falls is guaranteed to have some flow all year round!
While there are a few options for parking near Albion Falls, I recommend parking by Oak Knoll Park. From here, follow the Mountain Brow Side Trail and you'll pass Buttermilk Falls. Two waterfalls for the price of one? Count me in! This 23 metre tall plunge waterfall is a beauty, but she does tend to run dry in the summer. This hike can be done as a 4 km loop as the Mountain Brow Side Trail meets with the Red Hill Creek Side Trail to connect to the main Bruce Trail.
Borer's Falls
Another one of Hamilton's majestic waterfalls, Borer's Falls is a 15-metre tall ribbon-style waterfall. Located within the Rock Chapel Sanctuary (a part of the Royal Botanical Gardens), she's a smaller waterfall but just as beautiful as many of the others in Hamilton. Named after some of the first European settlers to the region, the Borer Family, they ran the Rock Chapel Village sawmill which Borer's Falls powered.
There are a few ways you can access Borer's Falls. The easiest is by parking at the paid lot right off of Rock Chapel Road and following the Bruce Trail which will take you right to the Borer's Falls lookout point. If you're looking for more of an adventure, park just off of York Road and follow the Ray Lowes Side Trail which connects to the main Bruce Trail to take you to Borer's Falls. If you choose the latter, you'll want to bring a sturdy pair of footwear as this trail climbs the Niagara Escarpment!
RELATED: For full details about planning a visit, be sure to check out my article about exploring Borer's Falls.
Devil's Punchbowl Conservation Area
Head to Stoney Creek where you'll find the Devil's Punchbowl Conservation Area just off of Ridge Road. Just a short walk to the edge of the Niagara Escarpment and you'll see brilliant views of Hamilton as well as the Upper Punchbowl Falls. This 33.8 metre ribbon waterfall is gorgeous as the water flows down into the gorge below. Take some time to admire the numerous layers of bedrock and limestone before heading down the Devil's Punch Bowl Side Trail to the Lower Falls.
While the Upper and Lower Punchbowl Falls are some of the best waterfalls in Hamilton, they are those waterfalls that can be very disappointing in the summer and fall. If you want to see them with some flow and not bone dry like the photo above, I recommend visiting in the spring or during the winter months.
Parking costs $5 at the lot, however it is possible to find free parking if you know where to look. I'm not going to give it away but let's just say if you do a little investigating, you'll realize it's closer than you think!
Tiffany Falls & Sherman Falls
From the small parking lot on Wilson Street in Ancaster, it's a short half a kilometre walk to the 22 metre high ribbon waterfall, Tiffany Falls. She can have low flow in the summer and fall, but she's absolutely stunning in the winter months. As you can see, the freezing temperatures create an incredible cascade that looks like something straight out of Frozen.
As you can imagine though, 500 metres isn't much of a hike. Luckily, the main Bruce Trail is just across the street from the trailhead so you can enjoy not one but two waterfalls on this lovely hike! Head west on the Bruce Trail for about 1.25 km and you'll come to Sherman Falls. Formed as the flow from Ancaster Creek spills over her 8 metre wide crest, this 17 metre tall terraced ribbon waterfall is a gorgeous sight year round.
If this still isn't a long enough hike for you, keep heading along the Bruce Trail into the heart of the Dundas Valley… and to a third waterfall, the aforementioned Canterbury Falls!
More Hamilton Hiking Trails to Explore
Have you tackled all of the above hikes already? You're a beast! If you're looking for more ideas on where to hike in Hamilton and the surrounding area, here are a few options.
Beamer Memorial Conservation Area – Okay so this is one of the hikes near Hamilton as it's right next door in Grimsby, but I had to include it on this list. You'll be treated to some great views overlooking Grimsby as well as Lake Ontario. There are even a few waterfalls too! Check out my full guide for more details.
Christie Lake Conservation Area – Another Hamilton Conservation Authority property, Christie Lake features 10 km of trails which will take you through beautiful forest and across meadows surrounding the area's namesake body of water. As with many HCA areas, there is an entrance fee.
Escarpment Rail Trail – Not to be confused with the Hamilton to Brantford Rail Trail, the Escarpment Rail Trail follows the abandoned CN Rail line from the escarpment near Albion Falls to downtown Hamilton. This also passes by the famous Kenilworth Stairs which many Hamiltonians use to get some exercise. If you're following this Hamilton Escarpment Trail though, you'll be treated to the great views of the city without having to climb the stairs!
Sam Lawrence Park Side Trail – This is definitely one of the more urban trails on this list as it takes you from The Bruce Trail towards Concession Street. However, it offers some of the best views of the city and is a fantastic spot to watch the sunrise over Hamilton. It's quite short at just 260 metres long but I recommend following Concession Street west to the other side of Sam Lawrence Park as well.
Spencer Adventure Trail – If you've checked out the Bruce Trail and the side trails in the Spencer Gorge Conservation Area, I recommend checking out the Spencer Adventure Trail if you haven't done so. It starts in the Christie Lake Conservation Area and heads through Crook's Hollow past the Greensville Optimists Park as it follows the Optimist Trail and ends at Dundas Peak. While it is still marked, the trail itself is said to currently be closed past Optimists Park.
Waterfront Trail – Okay so this is more of a Hamilton walking trail than it is a hike but the views from Bayfront Park are gorgeous. The flat paved asphalt makes the Waterfront Trail a very popular one with Hamilton folks, however it is quite wide to allow for plenty of room despite being busy!
Webster's Falls – Located in the Spencer Gorge area along with Tew's Falls and Dundas Peak, I'm hesitant to include Webster's Falls on this list. Why? Well, to be honest, there's not much of a trail anymore. While the three spots were linked by the Bruce Trail back in the day, this is no longer the case. As such, you have to visit them separately (especially in the fall when a reservation is required). You've probably read online that many hike to the base of the falls, however it's considered trespassing and you'll be subject to severe fines if caught.
Don't Miss These Top Hamilton Hikes!
Many write off Hamilton due to its industrial roots but as you can see, the city has plenty of amazing natural spots within it. You just might have to stay overnight in the city to see them all!
Hiking Hamilton's trails are just one of the fantastic free things to do in the city all year round, and there's certainly no shortage of them! Have you hiked any of these Hamilton trails? Which ones do you want to check out first? Take a look at this Hamilton hiking trails map and start planning your adventures!
Looking for More Things to Do Besides Hiking in Hamilton?
Here Are the Best Free Things to Do in The Hammer
Don't Miss These Top Hamilton Views for Sunrise, Sunset & More
Check Out These Amazing Hamilton Art Galleries
Stretch Your Legs With The Best Hiking Trails in Hamilton
Explore Some Crevices at the Eramosa Karst Conservation Area
See A Spooky Side of Hamilton with These Haunted Spots Across the City
Check Out These Top Indoor Attractions in Hamilton
Everything You Need to Know About the Best Hamilton Waterfalls
Plan a Visit to the Largest Botanical Gardens in Canada
Experience Dundas Peak: Hamilton's Epic Lookout

Disclaimer
This post contains affiliate links where I may receive a kickback at no extra cost to you. It helps keep the site going so thanks! Read more in IBB's disclaimer and privacy policy.
Don't Forget These Top Hamilton Hiking Trails & Pin It For Later!