Top 16 Things to Do in Paris Ontario + A Seriously Tasty Road Trip

While I've done a lot of travelling outside of Ontario, nothing warms my heart more than exploring more of my own backyard. There are so many amazing small towns to experience! I admit that I haven't explored nearly as much as I'd like but luckily I've been able to fix that with a few visits now to the town of Paris Ontario. This adorable spot in the County of Brant may look unsuspecting, but it makes for a fantastic Ontario road trip. Don't believe me? Keep reading and you'll see how amazing Paris, Ontario is… especially with a Tasty Road Trip!
Disclaimer: This post contains affiliate links where if you make a purchase, I may receive a kickback at no extra cost to you. It helps keep IBB alive so thank you!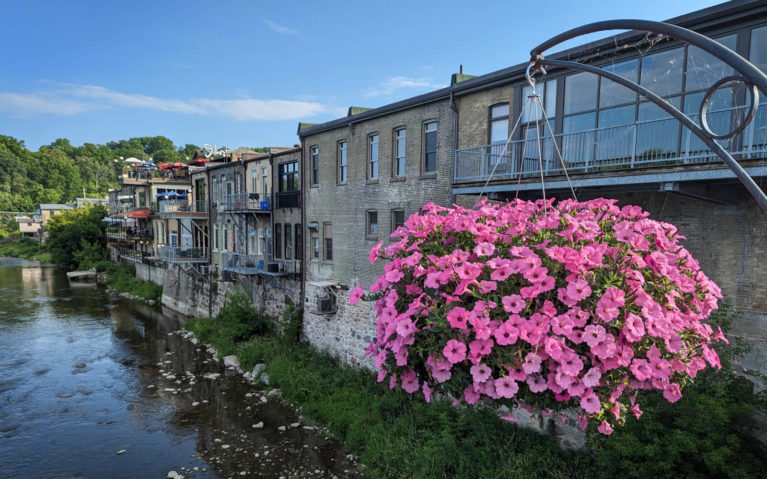 About Paris Ontario Canada
Originally, Paris, Ontario and the surrounding area was inhabited by the Anishinaabe, Attiwonderonk (Neutral) and Haudenosaunee Peoples. (I recommend visiting the Woodland Cultural Centre to learn more about this history). Paris, Ontario was first settled in the 1800s as it had gypsum deposits nearby that were used to create plaster of Paris. This small town quickly became a busy spot as the plaster was exported more and more. It was incorporated as the town of Paris in 1850. 24 years later, it made history as Paris is where the first ever telephone call was received as Alexander Graham Bell made the call from Brantford, Ontario.
It has since evolved into an adorable town with an unsuspecting foodie scene, a number of incredible businesses, and more. Voted "the prettiest little town in Canada", it's a no-brainer that there is lots of beauty to be discovered! Nestled where the Nith River meets the Grand River, it's a picturesque destination lush with beautiful Carolinian forest. It's also the "cobblestone capital of Canada" with a number of architectural gems. Wander its streets to find examples of Victoria, Edwardian, Gothic, and Post Modern architecture. Though I'm sure it's the cobblestone beauties that you'll enjoy the most!
How to Get to Paris Ontario
Paris is located within Brant County in Southern Ontario and the perfect getaway from a number of destinations! It's a short 15 minutes northwest of Brantford along Paris Road and Brant County Highway 2. If you're coming from Waterloo Region, the Trussler Road route from Kitchener is a beautiful drive or there's the Ontario 24 South to Regional Road 14 if you're coming via Cambridge. For my Toronto readers, I recommend Highway 403 to Brant County Highway 2 as its normally the quickest route. If you're ever in doubt, just ask Google!
Once you're in Paris, you'll find a number of parking lots in the heart of town. However, you should note that they are limited to 2-3 hours. If this isn't long enough for your stay, you can find some street parking just outside of this like along West River Street.
So, ready to leave the flurry of the big city behind? Hop in your car and enjoy a getaway in small-town Ontario!
Top Things to Do in Paris Ontario
Paris is the perfect day trip destination from a number of cities including Cambridge, Hamilton, Kitchener, Niagara, Simcoe, Waterloo, and more. Of course, a weekend adventure is never a bad idea as there is plenty of things to do in Paris, Ontario!
Stroll Around the Heart of Town
One of the charming things about Paris is that it's easily walkable. Spend some time meandering along the aptly named Grand River Street and check out some of the sights and sounds. There are plenty of shops and restaurants to pop into as well as plenty of beautiful architecture to admire!
Explore The Wincey Mills
In its early days, this 125-year-old building distributed wool wares from Victoria to Halifax. Throughout the World Wars and the Great Depression, The Wincey Mills was flourishing as demand for their items grew and grew. By the late 1950s however, their orders had dwindled with rumours of it shutting down. This was when Listowel Industrialist & Associates stepped in and continued to use the mills for producing yarn for Spinrite which still exists to this day.
The Wincey Mills looks a lot different now however as it has transformed into a year-round market. You'll find local vendors offering a number of incredible eats, treats and goodies. It's where locals and visitors alike come together to shop, learn, work and share what the community has to offer!
The Wincey Mills, it's open Thursday through Saturday from 9:00 am until 5:00 pm and Sundays from 10:00 am until 4:00 pm.
Grab a Snack at Original Kettlecorn & Gourmet Popcorn
No trip to The Wincey Mills is complete without a sweet treat from Original Kettlecorn & Gourmet Popcorn. Whether you're looking for sweet or savoury, they've got you covered. You can be guilt-free too as their popcorn is all-natural, whole grain, cholesterol-free, trans-fat free, peanut-free, gluten-free AND MSG-free! They also have a number of vegan options so everyone can enjoy their delicious popcorn. Sourced locally from Norfolk County, the hardest part will be choosing which of their 40 flavours to enjoy!
While they have the regular flavours like kettlecorn, butter, etc, I highly recommend you try some of their special flavours. You HAVE to sample their cinnamon toast crunch popcorn and don't be surprised when you buy a bag to take home! This stuff is addictive! Their maple popcorn is also a delicious treat and makes the perfect gift for any occasion and even a random act of kindness – as well as a gift for you! Gotta treat yo'self, right?
Hunt for Cobblestone on a Self-Guided Tour
As I mentioned earlier, Paris is the cobblestone capital meaning there are plenty of cobblestone buildings to check out and admire! One that Jan will point out is The Charles Mitchell House, located at 16 Broadway Street West right next to the Cedar House. Constructed by Levi Boughton, and is a beautiful example of Greek Revival-style architecture. For more historical points of interest in Paris, Ontario, take a look at this self-guided tour and stop by the Penman Textile Mill, a National Historic Site of Canada at 140 West River Street.
See Where the Grand and Nith Rivers Converge
It's not too often that you can see two mighty rivers meet, yet you can see this perfectly in Paris! There are two great places to take in these views – the first being from the bridge along Grand River Street South and the other being at the Cobblestone Common. However, I prefer the latter as it offers beautiful views of not just the two rivers but of Penman's Dam as well.
Visit the Penman's Dam
A popular spot for a picnic, it's a favourite spot for many Paris locals. If you're lucky, you'll catch a train as it crosses the bridge above. It's not uncommon to spot someone fishing here, too!
Re-Balance Yourself with Wabi Sabi Crystals
I have to admit, I know nothing about crystals. If you're like me and are completely uninformed but willing to learn, pop by and say hello to Nathalie. She walked us through the top five most popular crystals and wow, was it enlightening! Everything gives off energy and each crystal has its own characteristics. The world of crystals is incredibly fascinating and she is well-versed to educate you!
If you're feeling unbalanced or like something's missing, stop by Wabi Sabi Crystals. Even if you're not looking to purchase, you'll feel a wave of calm and comfort just by walking through her doors.
Hit the Trails
Whether you're an avid hiker or cyclist, there are plenty of trails to do both in Paris Ontario! There are plenty of rail trails in the area, including the Cambridge-to-Paris Rail Trail, TH&B Trail or the LE&N Trail. Many of these follow old rail car routes that are now best discovered via foot or bike. If you're really looking for a multi-day challenge, tackle the 275km Grand Valley Trail that runs from Port Maitland on the coast of Lake Erie to the town of Alton. Or if you'd rather, just take a stroll around Barker's Bush via Lion's Park and enjoy the lush Carolinian Forest.
RELATED: For more ideas of where to go for a hike in Paris, I recommend checking out these amazing Grand River Trails!
Explore the Nith River Sensory Trail
I know I just mentioned exploring the trails but this unique trail in Paris deserves its own section! Along the Nith River, you will find a fully accessible trail that helps make the outdoors more inclusive. Special indicators help those who are blind to enjoy the trail safely AND there are a number of interactive stations along it! Unleash your inner kid as you play the xylophone, make some music with drum-like pillars and more.
Get Outside with Grand River Rafting
If you're looking for some outdoor adventures, Grand River Rafting has you covered. Hop on a guided adventure for an afternoon to remember! They offer a variety of other courses including learning about edible plants, Indigenous history, and even a forest cook-off. They have some of the most unique experiences you can have in Brant County!


Learn How to Live Off the Land with GROWE
Head to the Five Oakes Centre and reconnect with our planet via an interactive-style nature walk with the Grand River Outdoor Wilderness Education program. You'll learn bird, plant and tree identification as you experience the beautiful Carolinian Forest surrounding the Grand River. Choose from a number of tours including a wild medicinal tea party, wild edible and medicinal hike, winter survival camp and so much more!
Go For a Paddle
The Grand River, which runs right through Paris Ontario, is the perfect body of water for some paddling adventures in Southern Ontario. Bring your own canoe or kayak and depart from Paris to Glen Morris or Cambridge. If you don't have the equipment, both Grand River Rafting and Grand Experiences have you covered. Grand Experiences also offers guided tours if you'd rather not go at it alone.
Treat Yourself at the Paris Bakery
Dating back to 1927, any trip into Paris needs to include a visit to the Paris Bakery. Chances are you'll smell their delicious goodies before you even get there as it wafts into the heart of the city! Working with local suppliers, their goal is to source the freshest, most-authentic ingredients they can find. Paris Bakery prides themselves on using old-fashioned techniques that are tried, tested and true to deliver the highest quality they can!
If you're craving something specific, it's best to arrive early so you can enjoy the largest selection of their goodies possible. Or to avoid disappointment, you can place a custom order. While they're best known for their tasty assortment of donuts (how does a Twix Cheesecake donut sound?), you can find puff pastries, breads, buns, quiches, cakes, cupcakes and so much more! I enjoyed their chocolate-dipped scone which melted in your mouth. I'm still impatiently waiting to try their broccoli cheddar bread. With so many choices, you'll have to visit over and over again!
Fuel Your Adventures with Juniper Dining Co
If you're looking for somewhere to round out your day, head to the Juniper Dining Co where fine dining meets comfortable casual. Chef Andrea Legacey along with her husband Brandon are looking to bring Lyonnaise Bouchon cuisine to Ontario. Whether you're looking to get all dressed up for a night out or to enjoy a few appetizers after a day of exploring, you'll be welcomed into this adorable French bistro.
Every bite from their menu you sink your teeth into is made with quality local and seasonal ingredients. Even their crostinis are made in-house! With an incredible wine list, inventive cocktails and a number of local beers, they aim to create memorable experiences that you'll enjoy time and time again. Don't miss their half-price oysters and $5 house wines from 5:00 pm-7:00 pm every weekday!
RELATED: Looking for more amazing eats? Check out the guide to restaurants in Paris on Eat Local Ontario!
Get Your Art On at the Paris Bohemian Gallery
Experience a number of local artists as their imagination, spirit and visions are projected throughout the gallery space. From paintings to sculptures and everything in between, it's a wonderful spot to take in (and possibly take home!) a piece of Paris. It truly is a one-of-a-kind gallery space that you'll adore the moment you step inside!
As a gal with a fine arts background, this space created by local artist Katherine Pickering is truly refreshing in the art realm. To quote her, "Sometimes launching into galleries you surrender to being juried and commissioned so steeply, it can be overwhelming and depleting. As a fellow artist, I strive to put soul back into the gallery experience. Instead, I want to create a space that makes it an empowering opportunity for the artists I promote and a stimulating and enjoyable journey for every patron who visits."
Snag a Sweet Souvenir from Chocolate Sensations
Everyone needs chocolate in their lives, so be sure to visit Chocolate Sensations to satisfy your sweet tooth. What started as a home-based business is now a staple on Grand River Street. With plenty of handmade quality treats to choose from, you're guaranteed to walk out with something.
Their top sellers are their peanut butter cups, tortoises, chocolate sponge toffee and their Mayan chocolates. I can see why they sell so well! These tasty little pyramids are must for any chocolate lover. I'd recommend getting a variety of treats are there are just so many to choose from – why limit yourself? Also if maple fudge rolled in milk chocolate that's dusted with maple sugar sounds right up your alley… add a few of those to your repertoire as well! Be sure to check out their Facebook page to see what unique treats they're featuring!
The Best Way to Experience Paris Ontario
What better way to explore the city than with a guided tour? I won't divulge all the details but if you're looking to truly explore Paris then you NEED to join in on some Tasty Road Trips. I had the pleasure of being invited by the lady behind Tasty Road Trips – Spicy Jan. When I first heard her referred to as Spicy Jan, I was a little curious as to the nickname. Though after meeting her, you'll realize that it all makes sense with her sass and spunk. Obviously, we got along famously and there's no guide better than her!
What's Tasty Road Trips all about? Bringing people together over food. Jan has been on food tours all over the world and thought I love local and I love food. Let's bring a food tour to Paris! What started as an Airbnb experience has flourished into a full-blown tour operation. She has a number of amazing tours so take a look at her website for everything you can see and do in town as well as the surrounding area!
I'm going to start by saying that while it may be called A Taste of Paris, you're going to experience more than just restaurants in Paris Ontario on this tour. Jan's energy is infectious and you'll see the passion of the local owners at every destination you visit. One thing to note is that the stops may vary depending on availability. However, Jan will certainly give you the insider details so you can return and not miss out on any of the great stops Paris has to offer!
Where to Stay in Paris Ontario
As you can see, there are so many things to do in Paris Ontario that you might want to extend your stay! While I've only ever done day trips to Paris, I would love to have a little staycation in the future. When that time comes, these will be my top picks for accommodation.
Arlington Hotel – Friends of mine have stayed at the Arlington Hotel and raved about it! Located right in the heart of downtown Paris, this historic hotel would be my top hotel pick. Each of their 23 rooms is uniquely decorated and inspired by iconic artists like Leonard Cohen, literary giants like Ernest Hemingway, and more. You're guaranteed to have a memorable stay with every visit! Book your room now or see what other guests think about the Arlington Hotel.
The Carriage House Flat – If you're a fan of apartment-style accommodation, the Carriage House Flat is a beautiful option. Housed in a manor dating back to 1851, it's said to be the only Greek Revival Plantation home in Canada. Owners Judy and Rick have been restoring it, ensuring they get every detail right, for over a decade. If you're a history buff, you'll want to stay here. Book your stay now.
The Hummingbird Coach House – There is honestly no better place to stay in Paris than the Hummingbird Coach House! This stunning one bedroom accommodation features a gorgeous outdoor space complete with hot tub and pool. It's the perfect getaway no matter what season. Take a peek online and you'll see what I mean!
If neither of these accommodation options work for you, Brantford is just a 15 minute drive away and has more hotel options if you're in need of somewhere to stay. Click here to take a look at hotel options in Brantford.
Ready to Explore Paris Ontario?
I can't stress enough how this tour is the perfect introduction to Paris, Ontario. With a great mix of good eats, local gems and lots of laughter, it is truly a tour to remember! You'll absolutely fall in love with the vibrant community here in small-town Ontario.
Who's ready for a Tasty Road Trip adventure? I know I'm ready to experience another one! Be sure to take a look at Jan's website to see what tours are available and what dates they're offered.
Looking for More Things to Do Near Brant County?
See Why Visiting Brantford Will Get You Talking
Don't Miss the Best Waterfalls in Hamilton
Rainy Day Got You Down? Hamilton's Indoor Attractions Will Brighten Your Day
Disclaimer
This post contains affiliate links where you'll be supporting IBB as I will receive a kickback at no extra charge to you. Read more in IBB's disclaimer and privacy policy.
Ready to explore Paris Ontario Canada? Pin it for later!