Hiking Hamilton: Sulphur Line Rail Trail

While there are a number of fantastic hiking trails in Hamilton, the city's rail trails are often overlooked. If you've ever visited the Dundas Valley Conservation Area, you may have even hiked one and not realized it! Let's dive into the city's Sulphur Line Rail Trail and what you can expect when on the trail.
What is a Rail Trail?
You might be wondering what exactly a rail trail is. I know I was when I first heard the term! Rail trails are created when an abandoned or decommissioned railway track is converted into a multi-use path. Since they were original train tracks, they're often flat and typically used for walking and cycling, though some may also include horseback riding and even snowmobiling! You can read more about them here.
Most rail trails are quite long in distance and can even connect with one another to make them even longer. You might be surprised just how many rail trails there are in Ontario! Hamilton alone is home to three rail trails that I know of and there could possibly be more. They often run through urban areas and as such, give residents a great way to commute or travel in an environmentally friendly way.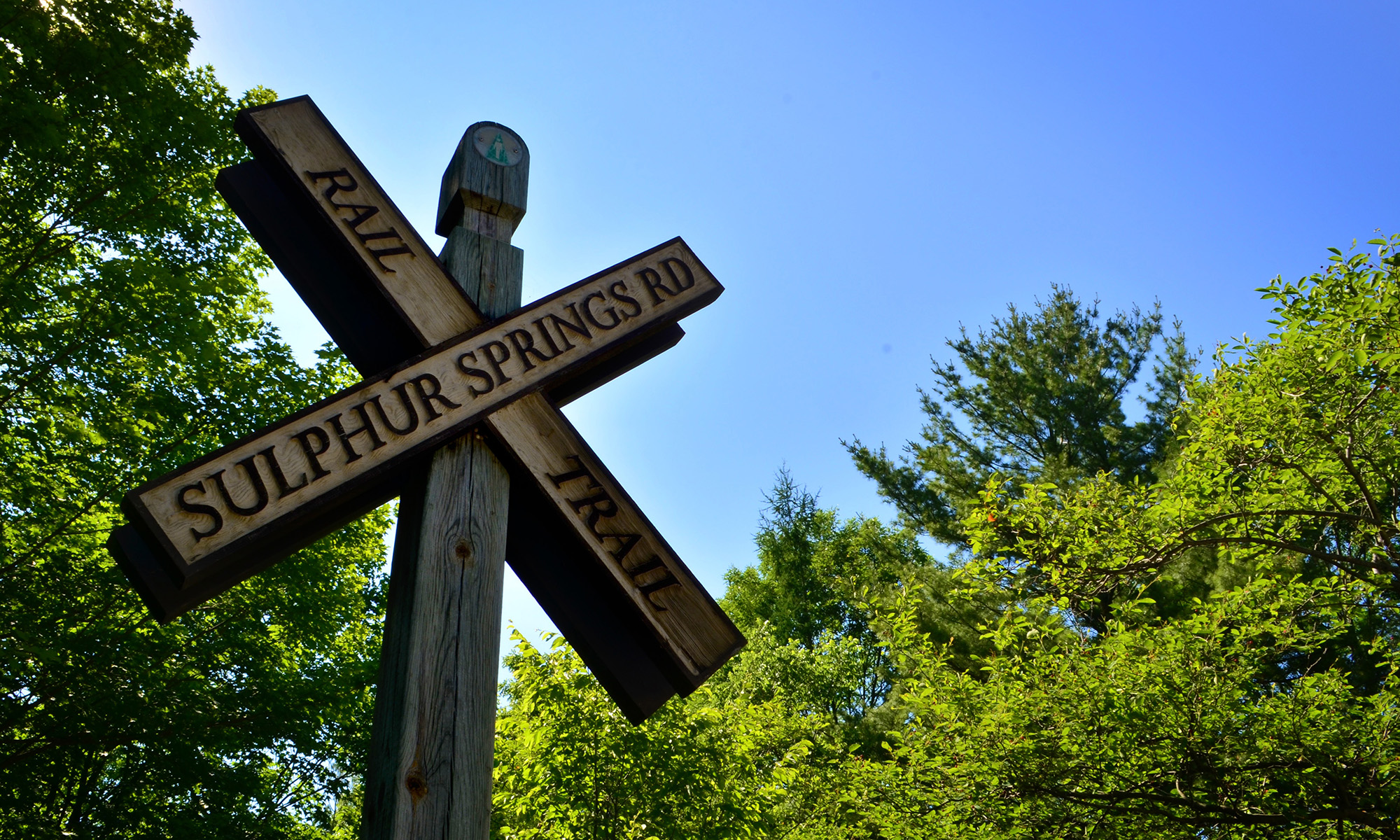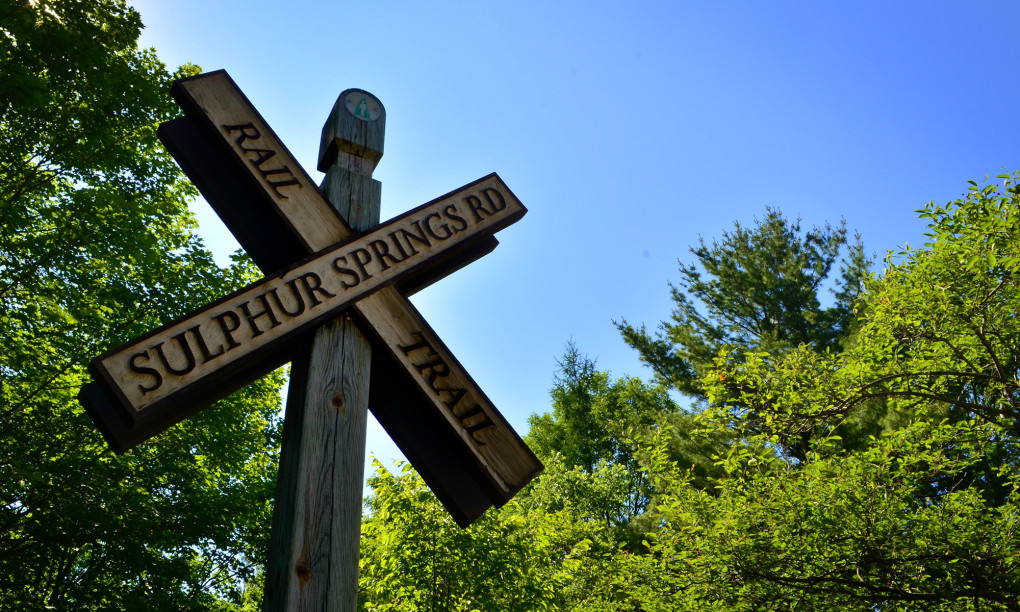 Hiking Hamilton's Sulphur Line Rail Trail
I just happened to stumble upon the Sulphur Line Rail Trail while on my way to hike the Dundas Valley Conservation Area. Upon arriving at the Hermitage parking lot, I found it was closed for a private event and thus, needed to find an alternate parking spot. Just up the way, I stumbled upon the Ancaster Wells (43°15'04.2″N 80°00'15.4″W), which had a small parking lot and free running, drinkable water. With how hot the day was, it was something to take note of! A quick consult of Google showed me a trail, the Sulphur Line Rail Trail, about 15 minutes south of the parking lot.
Before you make your way to the trailhead, head across Sulphur Springs Road where you might notice a slight rotten egg smell. Don't worry, it's how the road got its name as this is where the natural spring is located. It once fed the Sulphur Springs Hotel's mineral spa back in the 1800s. Said to have restorative properties, the hotel was a popular summertime destination. While the hotel was closed in 1910 as it suffered not one but two fires, there is still a fountain here to commemorate its location.
Ready for your hike? Follow Sulphur Springs Road south towards the trail access. The road itself is extremely narrow with little to no shoulder to walk on, so proceed with caution. Be on high alert while listening for cars as at times you may need to stop on the side of the road for a car to pass. After about a kilometre, you'll see the entrance to the Rail Trail.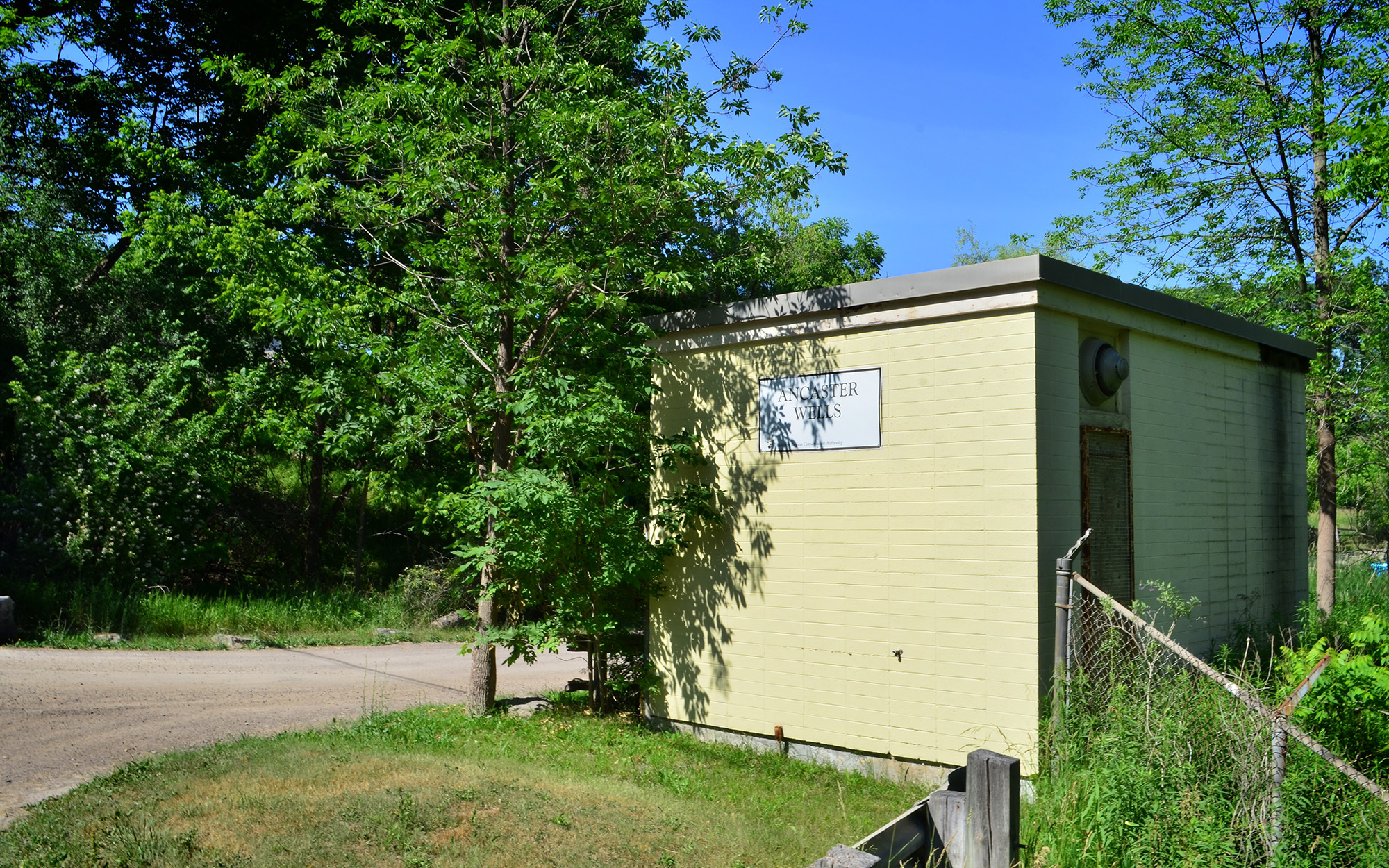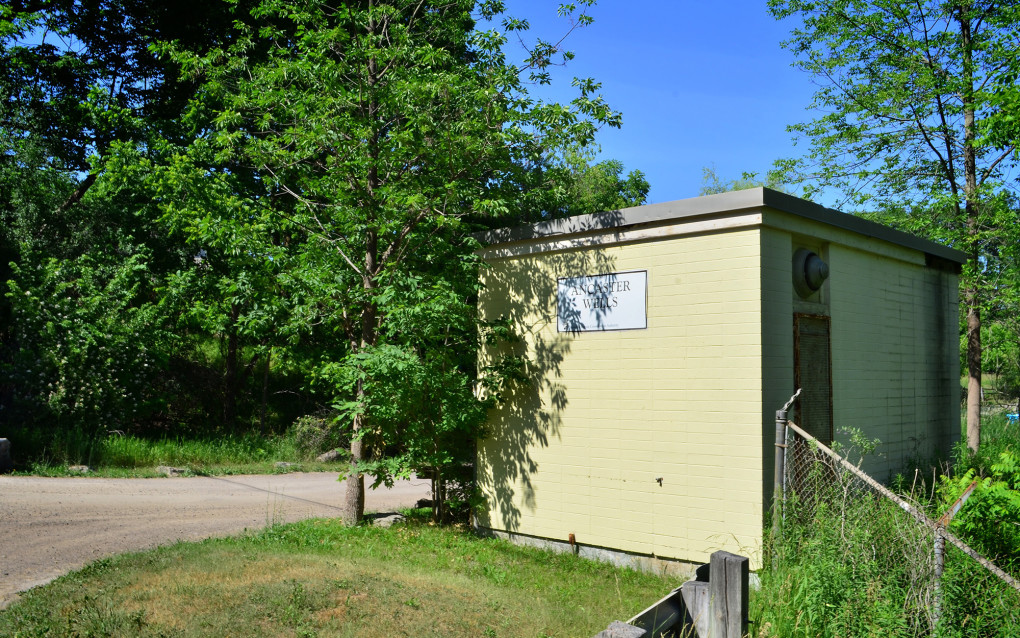 Over the years, the Sulphur Line Rail Trail (not to be confused with the Sulphur Creek Trail which is entirely different) has since been amalgamated into the Hamilton-Brantford Rail Trail. This trail follows along an abandoned Canadian National Railway line, extending from Albion Falls down The Escarpment through Hamilton and all the way to Brantford. At 32km in length, it's Canada's first multi-use interurban trail way that's fully developed! It also connects to the Trans Canada Trail, meaning there are lots of possibilities for avid hikers and cyclists.
Shortly after entering the Rail Trail, you'll come upon the Trail Centre. At first sight, you may think it used to be a train station, however it's an ode to one. Signs at the Trail Centre state that the structure is very similar to the former Canadian National Railway station in Grimsby, located approximately 45 kilometres away.
Despite this not being a real station, train travel had a huge influence on Hamilton. The route between Toronto, Hamilton and Buffalo brought 700,000 passengers along the route in 1913 alone! During its peak in the 1930s, the TH&B Hamilton passenger station opened in 1933 and has an art deco influence. You may still recognize it as it was reborn as Hamilton's GO Centre – now a protected heritage building!
From here you can continue along the Rail Trail or explore the numerous trails within the Dundas Valley Conservation Area. While my intent was to continue following the Rail Trail, my terrible sense of direction got the best of me as I found myself along the Main Loop Trail. I embraced this and spent the afternoon roaming the Dundas Valley.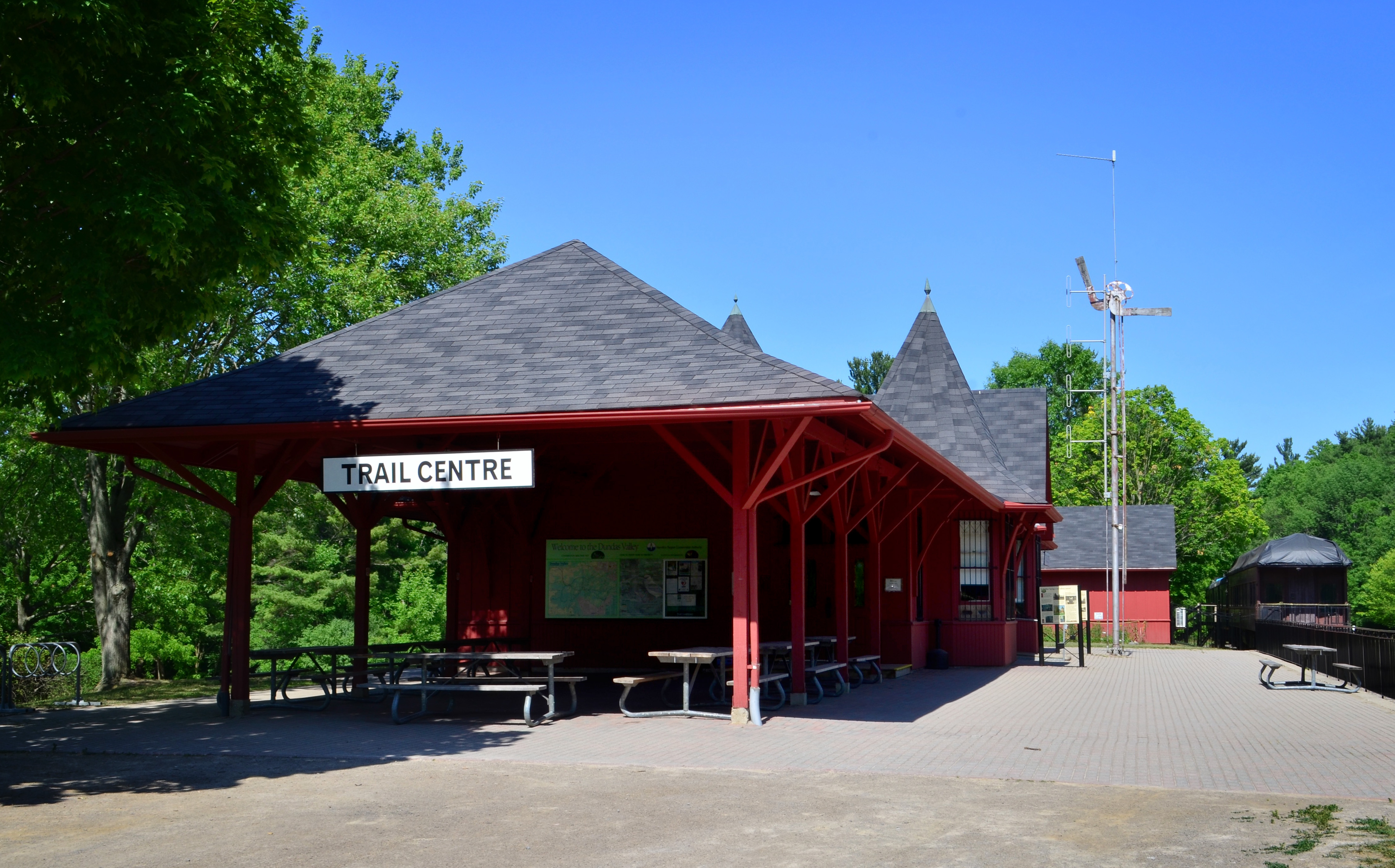 Exploring the Dundas Valley Conservation Area
The Dundas Valley Conservation Area encompasses 3000 acres of land, including lush forests and beautiful geological while protecting a wide range of rare plants, birds and wildlife. It offers 40 kilometres of trails of various lengths and difficulties, though most are fairly flat and not too intense. As such, it's a popular spot for families to get out and enjoy some quality nature time within the city of Hamilton.
As I mentioned, my lack of navigational skills had me following the Main Loop Trail which also partially follows the Bruce Trail, Ontario's oldest marked footpath. If you follow it in a counter-clockwise fashion as I did, you'll cross the quaint Sulphur Creek in the direction of The Hermitage. Here you'll find 165-year-old ruins showing what's left of the old stone house which was built by Mr George Gordon Browne Leith who bought this property in 1885. What you might not realize is that this area is said to be haunted! You can read more about the spooky tale (along with many others!) in my haunted guide to Hamilton.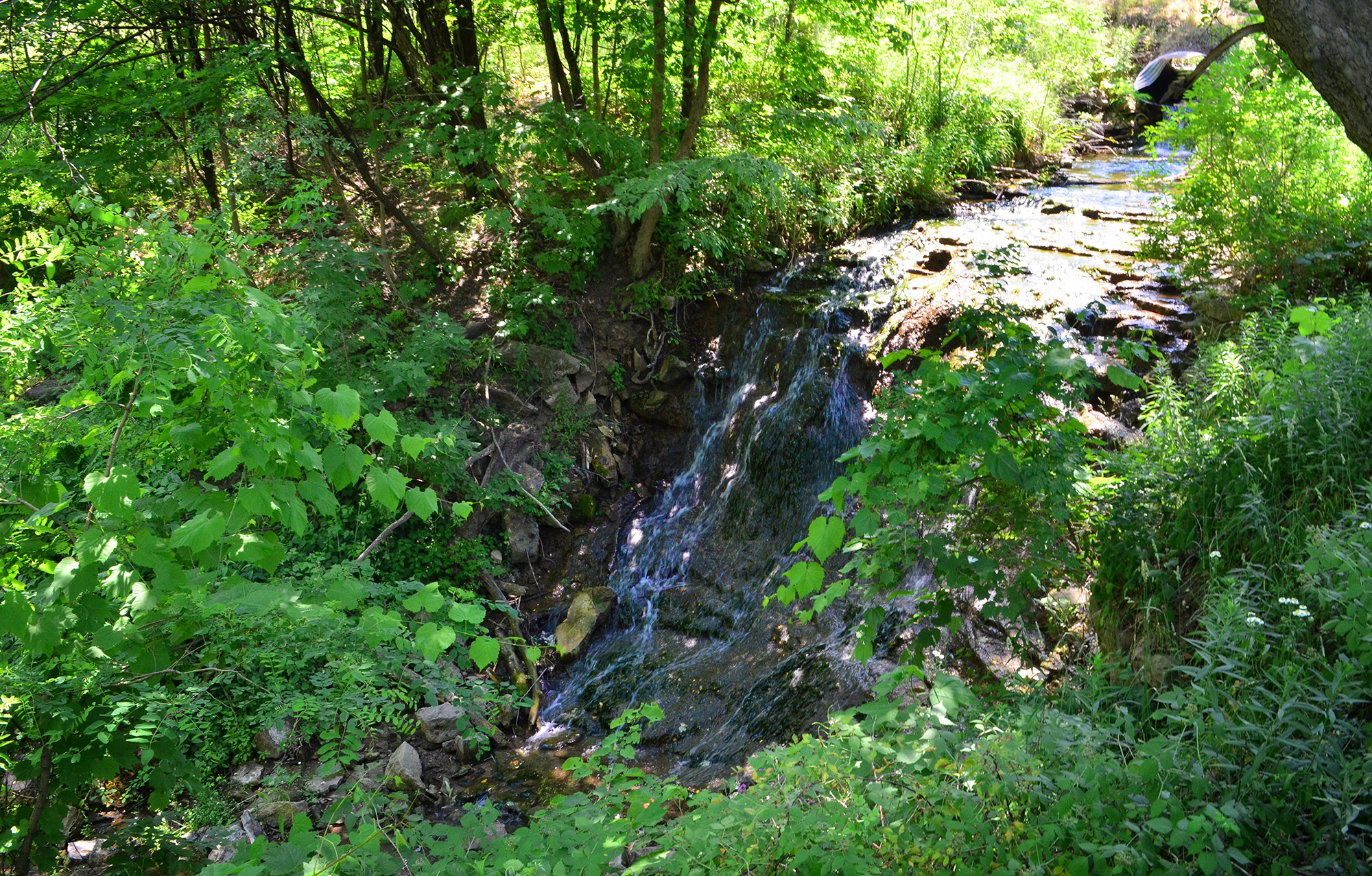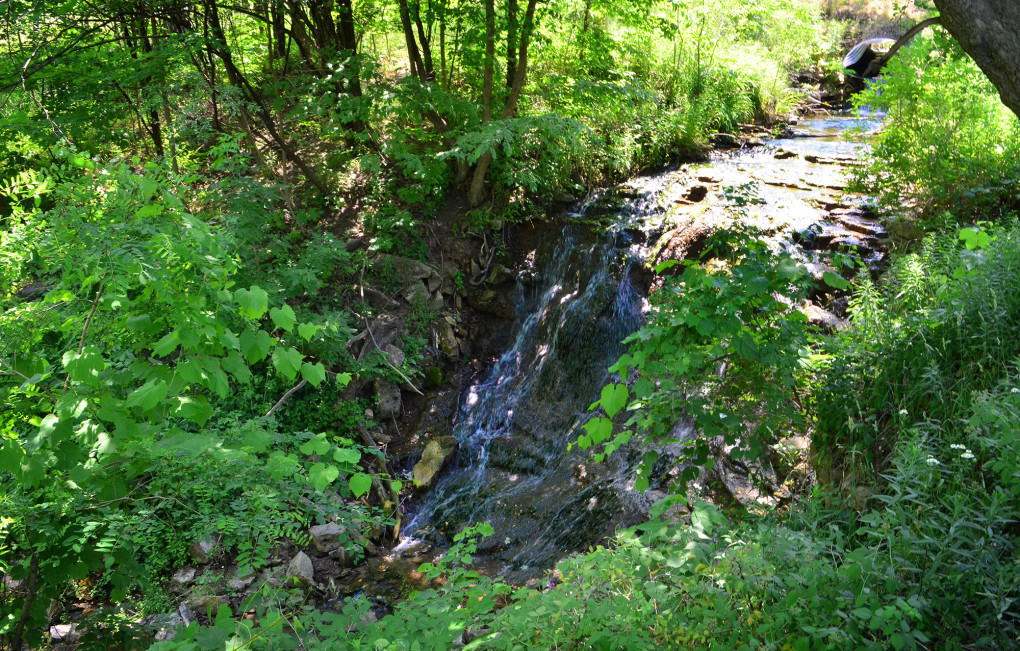 Don't forget to take a gander at the Hermitage Cascade before continuing on. This beautiful cascading waterfall can be seen from a small lookout and can be accessed from Sulphur Springs Road. While it can be tempting to get closer to the waterfall, it is on private property and doing so would be considered trespassing.
Don't be disappointed though, the main loop trail boasts loads of beautiful little nooks to explore. You can take a seat on one of the many benches along the trail and enjoy their view, or go a little off the beaten path. I'd suggest grabbing a seat up close with the Hermitage River. There's plenty of spots to rest along the way as the trail's elevation does vary, so be prepared for a good leg workout! The full trail loop is about 3.5km long but if you're looking for something longer, there are a variety of side trails to add some length to your hike.
Other Hamilton Rail Trails
As I mentioned, there are at least two other rail trails in Hamilton besides the Hamilton to Brantford Rail Trail which the Sulphur Line Rail Trail is a part of.
If you're local to Hamilton, chances are you know of or have even walked or run along the Escarpment Rail Trail. This follows an abandoned CN Rail Line from Albion Falls to the heart of the city. Along it you'll find the well-known Kenilworth Stairs along with some great views overlooking Steel Town.
Another lesser-known route is the Chippewa Rail Trail. Beginning by the Red Hill Business Park at the southwest corner of the intersection of Dartnall and Stone Church, this abandoned rail corridor will eventually connection Hamilton and Caledonia. I say eventually because this 15 kilometre stretch of trail is not yet complete! Construction is still ongoing as you'll hit a closed sign approximately 3 kilometres past the boundary into Halidmand County. When complete, it will become a part of the Niagara section of the Trans Canada Trail.
Lastly, we have the Chedoke Radial Trail which is probably one of the most popular hikes in Hamilton. It links Hamilton to Ancaster and will take you by some of the smaller waterfalls you'll find in the city. I mean, Hamilton is the city of waterfalls so naturally a few of these trails are going to take you by a few! As this is right in Hamilton, the Chedoke Radial Trail is very popular, especially on weekends so it's best to visit early in the day or midweek if you want to avoid them.
Looking For More Fun Things to Do in Hamilton?
These Are the Best Waterfalls to Chase in the Waterfall Capital of the World
Check Out the Top 10+ Hikes in Hamilton
See the Spooky Side of Hamilton with These Haunted Destinations in the City
Don't Miss These Awesome Indoor Attractions in Steel Town
Plan a Hike Along the Sulphur Line Rail Trail & Pin It For Later!