Hiking Dundas Peak: Including Tews, Webster's Falls & More [2023]
There are so many amazing places to hike in Ontario. While the province may not have the Rocky Mountains or either of the oceans, Ontario is still full of beautiful charms. One of them lies 20 minutes from downtown Hamilton – Dundas Peak. Home to some of the best waterfalls in Hamilton as well as some incredible views of the city, it's no wonder the Dundas Peak has grown in popularity over the years. Keep reading and you'll quickly see why!
Disclaimer: This post contains affiliate links where if you make a purchase, I may receive a kickback at no extra cost to you. It helps keep IBB alive so thank you!
What is Dundas Peak & Where Is It?
The Dundas Peak is located in the town of Dundas which has been amalgamated into the city of Hamilton. It's a part of the Spencer Gorge Conservation Area, one of the properties overseen by the Hamilton Conservation Authority. From atop of this Niagara Escarpment section you can enjoy breathtaking views of the town of Dundas, the Dundas Valley as well as a glimpse of "The Hammer". This viewpoint is now considered one of the most popular spots in Hamilton!
This south-facing piece of the Niagara Escarpment is aptly named for the Spencer Gorge, the main feature of the area. This y-shaped valley has over 10 bowl-shaped basins stacked on top of each other. They show earlier positions of waterfalls in the gorge and their size decreases as you move upstream. The largest basins are the oldest, measuring from 190 to over 350 metres – akin to the ever-amazing Horseshoe Falls in Niagara Falls, Ontario!
How To Get To Dundas Peak
If you're coming in from out of town, you have a few options. Planning an Ontario road trip? It's just an hour's drive from a number of destinations. If you're driving to Dundas Peak from Toronto, hop on the 403. Take the exit for Highway 6 North and then hang a left onto Highway 5. About 10 minutes down the road you'll see the Christie Lake Conservation Area on your left. By the way, you might want to stop at Borer's Falls as you'll pass right by it!
Coming in from Niagara Falls or St Catharines to visit Dundas Peak? Take the QEW until the 403 west exit, then follow the Toronto directions from there. Are you from Waterloo Region like myself? The most straight forward way is to take Highway 8 past Cambridge until you reach Highway 5. At the roundabout, take the third exit and a few minutes later you'll see signs for the Christie Lake Conservation area!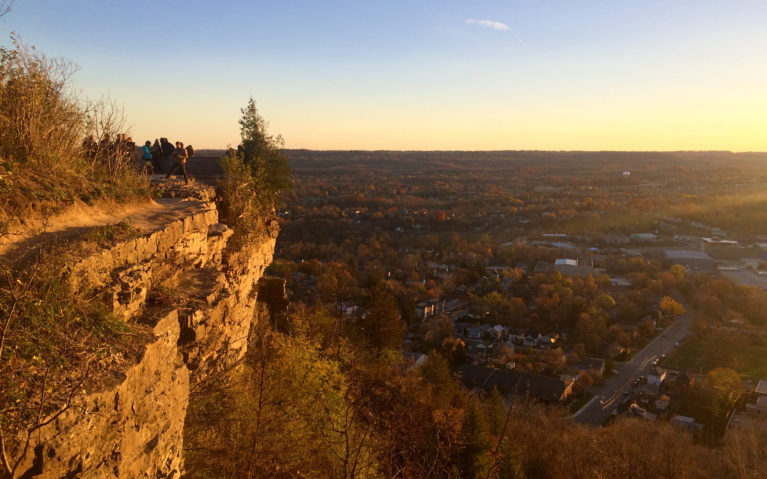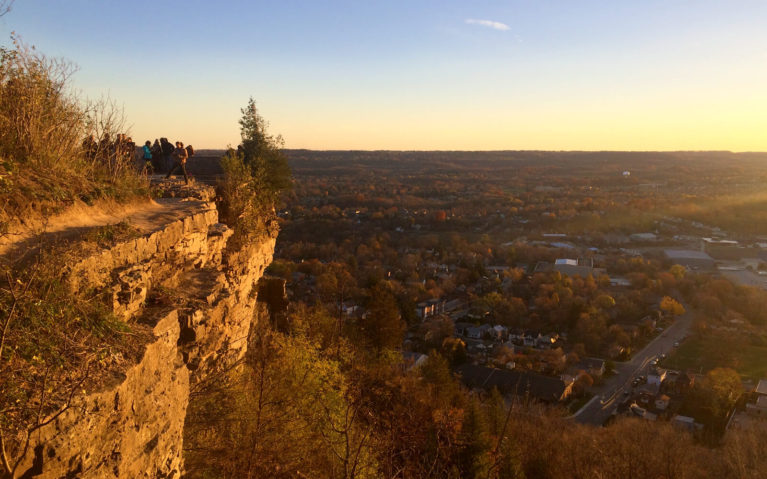 Hiking Dundas Peak
Within the Spencer Gorge Conservation Area, you'll find a number of great hiking trails. Ontario's famous Bruce Trail runs through this area and is guaranteed to be a great adventure. If you've never hiked the Bruce Trail before, I highly recommend tackling some of this 900 km long trail. I've done different sections of the trail and always have an amazing time! There are also some side trails along with the Spencer Adventure Trail which connects to additional Hamilton Conservation Areas including Crooks Hollow and Christie Lake.
Looking for More Adventures Along the Bruce Trail? Check These Out!
Your Essential Guide to the Best Waterfalls in Hamilton
These Are The Best Hiking Trails in Hamilton
Hiking Hamilton's Borer's Falls
Belfountain Conservation Area & the Cheltenham Badlands
Exploring the Beamer Memorial Conservation Area
Hiking Indian Head Cove, Tobermory Grotto & More in BPNP

Dundas Peak has changed a lot over the years, not just in regards to the trail but also the entire experience surrounding it. I've even had a few eye-opening experiences myself. While this is a beautiful area that should be visited at least once, it's certainly not as zen and enjoyable as it was in previous years. I'll discuss more later in this post.
Dundas Peak Waterfalls to Check Out
Waterfall lovers such as myself will be delighted as this area is also home to Tews Falls and Websters Falls, two of the best Hamilton waterfalls.
Tews Falls is the smaller of the falls but more elegant than her counterpart. This ribbon waterfall is 41 metres tall and just 9 metres wide. Watch as the water from Logie's Creek tumbles over the escarpment into the valley below. She's easily accessible as there's a great lookout platform to admire her from. Officially there is no access to the base of Tew Falls, however one could theoretically clamour upstream, though I wouldn't recommend it. When visiting the area, I suggest starting here and then making your way to Websters Falls. Otherwise she'll be dwarfed and you won't fully appreciate her beauty!
Websters Falls is a classic plunge waterfall which sits 22 metres tall and is 30 metres wide. It's one of the largest in the region and often the main reason for people visiting the Spencer Gorge Area. Back in the day, there used to be a trail which led to the base of Webster Falls. From here you could take a staircase as an alternative way to the top. I've heard tales of locals fondly reminiscing about how they would swim at the base of the falls. Unfortunately this is no longer the case and there is no clear path to reach the base any longer.
Both of these waterfalls are gorgeous all year round, so the best time to visit is really up to you. If you're looking to see them shrouded in fall colours, late September or early October is the best time to visit. Visiting Dundas Peak in the spring will ensure a heavy flow so you can see them both at full force. Personally, my favourite time to visit is in the middle of winter. That way you can see all the beautiful ice formations which change each year!
Can I Get to Webster's Falls from Tew's Falls?
The short answer? No. The long answer? A few years back the Bruce Trail ran through a piece of private property, connecting the two waterfalls. What you may not know about the Bruce Trail is that a lot of its route is available to hikers thanks to agreements with property owners. Unfortunately, not everyone respects this and takes advantage of what we have. This is one case where that disrespect has ruined it for everyone as the owners have revoked access.
In order to get from Tew's Falls to Webster's Falls, you'll have to head for Harvest Road. Take a left onto Short Road, and another left onto the well-named Fallsview Road. You'll arrive at the front gate – meaning you'll have to pay another entrance fee.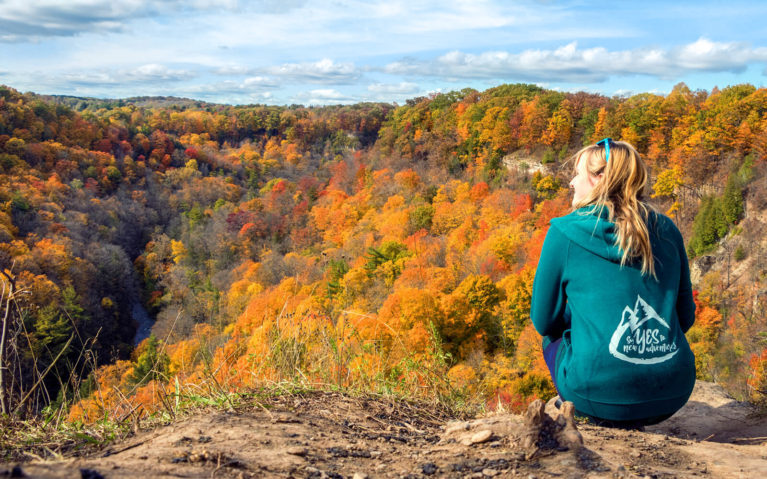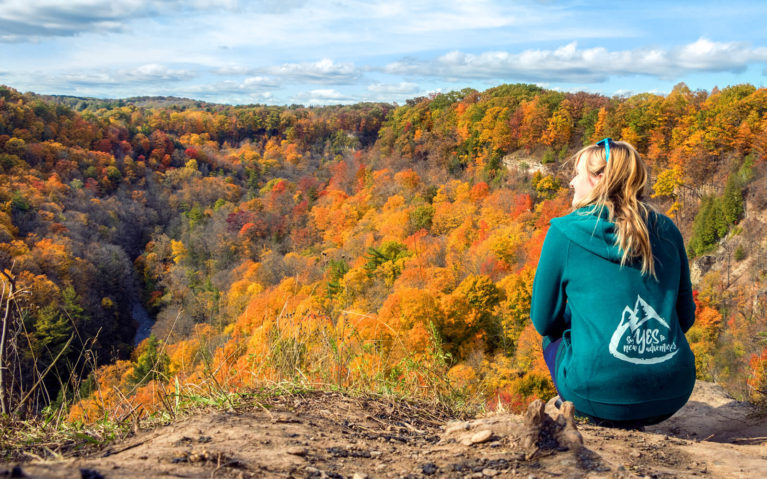 How to Get to the Dundas Peak Lookout
The most common way to access the Dundas Peak hike is by starting at Tews Falls and taking the aptly named Tews Falls Side Tail. You'll begin at Tew's Falls where Logie's Creek descends 41 metres to the earth below. She may not have the same flow but Tew's Falls is comparable to Niagara Falls and is just 11 metres short of her height!
The best time to see Tew's Falls in full force is after the spring thaw or heavy rainfall. She can be reduced to a trickle if it's a hot summer! Personally though, my favourite time to visit is in the winter. The icicle formations are absolutely breathtaking!
Afterwards, continue along the trail by following the blue Bruce Side Trail blazes. The hike is relatively easy with smooth terrain and not much elevation, though you will have some stairs to tackle! As you reach the peak, you'll see signs for the "Dundas Lookout Side Trail". It's not much of a trail as it is a few steps to the lookout, but hey, now I'm just being nitpicky! Enjoy the short route and voila, you have arrived at the infamous Dundas Peak.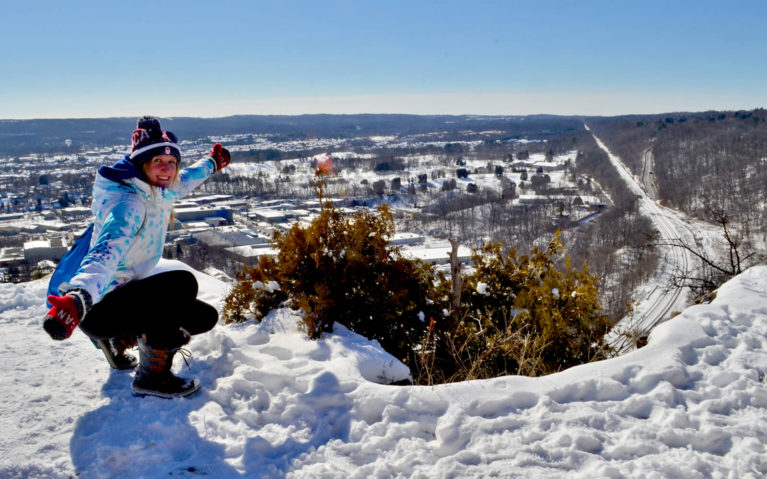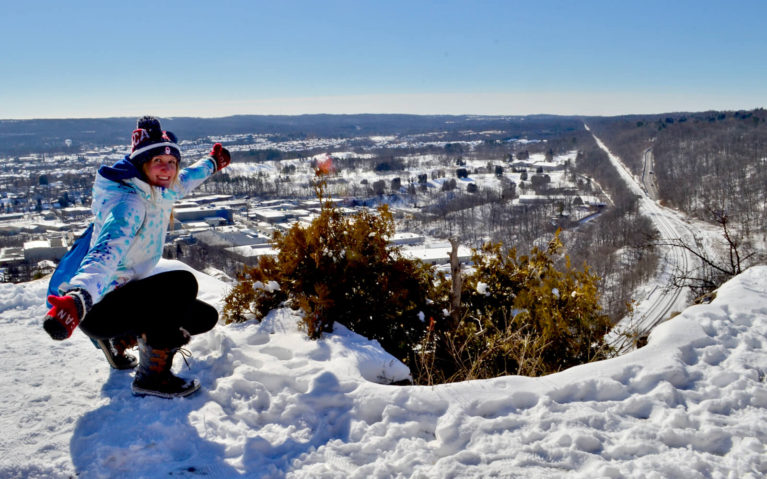 Dundas Peak Experience
As with any lookout spot, inherent risks come with it. Dundas Peak offers glorious views from atop the escarpment and while many folks visited without any issues, there have been accidents in the past.
During my visits to the Dundas Peak, I've been able to carefully walk up to the edge and admire the views unobstructed. I have fond memories of sitting and enjoying the sunset as it dipped behind the horizon at a cozy spot close to the edge with a number of other folks. It was really peaceful, all of us from different walks of life just enjoying a moment in time gifted to us by Mother Nature.
Unfortunately, this is no longer the case. Due to the ill actions of others, the Hamilton Conservation Authority has chosen to deface the peak and has since erected a 4 foot tall black fence to keep visitors away from the edge. The intent is for safety purposes, however now visitors have been spotted trying to climb the fence in order to get the unobstructed views.
Personally, I have mixed feelings about the whole situation. Conservation authorities are meant to protect the areas that they oversee and to me, it seems like drilling into this beautiful spot for this man-made barrier isn't doing that. However, many visitors don't respect the rules and have fallen, injured themselves or even worse, have died. There really is no right answer, but as someone who was always careful and prepared during my visits, its disheartening to be punished by the actions of others. Alas, welcome to society and free will, I suppose!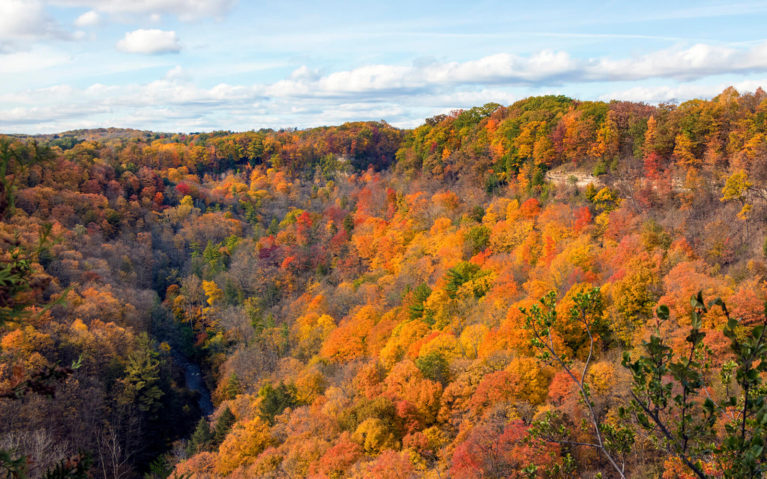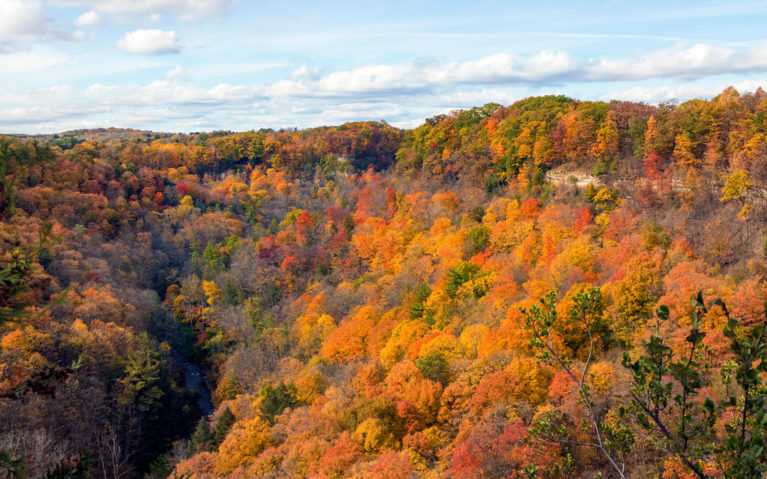 Best Time to Visit Dundas Peak
No matter what time of the year you visit Dundas Peak, you'll be blown away by the beautiful views. I've visited in every season and I have to say I'm torn.
Autumn is the best time to visit if your favourite fall activity is leaf-peeping. These vistas are absolutely incredible when sprinkled with amber and ruby leaves! While fall fluctuates each year, usually the best time to see the colours in full force is mid to late October. However, you'll be contending with huge crowds – especially on weekends. Dundas Peak has only continued to grow in popularity. I visited on a random Thursday afternoon and was surprised to have 40+ people on the lookout as well – and this was a few years ago!
If the thought of crowds makes you cringe, then a winter visit is best for you. This is honestly my favourite time to hike and I guarantee you'll only have to share the lookout with a handful of people. The views are just as magical when sprinkled with snow! You'll also get a better glimpse of Lower Sydenham Falls thanks to the beautiful ice formations that come with freezing temperatures.
No matter when you hike the Dundas Peak trail, you'll love the views from the trail. Plus the sunsets are always incredible from here! It's a great hike with friends, family, and even solo. It really is a destination for all seasons! Aren't the Dundas Peak fall colours just incredible?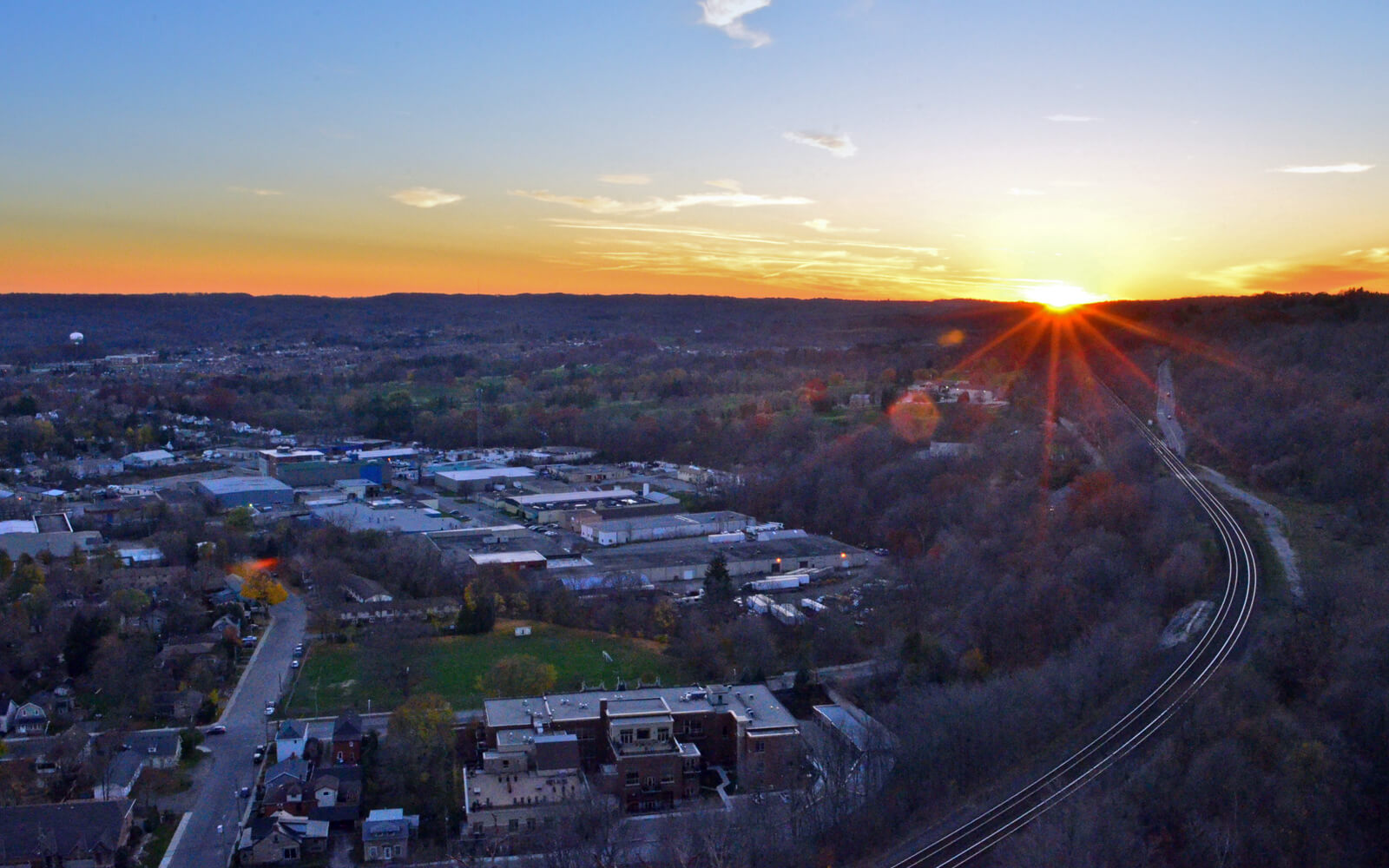 Planning Your Dundas Peak Visit
As I mentioned earlier, visiting the peak has changed a lot over the years and continues to morph every year. Currently, you must pay an entry fee for both Dundas Peak and Webster's Falls separately. While they are both a part of the Spencer Gorge Area, they are treated as separate entities. This is a little disheartening, especially for those on a tighter budget who want to see both of these natural wonders.
For 2023, it will cost visitors $16.00 for the vehicle and this includes the driver's entry fee. There is a $5.00 fee for any additional passengers over 5 years of age in the vehicle. If you walk or bike to Dundas Peak and Webster's Falls, entrance is $5.00 per person. To visit Dundas Peak, you will want to navigate to 607 Harvest Road. For Webster's Falls, you will head to 28 Fallsview Road.
The Hamilton Conservation Authority established a reservation system to help contain the crowds during that awful time that we all wish to forget in 2020. As of 2023, reservations are only required on long weekends and will be instated daily during the peak fall colour season. Reservations are in 2 hour blocks and must be made a day in advance. This will add an additional $10 to your cost of entry and once again, you will need to pay this twice if you wish to visit Dundas Peak and Webster's Falls. Reservations can be booked here by selecting the 'Spencer Gorge' tab.
If you're an HCA pass holder, you will only need to pay the reservation fee during peak visiting times. If you're not however, this can add up to be a fairly expensive trip. For a family of four, it will cost $41 for a two-hour window at Dundas Peak. Then another $41 at Webster's Falls.
INSIDER TIP: While it's a downer to have to pay the $10 reservation fee on top of the other fees, if you wish to explore more after your Dundas Peak visit, you can visit the Christie Lake Conservation Area for free! Just bring your reservation receipt and you can enjoy the area for the rest of the day.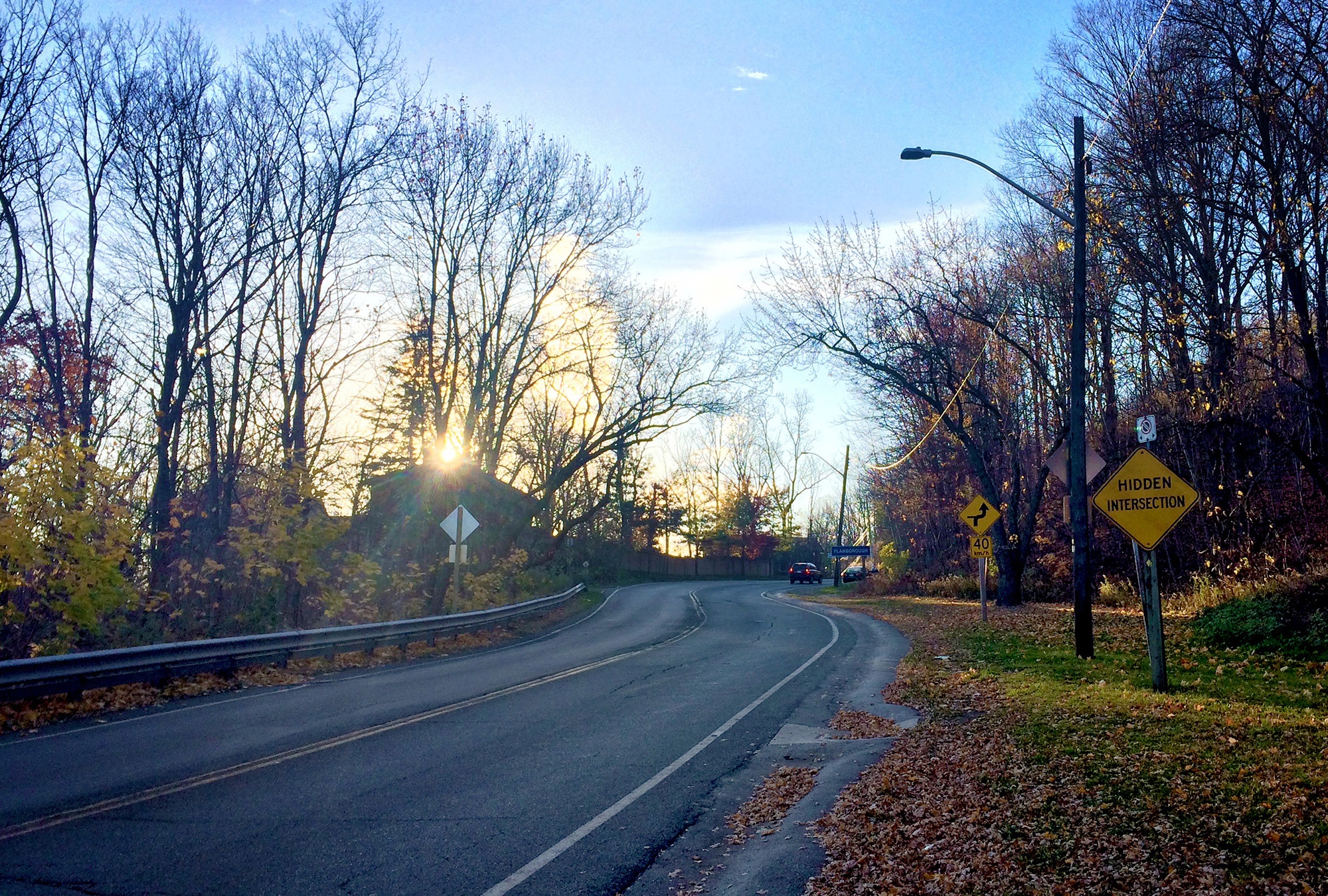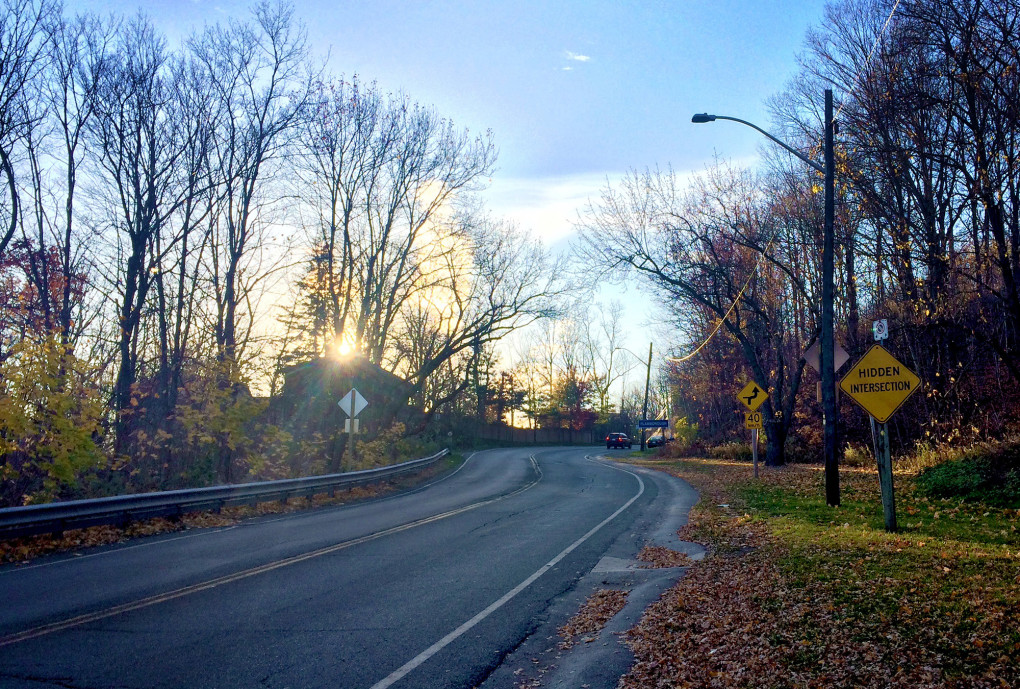 Dundas Peak Things to Know
According to Google, the Spencer Gorge Conservation Area is open from 8:00 am until 11:00 pm. However, I would suggest tackling these trails in the daylight – sunrise to sunset! There is very little lighting in the area so unless it's a full moon, visibility will dissipate quickly. Be safe so you can avoid any accidents!
As with any hike, make sure you have proper hiking gear, water, and all that jazz. I'd also recommend checking out the weather for Dundas Ontario as it would be a bummer to drive all the way to Dundas Peak to only be met with rain!
Like I said earlier, Dundas Peak is an extremely popular spot. As such, you'll run into some large crowds, especially on weekends in the summer and fall. If you'd like to enjoy the area with as few people as possible, mid-week in the winter is your best bet. Otherwise, I suggest aiming for an early morning visit. The early bird gets the worm, after all!
Looking to dodge the crowds of Dundas Peak entirely?
Check out this lesser-known hike that'll blow you away!
Once again, I will reiterate that while this isn't as common now that the fence has been established but still – don't be stupid. Don't climb it to get the selfie and respect this beautiful area. We've already lost so much due to folks not being respectful of the natural wonders around us so let's all do our part. We don't need any more Dundas Peak death headlines nor any about hassling for our brave emergency responders because you wanted that epic photo.
Lindsay… you take these photos sometimes. Yes, I do take these photos myself. However, I always make sure I'm in a steady position without the risk of falling. It also helps my terrible vertigo also keeps me in check to avoid any accidents. The photo below? My feet are on a rock that you cannot see – it's all about angles.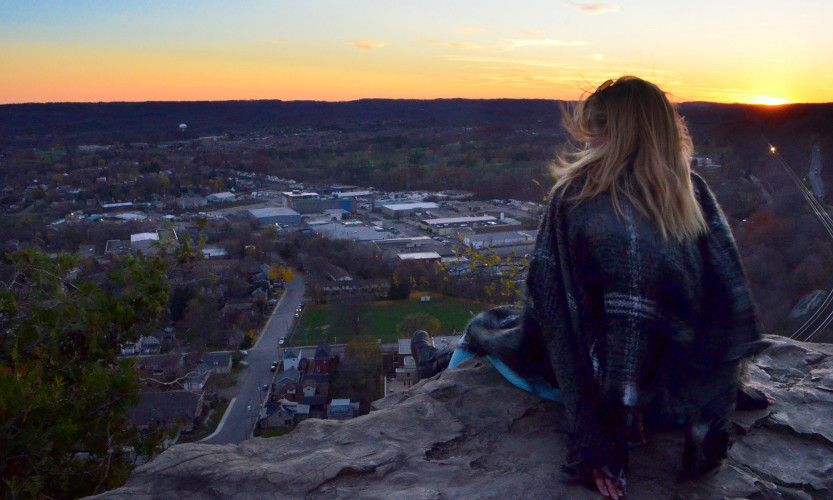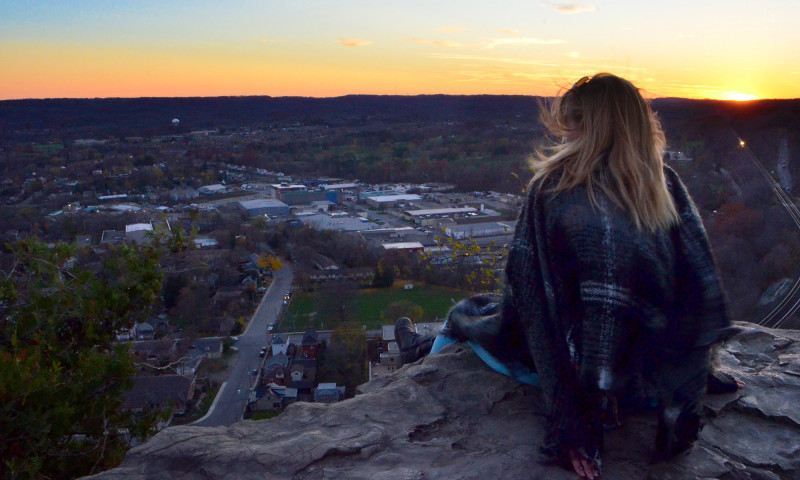 Other Things to Do in Dundas Ontario
There's more to the area than just the Dundas Peak lookout! What is now a part of Hamilton, Dundas is an adorable little town that's worth visiting as well. Originally known as a "manufacturing village", it has grown into a stunning town with quaint shops, great eats and more. Take a walk down King Street in the heart of town and you'll see what I mean.
If you're looking for a bite to eat or a caffeine boost, I highly recommend Detour Coffee Roasters. This cafe is just as charming as the town it's located in! Here you'll find a variety of coffee blends, teas and more. They also serve some healthy and hearty eats like sandwiches and salads, though I'd say their breakfast options are the best on the menu. Detour is a great place to fuel up before heading up the trail or a great way to start your day when visiting Dundas.
I have yet to visit myself, but I'm always a fan of supporting the Ontario craft beer scene! If this is up your alley, I recommend a visit to Shawn & Ed Brewing Company. With the tagline "for adventurous mouths", I'd say this is the perfect reward after tackling the peak!
RELATED: If you're a fan of craft beer, check out the guide to Hamilton's breweries on Eat Local Ontario!
If you don't know Dundas because of the peak, you may know it as it's home to what was once the longest-running hotel in Ontario. Built in 1841, The Collins Hotel was one of the first buildings in the entire town. Now known as The Collins, it has since been transformed into a brewhouse. You can no longer stay overnight but rather settle in for a pint and a meal.
Dundas Accommodation Options
Thinking of grabbing a hotel in Dundas? Unfortunately, there's no hotel per se but luckily there are a number of fantastic alternative options. Rent out a whole house and enjoy incredible amenities such as a beautiful patio (complete with a hot tub!) at the Nature Oasis in Dundas. There are also a number of Airbnb options if that's more your style.
If you don't mind a bit of a drive, there are a number of fantastic hotels in Hamilton. If you're not from the area, it really is worth paying Hamilton a visit. The city has plenty to offer! From great indoor attractions to natural wonders, you really don't want to skip out on it. If you're a waterfall chaser like myself, Hamilton is known as the waterfall capital. There are so many it can be hard to know where to start so check out this list of the best waterfalls in Hamilton!
For More Ideas on What to Do in Hamilton:
Here Are the Best FREE Things to Do in Hamilton
Check Out These Amazing Hamilton Art Galleries
Stretch Your Legs With These Top Hiking Trails in Hamilton
Explore Some Crevices at the Eramosa Karst Conservation Area
See A Spooky Side of Hamilton with These Haunted Spots Across the City
Check Out These Top Indoor Attractions in Hamilton
Everything You Need to Know About the Best Hamilton Waterfalls
Plan a Visit to the Largest Botanical Gardens in Canada
Experience Dundas Peak: Hamilton's Epic Lookout
Dundas Peak: Summarized
Did you just read through this article and go 'wow, I'm PSYCHED to visit but what was that thing again…' or did you go 'okay this article is too long, just lay down the information for me'? Don't worry, I've got all the details summarized here in a nice, neat little package for you along with some frequently asked questions about visiting Dundas Peak.
Is Dundas Peak Open?
The Dundas Peak is open and reservations are required during peak times like long weekends and during the peak fall colours. A Dundas Peak reservation will cost you $10 on top of the current fees of $16 per car and $5 per additional person in said car for a 2 hour time slot.
Where Is the Dundas Peak Parking?
Parking is located at 607 Harvest Road in Dundas. If you wish to visit Webster's Falls, you will need to go to 28 Fallsview Road. There is no free parking specifically for the Dundas Peak.
Is There Free Parking for Dundas Peak?
There is no free parking specifically for Dundas Peak. There is free parking on many of the side streets at the base of the escarpment in Dundas for those visiting the area. This is great if you're looking to hike the main Bruce Trail which I highly recommend. The Bruce always has a special place in my heart and I love spending time on this iconic Ontario trail. It also leads to a number of fantastic gems – some that just may surprise you!
If you do choose to park in a residential area, make sure to follow all street signs and obey road laws. Also, please ensure any waste goes where it's supposed to and leave the area in better shape than when you arrived. Just to preface this because some members of the city council that represent the area seem to think they can intimidate me via email, I am not responsible for the actions of others. I'm only trying to help more people make the most of their time in Dundas!
How Do I Hike to Dundas Peak?
Take the Tews Falls Side Trail as it follows the edge of the escarpment which will lead you right to the epic views of Dundas Peak. This Dundas Peak trail map illustrates the route.
Best Time to Visit Dundas Peak?
To enjoy the full effect of its beauty, I recommend an autumn visit when the colours are at their peak. I recommend a mid-week visit as conservation areas are always busier on weekends.
Can I Bring My Dog to Dundas Peak?
Dundas Peak is dog-friendly! They must stay on a leash at all times and you must pick up after them.
Is Webster's Falls Open? Can I Access It?
Webster's Falls is open, however it requires a separate reservation to experience. If you wish to see both in one day, I'd recommend making a reservation for Dundas Peak and Tews Falls first before heading to Webster's Falls.
Can I Access the Base of Webster's Falls or Tews Falls?
No. There used to be a staircase leading down to Webster's Falls, but it has since been removed along with all trails leading to the base. The Hamilton Conservation Authority has stated that accessing the base of the falls is strictly prohibited. Locals and visitors still do, but be warned that you may be slapped with a hefty fine for doing so.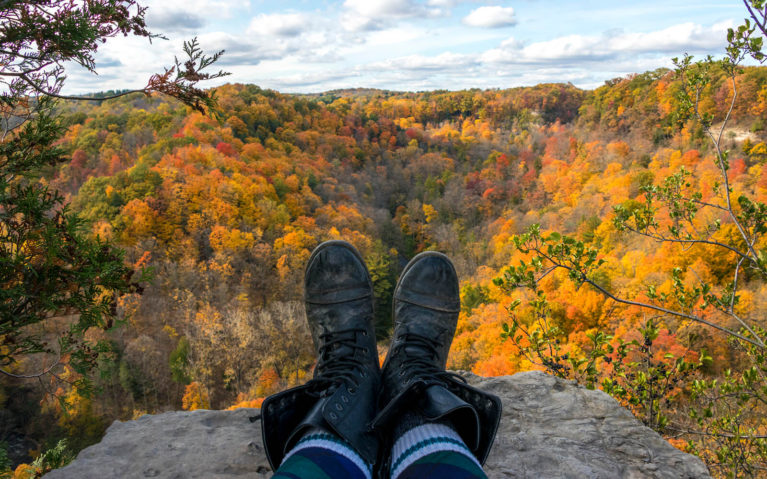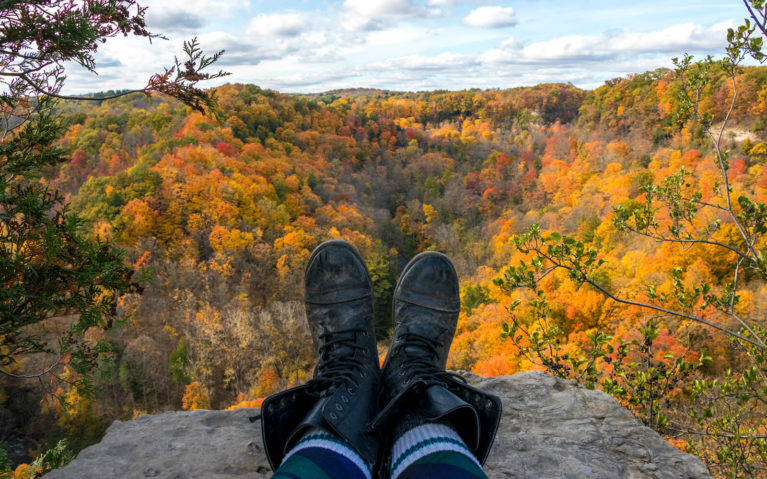 Ready to Check Out the Dundas Peak Trail?
Whether you're heading into Hamilton for a few hours or a weekend, I highly recommend visiting Dundas Peak. It's a great place to escape and enjoy some sightseeing. Plus I guarantee the views from the top will be a highlight of your visit!
Hopefully, my guide to Dundas Peak will help you fully enjoy this beautiful area in Hamilton! If you're directionally challenged, be sure to check out the Dundas Peak map earlier in this post. Remember, respect the area as nature is a privilege – not a right. That way we'll be able to enjoy it for years to come!
Looking for More Great Destinations for Hiking in Southern Ontario?
Check Out These Top Hiking Trails in the Niagara Region
Don't Miss These Great Hikes in St Catharines
Hiking in Niagara Falls: Your Top Choices for a Stroll in Nature
Cambridge Hikes Perfect for Hikers of All Skill Levels
Top Spots to Get Out for a Hike in Kitchener Ontario
Stretch Your Legs with These Hikes in Waterloo
Your Guide to Tackling the Crack in Killarney Provincial Park

Disclaimer
This post contains affiliate links where I may receive a kickback on any purchases made through them at no extra charge to you. Read more in IBB's disclaimer and privacy policy.
Want to tackle the hike to Dundas Peak Ontario? Pin it for later!