15+ Best Waterfalls in Hamilton Ontario: The Quintessential Guide

Calling all waterfall chasers – this Ontario city is guaranteed to be one of our favourite destinations! Hamilton, Ontario is often referred to as the city of waterfalls and for good reason. With over 120 waterfalls, it can be overwhelming where to begin! Check out this round up of the best waterfalls in Hamilton and get ready for some nature fun.
Why is Hamilton the City of Waterfalls?
As I mentioned, the Hamilton area is home to an incredible number of waterfalls. The majority of them are located within a 23 kilometre radius of downtown Hamilton. However, the "city of waterfalls" nickname didn't really catch on until local businessman Chris Eckland used it to market the city and drive tourism to these natural wonders.
You have to admit though, it makes sense for it to be known as the city of waterfalls when so many are within the city limits! It's quite possible that it's even the waterfall capital of the world. Let's dive into these Hamilton waterfall trails and get our nature on!
SOMETHING TO NOTE: In this article, I suggest ideas of where to find free parking. These are based on my experiences, though regulations can change at any time. Please be sure to check for signage to ensure you don't receive a parking ticket and if you notice things have changed, drop a comment below and I'll update the article to reflect this!
Best Waterfalls in Hamilton Ontario
I don't think there's a particular order to these waterfalls as they each stand on their own. Every one of them is worth visiting and it's easy to see multiple Hamilton Ontario waterfalls in one day!
Albion Falls, Hamilton
Nearby Hiking Trails: Bruce Trail, Red Hill Trail, Escarpment Rail Trail
Admire as the flow from the Red Hill Creek in Hamilton's King's Forest descends over the crest of Albion Falls. At 19 metres tall and 18 metres wide, this cascade waterfall is almost as wide as it is tall! Watching the water fan across the bedrock and shale from either of the two viewing platforms will have you mesmerized.
FUN FACT: If you pay a visit to the city's Royal Botanical Gardens, you'll find a number of rocks from around Albion Falls used in the Rock Garden which is now a National Historic Site!
It is said that Albion Falls is actually haunted by a young woman named Jane. In September of 1915, she took her life by hurling to her death over the side of Albion Falls when the object of her affections cast her aside. Local legend has it that on nights where the moon is out, you may catch a glimpse of her glowing figure or even hear her sobs of sorrow. I'd be too chicken to find out! If you're a self-proclaimed ghost hunter, you can read more in my haunted guide to Hamilton.
Albion Falls is definitely one of the most popular falls in the Hamilton area, however she can now only be admired by afar. Back in 2016, I was able to climb to the base of the waterfall. However, I would only climb where I felt comfortable – I knew my limits. Unfortunately for the rest of us, too many visitors wore improper footwear and weren't careful, causing a number of injuries and even a few tragic deaths. This has led the City of Hamilton to erect fencing around this beauty and anyone caught jumping it is subject to trespassing fines. Don't even get me started on how it only takes a handful of people to ruin it for everyone. All I'll say is this is why we can't have nice things.
How to Get to Albion Falls
As a hiker who is always looking for more bang for her buck, I suggest starting your journey at Oak Knoll Park. This dirt parking lot isn't the largest, but most people are looking to be closer to Albion Falls so there are often spots open. From here you can follow the Bruce Trail along Mountain Brow Boulevard.
On your way, you'll pass Buttermilk Falls. This 23 metre high ribbon waterfall is fed by the Grindstone Tributary Creek alongside the road. You can think of her as the teaser as you ramp up to the main event – Albion Falls.
If you'd rather skip the hike, there are two additional parking lots close to Albion Falls. One is located right off of Mountain Brow Boulevard near one of the lookouts. The other is on Arbour Road and has direct access to the Escarpment Rail Trail.
UPDATE: During my visit in late fall of 2020, there seemed to be free parking near Albion Falls. They are quite small so I'd recommend arriving early, especially on weekends.
Borer's Falls, Hamilton
Nearby Hiking Trails: Bruce Trail, Escarpment Trail, Rock Chapel Trail, Ray Lowes Side Trail
Head a bit outside the city to this often-overlooked beauty, Borer's Falls. A little smaller than some of her counterparts, it's the perfect spot for a hike without the hordes of people you can find at Tiffany Falls or Websters Falls. For this reason, it makes her, in my opinion, one of the best falls in Hamilton.
Borer's Falls is a 15 metre high curtain style waterfall that once powered the Rock Chapel Village Sawmill. Owned by the Borer family for over 100 years, they had to switch to steam power when the land was cleared for development. This damaged the natural flow of the creek and it could no longer power the mill. Now you can enjoy the hiking trails and admire her beauty for the perfect nature escape.
If it's been a dry summer with little precipitation, the flow at Borer's Falls can be quite weak. Visiting in the winter however would be the best time in my opinion. Even if the Borer's Tributary Creek that feeds it is down to a trickle, you'll be rewarded with some brilliant ice formations. You can best admire her at the lookout along the Bruce trail to the left of the waterfall when coming from Rock Chapel Road. Parts of the trail follow along the road so be aware of your surroundings and watch for oncoming traffic!
How to Get to Borer's Falls
The closest parking lot to Borer's Falls is at the Rock Chapel Nature Sanctuary which can be found off of Rock Chapel Road. If you're a Royal Botanical Gardens (RBG) member, you can park here for free. Otherwise, you'll have to pay a fee. It's closed in the winter, however cars park along the side of the road close by.
For free parking, I parked down at the Borer's Falls Dog Park. You can then take the side Ray Lowes Side Trail up through the Borer's Falls Conservation Area.
Canterbury Falls, Hamilton
Nearby Hiking Trails: Bruce Trail, Canterbury Falls Side Trail
While she may be one of the smallest of the waterfalls listed here, Canterbury Falls is still full of charm. This 9 metre tall terraced ribbon cascade trickles down the Niagara Escarpment. You'll find her nestled in the heart of the Dundas Valley Conservation Area. Heavily shaded, it's the perfect summer hike as the area stays cool thanks to the tall trees surrounding her. She's even more magnificent in the autumn season while adorned with red and orange foliage.
The land where you'll find Canterbury Falls was once owned by the Milne family in the early 1800s. While it changed hands a few times, the property was purchased by the Lions Club of Hamilton in 1935 for the purpose of creating a summer camp for disabled children. 25 years later, it is now owned by the Anglican Diocese of Niagara so that people could "…develop respect for individual worth."
The trail itself is fairly flat and easy to navigate, especially since the bridge was added by the Iroquoia Section of the Bruce Trail in 2008. If you're careful, you can scale down the side of the Niagara Escarpment and get up close to her. Only do this if you're wearing proper footwear and take your time doing so. If you're unsure, don't do it so you don't become another rope rescue headline.
When the flow is heavier from the spring thaw or heavy rains, it's possible to see Little Canterbury Falls. You'll find her about 60 metres along the Bruce Trail, just past the interpretive signage.
How to Get to Canterbury Falls
Canterbury Falls can only be accessed via the Bruce Trail with the Canterbury Falls Side Trail. This 2.8 kilometre loop will take you around a beautiful trail and right to Canterbury Falls herself.
Unfortunately, there is no free parking and only paid parking lots nearby. The closest one is at the end of Lions Club Road within the Dundas Valley Conservation Area for a $10 flat rate. Just before the paid gates there is space to park, however you run the risk of being ticketed or towed.
Devil's Punchbowl, Stoney Creek
Nearby Hiking Trails: Bruce Trail, Devil's Punch Bowl Side Trail, Dofasco 2000 Trail
The Devil's Punchbowl Conservation Area is one of the Niagara Escarpment's highlights as it was formed at the end of the last ice age. Melt-water poured over the edge of the escarpment, carving out the punchbowl itself as well as the gorge.
You may not realize this, but the Devil's Punchbowl actually offers two waterfalls – the Upper Punch Bowl Falls and the Lower Punch Bowl Falls. Chances are you're here for the Upper Punch Bowl Falls as this ribbon waterfall plunges almost 34 metres into a pool at the base of the Niagara Escarpment. Both are located inside the Devil's Punchbowl Conservation Area in Stoney Creek.
To see the Devil's Punch Bowl in her true form, it's best to visit after the spring thaw or shortly after a heavy rain. She has been known to dry up during hot summers with little rainfall. Or you can opt for a winter adventure and her ice formations will always be a sight to see.
While the views are pretty fantastic, another huge highlight is the incredible rock display beneath it. It's one of the best examples of how diverse the Niagara Escarpment is. You'll see Cabot Head grey shale, Queenston Formation red shale, shale dolomite and limestone to name a few. The differences can clearly be seen as the layers of rock have been stacked and compressed over millions of years.
The best way to access the base of the falls is to take the Devil's Punch Bowl Side Trail. Follow the blazes Ridge Road to the right and make your way down. Previously, there have been ways to scale the side of the gorge to go down, however erosion has made this extremely difficult and dangerous. Don't tempt fate and take the long way down. The exercise is good for you!
How to Get to the Devil's Punchbowl Conservation Area
The best place to park for the Devil's Punch Bowl is at the lot off of Ridge Road close to the lookout. Here you'll pay $5 for the day. You may want to arrive early during peak season though as there aren't many spots available. While street parking was available in the past, this is not the case any longer.
If you're happy to hike for free parking, there is street parking available on Leslie Drive just off of New Mountain Road. Here you can connect with the Bruce Trail and follow it until it meets with the base of the Devil's Punch Bowl Side Trail. This will add about 1.5km each way, and you'll also be close to the Lower Punch Bowl Falls here.
Sherman Falls, Hamilton
Nearby Hiking Trails: Bruce Trail, Heritage Trail
Not too far from Canterbury Falls you'll find Sherman Falls, a gorgeous 17 metre tall terraced ribbon waterfall. The water from Ancaster Creek tumbles over her 8 metre crest, giving us quite the show! She'll flow all year round and always makes a great stop if you're in the Dundas area.
Sherman Falls has gone by a number of names including Smith's Falls, Whitton Falls, Fairy Falls and Angel Falls. While Samuel Smith and Francis Whitton owned the land at one point, it was Whitton who landscaped the property and built up the area. This was later sold to the Sherman Family – the same Shermans that established one of Canada's largest steel producing companies known now as Dofasco Inc. It was because of this and their influence within the community that the falls came to be known as Sherman Falls.
SOMETHING TO NOTE: It's important to know that Sherman Falls is located on private property. The owners allow visitors like ourselves to revel in her beauty by utilizing the trails. This privilege can be revoked at any time, so it's important to respect the area and be thankful to the land owners for giving us access.
How to Get to Sherman Falls
There are a number of places to park for Sherman Falls, however the only real access is via the Bruce Trail. The closest parking lot is on Artaban Road at a rate of $5 for the day.
I haven't done this myself, but have found that you can park uphill from the falls on Montgomery Road for free. This can change at any time though so be sure to check before committing to your parking spot.
As Sherman Falls is in close proximity to Canterbury Falls, you can easily do both in one afternoon hike. This means the Lions Club Road parking lot is also an option.
Smokey Hollow Falls, Hamilton
Nearby Hiking Trails: Bruce Trail, Norman Pearson Side Trail, Upper Grindstone Side Trail
Also known as Boundary Falls, Grindstone Falls, Great Falls and Waterdown Falls, Smokey Hollow Falls is a powerful beauty. While she only sits 10 metres high, Smokey Hollow Falls has one of the strongest flows of the area as water rushes along Grindstone Creek and over her crest.
There are a few angles you can admire her from. The first is from the lookout platform just a few steps from the parking lot. Then, follow the Bruce Trail downwards along Grindstone Creek. There will be some stairs and from here you can carefully scale the rocks to access the base of the waterfall. As with any waterfall hike, be sure to wear proper footwear and don't do anything you're not comfortable doing.
If you visit during the winter months, the trail can get extremely icy due to the mist from Smokey Hollow Falls. If you have crimpers, bring them along to help secure your steps. I highly advise against trying to access the base of Smokey Hollow Falls in the winter as there are a plethora of slip hazards.
SOMETHING TO NOTE: In this area, sections of the main Bruce Trail may be closed periodically by Conservation Halton. This is due to a 10 year Hazard Tree Removal project where they're removing ash trees affected by the Emerald Ash Borer. An invasive species native to Asia, it has few natural enemies here in Canada and has killed tens of millions of ash trees since it was first detected in 2002.
How to Get to Smokey Hollow Falls
A waterfall that has free parking right next to her? Huzzah! This is one of the big perks of Smokey Hollow Falls, along with the fact that she has some great hiking trails close by. During the peak summer months however, this parking lot fills up fast and the area can get really hectic. When it's full, there isn't a lot of room to manoeuvre.
If you don't mind a bit of a walk, I have heard there is also roadside parking available along Snake Road as well as Mountain Brow Road across from Flanders Drive. You can also head to the heart of Waterdown and find road parking along Flamboro Street.
Do NOT park along Mill Street as this causes a huge hazard and you will be ticketed. This area is now more popular than when I first started visiting and therefore, is being watched more closely by bylaw officers. Respect all signage and only park where it is legal and safe to do so.
Tew's Falls, Hamilton
Nearby Hiking Trails: Bruce Trail, Dundas Lookout Trail, Glen Ferguson Side Trail, Tews Falls Side Trail
Say hello to the tallest of Hamilton's waterfalls, Tew's Falls! At 41 metres tall, this ribbon waterfall is sure to wow you. While the flow from East Spencer Creek (also known as Logie's Creek) that feeds her may not be the strongest, it means that visiting her after a heavy rain, the spring thaw or during the winter is your best bet.
FUN FACT: Tew's Falls is actually only a few metres shorter than Niagara Falls in height – just to give you some perspective!
It's said that back in the day, the flow of the East Spencer Creek over the Escarpment was once as large as that of Niagara's Horseshoe Falls. As any visit nowadays will confirm, this is no longer the case as most of the historic flow has dissipated.
If she is dry, the trek won't be for nothing as you'll also find the Dundas Peak lookout here. This is one of – if not, THE most popular spot in Hamilton for leaf peepers. I can say for certain that the views are spectacular with all the fall colours, but honestly, they're incredible all year long.
While at one point you could access the base of Tew's Falls, this is no longer the case. She's best admired from the lookout platform or you can continue down the trail for additional glimpses of her beauty.
How to Get to Tew's Falls
As of 2020, reservations are now required during summer and fall as these are peak visiting times for Tew's Falls. There is a designated parking lot just off of Harvest Road [map] where you will park to visit Tew's Falls as well as Dundas Peak. You will be charged a $10 reservation fee as well as a $10.50 flat rate for your car and $5 per head for access to the Spencer Gorge Conservation Area.
SOMETHING TO NOTE: You can no longer visit Tew's Falls and Webster's Falls in the same visit due to needing separate reservations for each.
There was a way to access both Tews Falls as well as Dundas Peak and have free parking, but this is no longer the case since the reservation system has been put in place. Please don't try to park at Cascades Park as the Bruce Side Trail that goes by the Lower Sydenham Falls (pictured below) is now closed. I'm unsure if it's accessible in the winter months, so proceed with caution.
INSIDER TIP: While the fees at Tew's and Webster's are not fun, having your receipt will give you access to another Hamilton Conservation Authority area on that day like the Christie Lake Conservation Area.
Tiffany Falls, Hamilton
Nearby Hiking Trails: Bruce Trail, Tiffany Falls Side Trail
One of the most popular Hamilton waterfalls next to Albion and Webster's, it is for good reason. Tiffany Falls is a gorgeous 22 metre high ribbon waterfall. Fed by the Spencer Creek tributary, her flow eventually flows into Cootes Paradise. While it does flow year round, it has a relatively small watershed so the weight of the flow can vary. She became extremely popular during the cold snap in January 2018 as she was almost entirely frozen over. The ice formations were absolutely breathtaking and had people flocking to see them!
The Tiffany Falls Conservation Area is one of several environmentally-significant areas within the Dundas Valley. Due to its location and natural features, rare bird species like the Louisiana Waterthrush (a threatened species in Canada) thrive in this area.
How did Tiffany Falls get her name? That's thanks to Dr Oliver Tiffany, the first known physician in the Ancaster area. While he first settled in Grimsby in the late 1700s, he later moved to Ancaster. He served this large rural area for more than 40 years before passing in 1835.
If you can manage to get to the top of Tiffany Falls (possibly by ice climbing?), you will be rewarded with another waterfall known as the Washboard Falls, a 5 metre tall classical cascade waterfall. I've never made it up myself but it's on my list!
How to Get to Tiffany Falls
The closest parking lot is off of Wilson Road where you'll find a rate of $2 per hour. Then it's just a short 10 minute walk along the Tiffany Falls Side Trail to the lookout! However, the parking lot here is very limited with a maximum of 10-15 spots.
With access to the main Bruce Trail on the opposite side of Wilson Road, it's easy to make this hike longer. Canterbury Falls and Sherman Falls are close by, making it the perfect afternoon adventure. This way you can take advantage of the parking lots close to either of these or even the free street parking above Sherman Falls.
Webster's Falls, Hamilton
Nearby Trails: None
Last but certainly not least, the ever-famous Webster's Falls. What's probably the most well-known waterfall in Hamilton, Webster's Falls surely doesn't disappoint. This 22 metre plunge waterfall sits at 30 metres wide and she's always flowing well!
Previously there was a staircase where you could access the base of Webster's Falls. However, it was removed a few years back after fencing was erected for public safety concerns. I was lucky enough to make it to the base of the falls before this happened, and the views are incredible! I've heard it's still possible to make it to the base, however you have to climb upstream along Spencer Creek. This is quite the trek and while it can be done, it is strictly prohibited on Hamilton Conservation Authority land and you can be subject to fines if caught.
Sometimes referred to as Webster Falls, the waterfall has been popular for centuries and has quite the history. In the early 1800s, this waterfall was known as Dr Hamilton's Falls, named after Dr James Hamilton who owned the land. A few years later, it was purchased by Joseph Webster. The Webster family manor can still be found on Webster's Falls Road along with their preserved gravestones.
How to Get to Webster's Falls
Similar to Tew's Falls, there is a parking lot where you can pay $10 for the day and then an additional $5 a head to access the Spencer Gorge Conservation Area, as well as the similar shuttle service.
A few years ago you could visit Tew's Falls and Webster's Falls in one day. A section of Bruce Trail used to connect the two. However, this is another fine example of some people ruining it for others as the kind owners of the property have been forced to revoke access for the sake of their safety. Instead of cherishing and respecting this privilege, people choose to disrespect the owners by venturing off-path, too many cases of public indecency and even some instances when police needed to be involved. This was the starting point which eventually led to increased fees to visit the area.
While I understand that there has been an influx of tourism to the area, I don't 100% agree with the parking fee. This is mainly because the Hamilton Conservation Authority has directly stated the fee is to deter visitors rather than actually keep up with park maintenance and conservation. At the same time, if people were respectful and didn't take nature for granted – we wouldn't be in this situation.
There is no longer trail access to Webster's Falls. The only way by foot is to walk along Harvest Road to Short Road which then turns into Fallsview Road.
UPDATE: Similar to Tew's Falls and the Dundas Peak, reservations are now required for Webster's Falls as well. Despite its close proximity, Webster's is not included in the reservation for Tew's and the Dundas Peak so be prepared to pay twice.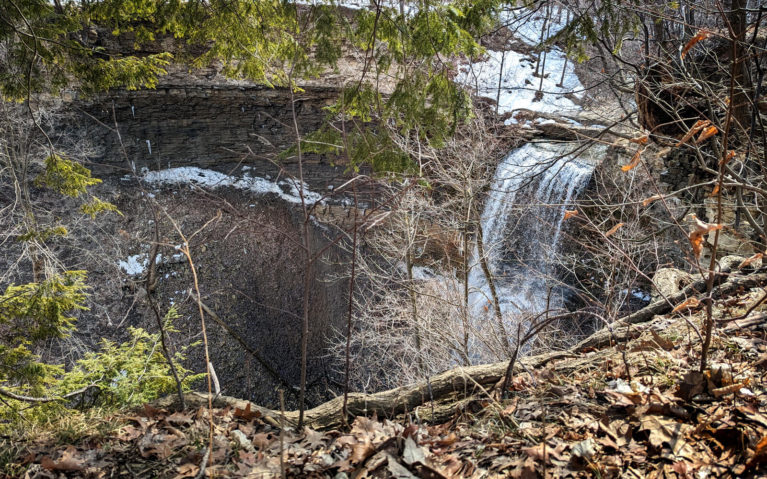 Additional Hamilton Waterfalls to Visit
While the beauties listed above are definitely the best waterfalls in Hamilton, there are a few others to be admired. They may not be as big or as fierce, but they're gorgeous in their own way. Here are a few more Hamilton waterfalls to check out!
Felkers Falls – This one is probably next on the list as one of the best waterfalls, though the aforementioned wonders just beat this gal out. Felkers Falls is considered a terraced ribbon waterfall and stands approximately 22 metres (72 feet) tall. There are no official trails to the base of the falls but she can be admired from the edge of the Niagara Escarpment.
Chedoke Falls – Located along the aptly named Chedoke Radial Trail, Chedoke Falls sits 18 metres (60 feet) tall and 9 metres (30 feet) wide at the crest. While it is possible to access the base of the falls, this is considered trespassing and you can be ticketed. However, you may not want to as it's been said that sewage runoff is pretty common in this area…
Princess Falls – Another one to hit along the Chedoke Radial Trail, Princess Falls is 7 metres (23 feet) tall and is another one of Hamilton's waterfalls best seen in the winter or spring. Also known as Lang's Falls, it's a great one to add to your list if you're spending some time exploring along the radial trail.
Mountview Falls – Another one of the more quaint waterfalls in Hamilton, Mountview Falls is best seen in the spring or winter. Just a short 15 minute walk from Princess Falls, Mountview Falls is a little taller than her counterpart and stands 10 metres (33 feet) in height and 1.2 metres (4 feet) wide.
Little Davis Falls – Located along an offshoot of the Red Hill Creek called Davis Creek, it's sometimes referred to as Little Felkers Falls. Standing 3 metres (10 feet) tall with a crest of 5.5 metres (18 feet), this twin curtain waterfall can be experienced year-round. There isn't an official access to it though you can park at the end of Quigley Road and follow the trail to see it.
Westcliffe Falls – You'll find this beauty just west of Cliffview Park, a great spot for some incredible views of Hamilton. This 18 metre (60 foot) tall complex ribbon cascade does have a year round flow, though it's definitely best viewed in the winter or spring.
If you're not sure where they're all located, click on the image of the Hamilton waterfalls map below to help you plan your adventure.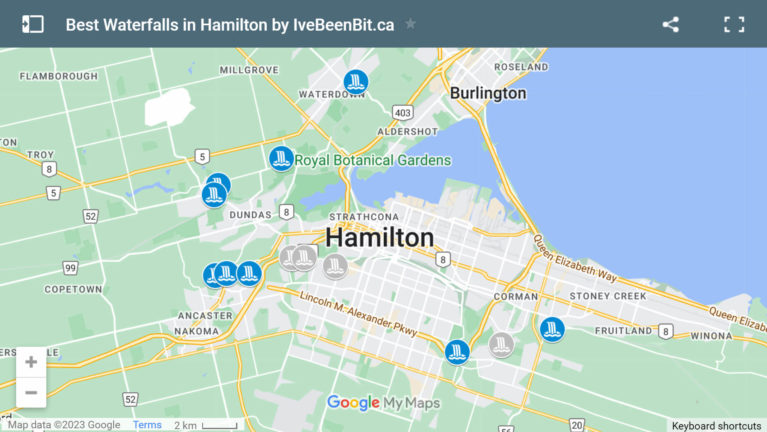 Best Hamilton Hiking Trails with Waterfalls
Without a doubt, the answer to this would be the Bruce Trail. It's massive as it spans ~900km as it follows the Niagara Escarpment – and that's just the main trail! There are additional side trails (which I affectionately call "Side Bruce") for even more fun. (Click to learn more about hiking the Bruce Trail!) Mind you these trails aren't all in Hamilton as she runs from Tobermory to Queenston. The majority of Hamilton's waterfalls do live along the Escarpment and thus close to the Bruce Trail.
As I said earlier, it's possible to see a few of the top waterfalls in Hamilton with one epic hike. My go-to for this is the loop between Canterbury Falls, Sherman Falls and Tiffany Falls. I suggest doing them in that order so each waterfall gets the appreciation she deserves! This is the best hike to get a true taste of the city of waterfalls in a short time frame. If you have more time, then be sure to visit some of these places to hike in Hamilton!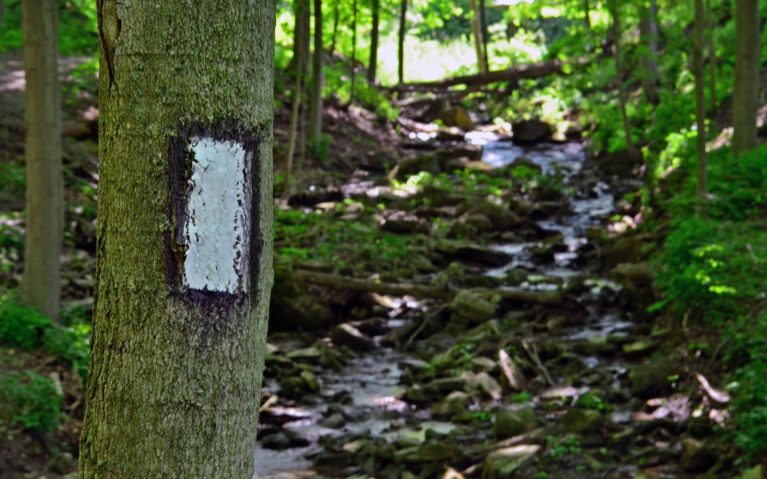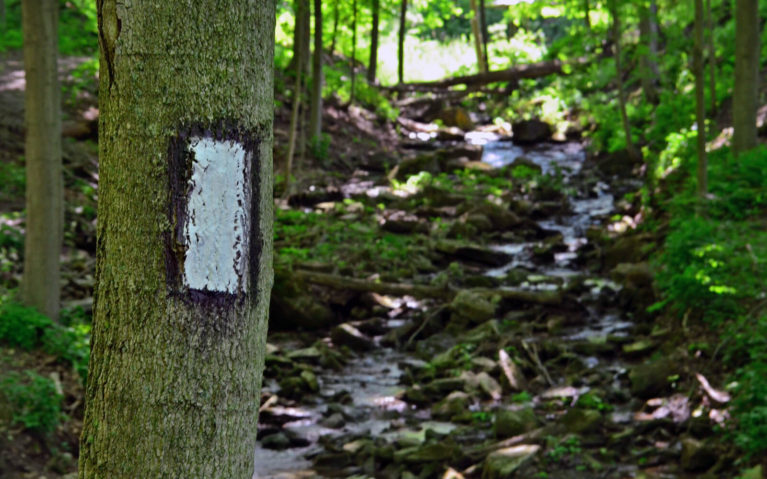 When is the Best Time to Tackle these Hamilton Waterfall Hikes?
The answer to this truly depends on your preference! Each of these majestic beauties (along with their 115+ counterparts) are beautiful no matter what time of the year it is.
Spring's thaw will give you the best example of how fierce Hamilton's waterfalls can be. This usually happens around the end of March and can last until mid-May. Even the smallest of waterfalls will be showing off with fantastic displays of force! Something to note is that the trails can be muddy at this time of the year, so be prepared. Gaiters and possibly an extra pair of socks/boots may be necessary so as to not suffer from wet feet all day long.
If you're more comfortable in warmer weather, then visit in the summer months from June-August. Be sure to bring plenty of water and sunscreen as the sun can be pretty intense. There are wooded areas which can help keep the sun at bay, but with the woods come mosquitoes. It doesn't hurt to have some bug spray handy if you are prone to mosquito bites!
Once the temperature starts to cool, these Hamilton waterfalls will be surrounded with brilliant fall foliage. It's one of my favourite ways to enjoy autumn in Ontario. Enjoy the reds and oranges as they contrast against the cool blues of the water. Autumn can be a tricky time to visit as it truly depends on the weather. The leaves can start to turn as early as mid-September and last as late as the end of November. Other years they've only been around for 2 weeks! It's best to keep an eye on the temperatures but know that once we've had our first frost, you're on the clock. The leaves will disappear shortly after!
If you're a fan of winter like me, then 100% this is the best time to experience the waterfalls of Hamilton. The ephemeral beauty of a frozen Tiffany Falls will absolutely take your breath away. You'll also have the majority of the trails to yourself too, which makes for a calmer, more serene hike. All you need is a few layers and you'll be ready for any winter waterfall hike!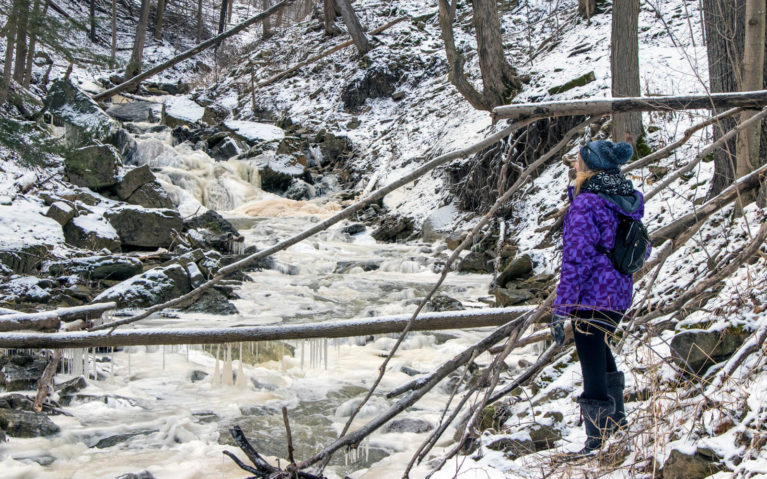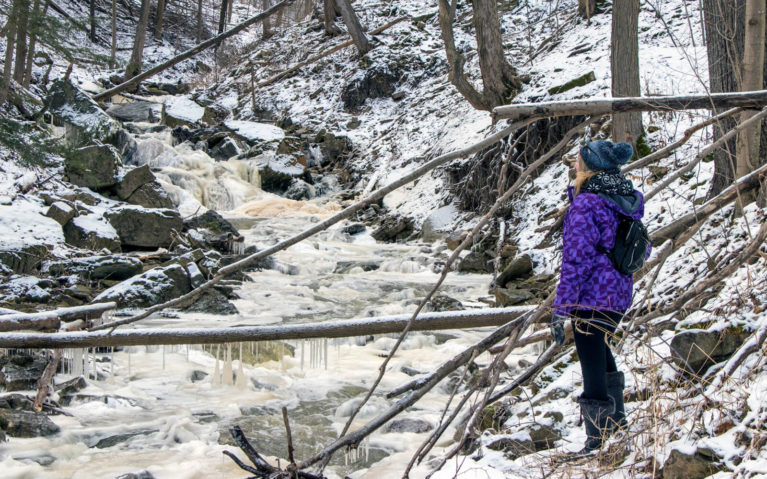 Indigenous Acknowledgement
As you may or may not know, "Canada" is formed on stolen land. This land was stolen from the Indigenous Peoples who lived here long before European settlers ever arrived. Their rich history is still prevalent today, and as such, we need to acknowledge the traditional territory. Hamilton is located on Mississauga and Haudenosaunee territory with many Indigenous legends and stories still being told today. Click on the above link for more information on how Hamilton is working to promote a better understanding among all Hamilton residents about Indigenous cultures, experiences and histories.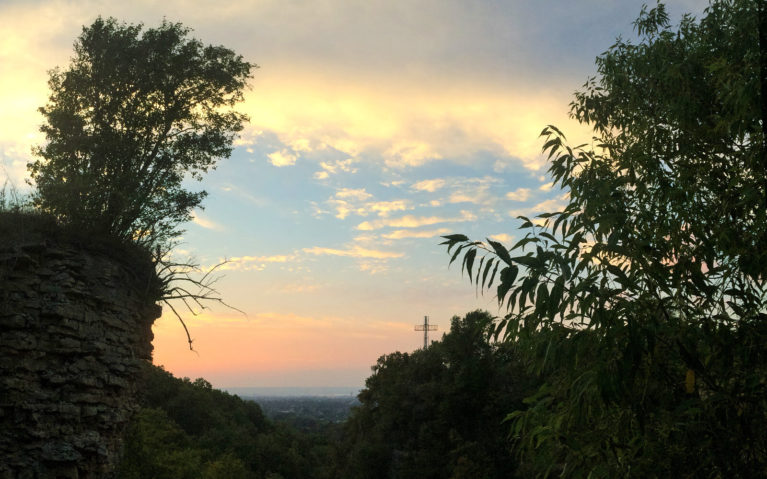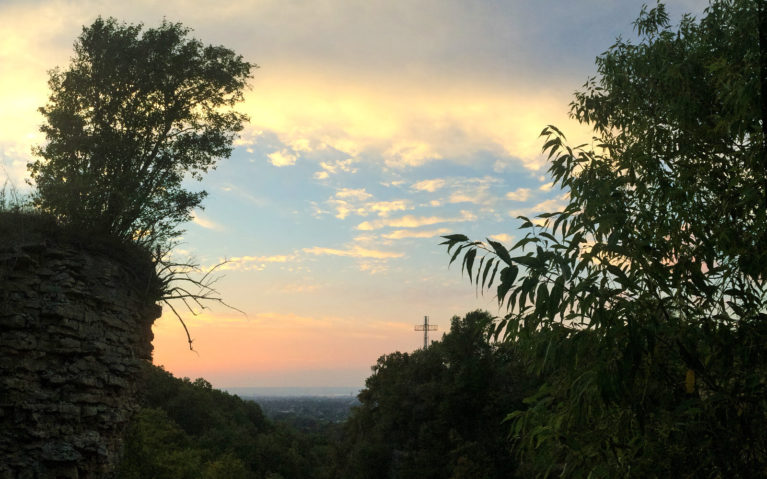 Don't Forget to Respect These Waterfalls Around Hamilton
Like any hiking near Hamilton, Ontario or anywhere in the world for that matter – nature isn't a right, it's a privilege. Leave it in better shape than you arrived and if you see any garbage, pick it up. There may not always be trash facilities nearby, but I often bring a bag for garbage with me so I can do my part to keep our trails clean.
Many of the trails here, especially those in conjunction with the Bruce Trail, run through private property. This means we should respect it even more as they are kind enough to allow us access. That kindness can be revoked at any time if we don't treat the trails well!
As well, while waterfalls are absolutely beautiful, they can also be dangerous. Never put your life or any other's in danger in the quest for an 'epic selfie'. Too many times people have been rope rescued due to carelessness. This leads to fencing or eventually, areas being shut down entirely. Don't be the reason this happens. Always wear proper hiking gear, let someone know where you are (or better yet, hike with a buddy!), and don't hike after dark.
Now, what are you waiting for?! Get planning an adventure with some of these Hamilton hikes! Which of these beauties do you think are the best waterfalls in Hamilton? Would you dare say some of them are the best waterfalls in Ontario? I think you need to visit them all before you decide and I'd love to hear which ones you'd crown as the best Hamilton waterfalls.
If you're looking to make the most of your time in Hamilton…
Don't Miss Out On The Best Hamilton Hiking Trails
Keep Your Budget Happy With These Free Things to Do in Hamilton
Check Out These Great Indoor Attractions in Hamilton
Chase Some Ghosts With These Haunted Places in the City
Unleash Your Inner Artist at these Top Hamilton Art Galleries
See What Other Destinations (Like Hamilton) Will Make For an Awesome Ontario Road Trip
See What Hotels Are Available For An Overnight Adventure
Disclaimer
This post contains affiliate links where I may receive a kickback at no extra cost to you. It helps keep the site alive so thanks! Read more in IBB's disclaimer and privacy policy.
Are you ready to check out the best waterfalls in Hamilton? Pin it for later!