Chasing Grey County Waterfalls: The Ultimate Guide

At the foot of the famous Bruce Peninsula, you'll find an area known as Grey County. While it may not have the rugged shorelines like its northern neighbour, it's home to a different kind of natural beauty. Here you'll find a number of waterfalls scattered across the county. This is a post waterfall addicts won't want to miss! Not only will you marvel at these natural wonders but their locations will have you exploring plenty of amazing destinations within it. I've got all the details on these Grey County waterfalls as well as the most efficient route for exploring them!
Chasing Waterfalls in Grey County
Would you believe me if I said it's possible to visit these Grey County waterfalls all in one go? Similar to the waterfalls in the Niagara Region, all of these waterfalls are within 140km of each other. While it works out to about 2.5 hours of driving, it's the perfect weekend adventure. Whether you choose to tackle them all in one day or more is up to you!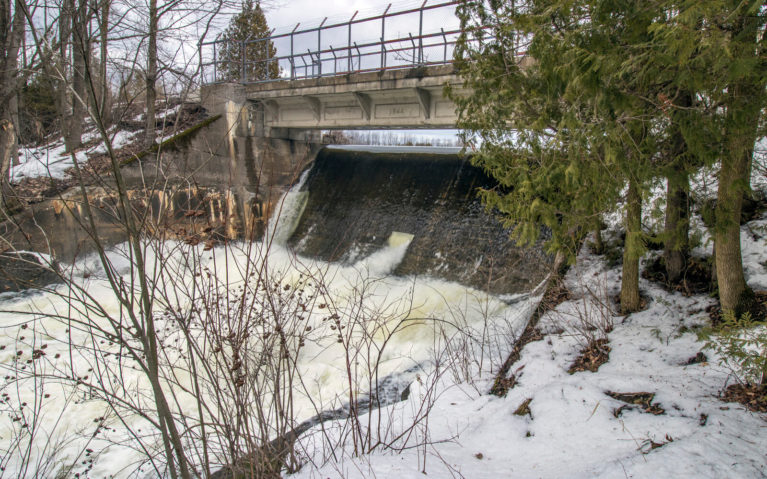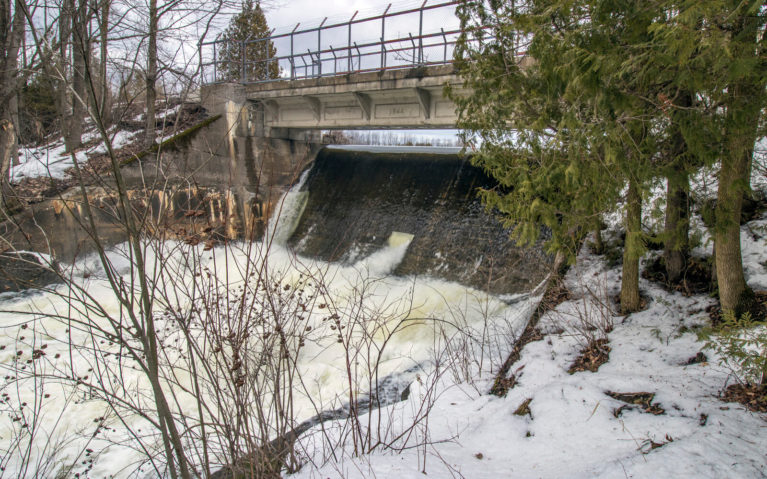 Holstein Dam
The southernmost of all of the Grey County waterfalls, the Holstein Dam is located within the town it's named after. This waterfall might more manmade than natural but it's still a fan favourite. Sitting at just 5 metres tall, the cascade waterfall isn't the biggest but she's a wide one! Watch as the water from the Mill Pond flows down Norman Reeves Creek across the dam. Head just a little downstream from the Jubilee Park entrance for the best view of the falls. You can also enjoy the falls from a different angle by hiking to the old railway bridge that runs across the top of the dam. Jubilee Park also offers a picnic area, baseball diamond, pavilion as well as some playground equipment. The Holstein Dam is one of the smallest of Grey County's waterfalls, meaning you're just getting a small taste of what the area has to offer!
To get to the Holstein Dam, you'll want to take a slight detour from Highway 6 towards the town of Holstein. Hop onto County Road 109 and head towards the Holstein General Store. When you see Lane Street, turn onto it where you'll find the entrance to Jubilee Park.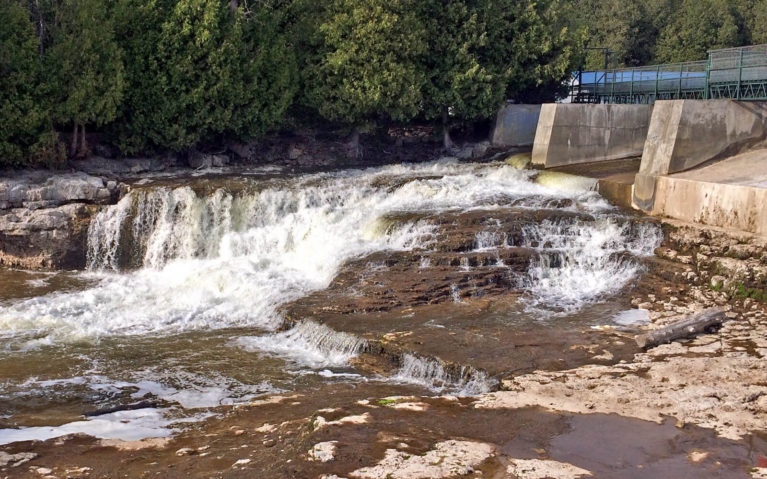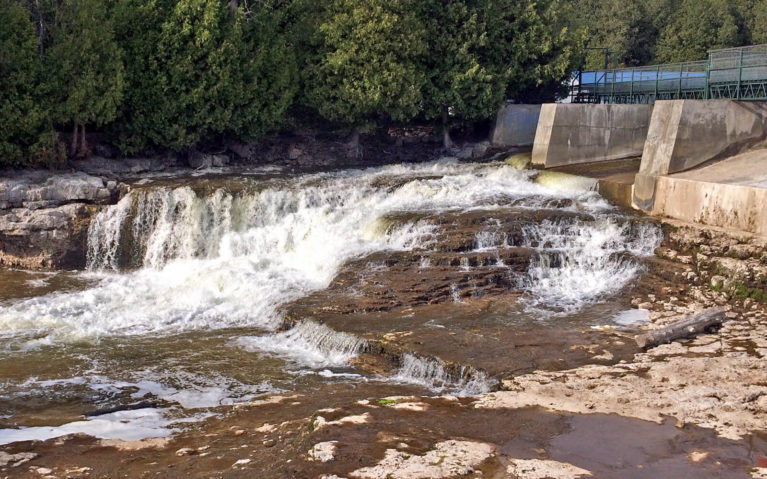 McGowan Falls
Once you're done hanging out in Holstein, head north along County Road 109. Hang a right onto Egremont Glenelg Townline then a quick left onto Concession Road 2. This will take you to Highway 4 where you'll hang a left and you'll arrive in the town of Durham.
As you come into town, you'll head onto George Street East where you'll find a Durham Conservation Area parking lot right beside McGowan Falls. Similar to the Holstein Dam, McGowan Falls is regulated by the dam above it as it controls the water flowing towards Lake Huron. Approximately 4 metres tall and 15 metres wide, this cascade waterfall is a hot spot for swimming in the summer months.  Despite having a man-made influence, the area itself is beautiful with a wonderful side path on the opposite side of the river. There is even a little tunnel which you might be able to swim along if the water level is low like it is now!
Don't forget to check out the town after exploring this Durham waterfall. There are a number of beautiful murals and one even depicts McGowan Falls! You'll find a few places in town for a bite to eat as well as a cafe or two if you need a caffeine boost.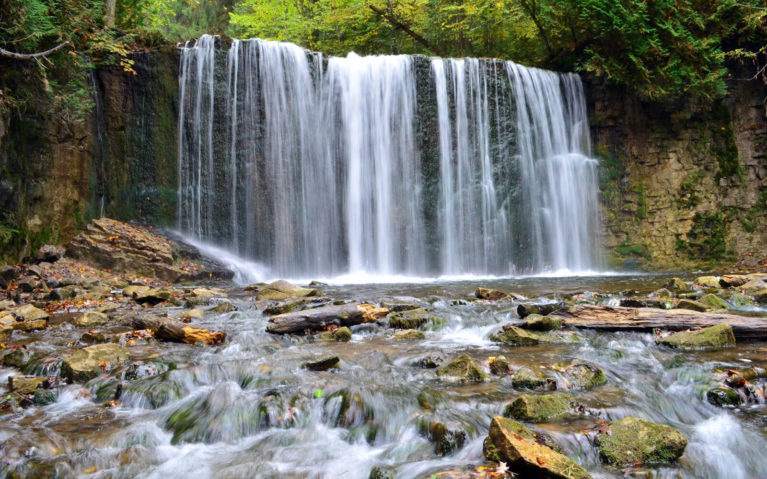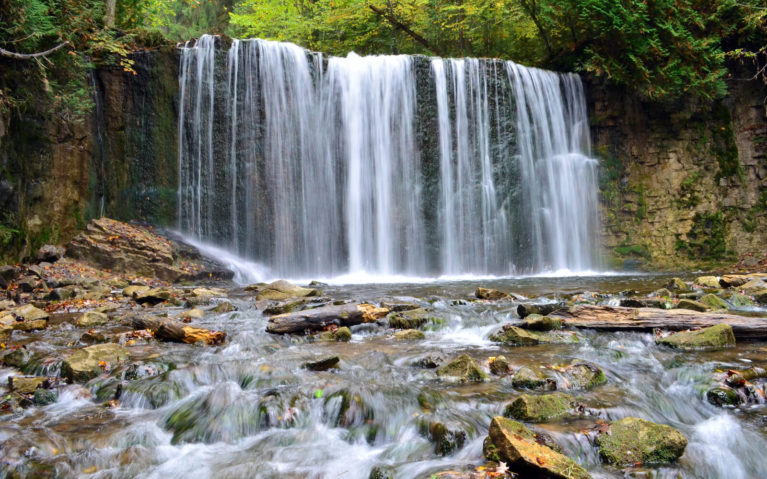 Hogg's Falls
While many head north from McGowan Falls towards Owen Sound, I recommend heading a little further east just past the town of Flesherton. Along Lower Valley Road just off of East Back Line, you'll find one of my favourite waterfalls in Grey County. Say hello to Hogg's Falls! This plunge waterfall sits just over 7 metres tall and is surrounded by lush wilderness. Named after William Hogg, it was once home to a sawmill which he built in the 1870s. However you won't find anything man-made here since the mill burnt down in the late 1880s – except the rope you can use to scale down the escarpment!
Hogg's Falls is definitely a waterfall worth visiting in every season. While her flow will be less in the summer months, the bright green vegetation is beautiful. Autumn brings with it the beautiful golds and reds which will just add to the magic. However, winter is hands down my favourite as the icicles are just breathtaking. It also makes climbing down to her base a little easier since the ground should be frozen and not as mucky. Though you may need to dig in the snow a little to find the rope!
The parking area off of Lower Valley Road isn't overly big, however I've never run into any trouble. You'll want to follow the Bruce Trail east along the Boyne River (the water will be to your left). It shouldn't take you more than 15 minutes to reach Hogg's Falls along the main trail. If you don't hear the falls by 10 minutes in then chances are you've gone the wrong way! Looking for a longer hike? You can continue along the Bruce Trail and it'll take you right to your next waterfall destination… though it's quite the trek at 14km return.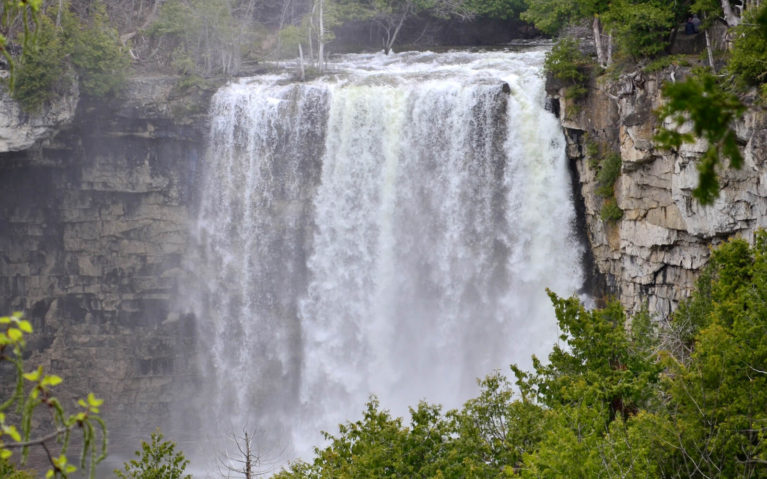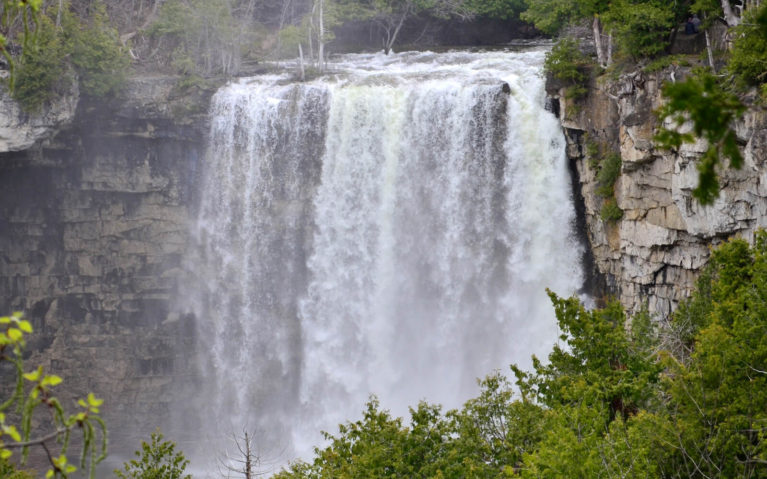 Eugenia Falls
If you're not ambitious enough to do the 14km haul (don't worry, I'm not either), hop back in your car and retrace your steps to Highway 4. Turn left and then take another left onto Grey Road 13 into the town of Eugenia. I guarantee you'll see signs for it but once you see the Eugenia Falls Emporium, turn left onto Pellisier Road and you'll see the parking lot for the Eugenia Falls Conservation Area!
Just steps from the parking lot you'll see the beauty of Eugenia Falls as the Beaver River tumbles over the Niagara Escarpment. Said to be one of the highest in Eastern Canada, it was once the site of a hydroelectric power station back in the day. This plunge waterfall sits approximately 30 metres tall and is quite an impressive sight to see… in the cooler months. It's not uncommon for Eugenia Falls to be a trickle in the summer so I highly recommend a winter or spring visit. Enjoy the views of the crest from behind the stone wall before following the trail south.
While it's said accessing the base of Eugenia Falls is possible, there is no set trail. You'll be going off-roading as you climb over slippery rocks and fallen trees. I personally wouldn't recommend it, especially since you can get some great views of the entire falls within a few hundred metres of the lookout.
After you're done admiring this natural beauty, take a walk around the town of Eugenia. It isn't the largest place around but you'd be surprised at what's available. A few of the shops close in the winter months but you'll have your full pick of eats and treats come summertime.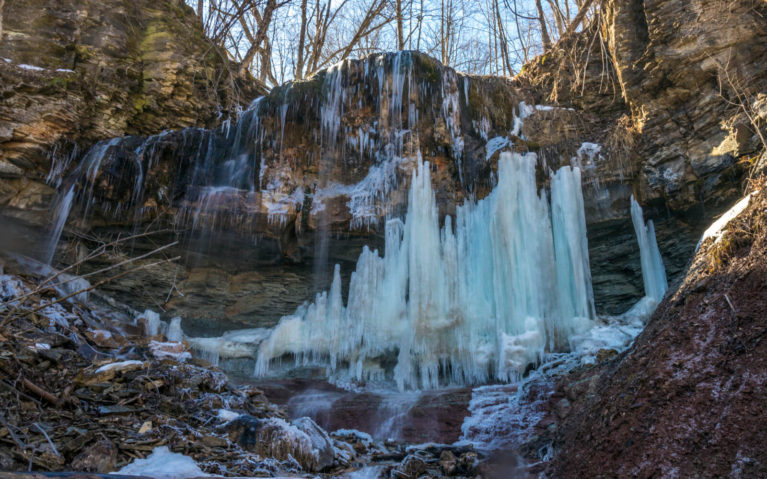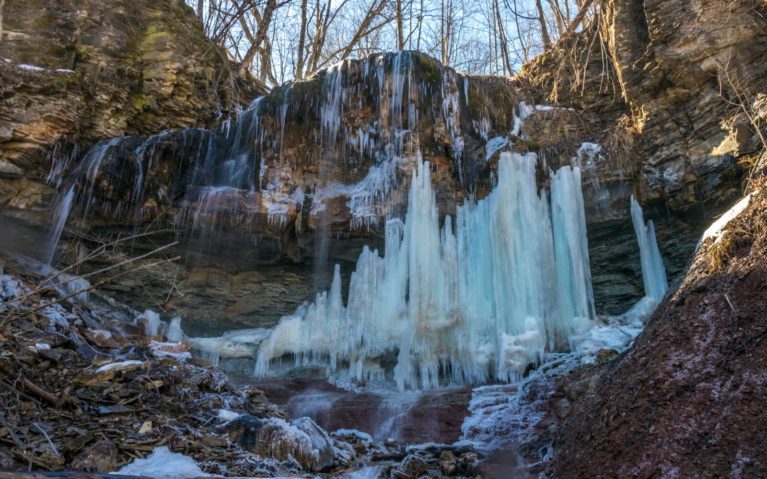 Hilts Falls
This is the newest addition to any Grey County waterfall route. The Bruce Side trail that leads right to this waterfall was only added in September of 2019! It's not on Google yet, however if you head to this location, you'll see a parking lot on your left side. Follow this road to the end where you'll find a Bruce Trail access which will take you to the start of the Stew Hilts Side Trail. At the end of it is where you'll find the magical beauty you see above.
This trail is one of the longer ones on this list so it will take a bit of time. I'd recommend leaving approximately one hour to tackle this one. Also be sure to have a good set of footwear as the ground is very uneven!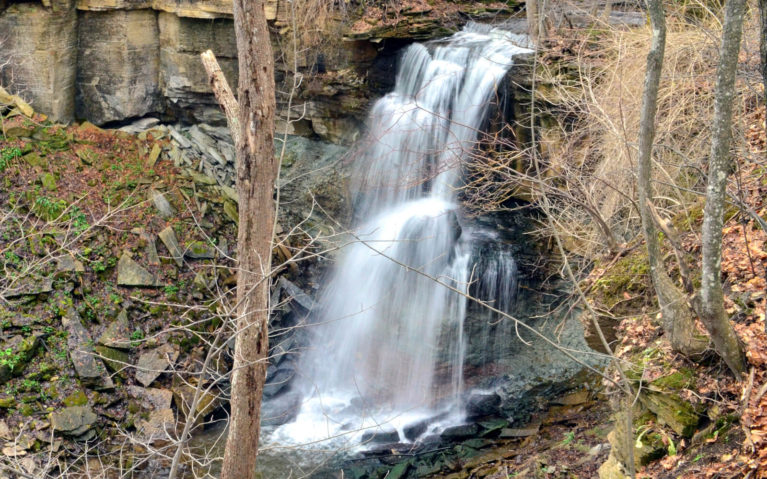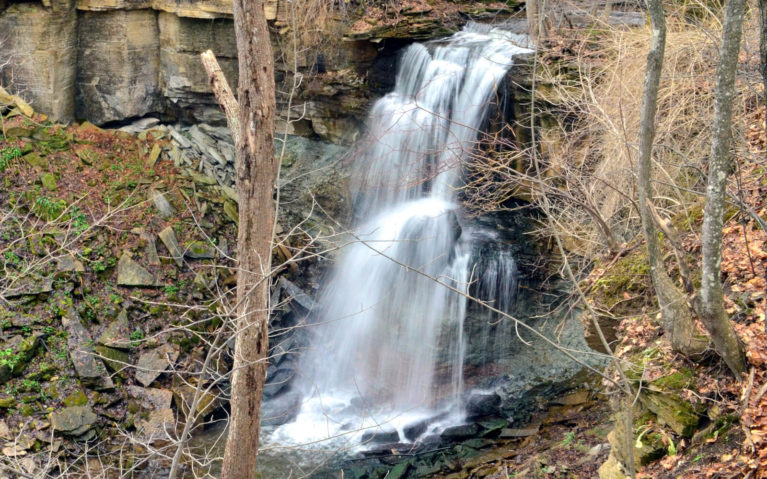 Webwood Falls
It's time to leave Eugenia in your rearview as you continue north along Grey Road 13. When you come to a fork in the road, take a left and hop onto Grey Road 7. In less than 10 minutes you'll come to the intersection of Sideroad 25 where you'll want to take a right. Follow it for a little over a kilometre and you'll come upon the Webwood Falls Nature Reserve!
The nature reserve was created thanks to the generous donation of Mr James Horwood who has been a supporter of the Bruce Trail Conservancy for a long time. Named in memory of his parents, Webwood Falls and the area surrounding it is now permanently protected by the Bruce Trail Conservancy. It's been quite a few years since I visited but there should be some parking along the road here. Try not to park right on the bend nor obstruct traffic as you enjoy this peaceful area.
Webwood Falls is one of the smaller Grey County waterfalls but its location adds to the magic. Two small streams meld to form the flow that converges as their water tumbles over the crest. While it is possible to get to the base of the falls (albeit it's a slippery slope!), it's better if you don't. Webwood Falls is located within a very delicate eco-system and it's already falling victim to significant erosion. Please admire her from the top of the falls so that this important habitat can stay intact for the bees, butterflies, deer and more who depend on it for survival.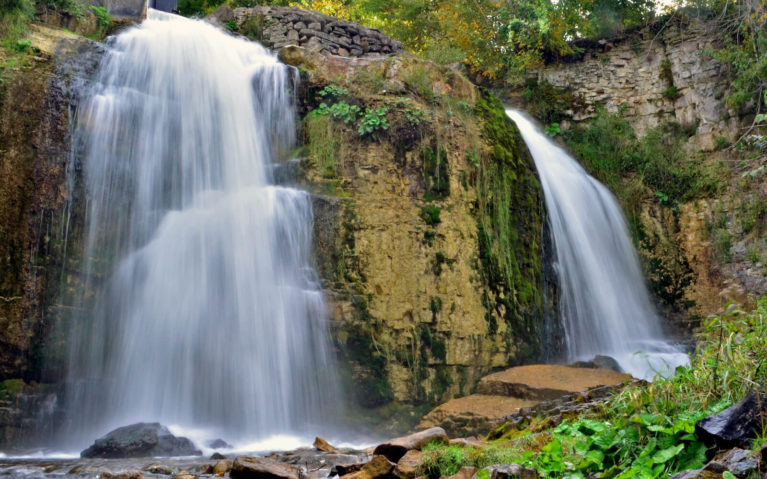 Walter's Falls
Once you've said goodbye to Webwood Falls, backtrack to County Road 7 and head north where you'll hang a left on County Road 40. You'll come to Grey Road 29 where you'll turn right which you'll follow straight until the road ends. In front of you, you'll see The Falls Inn but there should be plenty of room for you to park so you can admire your next stop – Walter's Falls. This waterfall is on private property, however the owners of Walter's Falls are kind enough to let visitors come in and admire it. On long weekends and in the summer months, you may need to park further out as the parking closest to the inn is reserved for guests. Please be respectful of this!
Head over to the viewing platform where you can watch Walter's Creek plunge into the riverbed below. Both the creek and falls were named after John Walter and his family, pioneers who settled onto the traditional lands of the Anishinaabe and Odawa many years ago. Here the Walter established a grist mill which has since become The Falls Inn. I haven't stayed here myself but I've heard it's a beautiful spot for a weekend getaway. There really isn't much in the village other than the inn and falls so hop back in your car towards Owen Sound when you're done.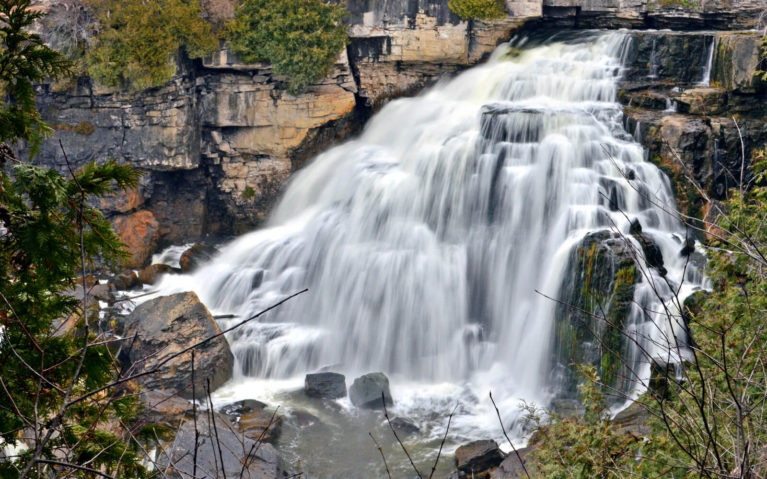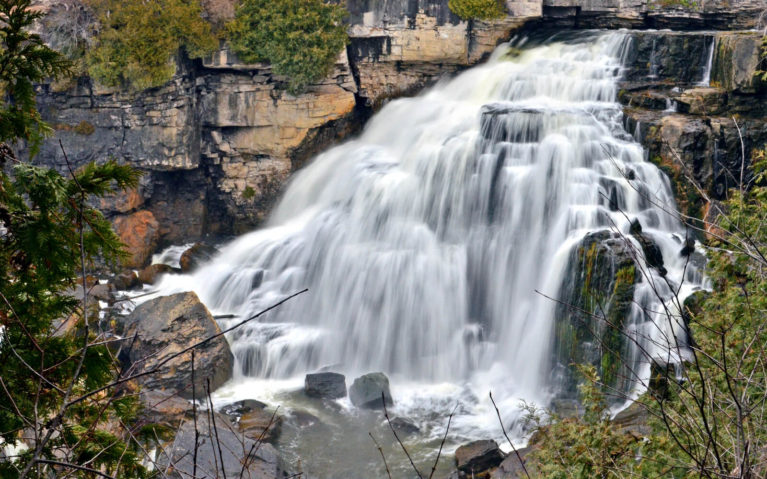 Inglis Falls
Head north along Euphrasia Holland Townline until it meets the Gerald Short Parkway. Turn left and follow it until the road ends where you'll turn right followed by another quick left onto Grey County Road 18. Drive along it for just under 15 minutes and you'll see the signs for the Grey Sauble Inglis Falls Conservation Area.
Probably the most visited of Grey County's waterfalls, you'll immediately understand why once you lay your eyes upon Inglis Falls. This cascade waterfall sits approximately 17 metres tall as the Sydenham River tumbles over the numerous layers of the Niagara Escarpment. The entire area surrounding the falls is gorgeous and worth exploring. Interpretive signage tells about the history of the grist mill that once stood at the top of the falls. Rumour has it you can get to the base of the falls by following the Bruce Trail down towards the riverbed. I've never done it myself as I'm happy to enjoy the incredible views available from the trail.
For me, Inglis Falls is a little different as it will always have a special place in my heart. It brings me a sense of comfort that very few waterfalls do. Don't get me wrong, I love each and every waterfall I visit. However, very few have the level of calm that I feel like I do when I'm at Inglis Falls. I'm reminded of my grandmother telling me stories of how her mother's father's brother ran the grist mill in the late 1800s. I still have yet to investigate this to see if it's true, but if it is then I believe he would have been the gentleman to take over operations from Charles Woodhead in 1883.
Whether you find a spiritual connection to Inglis Falls or not, I wouldn't be surprised to hear that she's the most memorable stop on your Grey County waterfall road trip.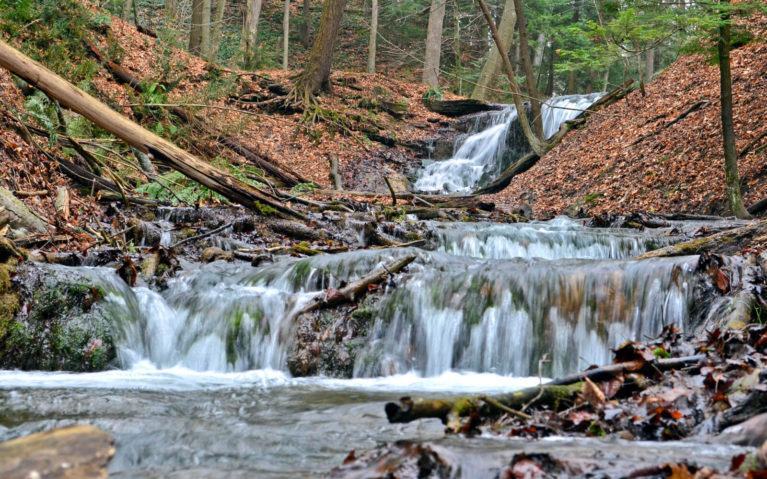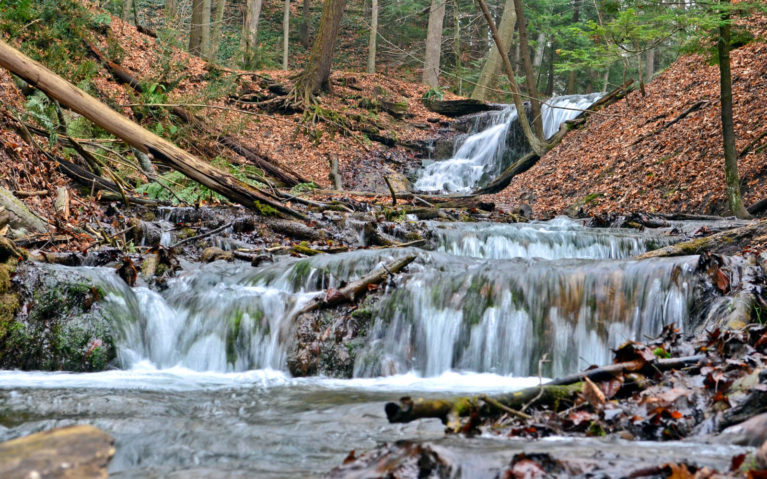 Weavers Creek
Head into Owen Sound proper in the direction of Harrison Park. This is where you'll find Weavers Creek Falls, the little gem of Owen Sound waterfalls in the heart of the park. Just a short 5 minute walk from the public pool, you'll follow a well-maintained boardwalk that leads you to a short mulch path. Voila, you've found Weavers Creek Falls! The path stops fairly short of the top of the falls, so you'd have to do some serious clamouring to get towards them. There's also a sign that notifies you that the falls are actually on private property, so acknowledge it as you please. In the summer, I opt for hopping into the river to cool off while snapping a few shots before returning to the car for our next target.
If you're visiting Weaver's Creek during the holiday season, you might want to make it a full day trip and stick around until it gets dark. Harrison Park is part of the Festival of Northern Lights and definitely makes a great trip for a solid dose of holiday cheer! Find out more in this round up of Christmas light displays in Ontario.
To get to Harrison Park from the Inglis Falls Conservation Area, you'll want to turn right and head north along Inglis Falls Road. When it meets County Road 5, turn right and follow it until the first right you can make which will be 1st Street East. Follow the road to the parking lot and park wherever you like close to the end of the lot!
INSIDER TIP: If you're looking for a place to stay to make this a weekend adventure, Owen Sound has a number of affordable hotel options. You'll also find lots of places to eat, museums, craft breweries and more!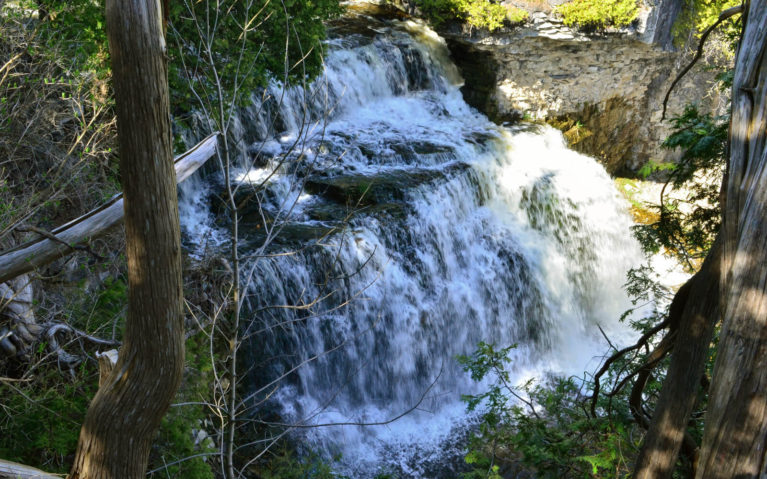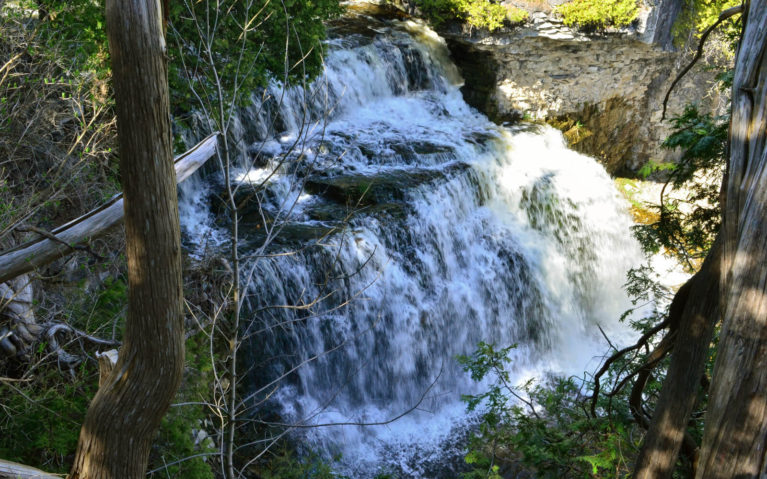 Jones Falls
When leaving Harrison Park, turn right onto 2nd Avenue East (aka Grey County Road 5), then turn left onto 2nd Avenue West. Follow it until you reach 10th Street West where you'll turn left once again. Continue along it until you see the Esso at the intersection of Highway 6. Turn right and just a few metres up you'll see a parking lot for the Pottawatomi Conservation Area where you'll find Jones Falls!
Follow the kilometre-long trail to Jones Falls where you'll see the Pottawatomi River drop 12 metres down the Niagara Escarpment. This cascade waterfall truly is beautiful as you admire the numerous layers of bedrock the water tumbles over. For best views of the waterfall, I recommend crossing over the arch bridge to the south side of the falls. You won't be surprised to see the Bruce Trail one again as it runs through the area. While Jones Falls is gorgeous in the springtime, it's not uncommon to see little to no flow by the time late summer rolls around.
The old-growth forest here is gorgeous and it would be a sin not to take some time to explore it. It's possible to get to the base of Jones Falls by following the trails downstream then heading against the water. As always, use caution when not on an official trail, especially because the rocks can be very slippery here!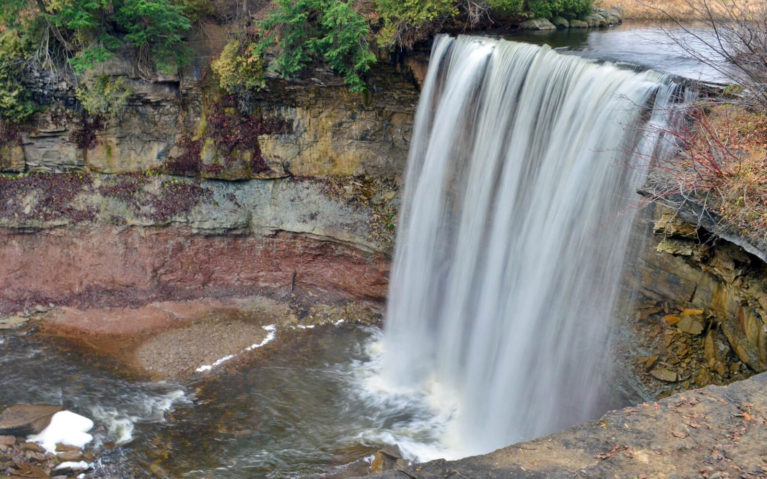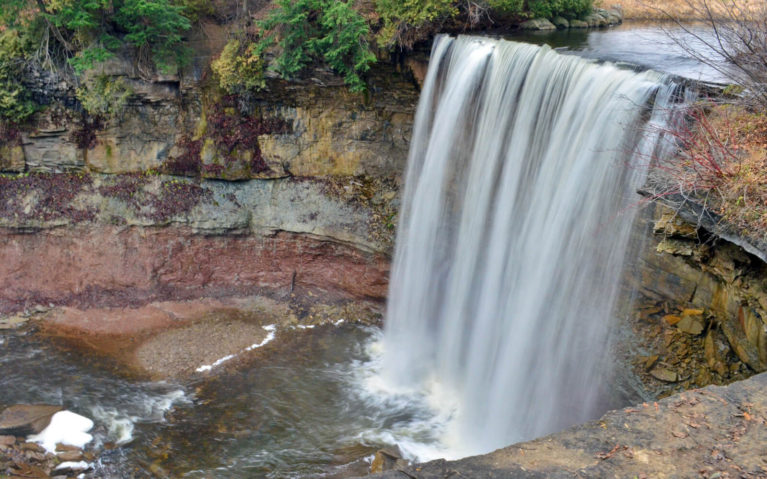 Indian Falls
While I slightly cringe every time I hear, read or say its name, Indian Falls is truly beautiful and not to be missed. Head north of Owen Sound either by 13th Street West and Grey Road 17 and 17A or by heading through the city Grey Road 1. You'll see the driveway for the Indian Falls Conservation Area on your left approximately 1.5km north of Grey Road 17A.
Head to the end of the parking lot where you'll see a clearing and the start of the trail. Follow the trail along the river to the right. While brochures will say this trail is challenging, the toughest part of it is the uneven terrain. I wouldn't want to tackle it without hiking boots or some footwear with a good grip, especially if it has rained recently. Follow the trail for about 10 minutes and you'll come upon a staircase. You might be huffing and puffing a bit by the top but a few minutes more and you'll catch a glimpse of the falls.
INSIDER TIP: If you're hoping to capture the colour, your best chance of getting a photo is in the morning. The sun sets right behind Indian Falls so that'll cause your photos to be backlit!
Indian Falls is a 15 metre tall 'bridal veil' beauty with a horseshoe-like shape. It was formed by the erosion of soft Red Queenston shale beneath the hard nature of the Manitoulin dolomite, very similar to how Niagara Falls came to be! The various colours of rock along the cliff edge are reminiscent of the Devil's Punch Bowl in Hamilton. As for the base of the falls, I've heard rumours of hikers trekking along the river to get to them. However, this is strictly prohibited. I'm unsure if fines or tickets will be given out but if you choose to not heed this warning, you do so at your own risk.
And with that, you've officially seen all of the Grey County waterfalls – give yourself a pat on the back!
RELATED: Looking for more places to explore in the area? I highly recommend checking out the town of Wiarton. Just 30 minutes from Indian Falls Owen Sound, I can tell you it's one seriously underrated gem along the Bruce Peninsula.
Ready to Chase Some Grey County Waterfalls?
Are these natural wonders calling to you as they do to me? Whether you're looking for an epic day trip or a weekend adventure, I highly recommend this waterfall tour. While I absolutely loved my autumn trip to Grey County, I truly recommend doing this tour in the colder months. Plus Grey County is an amazing winter destination so it's a win-win, really!
However like a lot of Southern Ontario, Grey County's winters are getting milder but it's no stranger to heavy snow. As such, some waterfalls are not the most accessible in the winter months. The Holstein Dam, Eugenia Falls, Webwood Falls and Indian Falls are said to be closed in the winter months. This gives you McGowan Falls, Hoggs Falls, Walter's Falls, Inglis Falls, Weavers Creek Falls and Jones Falls as targets for snowy adventures. If you choose to visit these waterfalls anyway, just remember you are doing so at your own risk. This goes for the summer months, too! Make sure you always come prepared with the proper equipment to avoid accidents and if the weather's awful, plan for another trip. The waterfalls will still be there!
So, ready to hit the road? Click here for the Grey County waterfall tour map which should help you when planning your trip. Don't forget about this detour to Hilts Falls too!  There's plenty to see and do in the area from exploring some of South Georgian Bay's highlights to indulging in delicious eats, craft beer and more. You may come for the waterfalls but I guarantee you'll be coming back for everything else Grey County has to offer!
RELATED: If you'd like some gorgeous lookouts to go with your waterfalls, don't miss these top views across South Georgian Bay!
It's also easy to make this a weekend adventure (or longer!) so take a look at some of the accommodation options below if you'd like to stay awhile. Personally, I'd recommend staying somewhere around Owen Sound as this gives you easy access to amenities as well as the waterfalls you're here to chase. Collingwood is also an option but most of the waterfalls are more west, so you'll need to travel a bit more. Plus staying near Owen Sound means you might be able to check out some Bruce Peninsula waterfalls like Sauble Falls! Whatever you choose, you'll have a fabulous time exploring Grey County.
Looking for more Ontario waterfalls to chase?
Head to Niagara where you'll find 10+ waterfalls on top of Niagara Falls itself!
Don't forget the city of waterfalls with the best in Hamilton!
These Incredible Waterfalls Will Have You Planning a Visit to Thunder Bay
Disclaimer
This post contains affiliate links where I may receive a kickback at no extra cost to you. It helps keep the site alive so thanks! Read more in IBB's disclaimer and privacy policy.
Don't forget these epic Grey County waterfalls & pin it for later!