Exhilarating Ways to Experience Grey County: Your Winter Guide

Canadian winters can be brutally cold with lots of blowing snow and frigid wind chill. While many head for warmer climates, I much prefer to stay close to home and enjoy the fluffy white stuff. Call me crazy, but winter's my favourite season… and I'm always game to explore in the colder months. Just one of the many great winter destinations in Ontario is Grey County and being just two hours northwest of Toronto, it's the perfect winter getaway from the city!
Things to Do in Grey County in the Winter
There is no shortage of winter fun in this area of Ontario. Pack your layers and get ready for some serious fun with these great things to do in Grey County in the winter months!
INSIDER TIP: If you're not much of a winter traveller, you might be wondering what to pack. A great place to start would be my winter hiking gear list as many of the items here will translate to the activities listed below!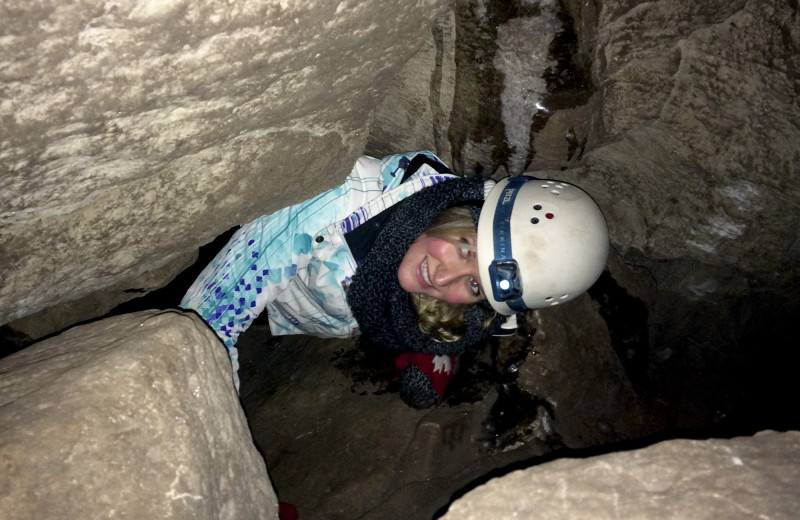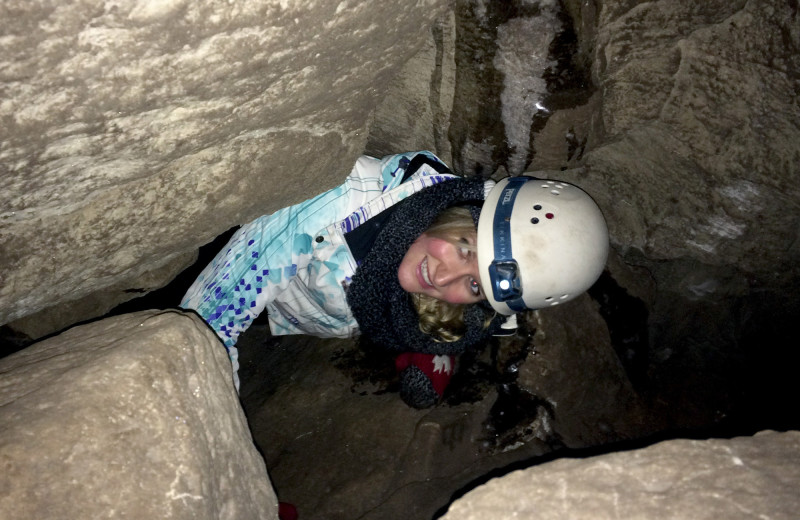 Explore the Depths of the Niagara Escarpment
If you're looking for a memorable winter adventure, winter caving is the place to start. Free Spirit Tours has an amazing guided tour of Metcalfe Rock in the Kolapore Uplands. Don't worry if you've never done this before – I hadn't either! Free Spirit Tours will teach you everything you need to know as one of their stellar guides (like Jim!) leads you underground into the crevices of the Niagara Escarpment.
The fissures you'll be exploring were formed at the end of the ice age. In the winter, water sneaks through the crevices to create beautiful icicle formations. Also, if you're worried about the rocks moving on you – stop right now. They haven't budged in over 14,000 years, so there's nothing to worry about! Just take a tumble down the rabbit hole and discover a whole new world. While this excursion is great for any skill set, a certain level of physical fitness is required.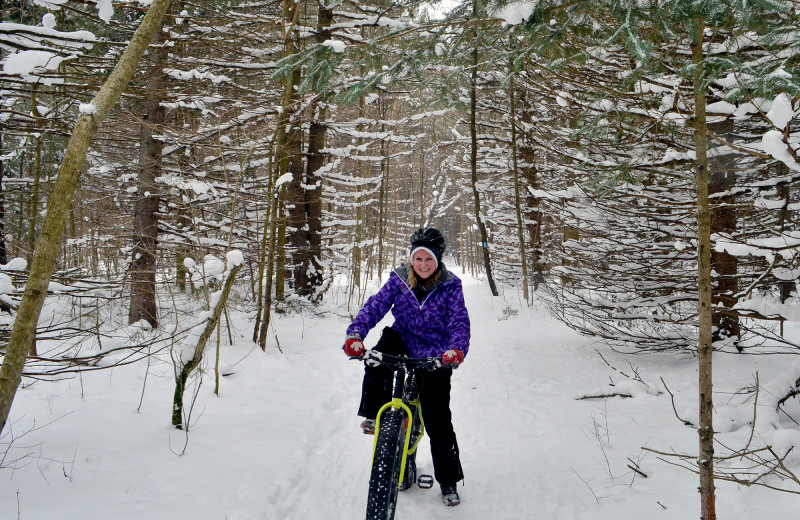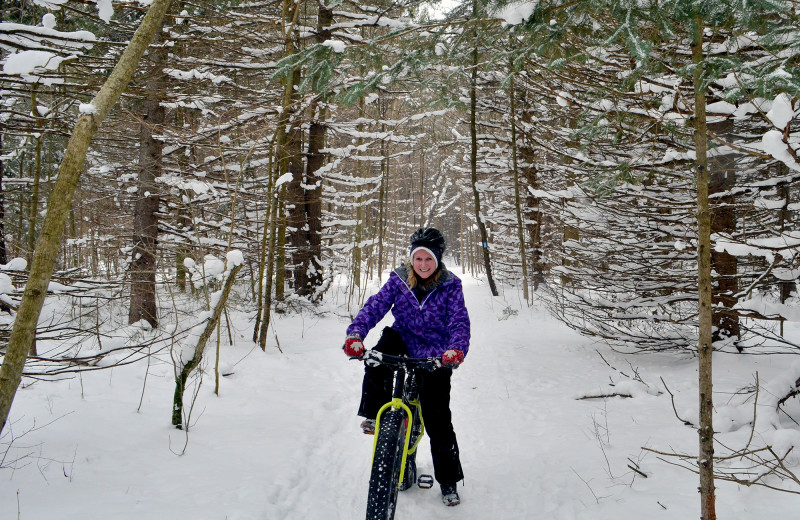 Power Through Some Snowy Trails on a Fat Bike
Cycling? In the winter? Yes, it is possible and it's a whole lot of fun! A perfect activity for the wandering souls, cycle enthusiasts and winter lovers, weave through some of Grey County's gorgeous forest along some incredible trails like the Len Gertler Side Trail, a part of the Bruce Trail. If you're looking for good workout that's lots of fun, you've definitely come to the right place! Also, don't be afraid to fall – it'll happen at least once if not 9 times. True story!
While Ride Guides used to offer guided tours where they would supply the bike, they have since closed up shop. However, there are a few places you can rent fat bikes in Grey County including the Collingwood area.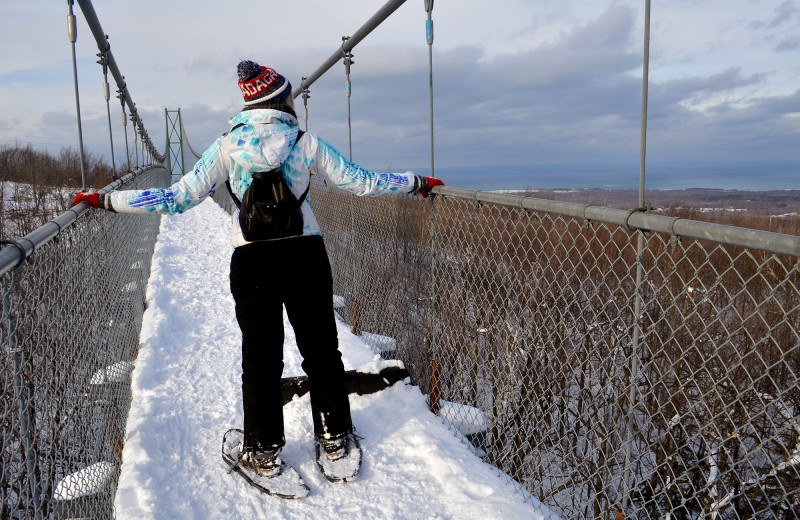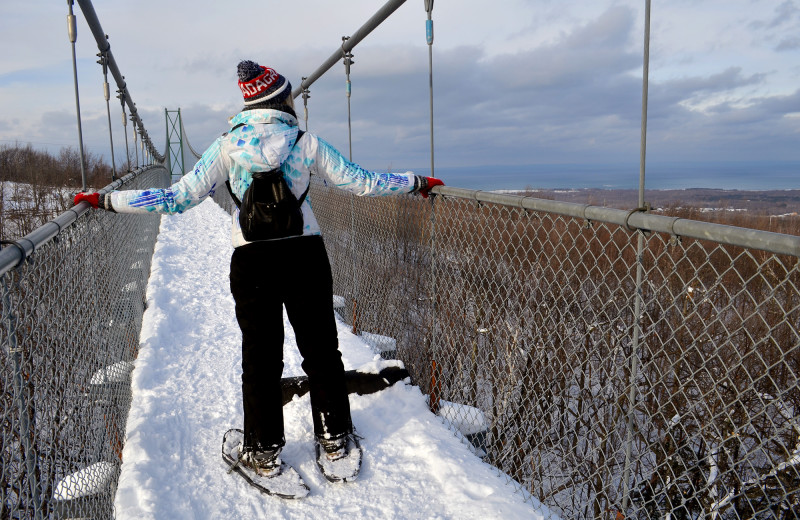 Wander the Trails by Snowshoe
Strap on the snowshoes and hit the trails at Scenic Caves! Known for their treetop excursions and the Thunderbird Zipline, they have numerous winter adventures. They're a great destination year-round! Scenic Caves offer approximately 10 km of snowshoe trails of various skill levels, a few of which have fantastic lookout points. I highly suggest checking out the Lookout Trail (who would have guessed?) as this will take you to the area close to where Ekarenniondi is! Despite how fantastic the million-dollar view from the suspension bridge is, I think this is my favourite spot to look out over Georgian Bay!
If you're thinking of venturing to Scenic Caves, I'd suggest coming a little bit before sunset. This way you can enjoy the colours as they dance across the sky… and then go for a snowshoe tour in the moonlight! I have yet to experience this for myself, but I can just imagine how breathtaking the sky would be as you can see so many stars. Also, Scenic Caves is perfect for family excursions with younger children. They have something for everyone!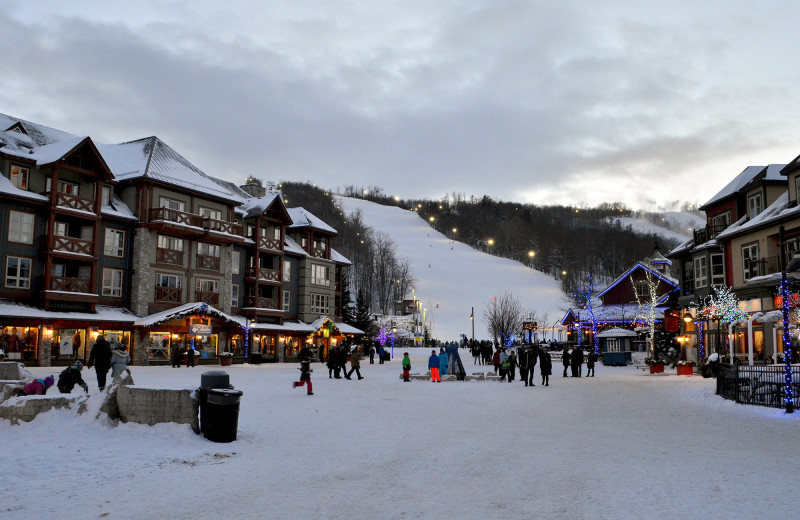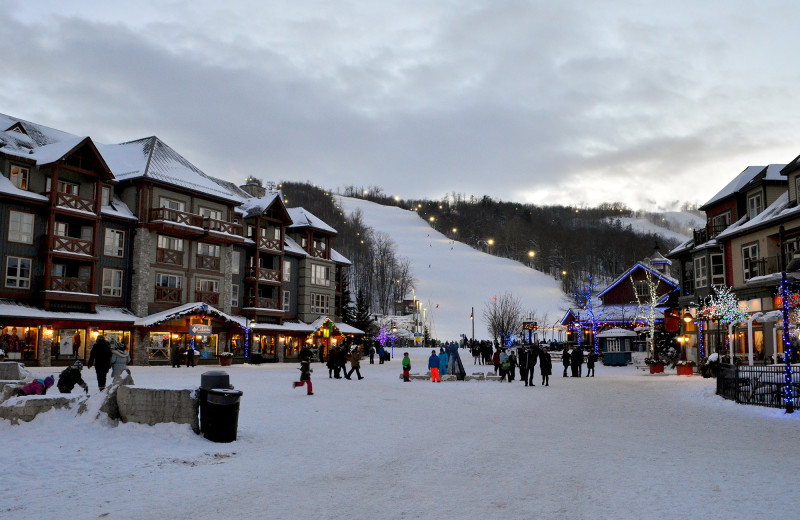 Rip Through the Powder at Blue Mountain
While I'm not an avid skier/snowboarder myself, Blue Mountain is a great spot to hit the hills in Southern Ontario. It's also a very popular winter weekend getaway destination! Celebrating 75 years, they offer over 40 trails for all skill sets. Also, you may not know this, but many of our Olympians have roots in Blue Mountain! With deals midweek as well as night skiing, it'll keep you racing down the hills.
Or if you're looking for something a little different, give their Ridge Runner a shot! This all-season coaster can be a nice tour through the terrain… or you can rip through and reach speeds of over 40km/hr! Either way, you'll want to hold on to your toques 'cause it's a wild ride! This is another spot that's popular for a family getaway in the wintertime as the village has something for all ages.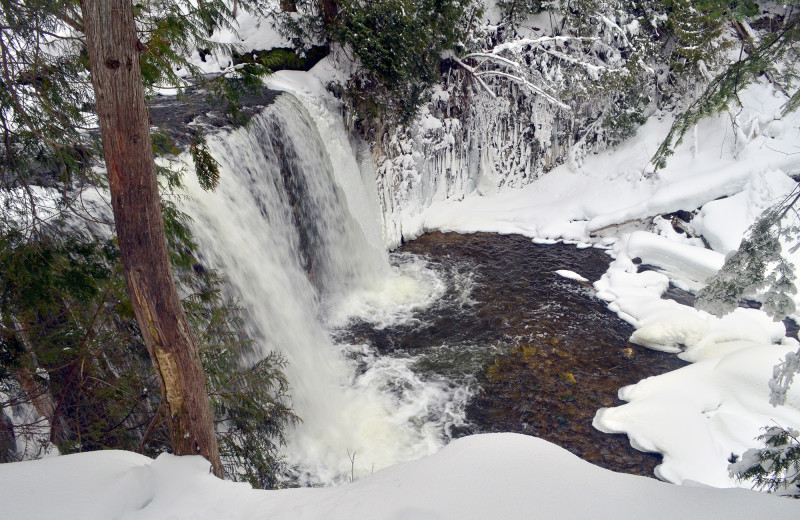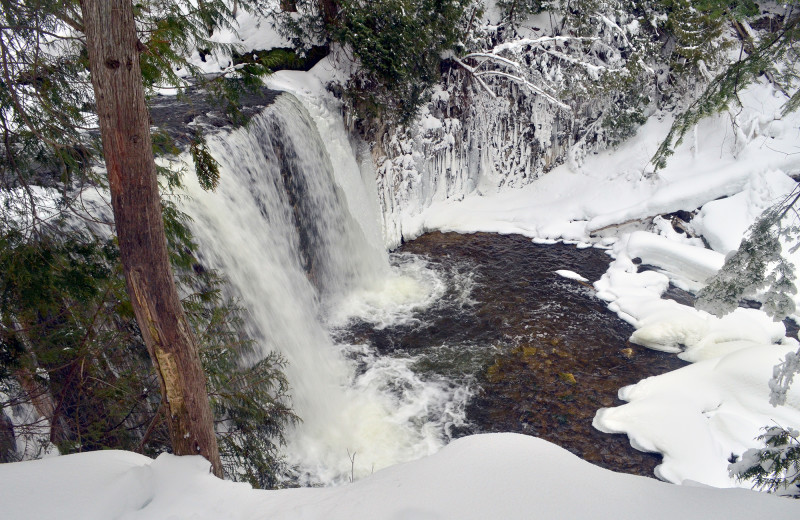 Chase Waterfalls Across Grey County
Saved the best for last (no I'm not biased…), chasing waterfalls in Grey County! As the temperature drops, my desire to hunt for these majestic beauties grows. Winter is hands down the best time of year to check out waterfalls. Why? They become these ephemeral works of art as icicles form around them. In some cases the water freezes quickly, building up to create gorgeous crystallized waves as they cascade down the rock face.
I highly suggest visiting Hoggs Falls in the Grey Highlands (close to Flesherton) and Inglis Falls in Owen Sound, but they're all beautiful and worth a visit! Be sure to bring proper winter gear as the snow around these areas can be quite deep. It's not uncommon to be up to your knees in the fluffy white stuff! Oh, and only 7 of their 10 waterfalls are accessible in the winter, so plan accordingly.
RELATED: If just one or two waterfalls isn't enough, don't miss the ultimate guide to exploring Grey County's waterfalls!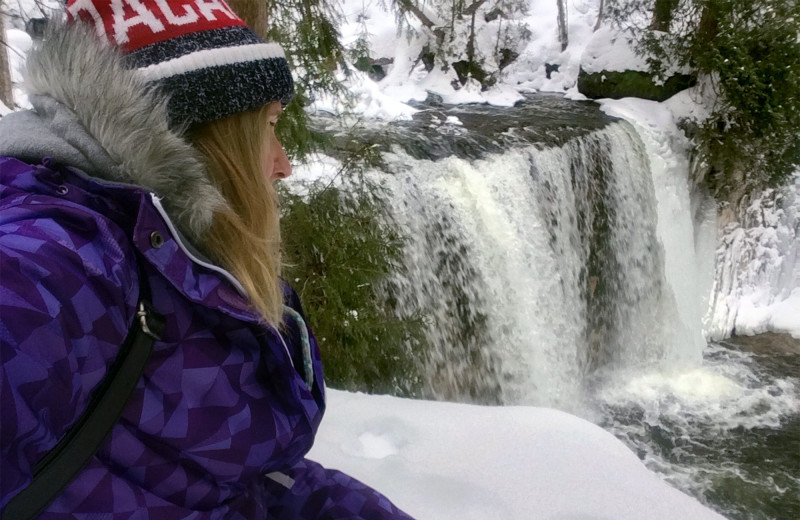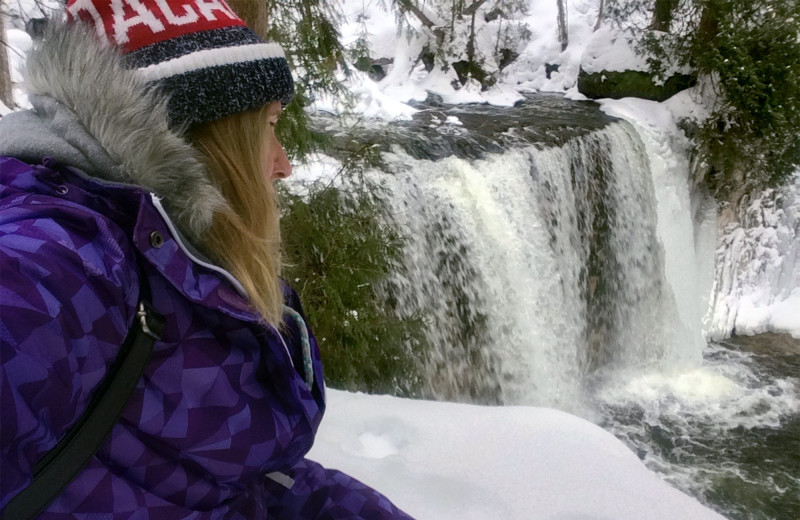 Additional Things to Do in Grey County
That's just the tip of the iceberg! Grey County has so much to offer that you'll need more than a few weekends to truly experience it all. Here are a few more ideas of some things to do in Grey County in case you're looking for more winter fun!
Relax at the Scandinave Spa – After all those outdoor adventures, chances are you might have a sore muscle or three. Embrace the mantra of hot, cold, rest, repeat at the Scandinave Spa in Blue Mountain. Your body will thank you for the special treatment!
Kickin' Back Alpaca Ranch – Who doesn't love to get up close and personal with some adorable alpacas? Book a tour and you'll see just how unique each alpaca is as you learn about them and hear plenty of stories. Don't forget your camera!
Hit Up an Ice Skating Trail – That's right, ice rinks are so passé but luckily Blue Mountain is home to one of Ontario's fantastic ice skating trails! Lace up your skates and meander through the forest as you follow this gorgeous mountaintop trail.
Break Out the Cross Country Skis – Just one more way to go for a winter wander in Grey County! There are a number of fantastic cross country ski trails across the area including the Sawmill Nordic Centre, the Loree Forest, and more.
In case you're looking for some activities to get out from the cold, here are some of the top indoor things to do in Grey County for when you need a little warm-up:
Visit a Museum &/or Art Gallery – Instead of working your muscles, work your brain as you enjoy the rich history and culture of Grey County. Some great spots include the Grey Roots Museum, the Tom Thompson Art Gallery and more!
Indulge in Some Craft Beer, Cider or Spirit – There is no shortage of great adult beverage options across Grey County! Some of my favourites include Thornbury Craft Cider & Brew House, Spy Cider House & Distillery, Black Bellows Brewing and Side Launch Brewing but there are plenty of more options to enjoy.
Support Local with a Little Shopping – Grey County has so many great local shops and markets that you have to stop into at least a few! One of my favourites is Grandma Lambe's where you'll find plenty of local eats and treats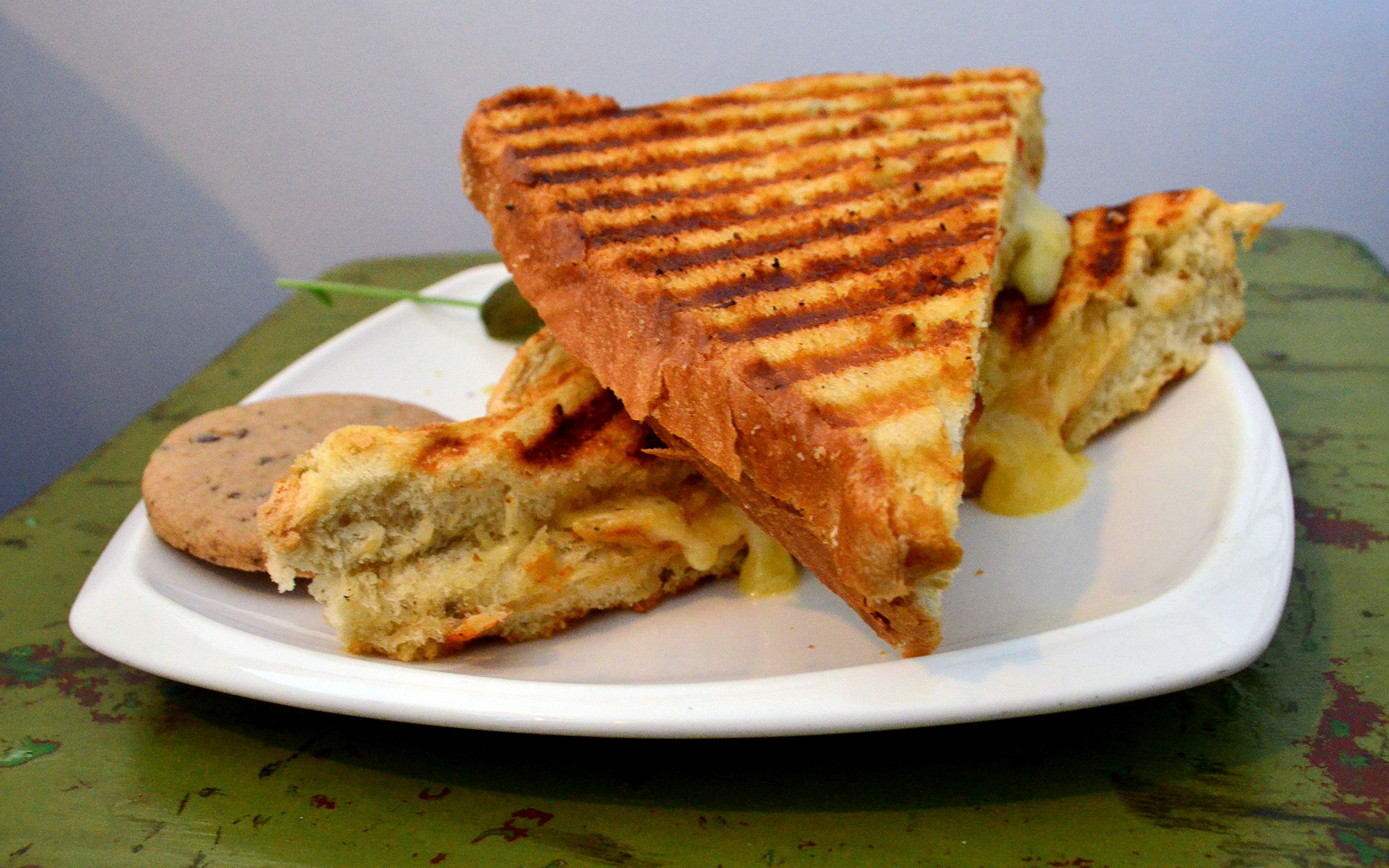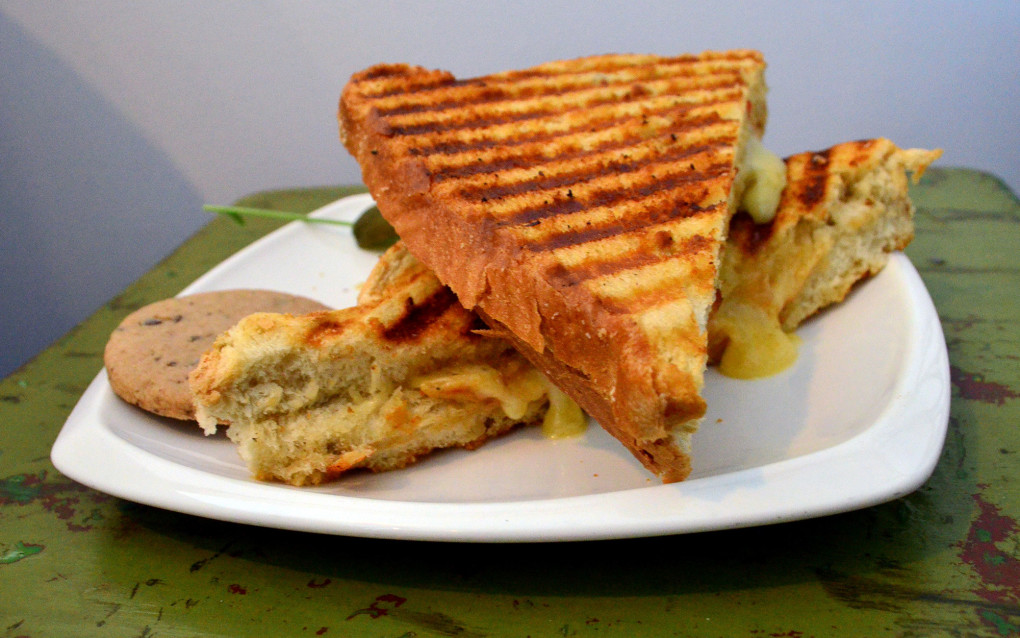 Where to Eat in Grey County
You're bound to work up an appetite with all that winter adventuring! There are plenty of great eats to be found in Grey County. Here are some of my Grey County restaurant recommendations that are guaranteed to satisfy your taste buds.
The Cheese Gallery in Thornbury
When artisan cheese meets local crafts and handiwork, you know it's going to be a special place. You can't miss this pretty purple shop as you stroll down Bruce Street in the heart of Thornbury.
Upon stepping inside, your eyes just might pop out of your head when you see just how many varieties of cheese you'll find! Every single one is top quality and the team at The Cheese Gallery handpick what they carry. Some are certainly locally sourced whereas others come from abroad to ensure their incredible flavours. I'm talking Gruyere from Switzerland, Parmesan from Italy, Gouda from the Netherlands… you get it.
I highly recommend grabbing one of their grilled cheese specials of the day (the one I indulged in was raclette cheese, one of my favourites) along with a latte. You can't go wrong with a Meredith's ginger elixir latte and I guarantee it will kill off any chill you may have from exploring the outdoors!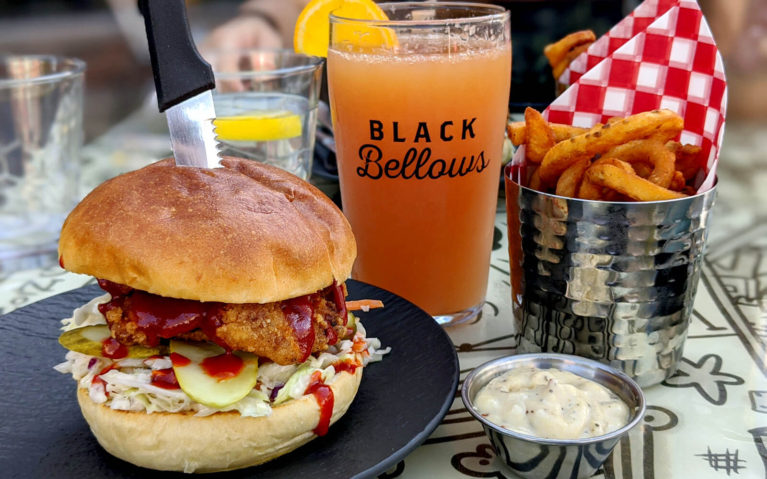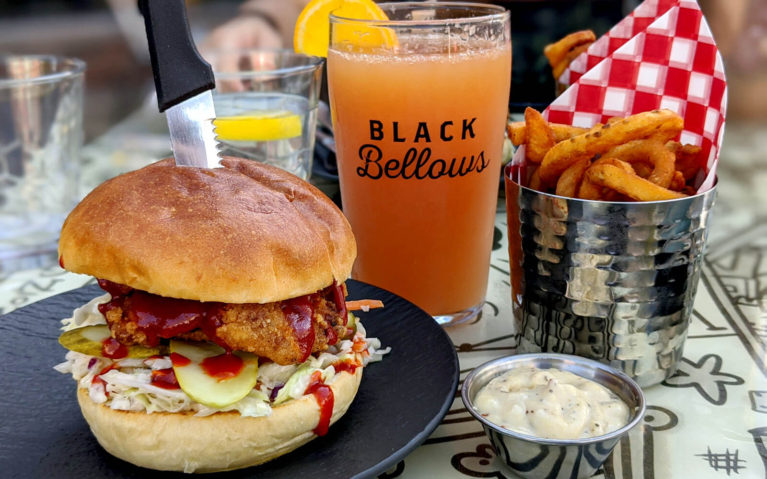 Black Bellows Brewing in Collingwood
I know I mentioned Black Bellows already as a place to grab a pint, but their food game is also seriously on point. I still dream about their fried hot chicken sandwiches. Crispy, juicy chicken is slathered in a tasty combo of gochujang, sesame and honey. It's then served up on a fresh bun and topped with coleslaw and pickles. I can't remember the last time I ate a sandwich that quickly! Paired with a side of curly fries and their garlic parmesan dip, you've got one seriously delicious meal.
I should also mention that Black Bellows was once an old blacksmith shop turned wicked pub with serious San Fran vibes makes it a must-visit!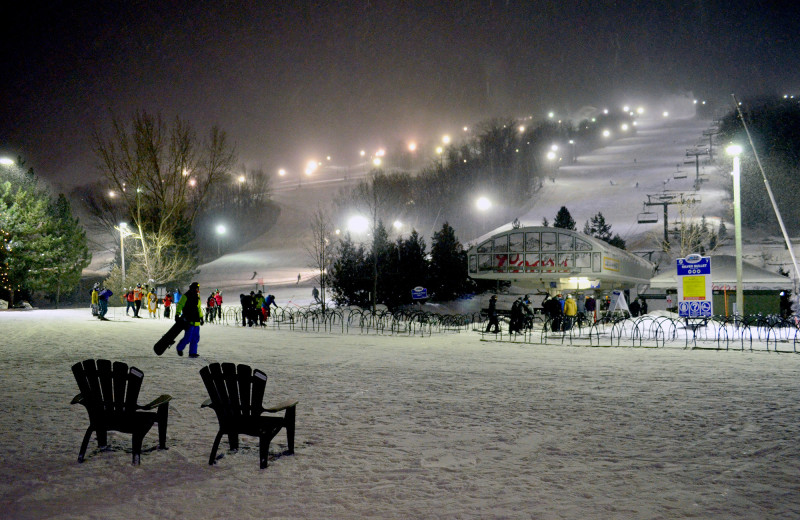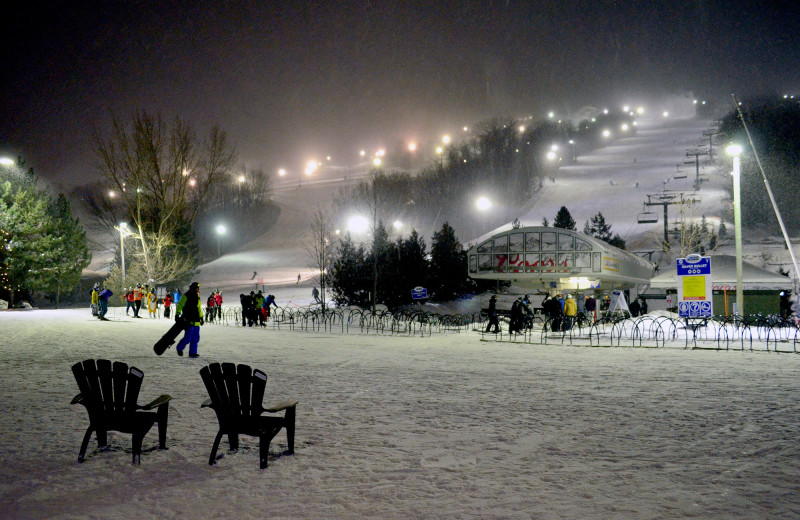 Where to Stay in Grey County
Whether you're looking for a weekend of serious skiing, a little rest and relaxation or a plethora of exploration, there are a number of great Grey County hotels to call home base.
The obvious choice to me is to find accommodation in Blue Mountain Village. Here you have everything you could need within walking distance, along with the slopes just steps away from your room. I had the pleasure of staying at the Grand Georgian in their Mosaic Suites which are perfect for a winter weekend getaway. Equipped with a full kitchen and cozy amenities like a fireplace, you just might find yourself struggling to even get to the ski hill! In all honesty, there are so many amazing properties in Blue Mountain that you'd be hard-pressed to find one that's lacklustre.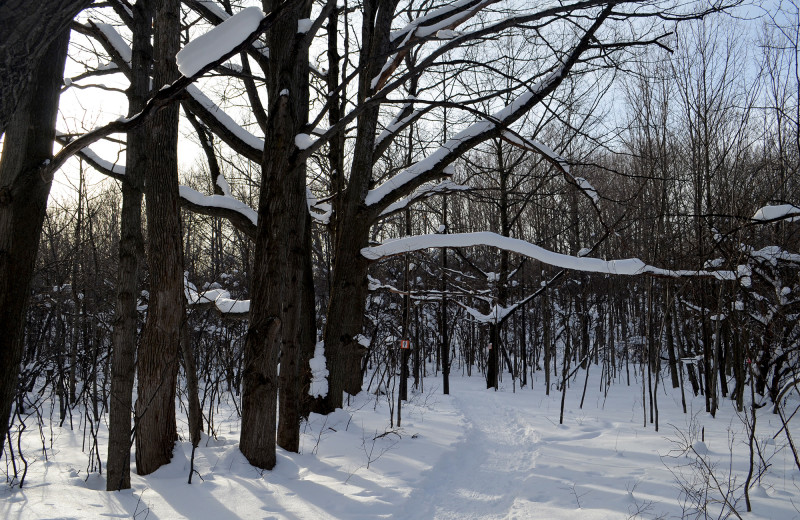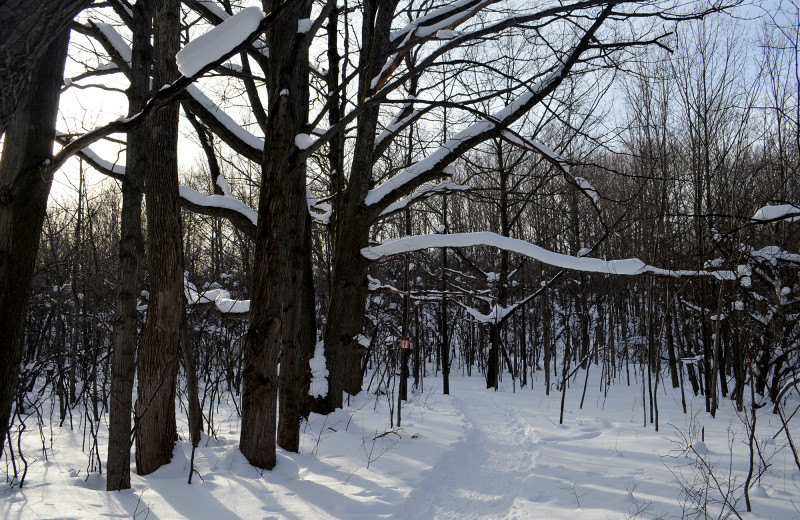 Things to Know When Visiting Grey County in Winter
As with any winter adventure in Canada, having the right clothing is very important to have. While temperatures typically hang out between 0C and 10C, it's not uncommon for them to drop below this. Be sure to layer up, especially if you're planning to spend an extended period of time outdoors. My winter hiking gear guide is a great spot to start to ensure you're prepared for the winter weather!
Another thing to note is that it's not uncommon for blowing snow to occur across many of the roads in Grey County. As you drive along the more major routes, you'll see signs indicating if the road conditions have caused the local police to close them. If you see these signs flashing, do not continue driving. It's definitely a bummer, but better to be safe than get stuck in a whiteout and put first responders at risk to rescue you!
Now it's time to book your winter adventure! While all of these excursions are possible in a single weekend, I suggest spreading it out. One for your body's sake, and two – there's no rush! Each time you come to Grey County, you'll discover new beauty and hidden gems you missed before. I'm just scratching the surface of how much this amazing area has to offer.
So, what are you waiting for? Break out the snow gear and get outside!
Grey County is a Fantastic Destination All Year Round!
Click Here to See Why You'll Fall for Grey County in the Autumn Season
DISCLAIMER:
A HUGE thank you to Grey County Tourism for inviting me up to enjoy a crazy weekend of snow, laughter, and sore muscles. Most of the activities listed were complimentary but my opinions and reviews are honest as always. This post also contains affiliate links where I will receive a kickback at no extra cost to you if you purchase something. This helps keep IBB running so thank you! Learn more in IBB's disclaimer and privacy policy.
Don't Forget These Amazing Winter Adventures in Grey County & Pin It For Later!