Scenic Caves Eco Adventure Tour: Treetops, Ziplines & More!

It's no secret that South Georgian Bay is a hot spot for adventure all year round. While many flock to the Blue Mountains in the winter months to hit the slopes, you'll want to return in the warmer months. Head to Scenic Caves Nature Adventures for some summer fun! Soar through the treetops, wander their famous suspension bridge and more with a Scenic Caves Eco Adventure Tour.
What is Scenic Caves Nature Adventures?
Scenic Caves is a locally owned company dedicated to sharing this beautiful area with locals and visitors alike. Established in 1932, their main objectives are to preserve the natural beauty of the area while sharing the historical significance of the area.
This land originally belonged to Indigenous Groups such as the Petun, Anishinaabe and Huron-Wendat but European colonization saw them forcibly removed from their lands. Before European exposure, this area served as a natural shelter for the Indigenous and a place of great significance.
Nowadays, visitors enjoy what Scenic Caves says is a "true back to nature environmental experience". Whether you visit in the summer or winter months, you'll be surrounded by beautiful nature while learning about what makes this area so special. You'll want to spend at least half a day, if not longer, to fully enjoy all that the area has to offer!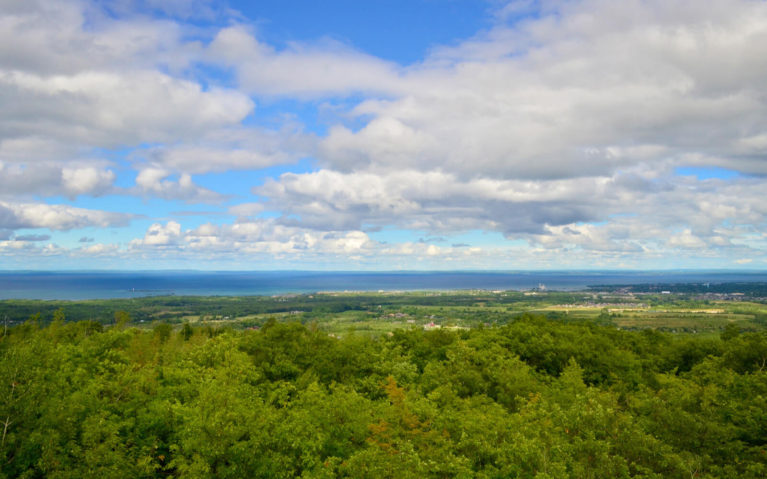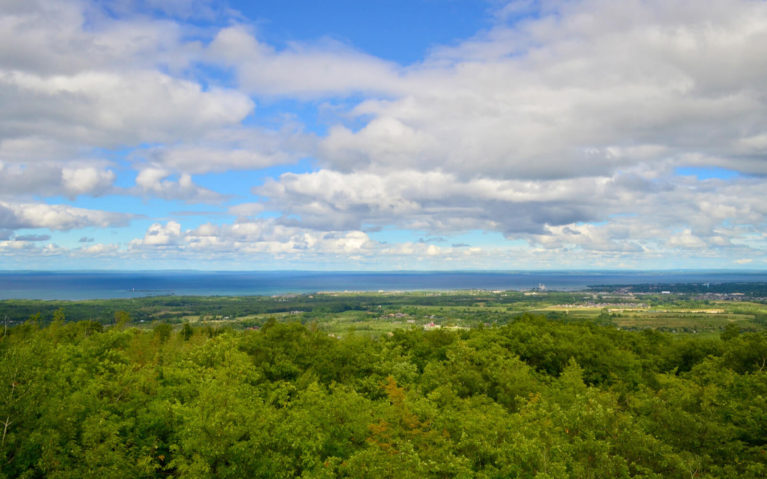 Scenic Caves Eco Adventure Tour
The biggest highlight of Scenic Caves (besides seeing the caves of course!), is their Eco Adventure Tour. On it, you'll enjoy the 200+ year old trees in Grey County's old growth forest from a different angle. Explore the park while taking in the sights of the Niagara Escarpment and Georgian Bay with a small group on this ~3 hour long tour.
While three hours may seem like a long time, it honestly flies right by. This is especially the case if you have Heidi and Madison as your guides. These two rockstars showed us the ropes (literally) as we ran through the important safety information before making our way to the first stop – the "Million Dollar View". Curious about the name? Read on!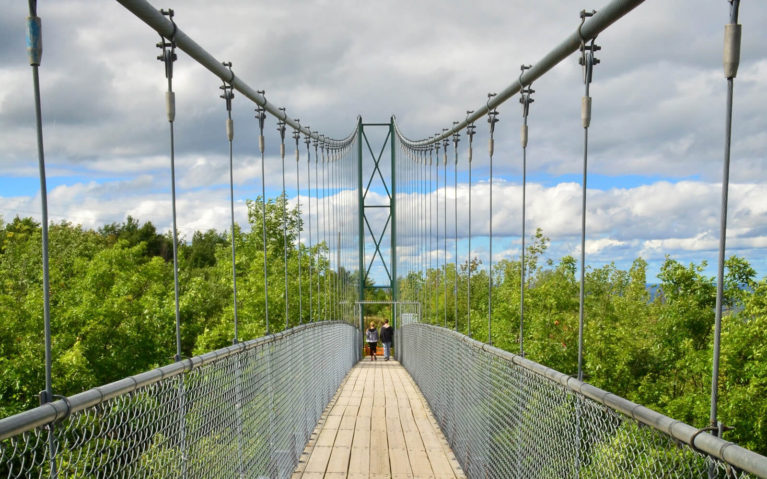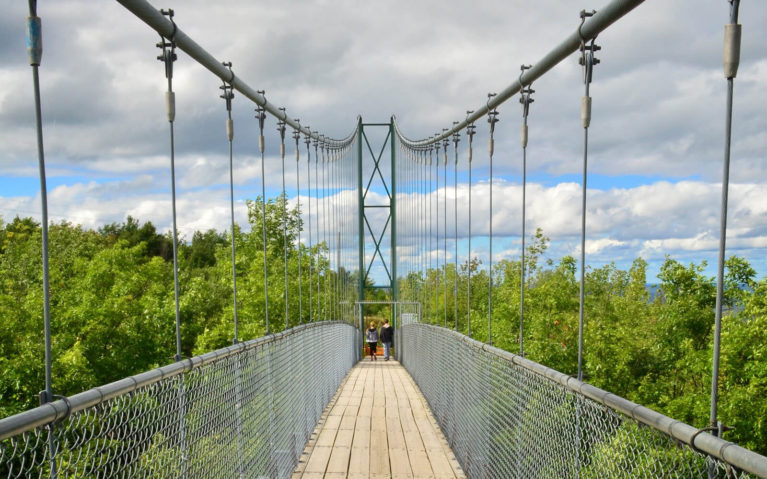 Suspension Bridge
You'll begin the tour with a visit to the Scenic Caves Suspension Bridge. This 420 foot long masterpiece is southern Ontario's longest suspension bridge. Enjoy the 360 degree views of the area from 82 feet above the forest floor. There aren't too many places where you'll feel as though you're floating among the forest!
Here your eyes will be treated to the Georgian Bay Coastline from the historic grain elevator in Collingwood's Millenium Park to Nottawasaga Island and its unlucky lighthouse. Why unlucky? We were told on the tour that it's been struck by lightening a number of times! Clearly it's built well as it's still standing.
So why is this called the "Million Dollar View"? The suspension bridge cost exactly that to build, hence why owner Rob Thornburn has given it this nickname!
The suspension bridge was quite the feat to build as the team at Scenic Caves faced three major obstacles. First is the most obvious challenge – the Niagara Escarpment itself. It took almost a decade to get all of the permits needed in order to proceed with construction in 2002.
Next, they were faced with the challenge of building the bridge without disturbing the trees. Why was this so important? The land where Scenic Caves sits is the last place you'll find red oak trees in their natural habitat. They were heavily logged back in the day and so the suspension bridge was built as a way to allow visitors to explore more of the area without damaging the trees.
Last but not least, time was not on their side. Rob was faced with the difficult decision to either hold off on building and miss the summer tourism season or build through the winter to open in time for it. They went with the latter and while it was incredibly tough, were able to pull it off on time and on budget to open in the summer of 2003!


The Treetop Trek
After enjoying the view you'll hop on a tractor for a little wagon ride to the start of the Treetop Trek! Here your guides will show you everything you need to know for your adventure. You'll learn how to attach and detach yourself from the cords that line the paths between the trees. Once they're convinced you've got the hang of it, you'll be on your way!
INSIDER TIP: If you're a photo taker or just like to take your time (possibly because you have vertigo like me) then go towards the end so you can fully enjoy the sights and experience!
Channel your inner monkey as you hop between the 15 different stages of the treetop trek. Some are easy as you walk along planks of wood like a wide tightrope while others are trickier as you hop from piece to piece along a rope ladder bridge. If you're not a fan of heights this might be tricky but remember that you're strapped in safe and sound. Oh, and no looking at your feet or you'll miss out on the beauty of the treetop canopy!
Upon finishing the treetop trek you'll be rewarded with your first zipline! While this one is only 300 ft long, it's a fun little ride to get the adrenaline pumping if it wasn't already. After a small break and another short tractor ride, you'll come upon the start of the Thunderbird – Canada's longest twin zip line. Unfortunately for us it was already closed so we couldn't catch a ride, but you can purchase your tickets for a future visit for $10 instead of the normal $40 rate.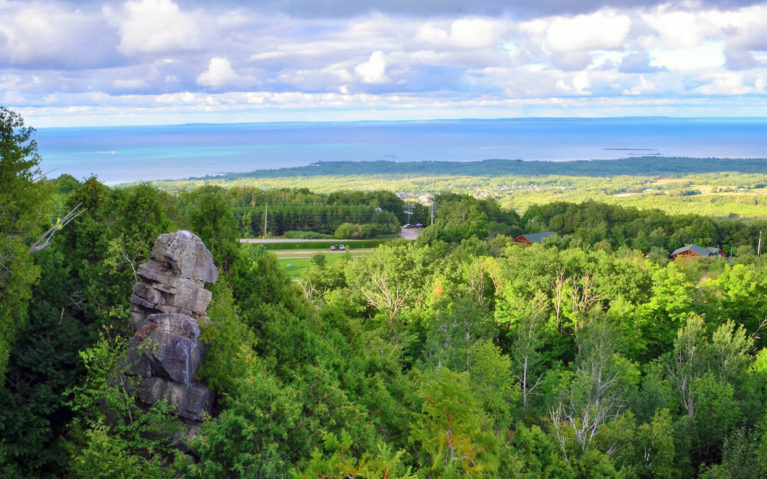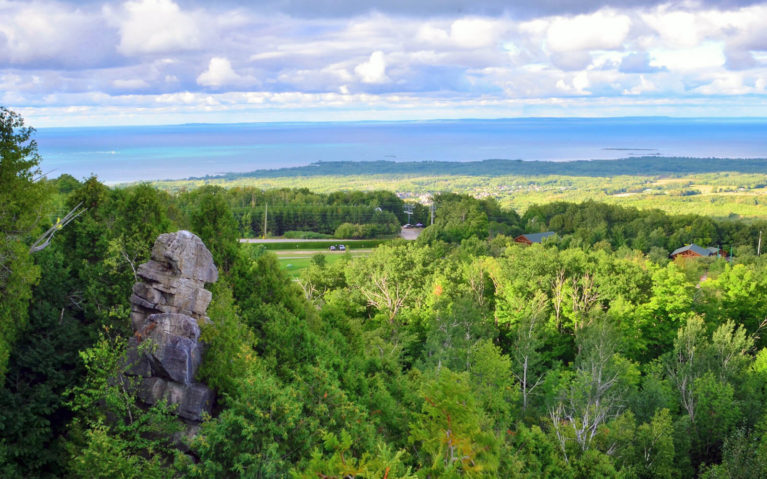 Caves and Crevices
Keeping our feet on the ground, we enjoyed a guided tour through many of the beautiful caves and caverns. Our first stop was at the council chamber where the Petun (pronounced pah-toon) tribe chiefs held their council meetings. This place was chosen as the unsupported rock formation created a natural security measure. Here you will also be able to see the spiritual rock Ekarenniondi (pronounced ehk-ah-ren-ee-on-d-eye) which the Petun people believed was one of the gateways to the afterlife. It is said a gatekeeper would smash the skull of someone passing into the afterlife so that they would never take any regret or sorrow with them into their next life.
Afterwards, you'll head down the Escarpment past some of the crevices and into the Preacher's Pulpit. This area only receives one hour of sunlight per day and is considerably cooler than many of the other areas. Depending on the year, snow can sometimes last here up until early July! Don't be surprised if you find yourself shivering a little while in the pulpit.
While walking through this area, you'll go through the Petun Arch. It was an important defence mechanism for the Petun People as they would lure enemies to this area and then seal it off to trap them. You'll also see natural rock formations which have human-like characteristics. One is even said to resemble an Indigenous Chief!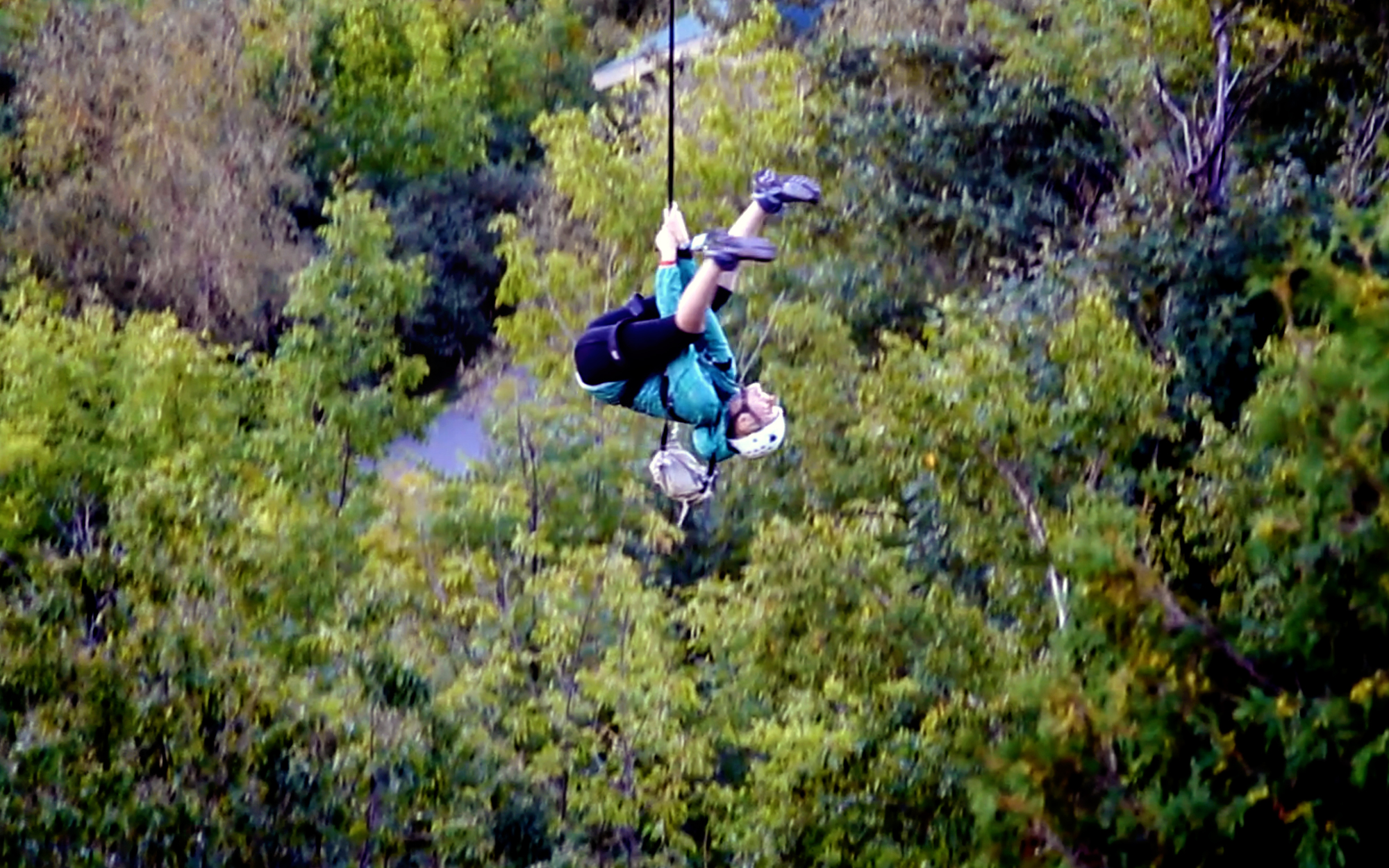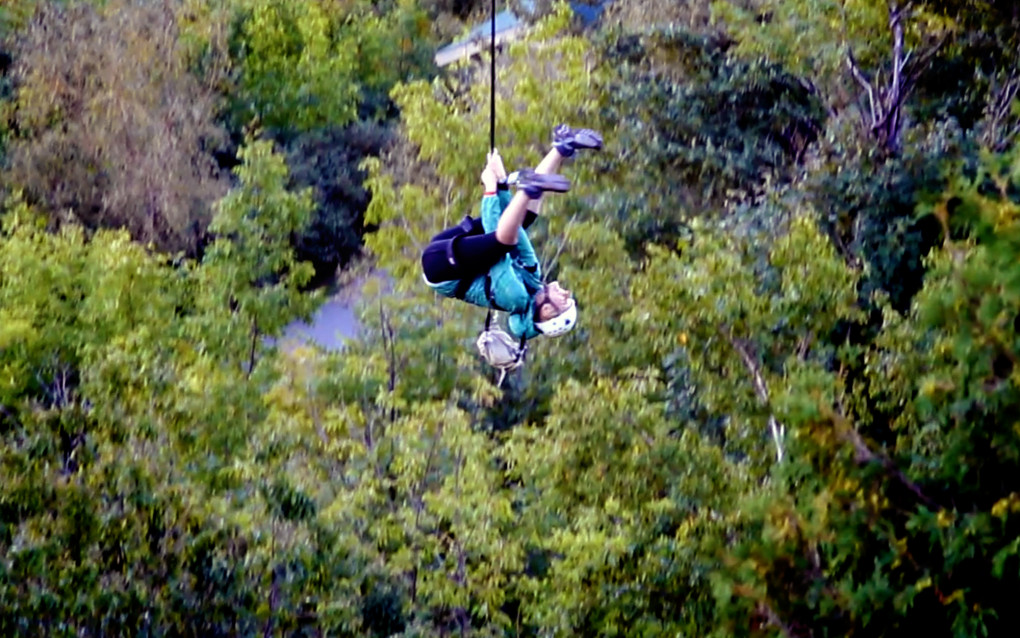 The Final Zipline
Once you've finished spending quality time within the crevices, it's time for the Eco Adventure Tour finale – the 1000ft zipline! Here's where you can really have some fun as you fly like a bird. Your guides will let you in on a few tricks and moves you can utilize as you zip towards the ground. I highly recommend the "Nestea Plunge" to start. Don't forget to enjoy the views from a different angle with a little upside-down time afterwards.
We had a beautiful clear day which meant an extra special view as we soared through the air towards Georgian Bay and the end of the tour. Say goodbye to your guides as you remove your gear and face the serious case of helmet head you'll have acquired from your adventure.


Other Things to Do at Scenic Caves
Even though the Scenic Caves Eco Adventure Tour covers most of the points of interest, there are still a number of other things to do at Scenic Caves in the summer. The majority of them are geared more towards young children which makes Scenic Caves a great destination for families as well as adventurous folk like myself.
Fat Man's Misery
I'm sure the name got your attention though you're probably wondering why the quirky name? I think the left photo below sums it up nicely. No trip to Scenic Caves is complete without hiking to Fat Man's Misery!
What may look like a tight squeeze actually gets even smaller – to 12″ to be exact. Be sure to suck it all in as you squeeze between huge rock formations. If you're worried about getting stuck, there are some tips posted to help you wiggle your way through. It was definitely a little unnerving for me as I don't like enclosed spaces but the gorgeous views you enjoy afterwards make it worthwhile.
Gemstone Mining
Discover geological natural aspects as you pan for minerals and artifacts just as the miners did back in the day! You can find quartz crystal, amethyst, fossils and even gold ore! Be sure to grab your gem bag of sand so you can discover what hidden treasures lay within it.
Go For a Ride at Scenic Caves
Ziplines aren't the only way to get around at Scenic Caves! Keep an eye out for Rocky the electric train. Enjoy a scenic tour as this 19th-century-looking locomotive follows the paved pathway around the park. Be sure to listen to the train conductor as they share stories with you along the way!
I should also mention that the tractor rides aren't just for the eco adventure tours. You can hop on for a ride throughout the day as it takes you through the forest to admire the seasonal flora and fauna.
Mini Golf
This game is a family favourite and the Scenic Caves mini golf course is suitable for all ages. With built-in obstacles nestled in the stunning environment of Scenic Caves, it's guaranteed fun for the whole family on this 18-hole course.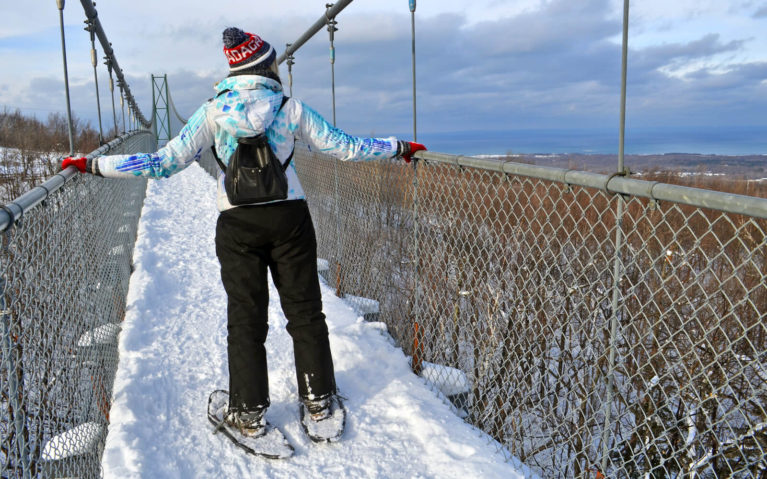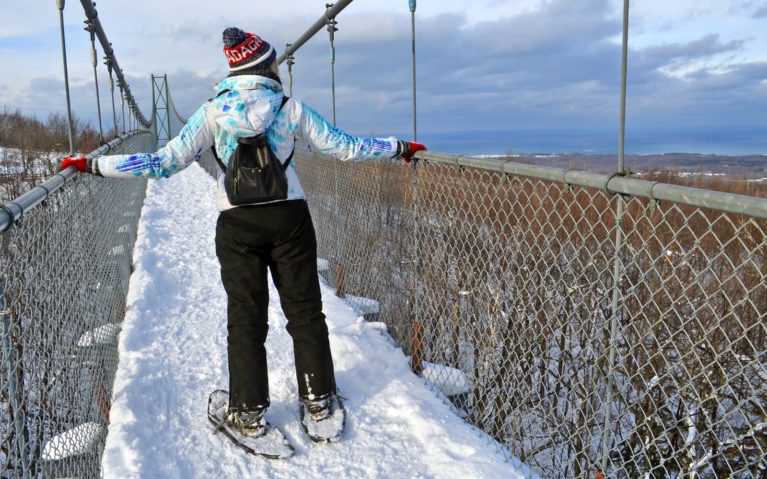 Scenic Caves in the Winter
Treetop trekking, the caves and ziplining aren't available in the winter months, but that doesn't mean there is cold weather fun to be had at Scenic Caves! It's just one of the amazing destinations in Grey County for some winter fun.
Once the snow settles in, Scenic Caves is transformed into a winter wonderland. They offer two main activities: snowshoeing and cross country skiing. I have only done the former but can attest to the beauty of their snowshoe trails. I'm sure their ski trails are just as amazing!
Their nordic centre offers equipment rentals as well as ski lessons if you're looking to learn how to cross country ski. If you're spending a weekend in Blue Mountain, be sure to keep an eye out for the guided night snowshoe hikes. Visit them on Facebook to stay up to date with what's happening at Scenic Caves!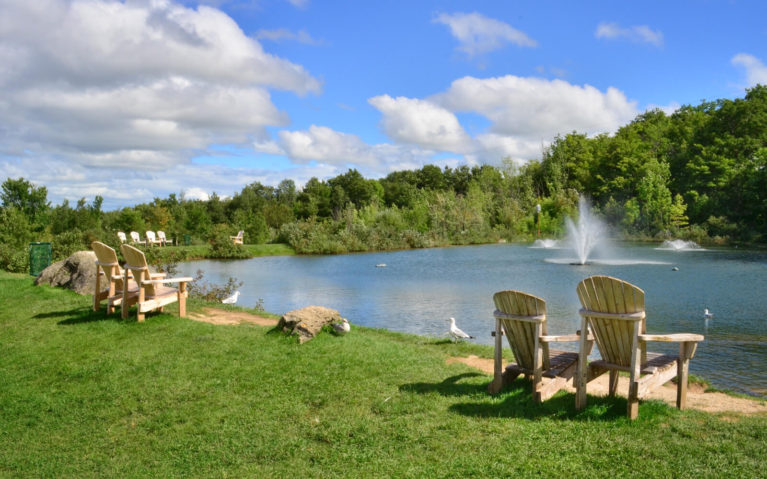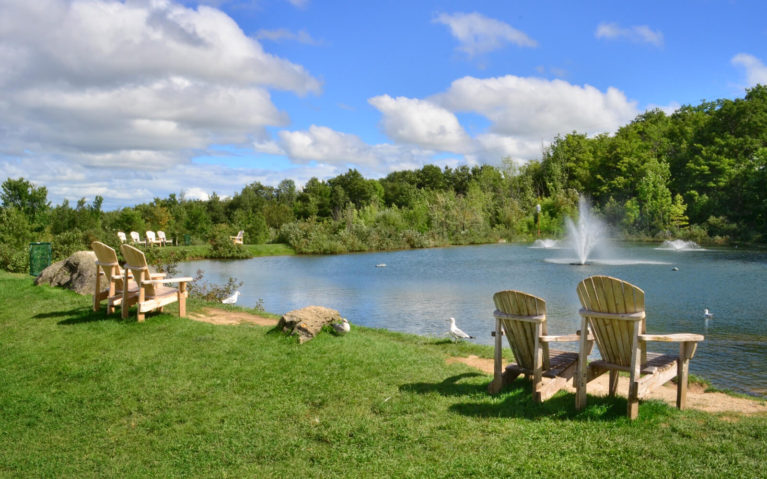 The Lowdown on Scenic Caves
So, have I convinced you to plan your own trip to Scenic Caves Nature Adventures? Awesome! Here are all the nitty-gritty details you'll need for your trip.
How to Get to Scenic Caves
Scenic Caves is located at 260 Scenic Caves Road in the Blue Mountains, close to Collingwood in Ontario. Whether you're coming from Toronto, Kitchener or close by, you'll enjoy the scenic country roads along the way. If you're visiting for the Scenic Caves Eco Adventure Tour, you'll need to go to 280 Scenic Caves Road as there's a separate parking lot for tour folks.
When Should I Visit Scenic Caves?
It can be a popular destination in the warmer months. For this reason, I recommend a mid-week visit if possible as weekends will be the busiest during the summer season.
What Time Should I Book My Eco Adventure Tour?
Personally, I really enjoyed having the last tour of the day. It gives you time before your tour to do some wandering in the park as well as a bit of time after to catch anything you may have missed or want to revisit. You'll also get a hint of sunset in the sky and a much quieter experience of the park! Just be sure to move your car from the tour parking lot to the main one as they close it once the last tour finishes.
Do I Need Any Specific Gear for Tree Top Trekking?
The biggest thing is that you must wear closed-toe shoes like hiking boots or running shoes for the Scenic Caves Eco Adventure Tour. This is to ensure your safety and keep your feet protected! I'd also recommend wearing bottoms that are a bit longer in length so knee-length tights, cargo shorts, etc rather than typical girl shorts. This is to save your legs from any chaffing that might occur from the harness. Otherwise, all other equipment is provided by Scenic Caves!
Are There Any Scenic Caves Coupons Available?
If you haven't heard of Attractions Ontario, you'll want to check out their coupons. Scenic Caves often has a discount with them which will help you save a few dollars.
Looking For More Fun Things to Do Around Scenic Caves?
Check Out These Incredible Waterfalls in Grey County
See Why South Georgian Bay is a Destination For All Seasons
Explore Georgian Bay Islands National Park, Canada's Smallest National Park
Ready to Enjoy a Scenic Caves Eco Adventure Tour? Pin it for later!