Enjoy A Delightful Day Trip to Georgian Bay Islands National Park

Canada is home to over 45 national parks and reserves from coast to coast to coast. Each one protects a special area of land along with the vegetation and wildlife found within it. Georgian Bay Islands National Park is one of the six national parks located within Ontario. With the incredible landscapes of the Canadian Shield, amazing hikes and more, you'll want to plan a day trip to Georgian Bay Islands National Park!
About Georgian Bay Islands National Park
Located about 2 hours north of Toronto, Georgian Bay Islands National Park is a must-visit for any nature lover. This natural treasure was established in December 1929 and consists of 63 small islands in Georgian Bay that are only accessible by boat. They cover just 14 square kilometres, making it the smallest of Canada's National Parks! It beats Point Pelee National Park in Southern Ontario for the smallest park title by just 1 kilometre squared!
It is also part of the Georgian Bay Littoral, a UNESCO Biosphere Reserve that covers 30,000 islands on the eastern side of Georgian Bay. Oh, and did I mention it's the world's largest freshwater archipelago? Most of the islands remain undeveloped except for Beausoleil Island which you can visit. Here's a Georgian Bay Islands National Park map so you can get a better feel for the area.
Beausoleil translates to "beautiful sun" in French which should give you an indicator as to how gorgeous this park is. Ready to explore it for yourself? Keep reading!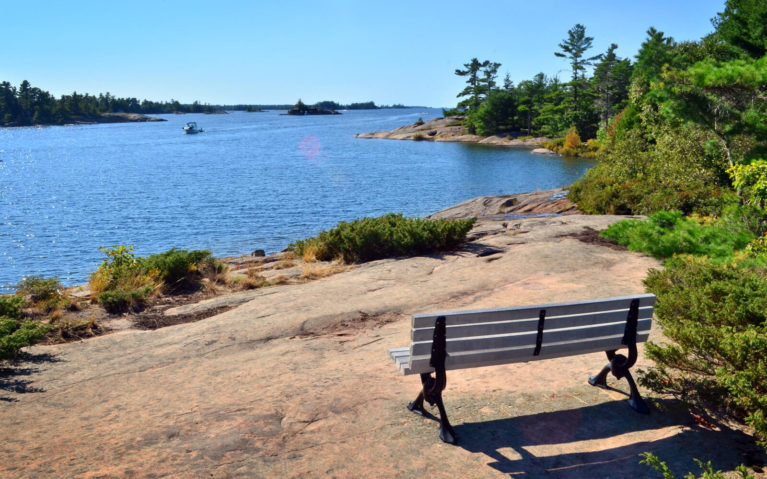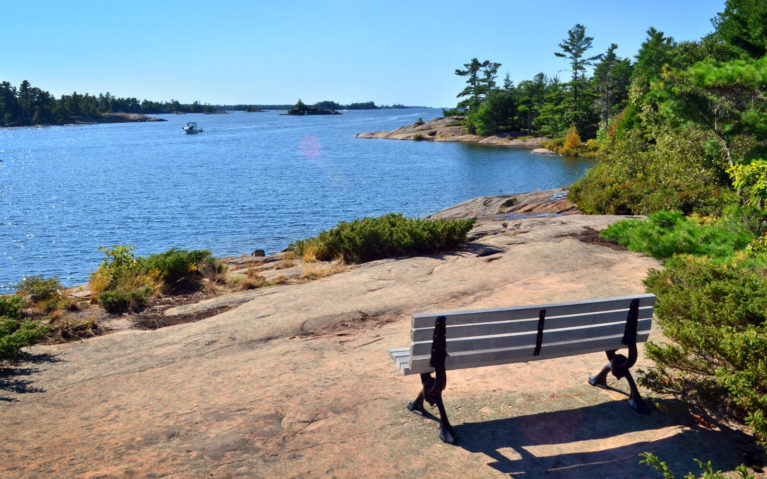 How to Get to Georgian Bay Islands National Park
Its close proximity to Toronto makes Georgian Bay Islands National Park a perfect day trip or a great addition to a weekend adventure in Ontario. As the park is comprised of 63 islands, the park is only accessible by boat. Boaters are welcome to dock overnight at a number of locations on Beausoleil Island. Just take a look at nautical chart 2202 to plan your route! As I do not own one, this is not applicable to me – and chances are you're in the same "boat" as me. Or I guess lack of boat would be more accurate.
No boat? No worries! Hop in the car and plot your GPS for Honey Harbour (map) where you'll find the DayTripper. This is Parks Canada's daily shuttle service and it will take you to one of two points on Beausoleil Island. It operates from the Victoria Day weekend in May until Thanksgiving weekend in October. Reservations are required and they book up fast (especially on weekends!) so I'd recommend planning ahead. Parking is included with your DayTripper reservation. I should also mention that equipment like bicycles, kayaks, stand-up paddleboards, etc are not allowed on the DayTripper.
There are 3 departure times for the southern part of the island, Cedar Spring, but just 1 for the northern part, Chimney Bay. Be sure to check the times when planning your trip! Unsure which spot is best for you? There are more hiking trails to choose from on the northern part of the island so I'd recommend heading to Chimney Bay.
If a 2 hour drive each way is a bit much for you, there's also the option of the ParkBus. Similar to their treks to Bruce Peninsula National Park, they'll pick you up from downtown Toronto and transport you by coach bus to Georgian Bay Islands National Park.
No matter which destination you choose, the ride will be amazing. Enjoy the scenery as you zip past beautiful inlets, adorable cottages and towards the edge of the Canadian Shield. Next stop, Chimney Bay!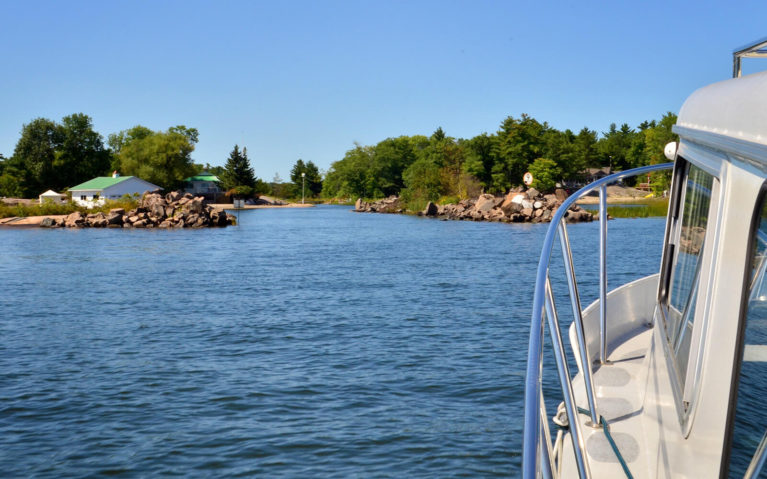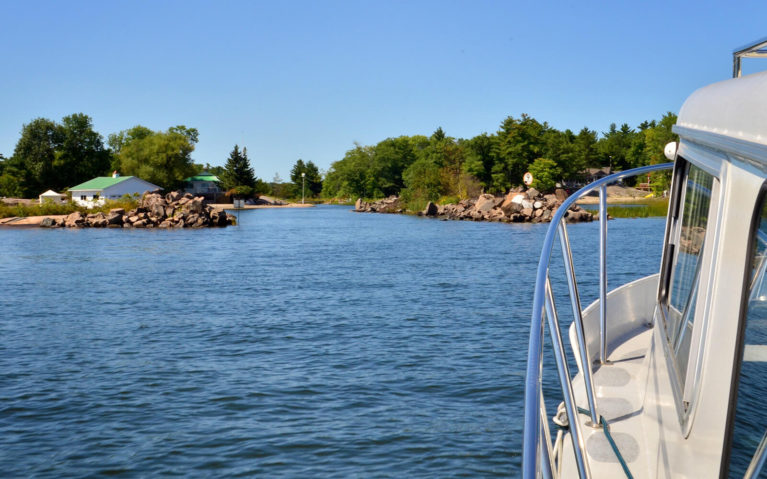 Things to Do at Georgian Bay Islands National Park
It may be small in size but that doesn't mean Georgian Bay Islands National Park isn't full of adventure! There are plenty of activities to enjoy within the park and they all help you connect with nature.
Canoeing & Kayaking
As the park is surrounded by water, activities like canoeing and kayaking are a great way to enjoy your stay. Paddle by picturesque landscapes and enjoy the tranquillity the area has to offer. However, as there are many boaters and the possibility of high winds and rough waters, Parks Canada suggests it for experienced paddlers only. There are also numerous islands and channels in Georgian Bay Islands National Park which can be confusing to navigate. If you do canoe or kayak, make sure you have a map handy!
Cycling
What you might not know is that a number of the trails in Georgian Bay Islands National Park are bike-friendly. These trails are on the southern part of the island. But Lindsay… you can't bring a bike on the DayTripper. This is true BUT you can rent a bike at the Cedar Spring Visitors Centre! Both the Huron and Georgian Trails are great cycling trails which will allow you to see and explore more of Beausoleil Island.
Fishing
I've only just recently jumped into the foray of fishing, but Georgian Bay is an incredible fishing destination in Ontario. It's home to a number of species from tiny perch to massive muskies. If you're up for bringing your rod and tackle onto the island, there are a number of places on Beausoleil Island to settle in for a few hours of fishing. However, fishing at any inland lakes is not permitted – only on the outer shores which connect to Georgian Bay. Be sure you have your provincial fishing license, too!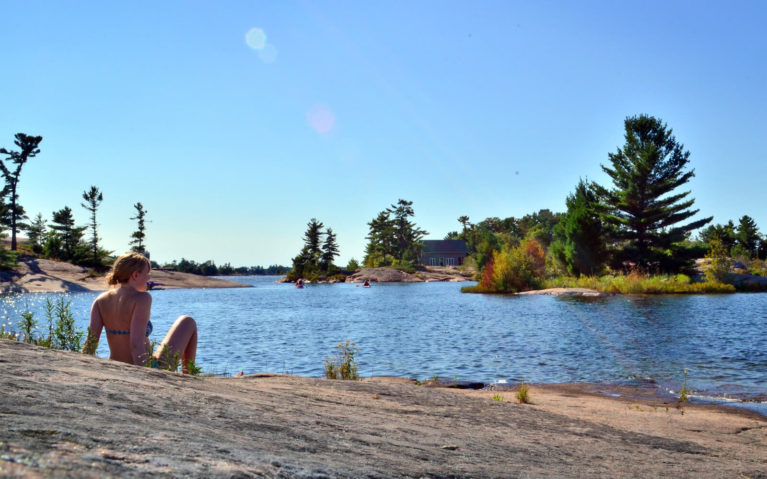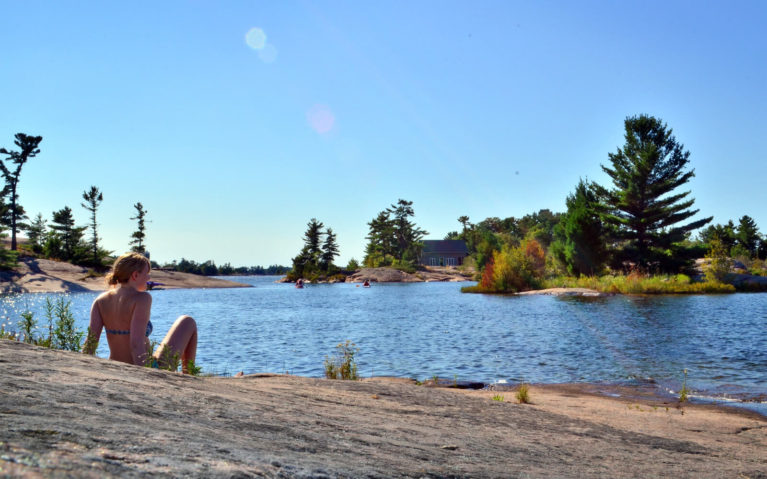 Geocaching
If you've never heard of geocaching, think of it as a worldwide treasure hunt. Using an app on your phone, you use GPS navigation and clues to find items called caches. It's free to do and fun for all ages… even adults like myself. It's said that each of the caches in Georgian Bay Islands National Park is hidden in a place that's important to the park. Next time I visit I'll be sure to seek them out so I can learn more about it!
Swimming
As you can imagine, there are plenty of swimming opportunities in the park… you are on an island after all! You can swim pretty much anywhere within Georgian Bay Islands National park, except Fairy Lake. I personally enjoyed cooling off with a dip in the waters at Honeymoon Bay. Beausoleil Point is another great swimming option. Be careful though as the rocks can be covered with a small layer of moss and seaweed. This makes them very slippery… and difficult to get back on land!
Wildlife Watching
As the area is fairly remote, it's a great spot for some wildlife watching. It's not uncommon to see a number of bird species, chipmunks – even bears! While I didn't see many critters myself, the park ranger on the DayTripper told us about some of his wildlife sightings. If there has been a recent bear sighting, don't worry as a park ranger will tell you to ensure your safety.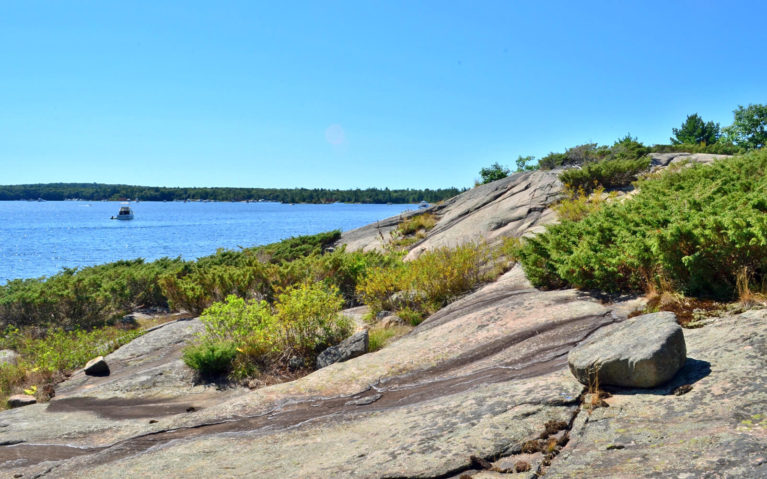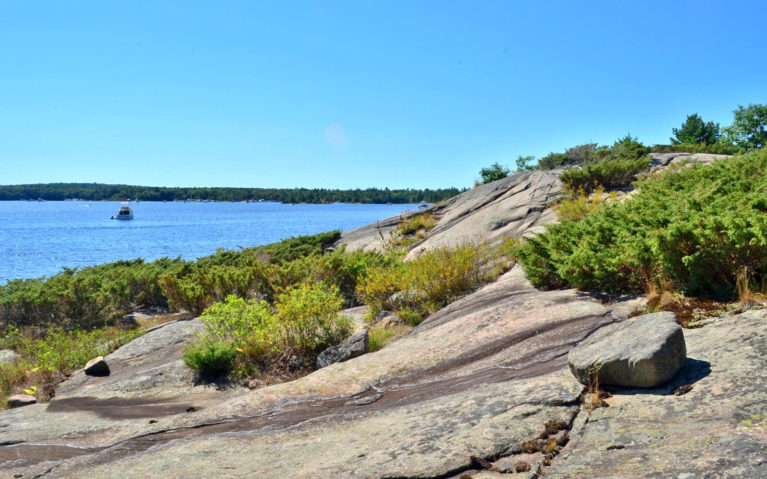 Hiking in Georgian Bay Islands National Park
As I mentioned earlier, the northern part of Beausoleil Island has more options for hikers. Since I was there to hit the trails, I hopped on the DayTripper to Chimney Bay for a day of exploring!
As we docked, the first thing I noticed is that the land formations are very different than what you'd normally see on Georgian Bay, especially compared to Bruce Peninsula National Park or Fathom Five National Marine Park. Chimney Bay is technically located in Northern Ontario, meaning the geology and vegetation are different than what you'd find in Southern Ontario. Hitting the trails of Chimney Bay means you're exploring the wondrous Canadian Shield.
What is the Canadian shield exactly? It is exposed Precambrian bedrock that dates back to over 2.5 billion years ago, making it some of the oldest on the entire planet. The Canadian Shield is only found in Northern Ontario, meaning many use it as an indicator of whether you're north or south.
The schedule of the DayTripper leaves you with about 4 hours of hiking time, which may not seem like much but you can cover a lot of ground! You'll find six trails, each is no less than 0.5km and no more than 2.5km. You'll need to be quick but there's no reason why you can't enjoy a few of the trails! You can find the full Beausoleil Island map here.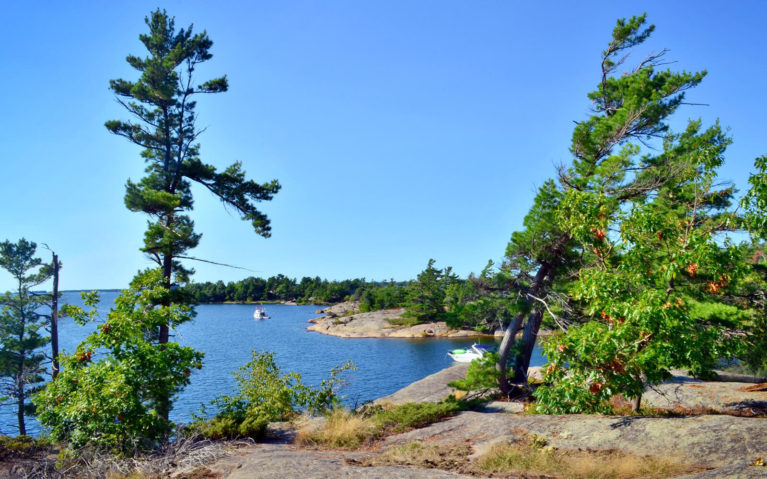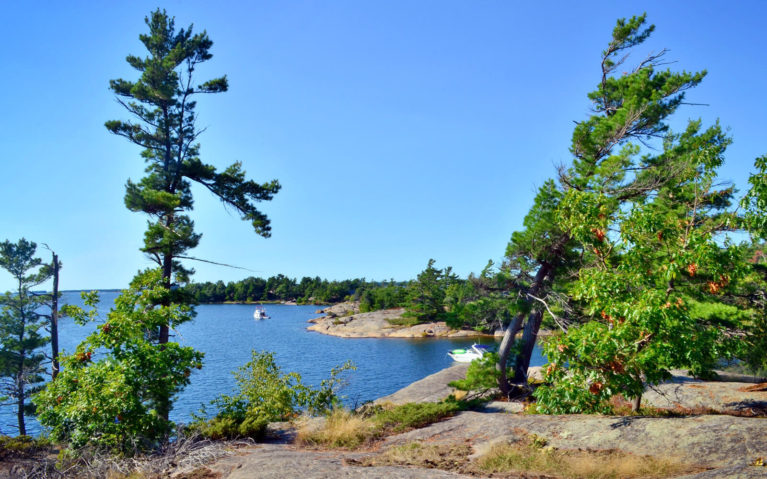 Cambrian Trail
As you disembark from the DayTripper, you'll follow a short path which connects with the Fairy Lake Trail. If you hang a right, you'll see the start of the Cambrian Trail loop a few metres in. Follow the signs to begin your hiking adventure! This is a great trail to start with as it offers a lot of shade to help keep you cool on those brutally hot summer days.
SOMETHING TO NOTE: The trails are marked by poles with a plastic cylinder that matches the trail colour on the map. They can be fairly spread out so be sure to keep an eye out for them as you enjoy this Georgian Bay park!
The Cambrian Trail has is forested with and trees that will tower over you. In this area, the soil wasn't swept away millions of years ago when sheets of ice helped to sculpt what we see of the Canadian Shield. At first, the terrain will be mainly exposed granite with wispy white pines dotting the landscape. You'll love the views over Chimney Bay as you traverse the rolling hills of the Canadian Shield.
As you get past Little Dog Bay though, the trees will thicken and you'll soon be in a forest of maple, oak, aspen and birch. Beware as you head into the forest though… that's where the mosquitoes lay in wait! If you haven't put bug spray on before your hiking adventure, you'll want to put some on as you reach Little Dog Bay. The trail curves and begins to run parallel to the main channel. Before continuing along, you may want to use the outhouse available here as they're fairly scattered throughout the island.
Follow the Cambrian Trail through the forest as you venture over boardwalks and past landscapes reminiscent of the Niagara Escarpment. Before long you'll find yourself reconnected with the Fairy Trail.


The Fairy Trail
Offering more picturesque views of Georgian Bay and its islands, you'll love the Fairy Trail – especially as you arrive at Honeymoon Bay. Don't be surprised to find more people here than you've seen all day as this is one of the Georgian Bay Islands National Park camping sites. You might even make friends with a few of the campers while exploring the area!
The highlight of the trail (in my opinion anyway) is Fairy Lake itself, a quaintly beautiful nook along the trail. Fairy Lake is named after an old Indigenous tale about a beautiful girl known as Miinkekwe (translating to Blueberry Picking Woman) born to the Anishnaabe people.
A caring soul, she doted on her grandparents who were unable to take care of themselves. They, in turn, taught her many life lessons as well as stories and songs. As her knowledge increased, so did her radiance – making her extremely desirable for the dreadful beast Migcheshibzhii who lurked in the dark corners. One day when Miinkekwe stayed too late, Migcheshibzhii took the opportunity to make her his. However, the great Protector of the Anishnaabe (known as Nenabozhoo) heard her cries and bolted to her side.
Unfortunately, he arrived too late as the life slowly left her limp body. A furious battle began with both Migcheshibzhii and Nenabozhoo becoming mortally wounded. Migcheshibzhii perished and his body forms the outline of Beausoleil Island, while Fairy Lake forms his eye. It's surrounded by rocks which are said to be stained pink by Miinkekwe's blood. Nanaboozhoo laid to rest on Giant's Tomb Island a short distance away from their battleground, where the outline of his body can be seen as you approach the island. Fairy Lake offers a variety of serene views which I'm sure will take your breath away!
Does the name Nenabozhoo sound familiar? If you've hiked the Cup and Saucer Trail on Manitoulin Island, you may have read about this trickster or heard one of the legends about him if you hiked it with a guide from the Great Spirit Circle Trail.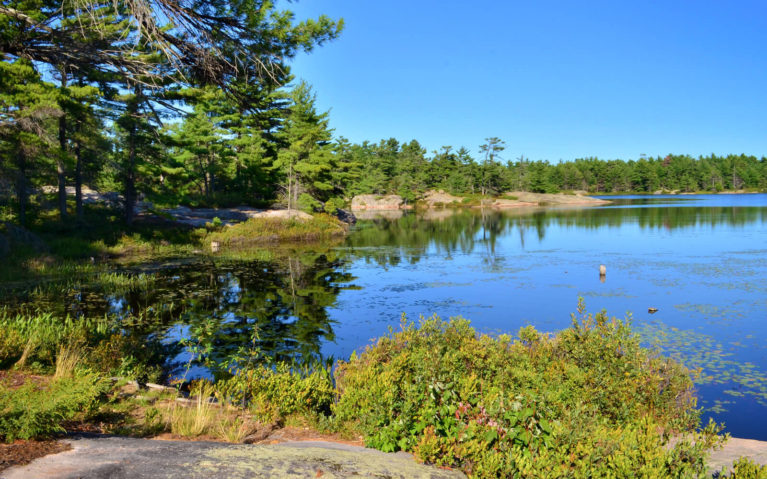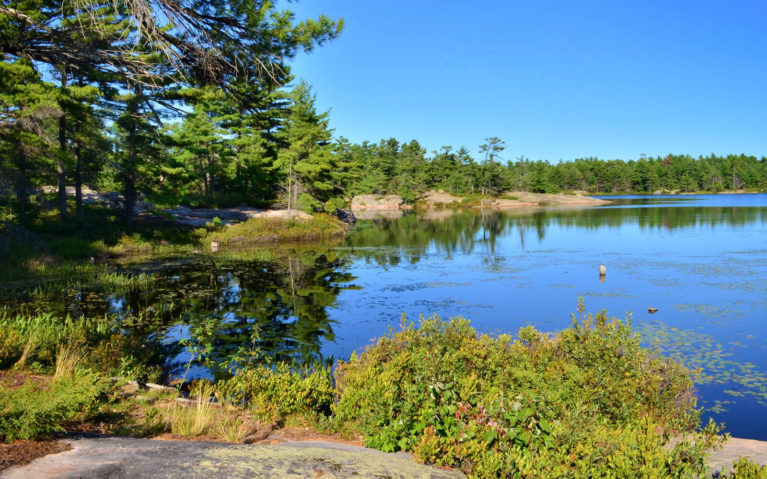 Planning Your Trip to Georgian Bay Islands National Park
Since Georgian Bay Islands National Park is one of the more remote locations to visit in Ontario, your trip will require a little bit of planning. Luckily I've ironed out everything you'll need to make the most of your adventure!
How Do I Book the DayTripper?
The DayTripper runs from the Victoria Day weekend in May until Thanksgiving weekend in October. The DayTripper costs $15.80 per adult, $13.55 for seniors and $8.55 for children. This includes your park entry, DayTripper shuttle and parking in Honey Harbour. If you have a Parks Canada yearly pass, you only need to pay for the DayTripper which will bring your cost down to $10.
When I visited, reservations could only be made over the phone by calling 1-877-737-3783. However, as Georgian Bay Island National Park has a limited number of staff on hand, the phones are not always manned. I was able to contact them via Twitter to have them call me to arrange my reservation.
Since then, Parks Canada has set up an online reservation system which makes booking your DayTripper adventure much easier! Again, I can't stress enough that reservations must be made in advance. Seats are very limited so I'd recommend booking at least 3-4 days in advance or even earlier in the peak months of July and August.
What Hiking Route Should I Take?
If you're looking to do a day of hiking, I'd suggest doing the route I did in reverse. Start with Fairly Lake before hitting the Cambrian Trail. That way you can fully enjoy Fairy Lake without keeping an eye on the time to make sure you don't miss your boat back to Honey Harbour!
Will I Be Able to Hike the Entire Island in a Day?
It might look small on a map but Beausoleil Island is deceivingly large! Hiking from Chimney Bay all the way to the southern point of the island is about 9km one way. Due to the arrival and departure times of the DayTripper, you'll definitely need to stay overnight in order to experience all of the trails on the island.
Can I Stay Overnight on Beausoleil Island?
Yes, Georgian Bay Islands National Park offers a number of overnight options! You'll find rustic cabins at two locations in the park: Cedar Springs and Christian Beach. There is a minimum stay requirement of 2-nights in the cabins and they cost $150 and $175 per night respectively. Parks Canada has a list of everything that's included with your reservation.
There are also five oTENTiks available in the Cedar Spring campground. These accommodations are a cross between an A-frame cabin and a prospector tent. Unique to Parks Canada, you'll get to rest your head just steps from the Georgian Bay shoreline. Similar to the cabins, oTENTiks have a 2-night minimum and cost $140 per night.
Lastly, there are eight campgrounds scattered across Beausoleil Island which you can reserve for tent camping. These are Cedar Spring, Honeymoon Bay, Chimney Bay and Oaks, Sandpiper, Tonch North, Tonch East, Tonch South and Thumb Point. There is no reservation minimum and primitive campsites cost $16.05 per night while campsites at the Cedar Spring campground cost $26.06 per night.
One thing to note is that while your DayTripper shuttle is included if you book a cabin or oTENTik, this is not the case if you book a tent campsite. You'll need to arrange an alternative mode of transportation via water taxi.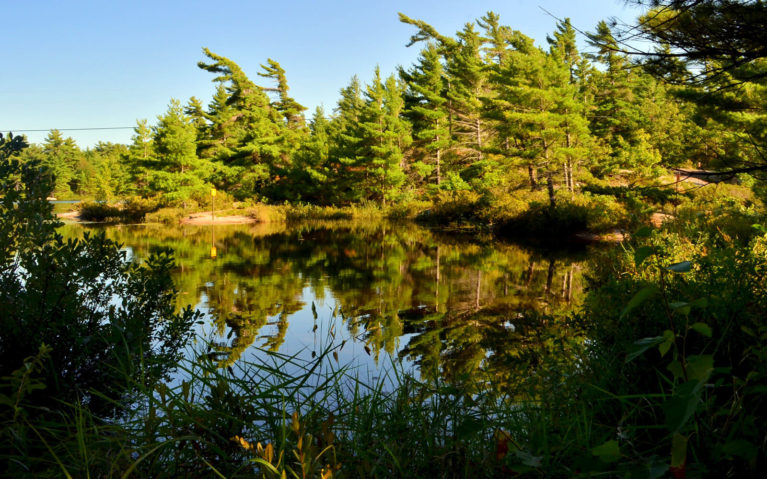 What Should I Bring to Georgian Bay Islands National Park?
As I mentioned earlier, the park is somewhat remote so there is nowhere to purchase any food, water or other items once you leave the mainland. This is a carry-all situation!
Make sure to have plenty of water, especially if you're visiting in the peak of summer. I absolutely love my Hydroflask water bottle. It keeps my water cold longer than any other bottle I've owned which I definitely appreciate on those hot summer days! Don't forget to bring some snacks too because a hangry hiker does not make for a fun time. Trail mix is often my go-to since it's easy to pack!
Hot summer days also mean plenty of sunshine so don't forget to pack the sunscreen! As I have very fair skin, I often opt for a stronger sunscreen. I really like this Sun Bum sunscreen as it's light, doesn't have that awful sunscreen smell and doesn't make you feel super oily which I hate.
Also, there are some wooded areas across the island which mosquitoes call home, so bug repellent is a key item. I always have this travel size bug spray on me in the summer but if you're camping overnight, I'd say it's worth having a larger bottle handy. I normally try to use eco-friendly options like a lemongrass essential oil but citrus oils can cause phototoxic burns when exposed to UV rays for too long. I also find that mosquitoes in Northern Ontario think this is cute and I'll still get eaten alive so I opt for the more potent bug sprays.
Lastly, don't forget the hiking essentials. A sturdy pair of hiking shoes or boots are always a good idea. I personally love my Keens though they aren't waterproof so I've been eyeing some of these great options from Decathlon. As for clothing, I like having a t-shirt or tank-top and knee-length tights which help you stay cool in the sun but will keep you warm in the shade. You'll find there can be quite the temperature difference, especially on a windy day!
If you plan on swimming at all, don't forget a towel to help you dry off. Otherwise, you'll be hiking soaking wet after your dip in Georgian Bay! I don't know about you but I hate feeling like I've peed myself because of a wet bathing suit under my clothes.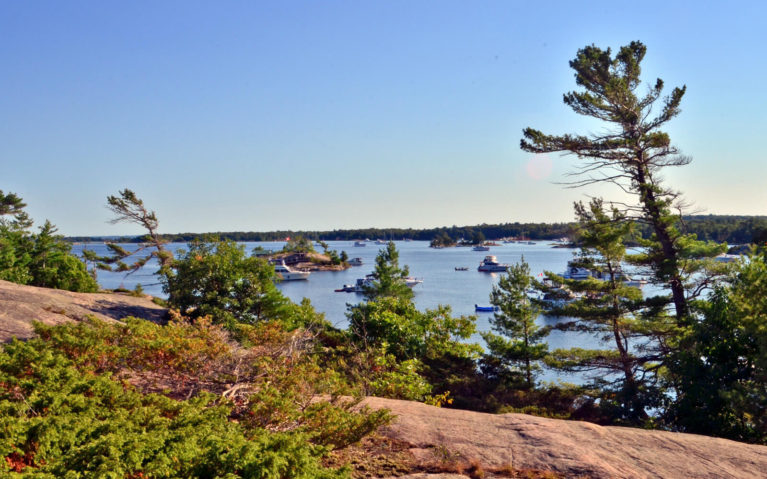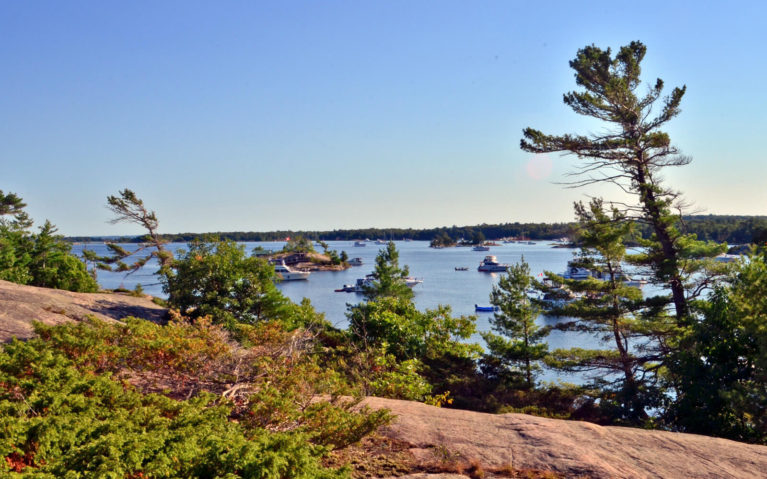 Ready for a DayTripper Adventure?
As you can see, Georgian Bay Islands National Park is not to be missed. Whether you're in Muskoka for a weekend getaway, passing by Honey Harbor while road tripping in Ontario or looking for a unique getaway, you can't go wrong with a visit to this national park.
Don't forget: take only pictures and leave only footprints. While the park is one of the cleanest I've seen, people do take it for granted unfortunately as I found a bag full of litter. If you see any, be sure to help out our planet and pick it up so it can be disposed of properly!
Whether you're like a fish and love the water or an explorer and love to wander, there's something for you at Georgian Bay Islands National Park.
Looking for More Adventures Nearby?
Explore Manitoulin Island, the World's Largest Freshwater Island
See What Makes South Georgian Bay Ontario a Year-Round Destination
Give Winter Camping a Shot at Killarney Provincial Park
Disclaimer
This post contains affiliate links where I may receive a kickback at no extra cost to you. It helps keep the site alive so thanks! Read more in IBB's disclaimer and privacy policy.
Looking to visit Georgian Bay Islands National Park? Pin it for later!