10+ Incredibly Fun Things to Do in Windsor Ontario & Essex County

As the second-largest province in Canada, Ontario has plenty of adventure to offer. In its southernmost corner, you'll find Windsor and Essex County. Sharing the Detroit River with our neighbours to the south, you'll find beautiful views, amazing eats and plenty of adventure. While many flock to Niagara-on-the-Lake for an Ontario getaway, I recommend heading west to switch things up. Whether you're from the other side of the province on an Ontario road trip or an American looking for a change in scenery, you'll love these fun things to do in Windsor Ontario and Essex County!
About Windsor & Essex County
Head as far south as you can in Ontario's Southwest and you'll find Essex County. Also referred to as Windsor Essex Pelee, this area encompasses just over 1600km2 and is comprised of seven municipalities as well as Pelee Island, Canada's southernmost island.
A Brief History of Windsor Essex Pelee
For millennia, the Huron, Odawa, Potawatomi and Iroquois First Nations inhabited this area. In the mid-1700s, Colonial French settlers then moved in, displacing these First Nations to create Petite Côte or 'Little Coast'. The Fur Trade exacerbated this as further development occurred along the shores of the Detroit River.
Jump ahead to the 1800s where Windsor was a battleground during the Upper Canada Rebellion. Windsor's proximity to the border also made it a key location for refugee slaves to gain freedom along the Underground Railroad. Rum and whiskey were also smuggled from Canada into the United States during the prohibition era. Tunnels still run under the city linking Michigan and Ontario! More recently, the auto industry boomed in the area with tourism now blossoming into a driving force for Windsor's economy.
As you can imagine I'm glossing over the abundant history of the area, yet it gives you a glimpse of how the city you see now came to be. Get ready to dive into all this area has to offer!
How to Get to Windsor & Essex County
Windsor and Essex County make a great getaway from a number of locations. You've got options whether you're looking to road trip it, take the train, bus it or even fly!
The 401 directly connects Toronto to Windsor for a 4-hour drive, making it a great weekend adventure. It's approximately 3 hours from Kitchener and just under 4 hours from Niagara Falls. You can also take the train from Toronto's Union Station to Windsor. This trip takes 4 hours and 15 minutes. If you're really looking to keep costs low, the Greyhound bus is your cheapest option but it will take the longest. However, if you want to maximize your time in Windsor while keeping travel time low, you can fly direct from Toronto to Windsor with Porter Airlines at a reasonable price!
The area's close proximity to the United States makes it a great getaway for Michiganders (Michiganians?) as well. It's less than an hour drive from Ann Arbor, just over 2.5 hours from Grand Rapids to Windsor, and just over an hour from Toledo, Ohio. You've also got the Amtrak or Greyhound as options if you don't have a car or would like to avoid the drive!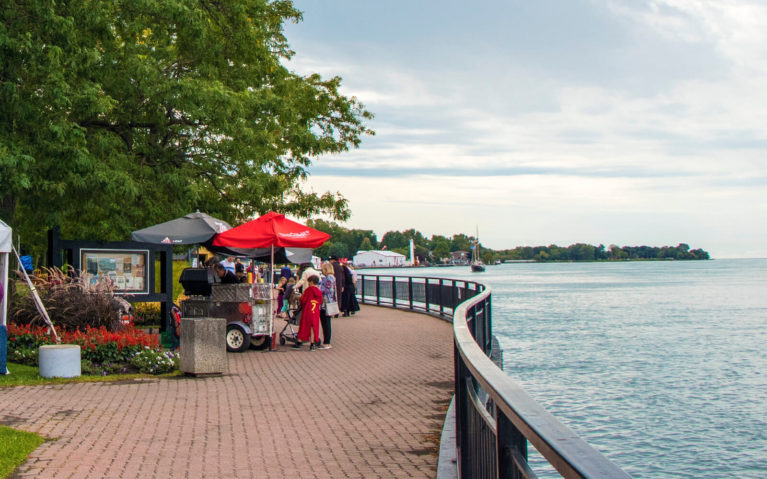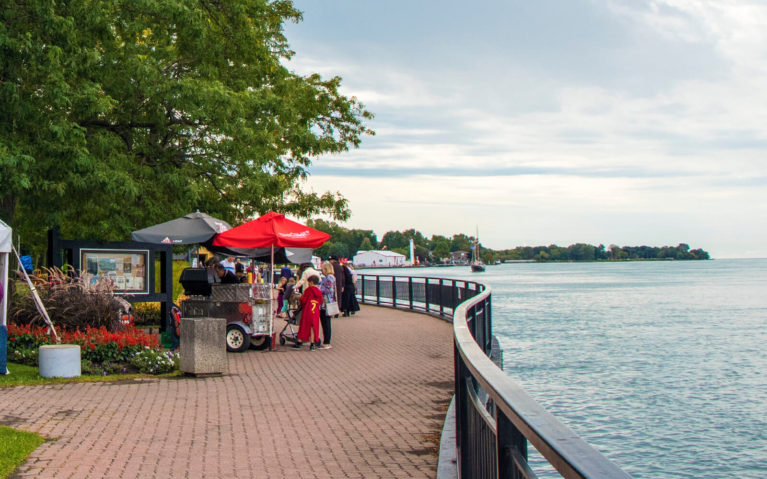 What to Do in Windsor Ontario
If you think there's nothing to do in Windsor – think again! It's just another Ontario city that many seem to have the 'there is nothing to do' mentality about. I can say first hand this is not the case as there are so many great things to do in Windsor Ontario!
Connect with Nature at the Ojibway Nature Centre
The Ojibway Prairie Complex protects five natural areas of significance in Windsor. It consists of Ojibway Park, Tallgrass Prairie Heritage Park, Black Oak Heritage Park, Spring Garden Natural Area and the Ojibway Prairie Provincial Nature Reserve. It's estimated that less than 0.5% of Ontario's original prairies and savanna ecosystems remain in all of Southwestern Ontario which this collection of parks preserves. The Ojibway Prairie Complex is home to over 160 species that are at risk and in the past two years, 26 new species to Canada have been discovered here!
Head to the Ojibway Park Nature Centre and check out the exhibits there to learn more about the importance of this area. Here you'll find a few local critters, including the Eastern Massasauga Rattlesnake. Due to a serious decline in their habitat, these snakes are now endangered in the Essex County area. Outside the nature centre you'll find a number of kept trails that explore the park's 160 acres. A few of the trails are paved, making it accessible for families with small children, wheelchairs and more. Let the forest envelop you while admiring the importance of the natural wonders around you. It's hard to believe this rugged natural area is just a 10 minute drive from the hustle and bustle of downtown!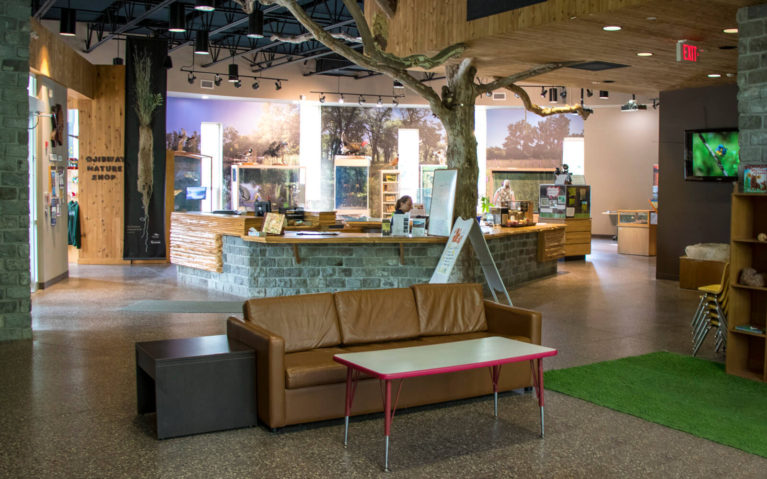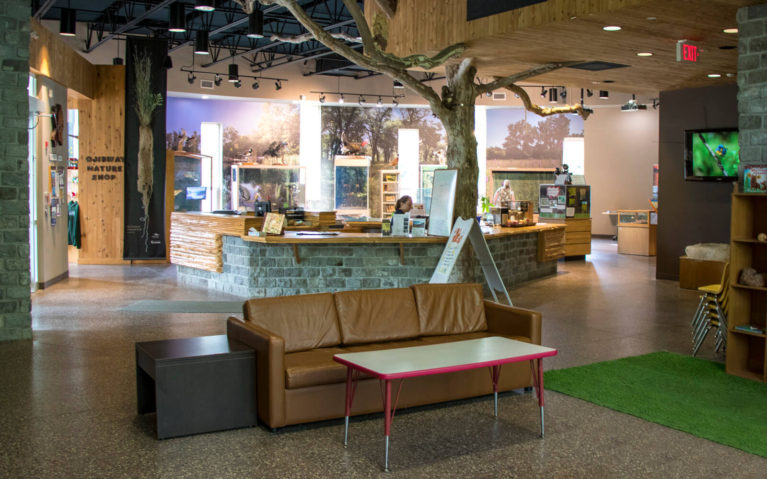 Explore Windsor's Waterfront
Wave to our southern neighbours as you take a stroll along the Riverfront Trail. This beautiful boardwalk offers great views of Detroit and connects a number of beautiful parks that dot the shoreline. Starting at the base of the Ambassador Bridge, you have 5km of paved boardwalk to follow with a number of stops along the way. This is also one of the best places in town to catch the sunset! I don't know about you but sunset viewing is always high on my list of things to do no matter where I am.
Just east of the Ambassador Bridge you'll find the Windsor Sculpture Park. It showcases over 30 large-scale works of art from world-renowned artists. From abstract shapes to models of adorable penguins, this gallery is 100% free all year round and welcoming you to explore it. Continuing on, you'll make your way through Centennial Park and Steamboat Wharf to Dieppe Gardens. Dedicated to members of the Essex-Kent Scottish Regiment who lost their lives at the battle of Dieppe in World War II, it features a number of monuments to the Canadian Army, Navy and Air Force. Lastly, there's the Clifford and Joan Hatch Wildflower Garden that features a self-sustaining garden with native plants and local flowers.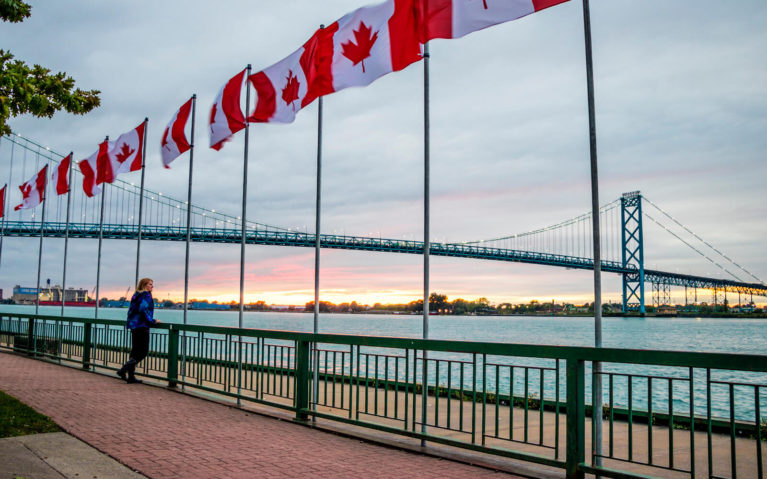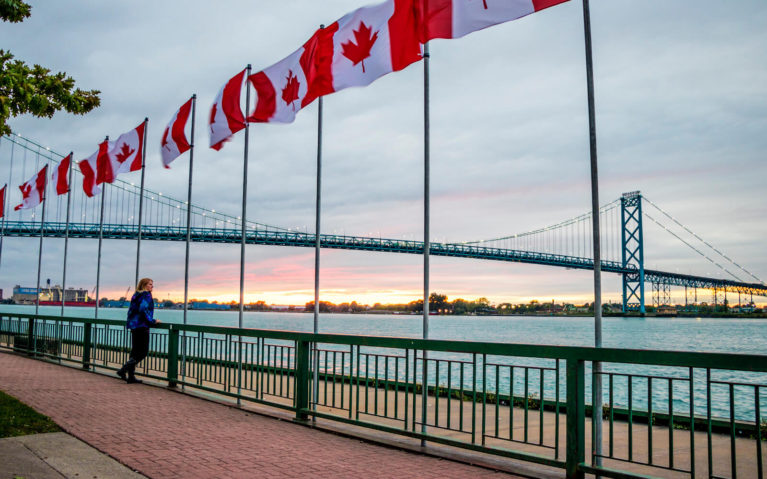 Hunt for Street Art in Downtown Windsor
I was absolutely blown away by the amount of incredible street art you can find in Windsor. You'll find a number of 'galleries without walls' across the city bursting with brightly coloured masterpieces. Some are even multiple stories high!
Head down the alley between Ouellette and Pelissier Streets called Maiden Lane to find a treasure trove of artwork. Thanks to the Free 4 Walls public art project, artists from all over the world were brought in to bring this area to life. From abstract works to iconic childhood characters, treat your eyes to these beautiful bursts of colour. Hunting for street art is just one of the many free things to do in Windsor!
These touches of art aren't limited just to Windsor though! You'll also find murals in LaSalle and the Town of Essex. You'll find the work of local artists in LaSalle as they showcase their talents on these large-scale canvases. Over in the Town of Essex, you'll learn about the history of the town and all of the stories they have to share.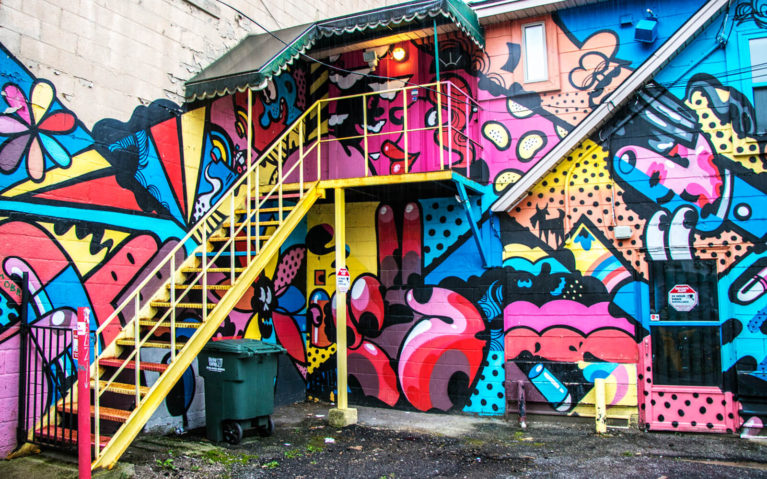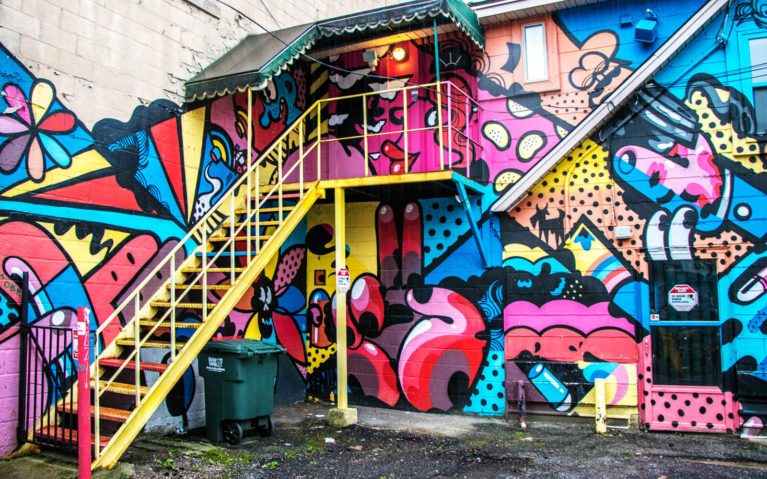 Indulge in Some Adult Beverages
There is no shortage of breweries and wineries in Windsor and Essex County. You might even end up on an impromptu beer crawl – and yes I'm speaking from experience! Grab your Barrels Bottles & Brews Flight Log and be prepared for some serious 19+ fun! Each stop is unique in its own way and has a special offer for those who have the flight log. Even if you're not a big craft beer drinker, I recommend checking these locations out. You might just turn into a craft beer lover. True story!
RELATED: If cider is more your jam, there is no shortage of great cideries in Ontario. Check out my guide to see where to stop in Windsor!
Unsure of where to begin? I highly recommend GL Heritage Brewing Co. As soon as you step through the door, you'll feel like part of the family. The land the brewery stands on has been in the family since 1850. While the brewery is the newest chapter of this history, it pays homage to the family's legacy and entrepreneurial spirit. I had the pleasure of tagging along on one of their group tours and it was seriously one of the most memorable I've experienced. Terry was our guide and you'll be in good hands if he's your presenter! Oh, and if he doesn't bring it up himself, ask Terry why he doesn't wear his shirt that says TGT anymore.
GL Heritage Brewing Co's beers are mellow and easy to drink. You won't find any crazy flavour combinations or double IPA hops twice removed sort of brews. If you're someone who finds the craft beer world to be a little intimidating, you'll enjoy the casual refreshing beer they have to offer. Their latest beer is a cherry wheat ale which is incredibly delicious.
Though hands down, their most popular beer is the Apple Jack'd Ale. Available only from October to December, it has an almost cult-like following. They even have a huge release party each year! If you're looking for a weekend to visit, you won't want to miss this one. Check out their Facebook page to stay up to date on their events and offerings.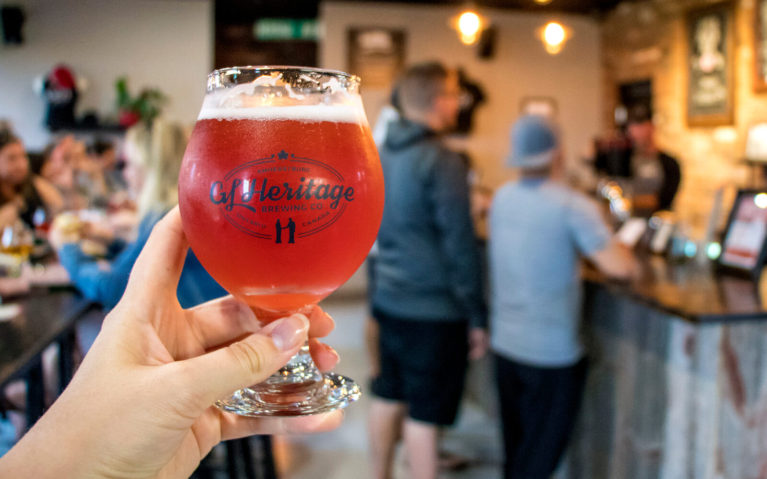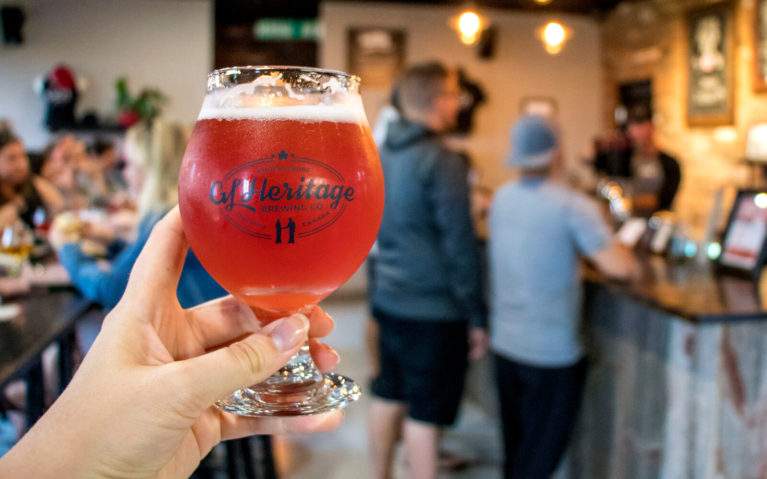 Tour Peche Island
This is truly a hidden gem that even many of the locals don't know about! For the second year now, head to Lakeview Park Marina where you'll find a pontoon boat waiting to shuttle you to Peche Island.
The 86-acre island belonged to Hiram Walker (yes, the same Hiram Walker who created Canadian Club whiskey) who purchased it in 1883. What was once used as a summer getaway, has since been naturalized and reclaimed by Mother Nature. Take a stroll along the walking paths while enjoying the sounds of Lake Erie's waves lapping the shore. You'll also find what's left of Walker's summer home as trees and plants grow around it, creating an eerily beautiful sight.
If you're looking to escape to nature, Peche Island is a perfect option. Space is limited to 6 people per shuttle so you'll never find it overrun by people! Take a picnic lunch and soak up the sun from July to October. Washroom facilities are available on the island however there's a strict pack in pack out policy. Anything you take with you have to bring back off the island – even the paper towel you use to dry your hands!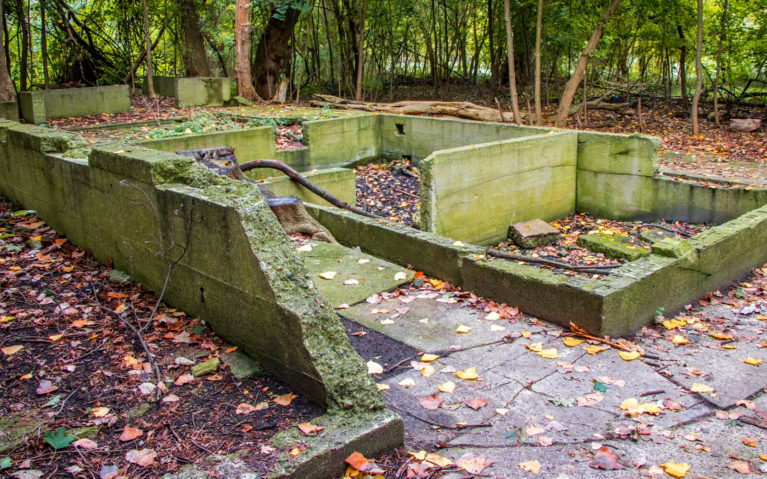 Unique Things to Do in Windsor Ontario & Area
Are you looking to really make your trip memorable? Well, Windsor and Essex County have a number of claims to fame which you may not realize! You'll want to add these stops to your Windsor Ontario itinerary.
Be the Southernmost Person on Mainland Canada
Head down to the southern tip of Ontario where you'll find Point Pelee National Park. It may be one of the smallest national parks in Canada (second only to Georgian Bay Islands National Park by 1 kilometre squared!) but it has plenty to offer all year round!
While many national parks close down or have limited attractions available in the colder months, Point Pelee truly is a destination in all seasons. If you're a bird watcher, you'll want to catch the numerous flocks as they migrate in the spring. Summer is the perfect time to hit the trails and enjoy the plethora of beaches as you soak up the sun. Autumn comes with an extra wave of orange as you catch the Monarch butterflies migrating south. Lastly, you won't want to miss this winter wonderland while wandering past beautiful ice formations.
No matter what time of the year you visit, you can't miss visiting The Tip. You can hike, bike or hop on the trolley down to the southernmost point of the entire country!
Plan to spend at least half a day exploring the numerous trails and attractions within the park. Inside the visitors' centre, you can learn about the truly fascinating history of Point Pelee and how the park came to be. Whether you visit for a few hours or a whole day, you'll find yourself visiting Point Pelee National Park again and again!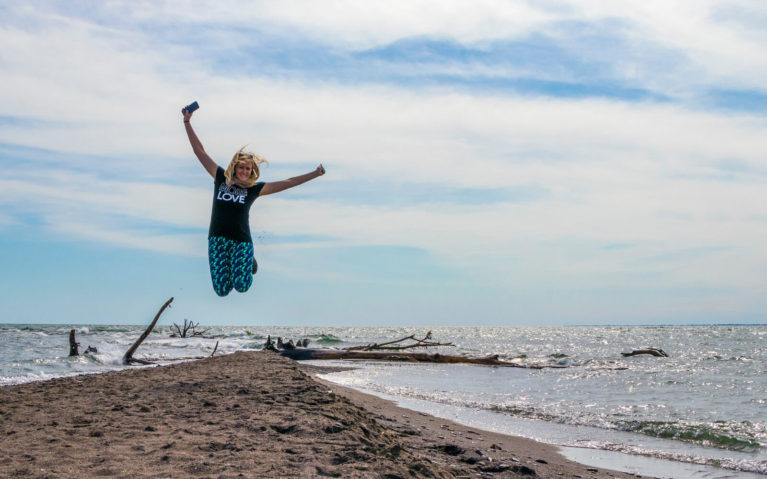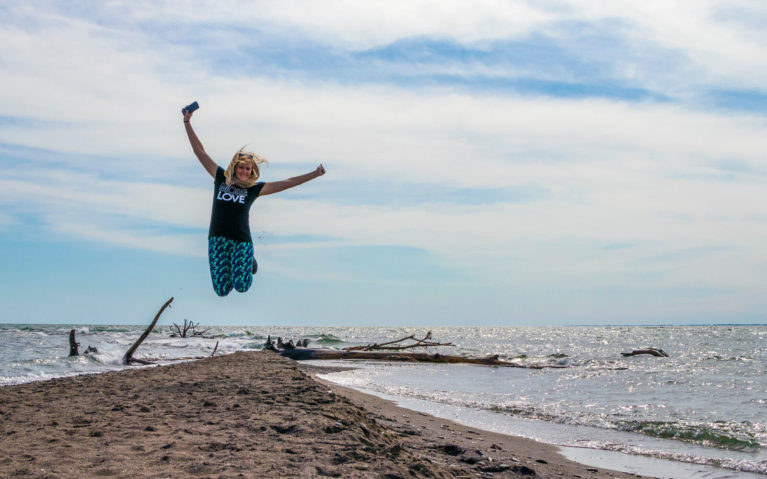 Harry Potter Meets Steampunk at Amherstburg Uncommon
If I had you at Harry Potter or Steampunk then you'll adore The Amherstburg Uncommon Festival, though it's so much more than that! For three days, Downtown Amherstburg becomes car-free as witches, wizards, Vikings and more take over the town. Rooted in the vibrant history of Amherstburg itself, this is a festival where everything uncommon is celebrated. Innovators unite whether you're celebrating the transformation of the industrial era, the magical realm of Harry Potter or the here and now of science, technology, engineering and mathematics. The only limit is your imagination!
The schedule is packed with fun for all ages. You'll meet unique characters, catch some seriously amazing buskers and have the chance to participate in a number of awesome workshops. I've heard that a hat is a must when it comes to Steampunk so why not sign up to create your own? Coming dressed up is just one way to take your experience to the next level. You might even win a prize for the best costume, so get creative!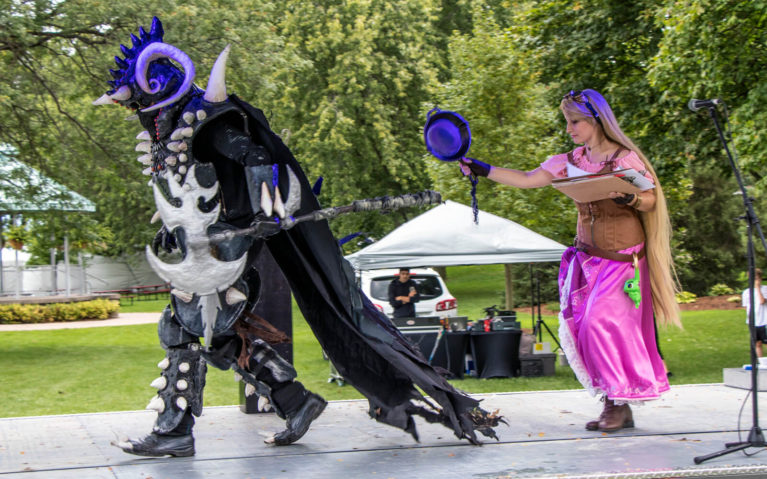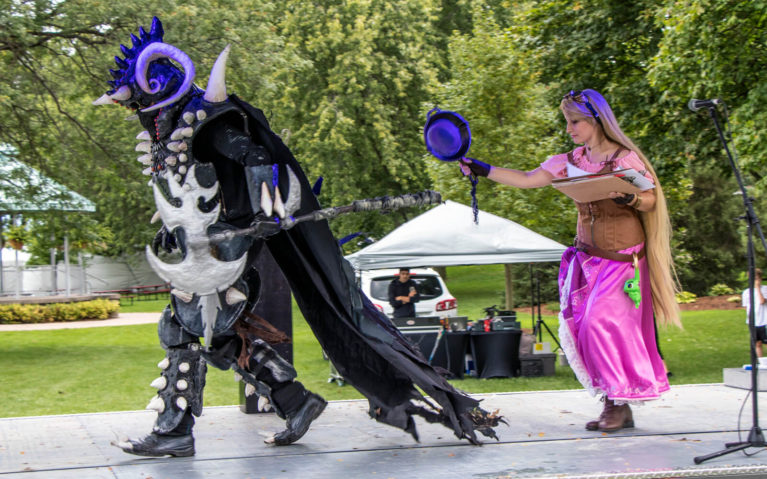 Each year, the organizers are adding more and more highlights and attractions for attendees to enjoy. New in 2019, The Fantastic Feast was a sold-out hit as you ate like a Queen or King with a dash of Steampunk and magical flair. This five-course meal featured not only delicious eats and treats but an interactive theatre performance and plenty of entertainment at the Artisan Grill.
They also feature one of Canada's last Circus Sideshows, Carnival Diablo. If this sounds familiar, you may have seen them featured on A&E, CBC, the Discovery Channel or National Geographic. You'll be front and centre while experiencing acts like sword swallowing or their highlight 'freak show'. Either way, ringmaster Nikolai Diablo will transport you far beyond the natural realm.
Winner of Festival and Events Ontario's Best New Festival Award in 2019, you know you're in for a real treat. The Amherstburg Uncommon Festival was my main reason for visiting Windsor Essex Pelee and it alone would have been worth the trip from Kitchener!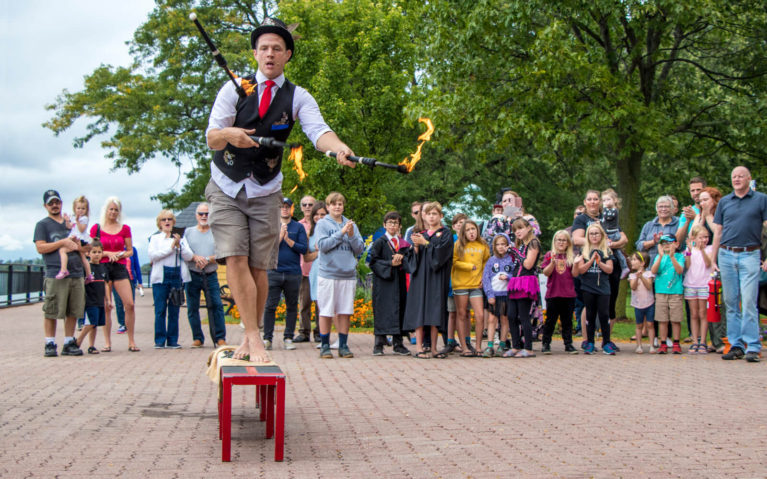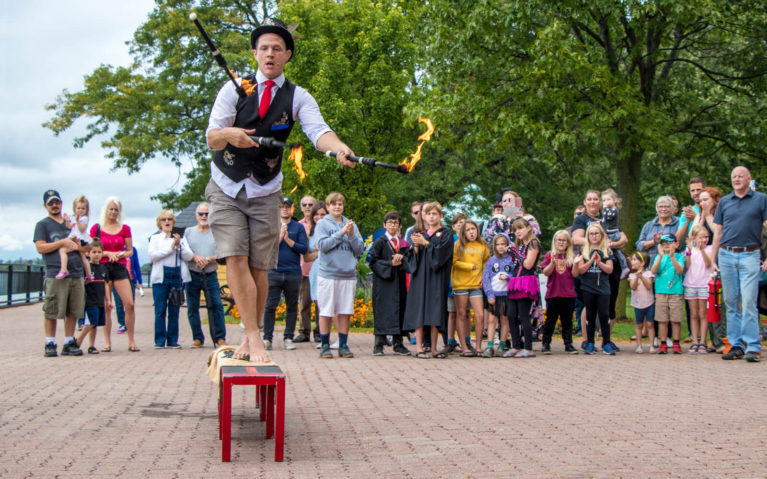 For More Fun in Windsor…
There are only so many hours in a day and as I only had a weekend in Windsor, there is plenty I missed out on! If you're looking for even more fun, here are some additional things to do in Windsor Canada.
Get Your Art On
There is no shortage of art galleries in Windsor both indoor and outdoor! Wander the Windsor riverfront as you follow the Riverfront Trail and take in the public art. You can also head to one of the 13 art galleries and workshops in the city. There's plenty to see and experience in Windsor for art lovers!
Splash Around at Adventure Bay Family Water Park
Travelling to Windsor with the whole family? The little ones will love an afternoon at Windsor's indoor water park! Within the park's 35,000 square feet of fun, you'll find five giant water slides, a wave pool, lazy river, splash zone and much more. If the kids are feeling waterlogged, there's also the tri-level Cannon Cove attraction for some dry fun.
Test Your Luck at Caesars Windsor
As one of Canada's largest casinos, there's plenty to see and do within Caesars alone. You've got the spa, a number of night clubs, plenty of shopping options, seven restaurants and shows announced all the time! If you're looking for a girls getaway, to celebrate a birthday or just a weekend of fun, Caesars is a great option.
Enjoy Some Small-Town Fun
Windsor may be the biggest game in the area but I absolutely love some small-town adventures – and there are plenty to be had in the area! I mentioned that street art is one of the great things to do in Essex, but there's more to see and explore. In the town itself are a number of great restaurants as well as the Sadler's Pond Nature Park. Head south to the town of Harrow for some great breweries and wineries. If you're an avid cyclist, hop on the Chrysler Greenway which will take you all the way to Kingsville and beyond!
Tour the Area's Wineries
Home to 17 wineries and 1000 acres of grapes, there is no shortage of vintages in Essex County and Pelee Island! Home to Canada's first commercial estate winery, you'll can't go wrong with a day (or weekend!) of touring EPIC Wine Country. As of 2019, you can purchase the EPIC Tasting Pass which gives you complimentary tastings, premium samples, and more! The best part? The pass doesn't expire so you can explore at your own pace.
Restaurants in Windsor & Essex County
One of the unmissable things to do in Windsor is to definitely fill yourself with delicious food. While I haven't spent a whole lot of time in the area, I can certainly say there are plenty of great restaurant options! During my time in Windsor and Essex County, there wasn't a single meal I didn't enjoy. Take a look at these great Windsor restaurant options to fuel your adventure!
Lakeside Bakery Deli Café
Address: 286 Erie St S, Leamington, ON N8H 3C5
When you're heading to Point Pelee National Park, a visit to Lakeside Bakery Deli Café in Leamington is a must. Serving up fresh bread for 20 years now, they have grown into a cafe, deli and specialty grocery store all in one.
I settled in for a bite to eat in front of their huge windows, basking in the natural light. Though I couldn't believe my eyes when I saw just how massive the Philly Beef Ciabatta sandwich I ordered was! If you're not a big eater, you can easily turn this into two meals… or you can eat it all at once. No judgement here! One thing you don't want to skip out on is dessert, especially their apple strudel. With just a hint of sweetness from the glaze, the flakey pastry mixed with the fresh apples is a treat for your tastebuds.
Once you've indulged, take a moment to wander around the store before you depart. You'll find more varieties of bread than I even knew existed. Each loaf is handmade fresh, as is European tradition. Don't be surprised if you end up coming home with a loaf or two along with some pastries or and tortes. There's a reason I said you should take a look after you eat and not before!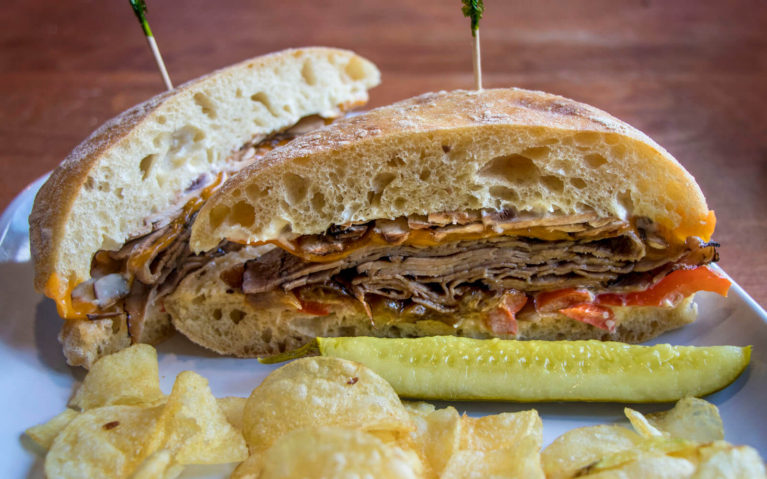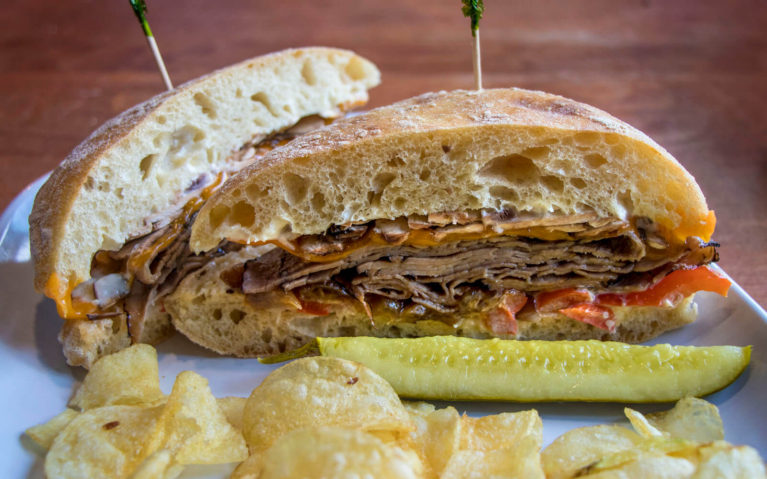 Paramount Fine Foods
Address: 3184 Dougall Ave Unit A5, Windsor, ON N9E 1S6
While I usually try to stay away from chain restaurants, I honestly had never heard of Paramount Foods before. It wasn't until I did some digging after receiving my itinerary that I realized this, and thought I'd give it a shot anyway. It is a Canadian Franchise after all – and I'm sure glad I did!
Paramount Fine Foods supports local Ontario farmers and local produce by sourcing as many ingredients as they can from the province. You'll enjoy the best of the best as their meats have no hormones or additives, and the animals live a healthy, low-stress life. It'll be love at first bite whether you sink your teeth into their charcoal barbequed meat, delicious stone oven pitas or their fresh, healthy salads.
I've only had Middle Eastern food a handful of times so I had no clue what to order from their expansive menu. Luckily my server was patient and recommended the Mixed Grill which comes with skewers of BBQ beef, shish tawouk (BBQ chicken breast) and kafta (BBQ'd seasoned ground beef), hummus and garlic dipping sauce, along with their house rice and pita bread.
Everything was so flavourful and juicy, I wish my stomach was bigger! Their garlic dipping sauce is seriously addicting and I put it on everything. What I really enjoyed was that while I was stuffed to the brim, the food doesn't leave you feeling heavy. Oh, and don't forget to take an order of their handmade baklawa to go!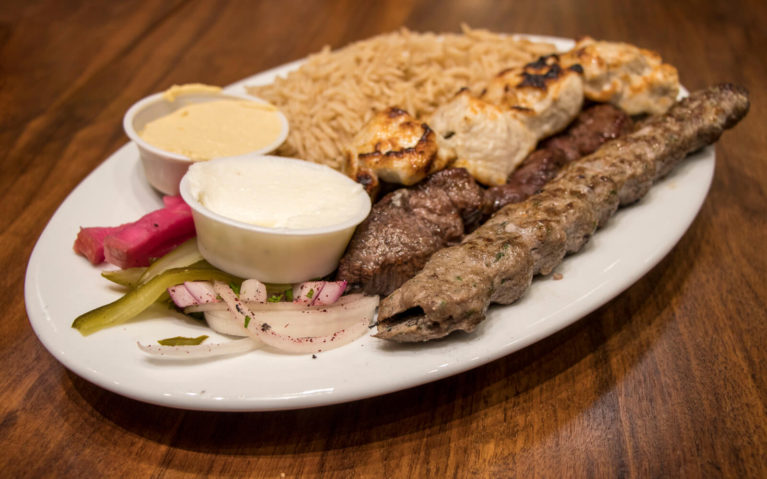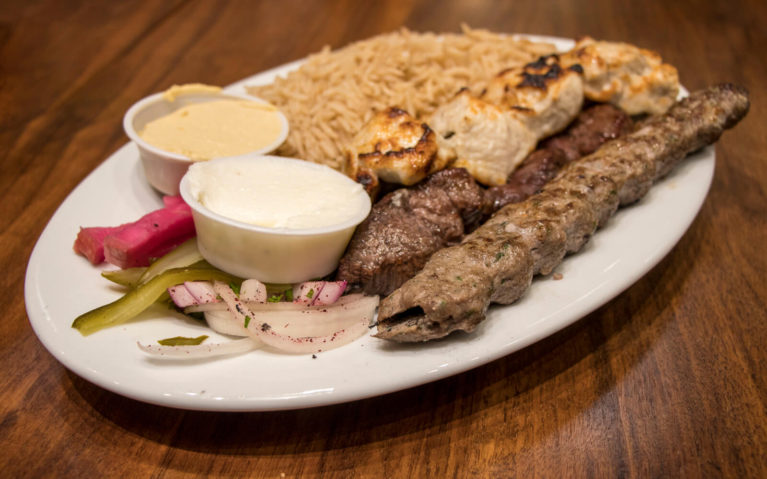 Thyme Kitchen
Address: 100 Ouellette Ave Unit #102, Windsor, ON N9A 6T3
If you're a fan of variety while feeling as comfortable as if you're in your own kitchen, this is the restaurant for you! Owned by Chef Julie Myers who grew up in the area, Thyme Kitchen offers unique dishes inspired by worldly travels. Whether you visit for breakfast, brunch, lunch or dinner, you'll have a number of dishes to try. The biggest focus is community and that sense of belonging which you'll especially see on their dinner menu as its full of shareable dishes to bring people together.
Don't have time to eat in? That's okay, I didn't either! They offer a number of ready-made meals under their Thyme To-Go brand. These are perfect for if you're in a hurry but looking for something healthy or if you're planning a picnic… say on Peche Island! Their roasted sweet potato and kale wrap makes for the perfect snack while enjoying the trails. Whether you dine in or eat on the run, Thyme Kitchen offers a wide variety of gluten-free, vegetarian and vegan options to suit any palette.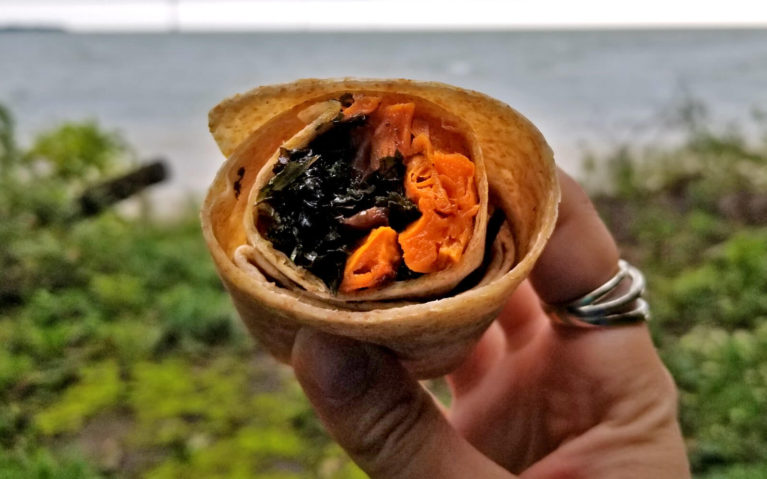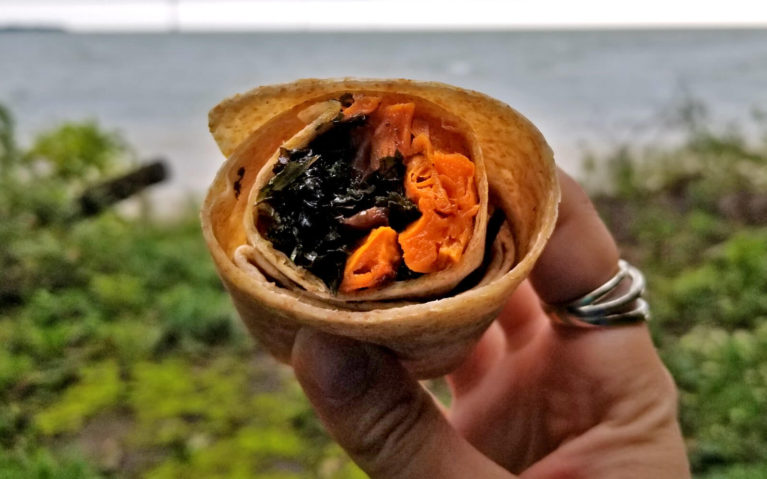 To Your Kitchen
It's always a plus when you don't have to go far for good food when you're enjoying a beer or two, which is the case at GL Heritage Brewing Co. During my visit, chef Jeff Wright and owner of To Your Kitchen was serving up some amazing eats for brewery patrons like myself. If you see he's in town, you don't want to miss this Red Seal chef's eats!
As it's been years since I've had it, when I saw Jeff was serving up jerk chicken – I knew I had to order it. I'm not a big fan of chicken normally but the seasonings were absolutely incredible as this tasty morsel disappeared way too quickly. I also went full hog and enjoyed a side of his creamy coleslaw and the mac and cheese. Seriously, this is like no mac and cheese I've had before! Made with three kinds of cheese and loaded with vegetables, I absolutely devoured it. I would have eaten this solely for my meal had that been an option!
If you visit GL Heritage Brewing Co and don't see To Your Kitchen, never fear. You don't have to wait for the truck to appear! To Your Kitchen also offers food delivery where they'll happily drop off their gourmet meals to your home. All you have to do is heat and serve!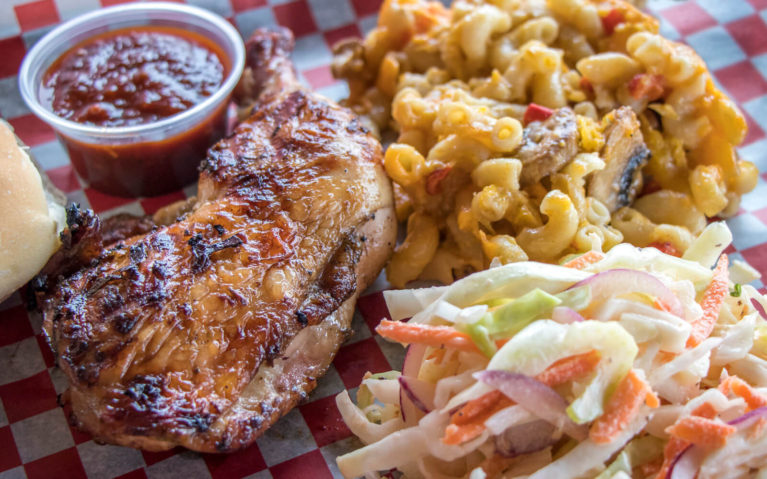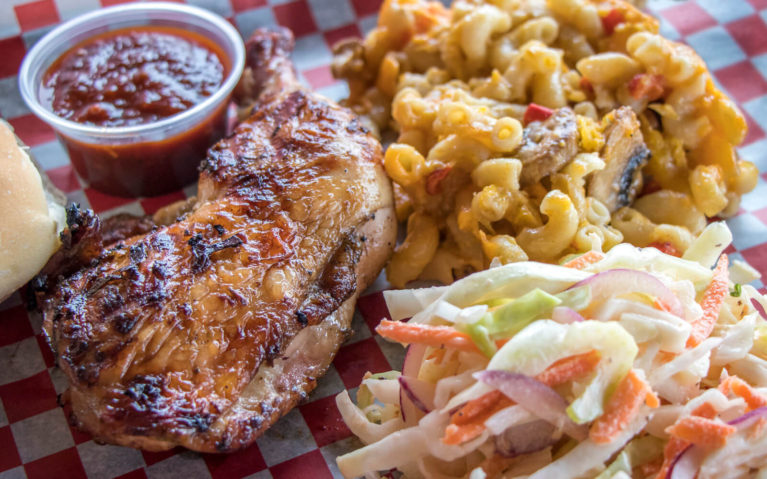 Hotels in Windsor Ontario
As Windsor is a city of 230,000 people, it stands to reason there are a number of accommodation options in the city – let alone in Essex County! If you're looking to stay in town then check out these Windsor Ontario hotels but if you're like me and plan on exploring, you'll want somewhere with a great location that makes it easy to come and go as you please!
If you plan on travelling across the region, the Comfort Inn & Suites Ambassador Bridge makes a great home base. I was able to avoid any real traffic due to its close proximity to the highway. This pet-friendly hotel features a large indoor heated pool (with a waterslide!), exercise room, business centre and more. There's also coffee available in the lobby throughout the day for when you need a caffeine fix!
Their rooms are spacious and include a mini-fridge, microwave, and Keurig coffee maker with both coffee and tea pods. Each room also has a desk, iron, ironing board, hairdryer and 42-inch television. Though I have to say I didn't use the latter as I sunk right into a deep sleep as soon as I hit the comfortable cloud of pillows and blankets on my bed.
However, if you don't mind staying outside the city, you'll be rewarded tremendously. The Grove Hotel is one of the best accommodation options in Windsor and Essex County. Located in Kingsville, each of their rooms is themed meaning you'll always have a memorable stay.
Of all the rooms though, I highly recommend their Brewer's Suite. Not only are you surrounded by beer paraphernalia but you even get a glimpse into the brewery itself. This room is also connected to the Grove Brew House meaning you can easily stumble to and from the brewery. You can even wear your slippers… they won't judge! Whether you stay in the Brewer's Suite or in one of their other rooms, this hotel will take your trip to the next level. Book a room today or see what other visitors have to say about their experience!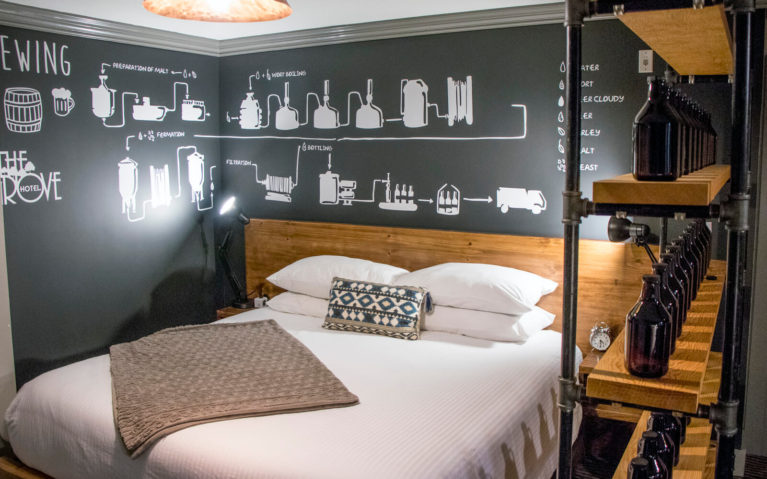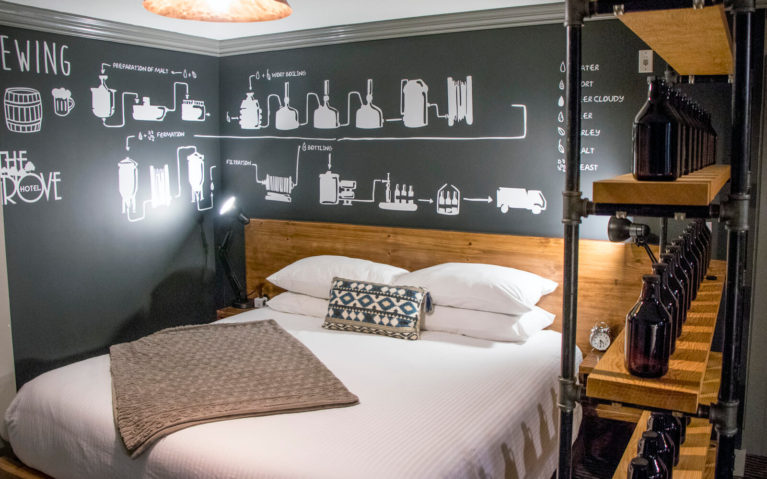 Ready to Visit Windsor & Essex County?
As you can see, there's plenty to do in both Windsor Ontario and Essex County. While this was my very first time in the area, it surely won't be my last! Foodies, beer aficionados, nature lovers and more will not regret a Windsor Essex Pelee getaway. If anything, you'll find so much to do that you'll be planning another trip as soon as you can! Check out the map of Windsor Essex below to start ironing out your Windsor itinerary.
Disclaimer
Thank you to Attractions Ontario for sponsoring my trip in partnership with Tourism Windsor Essex and Ontario's Southwest. While I was compensated for this visit, all of my opinions are true and honest – as always! This post also contains affiliate links where I may receive a kickback on any purchases made through them at no extra charge to you.
Read more in IBB's disclaimer and privacy policy.
Want to remember these places to go in Windsor Ontario? Pin it for later!