South Georgian Bay: An Amazing Destination in All Seasons

Travel is all about exploring and that doesn't have to be far and wide. The more I wander, I find the more I appreciate destinations that are close to home. Why? It means that they're easy to re-visit! When South Georgian Bay Tourism reached out and asked me to visit, I immediately said yes. I'll never say no to returning to this area! Each season unlocks unique experiences you may not have at another time of year. This is just one of the reasons why South Georgian Bay is the perfect destination in all four seasons. Whether it's the middle of July or the beginning of December, you'll love what this area has to offer.
Where is South Georgian Bay?
So where exactly is South Georgian Bay and what areas does it include? Georgian Bay itself is the northeastern offshoot of Lake Huron. You probably know it best because of its western shore where you'll find Wiarton, Tobermory, Bruce Peninsula National Park and other great travel destinations.
South Georgian Bay is spread across two main areas in Southern Ontario – Grey County and Simcoe County. It stretches from just east of Owen Sound to just past Wasaga Beach and includes Meaford, Thornbury, Clearview and more. The map below should give you an idea!
One of the area's most popular destinations is the town of Collingwood, a hotspot for winter activities like skiing. It's also home to a number of beautiful Ontario beaches, Ontario's apple country, incredible hiking trails and much more. These are just a few of the reasons why South Georgian Bay is a stellar destination all year round!
Things to Do in South Georgian Bay
Whether you love being outdoors, looking to pamper yourself or indulge in some delicious eats, everyone will find something they love in this area. I've had the pleasure of visiting a number of times as my mother grew up in Owen Sound and I still find new places to explore! Without further ado, let's check out some of these unmissable things to do in South Georgian Bay.
Take a Hike
South Georgian Bay is home to so many incredible trails. Not only does the Bruce Trail, arguably Ontario's most famous trail, run right through the area but there are a number of beautiful conservation areas too. You really can't go wrong with any trek along the main Bruce Trail or any of the offshoot side trails, but some really stand out amongst the rest.
If you're going to do any trail in the area, I'd recommend the Keyhole Trail in the Nottawasaga Bluffs Conservation Area. This trail is absolutely magical as you wander through crevices on the Niagara Escarpment. Walls of rock will tower above you. It truly feels as if you've stepped into another world! Though you need to be warned – it can be quite easy to get lost and take a wrong turn on these trails! In order to get to the side trail, you'll want to follow the main Bruce Trail's white blazes. After a few minutes, you'll come upon a clearing where you'll see signs for the start of the Keyhole Trail.
Another great choice (especially in the autumn season) is the Siegerman Side Trail Loop. You'll follow the Bruce Trail's white blazes from the corner of 3rd Line and Sideroad 22C uphill as you follow an old cart track. After approximately 1km, you'll see the blue signage depicting the start of the side trail. Enjoy beautiful views of the Beaver Valley as you traverse the trail. Take in the sights and sounds as you wander through beautiful fields, forests and what I believe is the Beaver River. You'll eventually come to the main Bruce Trail as it crosses the river. Don't go over the bridge but rather go straight to return to the start of the loop.
Both of these trails are beautiful in their own way but are fairly rugged with uneven terrain. I highly recommend having proper footwear on and be prepared to clamber at some sections. If it has rained recently, I wouldn't recommend trying these hikes as I could see the trails becoming really slippery!
Go For a Peaceful Waterfront Stroll
Tucked away on the shores of Georgian Bay lies Harbourview Park in Collingwood. This local spot is not well known to visitors and is just one of the many awesome things to do in Collingwood. Follow the Harborview and Promenade trails to enjoy some seriously beautiful views of Collingwood's waterfront and the iconic grain terminals that have become a landmark of the city.
Here you'll also find the Collingwood Labyrinth, a true hidden gem. Labyrinths date back more than 3000 years and are said to help with relaxation and meditation as you traverse the single pathway. Collingwood's is based on the floor of the famous Chartres Cathedral labyrinth in France. Follow its eleven circuit design around the turns to the centre. You can go as quickly or as slowly as you like – the most important aspect is to do it purposefully.
RELATED: If you're looking for more things to do close by, don't miss the Collingwood Ontario caves at Scenic Caves Nature Adventures!
Learn About the Seven Grandfather Teachings
When wandering Collingwood's waterfront, make sure to stop by the Awen' Gathering Place. Based on the teachings of educator, artist and poet Dr Duke Redbird of the Saugeen First Nation, it's a space of sharing, learning, teaching, ceremony, celebration and contemplation. It was created in collaboration with Dr Redbird himself and the Indigenous design team of Brook McIlroy Architects by the Town of Collingwood to advance truth and reconciliation
Niizhwaaswi Gmishoomsinaan Kinoomaagewinan or the Seven Grandfather Teachings come from the Anishinaabe/Midewiwin teaching about the ethics of proper behaviour and conduct. They're linked to the lands that to this day are a source of life for the Anishinaabe People. One starts at Nbwaakaawin meaning wisdom, then moves on to Aakide'ewin (bravery), Mnadendimoowin (respect), Debwewin (truth), Gwekwaadiziwin (honesty), Dbadendizwin (humility) and finally Zaagidowin (love).
Each teaching is also linked to a specific layer of the food forest. For example, the Nbwaakaawin is linked to the overstory and the large, ancient trees within it which teach wisdom. It tells how each of these teachings has a place within our world and how every layer plays its part. Together, they create a healthy, well-balanced entity – whether that be a person or forest.


Pop Into a Local Coffee Shop
There is no shortage of great cafes in the South Georgian Bay area and many are unique. Though I have to say, when you need to go down an adorably lit yet tiny alley to get to one of them… that definitely makes it one of my top choices. When I say down an alley, I'm talking prohibition-style speakeasy vibes which is exactly what you'll find at Gibson and Company. If you're not a big coffee drinker, don't worry. You'll find not only caffeine on their menu but wine, whiskey, cocktails and more!
Inside you'll find the cafe full of natural light thanks to light walls and accents along with a skylight. The decor gives off the upscale beach town vibe which fits right into Collingwood. Besides the beautiful exposed brick wall, what I also adore is that the owners Luke and Keaton only stock the place with stuff that they love. It's so important to try not to cater to everyone and focus on what you're good at and I'd say they're knocking it out of the park.
If you find yourself in the Thornbury area, you have to plan a visit to Good Grief Coffee Roasters. The brainchild of two best buds, Good Grief is not just a cafe but also a coffee wholesaler. While it was established in 2017, it wasn't until 2019 that they found their place on Bruce Street in the heart of town. Now it's not uncommon to see a line up of locals and visitors alike waiting to get a cup of the good stuff! They also have some homemade treats and while I missed out on enjoying a donut during my last visit, this is a mistake I won't make again!
Go for a Picnic
Nothing says summer fun quite like a picnic! From Harbourview Park to the Nottawasaga Bluffs Conservation Area to Northwinds Beach, there are plenty of great picnic spots in South Georgian Bay. No matter where you go, the most important part is having good food to enjoy!
There are two shops in Collingwood that are the perfect place for picnic preparation. First, head to Dags & Willow Fine Cheese & Gourmet Shop. For almost 15 years, they've been offering incredible artisanal cheeses and have expanded to include a number of other top-notch treats. What's amazing is their try-before-you-buy policy, meaning you can taste any cheese before you commit. For me it was love at first bite with their spicy asiago dip and it is seriously addicting!
The other shop you need to visit is The Wild Stand General Store. Mind you this is not your average general store! They focus on being as local as possible by supporting local farming while providing convenient access to quality food. Working to strengthen the community, they have a diverse offering along with seasonal specialties and delicious house-made goodies.
Combined, these two shops are recipe for a perfect picnic. Chances are your eyes will be larger than your stomach, but that just means you'll have tasty souvenirs to take home!
Explore a New Small Town
Ontario is full of many smaller towns that don't get the love they deserve. Some are a little off the beaten path while others are in plain sight! Either way, you can't go wrong with a visit to one of South Georgian Bay's smaller towns. They're all adorable in their own way!
If you're going to go to any small town however, I highly recommend visiting the town of Creemore in Clearview Township. It may sound familiar as it's home to the Creemore Springs Brewery but there is more to it than just beer! You'll find an adorably picturesque town with plenty of shops, eateries and history to uncover.
Start by grabbing one of the Purple Hills Arts & Heritage Society's self-guided historical tour pamphlets as this will tell you about pivotal points in the town's history. It'll take you all over town showing you points of interest, quirky attractions (like North America's tiniest jail!) and more. As you meander, take a look at shops, pop into local cafes and grab a bite at one of the local restaurants to fuel your adventures.
Grab a Pint at a Craft Brewery
Speaking of Creemore, this seems like the perfect segway into talking about craft beer! There are a number of great breweries in South Georgian Bay, some of which offer free tastings and tours. Yes, you read that correctly – free beer!
Take a peek at the inner workings of the Creemore Springs Brewery as you learn about its history. They're proud to brew their beer with no additives and no preservatives, keeping their beers as natural as can be! Starting in 1987, Creemore Springs Brewery was the brainchild of three Toronto retirees… though none of them knew how to brew beer!
Luckily they found a retired brewmaster to get them started and they kept growing into the brewery you see today. They may be one of the oldest craft breweries in Ontario but they're in the thick of the craft beer boom with unique and tasty brews like their Orange Pale Ale or Coconut Porter. You have to hop on one of their tours if you're close to Creemore, Ontario!
Another South Georgian Bay brewery that's not to be missed is Side Launch Brewing Company. The brewery's name nods to the city's rich history of ship-building. It was one of the few places in North America where the large tanker ships constructed in town had to be launched differently due to the constraints of Georgian Bay. Rather than bow to stern, they were 'side-launched' – hence the name.
Located right in Collingwood, they have some seriously delicious brews and are testing out new ones all the time. From easy-drinking lagers to tart sours, I guarantee you'll fall for at least one beer from their lineup. Whether you pop by for a quick pick-up or you stay and play one of their giant board games, you'll feel welcome. Planning to visit on a weekend? Don't miss out on a brewery tour!
UPDATE: With everything going on, tours are not currently running at this time. Hopefully, this will change in the future!
Does this sound like tons of fun but you don't have a designated driver to take you around? Hop on The Beer Bus for a tour! You can fully indulge without worry while hitting a number of different destinations across South Georgian Bay. They have departures daily from Collingwood and Blue Mountain!
Go For a Paddle
With so many lakes and rivers, there are endless opportunities for a paddling adventure in South Georgian Bay. If you're looking to get on the water but don't have your own canoe or kayak, it's Free Spirit Tours to the rescue! They have both available for rent along with the paddles, life jackets and anything else you need for an afternoon on the water. I should mention they have stand up paddleboards available for rent as well!
There are two options for a river paddle with Free Spirit Tours. The first is along the Beaver River where you'll enjoy a calm paddle in this picturesque area. You might even spot some local wildlife including cormorants, egrets, herons and more! You'll want to head to Epping Access Point 2 in Kimberley for this adventure. The second option is along the Nottawasaga River as you'll head towards Wasaga Beach. Follow the river as it winds past gorgeous trees and tall reeds as you paddle upstream to Jack's Lake. If you're lucky, you may catch a glimpse of the bald eagles nesting nearby!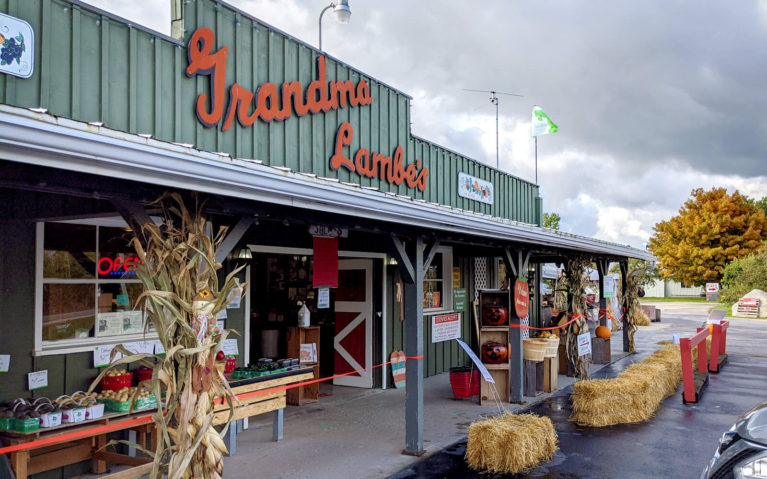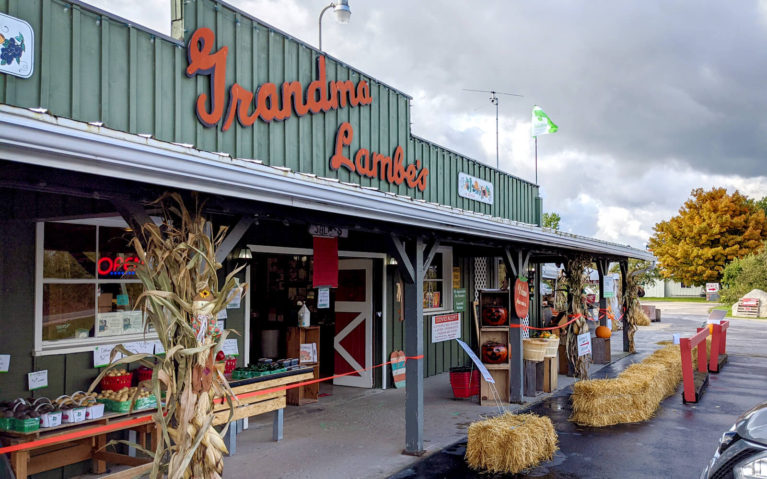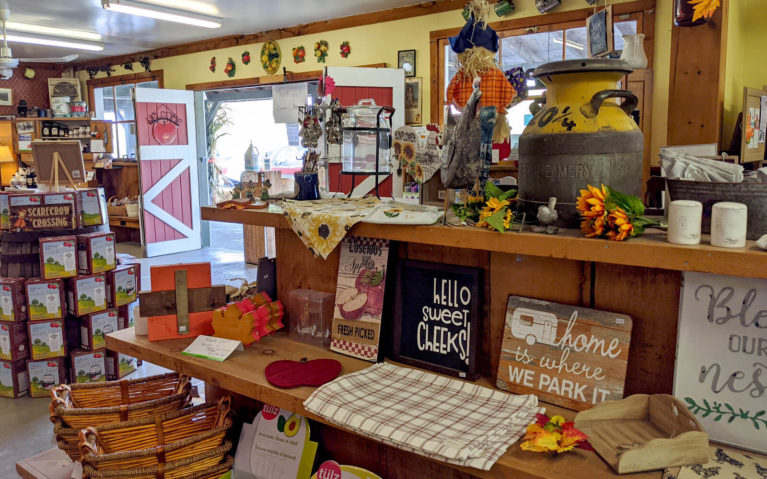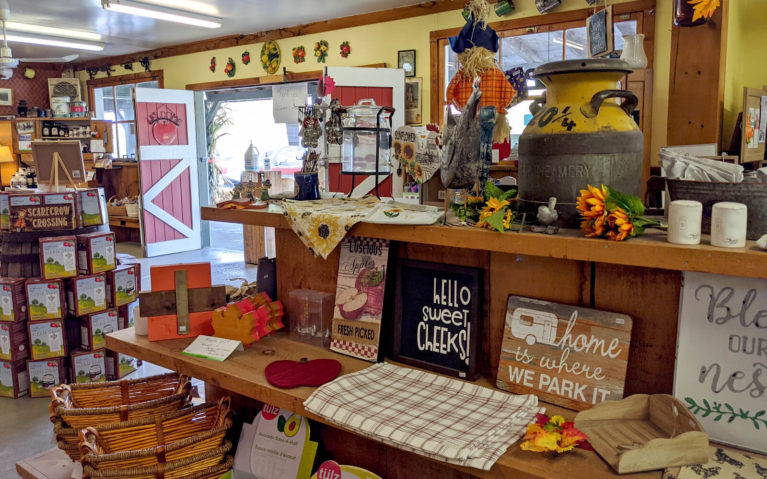 Stop In At a Local Market
When you're exploring the South Georgian Bay area there's a good chance you'll be driving along Ontario's Highway 26, the waterfront road which connects Meaford, Thornbury, Blue Mountain and Collingwood. Not far outside of Meaford, you'll see what has become an area icon – Grandma Lambe's. Open all year round, this adorable country market may have humble beginnings but has flourished into a favourite stop for many.
Stepping inside Grandma Lambe's will make you feel as if you're stepping into grandma's house with its old fashioned kitchen cupboards and the delicious scent of freshly baked goodies. I dare you to leave without picking up at least one treat! Inside you'll also find a number of items from local vendors, including the area's famous Meredith's Elixir. I always pick some up whenever I'm in the South Georgian Bay area, especially if the weather is getting cooler! This local remedy will surely keep colds at bay during the winter months. It's one of the big reasons why it sells out all the time!
End the Day with a Brilliant Sunset
There are so many places to catch a gorgeous sunset in South Georgian Bay. The tough part will be deciding where you want to see it from! You can watch the sunset with the iconic silhouette of the Collingwood Terminal from the Promenade Trail along Wheelhouse Crescent. There are plenty of benches to sit at as you watch the sun disappear for another day. It's also a short 10 minute walk from downtown making it easily accessible!
If you'd prefer a spot in the heart of nature, I highly recommend the Nottawasaga Bluffs Lookout. Though be warned as this lookout is not easy to find! As you follow the main Bruce Trail through the Nottawasaga Bluffs Conservation Area, you'll see information signs along the way. Watch for one with a red fox on it and keep going towards a campsite clearing. As you're coming up to it, look straight ahead along the treeline and you should see a small gap in the forest. Upon further investigation, you'll notice a path. Follow it and you'll find the beautiful views across rolling farmlands made even more magical with the colours of a setting sun.
Looking for Additional Things to Do in South Georgian Bay? Check These Out!
Go Chase Some Waterfalls Across Grey County
Get Your Adrenaline Pumping at Scenic Caves
Fall for Grey County with this Autumn Guide
Explore, Wander & Relax in Grey County This Winter
Restaurants in South Georgian Bay
There is no shortage of amazing eats in South Georgian Bay. With a wide range of restaurants to choose from, it can be hard to know where to grab a meal. I can say firsthand that you can't go wrong at these restaurants in South Georgian Bay!
TheSmoke
If it's been on "You Gotta Eat Here" then you know it's good! Seriously though, if you're a fan of anything barbeque then The Smoke is not to be missed. Chef and Owner Cam is hardcore when it comes to smoked foods and is not afraid to think outside the box. Everything on the menu is made from scratch (minus their breads and sweet potato fries) using his own personal recipes. Trust me when I say you'll be wishing you had the recipes so you could taste these flavours anytime you please!
With five smokers on site, there are plenty of choices to fill your belly. From wings to brisket to ribs and everything in between, the toughest part will be deciding what to order! Though when I heard they won the best Caesar in Ontario just a few weeks prior to my visit, I knew I had to try it. This is not your traditional Caesar though as you won't find Worcestershire sauce in Cam's concoction!
RELATED: Planning to be in Collingwood for a few days? Check out this guide to the top restaurants in the city!
Instead, you'll be treated to hot vinegar sauce, smoking hot BBQ sauce, rimmer, Clamato with an Extreme Bean along with TheSmoke's Teriyaki Smoked Beef Jerky. Though I say get the 'fully loaded' Caesar which comes with a dill pickle spear, back rib, two wings, smoked cheddar and a burger slider with cheddar and wild boar bacon for good measure. Yes, this is truly is a drink that eats like a meal!
While it's listed as an appetizer, I quickly found out their pulled pork nachos are more like a feast. Tri-colour tortilla chips are topped with a quarter pound of pulled pork, mac n' cheese sauce, smoked old cheddar, coleslaw and two of the smokes barbeque sauces, the Carolina Mustard and Hot Vinegar BBQ sauces. It's as if a pulled pork sandwiched ditched the bread for a more colour carb. I'm a fan as I love a dish with serious crunch and these nachos definitely have it!
I barely made a dent in it which means chances are you'll have some serious leftovers. As such, I had a serious food baby and didn't get a chance to try their smoked banana ice cream but I'll definitely be saving room for it next time I visit!
Mylar & Loreta's
While the building itself has quite the history and it has had many names, Mylar & Loreta's has been a signature establishment of the area since 1983. Named after the tale of two lovers that could not be together, it is said their everlasting love can be felt from within. (You can read more about the history here!) As soon as you enter the building, a warm and cozy feeling washes over you as the delicious scent of hearty eats tickle your nose.
Whether you're looking for a wholesome meal after a long day of hiking or a light lunch on your way to Collingwood, you're covered. Even though I wasn't starving when I visited, I couldn't resist trying their roasted pork dinner. Slowly roasted for "a true country taste", you'll find a huge portion of pork paired with fresh vegetables, mashed potatoes and plenty of delicious gravy to smother it all in.
My favourite part though was their homemade stuffing which rivalled my mother's and is the main thing I look forward to every Christmas dinner. I tried to savour it but couldn't resist devouring the stuffing first. It also comes with either soup or salad to start and dessert. I highly recommend their Caesar salad as they make their own dressing and wow is it to die for! Savoury and full of flavour with a slight kick of lemon. To top it all off, you can't beat their apple crumble for dessert. You can take it to go and it makes the perfect midnight snack!
One thing to note is that as everything is home-cooked, meaning it may take some time to get your meal. I promise it's worth the wait though!
Black Bellows Brewing Co
What was once a blacksmith shop back in the 1860s has since become the area's newest brewery. Right in the heart of Collingwood, you'll find this unique atmosphere you'd expect to find somewhere like San Francisco. With not just one but two patios, delicious beer and an artsy style that's reminiscent of vintage black and white cartoons, this has easily become one of my favourite spots in the city.
I know I mentioned craft beer earlier in this post but I had to put Black Bellows Brewing Co down here because their food is easily the best I've ever had while visiting a brewery. You'll be doing yourself a disservice if you don't stop in and grab one of their fried hot chicken sandwiches. Smothered in a delicious mixture of gochujang, sesame and honey, topped with coleslaw and pickles and served on a fresh bun, you'll devour it in no time flat.
Make sure you get a side of curly fries along with their parmesan garlic dip. Forget Franks hot sauce, you'll wanna put this sh!t on everything – including your sandwich. You're welcome.
Corner Cafe & Grill
If you've been to Thornbury then you really can't miss the beautiful red brick building which is home to the Corner Cafe & Grill. Built in 1880, it originally served as a dry goods store and pharmacy before becoming Wong's Restaurant and then later, the Corner Cafe in April of 2016. Since then, it has served up homemade food using as many local ingredients as possible.
It may have cafe in the name but I'd describe the Corner Cafe's menu more as pub fare. You'll find a wide range of dishes from salads to sandwiches to full main meals like ribs, schnitzel and fish and chips. I opted for some lighter fare when I visited and while their mushroom bruschetta doesn't sound the most exciting, it was absolutely delicious. Diced mushrooms are sauteed and topped with parmesan atop crostinis and then drizzled in a balsamic glaze. My mouth is watering again just thinking about it!
Park Bench Diner
You'll need to stray a little from the downtown core in Thornbury to find this gem. Overlooking the harbour, the Park Bench Diner is the perfect spot for a quiet breakfast during the week. It features a huge patio with incredible views of Georgian Bay where you can watch the local ships come in and out of the marina.
Their menu is smaller than many of the other restaurant options in town but this all-day breakfast joint is guaranteed to please. I started my day off with their eggs benedict with peameal bacon but you also have the option of local Cedarvale smoked salmon or avocado puree. Whatever you choose to order, make sure your side is their tater smash.
Creme fraiche, chives and sour cream are smashed together with tater tots to create a pancake which is then fried on both sides. Topped with Caesar dressing for a garlicky kick and you've got a side dish that really could be a meal! I would seriously eat three of these and be over the moon.
Where to Stay in South Georgian Bay
There are a number of great places to stay when exploring the South Georgian Bay area. While it's tempting to stay close to Collingwood so you are close to restaurants, bars and other amenities, I recommend heading a little further south. Though I won't judge you if you see what Collingwood hotels are available!
In the heart of Pretty River Valley Provincial Park lies the aptly named Pretty River Valley Country Inn. Set in a secluded valley, settle into this natural oasis on the Niagara Escarpment. Owners Paul and Linda bought the farm in 2002 as it reminded them of the United Kingdom where they both worked for 6 years before retiring. Set on an organic farm, you'll find Reindeer, Icelandic horses, chickens, pigs and more! They even make their own maple syrup and lavender jelly – treats you'll get to enjoy at breakfast in the morning.
You have 11 accommodations to choose from, including studio rooms, suites and crofts. I had the pleasure of staying in the Duntroon Croft where I was absolutely spoiled. With beautiful cathedral ceilings, this two-storey suite had more room than I knew what to do with! Though the first thing I spied was the two-person jacuzzi tub which I thoroughly enjoyed after a long and busy day exploring.
The space was fully equipped with anything I could think of including a mini-fridge, microwave, corkscrew, chilled bottle of water and even a bag of microwave popcorn! It didn't take me long to drift into dreamland thanks to the Tempur-Pedic king bed. I was out in a matter of minutes!
Guests of the Pretty River Valley Country Inn also have access to a number of the amenities on site. In the summer, you can enjoy a dip in their beautiful outdoor pool. There's also a bonfire pit for roasting marshmallows and sharing stories. As the weather cools down, you can hit the trails on one of the inn's Icelandic horses with their trekking option. All year round you're welcome to utilize the fitness centre, relax with a soak in the outdoor hot tub or enjoy the trails on their 125 acres. You just might need snowshoes in the winter months!
As you can see, The Pretty River Valley Country Inn is like a destination all on its own! Located less than half an hour away from Collingwood and the Blue Mountains, it's the perfect place to stay during your South Georgian Bay getaway! Click here to see what rooms are available.
Ready to Visit Georgian Bay Ontario?
Georgian Bay truly is a beautiful part of Lake Huron that everyone should visit at least once. There are so many things to do in South Georgian Bay no matter what season it is! I didn't even get to touch on the festivals and other South Georgian Bay events that happen year-round. That just means you'll need to plan your own visit soon! Maybe make it part of an awesome Ontario road trip?
Spring, summer, autumn and winter all have their own highlights that will make you fall in love with the area. It's one of those places where you discover more things to do each time you venture into the area. Between the incredible sights, delicious eats and wonderful people you'll meet, it won't take long before you'll be planning your next visit. Use the South Georgian Bay map below to get started!
Are You a Fan of Epic Lookouts?
Don't Miss These Incredible Views Across South Georgian Bay!
Disclaimer
Thank you to South Georgian Bay Tourism for inviting me to your neck of the woods! I had a blast revisiting the area. While I was compensated for this visit, all the opinions you read here are true and honest – as always! This post also contains affiliate links where I may receive a kickback on any purchases made through them at no extra charge to you.
Read more in IBB's disclaimer and privacy policy.
Don't Forget These Tips for South Georgian Bay & Pin It For Later!