15+ Best Southwestern Ontario Beaches to Visit This Summer

The best way to enjoy summer is with sand between your toes and catching some rays on a sunny day in July or August. There are some amazing beaches in Ontario, many of which are only a 2-hour drive from Toronto and the GTA. With so many Southwestern Ontario beaches to choose from, it can be tough to know where to go! These are some of the best beaches in Southwest Ontario, perfect for a mini Ontario road trip in the warmer months.
What Makes These the Best Beaches in Southwestern Ontario?
There are a few reasons! Personally, I prefer to visit destinations that aren't overrun by visitors. When I think of a beach day, I think of a quiet, relaxing beach day. This does not include having to climb over people in order to find a spot on the beach like you will run into on Grand Bend beach or Wasaga Beach. Not to say there's anything wrong with these sandy beaches, I just feel many of us prefer quieter destinations! That being said, sometimes you just can't avoid the crowds like on long weekends or holidays.
Another thing that's important? BATHROOMS. They don't need to be fancy, but washroom facilities are a requirement for a beach to be awesome in my books. It may not be something you immediately think about, but all of these Southwestern Ontario beaches have washrooms. Using the facilities is key when you're staying hydrated on a hot summer day!
INSIDER TIP: When packing your beach bag, include some baby wipes or moist towelettes. Not only are they always a good idea, many of the beaches only have portapotties so better to have something that disinfects than not!
Most important of all… I hate paying for beach access and I'm sure you do too. Luckily, all of these Southwestern Ontario beaches are free. No parking fees, no entrance fees – just a whole bunch of fun awaits! All that's left is for you to do is check out the weather forecast and choose which beach to visit! That might actually be the hardest part…
Now without further ado… to the beaches!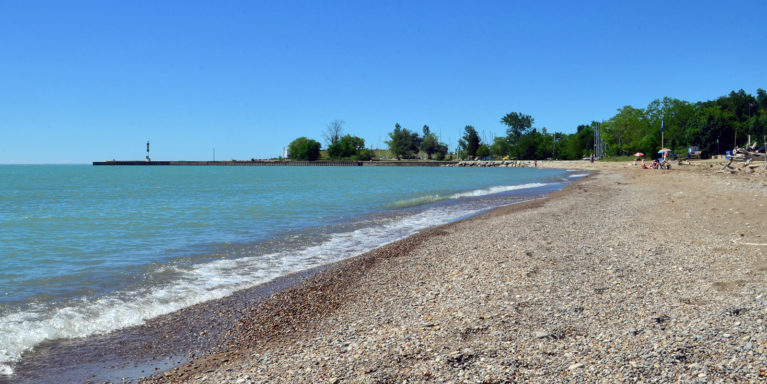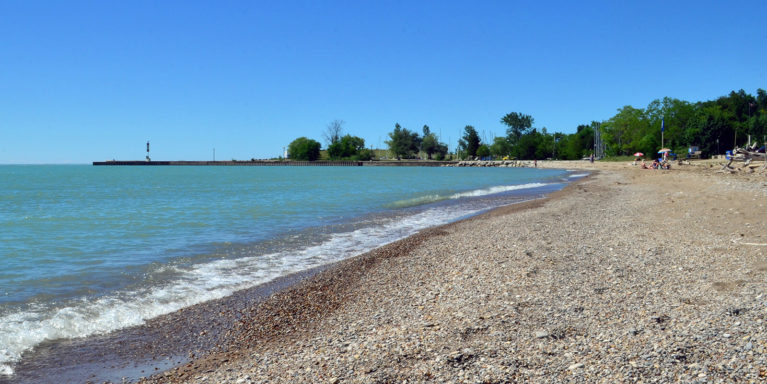 Bayfield Main Beach
Situated on the shores of Lake Huron, Bayfield Beach is a great place to enjoy a hot summer day. The beach itself is a mix of sand and rock while featuring a walking path and pier close by. Awarded the Blue Flag certification in 2019, this prestigious designation signifies high environmental and quality standards. What does that mean for you? It means the beach has passed a number of intense environmental, educational, safety and accessibility criteria making it an amazing beach to visit!
If you walk south away from the pier, you'll find steps which will take you up to Pioneer Park. While nobody likes taking the stairs upward, you'll be rewarded with a beautiful view at the top! Heading back to the harbour, you'll find brick and mortar washrooms as well as a water fountain. Be sure to fill up your water bottles to avoid dehydration! If you forgot yours, don't worry – the beach is a short walk from the town of Bayfield. Here you'll find a menagerie of shops and restaurants in what I'd say is one of the best beach towns in Ontario.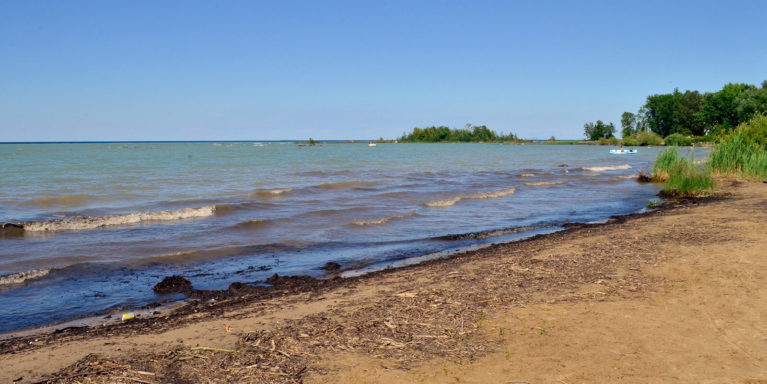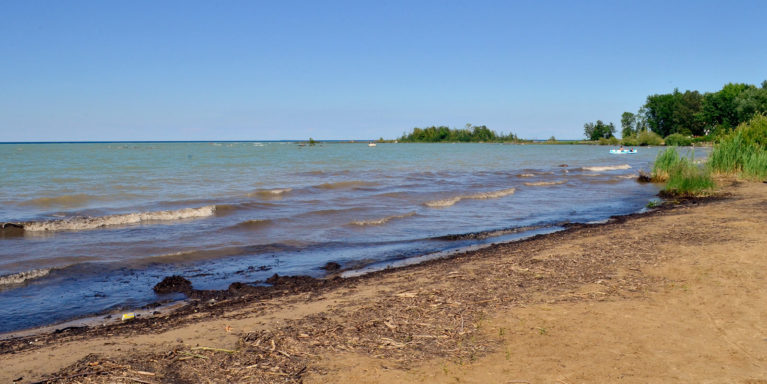 Christie Beach
Heading north to the shores of Georgian Bay, Christie Beach is a quiet little slice of paradise. I visited on a hot summer Saturday and there was one other car… ONE. If you're looking to have a sandy beach all to yourself? Look no further! There is limited parking, however with my experience, I don't think you'll have a problem.
The area is also great for groups as there is a shaded pavilion with benches and tables. A swing set is present for families with young children to enjoy. The green space isn't large, but there's enough room for kids (young and old) to play some soccer or break out the frisbee.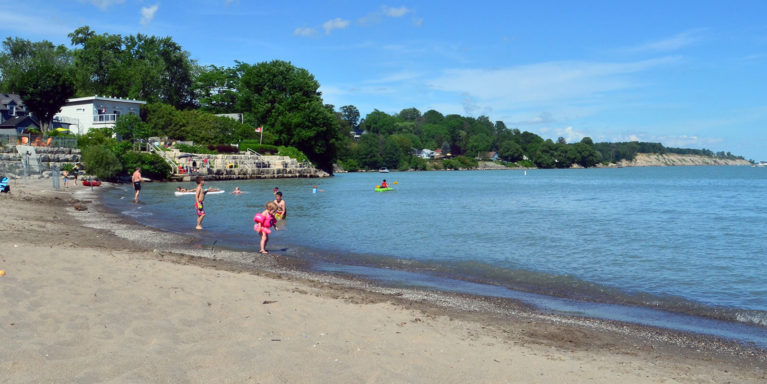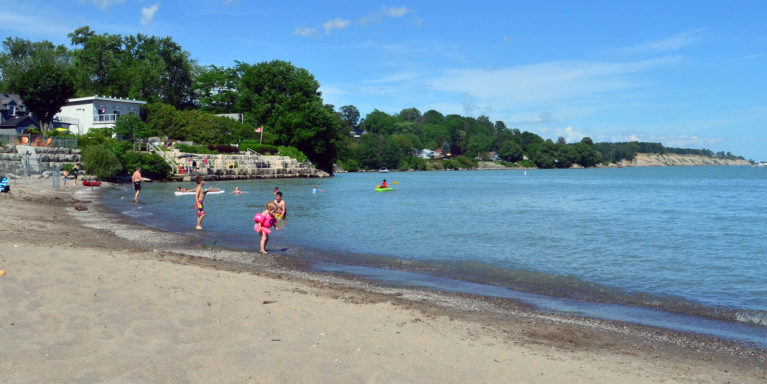 Little Beach
Don't let the name fool you – it's not that little! Nestled on the shores of Lake Erie, Little Beach is a beautiful place to spend a day sunbathing. While it can get busy (the parking lot itself can be a little crazy!), there's plenty of room on the beach. You'll find lots of families enjoying a sunny day along with the occasional parasailer in the distance.
If you're looking for a sweet treat or a caffeine boost, you'll be in one-half of Port Stanley within a 5-minute walk. Looking for a change in scenery? Walk another 20 minutes to the other side of Port Stanley and you'll find the main beach that's aptly named Port Stanley Beach. Be warned though, it's almost guaranteed to be busier than Little Beach since it's arguably one of the top beaches in Ontario!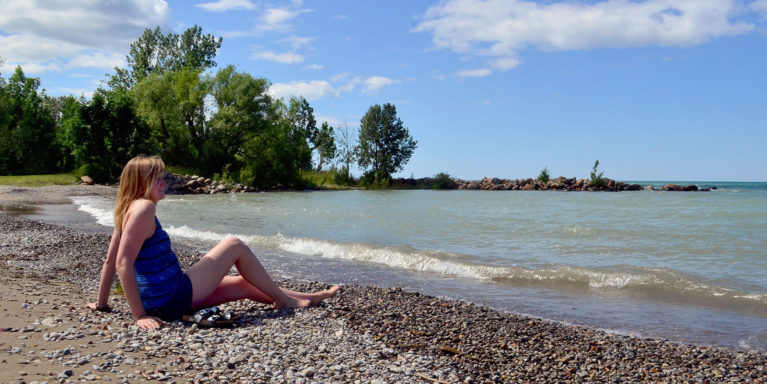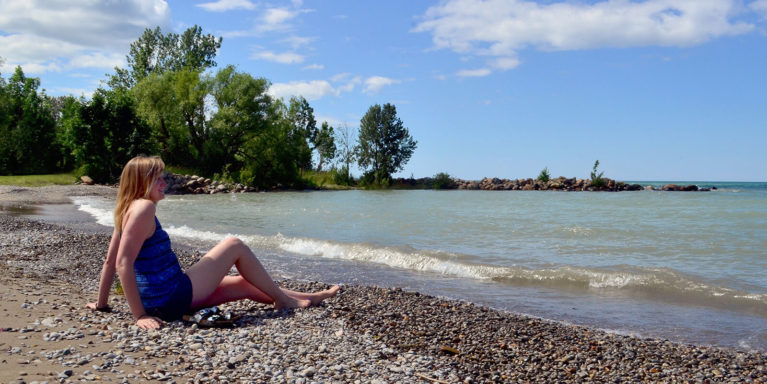 Lora Bay Beach
Looking for a beach to have all to yourself? Lora Bay is in a residential complex in the Blue Mountains and will easily be the quietest of any beaches near Toronto. Open to the public, you can drive down and access this beautiful little cove. It can be quite breezy so it's great for those scorching summer days! While there is what looks like a bathroom, it was locked when I visited and surrounded by hornets. I'd steer clear and if anything hop in the car 2 minutes down the road to Christie Beach and use the facilities there.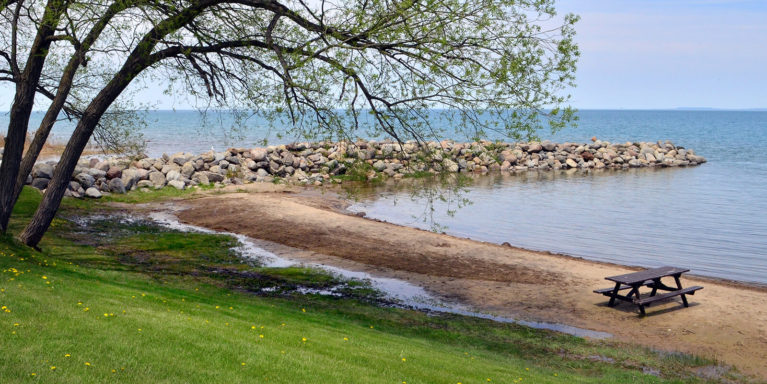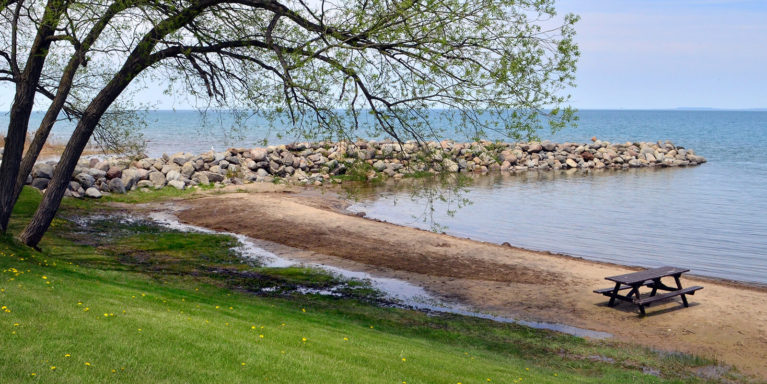 Northwinds Beach
The crystal clear waters of Georgian Bay make Northwinds Beach a perfect beach destination. Extremely popular for standup paddleboarding, you'll enjoy relaxing along the sandy shoreline. The parking lot isn't the biggest, so I'd suggest arriving early to ensure a parking spot.
If you have any four-legged companions however, you'll have to leave them at home as no dogs are allowed. Close to both Collingwood and Meaford, it makes a great stop during a weekend excursion in Grey County! I highly recommend grabbing some food and having a picnic. There are even a few tables waiting for you!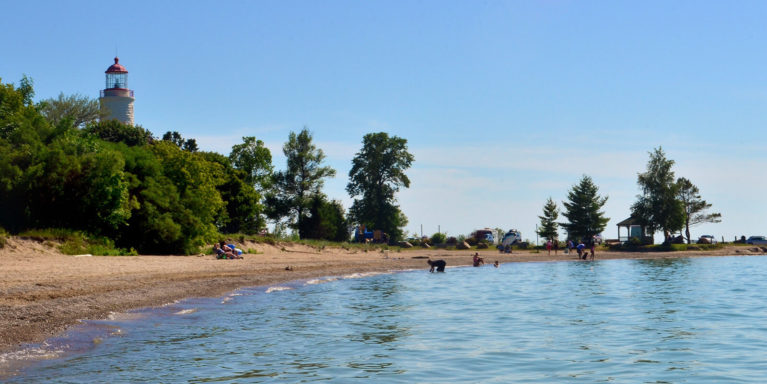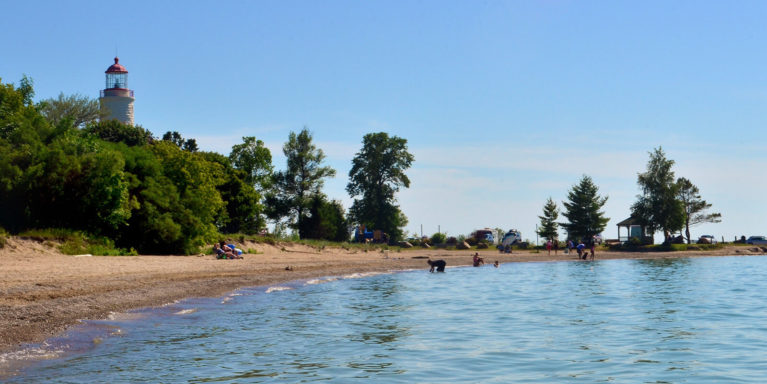 Point Clark Beach
Another one of the amazing Lake Huron beaches I have to mention is Point Clark. My favourite of these Southwestern Ontario beaches, Point Clark Beach is also home to a beautiful lighthouse. Learn about the history of the imperial style lighthouse and climb the 100+ steps to get a bird's eye view of the beach. Take note of the washroom and change room building as it's easy to miss, then make your way for some beachy fun!
The sand can be quite hot and with small stones mixed in so it can hurt your feet after a while. I'd suggest some water shoes or flip flops if you're going to be in and out of the water a lot. There are also a few volleyball courts close to the parking lot but it's BYON – bring your own net!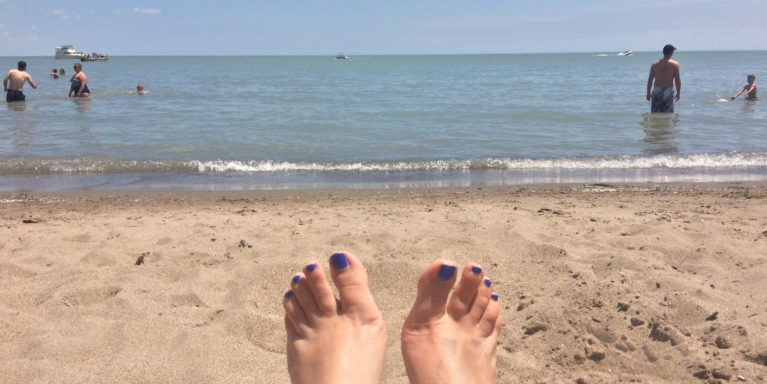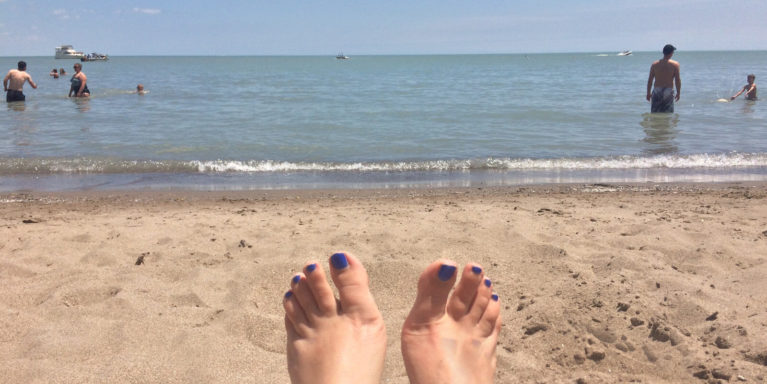 Port Dover Beach
Definitely one of the more popular beaches in this list, Port Dover is guaranteed to be a great beach day. It's a beautiful stretch of beach that's perfect for sun-seekers of all ages. One huge perk is that the core of the town is just steps from the beach meaning lots of good eats, treats, shops and more are close by. Oh, and if you're looking for ice cream – you have to go to Willie's!
If Port Dover sounds familiar, you may know it for its famous 'Friday the 13th' meet-ups. What started as a tradition by friends back in 1981 has transformed into a huge gathering with vendors, entertainment and more! If you're looking to hit the beach on one of these days, I'd steer clear of Port Dover.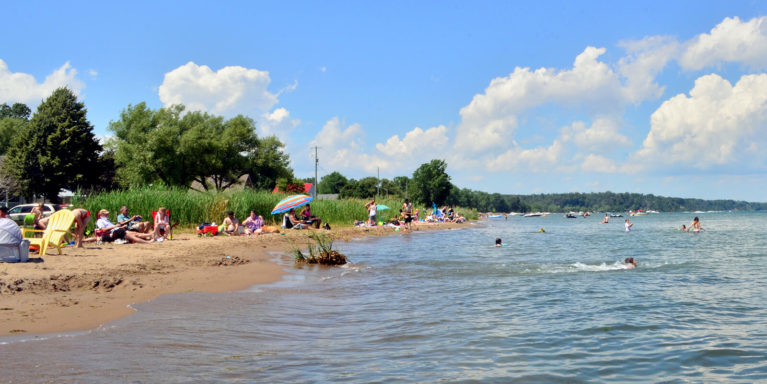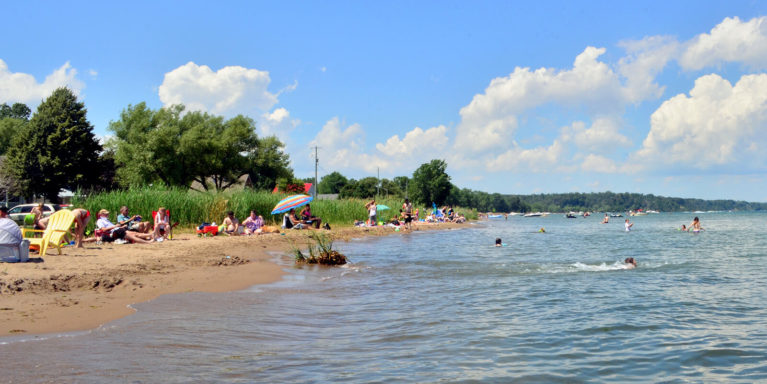 Turkey Point Beach
What's probably the busiest of all the Southwestern Ontario beaches on this list, Turkey Point stretches over 2km along Lake Erie's shoreline. It's next door to Turkey Point Provincial Park where you can get your hike on before cooling off at the beach. The beautifully soft sandbars and shallow water make it great for families. Although it can be hard to walk through the clay-like patches so be wary. I almost fell a few times, but at least the water would catch me!
While paid parking is the most prominent and convenient, there is free street parking available. Take Cedar Drive to Reserve St and you'll hit Ordnance Drive which has plenty of spots. Just be sure to obey the signs!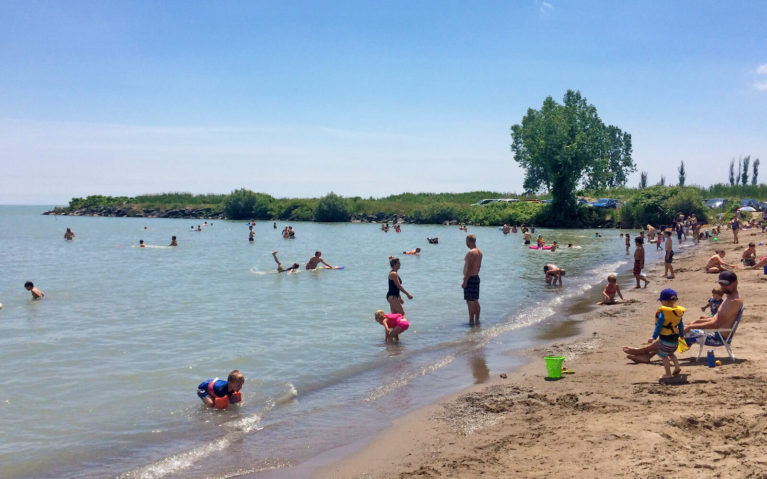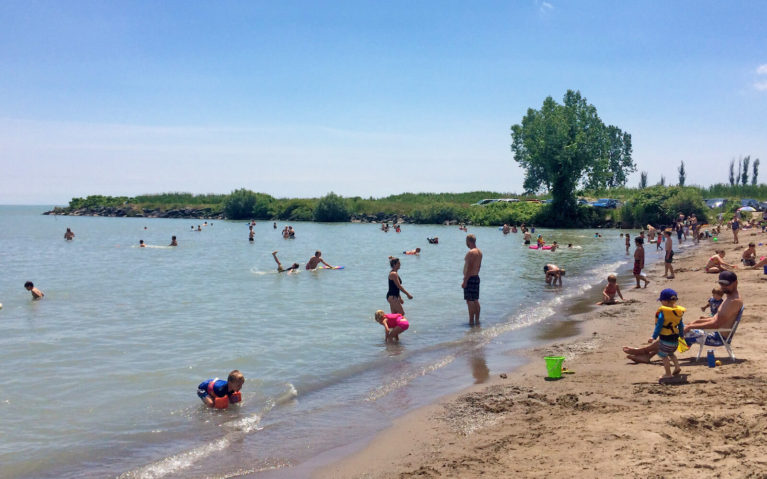 Additional Free Southwestern Ontario Beaches
There are hundreds of kilometres of shoreline in Southern Ontario, meaning there are plenty of beaches to go around! Here are a few more options for free beaches in Ontario.
Canatara Park – Located close to the US border in Sarnia, these Lake Huron beaches aren't overcrowded like some of the other beaches mentioned on this list. Though I'm not sure if it's the beaches or the 200 acre park that are the bigger draw for visitors! The park also features active equipment, food trucks, covered pavillions and more.
Cherry Beach – I don't often visit Toronto beaches but if I were to, I'd head to Cherry Beach. Also known as Clarke Beach Park, it often receives a blue flag designation. There is free parking available and access to a number of bike trails as well as the Martin Goodman Trail. Located at the end of Cherry Street and easily accessible by TTC, you may want to opt for this as the lots fill up quickly in the summer.
Goderich Beach – Despite how close Goderich is to Kitchener, I haven't spent nearly as much time here as I'd like. There are not one but three beaches located just minutes from the heart of the city. The main beach can get a little busy though you can avoid crowds by heading further south to St. Christopher's Beach and Rotary Cove. If you pay Goderich a visit, don't forget to check out the adorable lighthouse in town!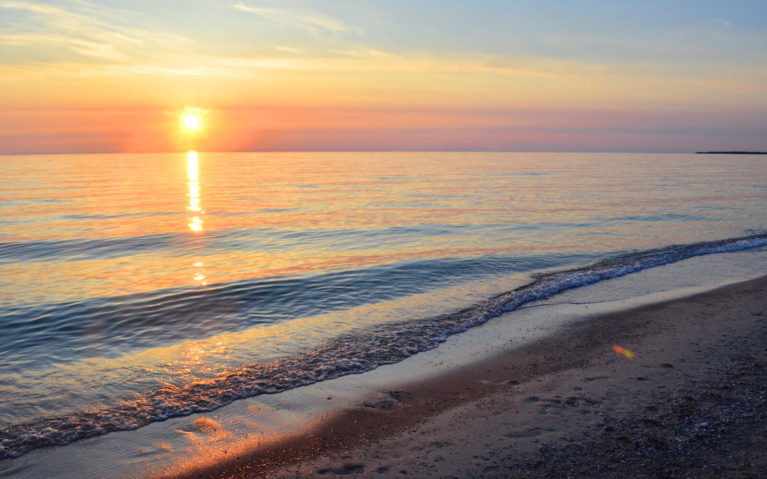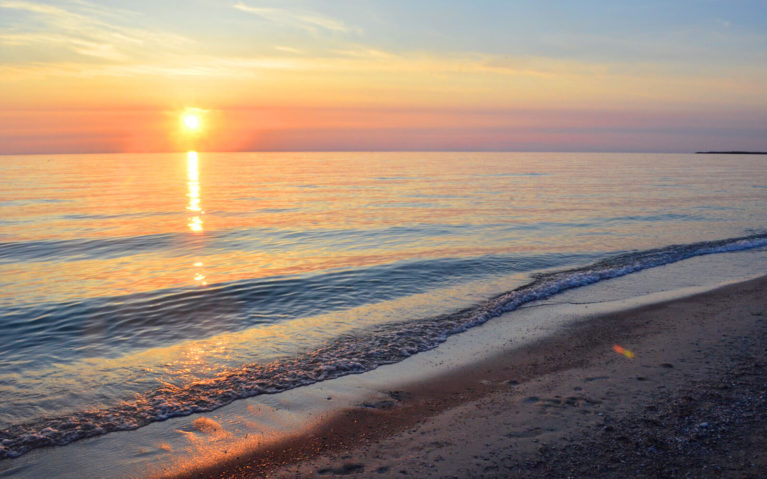 Fantastic Southwestern Ontario Beaches with Fees
If you don't mind paying a few dollars either beach access, you'll have access to some of the best beaches in Southern Ontario. Some of the beaches in this section might be free to enter but you'll have to pay for parking.
Bluewater Beach – Head to Tiny Township to enjoy this beautiful little nook nestled along the shores of Georgian Bay. It features a boardwalk that gives you gorgeous views of the ecologically significant sand dunes in the area. The beach itself is on the smaller side and is rocky instead of sand, but that's nothing a pair of water shoes can't fix! However, you will need to pay for parking from one of the pay and display machines.
Grand Bend Beach – You know a beach is popular when the population explodes from 2000 people to the possibility of 50,000 during prime beach time! Located along the shores of Lake Huron, it's so popular because of the atmosphere of the area with adorable shops, plenty of restaurants and an overall chill vibe. While you can find free parking, I'm putting this in the fees category because when you have thousands of people visiting in a day… chances are you're paying for parking.
Long Point Beach – Home to unique sand dunes and a beautiful stretch of well-maintained beach, paying the Ontario Parks entry fee into Long Point Provincial Park is worth it. The park is also part of the UNESCO World Biosphere, protecting a variety of unique plants and wildlife.
INSIDER TIP: Any Ontario Parks beaches can be accessed for free on Happy Parks, Happy People Day. This is usually on a Friday around the end of June.
Singing Sands Beach – You'll need a Parks Canada pass to visit this one but I'd say it's a true hidden gem. So many flock to Bruce Peninsula National Park and Tobermory that they don't realize Singing Sands is even there! If you're looking for a spectacular sunset along the Bruce Peninsula, Singing Sands delivers.
Sauble Beach – If it isn't the most popular beach along Lake Huron, it's definitely a close second. There are plenty of activities and attractions in the area as well. I'd recommend checking out Sauble Beach Provincial Park, and if you feel like getting the adrenaline pumping, pay Ascent Aerial Park a visit!
Wasaga Beach – I'd say Wasaga Beach is arguably the busiest beach in Ontario. There's plenty of infrastructure with restaurants, bars and lots of things to do… and plenty of people. It is a very iconic destination in Ontario though so if you don't mind fighting the crowds, you should check it out. You'll have to pay for parking, however you can usually find a spot for $10 per day.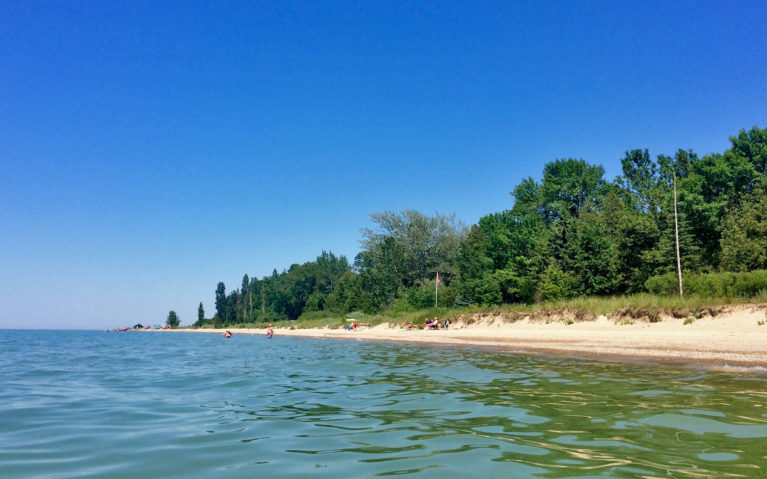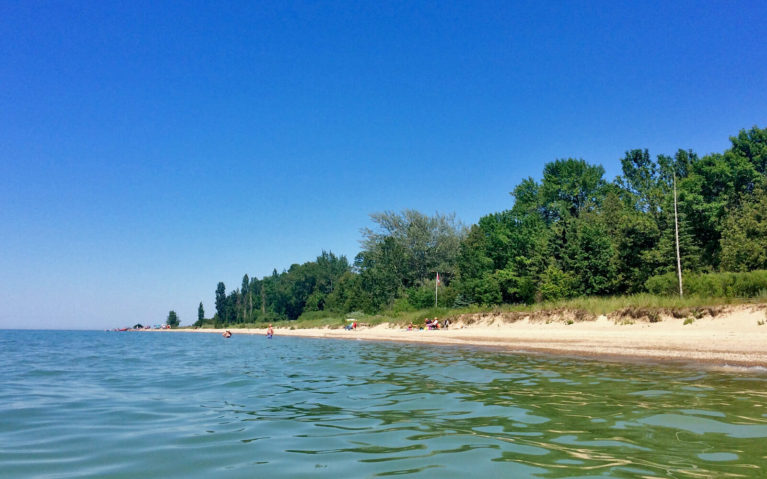 Ready to Visit These Beaches in Southern Ontario?
You may not think of Ontario as a beach destination, but hopefully this post has changed that perception for you! These are just a few of the amazing beaches in Ontario with plenty more for you to discover.
Now, what are you waiting for? Each of these destinations has its own charm and beauty, so why only choose one? The summers in Canada aren't the longest so it's best to get out and enjoy it as much as you can! Check out this Southwestern Ontario beaches map and start planning your adventures. If you can, I say visit them all – I promise they're some of the best beaches in Ontario!
Are you planning to travel more of the province this summer? Beaches are always a great reason for an Ontario road trip in my books! What are your favourite public beaches in Ontario? Are there any others that should be included in this list? I'm always looking to explore more corners of the province so let me know in a comment below!
Ready to Check Out These Beaches in Ontario Canada? Pin it for later!