Top 21 Ontario Lavender Farms To Experience This Summer [2023]

Driving with the windows down, chances are you'll smell it before you see it. Once that wave of lavender washes over, you'll feel your shoulders drop and the tension release as you take a big, deep breath. It's almost involuntary but that first, blissful moment is what will make you fall in love with these Ontario lavender farms! Between the sweet, calming scent, the vibrant flowers and the sheer beauty of the fields, visiting a lavender farm is the perfect summer adventure for all ages.
NOTE: Prices have been updated to the best of my knowledge. If you notice an inaccuracy, please comment below or email me at lindz[at]ivebeenbit.ca so I can update this post. Thank you!
Ontario Lavender Farms
You might be surprised to discover just how many there are in the province! Check out this list so you can start planning your own adventure to some of these Ontario lavender farms. They're listed in alphabetical order.
Apple Hill Lavender
Address: 1795 Windham Road 11, Windham Centre, ON N0E 2A0 [map]
Cost: Free, no appointment necessary
This century-old family farm features rolling lavender fields amidst an apple orchard backdrop. Explore the gardens and lavender fields on the property and be sure to take a peek at the Carriage House Boutique. In the spring, stop by Apple Hill Lavender and pick up your own lavender plants to grow at home. Fields of purple will greet you during a summer visit while you'll be welcomed by fresh apples in the fall. Open May to December Thursday through Sunday, visit them online for hours of operation.
Bonnieheath Estate Lavender and Winery
Address: 410 Concession 12 Townsend, Waterford, ON N0E 1Y0 [map]
Cost: Varies, reservations required
Just minutes away from Apple Hill Lavender you'll find Bonnieheath Estate Lavender and Winery. Here you can enjoy an adult beverage or two as you explore the grounds. With lavender fields, prairie grass, vineyards and even a natural wetland, you'll adore this little getaway. Keep an eye out for their yearly lavender festival too! It also makes a great pit stop if you're on your way to Port Dover, home to one of Ontario's awesome beaches. Bonnieheath is open year-round (check out their hours of operation online) but you'll want to visit in June/July for their lavender experience.
Christel Lake Lavender
Address: 1381 Scugog Line 12, Greenbank, ON L0C 1B0 [map]
Cost: Free, reservations required
Just an hour northeast of downtown Toronto you'll find the perfect summer escape from the big city. Take in the views on this Port Perry lavender farm as you explore around the spring-fed lake on the property. This is a perfect lavender destination for families as kids will have a ball on the children's playset, swings and trampoline available for visitors to utilize. If you have a furry family member, dogs are welcome to tag along too. Open from the May long weekend until Labour Day weekend in September but be sure to book an appointment online before visiting!
Essentially Lavender
Address: 1379 Concession 10, Formosa, ON N0G 1W0 [map]
Cost: $5 per person for self-guided tours, $8 per person for guided group tours (minimum of 8 people required)
Owners Bill and Cathy purchased this farm in Bruce County almost a decade ago. Settled back in 1869, it has since evolved to include horses, sheep, cattle and elk amongst the property's rolling hills, pastures and woodlots. You might even spot Stockings, Essentially Lavender's resident cat. Be sure to check out their gorgeous lavender labyrinth. Just follow the path slowly towards the centre and I guarantee any stress you may have had will melt away by the time you reach the middle! Open from the end of May until the beginning of September, take a look online for hours of operation.
Hereward Farms
Address: 141051 Side Rd 15, East Garafraxa, ON L9W 7K5 [map]
Cost: Free
It may have started as a shot in the dark during lockdowns but Hereward Farms has flourished into a stunning lavender farm! Explore their stunning fields as 6000 plants await you. They have a heavy focus on wellness as Hereward Farms operates on a 'farm-to-skin' philosophy with their luxurious lavender-infused products for your body and your home. All of their products are made using 100% natural ingredients and their skincare line is cruelty-free as well as fully Canadian-made! Pop by during one of their workshops, yoga sessions or special events and make sure to stop in at the Lavender Lounge + Boutique to see all of their offerings.
Laveanne Lavender Fields
Address: 8667 Gilmour Rd, Campbellcroft, ON L0A 1B0 [map]
Cost: $14, available at the gate
These fields of lavender became a beacon of hope for Sabena and her husband after the 2008 market crash. With their farming livelihoods destroyed overnight, they looked to their son's passion for lavender collecting to create the beauty you see now. Laveanne is home to over 10,000 plants across the four acres of purple blooms. Bring your own picnic to enjoy amongst the plants, pack your yoga mat for a self-guided practice, and don't forget to check out their lavender labyrinth! While their lavender fields are open for the month of July, their shop is open year-round and offers various lavender products. Be sure to look at their hours of operation online before visiting.
Lavender-Blu
Address: 2375 Bank Rd, Seagrave, ON L0C 1G0 [map]
Cost: $5, pay when you arrive
The brainchild of owner Mila, Lavender-Blu has been more than just a lavender garden! On this three acre hobby farm, you'll find a small orchard and vegetable garden, 40+ farm animals, a lavender artisan studio, and over 3000 lavender plants near the shores of Lake Scugog. With an emphasis on cultivating calm, you'll leave Lavender-Blu feeling lighter whether it be with a self-guided tour of the property or a wonderful chat with Mila herself.
Take a look at their website for full visiting details and check out her lavender-based workshops that are offered all year round. You might just learn a thing or two about lavender or if anything, walk away with some of the amazing artisanal lavender products Mila has to offer!
RELATED: Lavender-Blu is a stop along the Sideroads of Scugog, a fantastic rural route offering a number of great stops for outdoor fun. Find out more in my Lake Scugog post and make a full day of it!
Lavender Hives
Address: 8499 Goosemarsh Line, Grand Bend, ON N0M 1T0 [map]
Cost: Free, no appointment necessary
Located on the shores of Lake Huron in Southwestern Ontario, Lavender Hives is a working lavender and bee farm – which you probably guessed by the name! They have a small store that offers honey and honey-based products, culinary lavender and other lavender-based products. While they don't have any official hours, they're open most weekends in the summer months. Look out for signs on Highway 21, check out their Facebook page or give them a call at 226-926-2820.
Lavender Polo
Address: 20132 McCowan Rd, East Gwillimbury, ON L0G 1M0 [map]
Cost: $15 per person, purchase your ticket online
Would you believe that 155 acres full of lavender plants can be found just 40 minutes from downtown Toronto? It's true! Lavender Polo is home to over 100,000 lavender plants of both English and Spanish varieties. Meander through the endless rows of purple flowers and pack a picnic to enjoy while being surrounded by the stunning natural beauty. For a small fee, you can enjoy their VIP picnic experience complete with an adorable table and homemade lavender lemonade. All you need to bring along is some snacks! It's the perfect spot for some family time, a romantic date or a girls' trip! If you're looking for some additional zen in your life, catch one of their weekly yoga sessions.
RELATED: There are so many benefits to lavender you may not realize! Check out this post to learn more and find out about other lavender farms near Lavender Polo.
Lochland Botanicals
Address: 2468 25 Side Rd, Campbellville, ON L0P 1B0 [map]
Cost: Varies
Less than an hour from Toronto, over 140 plant species are waiting for you to visit at Lochland Botanicals near Milton. Owners Diane and Steve have dedicated their livelihoods to working the land and preserving the goodness found in nature through their holistic products. Enjoying a picnic by the lavender fields sounds like the perfect way to enjoy these summer blooms. Or, you can wander as you search for their three secret villages. If you time your visit right (towards the end of July), you might catch their sunflowers during your visit too! Lochland Botanicals is open on weekends from June until September, though lavender is at its peak in July. Take a look online for hours of operation.
SOMETHING TO NOTE: According to their website, Lochland Botanicals is closed for 2023. I'm unsure if this means they will be reopening in 2024 so I'm currently leaving them on here for the time being in case they do reopen!
Millefleurs
Address: 17461 Loyalist Pkwy, Wellington, ON K0K 3L0 [map]
Cost: Free
Nestled along the shores of Lake Ontario, Millefleurs focuses on coupling their love of lavender with sustainable practices. It is home to over 5000 lavender plants which include six different species of both English and French lavender. With mead tastings, lavender ice cream and more, this should definitely be a stop if you're enjoying an Ontario road trip through Prince Edward County! Millefleurs is open all year round but the hours vary so check online to ensure they're open before visiting.
NEOB Lavender – Niagara Essential Oils & Blends
Address: 758 Niagara Stone Rd, Niagara-on-the-Lake, ON L0S 1J0 [map]
Cost: $10 per person
This lavender farm in Niagara is one of the larger lavender farms in Ontario. You can take tours of their facilities and learn how essential oils are made as well as roam the lavender fields. Take a peek at their aromatic greenhouse too! If you can't visit the fields in Niagara-on-the-Lake, they do have three other locations in Elora, Oakville and Stratford where you can pick up some of their products. Lavender fields are open from the end of June until the final week of July but their boutique is open daily all year round.
RELATED: Since you'll be in Niagara-on-the-Lake, why not check out some of the other amazing things to do in the area?
If you're a fan of wine, NEOB Lavender is located right across from the Hare Wine Co. In my opinion, it's one of the best wineries in Niagara so I highly recommend popping in for a tasting or picking up a bottle to enjoy at home.
Prince Edward County Lavender
Address: 732 Closson Rd, Hillier, ON K0K 2J0 [map]
Cost: $12.50 per person, available at the gate
It is said that where grapes grow, lavender grows, which is how owners Derek and Rolande came to establish their lavender farm in Hillier. Home to the annual Prince Edward County Lavender Festival held in early July, the event is said to be like a personal Christmas for them! During peak lavender season from late June until early July, this Prince Edward County lavender farm is open daily for visitors to explore the fields. While chances are they will be open, take a look online before you leave to avoid disappointment!
UPDATE: As of right now, it's said that the Prince Edward County Lavender Festival will go on and run for two weekends starting July 8 & 9 as well as July 14 & 15, 2023!
Purple Hill Lavender Farm
Address: 7484 6/7 Sideroad Nottawasaga, Creemore, ON L0M 1G0 [map]
Cost: $15 per person, can be purchased online here
While lavender itself is picturesque, the rolling views of the hills in Creemore combined with the gorgeous Victorian-style house on the property make Purple Hill Lavender Farm an absolute treat for the senses. This family-run lavender farm grew from the love of lavender coupled with the desire for a life outside in their favourite place on earth. There are three beautiful fields for visitors to frolic in along with a number of Muskoka chairs in picturesque locations throughout the property. All are painted purple of course! Pack a picnic, come as you are or get dolled up and enjoy the gorgeous lavender fields Friday through Sunday from the end of June until early August.
South Bay Fields Lavender Farm
Address: Nottawasaga SR, 7527 36/37, Collingwood, ON L9Y 3Z1 [map]
Cost: $5 per person
In the village of Nottawa located just outside of Collingwood, you'll find this adorable family-run lavender farm. This is one of the few free Ontario lavender farms, making it accessible to everyone. I'd say this is a great reason to purchase some goodies from their open-air boutique to support them if you can! They also just added a small patch of sunflowers to their repertoire too! They're normally open on weekends in July but be sure to confirm online before visiting.
South Bay Fields Lavender Farm is just 20 minutes north of Purple Hill so you can hit two lavender farms in one trip! You can easily turn your day trip into a weekend adventure with these other great spots in South Georgian Bay. I recommend checking out Scenic Caves Nature Adventures while you're in the area as well. Don't forget these Georgian Bay epic lookouts, too!
Serenity Lavender Farm
Address: 130 Essex County Rd 50, Harrow, ON N0R 1G0 [map]
Cost: Varies
You might not have heard of Serenity Lavender Farm but you'll recognize the area if you've been to North 42 Degrees Estate Winery! The lavender farm was created as a brilliant addition to this already established winery in Essex County. You'll find over 40 different varieties of lavender, making it one of the most varied collections in the province! The gift shop is open all year while lavender tours are only offered from May until October. Since you're in the area, you might want to check out some of the other great things to do in Windsor and Essex County!
Steed & Company Lavender Farm
Address: 47589 Sparta Line, Aylmer, ON N5H 2R4 [map]
Cost: Varies
This 45 acre horse farm is home to the premier grower of lavender in Elgin County. Nestled along steep valley slopes at the edge of the Carolinian forest, Steed & Company Lavender grows several varieties of English lavender. Visit during peak bloom (keep an eye out online as this changes from year to year!) and enjoy a true treat for the senses. They're open Wednesday to Sunday from Mother's Day through until Christmas, though the lavender fields are only in the summer.
SOMETHING TO NOTE: Steed & Company is currently closed as they are relocating to Southampton, Ontario. Stay tuned for when they reopen!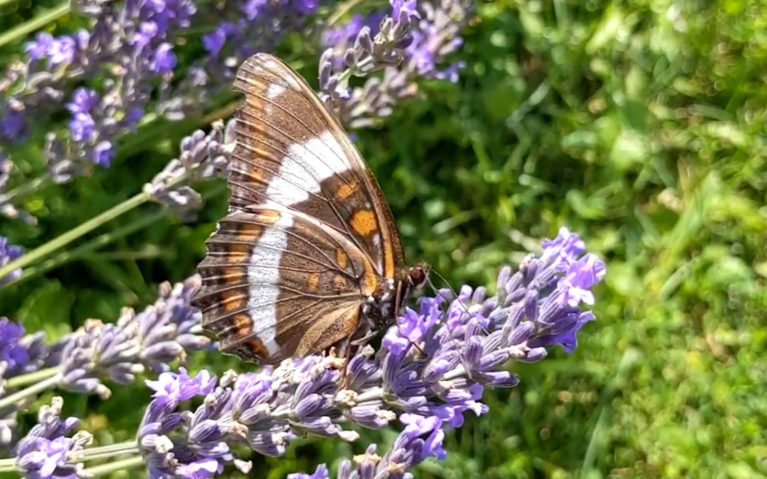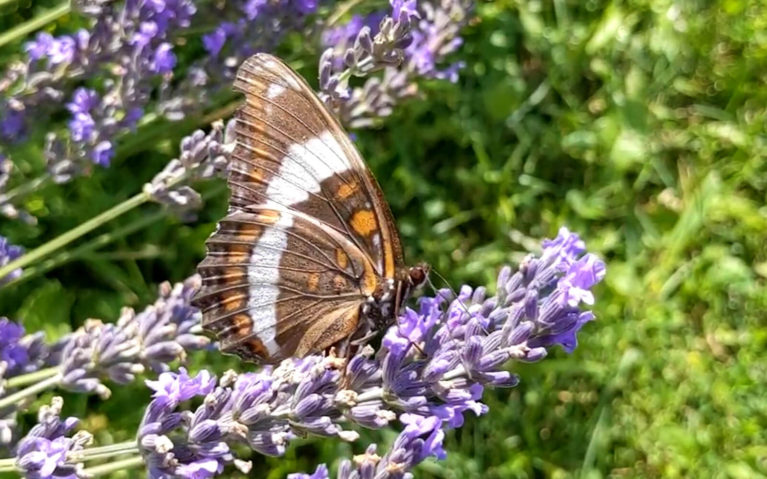 Stonewell Farm
Address: 9762 Wellington Rd 42, Erin, ON N0B 1T0 [map]
Cost: $10 per person, can be purchased online here
Admire the gorgeous lavender fields that surround the classic Ontario stone farmhouse built in 1872, complete with the original stone stable! With over 2500 lavender plants, this really is an adorable spot less than an hour from downtown Toronto. If you're looking for a place to visit during the week, this is one of the few Ontario lavender farms that offer visits Monday through Friday and NOT on weekends! Tickets are limited and required to be purchased before arriving.
Terra Lavanda
Address: 2873 Dutch Ln, Vineland, ON L0R 2C0 [map]
Cost: To be determined
Inspired by the lavender capital of the world in Provence, Terra Lavanda brings a taste of France to Niagara. Said to be the first lavender farm in the region, you'll feel giddy exploring the long aisles of lavender. Visit Terra Lavanda from late June until early August so you can enjoy these beautiful flowers too. Since you're in the heart of wine country, I recommend popping by a few of the local wineries in Vineland afterwards and make a day of it!
The Giving Place
Address: 19618 E Townline, Mount Albert, ON L0G 1M0 [map]
Cost: By Appointment Only
The land continuously gives in a number of ways, hence why "The Giving Place" is the perfect name for this beautiful piece of land. Head to the adorable town of Mt Albert where you'll find this all-natural, pesticide-free family farm. Over 2000 lavender plants were planted just a few years ago in 2018 with visitors being welcomed just last year! Even though they're newcomers to the Ontario lavender world, the passion for the land shows in everything they do. Visiting times are limited in the summer months to be sure to visit their Facebook page before planning your trip.
The Lavender Farm
Address: 769 Drumbo Rd, Ayr, ON N0B 1E0 [map]
Cost: $5 per person, purchase upon arrival
The Gillies family have had this farm for generations since 1882. While it was originally a working farm with hogs and cattle, it has since transformed into an adorable lavender farm. With varieties like Grosso, Munstead, Violet Intrigue and more, you'll love spending a day enjoying the incredible lavender fields. If you're looking to tie the knot in a quaint, adorable venue, The Lavender Farm is a great option. Hours of operation can vary so take a look online before visiting.
Frequently Asked Questions
Each lavender farm will be different, however this will give you a general idea of what to expect when visiting an Ontario lavender farm as of right now.
What's the best time to visit a lavender farm in Ontario?
While lavender season can vary, July is your best month to plan a visit. Lavender can start blooming as early as June and continue into August, but July is said to be the peak month.
Do I need to book a ticket in advance?
Sorry spur of the moment travellers, you'll need to plan a little in advance! Most lavender farms will require you have a ticket for a specified day, with some even specifying an exact time frame. You'll want to buy a ticket in order to avoid disappointment! Prices range from $5-$10 on average.
Any tips for avoiding crowds during my Ontario lavender farm visit?
As with any travel destination, Saturdays and Sundays will be busier than a midweek visit. However, some Ontario lavender farms are not open during the week. In this case, you'll have to take your chances but opting to visit as early as possible or just before closing can help you avoid big crowds.
Will there be washrooms available at these lavender farms in Ontario?
Unfortunately, I wouldn't count on it. You'll want to use the facilities ahead of time as many Ontario lavender farms will not have washrooms available for visitors. Luckily most are close to a number of adorable Ontario small towns so you can enjoy a lovely visit. Take a look and see what restaurants are close by and support the local economy!
Which of these is the best lavender farm in Ontario?
Ouf, that's hard to say! Each lavender farm has its own perks and character that make it special. If you're looking for great photo opportunities then Terre Bleu or Purple Hill are great destinations as they offer some props throughout their beautiful grounds for some added fun. If you're looking for a quiet location and to beat the crowds then visiting a smaller lavender farm like Stonewell Farm is a great option. Personally though, I think each and every one of these lavender farms should be visited!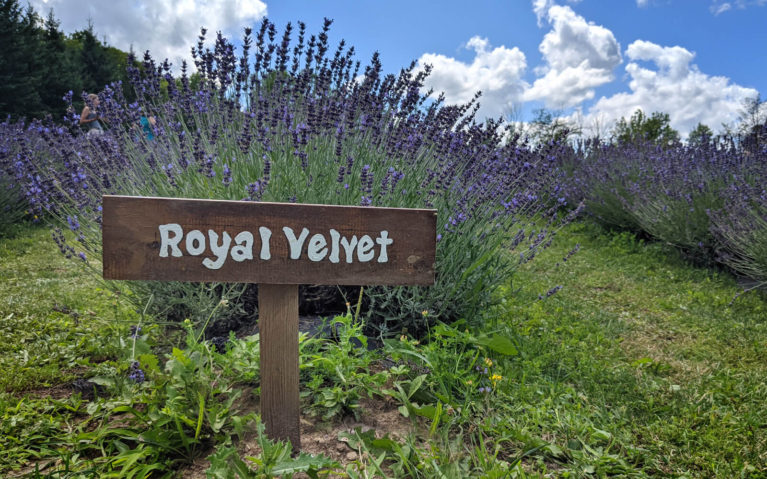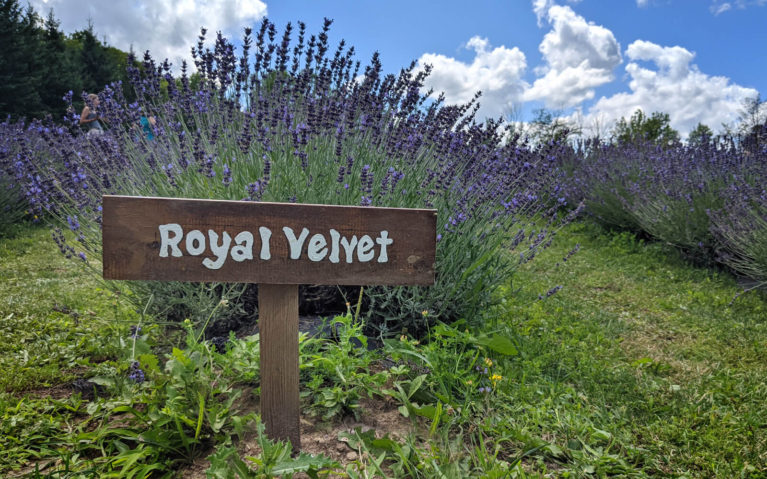 Why Visit a Lavender Farm?
There are so many reasons to visit a lavender farm in Ontario! Besides the obvious draw of the picturesque fields of purple flowers, lavender has a number of health benefits.
The name lavender is derived from the Latin word lavare, meaning "to wash" in English. It has antifungal as well as antibacterial qualities. Using lavender essential oil can help wounds heal faster, reduce irritation and pain in bug bites, help treat various skin conditions like acne or psoriasis and much more. Lavender's calming scent naturally helps reduce anxiety as well as relaxes the nerves which can aid in the treatment of headaches, depression and emotional stress. Knowing this, it won't be surprising to hear it helps lower heart rate and blood pressure, making it a common recommendation to help battle insomnia!
Take all of these perks and couple that with a girls' day out, an adorable date idea or a family picnic and I think you've got the recipe for a fantastic adventure!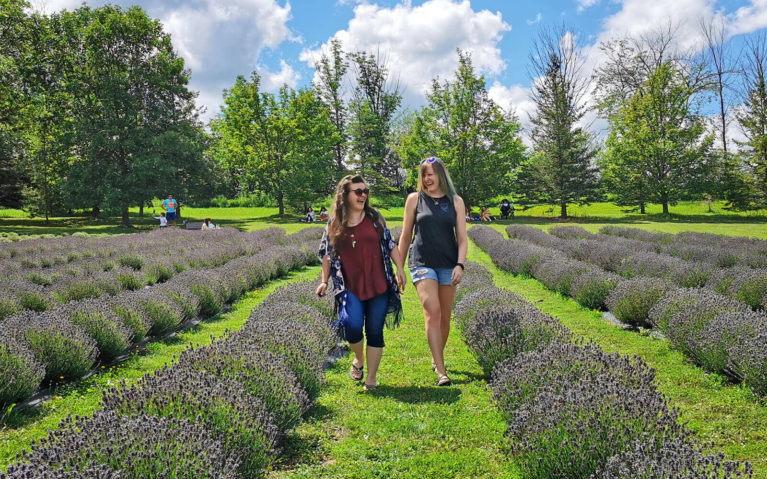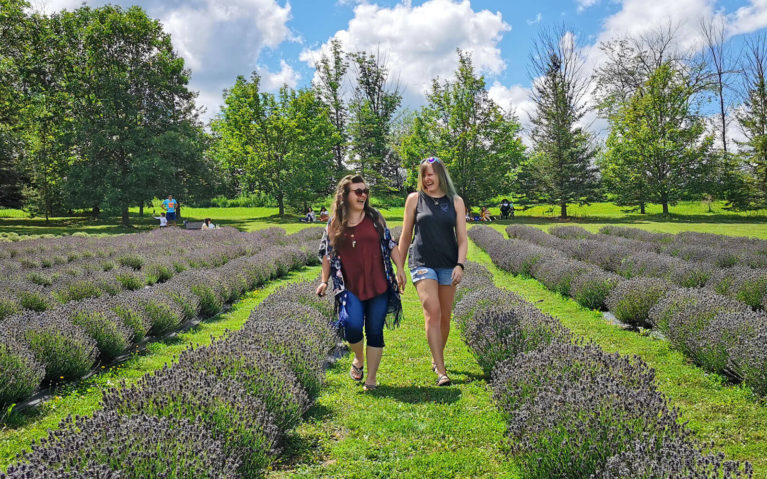 Ready to Visit Some Lavender Farms in Ontario?
If you're wondering "is there a lavender farm near me?" then you'll want to take a look at this fantastic map of "The Purple Road". Here you'll find a number of lavender-oriented destinations from farms to boutiques to wedding venues. Otherwise, take a look at the map of Ontario lavender farms below that I've created and get planning your own adventure!
It's not uncommon to see lavender-influenced items in boutique shops (like Weir's Lane Lavender Farm & Apiary) across the province, but sometimes you're looking for something a little more special. I also can sympathize with those of you who may not want to visit a lavender field in the dead of summer. That July sun can be a scorcher!
As I mentioned, lavender has many tranquil qualities to promote relaxation and ease stress, so why not have an incredible sleep amongst the lavender? At Stonewell Farm, you can enjoy a cozy night's sleep in their country guest house. It features three bedrooms sleeping up to six people, a fully stocked kitchen, a gorgeous living room complete with a stone fireplace as well as a walk-out terrace that you will adore. Plus it's close to both the Cheltenham Badlands and Belfountain Conservation Area, making it a great spot to rest after exploring these beautiful areas in the region! If they're booked during your intended travel dates, the Millcroft Inn & Spa is another fantastic option for a getaway.
If both are booked, there's another option for lavender accommodation in Ontario! Head to Prince Edward County Lavender where you can stay in one of their three rooms at the on-site bed and breakfast. Each room has its own ensuite bathroom and includes a two-course breakfast using seasonal ingredients. Visit their website for more details.
Is there an Ontario lavender field you've visited or an experience you've had that isn't on this list? Don't hesitate to let me know either by email or in a comment below!
If you're a fan of flowers…
Check Out These Top Ontario Cherry Blossom Destinations
Plan a Spring Adventure to See the Cherry Blossoms in Niagara

Disclaimer
This post contains affiliate links where I may receive a kickback at no extra cost to you. It helps keep the site alive so thanks! Read more in IBB's disclaimer and privacy policy.
Want to Frolic in Some Lavender in Canada? Pin It for Later!