25 Best Spots to Find Cherry Blossoms in Ontario [2023 Guide]

You know winter has come and gone when the cherry trees start to bloom! While
Japan is known as the mecca
for cherry blossoms, you don't have to travel all the way there to see them. We're lucky to have some of these beautiful flowering trees here in the province! Here's where you can find cherry blossoms in Ontario.
Cherry Blossoms in Toronto & Nearby Area
As Ontario's capital, visitors and Ontarians alike often head to Toronto for a number of reasons. It's for good reason, there's plenty to see and do in Toronto! While most tend to visit in the peak summer months, the cherry blossoms in Toronto are a great reason to plan an off-season adventure. With over 2000 planted within the city, there are so many great places to enjoy the beautiful flowers!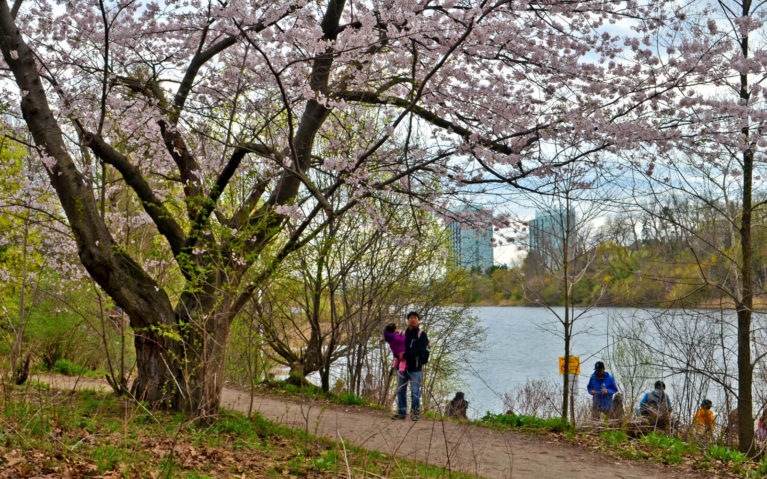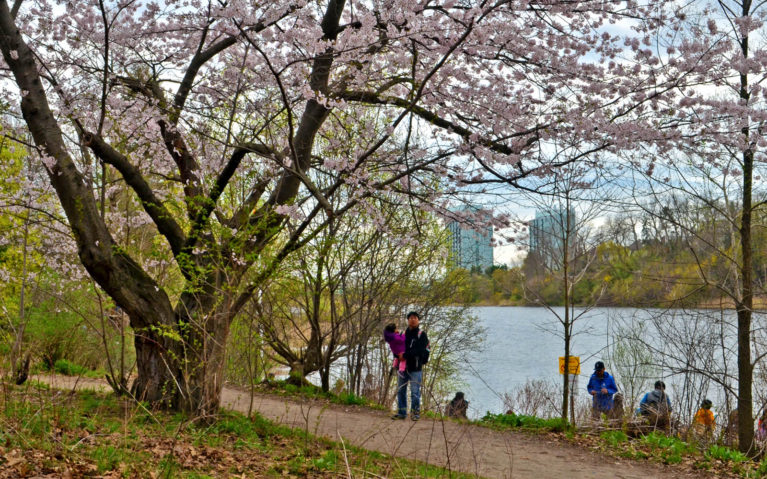 High Park
Location: 1873 Bloor Street West, Toronto
Probably the best-known destination for sakura blossoms in the province is none other than High Park. Spanning over 400 acres in the heart of the city's west end, this is a great nature destination at any time of the year.
FUN FACT: The oldest of the Japanese cherry trees in Toronto were planted in 1959, making them 60 years old!
The best place within High Park to view the blossoms is in Hillside Gardens. You'll be blown away by the beauty of the bountiful blossoms. As soon as they begin to bloom, huge groups of people flock to see them. It's understandable though – the views are just SO incredible! This handy map highlights the best locations to view them!
There are plenty of locations to view the flowers within High Park. In 2001, the Sakura project donated 34 cherry trees to the park which you can find around the eastern shore of Grenadier pond in the Maple Leaf garden. Another spot is along West Road as well as the Jamie Bell playground.
Centennial Park
Location: 256 Centennial Park Road, Etobicoke
One of the largest parks within Toronto, Centennial Park boasts the second largest collection of cherry trees in the city! Opened in 1967 to celebrate Canada's birthday, it has come a long way since its dairy farm days long ago! The City of Toronto purchased a large area of it to establish it. Centennial Park now offers a number of attractions year-round, including a municipal dump turned ski hill, playgrounds, sports fields and more.
Wander the grounds and enjoy the 200+ cherry trees within the park. If exploring the 500+ acres seems daunting, you're guaranteed to find cherry tres in the northeast corner of the park as well as the area where Rathburn Road and Centennial Park Boulevard intersect.
Once you're done admiring the trees, head inside to the Centennial Park Conservatory. Inside you'll find 300,000 annual and perennial plants which are used to beautify the city. You can even find fruit trees like banana and papaya trees!


Trinity Bellwoods Park
Location: 790 Queen Street West, Toronto
While High Park is incredible, Trinity Bellwoods Park is probably one of my favourite (and most easily accessible!) locations to enjoy the cherry blossoms in Toronto. While it can be busy on weekends, it's still easy enough to find a picnic spot or a bench to enjoy the views along with the springtime sunshine. Follow the path southeast of Trinity Circle for the blossoms and be sure to snag a photo with the iconic CN Tower in the background! With plenty of coffee shops, restaurants and more, it's a great spot to enjoy a morning stroll through the trees or an afternoon coffee date with friends.
Centre Island Park
Location: 6 Avenue of the Island, Toronto
It may be one of the smallest collections of cherry trees in town, but you won't want to miss Centre Island! A short ferry ride from Toronto's waterfront lies a beautiful natural oasis away from the hustle and bustle of the city. Walk off the dock and head towards Centreville, the local theme park and large draw to the island. While it may be tempting to play on the rides, continue across the bridge to the right. You'll find 30 beautiful cherry trees near the fountain which makes a great photo opportunity – and fewer crowds! The whole walk should only take you about 10 minutes.
Additional Locations for Cherry Blossoms in Toronto
Toronto really is full of cherry blossoms. Dare I say it's the cherry blossom capital of Ontario? Besides the locations above, you can find these beautiful flowers in a few other spots. The Robarts Library (map) has a fairly small collection of about 70 trees. However they create a gorgeous canopy over the path that connections Harbord Street to Huron Street.
Further northeast you'll find 100 cherry trees planted in Etobicoke's Broadacres Park (map). If you're looking for the quietest destination to enjoy the blossoms in the city, this is it. You can find the trees in the southwest corner close to Elderfield Crescent.
If you head into Brampton, you won't want to miss Joyce Archdekin Park (map). Right across from the Brampton Mall in the south end of town, you'll be greeted to Japanese blossoms as trees follow the pathway along Etobicoke Creek.
Over in Scarborough, you'll find some of the newest cherry trees in the city. Head to the Birkdale Ravine (map) where you'll find approximately 45 cherry trees, donated by Japan's Sagamihara, Toronto's sister city.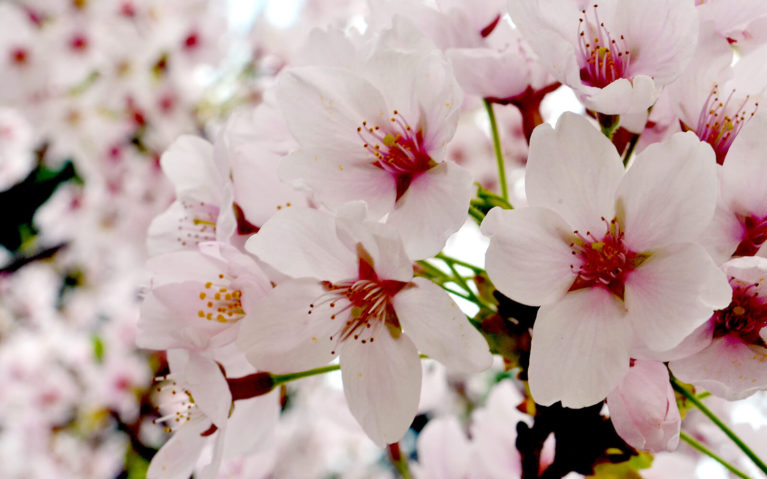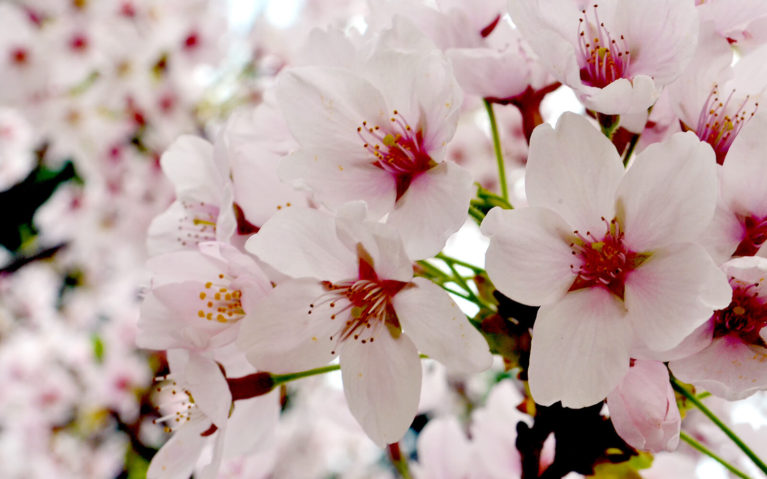 Cherry Blossoms in Burlington
The perfect day trip from Toronto, Niagara Falls, Kitchener and a number of other Ontario cities, Burlington is home to a few spring hot spots. As it has a fraction of the population of Toronto, it's definitely a great place to view cherry blossoms in Ontario without the huge crowds.
Spencer Smith Park
Location: 1400 Lakeshore Road, Burlington
Looking for a picturesque cherry blossom trail right along a city's waterfront? You'll find it at Spencer Smith Park! 50 sakura trees were donated by Burlington's twin city in Japan, Itabashi. This beautiful cherry blossom trail follows a limestone pathway right along the shores of Lake Ontario. It's said that the canopies created by the trees can be so thick at peak bloom at it feels like a cherry blossom tunnel! How incredible is that?! When planning your visit, don't miss out on the Burlington Sakura Festival which is held when the blossoms are normally in peak bloom.
Itabashi Way
Location: Itabashi Way, Burlington
It may not have the backdrop of Lake Ontario, but you'll find even more cherry trees along Itabashi Way. This Burlington street glows in the spring months when the trees are in full bloom. Take a stroll along this residential street and enjoy the blooms of this peaceful suburban neighbourhood.
Royal Botanical Gardens
Location: 680 Plains Road West, Burlington
Straddling the border between Burlington and Hamilton you'll find Canada's only royal garden, the Royal Botanical Gardens. You'll find a number of beautiful cherry trees scattered across its 2400 acres of land. Head to the Arboretum (map) where you'll find the flowering cherry circle of Prunus 'Accolade', an iconic spring sight at RBG! Enjoy the sights and smells of these beautiful white and pink blossoms along with a number of other flowering counterparts. You'll also find crabapples, lilacs, magnolias, and more!
You'll also find more of these beautiful flowers inside the Rock Garden (map). However, there's a hidden botanical treasure to be found if you head across the way to the parking lot… but you have to visit to find out! Or you can go read my guide to cherry blossoms in Hamilton as I spill the beans about it.
The best part about RBG? They make it really easy to plan your trip there. You can find out when the cherry blossoms as well as when other flowers are estimated to be in bloom on their website!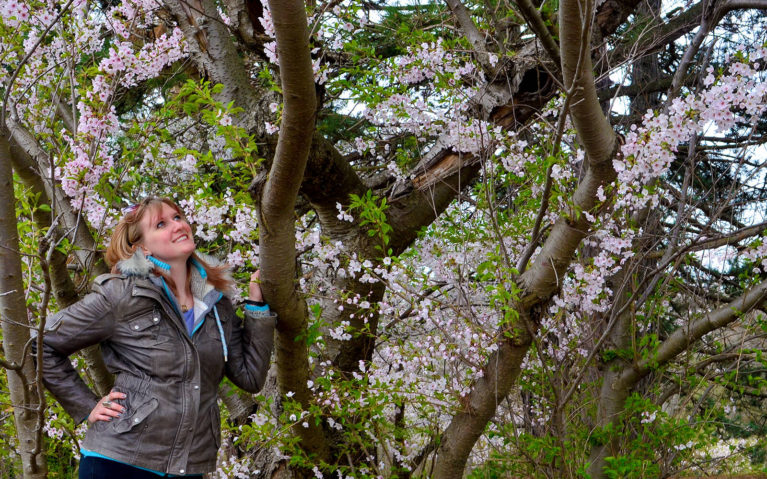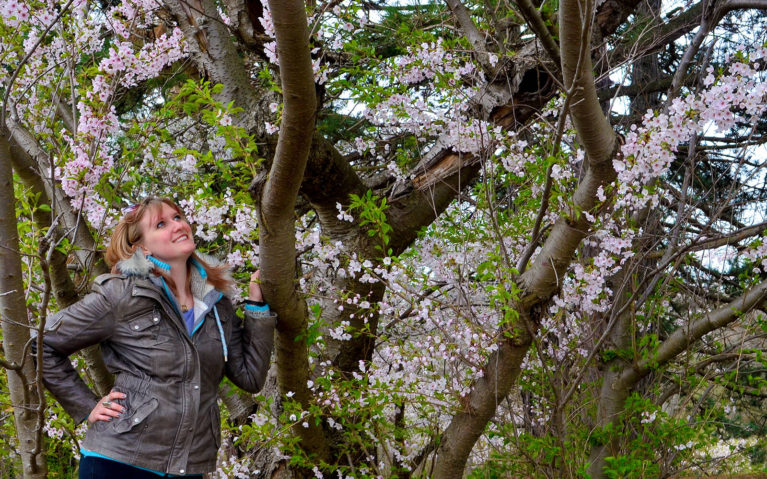 Cherry Blossoms in Hamilton
While the Royal Botanical Gardens technically spans both Burlington and Hamilton, it isn't the only place to see cherry blossoms in "the Hammer"!
Bayfront Park
Location: 200 Harbour Front Dr, Hamilton
Donated in 2002 as a goodwill gesture from Japan, the walkway leading into Bayfront Park in Hamilton is lined with beautiful cherry trees. I've never had the chance to visit Bayfront Park in the spring myself, but they're pretty hard to miss from what I've seen online!
Centennial Park
Location: 1 East Street N, Dundas
Okay so it's not quite Hamilton but if Dundas Peak is called Hamilton's famous lookout, by that logic Centennial Park is another destination for cherry blossoms in Hamilton! Since 2014, 37 cherry trees have called Centennial Park home. How did they get here? Students and alumni from the Toyo Eiwa Jogakuin School in Japan donated them to express their appreciation for its founder, Martha Cartmell, who was a Canadian missionary.
Gage Park
Location: 1000 Main St E, Hamilton
Gage Park is a very popular spot in Hamilton. Within its 70+ acres, you'll find a bandshell for live music, a rose garden and more. Just recently in 2019, a brand new 1300m2 tropical greenhouse was established to replace the old one torn down about two years prior. However behind it, you'll find some beautiful mature cherry trees which are a sight to see when in full bloom!
Looking for other great things to do nearby?
Check out these fabulous indoor attractions in Hamilton
See Why Hamilton is the Waterfall Capital of the World
Cherry Blossoms in Mississauga
A short 30 minute drive from downtown Toronto and you'll find Kariya Park, a Japanese garden (map). A tribute to Mississauga's twin city – Kariya, Japan – it's a hot spot for locals. Established in 1992, this public park is a dream to walk around come cherry blossom season. With Asian architectural sculptures, decorative wooden bridges and more, what better tree to pair them with than a sakura tree! Kariya Park may not have as many blossoms as some of the other locations on this list, but it surely stands out amongst them. The park is definitely a sight to see and there's no better time to visit than in the spring!
Niagara Cherry Blossoms
If you miss the bloom boom in Toronto and the surrounding cities, head south along the QEW! You'll find acres of fruit orchards with apricot trees, peach trees and of course, cherry trees in the Niagara Region. Get off the main highway and take the back roads through rolling farmland to catch a glimpse of the cherry blossoms in Niagara-on-the-Lake. Beamsville, Grimsby, Jordan and Vineland are just a few of the towns that offer beautiful cherry blossoms in Ontario if you head towards farms and pick-your-own cherry destinations.
FUN FACT: There are over 1.5 MILLION fruit trees across the Niagara Peninsula! That's a lot of blooms!
Chances are you'll be heading to Niagara Falls and there are a few places you can find cherry blossoms in the city. While it's known more for its world-famous rose garden, you'll also find a number of cherry trees at the Niagara Parks Botanical Gardens (map). If you're unsure if they're in bloom, take a look at their website before departing! Chances are if these are in bloom, then you'll find even more flowers in Queenston Heights Park (map). Home to the southern terminus of the Bruce Peninsula, you can enjoy a hike along Ontario's most famous trail while enjoying the area's cherry trees. Be sure to check out my insider tips for Niagara Falls so you can make the most of your getaway.
There are a few places you can spot cherry blossoms in Niagara-on-the-Lake and one of my favourites is the Niagara Parkway. With a paved walkway that runs parallel to the Niagara River, you're guaranteed to enjoy some fantastic views. Spend an afternoon enjoying the sunshine and hunting for these gorgeous cherry trees. Then, pop into the town of Niagara-on-the-Lake for a bite to eat and some exploring. Don't miss my guide on all the amazing things to do in town!
When in Niagara… do some wine tasting! Yes, you can have your wine AND your blossoms, too! Stop at Legends Estate Winery in Beamsville or Foreign Affair Winery in Vineland to enjoy a tasting along with the beautiful blossoms. You can easily do a tour of a number of wineries like I did in Vineland! If you're looking for more top wineries in Niagara, take a peek at my guide where I share what wineries are must-visits and which ones to skip.
RELATED: For the full lowdown on where to find these gorgeous flowers in the region, check out my guide to the top spots to find cherry blossoms in Niagara!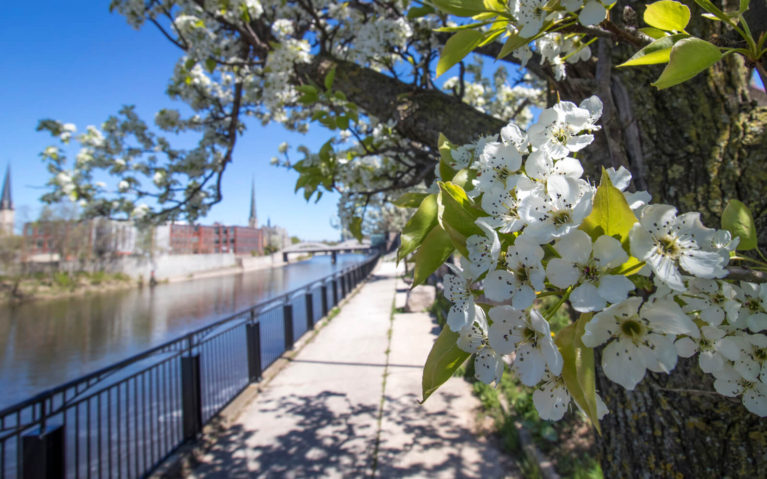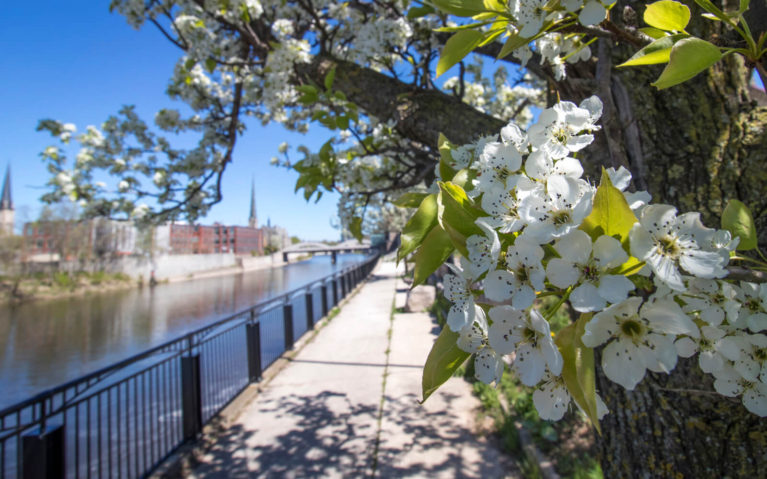 Other Ontario Cherry Blossom Destinations
Said to be the cherry capital of Canada, it seemed like a sin to not include Norfolk County. There are six farms which produce cherries on approximately 1000 acres of land. That's 40% of the land used to grow cherries in the country! As they're farms, I'm unable to say whether the blossoms can be viewed, though I bet you'll be able to smell them if you're in the area!
Speaking of capitals, plan a trip to Canada's capital for some blossom hunting. While they're not nearly as abundant in Ottawa as other locations in Ontario, it's perfect for those who like a scavenger hunt! Locals and visitors have had luck in the Ottawa River Valley, the Dominion Arboretum and the Central Experimental Farm as well as the famous Rideau Canal. Plus, chances are the cherry blossoms will be in bloom around the same time as the popular Tulip Festival, making it a perfect time for flower fanatics!
The last destination I'll include is thanks to a happy accident. While hunting for some new hiking trails in Cambridge, I noticed some blossoms while driving through downtown. Low and behold, there are a plethora of trees in the heart of the city! You can't miss them as they line Water Street across the Grand River from the Cambridge Sculpture Garden. I believe they're cherry trees however they could also be apple trees… I'll leave this up to my readers with a green thumb to correct me if I'm wrong!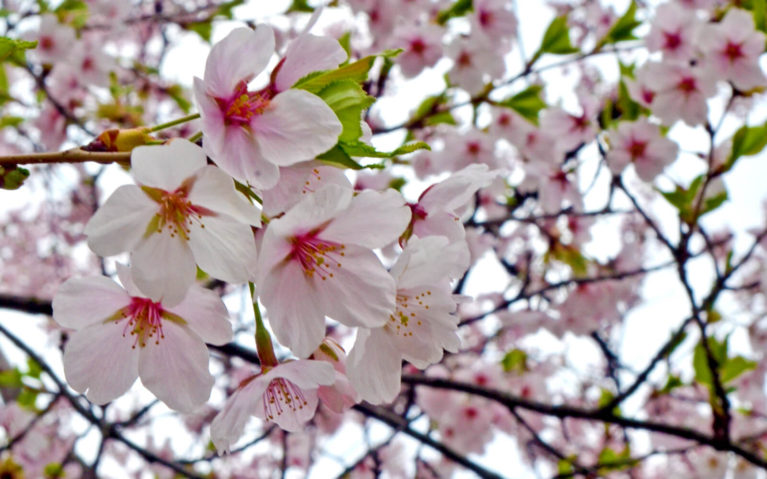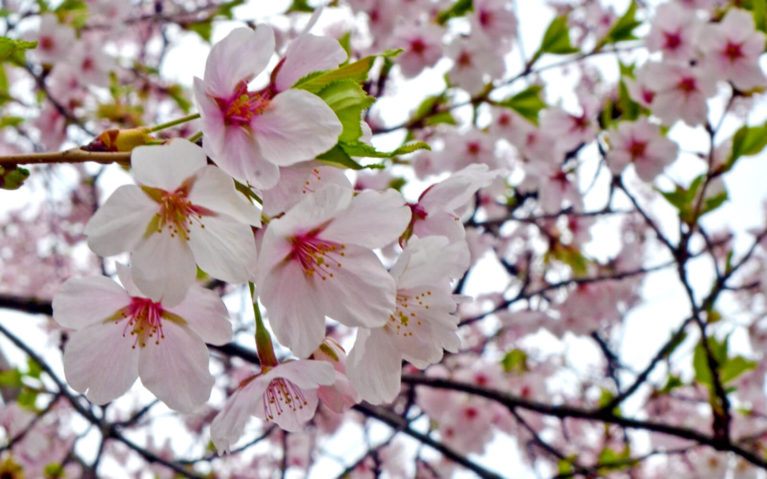 Tips for Seeing the Cherry Blossoms in Ontario
While Canada is fortunate enough to enjoy all four seasons, the time that they arrive really varies from year to year. As climate change affects our ecosystems, our weather patterns become more and more extreme. This can affect when the blossoms appear as well as the amount of them. It's best to be aware of this when planning a trip to see them.
The biggest thing is you need to be diligent. The cherry blossom seasons is quite short as once they bloom, they'll only be around for about 21 days. That means you have about 3 weeks from first bloom to see them. As soon as you hear of the first bloom, I suggest planning a picnic or a day trip to one of the above destinations so you can enjoy them! Here's a map of Ontario's cherry blossoms to help plan your flower-hunting adventure!
While the blossoms may be beautiful, we need to always treat the cherry trees and blossoms with respect. Nature is a privilege, not a right. Some of these cherry blossom locations listed above are public parks, others may refer to farms, businesses and even private homes. If the trees are on private property, do not trespass to take that Instagram selfie. We do not need to see a repeat of the sunflower fiasco Hamilton experienced.
Ready to hunt for some cherry blossoms in Ontario? Whether you head to the hustle and bustle of Toronto for a weekend, the picturesque views of a Niagara Falls getaway or anywhere in between, you'll be in awe of these fleeting flowers. If you're reading this while the trees aren't in bloom, I hope the cherry blossom pictures will tide you over until they are!
Oh, and if you miss the Ontario cherry blossoms? While you'll have to wait until next year for these flowers, you can always plan a visit to one of these incredible lavender farms in the province to tide you over!
For More In-Depth Guides:
Don't Miss The Top 7 Spots for Cherry Blossoms in Niagara
Your Ultimate Guide to Cherry Blossoms in Hamilton
Disclaimer
This post contains affiliate links where if you book through them, I could receive a kickback at no extra charge to you! It's just one way to support this site. Read more in IBB's disclaimer and privacy policy.
Planning to see the cherry blossoms in Ontario? Pin it for later!