Explore Toronto Like a Local: Fantastic Things to See and Do

Ontario's capital city is full of so many gems that it can be hard to know where to go. I sure felt that way when I lived in the 416! While well-known destinations like Nathan Phillips Square, the CN Tower and High Park are always great to visit, there are so many other fun things in Toronto to discover. If you're wondering what to do in Toronto today, I've partnered with Expedia.ca to bring you a list of things to see and do so you can explore Toronto like a local.
Where To Go to Experience Toronto Like a Local?
With so many great destinations within Toronto's borders, this is just a small list of the incredible things you can do in the city. The more I explore, the more amazing finds I discover. Be sure to check back for updates to this local Toronto guide!
The Beaches Neighbourhood
Toronto is both figuratively and literally a colourful city and when skies are grey, its citizens take matters into their own hands. One way is through the Winter Stations Design Competition. You may know Kew Beach as a great summer destination to soak up some rays in the warmer months. However, come winter, each of the lifeguard stations is transformed into a work of art. Since 2014, these public sculptures have added life to an otherwise dreary, vacant waterfront. The best part? The theme changes, meaning you'll have new art pieces to enjoy and explore every year!
West Don Lands
Another way to add a little extra colour to your day is through the city's street art scene. You can witness this colour firsthand in many places such as the well-known Graffiti Alley in Toronto's Chinatown neighbourhood. However, I suggest heading to Underpass Park in the city's West Don Lands neighbourhood. It's the most extensive park to be built beneath an underpass in Canada and the first of its kind in Toronto. Artists from across the country came together to breathe new life into this area of the city. Take a stroll as you admire the beautiful murals and don't be afraid to let your inner kid out on the playground equipment!
Close by you'll also find the first international freshwater collaboration of Sea Walls: Artists for Oceans, organized by the PangeaSeed Foundation. This organization promotes "artivism" all over the world, using street art and murals to create a dialogue for ocean conservation. I discovered some of their work while visiting Cozumel in Mexico. Follow the Lower Don Trail past the Corktown Common and you'll find beautiful works of art that give a voice to our Great Lakes. These murals at the mouth of the Don River touch on topics such as fish entering urban environments, industrial pollution, and threatened habitats.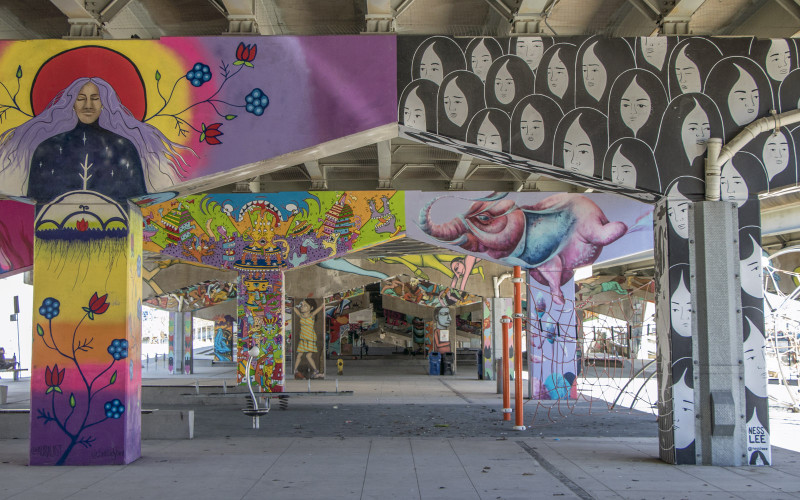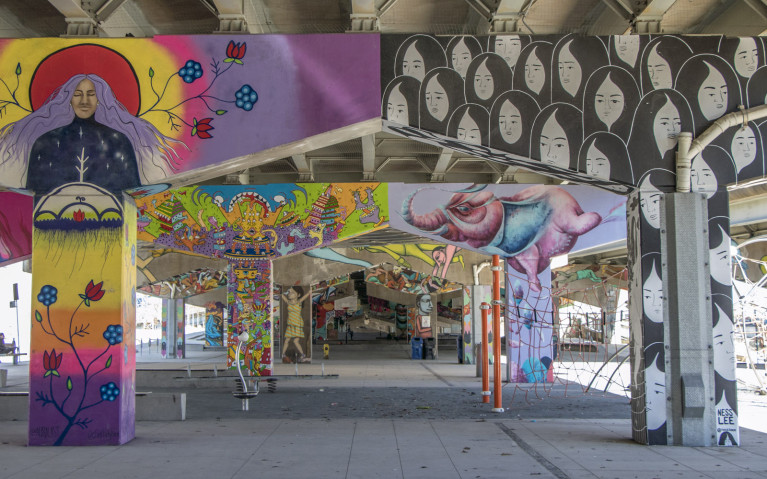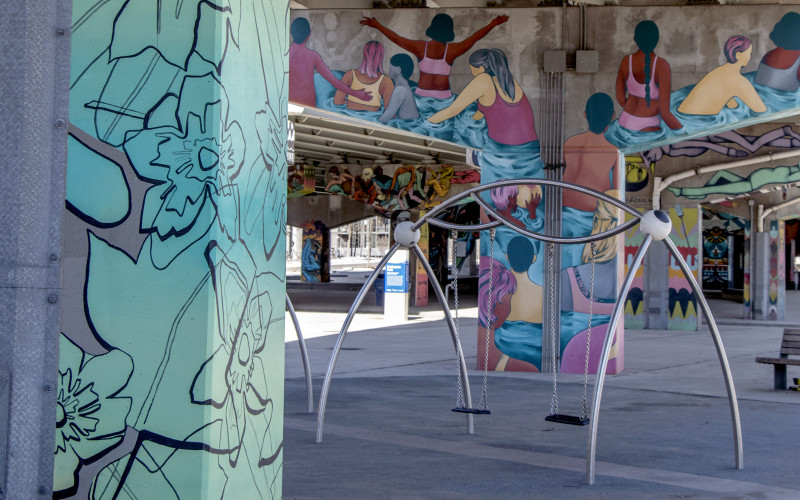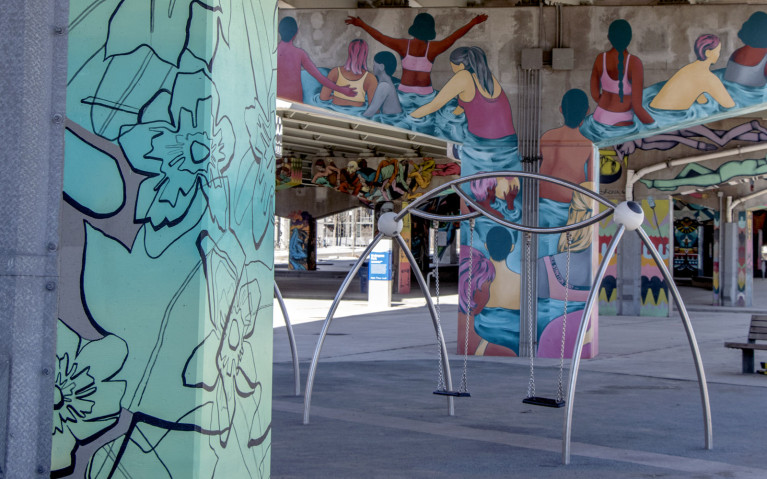 After all that art and wandering, you may need some fuel to get you through the day. If you're anything like me, caffeine is that fuel! As I'm sure you'd expect, Toronto has plenty of great coffee shops. Close to Underpass Park you'll find Odin, a fantastic place to grab a cup of joe. Their salted caramel latte is to die for, especially when made with almond milk. The decor is also gorgeous, making it an awesome spot to not only meet up with friends but to get some work done too!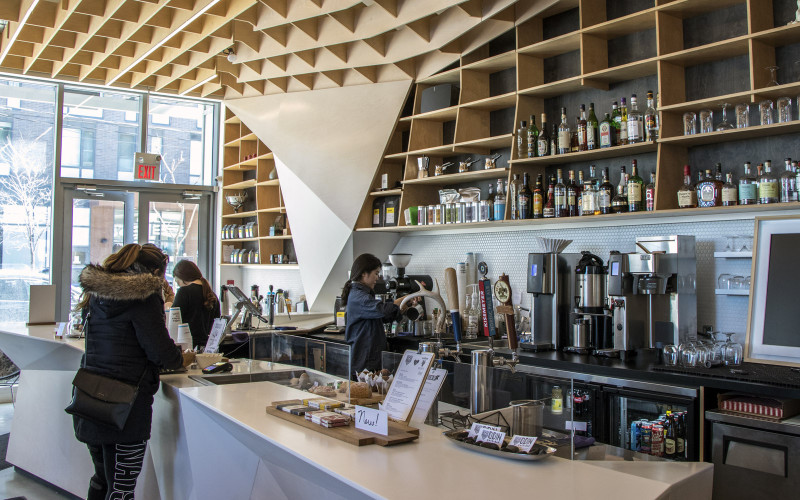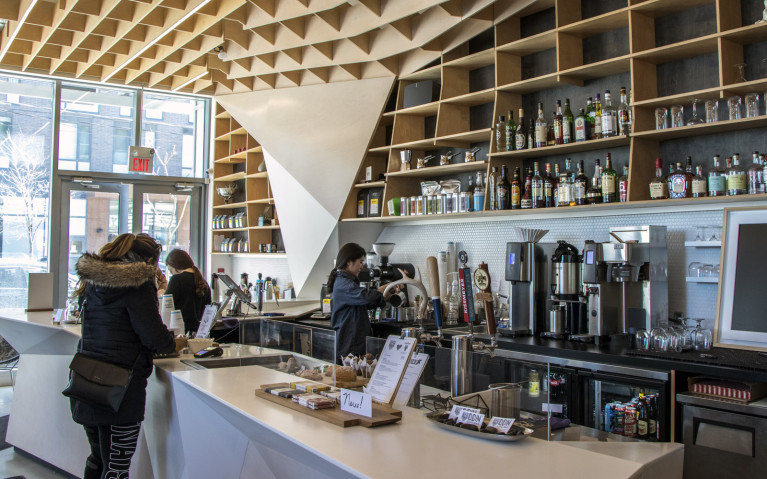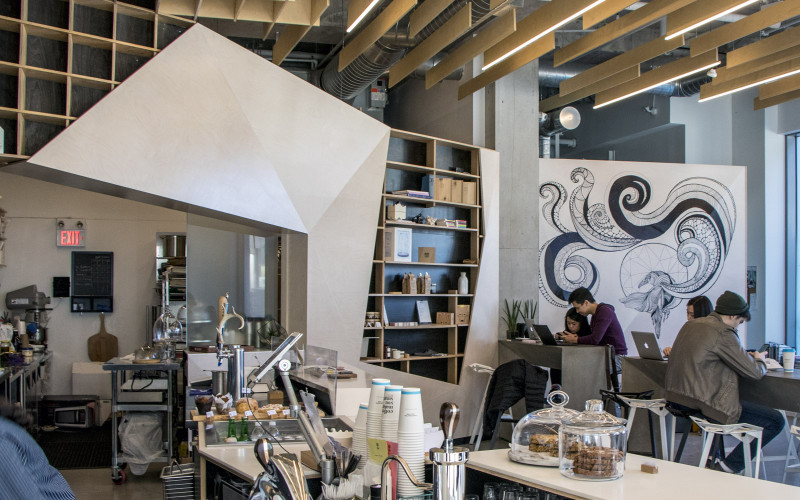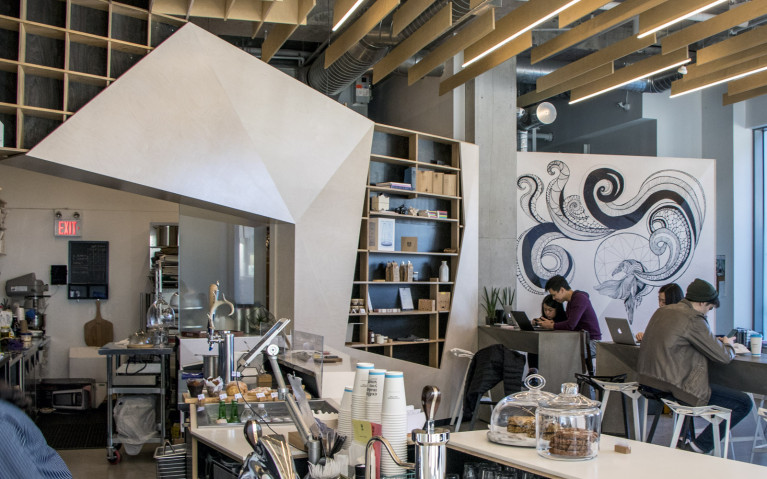 Kensington Market
If you're really looking for something unique, head to Kensington Market. What started as a Jewish Market has evolved into one of the most popular and ethnically diverse neighbourhoods in Toronto. If you're looking for a certain cuisine or shop that's more uncommon, chances are you'll find it here. On weekends it becomes pedestrian-only, making it a great place to just wander around and take in the atmosphere!
While you'll be mesmerized by the sights and colours, keep an eye out for FIKA. As soon as you step inside you'll feel like you've been transported to Stockholm. Fika, meaning "to go out for coffee" or "coffee break" is an important part of Swedish culture. Take a moment to relax with a delicious drink like their lavender white chocolate or take a bite out of a Semla, a traditional Scandinavian pastry. It makes the perfect afternoon pick me up!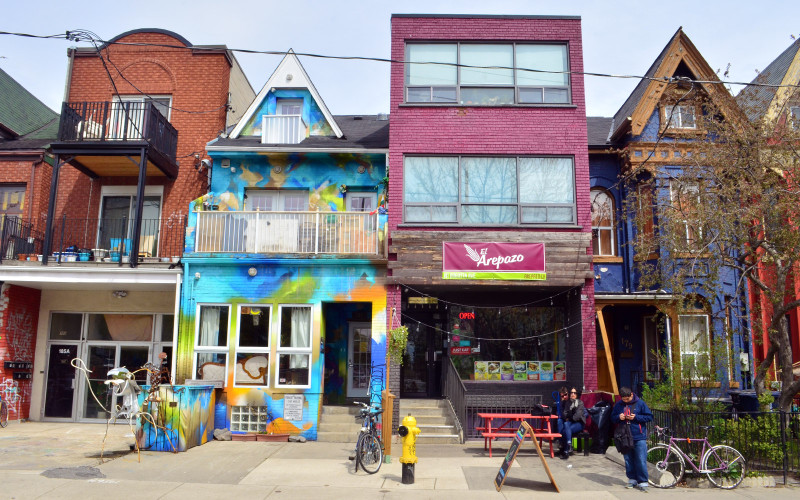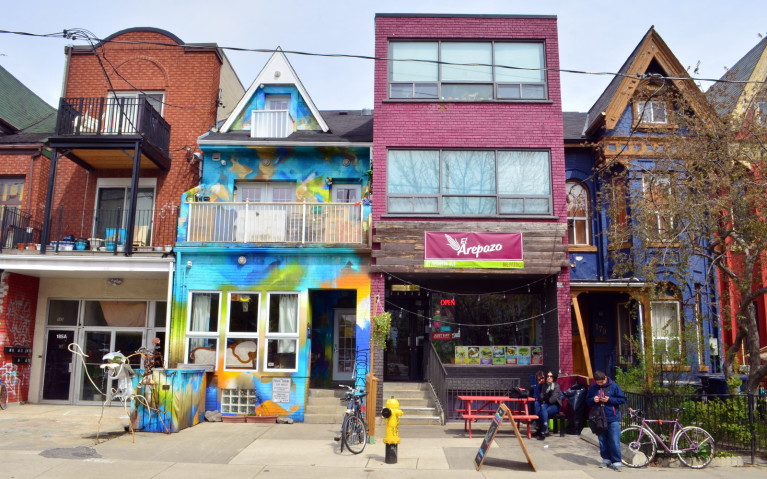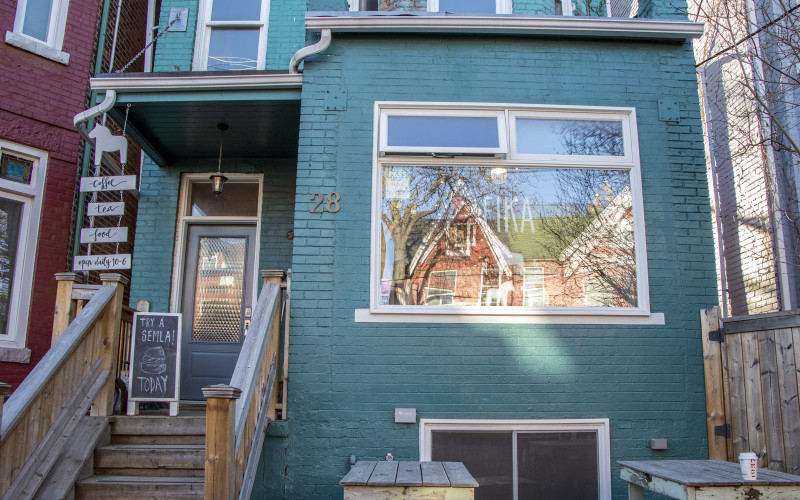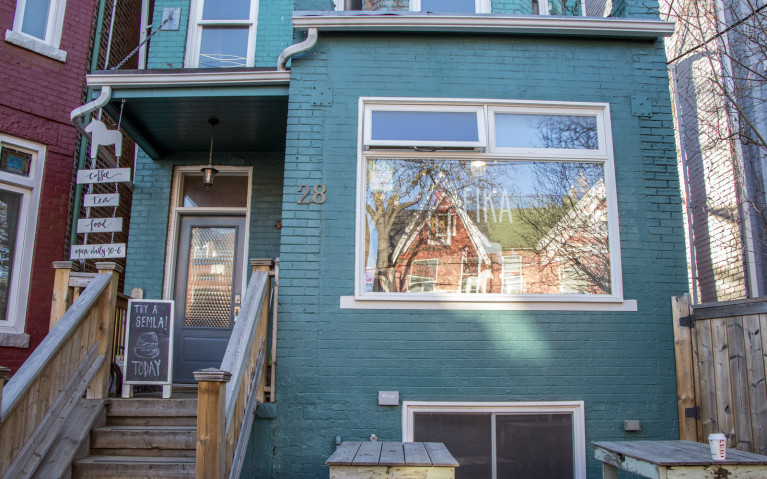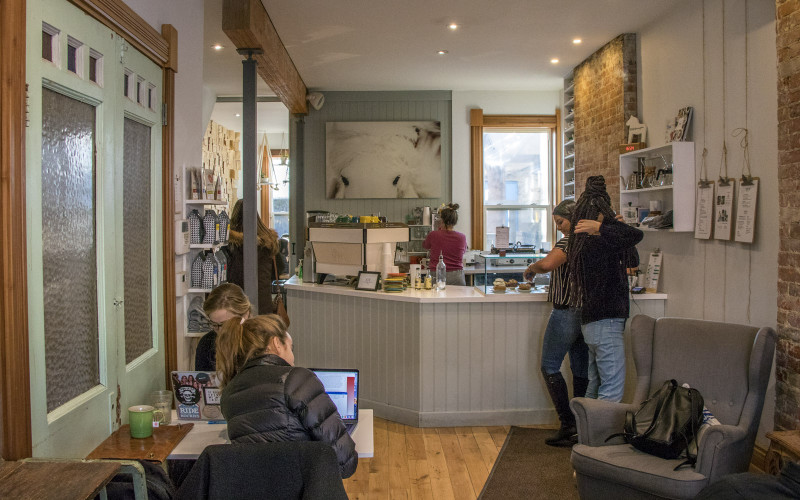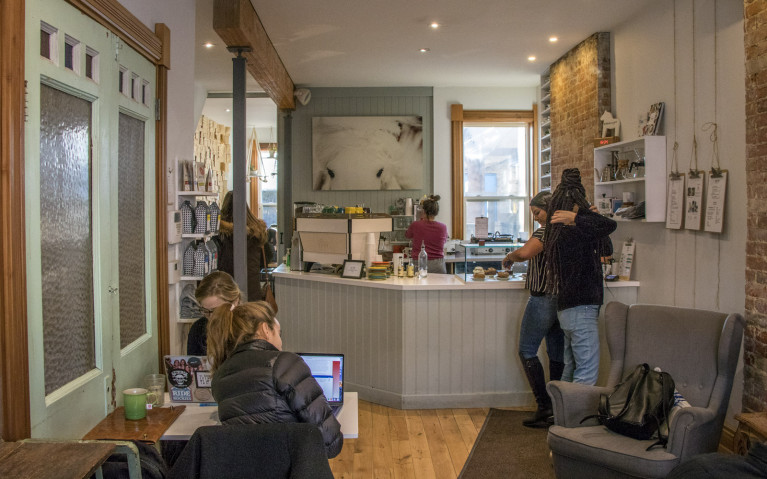 If you're looking for something a little heartier, don't miss out on visiting the Pow Wow Cafe. Indulge in the incredible cuisine of the Ojibway, one of the Indigenous Peoples of Canada. Specializing in Indian Tacos, they also offer brunch from 11:00am-3:00pm. I've had the pleasure of trying their Pow Wow Style Corn Soup with Smoked Duck along with their Jumbo Scone Dog. Served with cranberry mustard and sage ketchup, it's seriously an amazing snack. Whatever you treat yourself to, don't forget to pair it with cedar tea!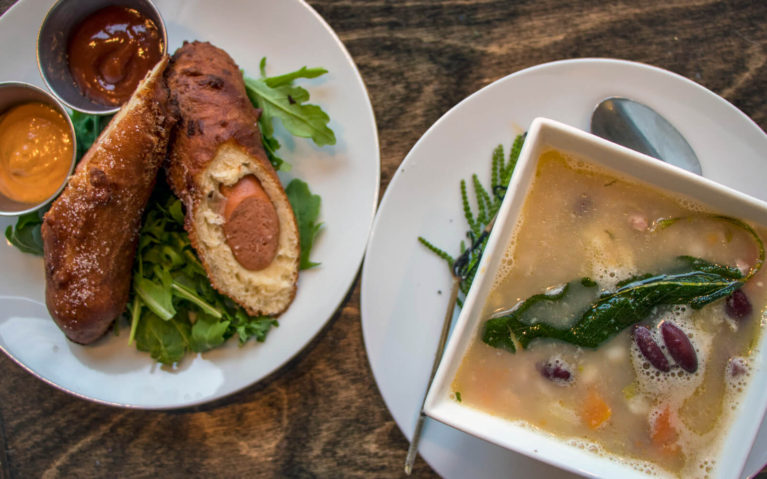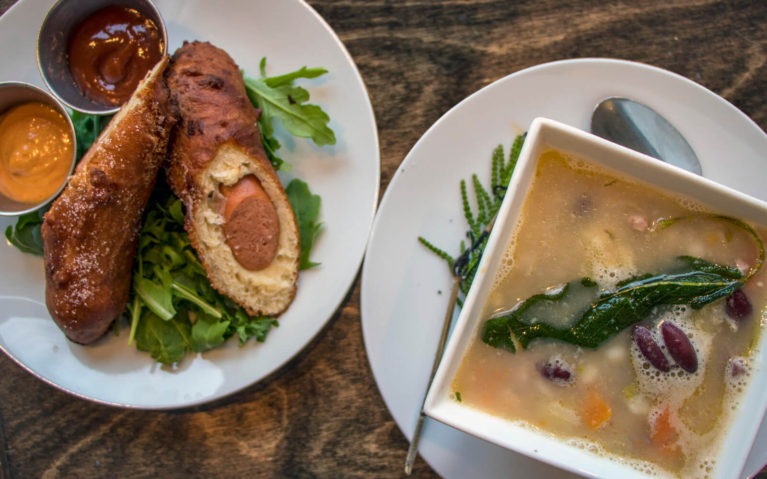 The Port Lands
While it's fun to be in the heart of the city, the best views of that iconic skyline are seen from afar. While the Toronto Islands are an option, there's no need to hop on a ferry to get that view. Just south of the Gardiner Expressway lies Jennifer Kateryna Koval's'kyj Park. You may know the area better thanks to its neighbour, Rebel Night Club. While this little park is just a small speck of green in the area, the view is absolutely magical both day and night. Although if you are looking to spend some quality time with nature, Tommy Thompson Park is a great alternative. Pack a picnic and hit the trails with The Six as your backdrop.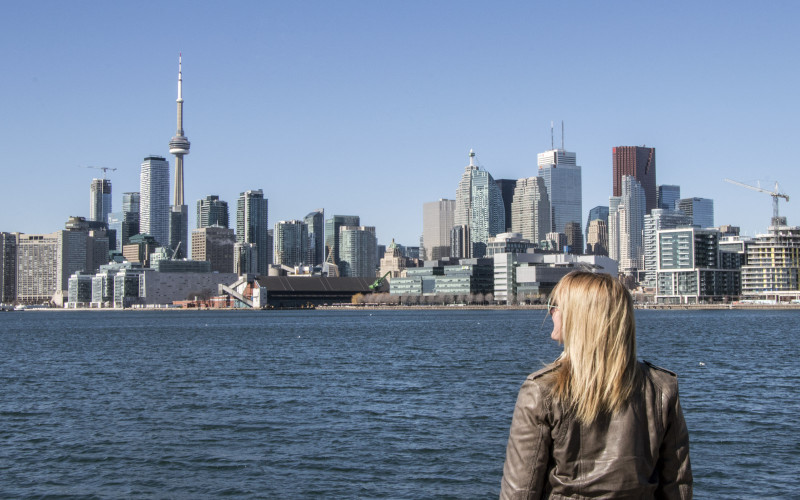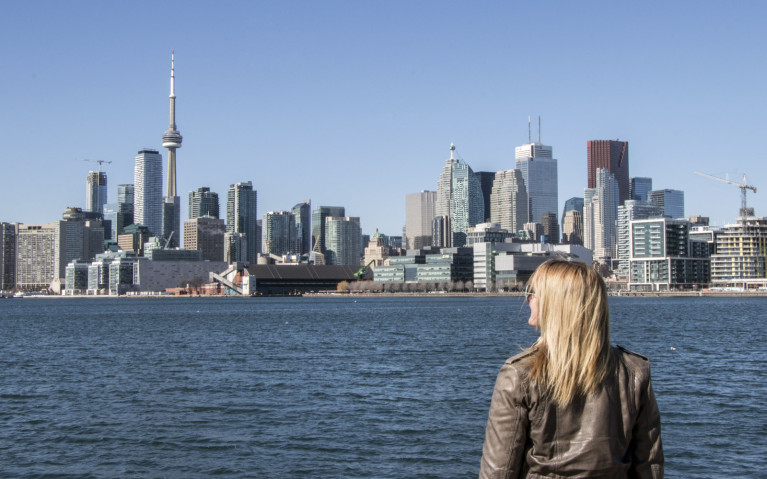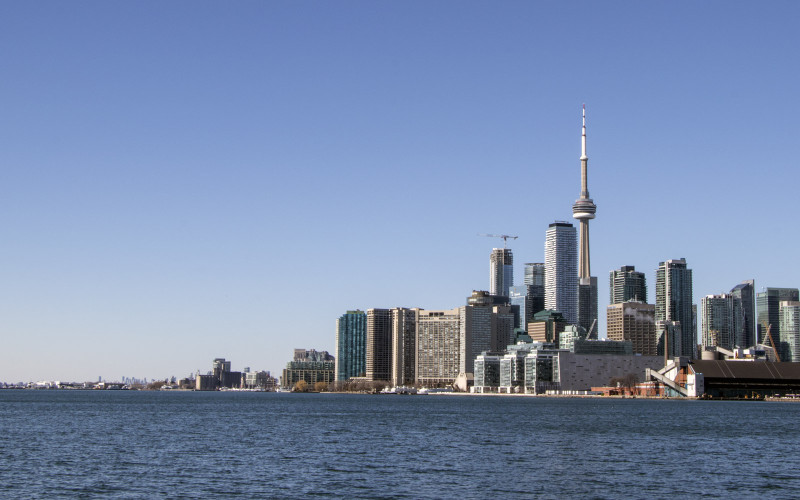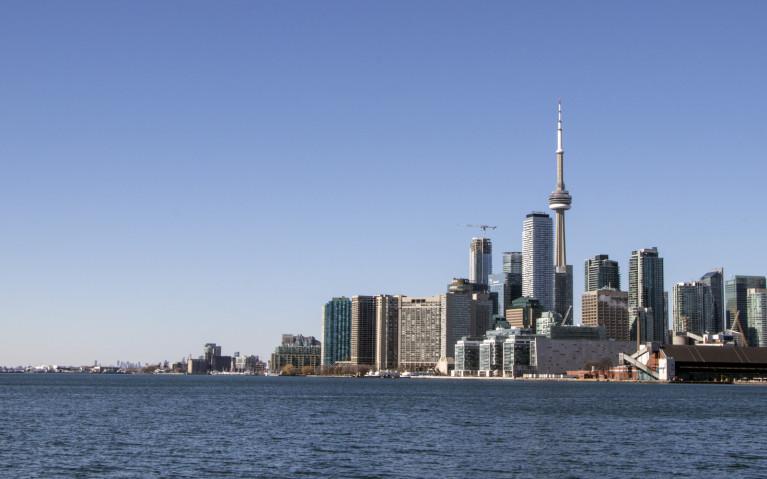 Exhibition Place
While Exhibition Place is a popular destination for a number of reasons including concerts and festivals, there are great everyday spots to enjoy. Along with the above destinations, Trillium Park (which you may know as Ontario Place) is perfect for catching the sunset. What used to be a parking lot has now been transformed into 7.5 acres of public green space, adding new life along the waterfront. Enjoy a stroll with your partner in crime as you take in the beautiful city skyline – one of many great couples' activities in Toronto. You can even grab a few friends and have a bonfire at one of the fire pits while relishing in the city views!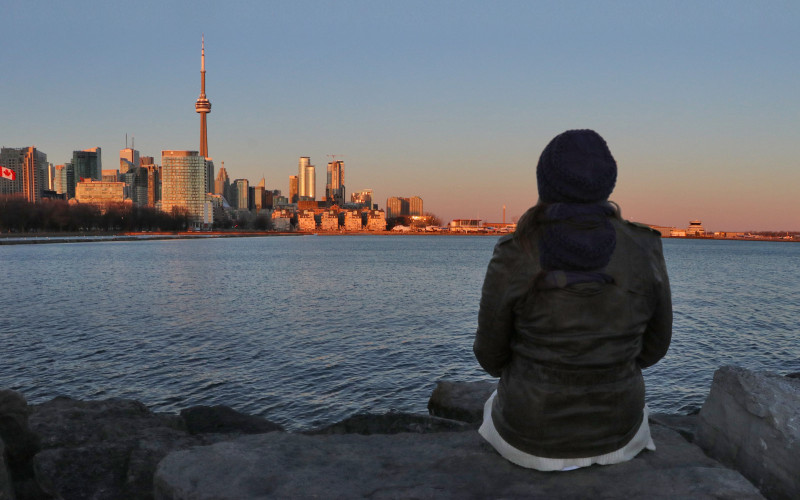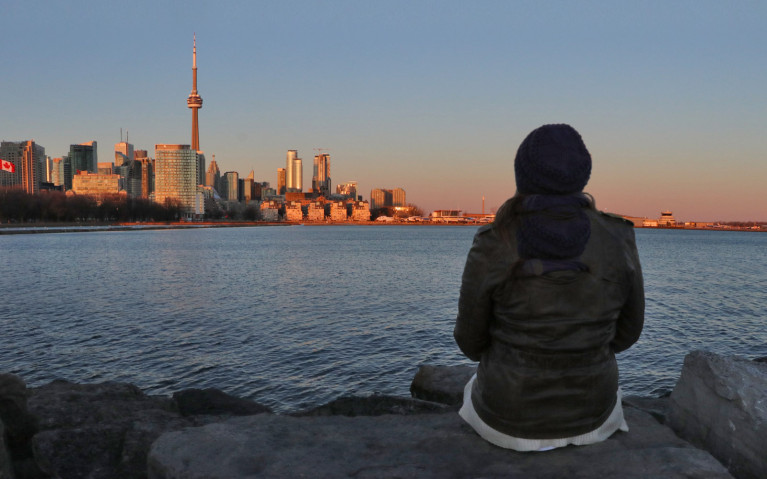 Best Way to Get Around Toronto?
These destinations are a little scattered throughout the city, so the best way to see Toronto is by hopping on the TTC, Toronto's public transportation system. If you're from the Ontario area and often use GO Transit, some GTA transit routes or Ottawa's OC Transpo, it might be worth purchasing a Presto Pass. You can buy one of these tap-to-pay cards at kiosks in many of the TCC subway stations. This allows for 2 hours of unlimited transfers from the first time you tap the card. If you choose not to, you can still pay via cash or by purchasing a pass from one of the TTC station attendants.
INSIDER TIP: On the weekends you can buy a group day pass where two adults and up to four children can ride on the same ticket. It's easily the cheapest way to hop around town!
If you plan on staying overnight and making it a longer adventure, there are a number of great accommodations in the city. I highly recommend staying in the downtown core. This way you can walk around and avoid paying for transit for many of the destinations listed above. Who doesn't love to save money on transportation fees? Hopefully you can find a great deal below!
Ready to Travel Like a Local in Toronto?
Will you be adding any of these destinations to your Toronto itinerary? Are there any offbeat things to do in Toronto that I've missed? What's highest on your list of local spots? I'd love to hear more in a comment below!
Looking For More Toronto Area Articles to Plan Your Trip?
Winter Stations Toronto – Outdoor Art You Gotta See!
Bowmanville POW Camp – One of the Creepiest Places in Ontario
Don't Miss These Epic Ontario Road Trip Destinations!
Disclaimer
This post is in partnership with Expedia Canada. As always, all comments and suggestions are my own for these amazing local things to do in Toronto! Additionally, this post contains affiliate links where I may receive a kickback at no extra cost to you. Read more in IBB's disclaimer and privacy policy.
Want to explore Toronto like a local? Pin it for later!