Bowmanville POW Camp: Camp 30 is One of Ontario's Creepiest Places

You may be surprised to hear that there were over 25 prisoners of war camps in Canada during the Second World War. With 13 in Ontario alone, a short hour road trip from Toronto lies the remnants of Camp 30 – the Bowmanville POW Camp. It's hands down one of the creepiest places in Ontario I've ever been to… and it didn't help I visited days before Halloween.
Camp 30 wasn't always a POW camp. What started from humble beginnings became a dark entity with the eruption of World War II. The future of Camp 30 was uncertain at one time due to the rampant vandalism and disrepair of the area. However, it received a National Historic Site of Canada designation in September of 2013 which has changed its fate.
Let's dive into the history of the Bowmanville POW Camp, its present state and plans for the future.
Looking for More Haunted Places in Ontario?
Don't Miss These 15 Haunted Destinations in Hamilton
See a Darker Side of Niagara with These 10+ Haunted Spots
Why Niagara Falls' Screaming Tunnel Got Its Name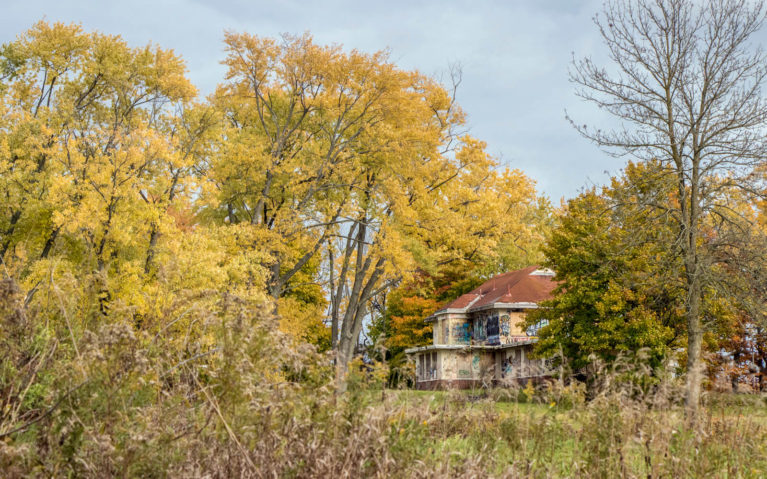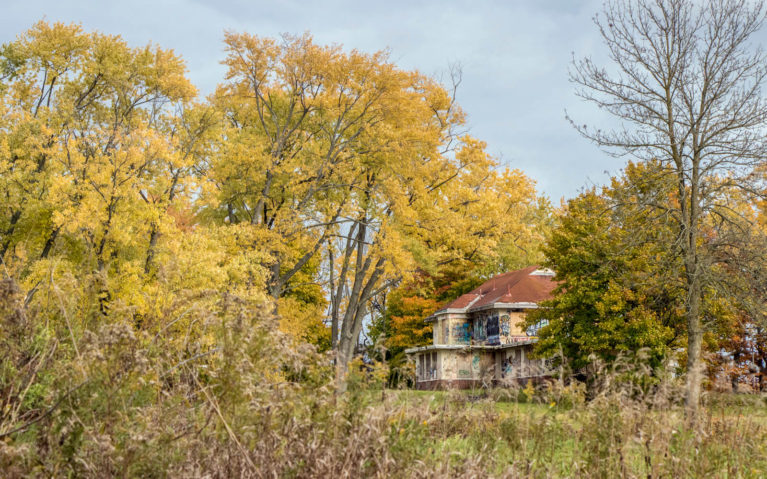 History of the Bowmanville POW Camp
In the early 1920s, the land Camp 30 sits on was owned by John H. H. Jury, a horticulturist and pharmacist. Known as the Darch Farm, he donated its 300 acres to the provincial government in 1922 to build the Bowmanville Boys Training School. This was after he witnessed a speech by Alex Edmison about juvenile delinquency and wanted the government to create a school based on the theories brought forth by Edmison.
Influenced by the architectural style of Frank Lloyd Wright, the campus called on many of his iconic elements. The buildings use natural materials, geometric ornamentation and an emphasis on the horizontal shape reminiscent of the prairie landscape.
Completed in 1927, this boarding school implemented non-institutional modes of education to reform delinquent boys by providing them with a mental, moral, physical and vocational education and training. Each student had their academic level assessed upon entering and the programs/structure it offered placed it ahead of that time's youth reform movement. The curriculum allowed students to earn credits to work towards their secondary school diploma. The school was open for 14 years until the government forced them to vacate so it could be converted into a prisoner of war camp.
Canadian officials had barely half a year to convert the property. While the school was designed to contain lots of people, many tasks had to be completed before it could be used as a POW camp. Wire fences and guard towers were built along with gates and barracks for the Canadian guards. Completed in October of 1941, this is when the first POWs started to arrive on Canadian soil.
During World War II, it became an internment camp for officers and ranking officials of the German Armed Forces. Captured by the Allied Forces, they were sent from the United Kingdom to Canada as the possibility of invasion by the Nazis could mean their release. Enemy combatants were held until 1945 and sent back to Europe with the end of World War II.
Life at Camp 30 During WWII
As far as POW Camps go, life at Camp 30 was pretty amicable. Since it was previously a boys school, it allowed for a number of amenities other camps didn't have like an indoor pool, athletic complex, soccer and football fields. The POWs were said to have played football and hockey during the winter months. As they were still being paid, they purchased items from the canteen like cigarettes, cigars, tobacco, pipes, pens, pencils, ink, daily hygiene items like toothpaste and mouthwash, clothing, food and more. They regularly sent and received mail from their families as well. The list goes on.
An added benefit was that since the prisoners worked the Darch Farm, their meals were far above other POW camp standards. Meals often included butter, coffee, jam and other more luxurious items. Not only that, but the meals were hearty as they consisted of items like roast beef with carrots, potatoes and even gravy. Needless to say, there were few complaints about the camp's conditions.
Life at the Bowmanville Prisoner of War Camp was also civil due to the concept of Ehrenwort. Meaning "word of honour" in German, prisoners were allowed to leave the camp if they gave their word that they would not attempt to escape. As they always returned, they were permitted to swim at the lake close by during the summer months and even go cross-country skiing in the winter. This is quite unheard of in regards to POW camps, but it worked for Camp 30 and meant both the guards and prisoners were overall fairly content considering the circumstances.
This doesn't mean that Camp 30 always ran smoothly. One of the most notable events was the Battle of Bowmanville, caused by Hitler's order to have Allied POWs shackled. Britain got wind of this and ordered Canadians to do the same at Camp 30 and to not remove them until the Allied's shackles were removed. When Canadian guards asked for 100 volunteers, they obviously had no takers and were instead met with great resistance. The German POWs barricaded themselves in the cafeteria and fought with anything they could find from bats to bottles and even hockey sticks. The Battle of Bowmanville lasted two days before Canadians gained control again and 125 of the prisoners were sent to different prisoner of war camps.
Despite the concept of Ehrenwort, there were still plenty of escape attempts however none were successful. The most elaborate attempts were when the prisoners tried to build tunnels under the camp. Most notable is the tunnel started in Victoria Hall or House IV as it included lighting, ventilation and supports. Though the most famous attempt would be Operation Kiebitz, which you may recognize. This failed escape plan tried to break out four skilled German U-Boat officers but was thwarted by the Royal Canadian Navy's Operation Maisonette.
Visiting the Jury Lands
Often referred to as the Jury Lands in reference to John H. H. Jury, visiting the Bowmanville POW Camp is actually quite easy if you know where you're going. When looking at Google Maps, there are two paved entrances off of Lambs Road. This is deceiving though as there is nowhere to park here, nor is parking allowed on Lambs Road itself. Your best bet is to park on Sprucewood Crescent close to Madden Place. This is the entrance to the Ehrenwort Trail which will lead you to Camp 30. The trail runs through the grounds south towards Concession Street East. You could also enter via Concession Street East however I don't believe there is parking available.
The property is eerily quiet with a sense of foreboding. I've read that many have said the spiritual energy is strong at Camp 30 and I believe it. Maybe it's just me, but I felt more and more uneasy as I got closer to the camp. It didn't help that I heard a random jingling almost like a set of keys while exploring. Lindsay, it was probably a chain of some sort on a fence or something. I thought that too but didn't see anything in sight… nor anything close enough to make the sound. Maybe it was my overactive imagination but consider me spooked!
You'll quickly notice that there are satellite security cameras located throughout the property. These were installed to deter any further vandalism at the site as a few of the original buildings have since been torn down due to fire damage rendering them unstable. These cameras have motion sensors and are monitored by a security company 24 hours a day, 7 days a week. If any foul play is suspected, the local police department is dispatched immediately.
If this makes you nervous to explore, don't be. I felt the same way – so much that I even called the municipality of Clarington where Bowmanville is located for more information. I'm a chicken sh!t and don't like getting in trouble, okay? When exploring, just stay on the paved oval road and it will allow you to see all of the buildings without any repercussions. Venture off at your own risk. While it would be nice to get a closer view, don't be the one that makes headlines by being arrested. If curiosity is getting to you, here's an in-depth video from 2013 that documents inside the buildings by an urban explorer.
PUBLIC SERVICE ANNOUNCEMENT: Seriously though, don't be an idiot. Not only is this site an important piece of history for the area as well as the province and country, it's still private property. Respect it and you shouldn't run into any trouble. I legit showed up in a toque and hoodie with camera in hand and didn't have any problems. If there is a security guard and they ask you to leave, then do so. This area is to be respected and if you have any concerns at all, contact the Municipality of Clarington.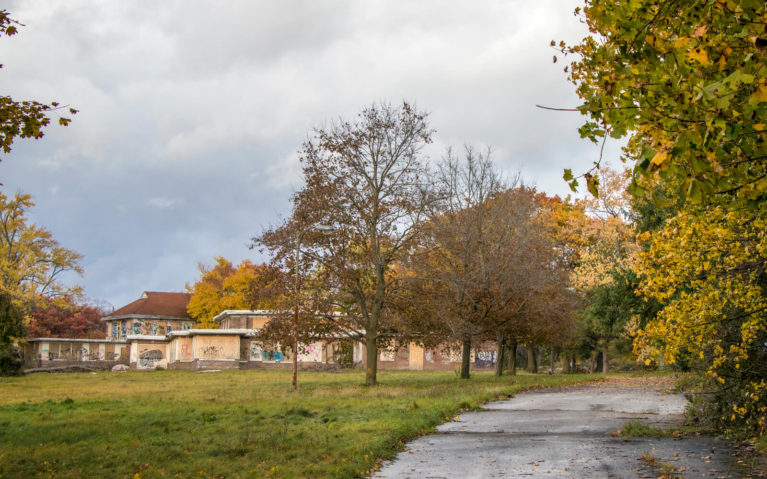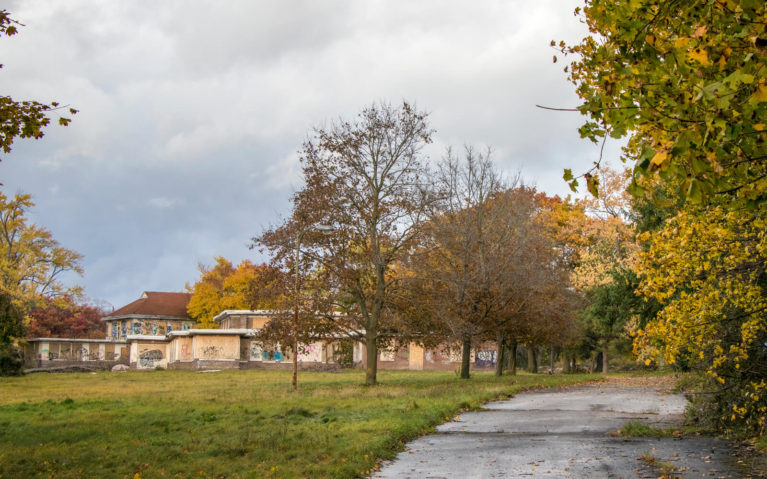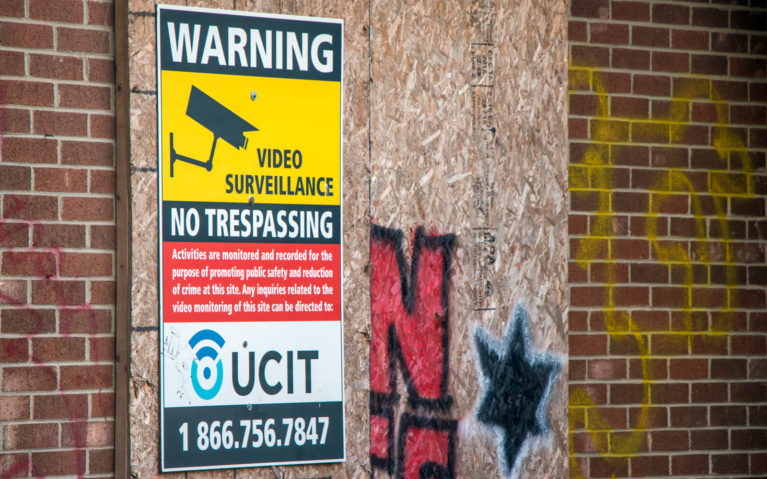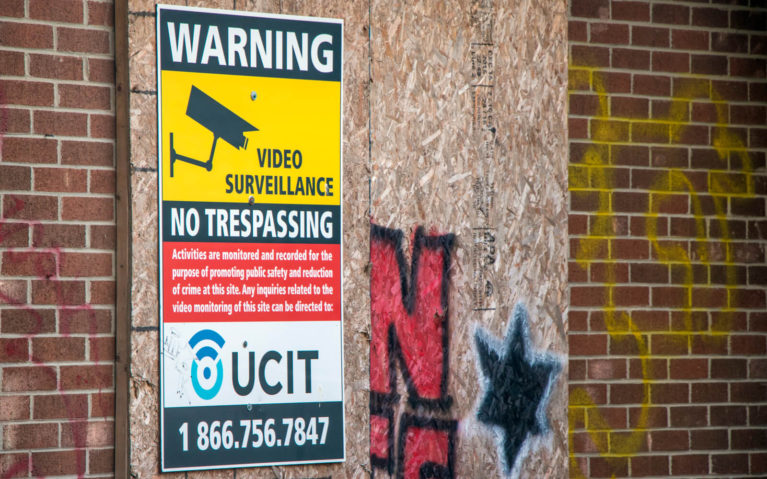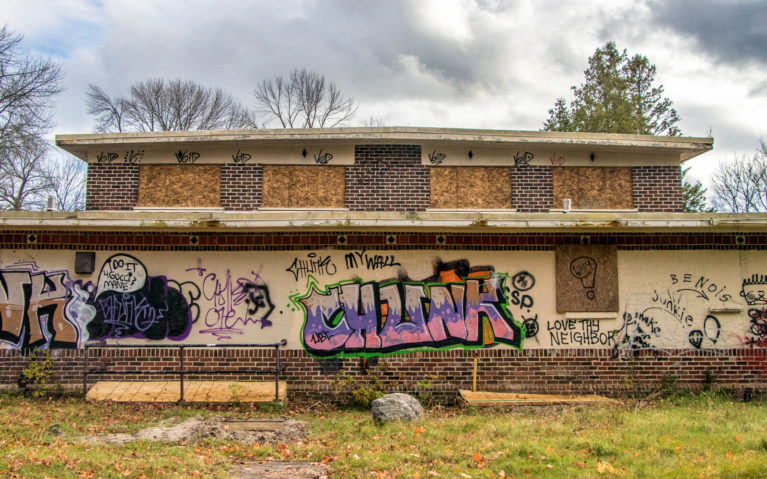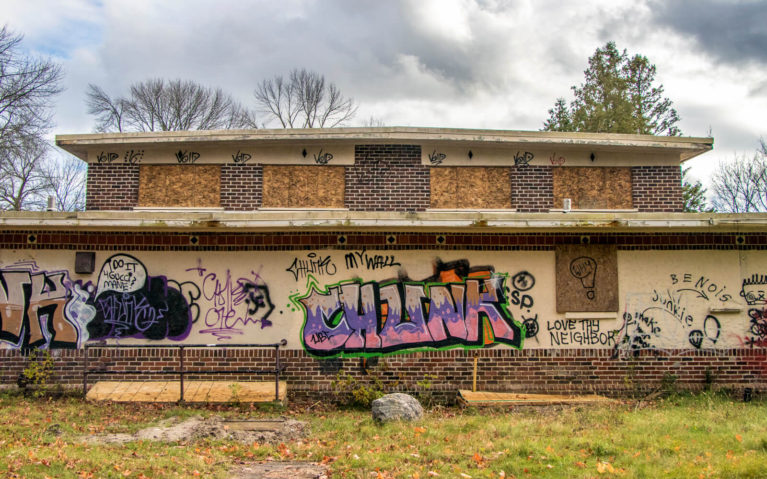 Guided Tours Along the Ehrenwort Trail
Over the past few years, guided tours of Camp 30 have been given to raise more awareness about this piece of history. Tours are organized by the Jury Lands Foundation, a not-for-profit organization that is looking to rejuvenate this historically significant site. They occur at least once a month and each one is 90 minutes long. In 2018, there were 10 tours from May until September. However if you've just missed them like I did, you can take a self-guided tour along the Ehrenwort Trail.
NOTE: As of right now, tours for 2022 are running until October 10th but the schedule is subject to change. Keep an eye on the Jury Lands website for full details.
As I mentioned earlier, park on Sprucewood Crescent as this is where the Ehrenwort Trail begins. Follow the gravel path and you'll first reach the dam. As the Bowmanville Boys Training School was conceived as a self-sufficient site, farming was part of the training boys received and they assisted with producing food for the school. This dam helped generate power for the site. Cross it and in just a few metres you'll arrive at the Camp 30 site.
You'll arrive at the west side of the oval loop which takes you through the campus. On your left, you'll see the Jury Lodge, named after John H. H. Jury though I'm unsure as to how the building was used. Close by you'll also see the pool and gymnasium buildings. Referred to as the Natatorium, it would have been one of, if not the first indoor pool in Canada. It was used by not just the boys but the Bowmanville community. Next is House IV, also known as the triple dorm. This is where prisoners attempted to escape by digging tunnels under the building. Continue along and you'll see the Infirmary/General's House where three German Generals were housed as well as the Kiwanis House which supported the Bowmanville Boys Training School by sponsoring this dormitory. The largest of the buildings is the cafeteria which was built to accommodate 300 students. When it became Camp 30, each meal had at least two sittings to accommodate the prisoner numbers. This is where the Battle of Bowmanville occurred.
The campus is not complete however as fires engulfed the Administration building. To see the full tour, check out this historical tour pamphlet which outlines the trail.
SOMETHING TO NOTE: Since I did this self-guided, I may have mislabelled a few of the buildings. I have done my best to figure out which building is which based on my powers of deduction. If I've made a mistake, please let me know so I can correct it!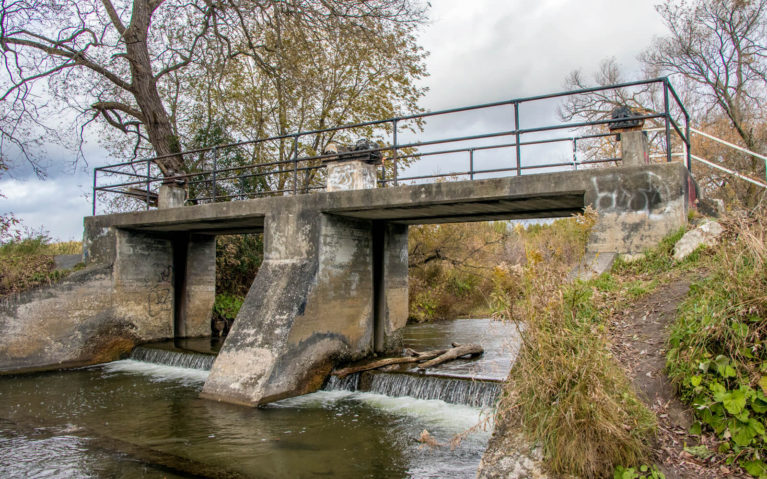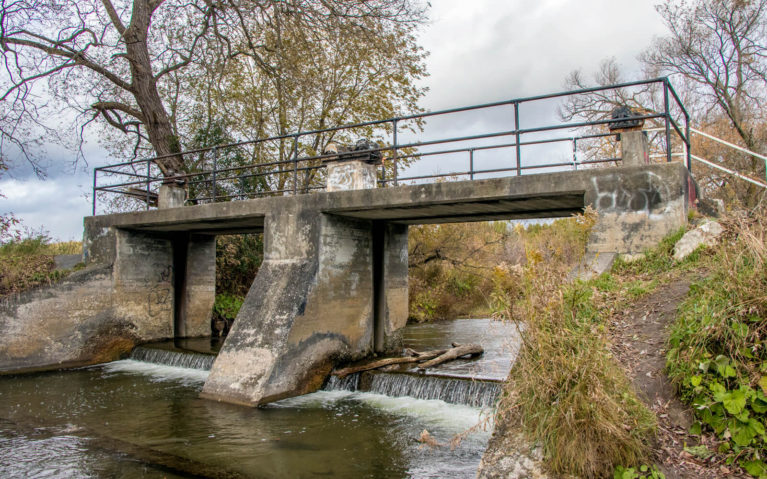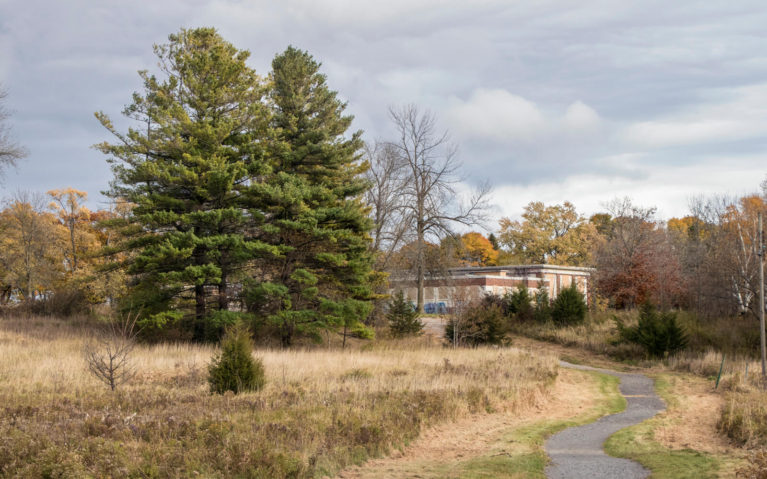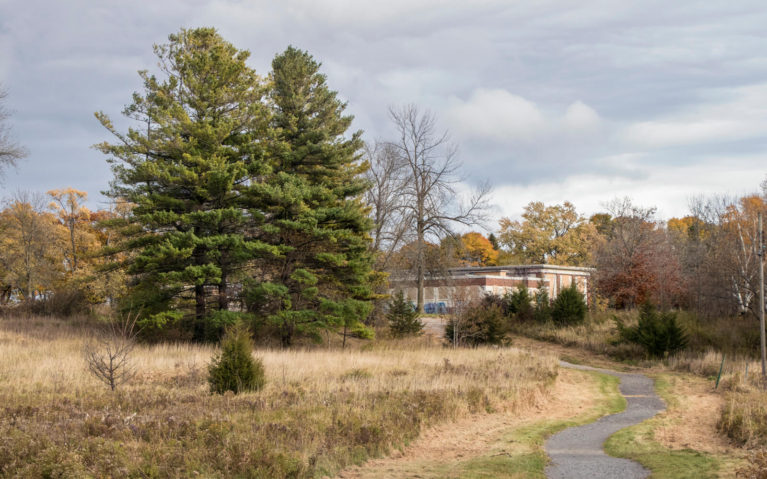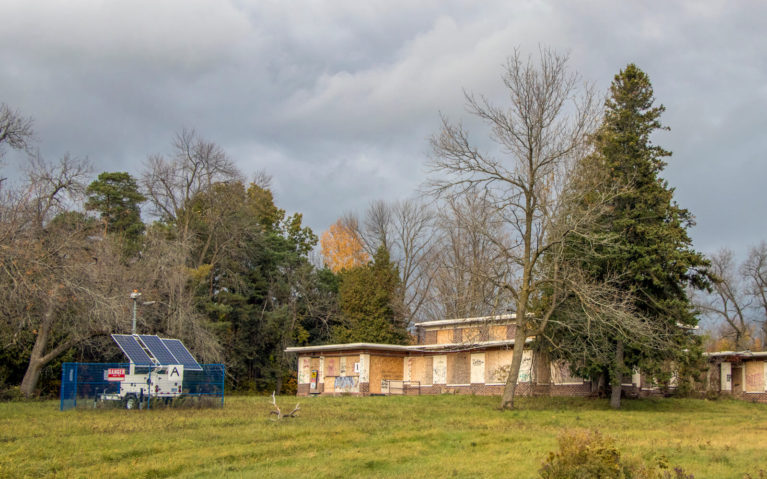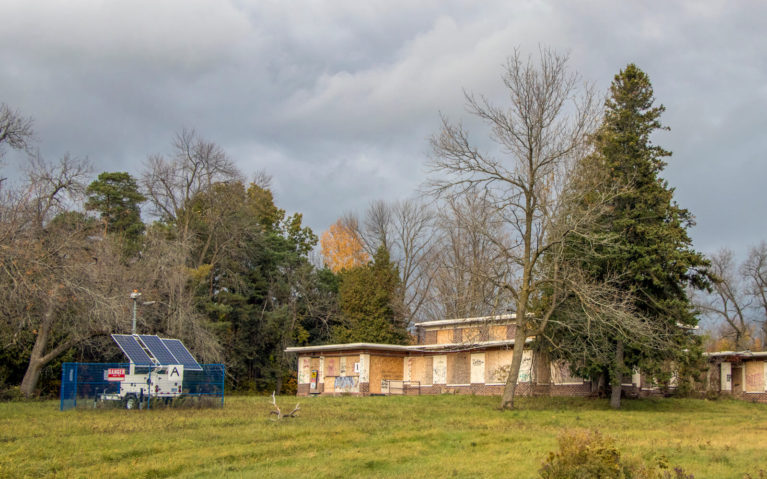 Future of the Jury Lands
At one point the future of the Bowmanville POW Camp was bleak. It was even listed on Heritage Canada's Top 10 Endangered Places in 2013. While it was set to be demolished to make way for a housing development, in receiving historic status that has since changed. The six major buildings were designated under the Ontario Heritage Act in January of 2018 and they have become the cornerstone for future plans.
Future development of the Jury Lands is looking to repurpose those six buildings as well as the space along Soper Creek. Possibilities for a daycare, fitness centre, office space and even the possibility of a boutique hotel. Additionally, ideas for a park, restaurant, Soper Creek lookout and outdoor event space have been tabled.
Residential complexes would reside on either side of Camp 30. Both of these and the Bowmanville POW Camp would be connected for use by everyone in the community. It would be great to see this area with a dark past transformed into a helpful, positive space. A full analysis and plan has been drafted and can be viewed here.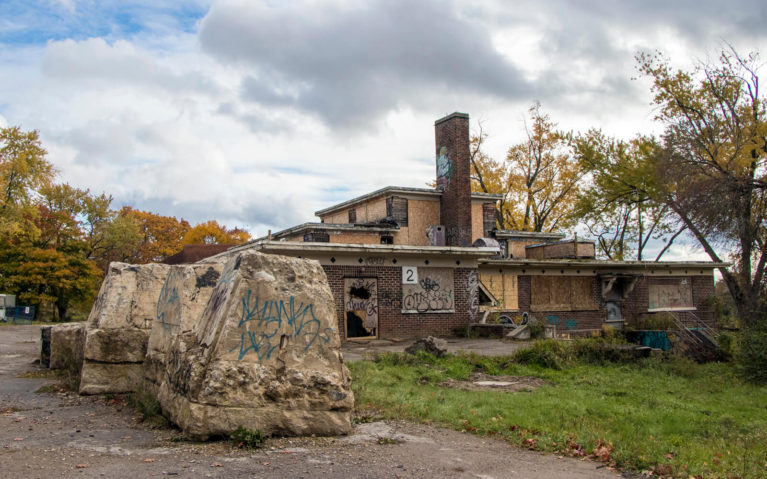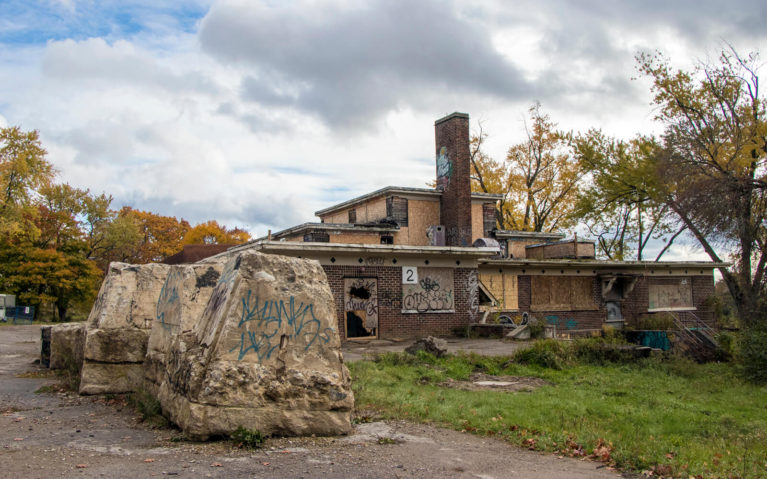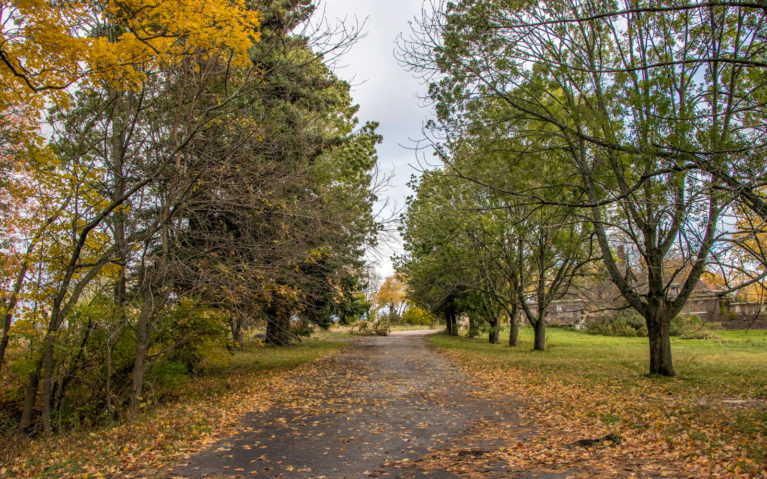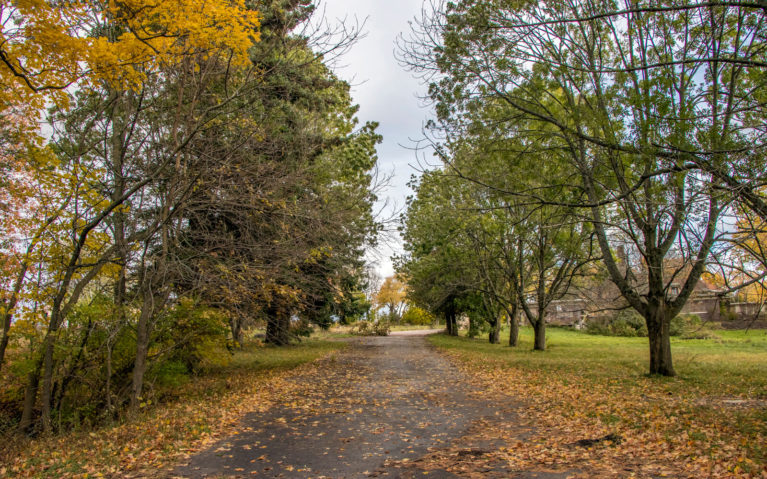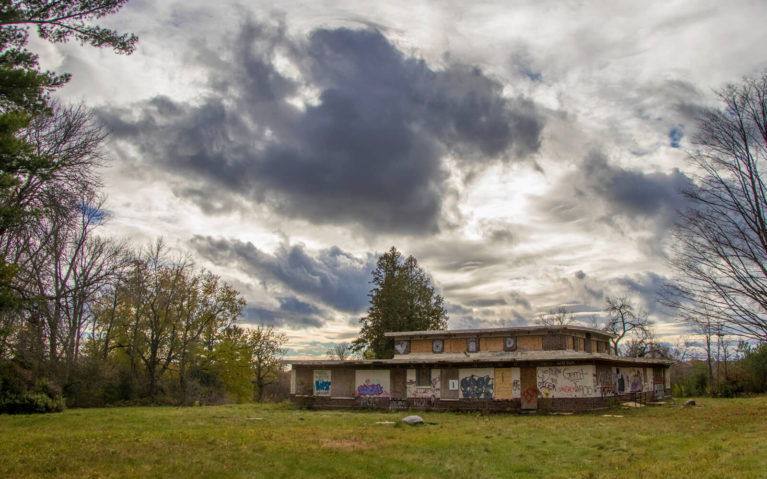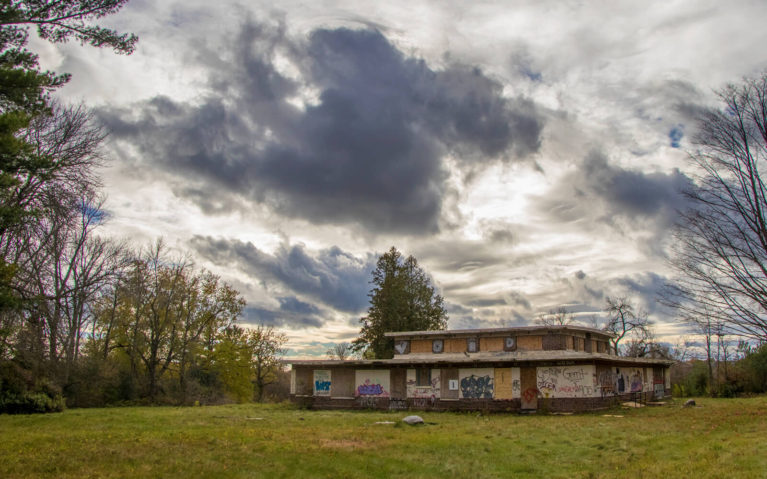 Final Thoughts
Despite the fact my heart was pounding in my chest, I'm so glad I went to experience it. If you plan a trip, I can't stress enough to respect the area. It's a privilege to experience, not a playground for visitors to run rampant. Also, it's seriously creepy. Maybe I'm just a scaredy cat but I only spent about half an hour and that was enough for me. Maybe it would be less eerie without the ominous clouds and a less spooky time of year…
It's important to preserve the history of Canada, dark or otherwise. The Bowmanville POW Camp has a rich history that is on its way to being preserved. While it has a long journey ahead that's in the beginning stages, more awareness and understanding of this area can see it remembered for days to come. With that, it's important to note that the German prisoners at Camp 30 were some of the more fortunate and many atrocities happened within the POW camps of World War II.
If you do choose to visit Camp 30, please do so respectfully. Not only respect the land but also respect the memories of those from the Second World War. So many people tragically lost their lives from 1941-1945 and we need to remember this. It's easy to be caught up in the present state of affairs, but never forget where you came from.
If you're looking for more things to do in the area…
Check Out These Amazing Things to Do in Clarington
Planning to visit Camp 30: the Bowmanville POW Camp? Pin it for later.