You'll Fall For These Awesome Things to Do in Clarington Ontario

I'm a little ashamed to admit that I haven't explored nearly enough of the area east of Toronto. Driving through the big city is a daunting task I tend to avoid, but when Clarington Tourism invited me to rediscover their area – I couldn't say no! I'm so glad I did too because I was truly missing out. From gorgeous hiking trails to historical sites and plenty of yummy eats in between, once you see all these things to do in Clarington, you'll be planning your own visit to the area!
Disclaimer: This post may contain affiliate links where I may receive a kickback at no extra cost to you. It helps keep IBB alive so thank you!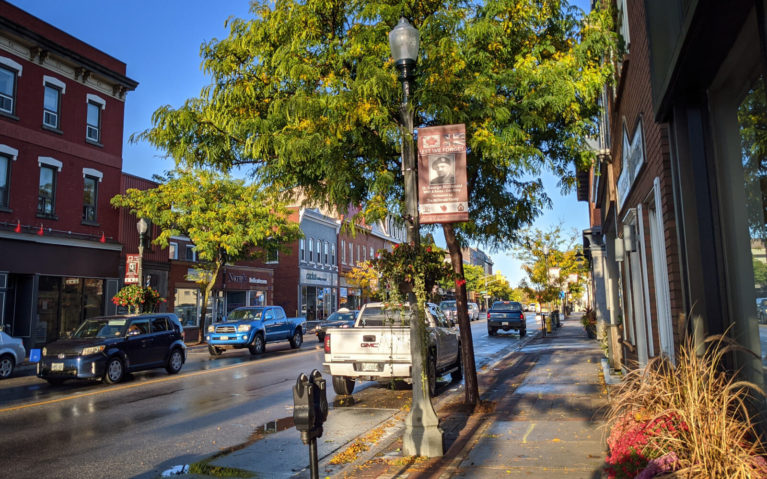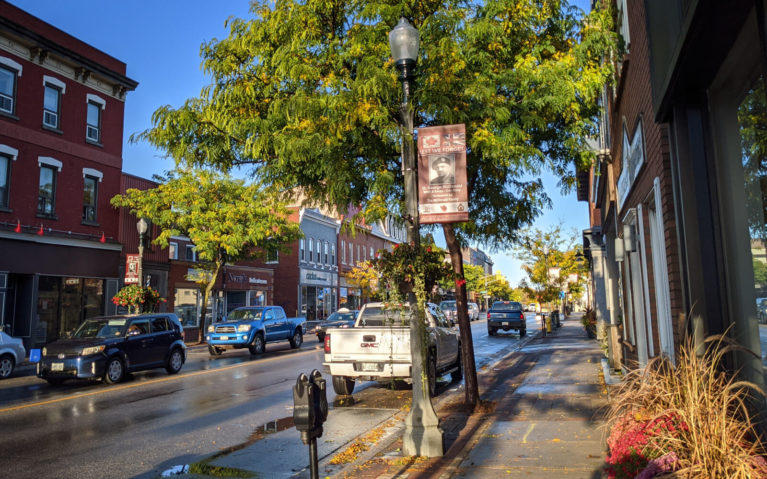 A Little Bit About Clarington
The area where you'll find the Municipality of Clarington is built on the lands of the Anishinaabe, Haudenosaunee, and Mississauga Peoples. These groups have called the area home for millennia, long before settlers arrived. In 1794, the Burks, Conants and Trulls families came from England and settled in the area – the first two families in what is now Bowmanville and the other in Courtice.
With the completion of the road between Toronto and Kingston, the area began to flourish. This was exacerbated with the arrival of the Grand Trunk Railway in 1856, linking Montreal to Toronto. By the time confederation occurred in 1867, Bowmanville was a bustling town and many businesses came with its growth. The 1900s saw the arrival of more settlers from Britain and Europe, with more immigrants arriving from the Middle East, Asia, South America, the Caribbean and Central America in the late 1900s. However, it wasn't until 1974 when the Municipality of Clarington was incorporated!
FUN FACT: The name Clarington is actually a mash-up of Clarke and Darlington, two of the areas within the municipality.
Where is Clarington Ontario?
The Municipality of Clarington is located in Durham Region. It includes the cities/towns of Bowmanville, Newcastle, Orono and Courtice as well as the townships of Clarke and Darlington. Clarington is located approximately 80km from downtown Toronto and takes just under one hour to get there, depending on traffic. It's very easy to get to as it's just off of Highway 401. Just get to the highway and head east! If you hit traffic, the 407 toll highway is another option and will also take you right into Clarington.
What is Clarington Known For?
This municipality likes to party! Okay, I should clarify. Clarington is known for its festivals as they have events all year round. In 2019, it was named Municipality of the Year by Festivals and Events Ontario! However, history buffs might be more familiar with the area because of the famous Battle of Bowmanville, the prison riot caused by the shackling of POW camp prisoners in 1942.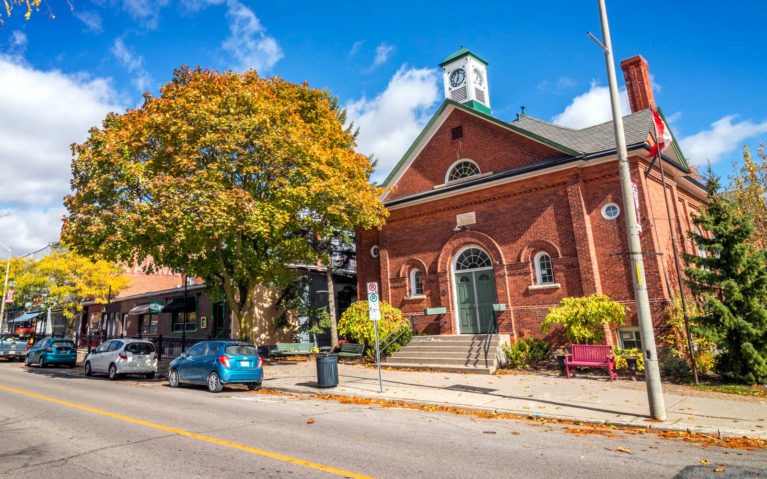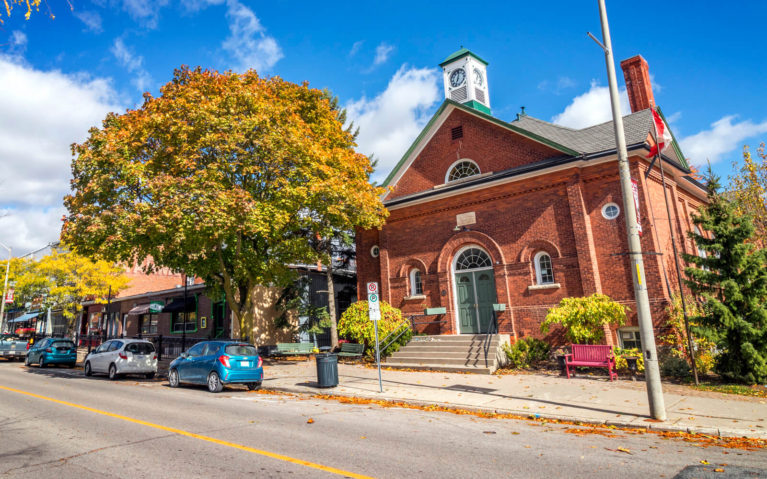 Things to Do in Clarington
Are you an outdoor explorer looking to hit the trails? What about a history buff who likes to deep dive into how destinations became where they are today? Do you enjoy picturesque towns and beautiful street art? If you said yes to any of these (or all three!), then you'll love what Clarington has to offer.
Explore a Small Town or Two
The Municipality of Clarington area is the perfect escape from the busy streets of Toronto. With the largest town being Bowmanville at just under 40,000 people, the area is a must-visit for small-town enthusiasts. Bowmanville itself has some great restaurants, a brewery and much more.
Personally though, I absolutely loved the town of Orono. It is the Hallmark Movie level of adorable towns. Take a stroll through town and pop into a few of the shops. You have to check out the Orono Antique Market. Around for almost a decade, you'll find rooms and rooms of goodies from classic books to China tea sets and everything in between! There's also Terrens Wellness Centre which has more than just your average health supplements. Inside you'll find all kinds of helpful trinkets for the home including a number of eco-friendly alternatives – my favourite!
If you have a sweet tooth, you must pop by the Buttercup Hollow Pantry. They have a number of items from honey to pickles from local companies and artisans, but the main draw is their fresh baked goodies. You'll have a tough time deciding between treats like raspberry strudel, coconut butter tarts, pies and more! Though I have to recommend their apple fritters which taste extra delicious when enjoyed just down the road in Orono Park.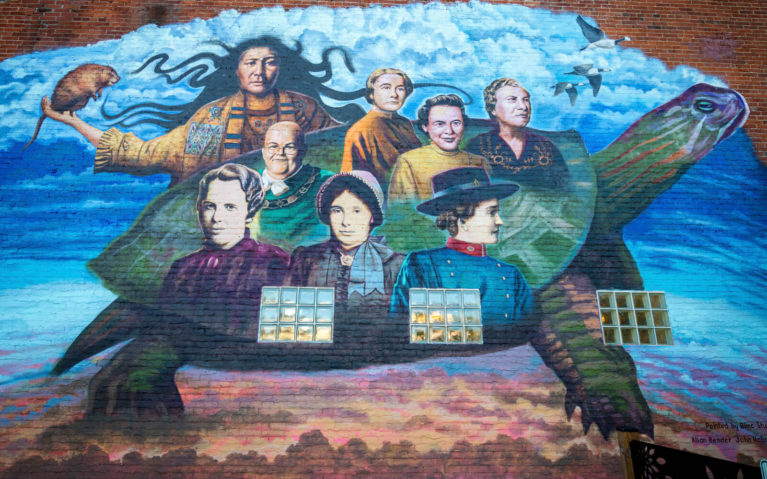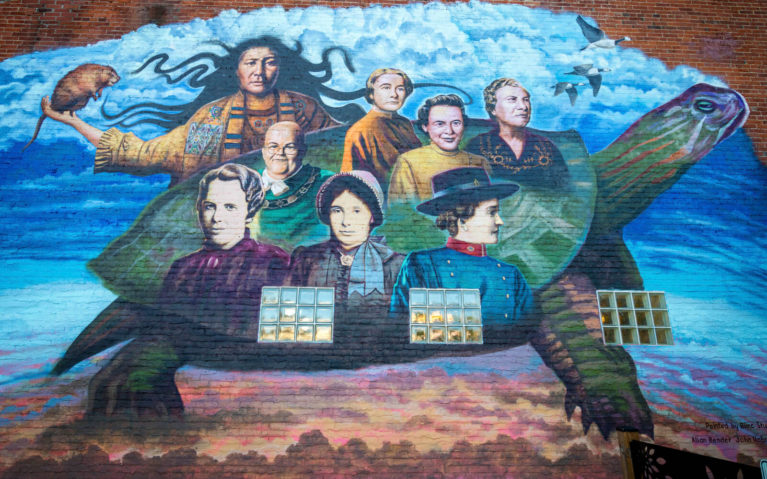 Hunt for Street Art
As a fine arts graduate, I always love seeing public art wherever I go, so you can imagine my delight when I visited Bowmanville! There is no shortage of gorgeous murals and you don't have to walk far to see them! In just a quick wander throughout the town, I was able to find at least half a dozen. Many depict the history of Bowmanville from the town's early days but my favourite had to be their most recent addition – the Women of Distinction mural. Artist Allan Bender and his team beautifully illustrated influential women of Bowmanville's history including Mabel Bruce, Marie Hubbard, the Sky Woman from Indigenous creation stories and many more.
You'll also find other works scattered throughout the towns of Courtice, Newcastle, and Orono from sculptures to murals. Be sure to keep an eye out for them as you're exploring the area!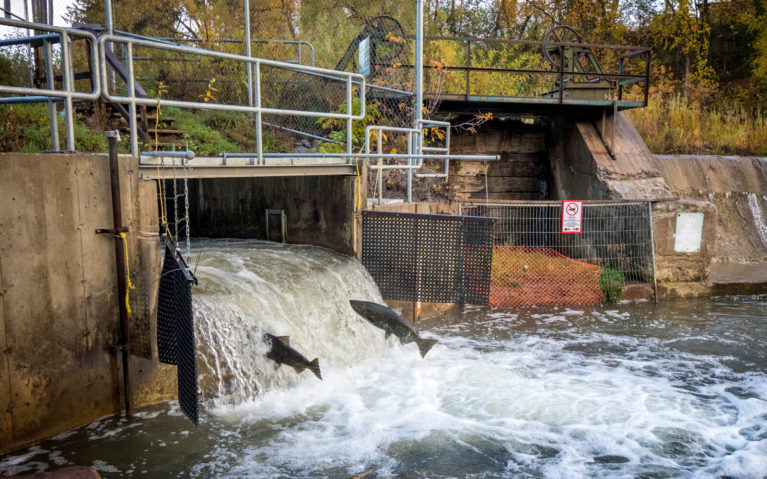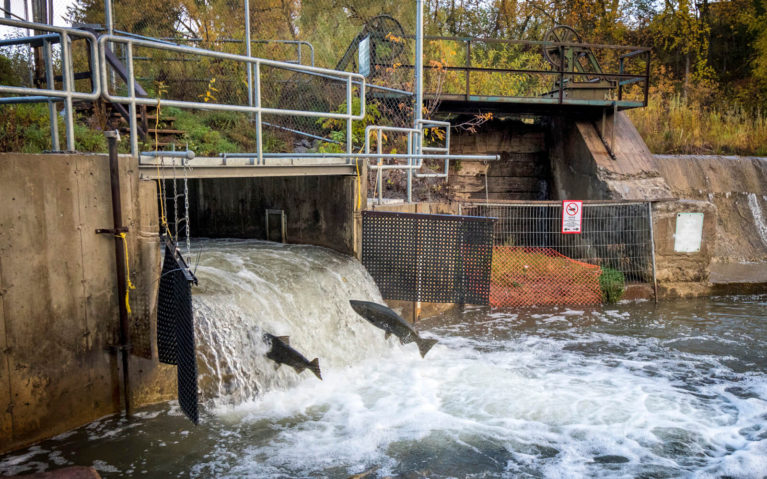 Check Out Bowmanville's Fish Ladder
Just steps from downtown, you'll find the Rotary Park. In the back left corner, there's a set of stairs which leads down to Bowmanville Creek. Back in the day, this area was heavily industrialized but Mother Nature has since began reclaiming the area. You'll now find a beautiful trail following the creek, leading to the Bowmanville Dam. This is where you'll find the fish ladder!
In the spring and fall, you'll see trout and salmon actively swimming upstream to spawn. It's incredible to watch these fish swim with all their might, jumping upwards into the different levels to continue their lineage. Even if you visit when the fish aren't jumping, it's still a really neat sight to see. The trail is quite lovely and makes the perfect spot for an afternoon or after-dinner stroll!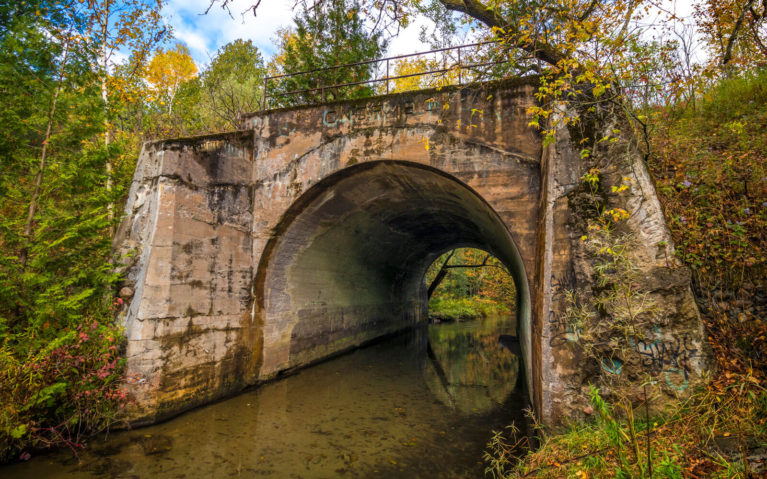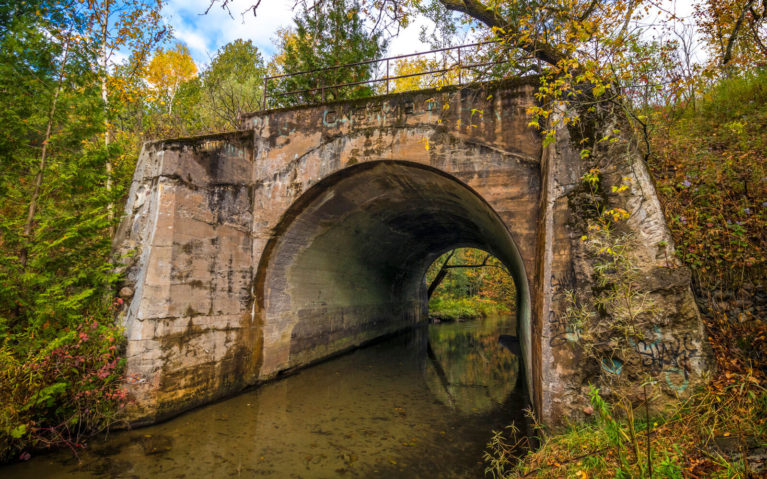 Hike Through an Old Tree Nursery
The Orono Crown Lands now sit where an Ontario Tree Nursery used to reside. In its hay day, the nursery was 350 acres and supplied the province with 7.5 million seedlings each year! The area was also used for forest research projects including but not limited to fertilizers, genetics, growth acceleration and even pest control. By the late 1900s, the demand for tree seedlings diminished and the nursery closed in 1996. While much of the acreage was parcelled off to private investors, 633 acres was kept as crown lands which now features seven trails and is managed by the Orono Crown Lands Trust.
Follow the trails through the forest and you just might be surprised at what you find! While the industry from this area is long gone, you will still find remnants of it. By the green and orange trails, you'll see Mother Nature as she reclaims a bridge which was built for the Canadian Northern Railway as it connected Toronto to Montreal from 1911 to 1946. If you visit in the fall, you also might catch a glimpse of the salmon spawning as the head upstream along Wilmot Creek!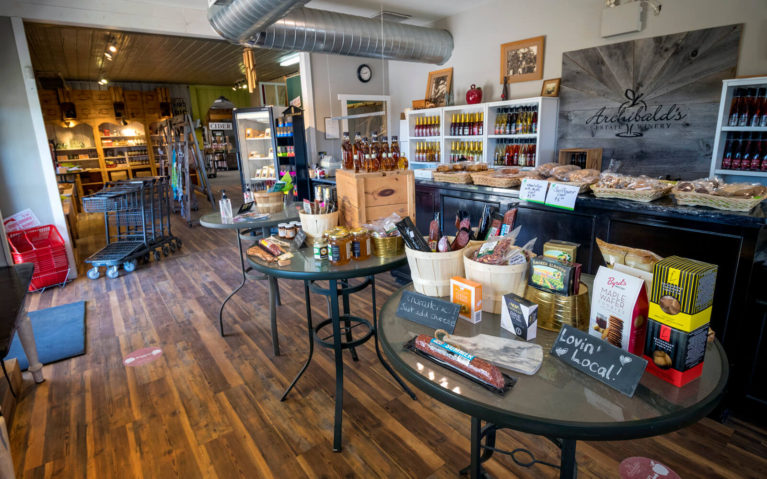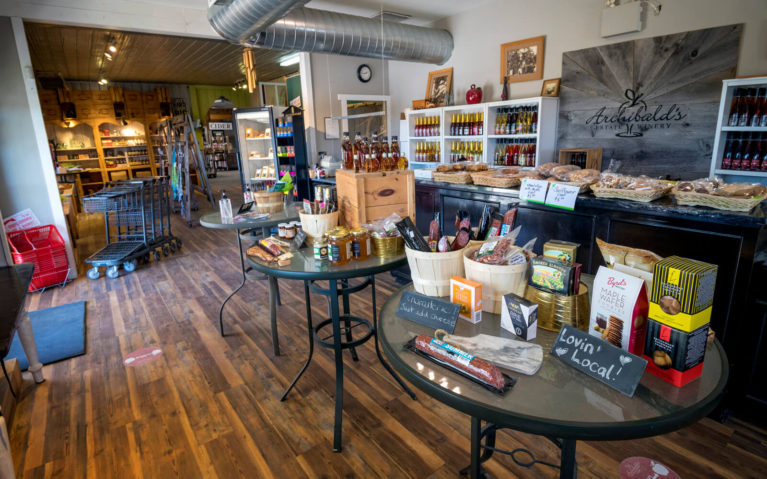 Indulge in Some Wine or Cider
If you're a lover of all things local like I am, you have to pop into Archibald Orchard & Estate Winery. This fourth-generation farm was established in 1967 as a wholesaler but has since expanded thanks to the hard work of Fred and Sandy Archibald to include Pick Your Own apples as well as an apple market and of course, the winery! Apple season varies from year to year but normally runs from September until early to mid-October. In the warmer months up until Thanksgiving, you can enjoy a sample of their wine or cider outside on the patio.
If you miss apple season, not to worry as the winery is open from March until December. While you might not be able to sample any goodies, you can pick up a wide range of items from their fruit wines, alcoholic and non-alcoholic ciders, gift baskets, and a number of other items from local artisans.
RELATED: For more fantastic local cideries, check out this list of top Ontario ciders you need to try!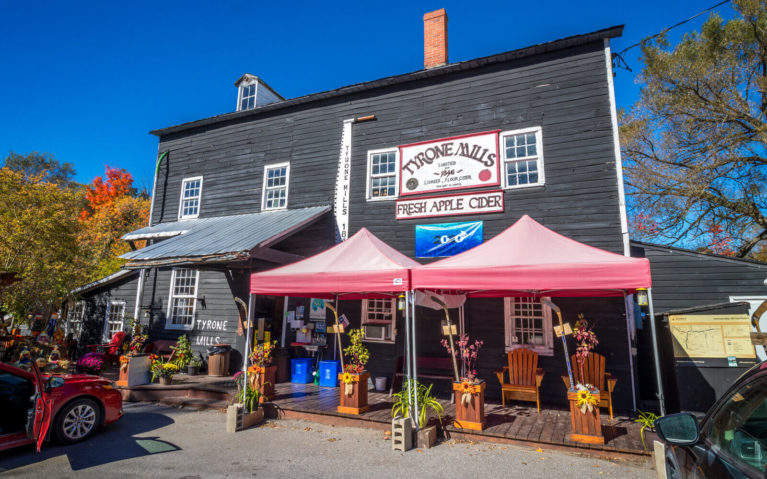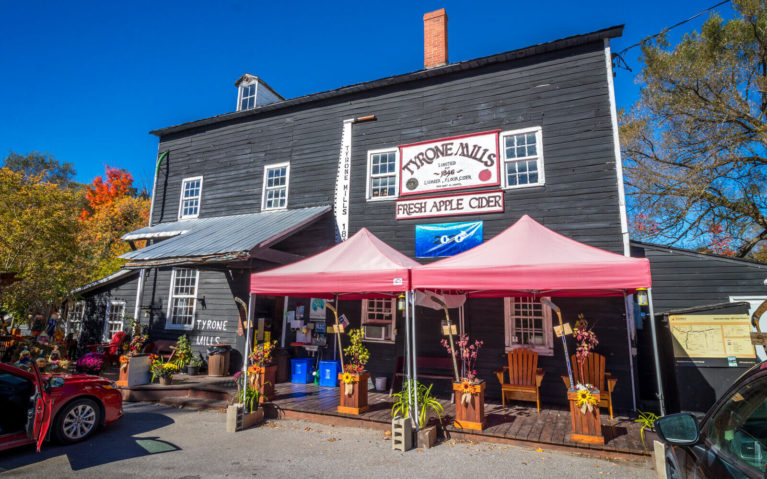 Visit One of the Oldest Mills in Ontario
When my friends and followers heard I was going to Clarington, a number of them messaged me saying I had to stop by Tyrone Mills. Now that I've visited, I completely understand why!
Tyrone Mills was built in 1846 and this traditional water-powered mill is one of the oldest in the province. Over the 170+ years it has been running, it has been a grist mill, flour mill and now a lumber mill – though it's more than just that! It also features a woodworking shop, blacksmith shop and an outdoor wood-fired oven. Currently owned and operated by Robert Shafer and his wife, Frances, this dynamic duo has added a number of additional offerings to the mill including a store for local products, a number of baked goods and their famous doughnuts.
FUN FACT: Both Archibald Orchard & Estate Winery and Tyrone Mills are a part of A Country Path, a collective of rural businesses offering unique and authentic country experiences. It's a fantastic way to visit and support rural industries across the Municipality of Clarington!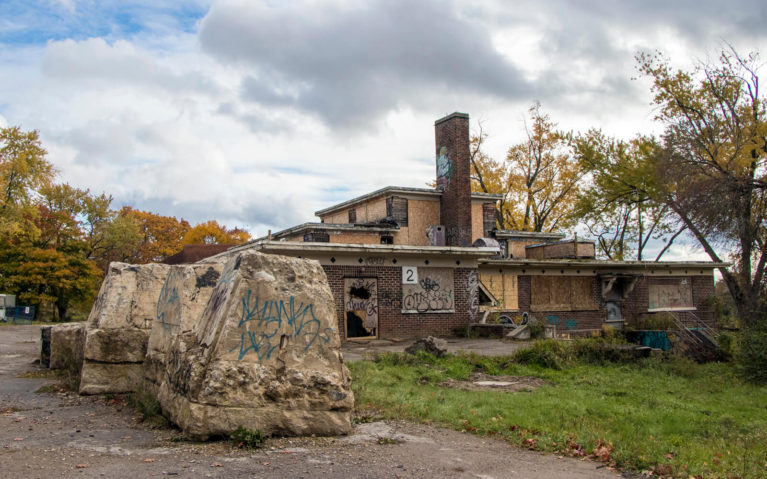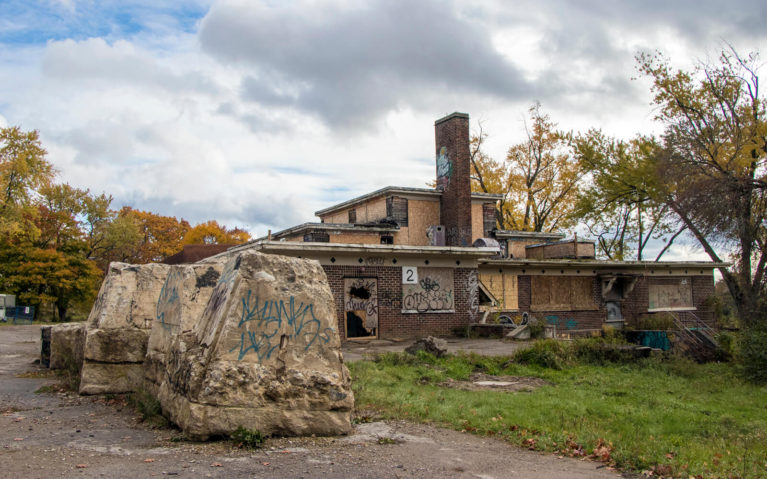 Explore an Old POW Camp
My first foray into Clarington was an impromptu day trip to Camp 30, the Bowmanville POW Camp. Originally a self-sufficient campus known as the Pine Ridge Boys Training School for mischievous boys, it later became a Prisoner of War Camp for high ranking German officers during World War II. While Camp 30 was once blocked off due to neglect, this National Historic Site of Canada can now be visited. Take a self-guided tour of what has since been dubbed the Jury Lands and learn about a lesser-known aspect of Canada's history.
For the most part, the Bowmanville POW Camp had a quiet history during World War II due to the concept of ehrenwort or "word of honour" as it translates to from German. The majority of the time, prisoners were allowed to leave the camp as long as they gave their word to return, which they did, and all was peaceful… until the Battle of Bowmanville. From October 10-12 1942, German POWs barricaded themselves in the cafeteria to avoid being shackled as retaliation for Hitler shackling Allied POWs.
If you'd like to read more about the history of Camp 30, take a look at my in-depth article.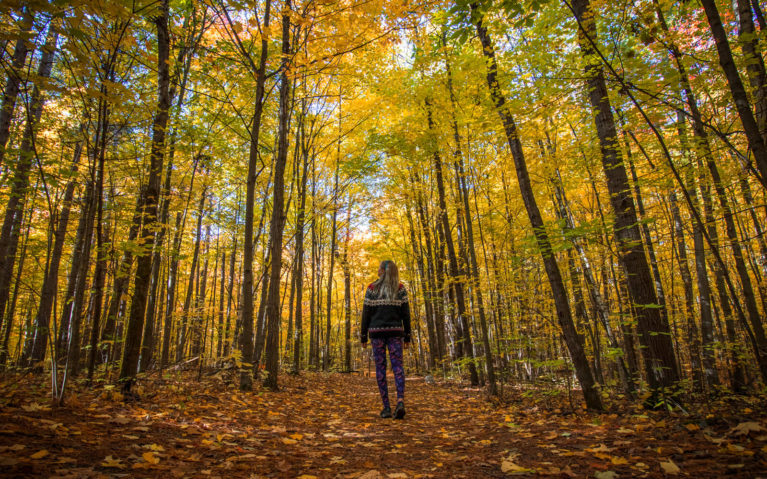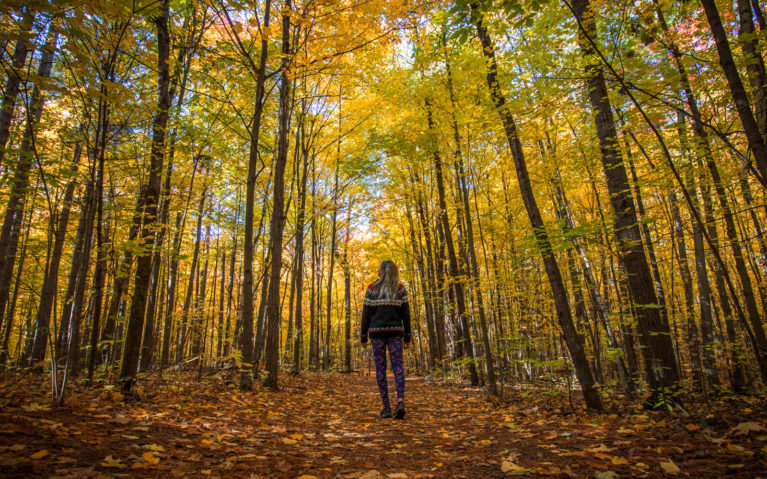 Hike in the Largest Conservation Area in Clarington
Named after the tiny town of Long Sault that no longer exists, The Long Sault Conservation Area is the largest conservation area managed by the Central Lake Ontario Conservation Authority. It spans over 1600 acres of mature forest, wetlands and meadows as well as part of the provincially significant Oak Ridges Moraine.
Within the park, you'll find 18km of marked trails at various levels of difficulty. You'll also find access to the Oak Ridges Trail, a 245 km long trail that stretches from Caledon to Northumberland County. These trails are also enjoyed by mountain bikers and cross-country skiers in the winter months. Though many head to the area in the autumn months to enjoy the brilliant fall foliage. I was blown away by how vibrant they were!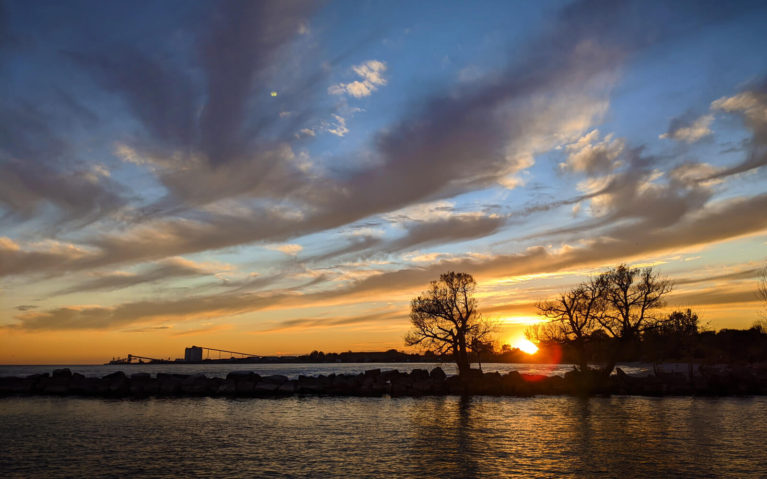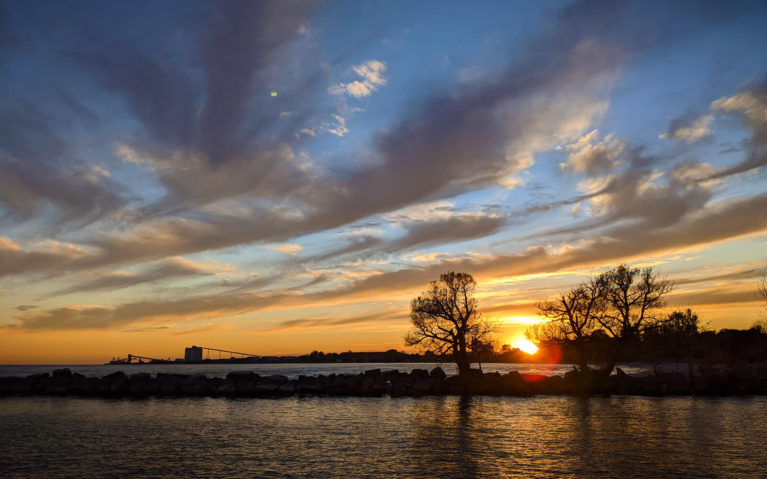 Catch a Sunset over Lake Ontario
What better way to end a day than with the gorgeous pastels of Mother Nature? Head to the shores of Lake Ontario and settle in for some brilliant sunsets. There are a number of places you can enjoy the view from like the Bondhead Parkette, Newcastle's Waterfront Trail, the Samuel Wilmot Natural Area and more. Though I can say for certain that the views from Port Darlington's Beach will blow you away. Whether you choose the east or west beach is up to you!
If you're an early bird, you're in luck. Clarington's prime location on Lake Ontario's shoreline also makes it a fantastic spot to catch the sunrise, too!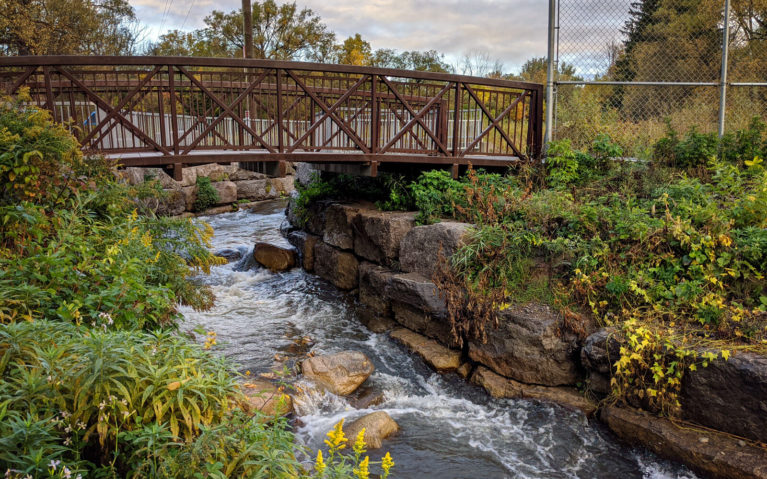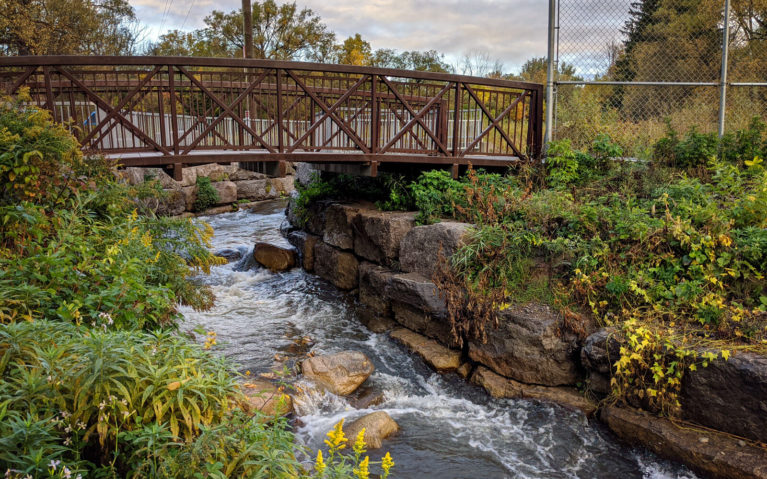 Additional Things to Do
If you've gone through the list above and are looking for a few more things to do in Clarington, here are some of my suggestions for exploring the area.
Darlington Provincial Park – A popular spot to go camping, Darlington Provincial Park boasts a beautiful beach that is popular with locals and visitors alike. Though if you visit in late summer, you'll be treated to the sights of Monarchs as they migrate to Mexico for the winter months.
Visit a Craft Brewery – Clarington is home to two craft breweries, both of which are in Bowmanville. If you're a fan of local beer, you'll want to include a stop at Chronicle Brewing Co and Manantler Craft Brewing.
Canadian Tire Motorsports Park – If you're a fan of Formula One racing, you won't want to miss this stop. Keep an eye on the Canadian Tire Motorsports Park schedule and plan your visit around one of their thrilling races.
Cedar Park Resort – From what I hear, this is a favourite spot for many locals during the summer months. Cedar Park Resort offers a water park, mini golf, tennis courts, plenty of playgrounds as well as tent camping, trailer or RV sites that you can rent by the night, week or month.
Visit a Museum – Are you a history buff that wants to learn more about the are? You'll want to pop by some of the museums in Clarington. The Sarah Jane Williams Heritage Centre has three exhibits currently on display while the Bowmanville Museum and Clarke Museums are both open by appointment.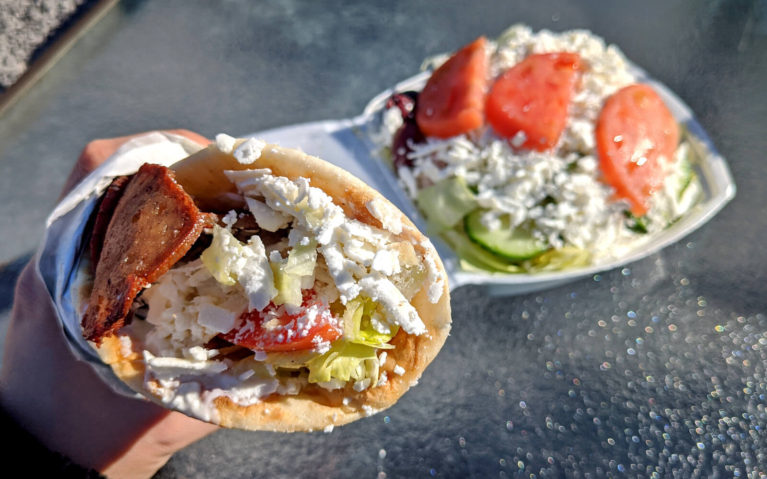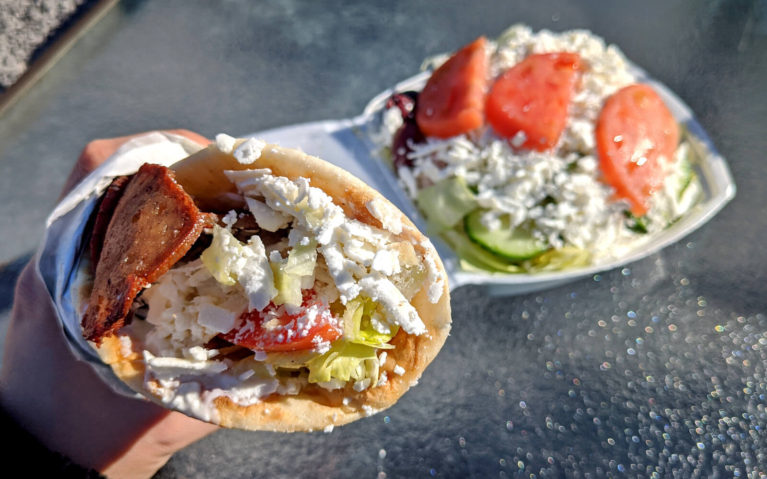 Delicious Restaurants in Clarington
All this exploring will certainly make you hungry! If you're looking for a great place to eat, you can't go wrong with any of these Clarington restaurants.
Food Truck Alley
I don't know about you but I'm a total sucker for food trucks, so when I heard there was a Food Truck Alley, I just had to take a check it out! Along Taunton Road on the outskirts of Hampton is where you'll find six food trucks with a wide range of cuisines from Caribbean to Italian to all things fries.
Personally though, I opted to indulge in some Greek food from Opa'z. They're said to have some of the best Greek food in Clarington and while I haven't tried any others to compare, I can say that it was absolutely delicious! I had their Gyro Pita with a small Greek salad and everything was incredible. Delicious gyro meat is wrapped tightly with lettuce, tomato, onion and feta, all of which is smothered in some of the tastiest Tzatziki I've had the pleasure of indulging in! As for their Greek salad, I couldn't get enough of the dressing. The blend of herbs and spices was a treat for my taste buds!
If you're looking to eat at a specific food truck, be sure to contact them directly as each food truck has its own unique hours. It would be a bummer if you drove all the way there and they weren't open!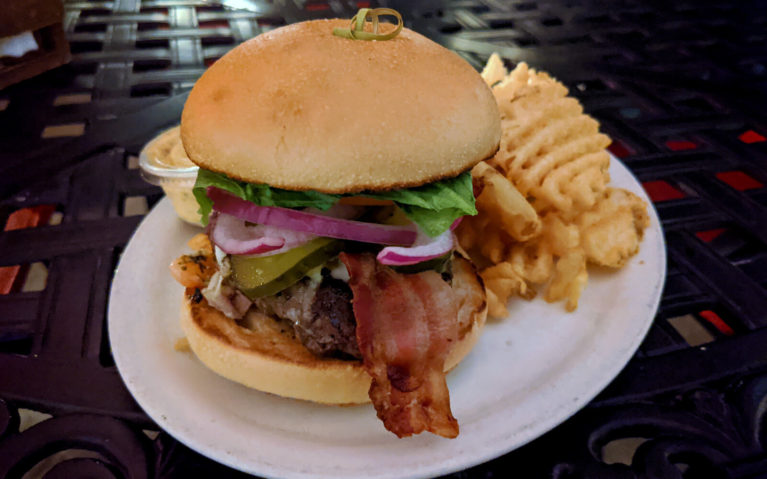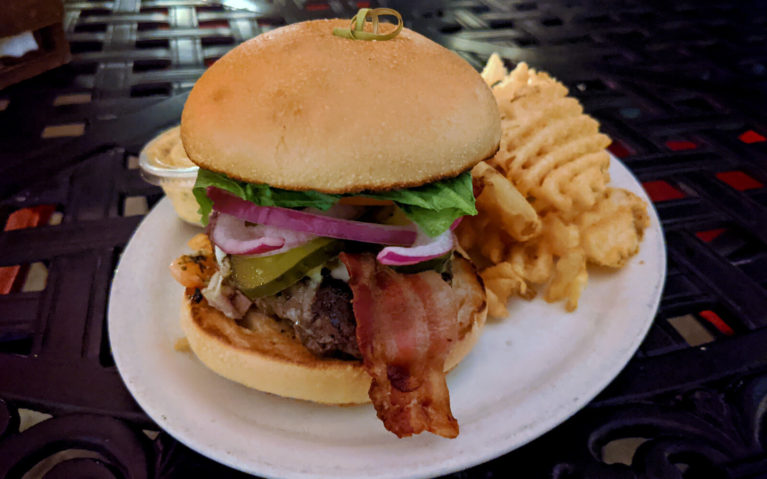 Copperworks Brew Pub
Head to Bowmanville for some great eats and maybe even a pint to wash it down. The Copperworks Brew Pub is a British pub set inside a heritage home dating back to the 1800s. It also features an expansive patio which is now heated and a great spot to enjoy a meal while staying warm on those cool fall days!
For a pub-style restaurant, I have to say that their menu is quite large! They have a number of items from lighter fare like soups and salads to hearty meals including house-smoked ribs, pulled pork and more. You'll also find some gluten-free and vegetarian options on the menu!
While I'm not normally a burger person, I couldn't resist trying their Bacon Bruschetta Burger. I've never heard of having bruschetta on a burger so I couldn't resist trying it! Verdict: it's delicious. Not just because their beef burgers are homemade but the mix of bacon, homemade bruschetta and delicious feta cheese all blends together so well with their typical toppings of lettuce, tomato, pickle and onion. You also have the choice of upgrading your fries and I couldn't resist the lattice fries!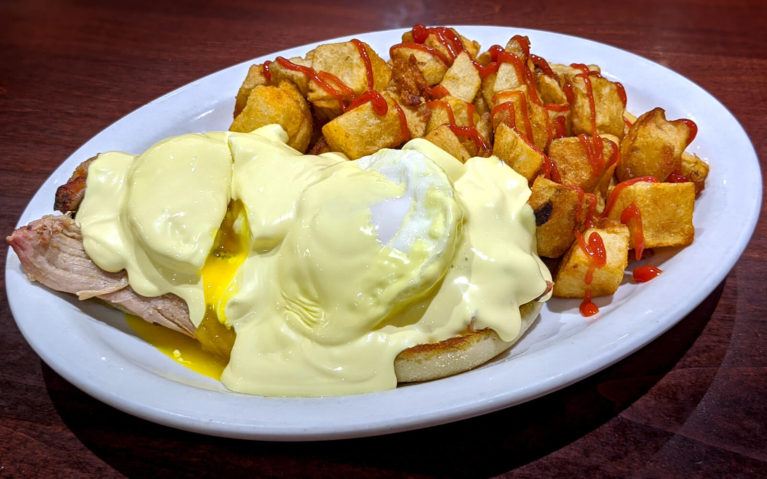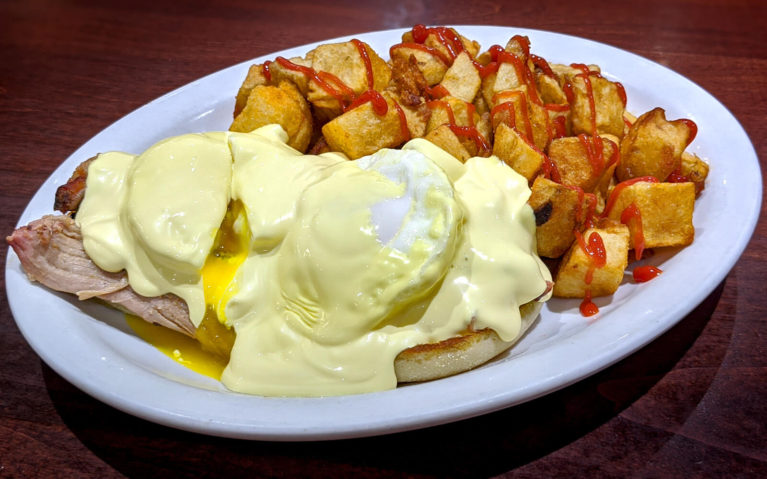 Olympia Restaurant
Looking for a spot to start your day off right? You'll find some great breakfast, brunch and lunch items at Olympia. Said to be a Bowmanville staple, the restaurant has been around for over a century! While it might not look like much from the outside, it has recently been renovated inside and offers a cozy diner atmosphere.
While I was tempted to go for Olympia's famous breakfast special, I couldn't resist the pulled pork eggs benedict once I spied it on the menu. It comes with a choice of french fries or homefries which you can enjoy either baked or deep-fried. While I normally try to eat a little healthier, I love some seriously crispy homefries and Olympia's do not disappoint! Though I have to say, you might want to ask for your hollandaise on the side if you're ordering an eggs benedict. Don't get me wrong, I love the stuff but I found it to be a little heavy on the hollandaise – which is something I thought I'd never say!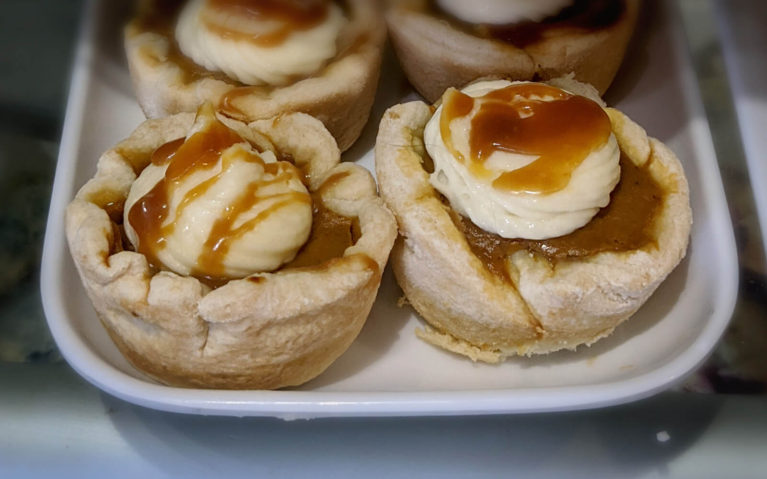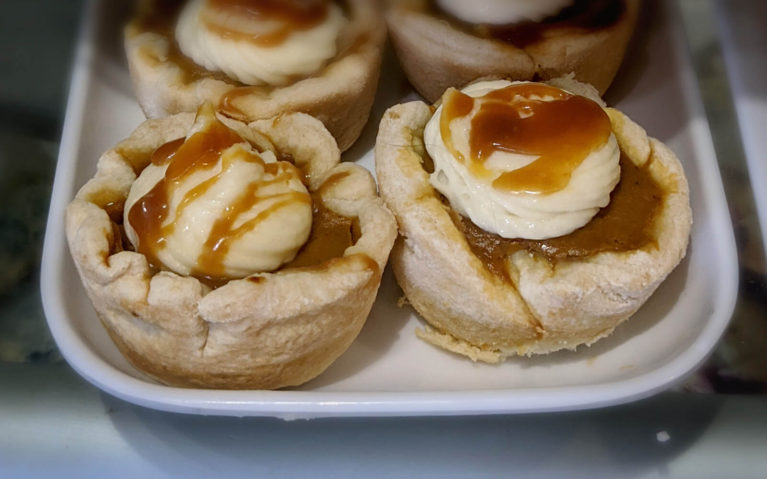 The Toasted Walnut
Whether you choose to eat here or not, no trip to Bowmanville is complete without a stop at The Toasted Walnut. While it's only open for take-out right now, normally the Toasted Walnut is a full restaurant with cafe vibes as well as a catering company. On the menu, you'll find full breakfasts, lunches and homemade treats and pastries. All of the items are made in-house and each treat you see is made fresh daily. If you get there early enough, their baked goods might still be warm, fresh from the oven!
As I said, if you don't eat here, at least grab a treat to go – you'll regret it if you don't! I'm still dreaming about their caramel pumpkin tarts – I seriously should have bought a dozen.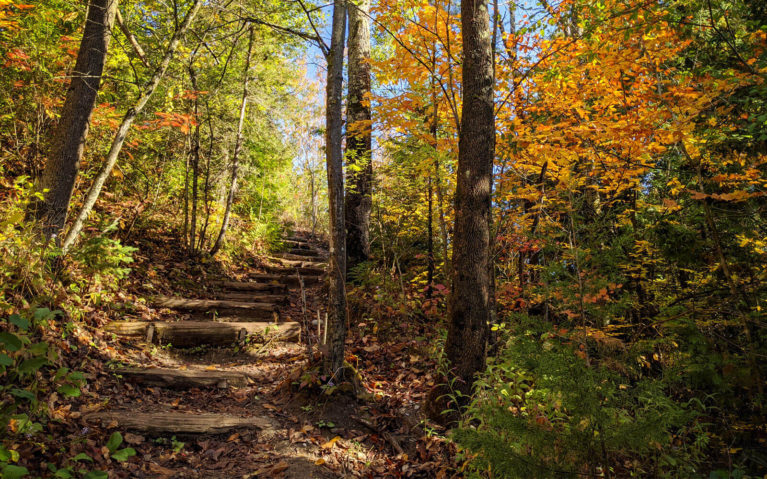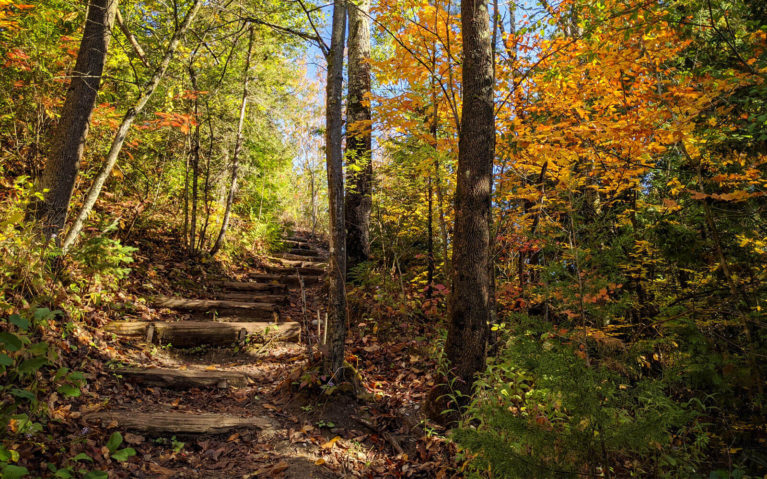 Where to Stay in Clarington
While Clarington makes a great day trip from Toronto, I highly recommend staying for a night or two to truly experience all the area has to offer. There are a number of great spots to rest your head during your adventure.
If you'd like to be close to the water, I'd be eyeing the Bowmanville Marina Inn & Suites. The entire hotel recently received a facelift which each room now sport a sleek, modern vibe. Each room features brand new beds, fully equipped bathrooms, 45″ flat screen televisions, high speed internet and more. Plus you can rest easy knowing that their 24-hour security is keeping a watchful eye on the premises. See what previous guests have to say or book your room online now. You can also take a look at more hotels in the Clarington area if this isn't quite what you're looking for.
Are cottages more your style? Then you'll be thrilled to know there are plenty of gorgeous accommodation options throughout Clarington. From waterfront properties to country getaways, you're bound to find something that fits your style. Take a look at the listings on VRBO.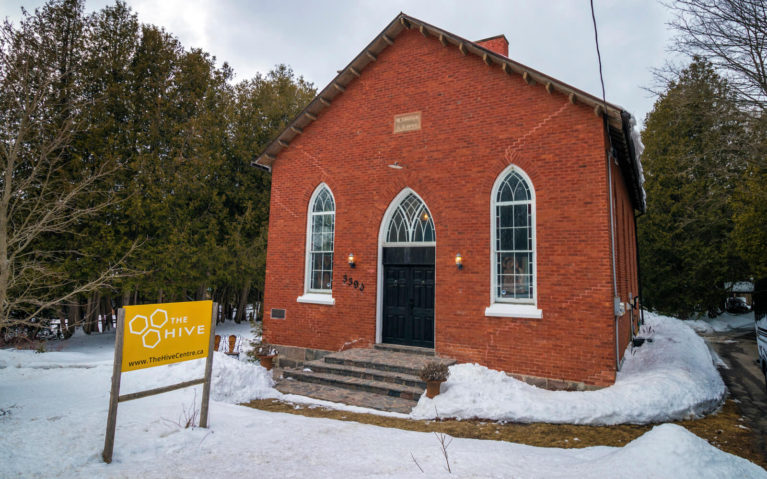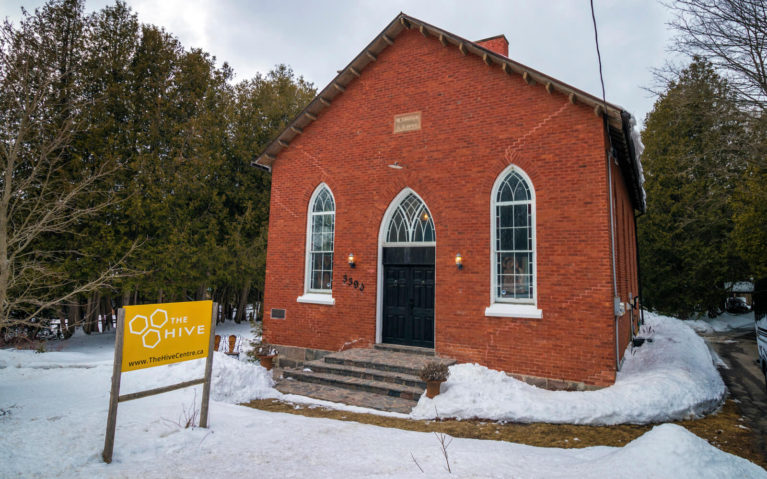 If you're going to stay anywhere in Clarington though, I have to recommend The Hive Centre & Stay. I had the pleasure of staying at this bed and breakfast during a previous visit to Durham Region and cannot speak highly enough about the kind and welcoming atmosphere you'll experience here. Elsii and Kevin will ensure you feel as though The Hive is your home away from home while exploring Clarington!
The property is home to two buildings. The first is the Hive Centre, a community centre of sorts that often holds workshops and meetings but can also become an overnight retreat. This picturesque heritage church can sleep up to 10 people and features a full kitchen as well as two bathrooms. It is beautifully decorated inside with natural, calming tones as sunlight peeks through the gorgeous stained glass windows.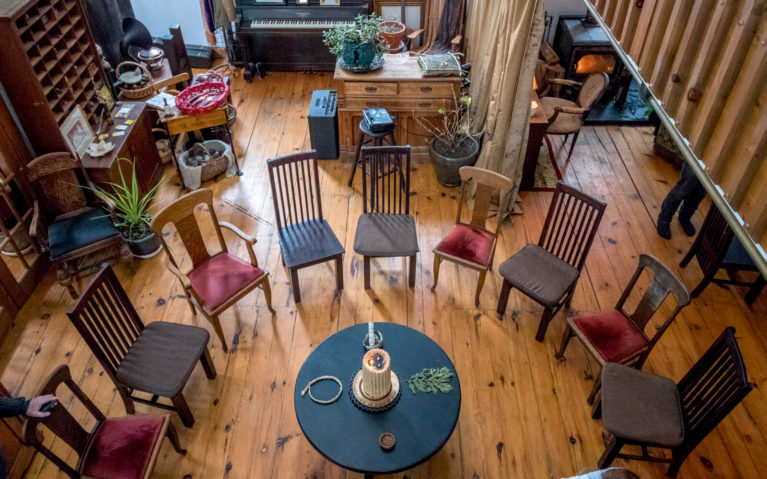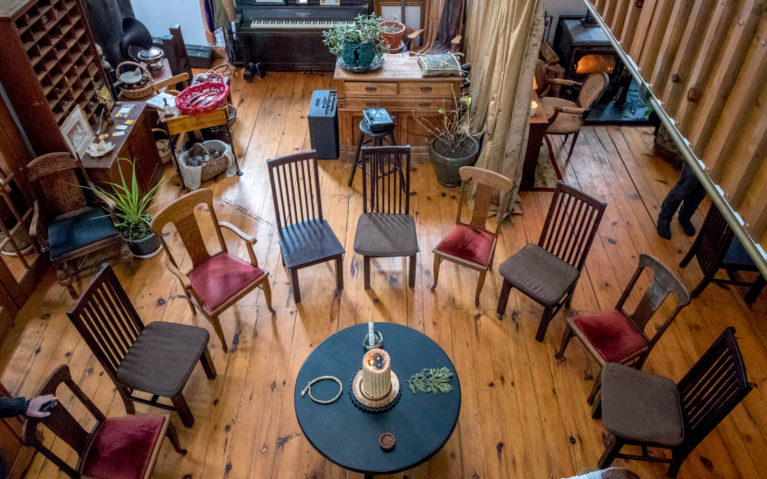 I personally stayed in one of the rooms at the Hive Stay. This house adjacent to the Hive Centre also sleeps 10 and can be rented out by the bedroom or as the entire house. Similar to the Hive Centre, it is also decorated using natural materials with the intention of drawing your attention to the outdoors. Its zen-like qualities will have you sleeping soundly no matter how long your stay is.
Guests of both the Hive Centre and Hive Stay have access to the Wilmot Creek Commemorative Forest. Stroll through the 18 acres of beautiful forest to disconnect from the outside world and reconnect with nature. Elsii and Kevin offer outdoor workshops such as guided forest walks which you can inquire about for your stay.
If you're looking for a tranquil getaway in Clarington, the Hive Centre & Stay is the perfect spot to be. See what others have to say about their experience or book your stay at The Hive now!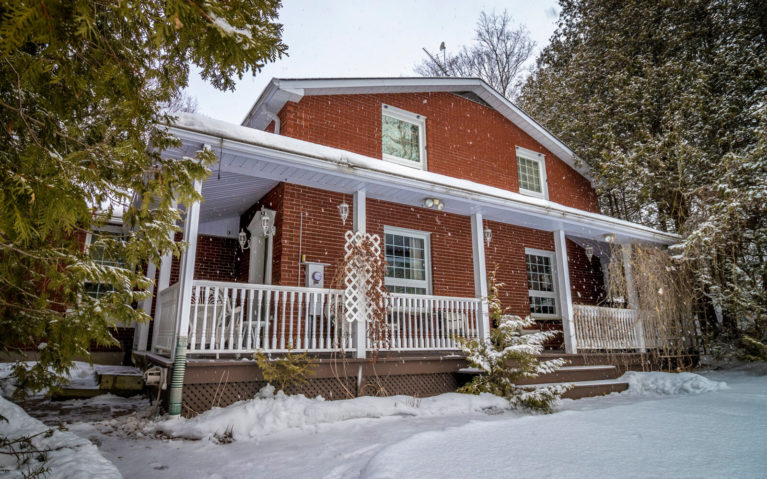 Ready to Explore Clarington?
With plenty of outdoor activities, a vibrant visual arts scene, and many attractions that kids of all ages will love, Clarington is a destination that's fun for the whole family. If you're wondering what things to do in Clarington this weekend, I'd say any combination of the experiences above will make for the perfect outing! Check out the Clarington map below to start planning your own adventure!
Disclaimer
A big thank you to Clarington Tourism for hosting me and sponsoring this post. All opinions are my own and I stand by them as always! Read more in IBB's disclaimer and privacy policy.
Don't Forget These Things to Do in Clarington & Pin It for Later!